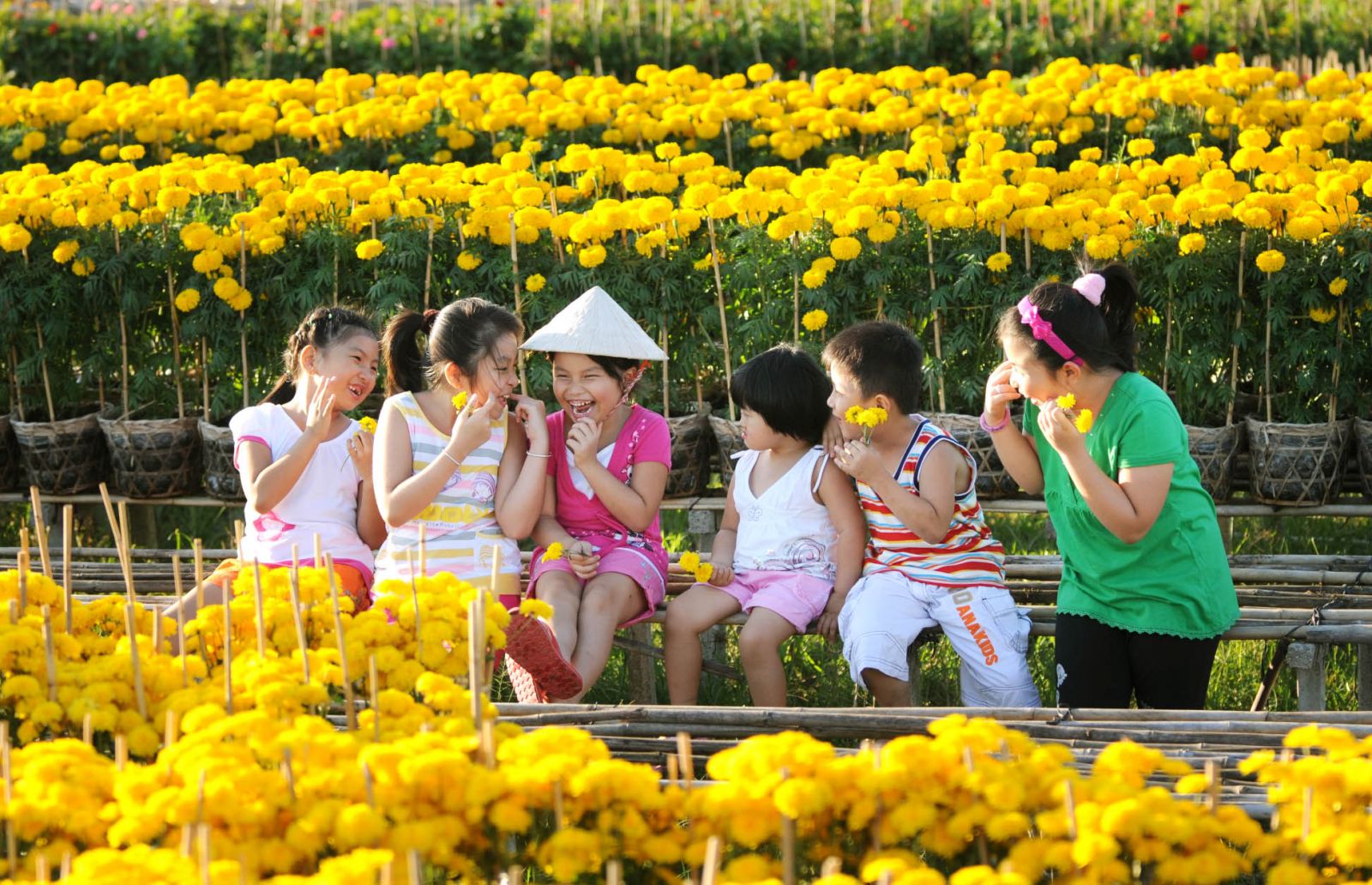 What is Tet?
Tết or Vietnamese Lunar New Year which often occurs at the end of January and early of February is the most important event in Viet Nam. It is the time for showing respect to ancestors, reuniting family members no matter how far they are and welcoming the lunar new year. Most of the core ritual practises and traditional beliefs of Vietnamese are performed in Tet. Everyone from kids to adults are eager for it. 
Tet, generally, is divided into 3 stages: before New Year 'Eve (Tet Preparation, 2 weeks ahead Tet), New Year' Eve and New Year (the first to the third day of January lunar month and the following days).
Adults and seniors have a long to-do-list to make sure they have a full and prosperous year. That is the reason why everyone seems busy cleaning houses (every single thing in the house needs to be cleaned), decorating houses with flowers and plants, and buying food. Members of the family gather to cook traditional cakes like Banh Chung (square shape, boiled cake made of sticky rice, mung beans, porks, etc.) or Banh Tet. They take turns watching the big pan over the fire. To Vietnamese kids, staying up late and watching the fire is an unforgettable memory of their childhood.
On the 23nd of the last month, Tet Ong Cong, Ong Tao (farewell ceremony for God and Goddess of Kitchen) is held in every household as Vietnamese believe that they will go to heaven by riding a carp to report what the family did during the last year the Jade Emperor. Locals give offerings and release corps or burning joss paper to celebrate it. After that, we all know that Tet is coming close.
In addition, Vietnamese also tend to pay off their debt, give anything they borrowed in order to not get bad luck for the next year. 
The last evening of the year is family time when all members gather to eat dinner. Wide variety of Vietnamese traditional home-made dishes are served on the table while members share their stories during the year. After dinner, the young may go out for the firework display and the old will stay at home to prepare the very first offerings for ancestors including boiled whole chicken, sticky rice and a tray of 5 fruits, flowers and rice wine to wish for a good, healthy and fortune year. Whatever they do, everyone should be at home before 12:00 PM to welcome the new year.
The first three days of New Year are the most meaningful and vital ones. The first day is for family and relatives. Kids in new clothes with bright colors wait for lucky money granted from the elderly. Everyone greet each other with good words and share the first meal of the year together. After that, they can either stay at home or go to pagados for praying.
Locals believe that the first person to come to the house will decide the luck and happiness of the family and thus the one with good manners and characters is always welcomed. Sweeping and dropping or breaking things should be avoided at all cost as it is the sign of bad luck.
The second day is for friends and social relationships. People usually pay a visit to their friends or go out for a meet-up party. On the third day, they will visit teachers because the role of teacher is highly appreciated in our society. 
From the following days till the rest of the month, festivals are held everywhere in Vietnam.
The year of Rat
Tet of 2020 is the year of the Rat. The animal starts the beginning of the zodiac cycle. Rat is the symbol of wealth and surplus. On the streets all over Vietnam now, rat-shaped plants, rat mascots, etc. are seen everywhere as it is the animal of the year. Even though you don't know which animal represents this year, you can tell by looking at these decorations.
Tet in Mekong Delta
Like most parts of the country, Mekong people have prepared for over a month to celebrate this special event of the year. Thanks to the rich soil and good weather, Mekong Delta is famous for planting flowers and trees for Tet. In the middle of December (moon calendar), flowers vary from daisy, marigold to apricot blossom, kumquat trees, etc. show their elegance and beauty in the lush garden of locals. From these gardens, they will be transported to the whole region. 
The bustling atmosphere has spread to the local market where Vietnamese moms go shopping to buy fresh ingredients, new clothings and flowers for their family. They chit-chat, bargain and share upcoming cleansing plans for Tet or secret ingredients for a delicious dish with each other or even shop owners.
The exciting activities that most of Mekong kids want to join is going with moms to market for new clothes, picking up the apricot blossom leaves to make space for the flowers blooming or staying overnight to watch Banh Tet-Tet Cake (similar to Banh Chung but come with different shape). In the meantime, the elderly are busy with the anual to-do-list before Tet. They need to declutter unnecessary things, polish furniture, prepare pickles, cook Banh Tet. Even though it seems busy, they are still doing it with a happy face as they know that Tet is coming in the blink of an eye and their beloved ones are coming back home as well.
Tet and Floating markets
If you have a chance to visit the floating markets in the Mekong Delta near Tet, you will see what we prepare for it here.
Cai Rang floating market is one of the most popular markets in Mekong Delta. Several days before Tet, the market becomes busier than the usual days. Boats with colorful flowers, fruits and vegetables from different provinces gather at the market to provide the local's need for Tet. Local vendors are working hard in order to come back home with more extra money for their family. They even open market earlier than usual. At 3:00 PM, people have already awakened to get ready to sell things! The fifteen of December is the busiest day as sellers will bring everything to sell as they want to end the year with good sales.
The most popular products that you can find at the market are fruits and vegetables such as  watermelons, mangoes, bananas, pineapples, cabbages, etc. Along with them, flowers with bright colors such as daisies, apricot blossoms (the symbol of Tet), are the must-display items these days. To add more Tet atmosphere, the vendors do sell sweets for serving guests in Tet (coconut, ginger, pumpkin candies,etc.). If you have a sweet tooth, you should try them out because they are delicious. It is also the perfect match for tea.
Visiting Mekong floating market near Tet, tourists not only witness a peaceful picture of the Mekong delta which is full of smiles, friendliness and color but also understand deeply how we celebrate Tet in Mekong Delta, a land of water and nature.
Writter: Nhung Vu
Editor: Vi Lam