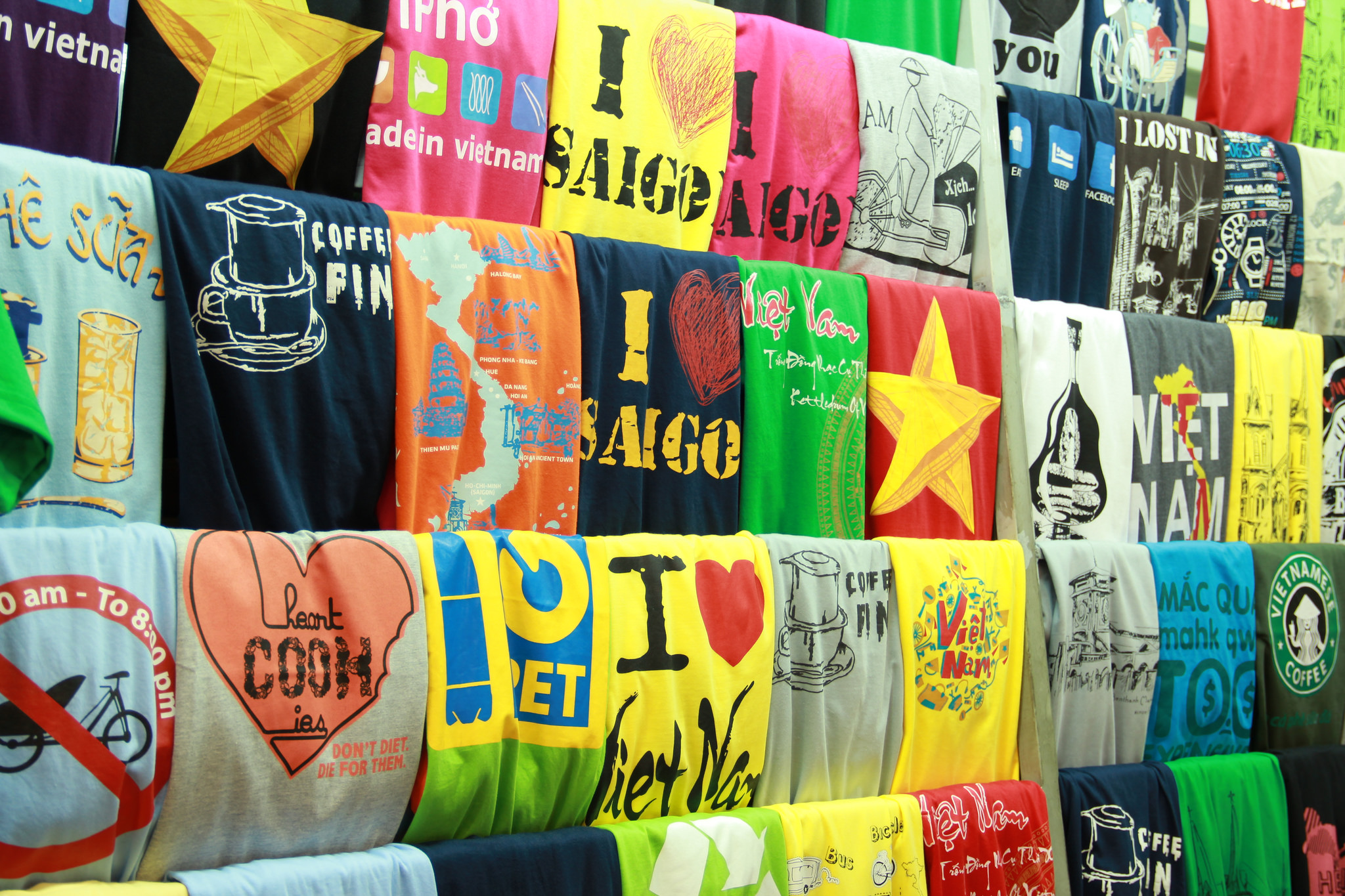 Shop like a local in Saigon, why not?
You are wondering what to buy in Ho Chi Minh City? Ho Chi Minh city, much commonly known as Saigon, is a real mecca for shopping enthusiasts, but it is crazy, to tell you the truth. If you do not take some information or tips in hand, you will find yourself lost among stalls and stalls of diverse goods with diverse price, also.
Actually, I am not Saigonese, so in some way, you and I are on the same boat. But how can I still be able to make a good deal whenever shopping in Saigon? There is no secret at all because I am gonna share it with you now. Let's discover!
* First, BRING CASH and it should be VIETNAM DONG
The reasons are:
Almost all purchase is required to be done by cash.
It is difficult to find an ATM of a foreign bank when you are in the market.
An easy way to get VND in Saigon is by using a wide network of ATMs. Almost all of ATMs such as Techcombank's and BIDV's can be used to dispense currency for foreign ATM cards. In addition, you can use some ATMs for foreign banks such as Citibank and HSBC.
* Second, PAY ATTENTION TO PRICE BOARD
Remember that there is no fixed price in the market, so the price is high or low depends on the sellers' preference. Another thing is that the number written on the price board is so crazy. For example, if the price of orange is 50k/1kg (2 dollars/1kg), they will write it like 25k: 1/2kg (1 dollar/1kg) with the tiny number 2 so that it looks like 25k/1kg if you do not notice. Pay attention!
Third, BARGAIN HARD
The key to shop like a local in Saigon is that you should know how to negotiate with sellers. One trick I learned from Ben Thanh Market is to visit at least 3 or 4 shops to compare the prices between them to find out the best price. Moreover, no matter what kind of items, start at least at 40 – 50% of the price told to bargain with the sellers. If the sellers do not give a more reasonable price, just go to other stalls.
Another trick is observing other customers to see what the price they get and if you feel okay, tell the sellers to give you the same price. Normally, they cannot deny you, because they have sold the same goods with such amount of money.
Fourth, be INSISTENT ON WHAT YOU NEED
If you want to buy 1.5kg of oranges, just buy that amount, do not let the sellers add more items with the excuse that you can buy one more to reach 2kg. If you do not stop them and be insistent on your original demand, you will end up paying more for the things you do not intend to.
Fifth, before paying, CHECK the items CAREFULLY
The hustle markets in Saigon may make you feel overwhelmed with an extensive range of clothes, bags, watches, shoes, and fruits like Vietnamese plum and lychee. Although they are on the same line or stall, sometimes defective items are placed alongside standard ones, especially clothes in promotions. Make sure you check the quality of fabric and sewing line before taking new clothes or bags to your house.
Sixth, do NOT FORGET YOUR BELONGINGS
Markets are really a hot spot for thieves to operate. While choosing the items, you should keep an eye on your wallets, jewels, watches, etc. And check your belongings before leaving. If you are surrounded by a crowd, quickly move away! You can come back later when the crowd loosens.
The bottom line is: Don't bring precious things with you when shopping.
Seventh, STAY AWAY FROM OVERCROWDED SHOPS
It is difficult to choose items and bargain prices in the crowd, as well as the risk of losing your belongings is higher, so choose a shop that is not packed with people.
What & Where to shop in Saigon?
* CLOTHING, BAGS & SHOES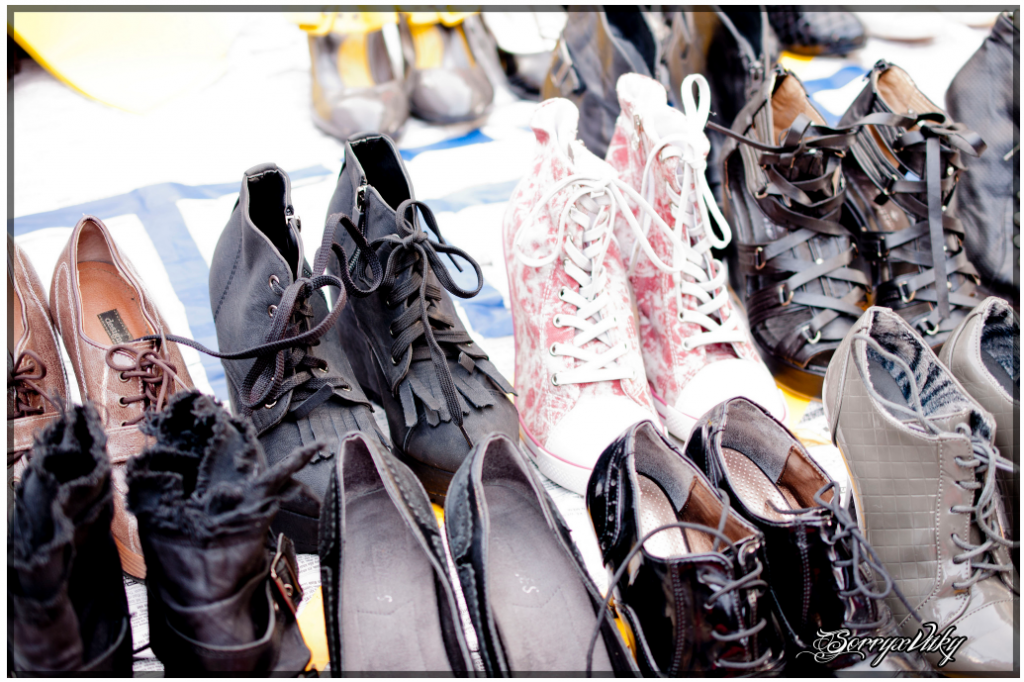 In the tourist areas of Ho Chi Minh City, there are tons of shops selling a wide range of clothes, bags & shoes or souvenirs. You can find both high-end and budget clothes in the Ben Thanh Market or the Saigon Square. Do not worry if your clothing size is bigger than the average size in Vietnam, Russian Market is the place can solve this problem.
1. Ben Thanh Market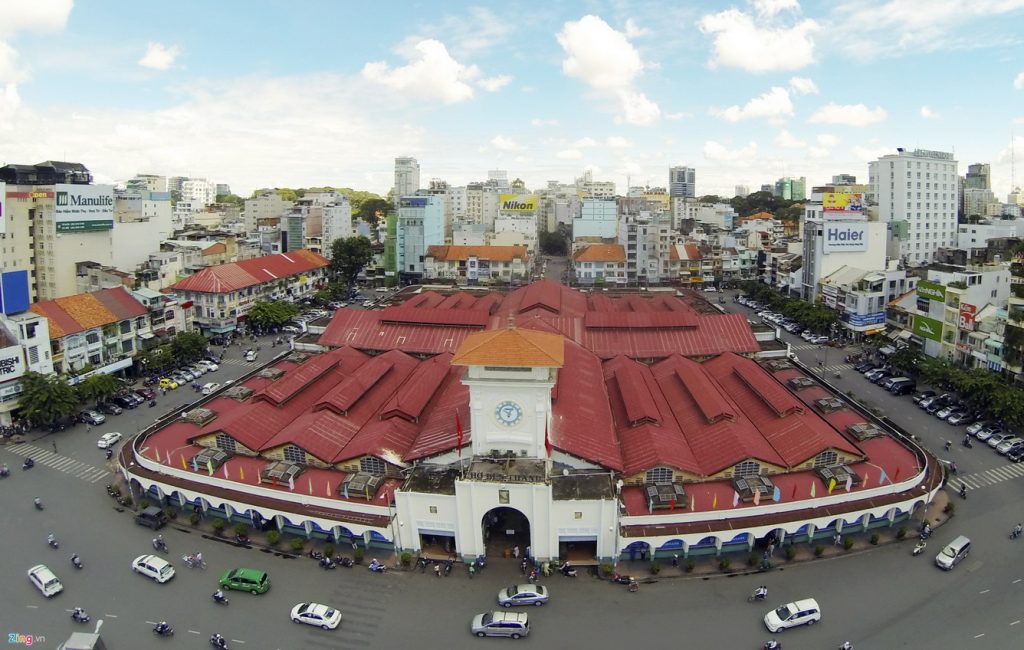 Although Ben Thanh is a tourist market, it's still recommended to shoppers as you can find nearly anything here. However, there are 2 areas: haggled & fixed price in this market. The price at those haggled shops is usually inflated up 2 or even 3 times. So, be prepared to bargain. My tip for this market is to stroll around the FIXED PRICE shops to get ideas on how much a regular item cost then go to the other shops to negotiate.
For example, You can get an "I love Pho" T-shirt for VN 50k at those negotiable shops instead of VND 70k at the fixed price shops.
In addition, you better look for clothes, bags, shoes, souvenirs and special handicrafts from ethnic people here but NOT food or drink items (coffee, teas or nuts, etc).
What to buy?: Clothes, bags, shoes, souvenirs and special ethnic handicrafts.
Opening hour: daily 6:00 AM – 6:00 PM hours. Note that the outer area of Ben Thanh market is opened for night market from 6:00 PM to 10:00 PM
Address: Le Loi Street, Ben Thanh, District 1
2. Saigon Square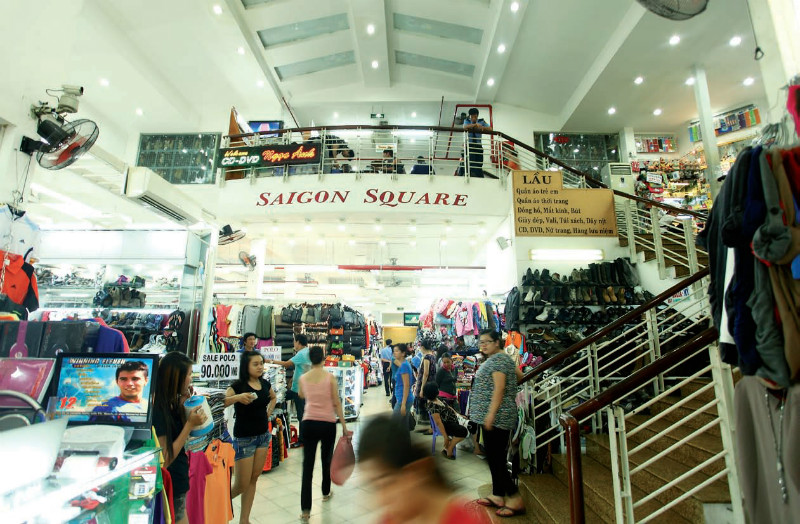 Saigon Square is air-conditioned and under cover so it is far more pleasant than shopping in the nearby Ben Thanh Market and it's generally accepted that prices are far better here. Still, bargaining is expected! (probably 20-30% off).
3. Russian Market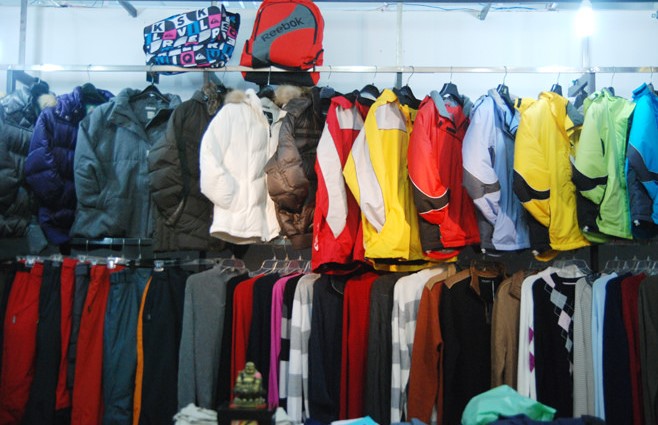 Located on 328 Vo Van Kiet St, District 1, Russian Market is where you can renew your wardrobe of ski jackets and accessories at a fraction of the cost back home. The merchandise is disorganized and may require some digging around, but it's well worth it.
In addition to cold-weather wear, this market also sells sportswear, jackets, casual wear, shoes, souvenirs, suitcases and more. Note that Saigon's Russian Market stocks larger-sized clothing.
What to buy?: larger-sized clothes, shoes, jackets, sportwear
Opening hours: daily 8:00 – 5:00 PM
If you cannot find satisfying clothes available in market, then custom tailoring is a MUST if you are here long enough. Check out our blog HERE for advice on good tailors.
4. Ly Chinh Thang – the shoes Street
If you look for a pair of shoes in Saigon, Ben Thanh Market or Saigon Square is where you can find shoes besides clothes or bags. However, if you want to shop in a local shopping area head to Luu Van Lang Street next to Ben Thanh Market or Ly Chinh Thang – the shoes Street in District 3. Thuy Trang on Ly Chinh Thang street is one of my favorite shoes shop.
* HANDBAGS & LUGGAGE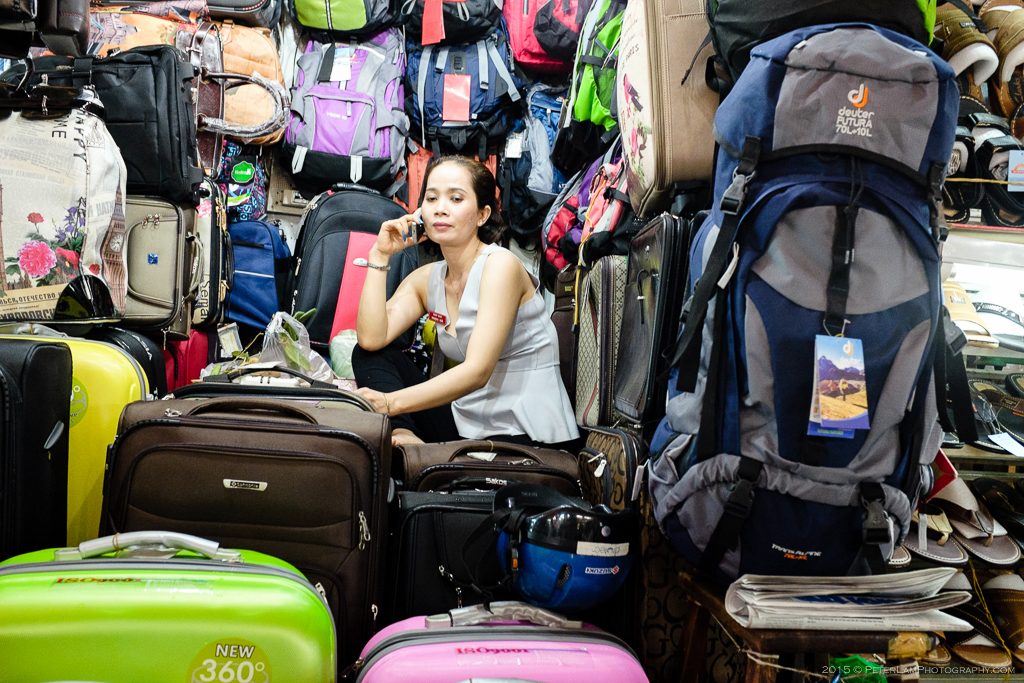 Le Lai Street between New World Hotel and Ben Thanh Market is a paradise of luggage. There are many luggage shops selling some well-known brands like North Face and Samsonite. Saigon Square or Binh Tay Market is another option for you to choose from.
* HANDICRAFTS, HANDMADE GOODS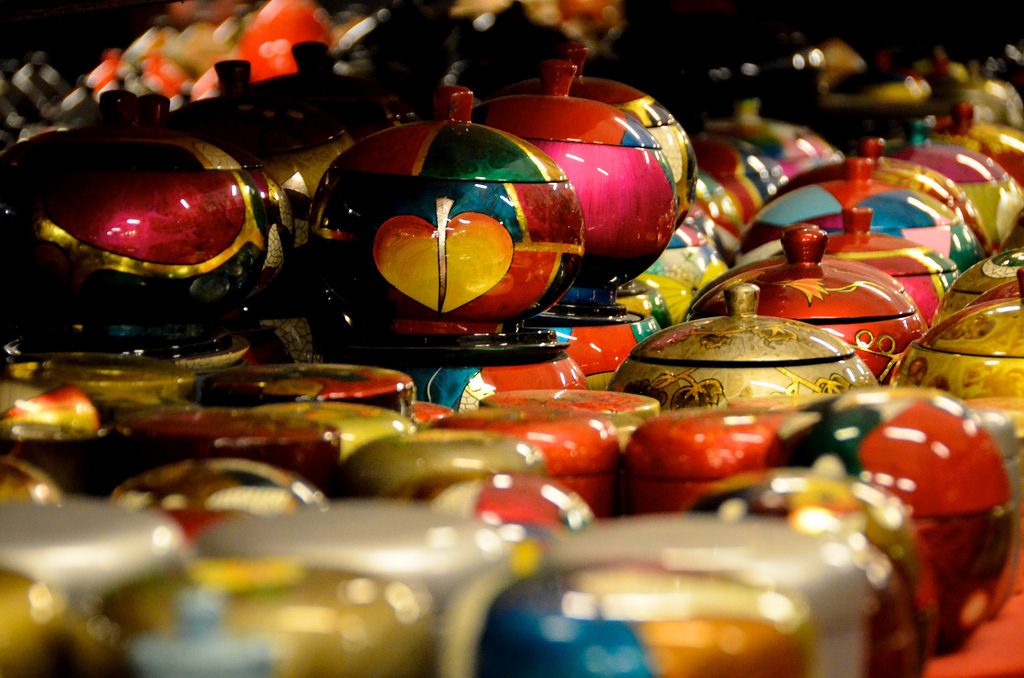 1. An Dong Plaza
The best place to find some unique Vietnamese handicrafts at the most reasonable prices is An Dong Plaza in district 5.
What to buy?:A variety of handicrafts, from lacquerware to coconut dinnerware
Opening hours: daily 8:00 – 4:00 PM
2. The House of Saigon
What to buy?: The House of Saigon is an all-in-one handmade goods, café and tea shop, featuring unique handcrafted items, and also homemade spices.
Opening hours: daily 8:30 – 9:00 PM
* FABRICS
You can find loads of shop along Hai Ba Trung Street which is opposite to Tan Dinh Market in District 1. There are various shops where the quality's to be found. However, the prices might also be varied. If you want a safe choice you might choose either shops below:
1. Ao Zai ABC
2. Thai Tuan Silk
* TEA, COFFEE & BLACK PEPPER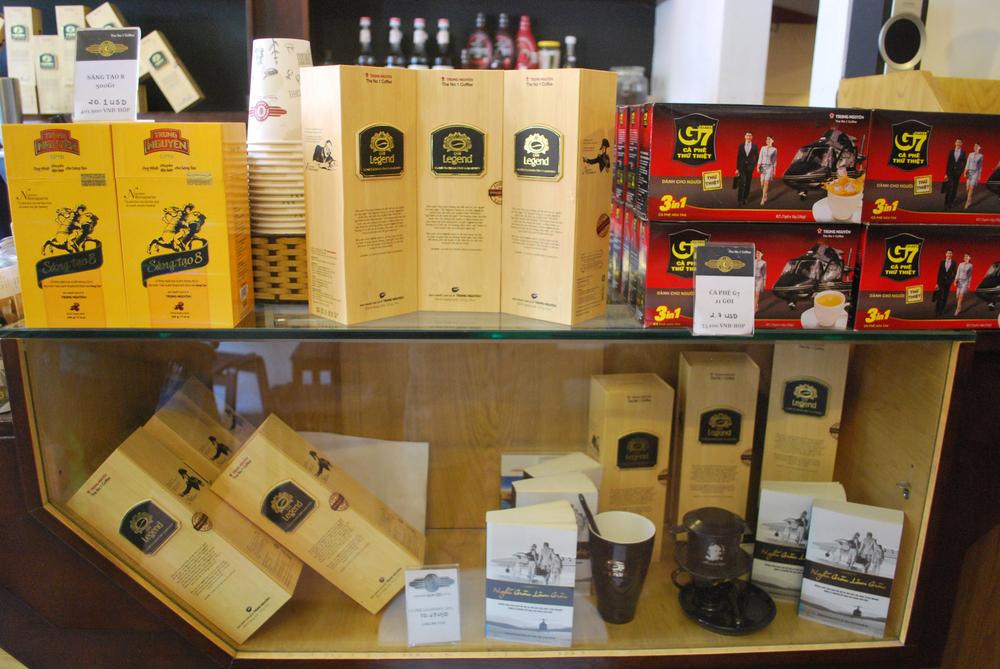 Looking for some tea/coffee or pepper to buy as gift for your love ones? Saigon or Vietnam in general is where you can find decent quality of these products since Vietnam has been one of the largest exporters of coffee, pepper & tea.
1. Tra Tan Sanh
2. Supermarket
You can find all of these products in Co-op supper markets: Look for Trung Nguyen if you wanna the coffee or Thai Nguyen for tea.
OR: 168 Nguyen Dinh Chieu st., Ward 6, District 3
3. Trung Nguyen coffee
Or you can directly buy coffee right at their coffee shops like Trung Nguyen and Highland which has many café in the center of Saigon Coffee & coffee filter
* WEEKEND MARKETS
If you want to experience shopping like a 'young local' in Saigon, you can visit some popular outdoor markets on the weekends. Items like clothes, shoes, handmade stuff, and even street food can be found there. Here are some addresses for you to put inside your pocket.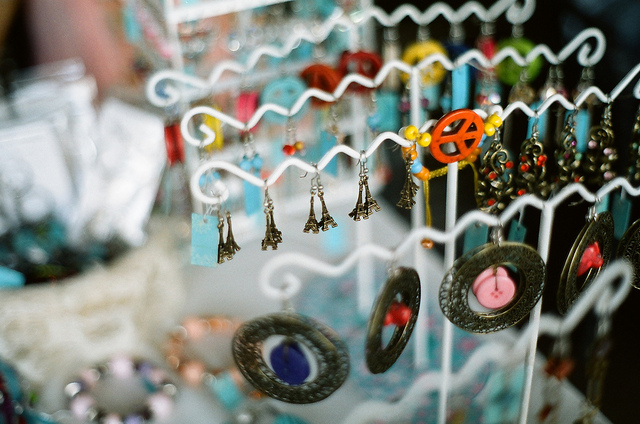 Are you ready for shopping in Saigon? Believe me! It would make your journey in Vietnam more memorable. But when shopping in Saigon, be ready to bring cash, negotiate with the store owner, keep an eye on your belongings, and check the items carefully before purchasing, you will be able to shop like a local in one of the most dynamic cities in Vietnam.
And if you want to learn some Vietnamese and take a bargain course and practice it in local market in Saigon/ Cu Chi/ Mekong Delta. Take our Saigon Walking Tour/ Mekong Delta Tour our Cu Chi Tour, our guide will train you how to bargain in Vietnamese and have the best deal in shopping in Vietnam.
To Learn More our useful tips in Vietnam JOIN GROUP HERE to discuss before going to here.