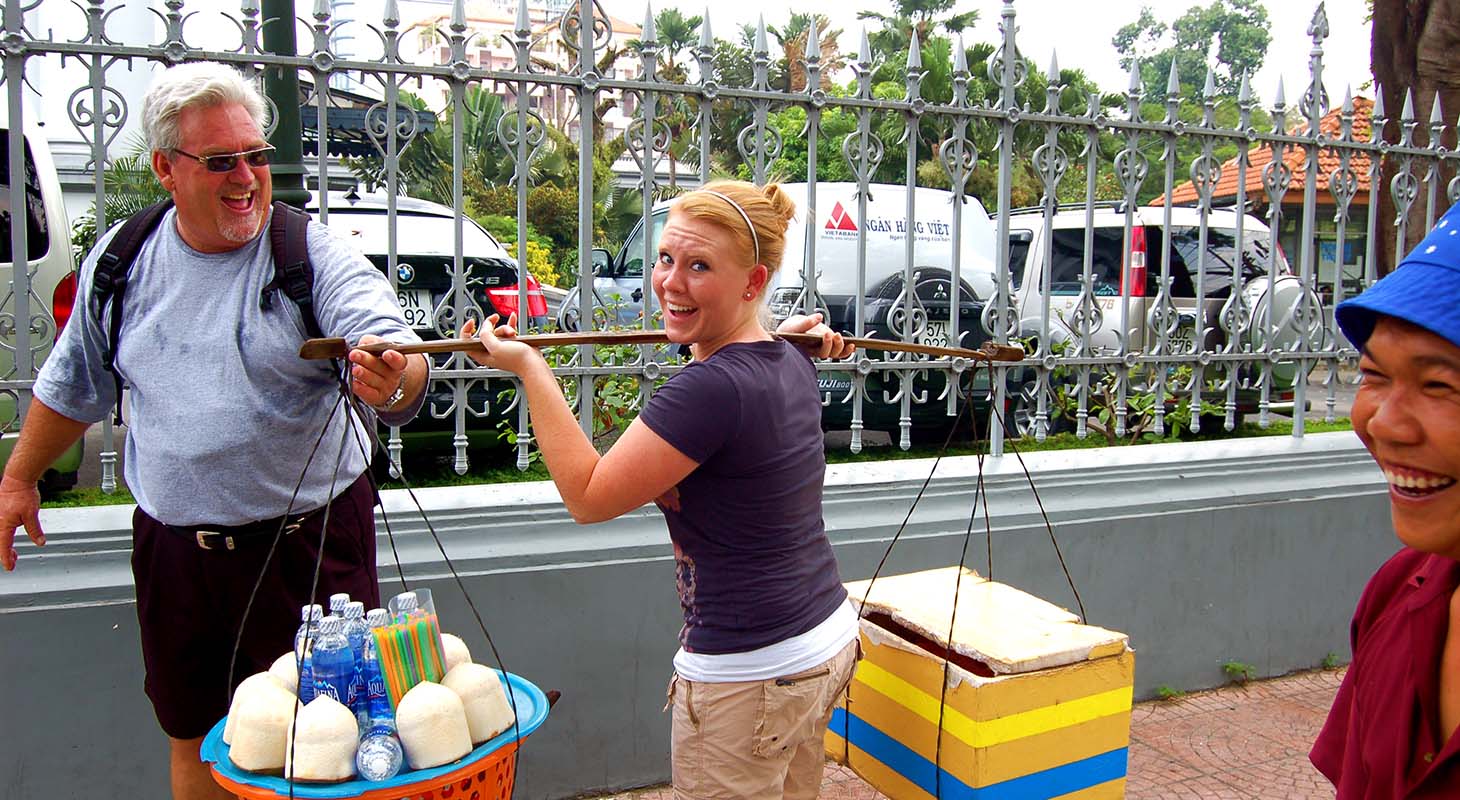 Ho Chi Minh City and Vietnam, in general, is one of the safest travel destinations. However, like most countries, it has its share of traveller annoyances such as scams and other petty crimes. Spend a little time to learn about these simple tips to travel safely, securely, and enjoy the sights and sounds of Vietnam – without the hassles. Let's check out our video about travel tips: https://youtu.be/hmVm_fXFbYQ
* Stay safe while traveling in Ho Chi Minh City
1. Snatch-thieves:
When you are walking, on the back of motorcycles or riding in a cyclo, AVOID carrying purses and over the shoulder bags or wearing cameras, expensive sunglasses hanging around your neck...as you are the targets to moped-borne snatch-thieves.
2. Pickpockets:
In many major cities, keep your wallet on front pocket or belly bag and be aware if anyone bumps into you, or attempts to cause general confusion around your person.
3. Crossing a street:
Don't step back once you start crossing a street. It doesn't matter how many hundreds of motorbikes are coming towards you or how suicidal your act looks, don't hesitate or step backward, just keep crossing and the traffic will flow around you.
* All you need to know to avoid scams in Ho Chi Minh City
1. Always inspect your goods (especially electronics):
After purchasing them - a common scam is to switch the items you have purchased for cheaper versions.
2. Always confirm what currency a price is in.
For instance, if a vendor tells you that som
ething is "five" it can mean 5,000 dong - (around 25 cents) or even up to 5 US Dollars.
3. Pay close attention to your Dong at either its number or color:
Number: 10,000 dong looks a lot like 100,000 dong.
Color: 20,000 dong (~$1 USD) looks a lot like 500,000 dong.
You don't wanna pay $25 USD for a Banh Mi or a coconut.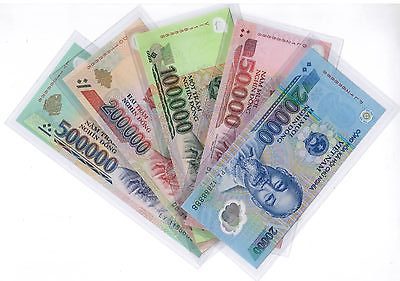 4. Taxis:
The most common place to be scammed in Saigon is in a taxi. Whether you're getting a taxi at the airport or just catching one in town, it is recommended to sticking to either Vinasun or Mailinh taxis. In this particular topic, I have written a complete guide to avoiding taxi scams in Saigon. Click HERE for further details.
5. Motorcycle taxis:
The use of motorcycle taxis (known as "xe oms") is strongly discouraged if you do not know how much your trip suppose to cost you. Instead, you can use Grab (Taxi/Bike/Car) since it shows the trip cost before making a booking.
6. Cyclos:
Those three-wheel bicycles/trishaws you see lining the streets at tourist attractions? There are loads of ways to scams you. For less hassle, avoid them at all costs.
7. Street Vendors of all kind:
There are some vendors who will invite you to take a photo with them. Once taken, they will demand a fee, a tip, or a purchase of their products. Ignore, and you will be hounded until you pay.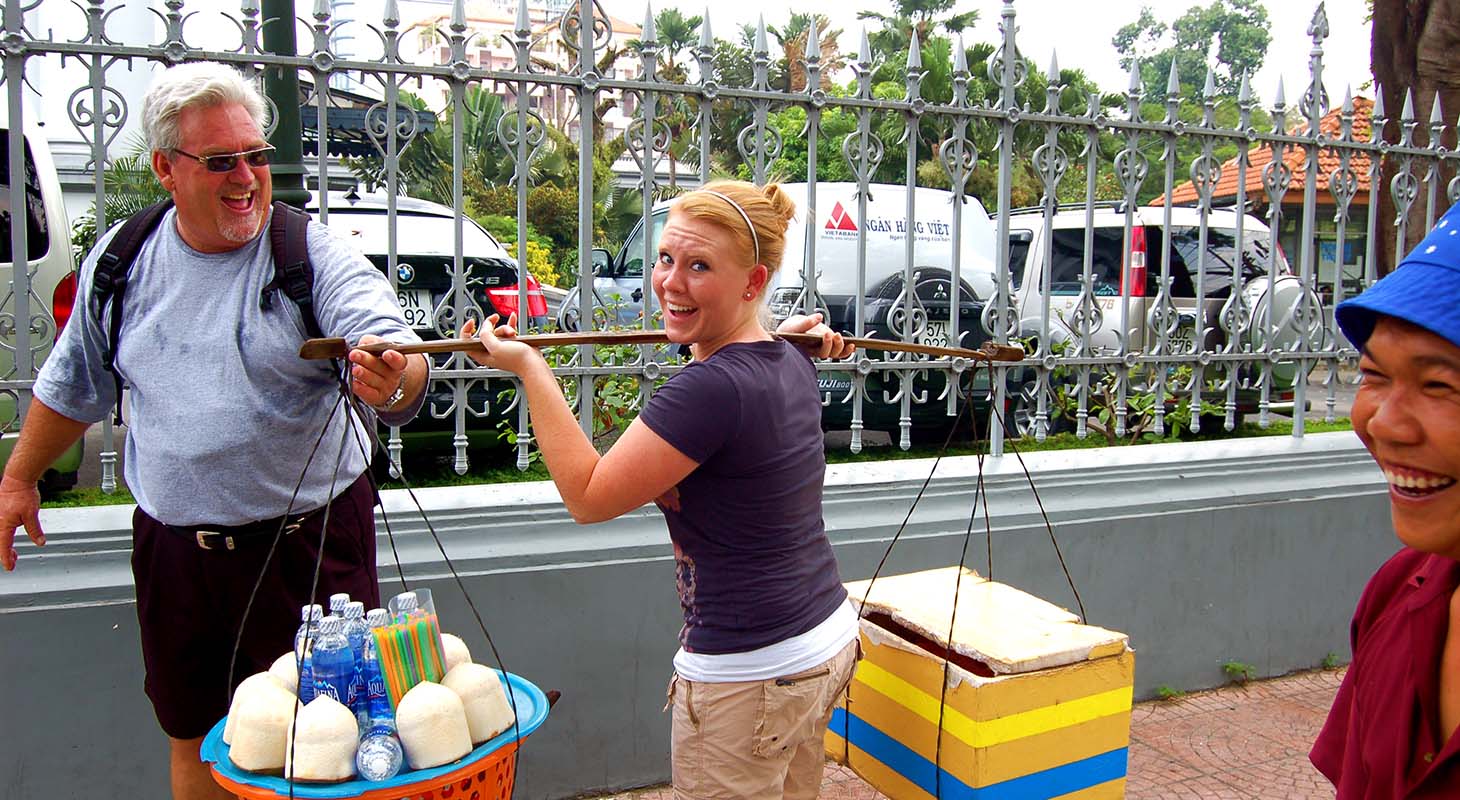 8. Random tour guides met on the street:
A number of' unofficial" tours at an agreed price. At the end of the tour, the guide threatens the tourists and demands far higher payment.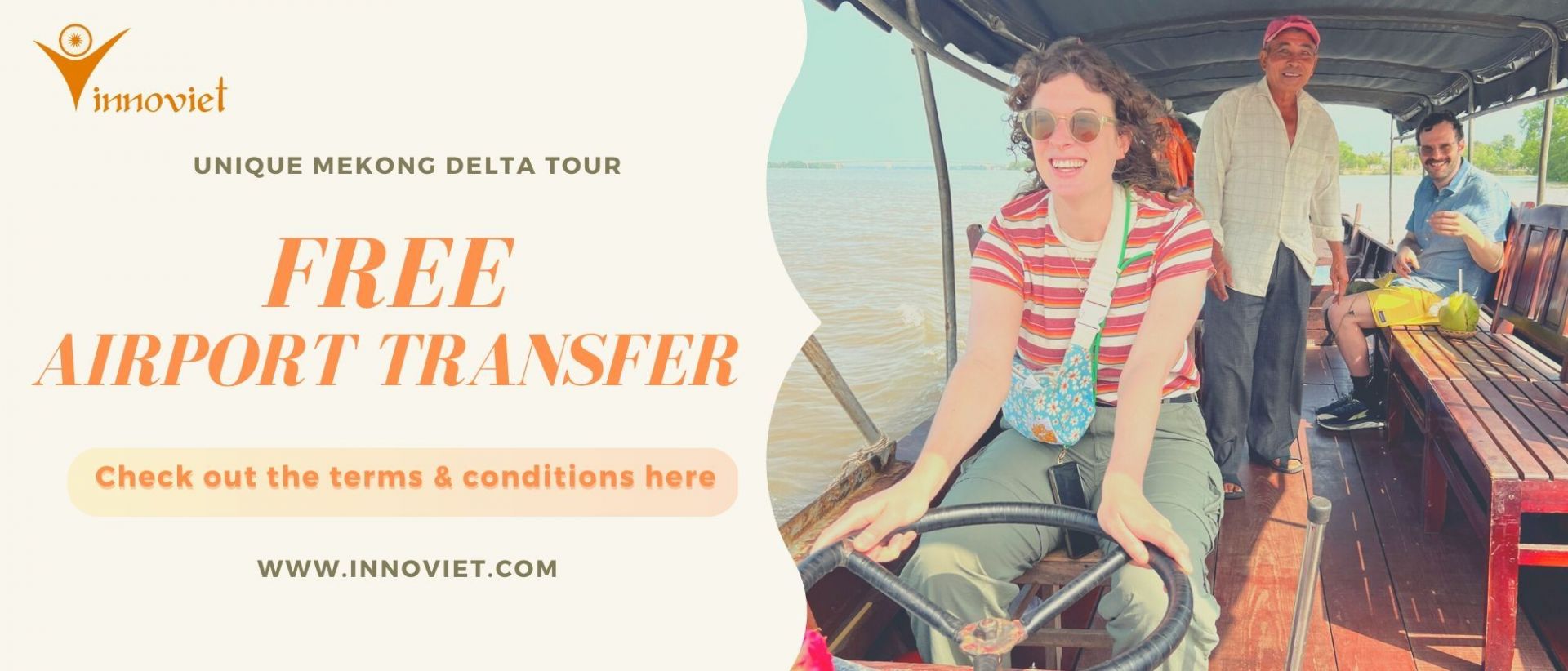 * Work hard, play hard and travel smarter!
1. Buy your train tickets directly with train company
You can either go to the gas station (1 Nguyen Thong, District 3) or official train ticket agency (275C Pham Ngu Lao, District 1) OR on their official ticket website (http://www.vetau.com.vn/). Do not buy it at the hotels or travel agencies if you don't want to waste your money for service charge.
2. Avoid package "day tours" as much as possible:
These "tours" cost as low as $5/day, but will make unnecessary stops all over the route to give you the chance to spend money at their friends' restaurants, gift shops, bathrooms, etc. It's a big fat waste of time.
Also, avoid booking these tours through agencies. They will all send you to the same unprofessional tour operators and will end up traveling on a big bus, being rush from one to another stop or being chased by vendors.
3. Get your accommodation in District 1:
District 1 is the heart of this urban city. It's where you will find the best hotels, shopping, restaurants, and tourist sites.
4. Get a SIM card which is only $5 but it has lots of advantages.
One advantage is that you can use Grab taxi apps to book transportation.
Which carrier and where to buy the sim and how much is it? Well, it is not very different among the 3 big carriers in Vietnam if you use it as a tourist. So Mobile phone, Viettel or Vina phone is all fine.
You can get a SIM easily at any post offices or mobile shops (ex: thegioididong.com). The price varies from 50,000 VND to 100,000 VND per card with a prepaid credit from 50,000 to 20,000 VND).
5. Make sure that you have essential TRAVEL APPS to make your trip easy on every step.  Get your fingers ready!
* Skyscanner:
You now no longer need to book your flight through travel agencies. An all in one travel app, you can easily search flights, hotels, and cars all in one place.
You can also a local airline website such as Vietnam Airline (national airline), Vietjet, Jetstar (low fare airlines) to book your flight.
* Traveloka:
I usually check the hotel prices among Agoda, booking.com or hotels.com and Traveloka is where I always find the best deal. The prices shown is what you will pay at the end. No hidden fee like taxes, service charge like the other ones. Note that price on the Traveloka app is a little cheaper than on its website, so use the app! :)
* Wiffinity
While it's not necessarily a must-have, WiFi on holiday is definitely a nice-to-have. Wiffinity keeps you online, world over, thanks to an ever-growing list of WiFi networks and passwords continuously updated by users
* XE Currency
If you're like most of us and can't figure out what 1,343,958 Vietnamese dong is in US dollars at the drop of a hat, use the currency exchange app, XE, to figure it out
Download XE currency app and you'll no longer be confused with the Vietnamese money
* Maps.me
If you don't have the internet on your phone, get MAP.ME app - a very detailed offline map included the closest location of almost anything. But don't forget to download the map of each location when you have internet (restaurants, gas stations, ATM, toilet, hospital, etc.)
* Weather PRO
Everyone has their favourite weather app, but I personally prefer WeatherPRO. It's an extremely detailed, and – most importantly, accurate weather forecast app.
* Grab
You can get a safe and reliable ride in minutes with Grab while traveling in Ho Chi Minh & Ha Noi.
* Snapseed
Want to keep your family & friends updated during your travel? Get Snapseed - a complete and professional photo editor developed by Google to create stunning photos that you can share with your audience on Social Media.
6. Save important contact number in case anything goes wrong:
* Police (English Speaking)
+84 28 38387200
* Taxis' LOST & FOUND customer service departments:
    Vinasun:
Add: Vinasun Tower | 648, Nguyen Trai, Ward 11, District 5, Ho Chi Minh City, Vietnam
Tel:  (84-28) 38 277 178
Email:

[email protected]

(for complaints)
Email:

[email protected]

 (lost & found)
   Mailinh:
Add: 64-68, Hai Ba Trung, Ben Nghe, District 1, Ho Chi Minh City, Vietnam
Hotline: 097.656.5656
* Medical Services
34 Le Duan, District 1
Emergency Services: +84 28 3822 7848
Centrally located near Notre Dame
General Line: +84 28 3823 8888
Avoid Ho Chi Minh Taxi Scams By Using AirPort Transfer (Best offer)
If you are looking for more information about Ho Chi Minh City sightseeing tours or where to eat, or the hidden gems in Ho Chi Minh City check our blogs here.
In the end, there are still cozy, pocket-friendly places to crash in Ho Chi Minh City. But if you're up for a different kind of adventure, let me tempt you with the peaceful charm of Vietnam in the Mekong Delta. It's not just about affordable places to bunk; it's about immersing yourself in the heartwarming embrace of the Vietnamese folks who call this place home. Come, let them show you their world, and you'll leave with memories that'll make you smile for years to come.
There are plenty of exciting places for you to discover:
Be sure not to miss out on our special offer when you join us for this experience.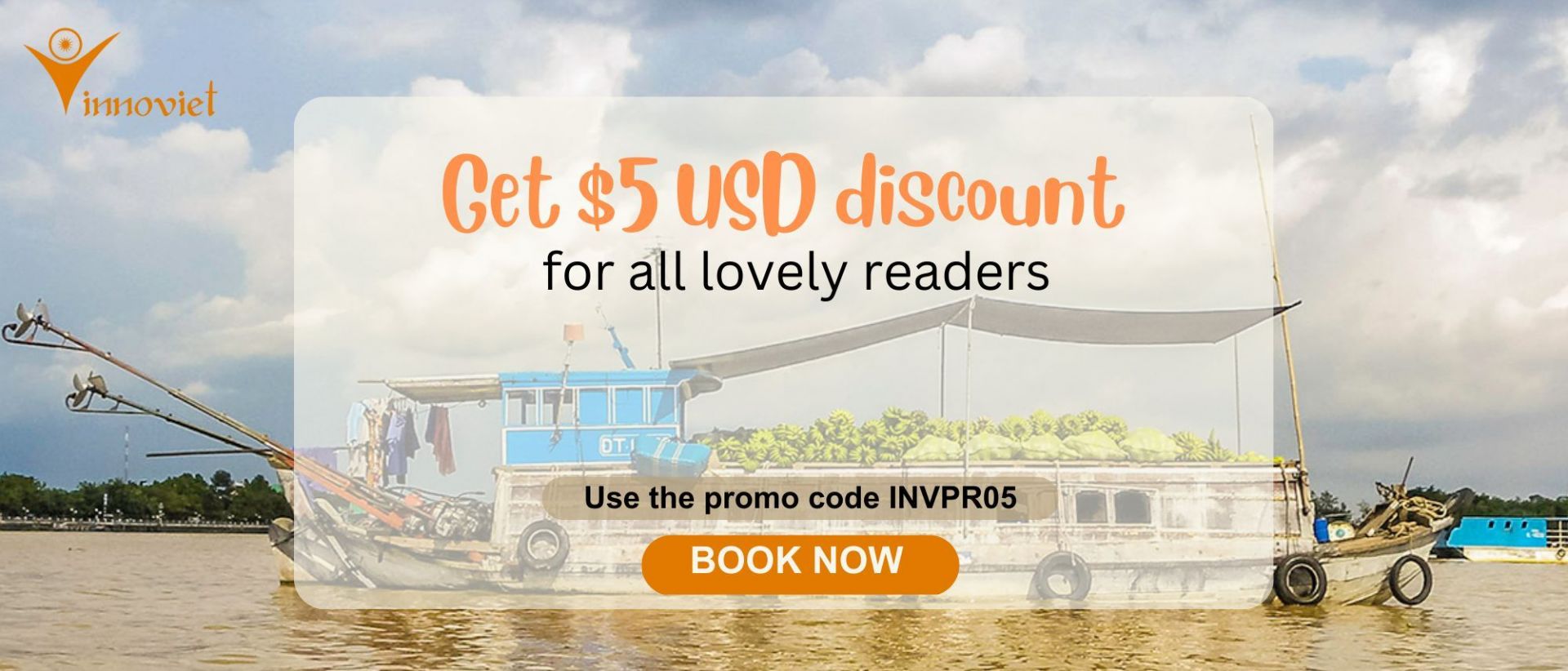 We hope that your experience will be nothing short of amazing
JOIN OUR FACEBOOK GROUP HERE to learn our tips as well as discuss them before going to these locations.