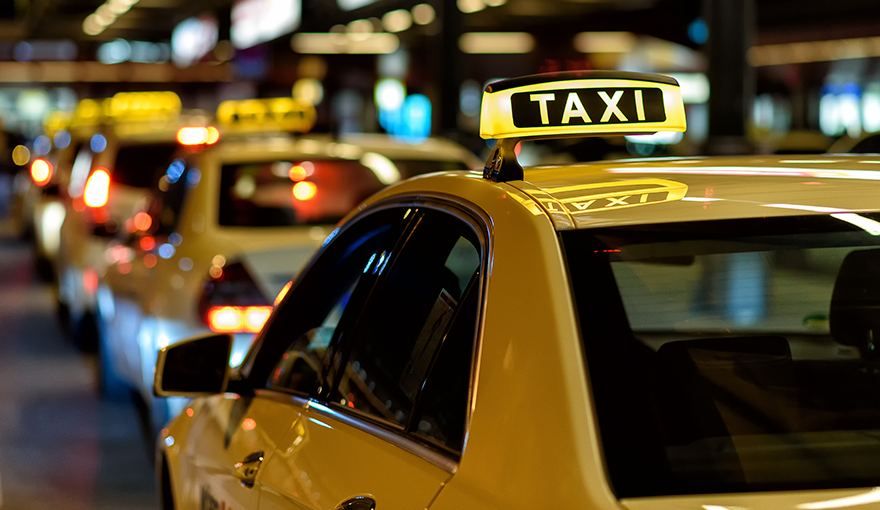 Being as local in Saigon, a tour guide (well, I used to) also a Traveler. I'm very sad to know that very few visitors to Vietnam want to return to this magnificent country. One of the major reasons that contribute to this problem is tourist scams. Although there have been so many topics discussing around "How to avoid scams in Saigon", a number of tourists still got unpleasant experience.
Why? I personally think there are 2 main reasons:
First, the tourists did not learn about these information well enough before coming to Vietnam.
Second, there are many blogs writing about these topics but aren't insufficient details.
Thus, I'm writing to share a complete guide to avoiding taxi scams in Saigon in particular and Vietnam in general.
* GENERAL ADVICE
Again, you can use those companies Mai Linh and Vinasun as most people recommended. They are the only 2 reliable metered taxi companies in Ho Chi Minh City. Also, one of the reasons why you should always stick to one of the reputable taxi operators, as they all have customer service departments and are more likely to try to solve your problems (complaints or missing things on a cab).
However, before jumping on one cab, BE AWARE of:
1. FAKES TAXIS
Firstly, pay well attention taxi logos
You can roughly recognize real Mai Linh/Vinasun taxis from the fake ones by the Logo. Anything just about similar to these 2 logos below are fake ones ("M. Taxi group", "Mailin", "Vinasum").

Secondly, taxi phone number:
Mai Linh: (028) 38 38 38 38


Vinasun: (028) 38 27 27 27
If you see 028 38 27 27 77 or 54 27 27 27=> they obviously change 27 to 77 OR 38 to 54. These are definitely fake ones.
Third, taxi identification number:
Look closely at the taxi, does it have a taxi identification number? Every taxi has a unique one, it is usually a 4-5 digit number on the side of the car. You can also find this number in the interior.
Fourth, type of car:
Fake taxis are usually 4-seat cars and are Korean made ones, whereas reliable taxis use brand new Toyota cars.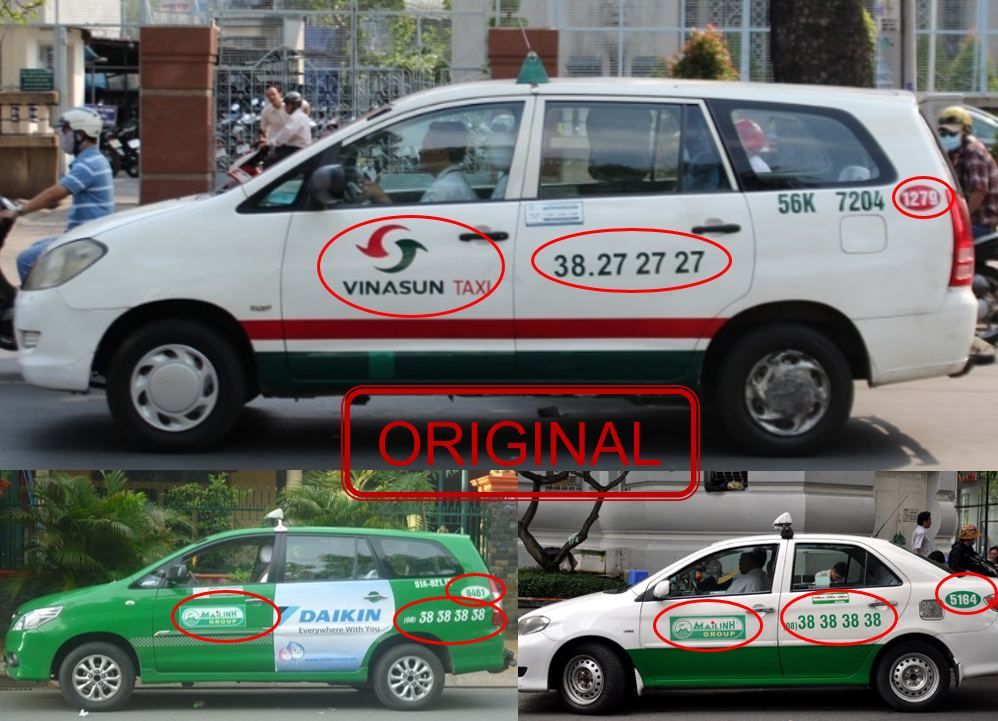 Original taxis have clear identification features (logo, telephone number, taxi identification number). Please note that Mailinh taxis have 2 main colors: Green OR green & white
Here is how most fake taxis look like: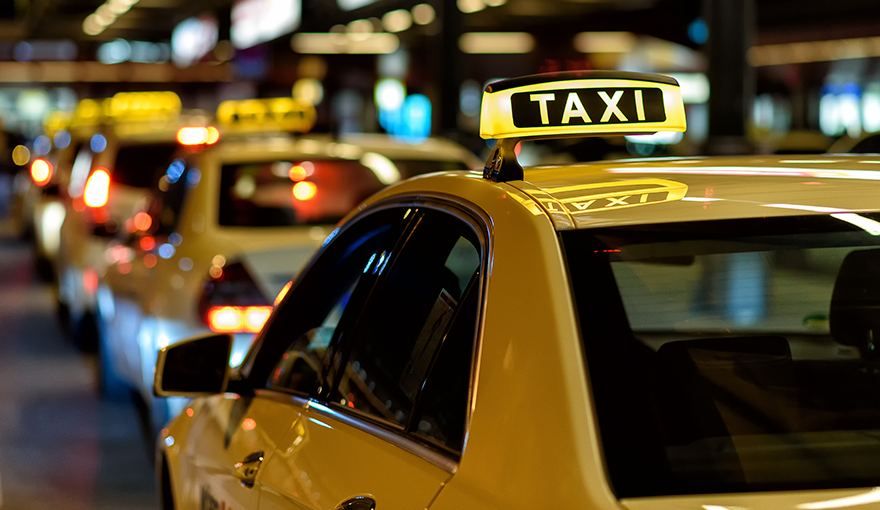 Fake taxis change small characters that you only recognize if you look closely ( ("M. Taxi group", "Mailin", "Vinasum")
Once you get into the taxi pay attention to a FEW MORE NOTES:
ONE, Is the driver wearing a uniform? The top taxi companies have their drivers wear a button up shirt with a tie, clearly displaying their name tag. The private taxi drivers do not wear any sort of uniform, just regular street clothes.
TWO, Is there a picture of your driver with his name on it? The private ones usually don't have any information on the inside of the car except the meter while as you surely would have seen somewhere, the reputable companies present a clear driver's ID decal showcasing an image, information, taxi license, etc.
THREE, Is there meter counter and if it is ON. Ask him to start it when he forgets (or pretend to).
In general, from the front Passenger seat view, you can see taxi identification number, driver's name, license plate number and meter, Map and GPS and credit card payment system.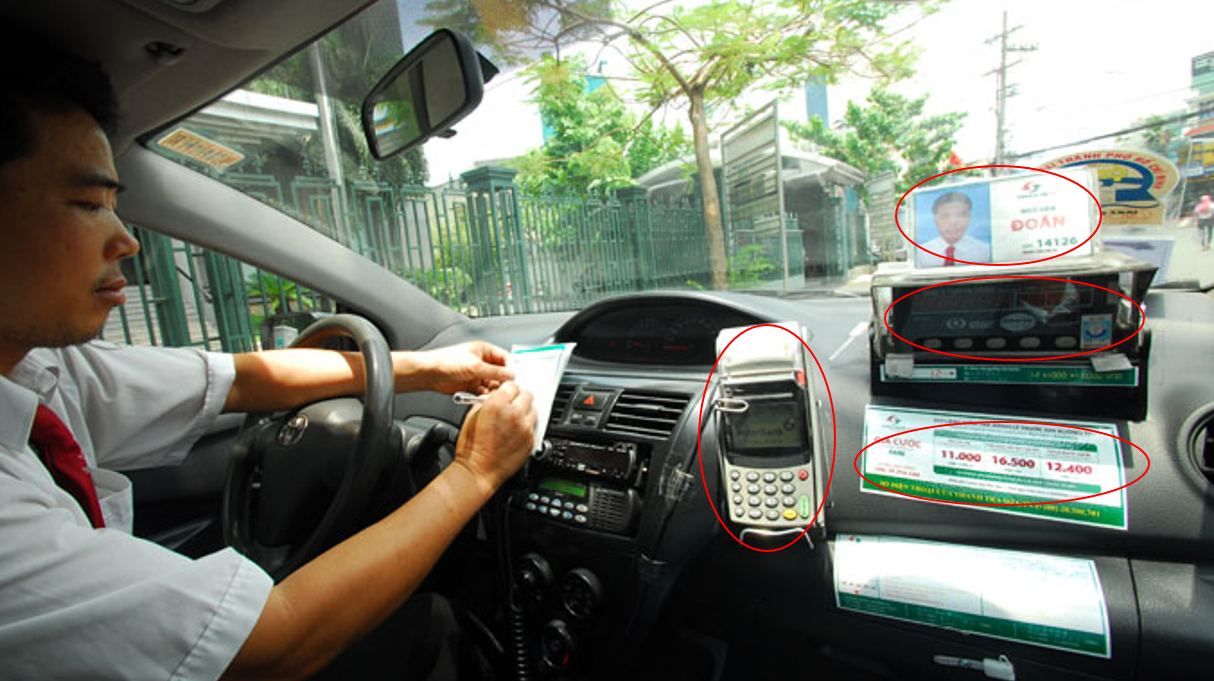 IMPORTANT NOTE

: TAKE A PICTURE
as above,
it's an exceptionally good idea to get into the habit of taking these details whenever you step into a cab
as this will be of big help in case anything goes wrong.
2. ORIGINAL TAXIS WITH THEIR OWN TRICKS
Okay, that is just the first step to make sure you don't catch a fake taxi. What if you catch an original Vinasun or Mailinh but they still have their own ways to cheat on you?
As a local, I always know where exactly I want to go and which route I supposed to be the best & fastest route, most importantly how much it is supposed to cost me. I find that many locals still get cheated to because they don't learn well about how to avoid scams. I've lived in Saigon for nearly 10 years and never been cheated even once even if I travelled to other cities.
Therefore, it is IMPORTANT to know where you are going. Make sure that you have the CORRECT ADDRESS of your accommodation and write it down (to show the driver).

Then you can use either GOOGLE MAPS or MAPS.ME apps (it's an offline map, if you don't have internet on your phone) to search for the route and distance. Use it while you are on the car as well, to ensure that the driver is not driving around to end up charging you twice or more. If you realize that he tends to go on the wrong way, just tell him that you know the way and that you have a map.
In addition, drivers sometimes cheat you by the number shown on the counter: if it shows 15.0 means 15,000 VND (less than a dollar) NOT 150,000 VND (roughly $7 USD).
If they try to charge you a wrong amount of money, take a picture of their ID and just WARN them you will call or email the company to complain (their contacts are noted at the end of this post).
Another better way is to use GRAB / GO JEK apps. I personally prefer using Grab because you know how much it is by putting the FROM and TO locations before making a booking. Less headache and trouble-free. Grab & Go Jek are very competitive to traditional taxis. But if you wanna support traditional taxis, combine checking both on Google maps and Grab, once you know the route and the estimated cost, you can just flag down a taxi and enjoyhassle-free trip.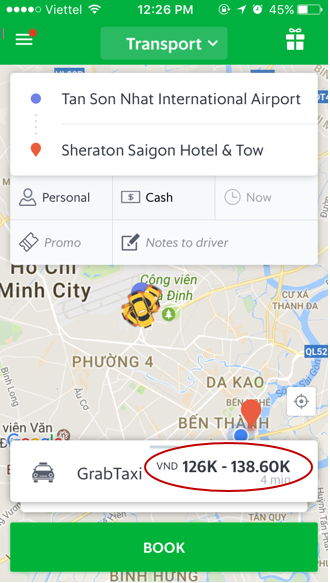 * HOW TO GET A RELIABLE TAXI AT HO CHI MINH CITY (TAN SON NHAT) AIRPORT?
At the international arrival, walk to your left towards the taxi stand. You will see taxi attendants in their uniform who you can tell which exact taxi you want to get. If you come out of the domestic terminal, taxi stand is on the right side. 
Simply ignore any drivers that come to approach you or other taxis that coming in a line. Keep calm and wait for the right one.
Each trip to the city centre (District 1) should only cost you about $200,000 - 250,000 VND (roughly $8-$10 USD).
* LOST, AND POSSIBLY, FOUND?
Although we are always advised to check our belongings before leaving a taxi, sometimes we forget things unexpectedly. 
First of all – don't panic!
The first thing to do is to contact a taxi coordinator immediately and report what you've lost. Be prepared to provide as much information as possible, including the taxi identification number, driver's name, license plate number, departure and arrival points, total fare, and route taken.
SMALL TIP: If you forget your phone, it's very important that you DO NOT call your number.
In case there are some unscrupulous drivers (and passengers) who may want to keep it for themselves if they suddenly realize that it's been left behind in the taxi. Instead, allow the coordinator to find the taxi you've taken and have it sent back to the office – your belongings may arrive back safely merely because nobody else noticed them.
Here are the contact of customer service departments:
Vinasun:
Add: Vinasun Tower | 648, Nguyen Trai, Ward 11, District 5, Ho Chi Minh City, Vietnam

Tel:  (84-28) 38 277 178

Email:

[email protected]

(for complaints)

Email:

[email protected]

 (lost & found)
Mailinh's Customer Service
Add: 64-68, Hai Ba Trung, Ben Nghe, District 1, Ho Chi Minh City, Vietnam

Hotline:

097.656.5656
Don't forget to get this special promotion 

To Learn More our useful tips in Vietnam JOIN GROUP HERE to discuss before travelling.
Avoid Ho Chi Minh Taxi Scams By Using AirPort Transfer (Best offer)