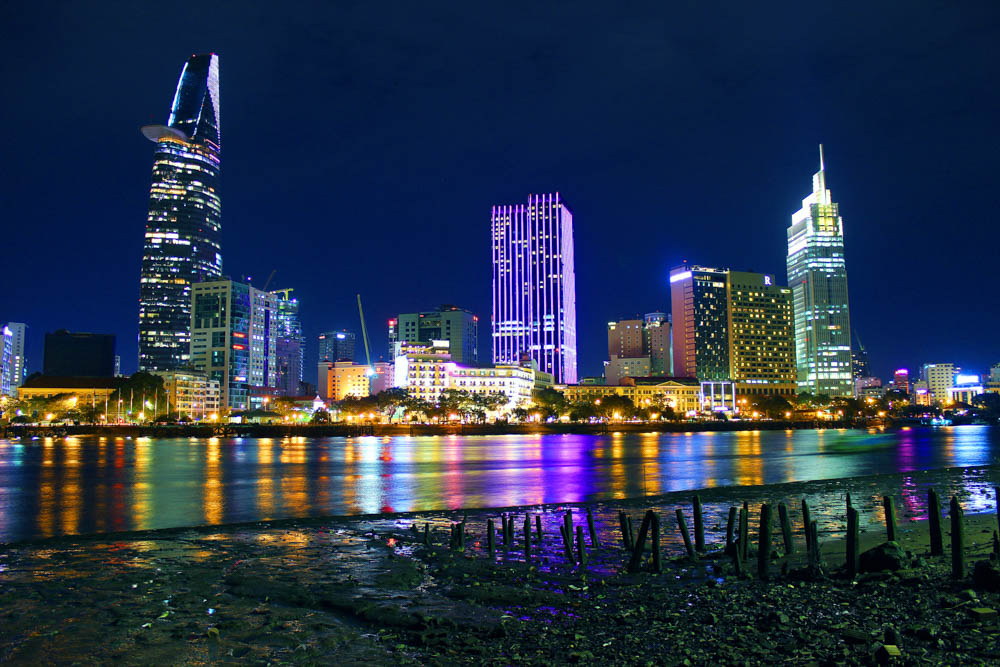 Ho Chi Minh City, commonly known as Saigon, is the mixed reflection of dynamic modern lifestyle and impressing historical architecture. In some ways, Saigon is lovely in the eyes of some people, but dangerous for the others. The difference, I think, lies in how much you understand about this city. It may be unfair for first-time travellers, but hey, you know the rules. For a safe and enjoyable trip, it is always better to travel with a bunch of useful information and tips in your luggage. Instead of browsing through different sources, you just need to read this article, because all of the Insider's guides to Ho Chi Minh City are gathered in this very article. So, please read it carefully!
1. Get in without hassles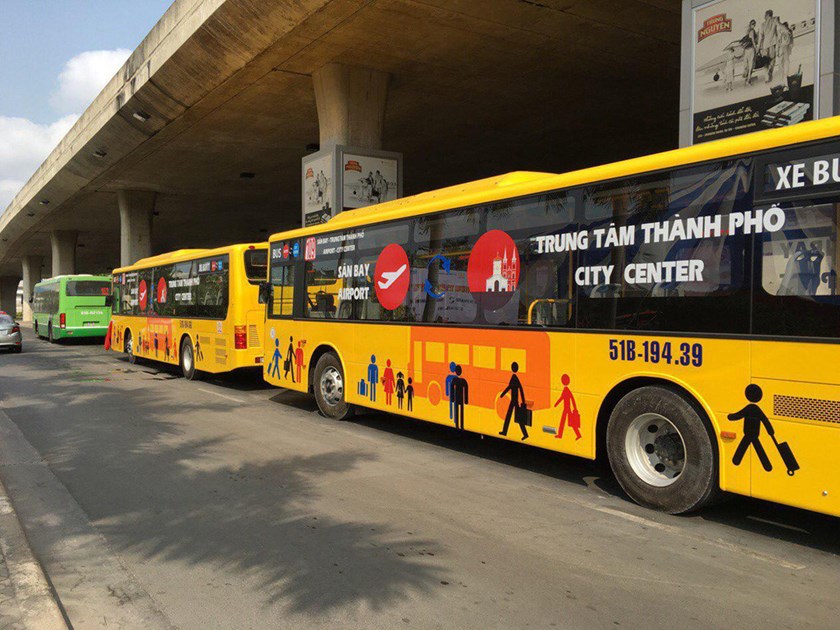 If you arrive to Ho Chi Minh City by plane and want to get to the center by taxi, you should be aware of fake taxi by looking at their logos, phone numbers, identification numbers, and types of cars. Recommended taxi company for you is Mai Linh and Vinasun. 
An alternative transportation means that it can help to save your budget is taking a bus (No.152, No. 109, or No.49.) with the price of ranging from 5,000 VND to 20,000 VND. All of them will take you to the city center, including Ben Thanh Market and Pham Ngu Lao Street. The bus stop is on your right hand side when you go outside of the airport. 
And don't be fooled by some taxi drivers approaching you to offer a ride. Somehow they can know your name and pretend to take responsibility for picking you up. If you jump in, perhaps you will be taken to the wrong address or asked to pay a high fare.
For more information about the guide to avoid taxi scams in Saigon, click HERE.
2. The rules of safety
Spend a little time to learn about these simple tips to travel safely, securely, and enjoy the sights and sounds of Vietnam – without the hassles.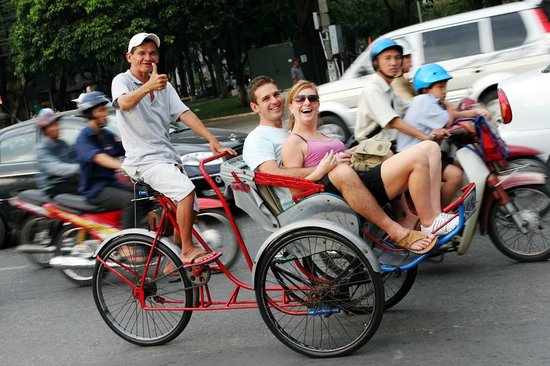 * First, be aware of snatch-thieves and pickpockets:
Thieves are quite common in Saigon, so remember to pay attention to your precise properties like purses, cell phones, cameras, or jewelry while walking in the streets or shopping at a market (If it is unnecessary, do not bring it with you.)
* Second, make sure that you know how to cross a street like a local ;)
The streets in Saigon, especially in the center, are always packed with motorbikes like sardines. The small number of traffic lights makes crossing the street in Saigon even harder. However, do not be afraid! The solution here is that just cross the street when you feel it is the right time. And once you start, don't hesitate or step back, the traffic will find ways to avoid you.
* Third, AVOID taking Motorcycle taxis and Cyclos:
Motorcycle taxis (or 'xe om') and cylos (three-wheel bicycles) is NOT really a safe choice, because there is no fixed price at all. Instead, it is advisable for you to book Grab (Taxi/Bike/Car.)
* Fourth, DON'T be fooled by overwhelming street Vendors:
Many street vendors in Saigon will invite or even urge you to buy their goods with a ridiculously high price. Sometimes, they ask to help you or invite you to take a photo with their shoulder pole and then demand a fee or a purchase of their goods. The only one thing you should do in this case is saying "No".
More information about safety tips in Ho Chi Minh City, please click HERE
3. Find an ideal place to stay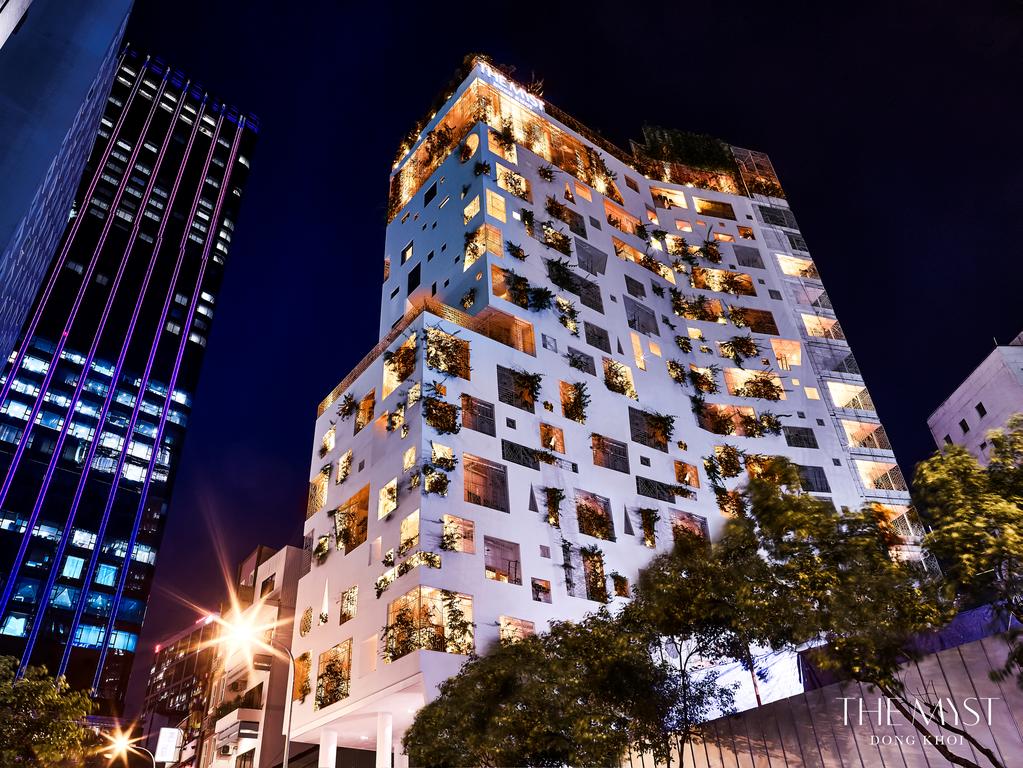 Ho Chi Minh City is divided into 24 districts, each offers unique experiences and accommodation options for tourists. However, if you are looking for a convenient travel and a busy nightlife scene, District 1 is the best choice for you. Below are some recommendations for which ideal areas to stay. To determine which hotel is best, I would suggest that you read hotel reviews from travel websites such as Tripadvisor or hotel booking sites like Booking.com or Agoda. Anything I tell you would only be hearsay and not from direct experience.
* Budget 
The main backpacker hangout is Pham Ngu Lao in District 1, just a short walk (10-15 min) from Ben Thanh Market. The lanes and alleys in the area between Pham Ngu Lao and Bui Vien (hem 40 Bui Vien, hem 283 Pham Ngu Lao, etc) are jammed with 5-10 rooms mini-hotels offering prices US$7-20 per a single bedroom (air-con with hot shower, free wifi, and cable TV). They probably offer the quietest places in the city.
* Mid-range
The area around Ben Thanh market along Le Thanh Ton and Ly Tu Trong have many reasonably priced hotels with clean rooms in the US$25-45 bracket.
* Luxury
Luxury hotels are popping up faster than mushrooms in the monsoon rains. You will find the Caravelle, Sheraton and Grand are lined along Dong Khoi - a high-end street and home to many French colonial buildings or The Myst, Le Meridan, Lotte Legend and Renaissance Riverside along the riverside that possess themselves an elegant view of Saigon River. 
4. Immerse yourself in Saigon food paradise
* STREET FOOD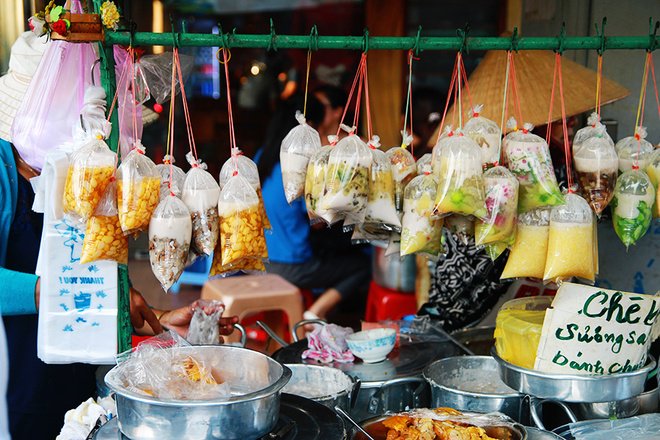 It is commonly said that Saigon is like an open-air restaurant. The street food scene almost permeates every district, every alleyway and every corner of the bustling city. If you travel in Saigon without tasting street food, your trip to the city is still not complete.
* Pho
With contagiously balanced tastes of sweet, salty, spicy and citrus, Pho becomes a must-try food in Vietnam. Unlike Pho in Hanoi, Pho in Saigon has a special soup which has often no MSG (monosodium glutamate) and is slightly opaque in color. If you are attracted to this dish, you can go to:
1. Phở Phú Vương, 120 Nguyen Thai Binh, Dist 1. [MAP]
Open hours: 07:00 - 22:00

Prices: 50.000đ - 80.000đ
2. Phở Hòa: 260C Pasteur, Ward 8, District 3. [MAP]
Opening hours: 12:00 PM  - 00:00

Price range: 40,000đ – 55,000đ
3. Phở Lệ: 303 - 305 Vo Van Tan, Ward 5,District 3. [MAP]
Opening hours: 7:00 AM - 10:00 PM

Price: 55,000đ
* Banh Xeo
Banh xeo literally means sizzling crunchy crepes made of rice flour, coconut cream sauce, pork, eggs, green bean, shrimps, etc. If you want to try this unique cuisine, look for these:
1. Banh xeo at 46 Dinh Cong Trang, Tan Dinh Ward, District 1. [MAP]
Opening hours: 10:00 AM - 02:00 PM and 04:00 PM - 09:00 PM

Price range: 15,000đ – 55,000đ
2. Banh xeo Muoi Xiem at 204 Nguyen Trai, District 1. [MAP]
Opening hours: 10:00 AM - 10:00 PM

Price range: 50,000đ - 110,000đ
* Com Tam (Broken Rice) 
Com tam, a popular breakfast in Saigon, usually includes broken rice, grilled pork, egg meatloaf, bì (a mixture of thinly shredded pork meat and thinly shredded pork skin) and fish sauce.
1. Cơm tấm Hiền: 241 Cach Mang Thang 8, Dist 3. [MAP]
Open hours: 10:00 – 23:00

Prices: 25.000đ - 55.000đ
2. Cơm tấm 129: 129 Đoàn Văn Bơ, Ward 12, District 4. [MAP]
Open hours: 15:00 – 23:00

Prices: 18,000 – 28,000đ
* Banh Mi (Vietnamese Baguette)
Banh mi is Vietnamese baguette packed with meat, herbs and vegetables. It is so popular that almost every corner of Saigon has at least one Banh mi stall.
1. Bánh mì Huỳnh Hoa: 26 Le Thi Rieng, Ben Thanh Ward, District 1. [MAP]
Opening hours: About 3:30 pm – midnight daily

Price: 33,000đ
2. Bánh mì Như Lan: 50 Ham Nghi, District 1. [MAP]
Opening hours: 08:00 AM - 08:00 PM

Price range: 15,000đ – 55,000đ
* VIETNAMESE HOME-COOKED FOOD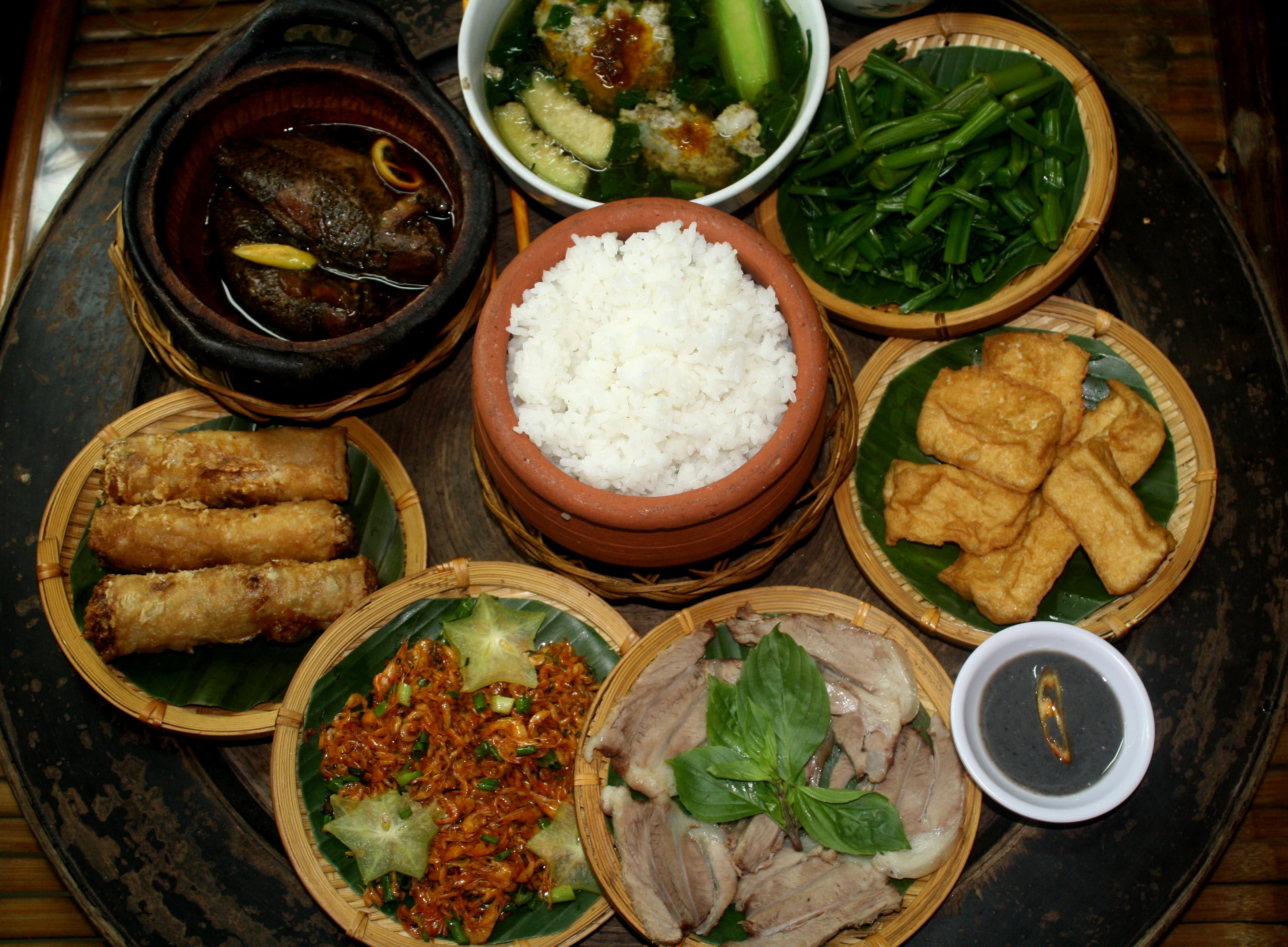 When most people think of Vietnamese food, the first dish that comes to mind is Phở. But there's more to Vietnamese cuisine than a bowl of Pho noodle soup. If you want to eat like a Viet, give one of the following restaurants a try:
1. Ghem: 103 Pasteur, District 1 [MAP]
Opening hours: 07:00 - 22:30

Prices: 30,000 - 60,000 VND.
2. Năm Mười Mười Lăm Cafe: 29 Ngo Thoi Nhiem, Ward 6, District 3 [MAP]
Opening hours: 07:00 - 22:00

Prices: 30,000 - 50,000 VND.
3. Bụi Restaurant: 17A Ngo Van Nam, District 1. [MAP]
Opening hours 9:00 AM - 11:00 PM

Price range: 150,000đ – 550,000đ
3. Cơm niêu Sài Gòn Restaurant: 59, Ho Xuan Huong, District 3. [MAP]
Opening hours: 10:00 AM - 11:00 PM

Price range: 150,000 – 500,000đ
Want to get more recommendations for places to eat? Let's visit my post about "Top Must-eat Dishes & Dining Spots In Saigon for Foodies". Click HERE
5. Get to know well where to wander 
   5.1 EXPLORE SAIGON HIGHLIGHTS: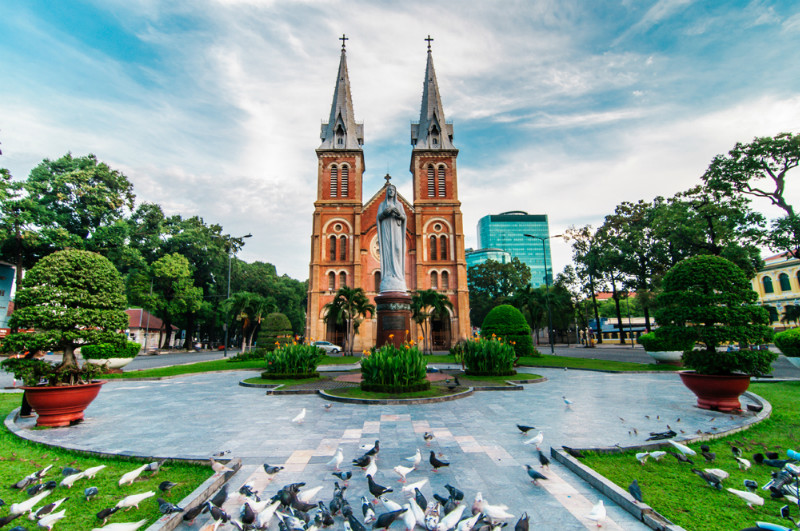 Like I have stated previously, Ho Chi Minh City is the combination of old and new elements. To understand the history of Saigon, don't miss the following iconic destinations.
Bitexco financial tower

People's Committee

Saigon Central Post office

Saigon Notre Dame Cathedral

Saigon Opera House

Reunification Palace

War Remnants Museum

Cho Lon
First, one of the best ways to orient yourself is with a trip to the 48th-floor Saigon Skydeck on Bitexco Financial Tower. You can choose a clear day to enjoy 360 degree views and sunset or an evening for an absolutely splendid nightlife observation.
Then head to the areas nearby to admire the French Colonial's unique and historical architectures such as the City Hall, Saigon Central Post office, Saigon Notre Dame Cathedral and the Saigon Opera House on Dong Khoi street and Nguyen Hue walking street.
And don't leave without taking a tour of the Reunification Palace, a fascinating government building, significant for its role in the Vietnam conflict and the War Remnants Museum a confronting reminder of the horrors of war for a wonderful insight into the Vietnamese history.
If you have plenty of time in Ho Chi Minh city, then maybe spend a day visiting Cho Lon, one of the world's largest Chinatowns. But it far more than just a traditional Chinese settlement, it's a place to come to better understand the American War - one of the most controversial conflicts in the 20th century.
   5.2 DISCOVER THE HIDDEN COFFEE GEMS IN SAIGON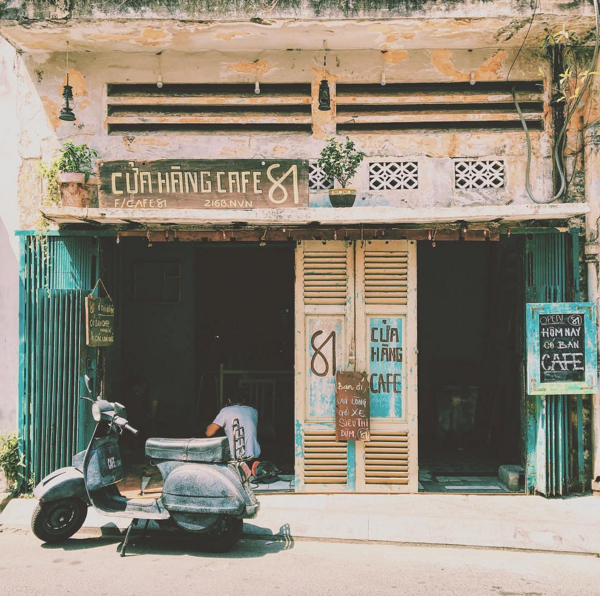 It would be pretty easy to pay a short stop at some popular cafes like Trung Nguyen Café or Highland Cafe. However, sometimes the coolest thing is hidden inside some vintage cafes in Saigon. Before going there, prepared to expect the unexpected!
Hoang Thi: 31 Nguyen Thai Binh, District 1 [MAP]
Cafe ut Lanh: 283/37 Pham Ngu Lao, District 1. [MAP]
Năm Mười Mười Lăm Cafe: 29 Ngo Thoi Nhiem, Ward 6, District 3. [MAP]
   5.3 GET YOURSELF RELAXED WITH SOME OF THE BEST MASSAGE TREATMENTS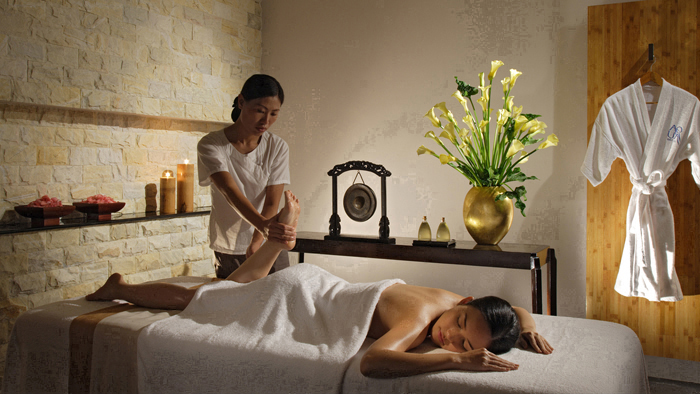 If you want to take off the tiredness stimulated from a long trip, getting some massage will be a good solution. Here are some recommendations for a good massage in Saigon:
Miu Miu Spa, 4 Chu Manh Trinh, District 1 [MAP]
Cat Moc Spa, 61-63 Tran Dinh Xu, District 1 [MAP]
Saigon Heritage Spa, 69 Hai Ba Trung, Dist 1 [MAP]
   5.4 EXPLORE THE EXCITING NIGHTLIFE IN SAIGON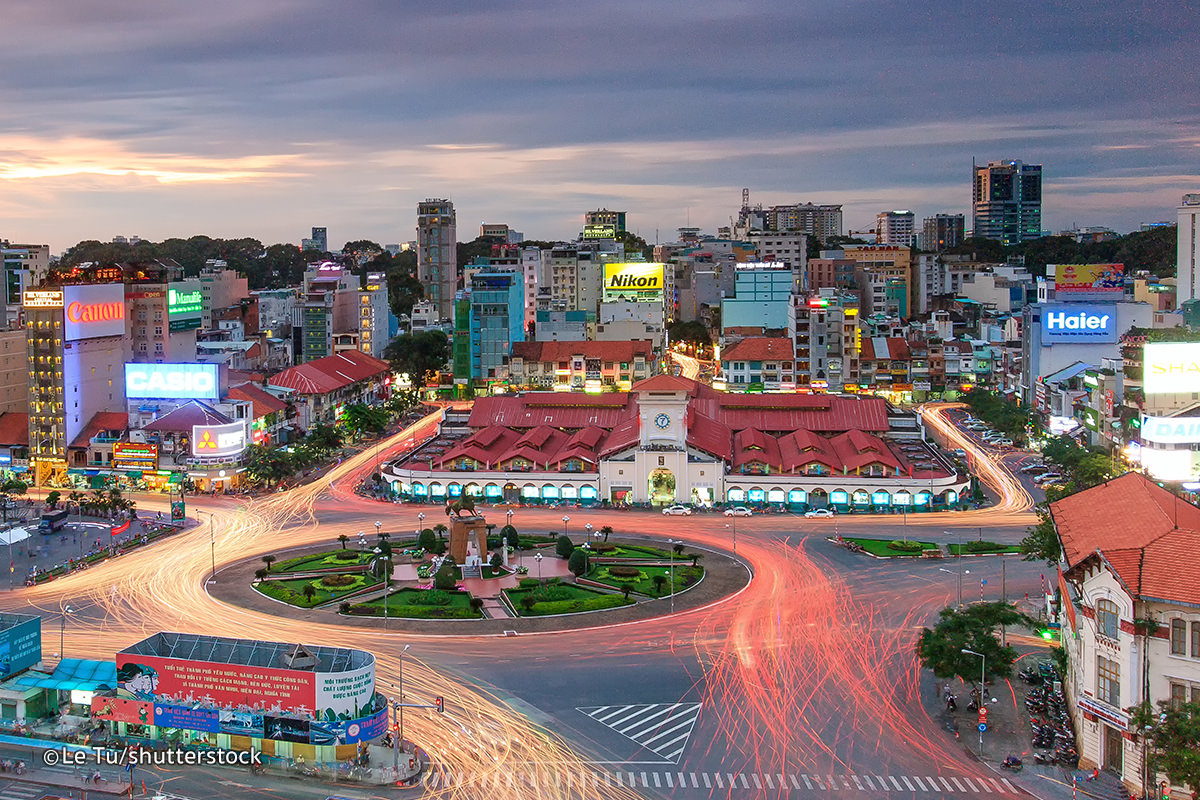 Ho Chi Minh City is definitely a party city with many bars, pubs, or nightclubs, so whenever you miss the party life, a bar is just right there waving its hands to welcome you.
* High-end rooftop bars:
* Night clubs:
* Live music:
1. Thi Lounge: 224 De Tham, D1. [MAP]
Join the cheerful band and crowd of beery expats, backpackers and the odd Vietnamese for a night of good, honest fun.
2. Seventeen Saloon: 103 Pham Ngu Lao, D1. [MAP]
A bar with the look and feel of an old American western saloon. It's a great nightspot featuring a live Filipino band and friendly staff.
3. Carmen Bar: 8 Ly Tu Trong, D1. [MAP]
A curious Saigon live music space. Flamenco - yes in Spanish - is performed by a mainly Vietnamese band.
If you want to take a walk at night and still enjoy the hustle and bustle atmosphere of the dynamic city, get these addresses into your bucket list:
Nguyen Hue walking street

Bui Vien drinking street: busy every night til 3-4:00 AM; Bui Vien turns into pedestrian-only thoroughfare on weekend evenings from 7:00 pm to 2:00 am.
  5.5 SPEND A DAY OR TWO OUTSIDE OF THE CHAOTIC SAIGON
Incredible, interesting and worth your time if you are keen on learning about the history. The Cu Chi Tunnel highlights the dedication and ingenuity of Vietnamese soldiers during the Vietnam War and is also a reminder of the history of Vietnam. Many parts of the long tunnel are still kept in good condition. Besides, you will be able to observe many kinds of traps, weapons used in the war and experience living conditions of the soldiers back then. I believe that you will be surprised at the shortage and difficulties the soldiers had to endure to live and fight during the war.
Be aware that there are 2 tunnels in Cu Chi district. Ben Dinh where most bus tour companies would take their tourists to whereas Ben Duoc is a further away and lesser-known but more authentic place.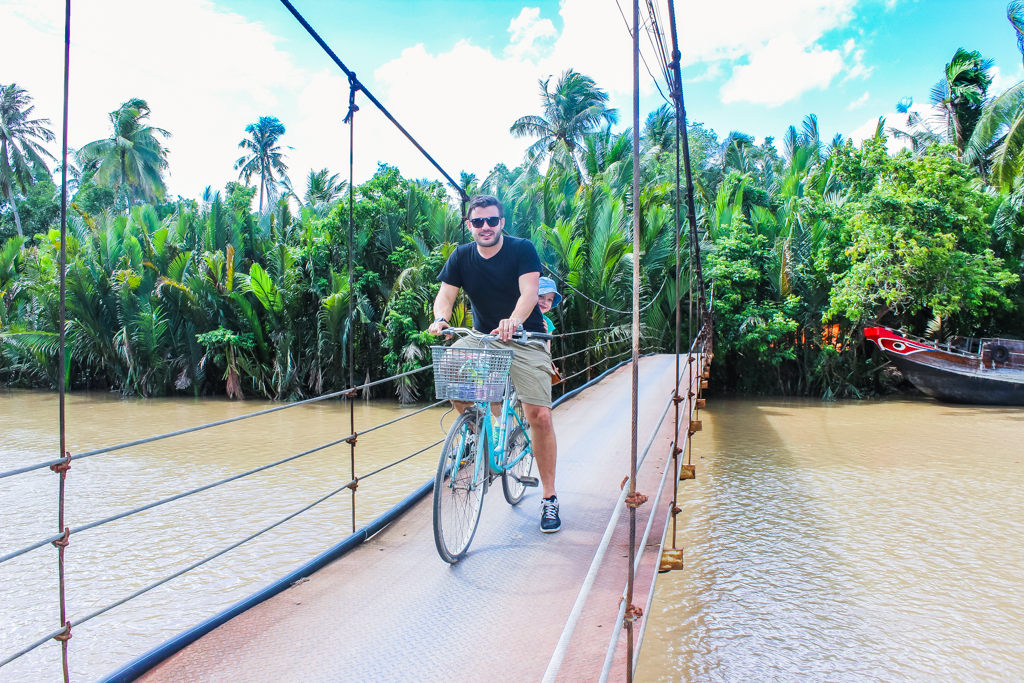 Your trip to Southern Vietnam can't be perfect without visiting the Mekong Delta.  Spend a day or two to visit Vietnam's wonderland of rice paddies, fruit-laden trees, and chocolate-colored canals is an interesting experience for many tourists. What's more exciting to experience the hospitality of locals, shop in a floating market, enjoy fresh fruit and delicious dishes.
It's highly recommended that you should NOT go on a one day trip to Cai Be floating market. It is because the market has become too touristy with many tourist' shops involved. Also, the market is very quiet these days due to the significant improvement of the local infrastructure in the area.
6. Allow yourself to have fun with locals
Taking a grasp of some common words, you can greatly improve your experience and reduce misunderstandings during your stay in Vietnam. Here are some most helpful Vietnamese for you:  
BASIC

Hello

Xin chào. (sin chow)

How are you?

Khỏe không? (kweh kohng?)

Fine, thank you.

Khoẻ, cảm ơn. (kweh, gauhm uhhn

What is your name?

Ông tên là gì? (ohng ten la zee) (formal, to a man (forties or older, depending on the sensitivity of the person you address))

Bà tên là gì? (baa ten la zee) formal, to a woman (forties or older, depending on the sensitivity of the person you address)

Cô tên là gì? (koh ten la zee) (informal and also flattering, to a female who is not quite middle-aged AND not significantly older than you)

Anh tên là gì? (ang ten la zee) Note: Anh is an umbrella term for any older male figure. It's literal meaning is "older brother".

My name is ______ .

Tôi tên là ______ . (Toy ten la _____ .)

I'm from _____.

Australia

US

Canada

UK

France

Germany

The Netherlands

Tôi đến từ ______.

Nước Úc (úk)

Nước Mỹ (Mee)

Ca-na-đa (Ka: na: da: )

Nước Anh (Ann)

Pháp (Fáb)

Đức (Duk)

Hà Lan (Haa Lann)

Please.

Làm ơn. (lam uhhn)

Thank you.

Cảm ơn. (gauhm uhhn)

You're welcome.

Không sao đâu. (kohng sao dwoh)

I'm sorry.

Xin lỗi. (sin loy)

Goodbye

Tạm biệt (tam byet)

Yes (affirmative)

Vâng (vuhng) (affirmative, respectful)

Dạ (Northern : zah, Southern : yah)

Không.

(kaumng)

Where is the toilet?

Nhà vệ sinh/wc ở đâu? (

FUN WORDS

OMG!

Trời ơi! (Choy oy)

Let's drink!

Nhậu đi (Nhəʊ dee!)

One, two, three, cheers!

Một, hai, ba, dô! (Mot, hai, ba: yo!)

I can't speak Vietnamese.

Tôi không biết nói tiếng Việt. (toy kohng byet noy tyeng vyet.

I'm lost.

Tôi bị lạc. (Toy bee lart)

Liar!

Xạo quá (Sao wa)

So beautiful

Đẹp quá (Deb wa)

So handsome

Đẹp trai quá (Deb trai wa)

So ugly

Xấu quá (Saʊ wa)

Cẩn thận!

(Kuhn tuh'n!)

Shut up!

Im đi! (im dee!)

Leave me alone.

Để tôi yên. (Dee toy ien)

I'm single.

Tôi độc thân. (

Nobody loves me.

Không ai yêu tôi (kong ai il  toy) / Tôi bị ế (Toy bee ếi) (makes some body laugh)

SHOPPING

How much (money) is this?

Bao nhiêu (tiền)? (bahw ngew tee-uhn...)

That's too Expensive.

Đắt quá / Mắc quá. (daht?! wahh? / Maht wahh) (Northern / Southern)

Give me a discount!

Bớt đi! (bʌd.i)

EAT & DRINKS

I'm a vegetarian.

Tôi ăn chay. (Toy  an chei)

I can / cannot eat spicy food

Tôi ăn cay / không ăn cay. (Toy ann / kong ann kai)

May I have a bottle / can of _____?

Mineral water

Beer

Cho tôi xin một chai / lon _____? (...)

(tʃo toy sin mɒt tʃai / loʊn _____?

Nước suối (neu-uk suay?)

Bia (biə)

I like eating Pho

Tôi thích ăn Phở (Toy θiːtʃ ann Pho)

So delicious!

Ngon quá! (ŋon wa!)

I'm so hungry

Tôi đói quá (Toy doy wa!)

I'm full!

Tôi no rồi! (Toy nɔ roy!)

NUMBERS

0

không (kohng)

1

Một (Northern : moht, Southern : mohk)

2

hai ("hi")

3

ba (bah)

4

bốn ("bone")

5

năm ("nuhm")

6

sáu (sao)

7

bảy (bye)

8

tám (tahm)

9

chín ("cheen")

10

mười (meui)