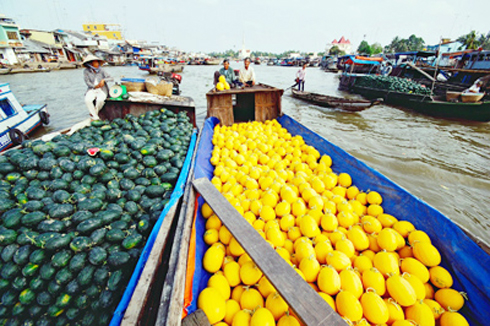 A place where boats weaving to each other and trying to make an escape. Boats have become a vital means of transportation in Mekong Delta. People carry everything on boats and they gather boats to form a very unique market that we called "floating market" or market on the water.
Floating markets open all day, however, the best time to see them is early morning when the sun starts rising and fog fades away. Therefore, you should get up as soon as the first sunlight comes to shine. You can sit on a small wooden boat leading you through the vibrant market to get the view and fill your lungs with freshness smell from tropical fruits. Otherwise, there is nothing to see as it is too hot for locals to work under the sunlight for a long time.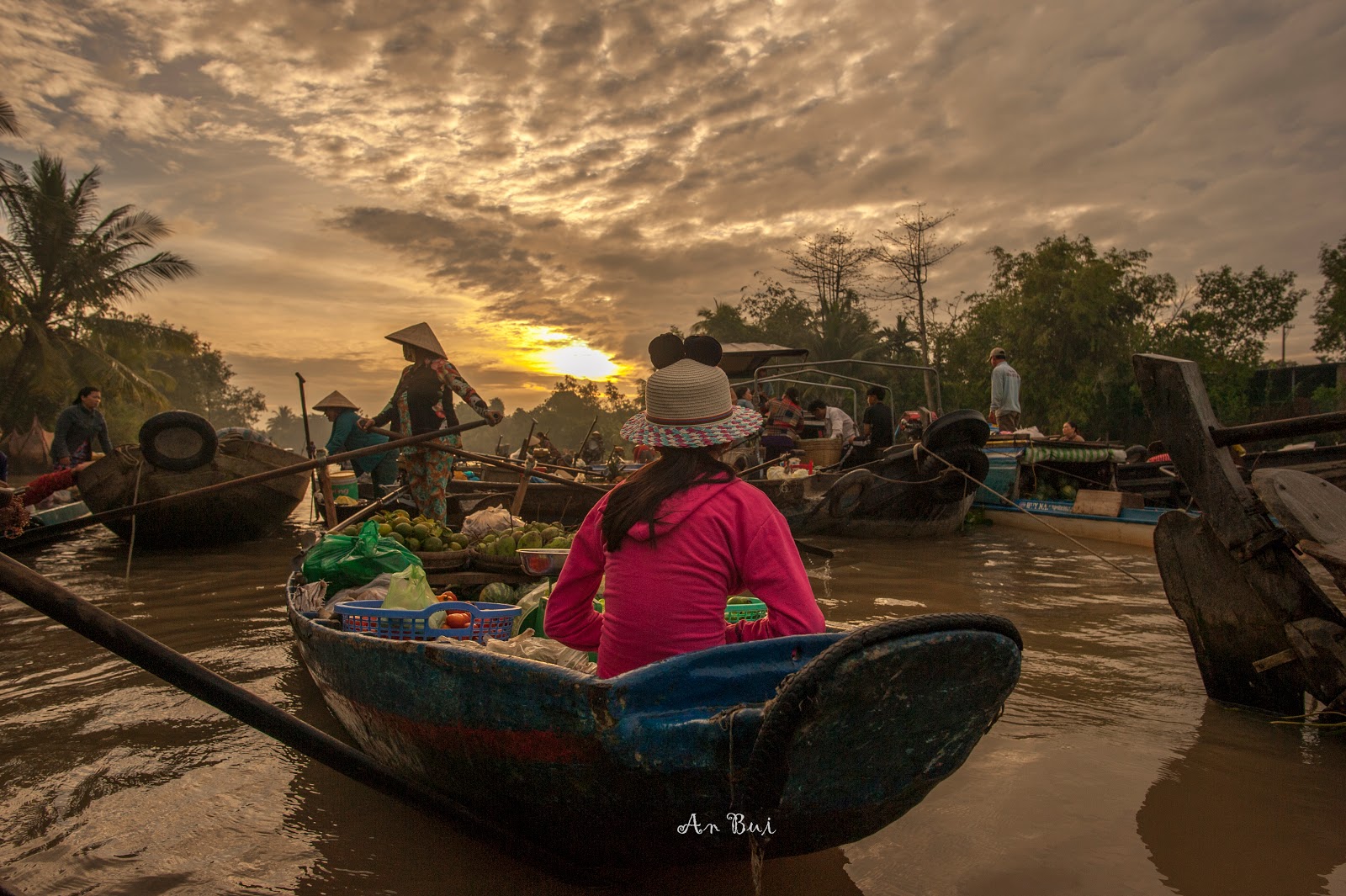 Located in the middle of Xa No Channel and Can Tho river, there are 2 two floating markets Phong Dien and Cai Rang. The most vivid one is Phong Dien floating market in Nhon Ai commune. The signature symbol of floating market is "beo hang" - a special marketing style that gets the attention of buyers. Traders hang products on top of bamboo sticks. It is a simple but effective way to sell things. But if you see one boat with the coconut leaf on top, it means they want to sell the boat. Along with hanging things, some grocery stores use horn advertise instead.
Once you come to the floating market, you will not forget the busy atmosphere here. It is not easy to forget the melody of the floating market, which is made of the locals' greeting and boat's engine. No matter how fast time flies, life on the floating market remains unchanged. For a long time, Cai Be, Cai Rang, Phong Dien, Nga Bay, Nga Nam, etc. have dwelled in the local mind as the must-visit place for buying food and every product that they need for daily life. From these markets, tropical fruits and seafood are transported to the whole country. Thanks to them, we have a new career called "Thuong Ho" - traders on water. They devote their whole life to travel along Mekong Delta to bring essential goods for locals even in remote areas. They are humble and friendly just like million people of the South. Nowadays, you hardly see them due to the development of infrastructure. These traders find it difficult to make a living because the land market, convenience stores, and supermarkets are everywhere.
To have more useful information about what to do, what to eat and how to enjoy the most of your Floating Market Visiting, here goes the help from Hot Vlogger Tiger Andren from Sweeden cooperate with Innoviet Travel : Full UNIQUE Mekong Delta Tour in Vietnam
Though the market activities occur on the water, it does not limit the type of products that they sell. You can find from a tiny needle to household tools. Some do offer traditional cakes made of rice, mung beans, or coconut or hot noodle soup at a really good price. It is quite amazing while you sit on the boat and try your best to save your breakfast from falling down because of the current (especially soups).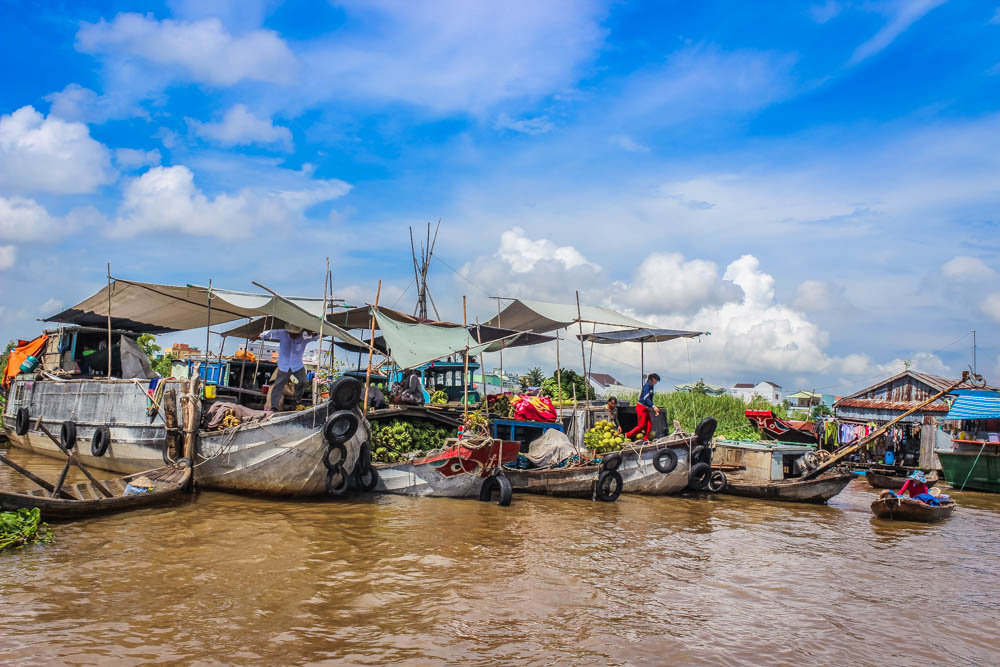 While Phung Hiep floating market and Cai Rang floating market are the wholesale hub for agriculture products, Ca Mau floating market is a gathering spot of retailers from all over the regions. 
Each boat is a mobile house where a family of two or three generations living together. They see boats as their homes and customers as their neighbors. Ca Mau floating market once dotted in Ganh Hao river intersection, which is convenient for local traders (as the river mouth is big and wide) to sell things. Because the market was crowded and busy, the government decided to move it to near Ganh Hao river area, 3km away from Ca Mau city. "Thuong Ho" traders at Ca Mau do two-way trade to earn money. They carry tropical fruits, rice, etc. from the North of Mekong Delta (rich fertilized land) to sell at Southern part (salt marsh). Then they collect charcoal, wood, seafood, etc to trade them in the upper area. This business circle has lasted for a long time, which helps to create a unique trading style for Ca Mau floating market.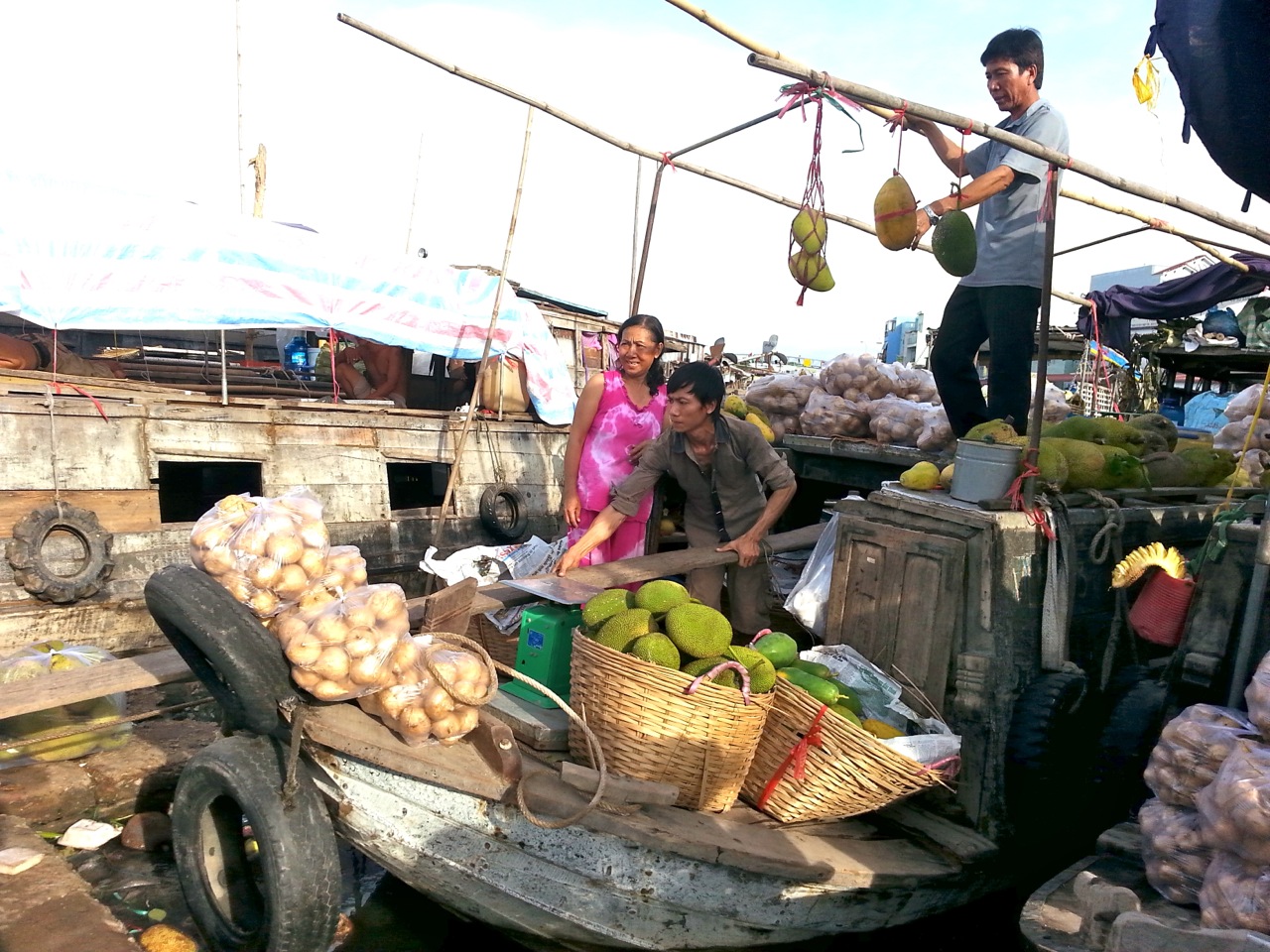 Beside all well-known floating markets, there are many unnamed and small markets ranging from Ca Mau province to Kien Giang province. The area has 11 man-made channels which are named by number (from 1 to 11). These floating markets usually open in the entrance or intersection of these channels. People don't hang stuff on the bamboo stick or shout out to catch attention but paddle their small wooden sampans around to buy what they need. You can call it a farmer's market as the sellers sell their own-produced products. Good-exchange is the dominant trading method here. It means you do not really need money to buy things. All you need is to bring your own product.
No matter what scale of the market is, floating markets have become a vital part of Mekong people for many generations. To the old, they are their childhood and adult life. To the young, they are the cultural legacy that they are proud of. 
Source: Phuongnamplus (2016). Cho noi va van hoa song nuoc Mien Tay
https://phuongnamplus.vn/4-55-31479-Cho-noi-va-van-hoa-song-nuoc-mien-Tay.html
Translator: Nhung Vu
Editor: Vi Lam