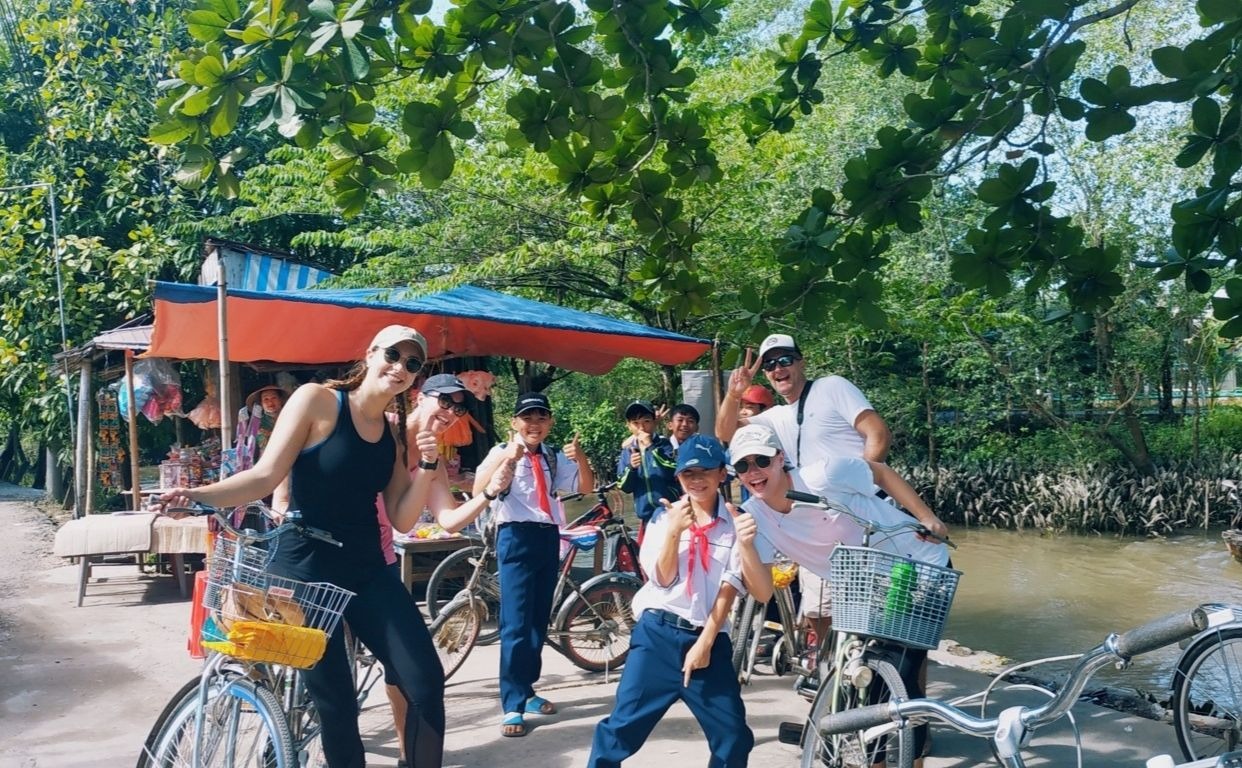 How long we should use for traveling around Mekong Delta? That is a very common question that I received from a lot of travelers around the world. For any travelers who don't have enough time for spending in Mekong Delta, a day trip from Ho Chi Minh City is not a bad choice. Or even a half-day trip in Mekong Delta mix with Cu Chi Tunnels can make you satisfy. But to be honest, this will be very rush and you won't have any chance to enjoy 100 percent of the Mekong Delta. If you want to have the best experience when traveling to the Mekong Delta, 2 days with an overnight at a local homestay can become the best option for you. So what can you expect from a 2 day tour in the Mekong Delta, let's dig out in this blog?
Riding bicycle throughout the land of the Mekong Delta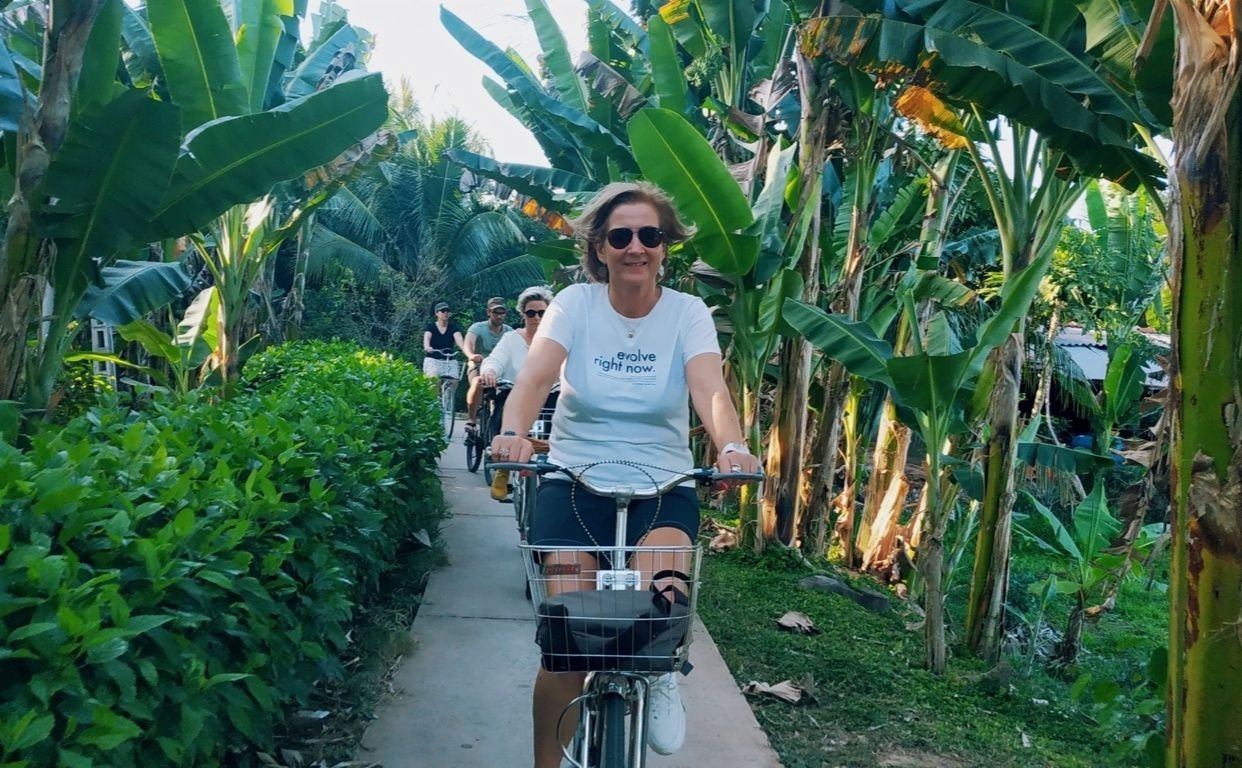 The best moment that you can be able to enjoy while joining in a tour that organizes by local travel agencies to the Mekong Delta is cycling throughout the fantastic scene of this beautiful and peaceful land. If the North of Vietnam is famous with the wonderful sightseeing of the trails on the mountain of Ma Pi Leng, Pha Din, Khau Pha, and O Quy Ho, then in the Mekong Delta, the hidden trails go through villages, houses and fruit orchard can create the satisfaction of you. Some people will be wondering if they will see any other travelers or if they will pick the touristy trails, etc. I ensure with you guys that Innoviet Travel is an expert local travel agency about this. You will not see other travelers and tourists except you and a local tour guide. You will have a chance to observe the rural area of the Mekong Delta, taking a picture of a beautiful rice field and visit a secret local temple which is hidden right in the middle of the land. Eventually, you will see some local people on the trails where you are going. They will wave their hands and say hello to you with a gorgeous smile. That is the friendly welcome of the local people here.

Learning how to cook Vietnamese dish with local people
Whenever you travel to a different country, local cuisine is the thing that you better try. In the past few years, Vietnamese food is becoming well-known around the world. Vietnam is divided into 3 different parts. And every place you go will be a unique culinary culture. When joining with Innoviet Travel on a tour to the Mekong Delta in 2 days, you will even have a chance to learn how to cook Vietnamese food with the local people here. You will be able to learn how to make one of the best Mekong Delta food that was voted by travelers around the world. That is a local pancake. In the Vietnamese language, it was called Banh xeo, Banh khot. And if you want, the local chefs will give you instructions that written by themselves. Then when you come back home from Vietnam, you can be able to cook it on your own. Besides that, you will eat what you just made. So that remember to cook it carefully. You don't want to have any trouble with your stomach when traveling, do you?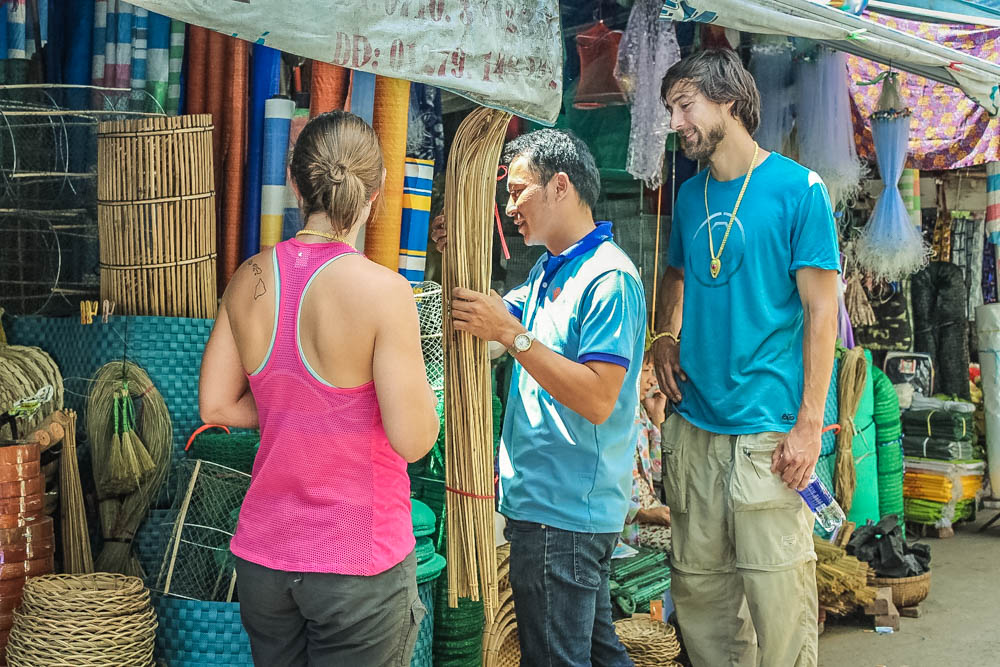 Floating Market in the Mekong Delta
In the Mekong Delta, the floating market is the place that you should go when you have a chance to come here. And in my opinion, Cai Rang floating market is the best floating market to visit in the Mekong Delta. Why do I recommend you to visit Cai Rang floating market. Heading south of Tien River in Can Tho City, you will reach Cai Rang floating market. Different from the floating market in Thailand which is organized for tourists, Cai Rang floating market is created by local people here for trading their product. No one knows exactly when was the floating market created. But some people believe that the floating market was organized by local people since they moved to here. That's means around XVII century. In Cai Rang floating market, you can see the local people here use boats to deliver their products. Cai Rang floating market starts from very early morning to around mid-lunch. So if you want to see the floating market with full of activities, you should come here early. At Cai Rang floating market, the local people here also use small rowing boats to serve the breakfast for local people around the floating market and for tourists as well. So that you don't have to worry about your empty stomach before heading to the floating market.
Excursing on a boat along the Mekong river and rowing boat in a small canal
It could be a big mistake if you travel to the Mekong Delta without taking a boat and go along to the Mekong River. Mekong River is the longest river in South East Asia. It goes through 5 countries in this region: Myanmar, Laos, Thailand, Cambodia, and Vietnam. So that means Mekong Delta is the main downstream of the Mekong River. Over 15 million local residents who live on this river. Thanks to the Mekong River, the local people here can use the water from the river or canal to build a whole irrigation system at their garden or their rice field. On the boat trip along the Mekong river, you will see the way the local people live around the Mekong River as well as their activities. Besides that, there are hundreds of small canals at the Mekong River and you can have chance to observe the natural life here: palm coconut trees with their shade will cover you from the sunlight or some ducks are swimming on the surface of the water. Especially when you join with Innoviet Travel, you don't have to worry about being stuck in the middle of many sampans taking other tourists like you. Their itinerary is designed carefully to avoid the crowd and touristy area.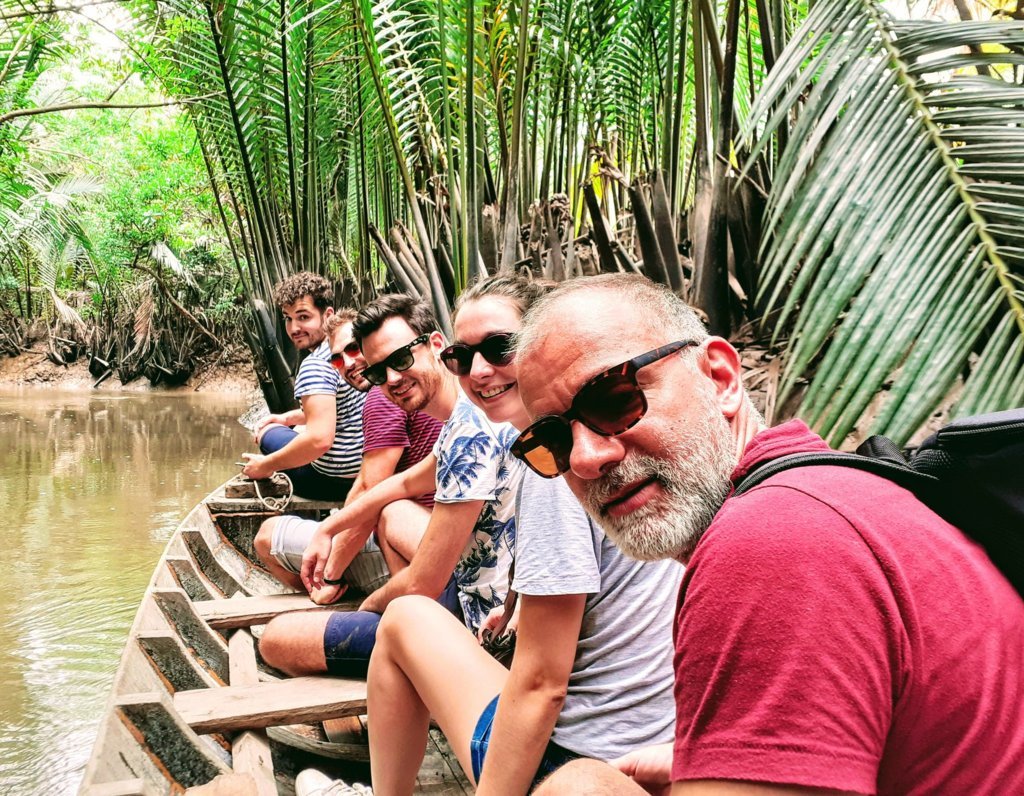 Having fun with the local people
When traveling, some tourists just want to stay off the crowd and find a place that they can't be disturbed by anyone. On the other hand, some tourists want to interact and know more about the life of the local people. And if you are that kind of tourist, Innoviet Travel is the right choice because within the two-day tour to the Mekong Delta, you will have a chance to have fun and doing stuff with them. For example: joining cooking class activities, drinking rice wine with the owner of the homestay or even challenging him who will get drunk first. You will feel the honest, friendly of the local people here they give to you.
So what is your decision
In conclusion, time is very important to every traveler, knowing what is worth to spend time with is the beginning of a great trip. So in my opinion, 2 days in the Mekong Delta can be the best option for you when you travel to the South of Vietnam. You can even spend 3 days here if you have more free time. And Innoviet Travel is a good choice to help you stay of the crowd and enjoy the trip in the Mekong Delta completely.
Writer: Thinh Tran
Editor: Lam Vi