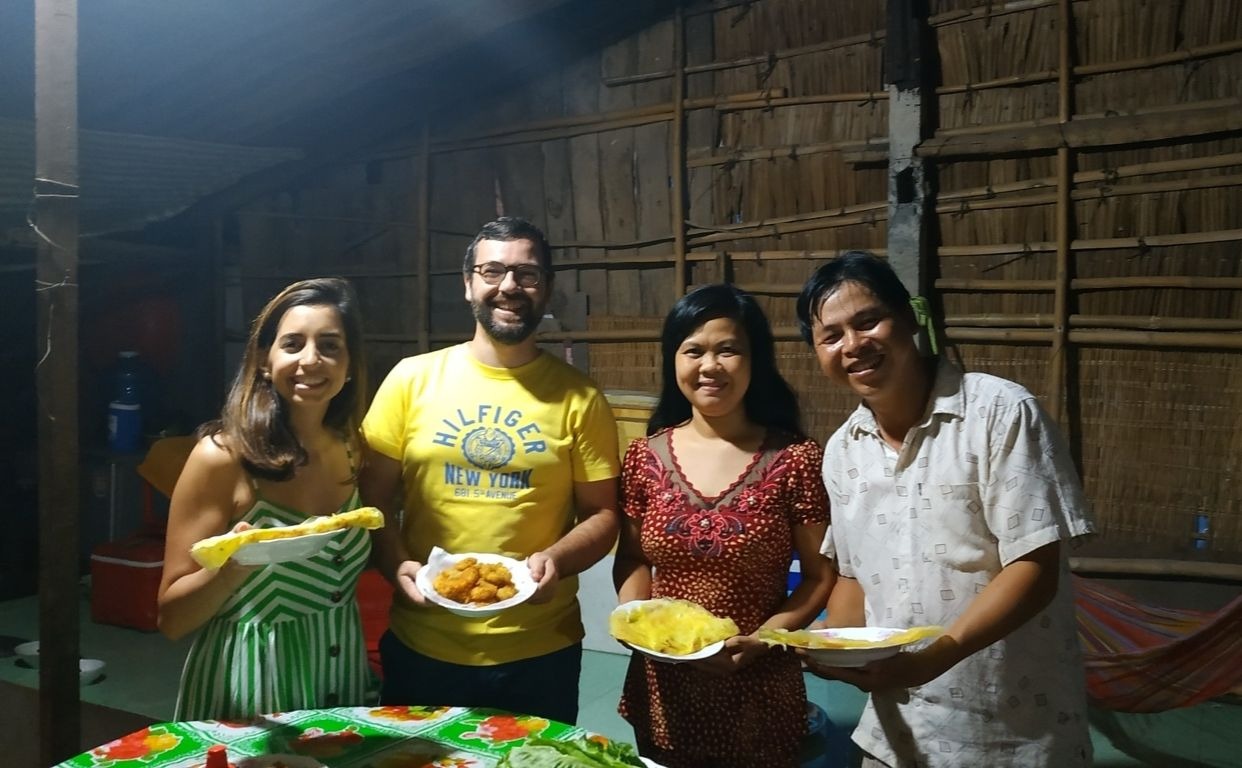 I and my team love the Mekong Delta. If you ask me what I love about our Mekong tours, there would be a long list as I love everything about it. If we have to pick up the highlights on our tours, then this article will show you our unforgettable authentic experience with Innoviet.
Learn about Caodaism- a unique religion in Vietnam
Does Cao Dai ring a bell to you?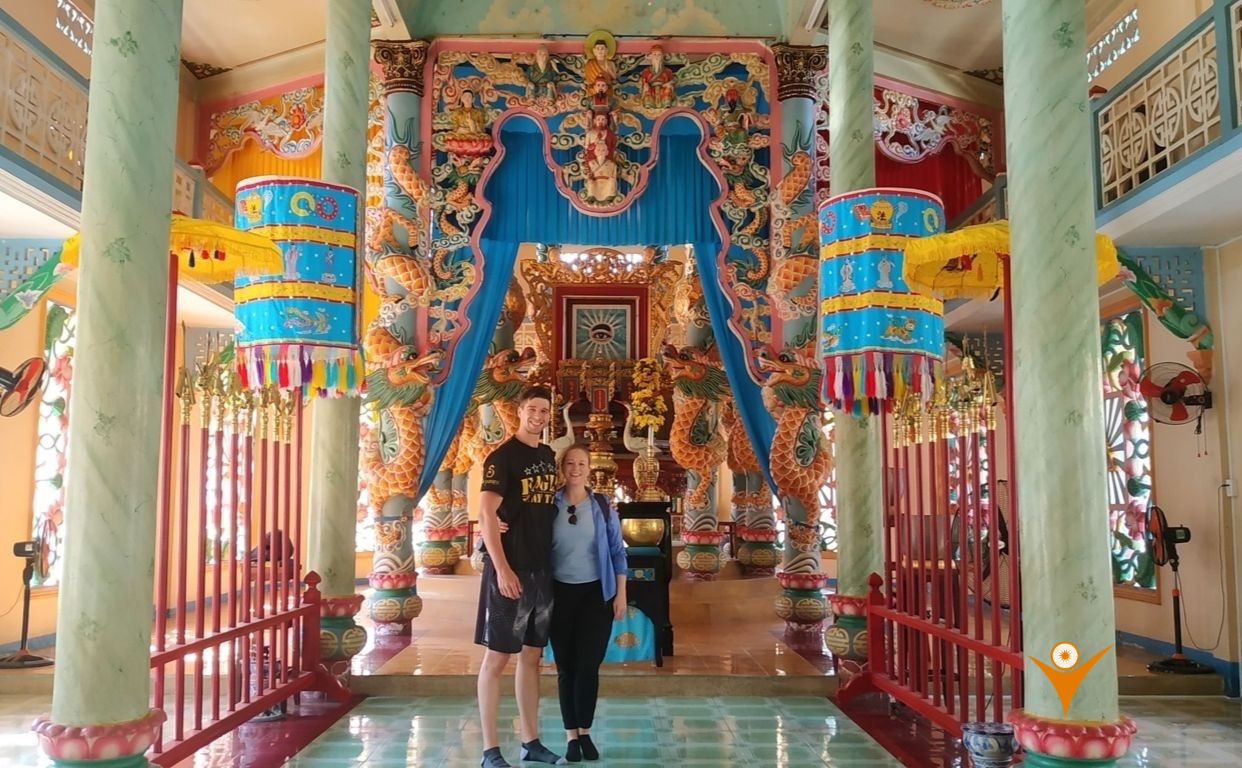 If it is not, it's normal as it is the unique religion that was founded in the South of Vietnam in 1926. Cao Dai is only 94 years old but it has a great impact on many Mekong people. We have around 3 million Vietnamese people who follow it.
This visit to Cao Dai is promised to give you an insight of the Mekong spiritual life to see how people combine other beliefs into one and spread it all over the Mekong. The highlight is the temple's architecture. It's colorful and decorated with many famous figures from different religions in the world.
Can you see Jesus, Buddha and Laozi at the same shrine?
Yes, they are all praised by locals in Cao Dai temple. The Cao Dai followers believe that all kinds of religion is the same manifestation for only one God who will help human-beings to become a better person and more independent.
Walking around the temple and being exposed to all the amazing decorations, you can see how much time and effort they spend on building every detail of this temple and admire how creative they are to combine 3 big religions including Catholic, Buddhism and Taoism into the harmony Cao Dai.
The Cao Dai temple will show you another side of the Mekong Delta- the local spiritual life.
Remember that we don't have strict rules when visiting temples but it would be best if you can bring a scarf to cover your body (if you wear short clothes). It shows you respect the local culture and we really appreciate that.
Lost in the mangrove land on the wooden boat
The one day trip to Mekong Delta can not be finished without getting on the wooden boat and going through the small channels.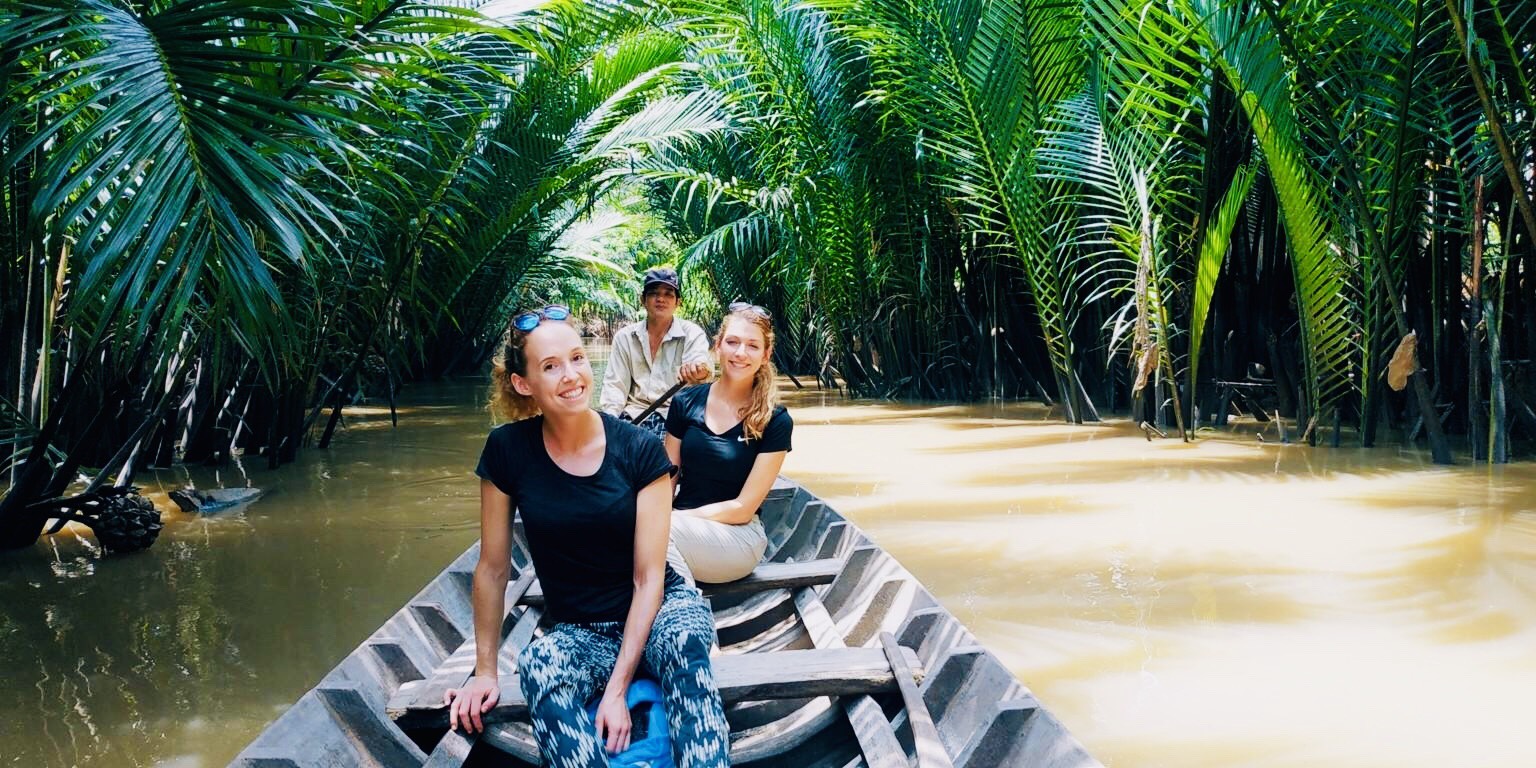 For hundreds of years, Mekong people have immersed themselves with mangrove forests and water. Their lives rely on nature and adapt to live with her in harmony. The lush forests and density of channels are two main factors that greatly influence their childhood and lifestyles. They grew up with water, played with friends under the shades of mangrove trees, and took advantage of them to make a living.
Just a couple of decades ago, the vital means of transportation in the Mekong was boats. Every house had a boat that they used to travel around the areas. We used to have a saying that if you didn't know how to swim and paddle a wooden boat, you were not Mekong people.
To understand the root and get to know their daily life, you should get on the small sampan with a local. He/she will show you the hidden lives in this fertile land.
Check out the Journey through the mangrove land in a wooden boat with Amazing Vloger Ahungry Tiger: https://www.youtube.com/watch?v=WB2U8nLG3_0
What you see is what you get in our Authentic Tours
So what is waiting for you in this journey?
The mass mangrove trees and coconut gardens stand on two sides, weaving their leaves together as the green umbrella to protect you from the sun.
The quiet atmosphere will relax your mind and reconnect you with nature. 
Some lazy mud-skippers laid down on the sides of channels, which you need to pay attention to spot them as they have the same color as mud. They are super-fast and tiny.
Perhaps, some locals who work on the coconut farms will appear from nowhere to say hi to you.
And more...
Wake up early in the countryside
I know it sounds normal. It's not an exceptional highlight that can make you say "Wow, It's amazing" but to most of our customers, the morning wake up is what stays with them when they think of the Mekong Delta trip with us.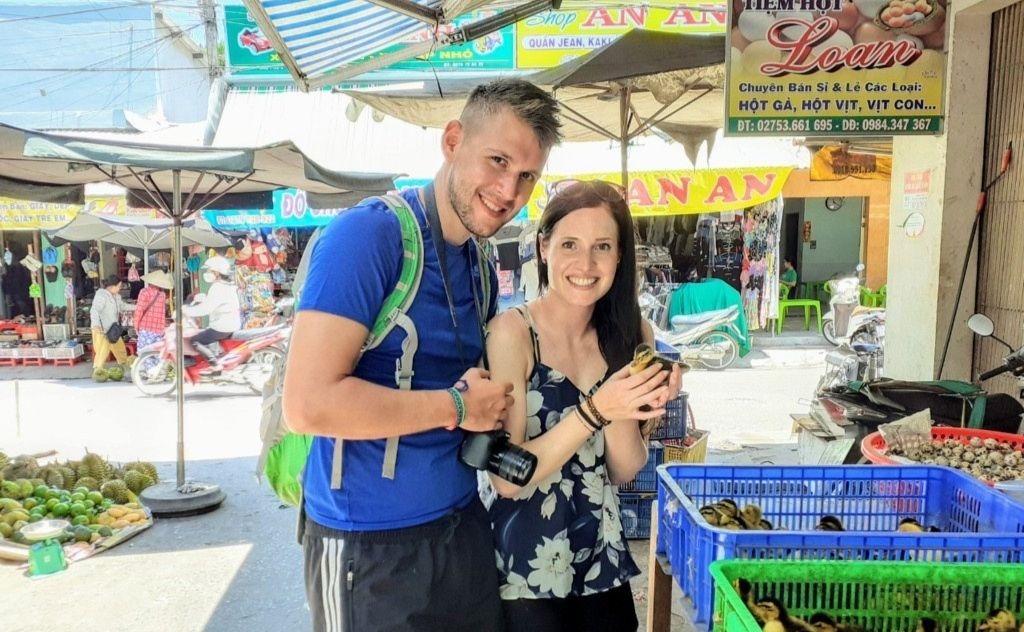 Life in the countryside starts very early then you may expect. Locals wake up around 5:00 AM even 4:00 to get ready for the new day. They are the early birds! There are a lot of things waiting for them to do. From cooking breakfast, cleaning the house from taking children to school or visiting their fruit gardens or rice fields. If they have special events such as death's anniversary or wedding (we do celebrate weddings at home and invite neighbors to come and help), etc. the preparations can start at 3:00 AM.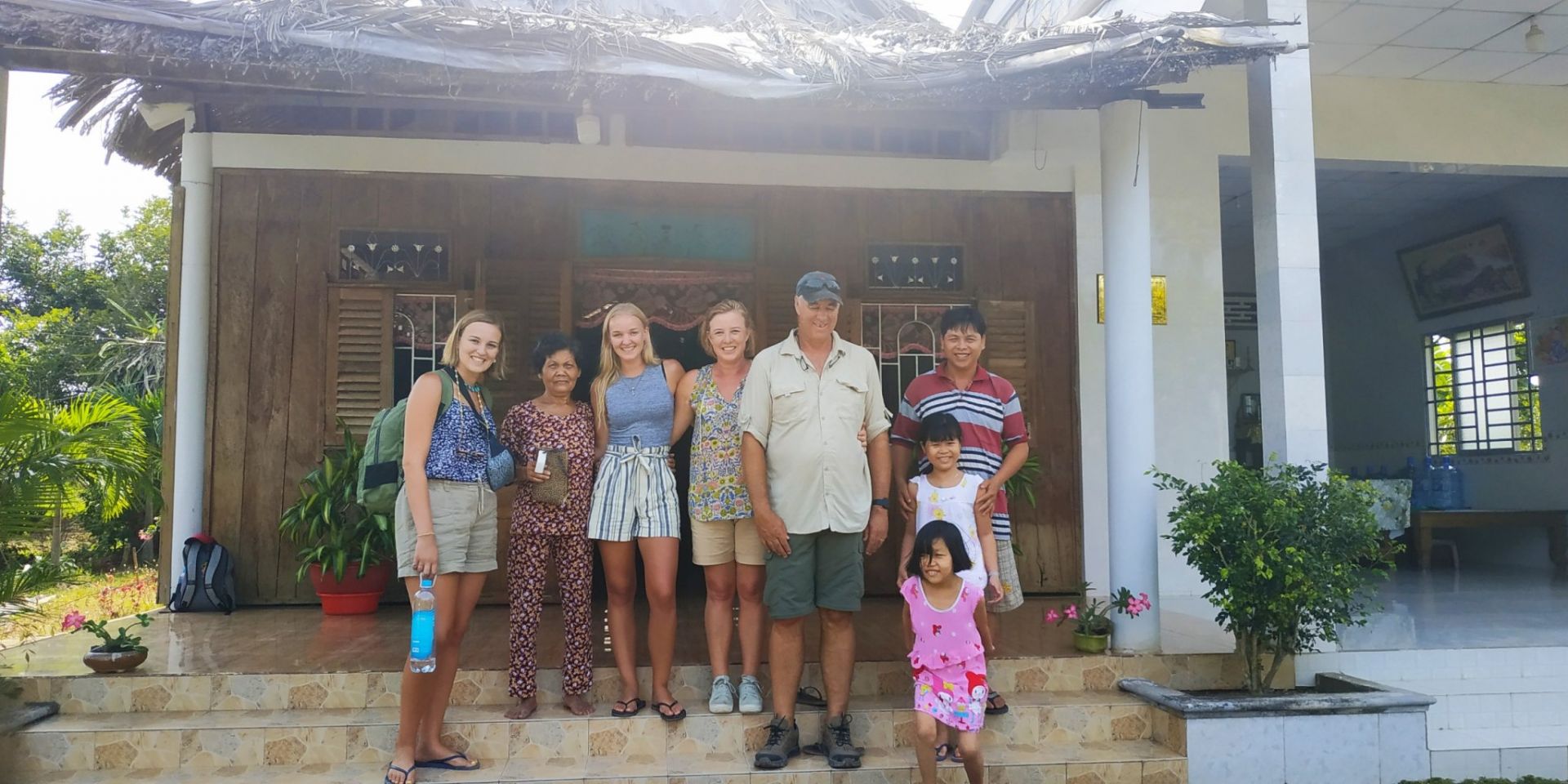 The nature of tropical weather keeps you sweating all day long and easily squeezes out the water in your body and makes you exhausted. To avoid the situation, we prefer doing work in the early morning while it's cool.
So what makes this simple activity so memorable?
Compared to daily habits even on weekdays or weekends that you start your days at 7:00 AM, waking up at 5:30 could be a difference. But it's not enough for a memorial experience. 
So the next thing is:
Nature Sound and Human Activities
Imagine you are in bed and closing your eyes and relaxing, you can catch the sound of birds chirping, rooster crowing or the sound of a boat engine carrying agriculture products on rivers next to the homestay or the sound of coconut yard brushes sweeping on the floor. They all combine together and create a calm country melody.
What else?
Sipping a cup of coffee or jasmine tea and taking a deep breath of cool and refreshing air is my favorite part of the two-day Mekong tour. It's a classic morning routine that most Vietnamese people do to get energy for a day. Living in the city for 7 years, I don't have enough time to really enjoy tea but every time I have a chance to accompany clients in Mekong, I am able to enjoy this lovely morning tea.
Cycle through the yellow rice paddy field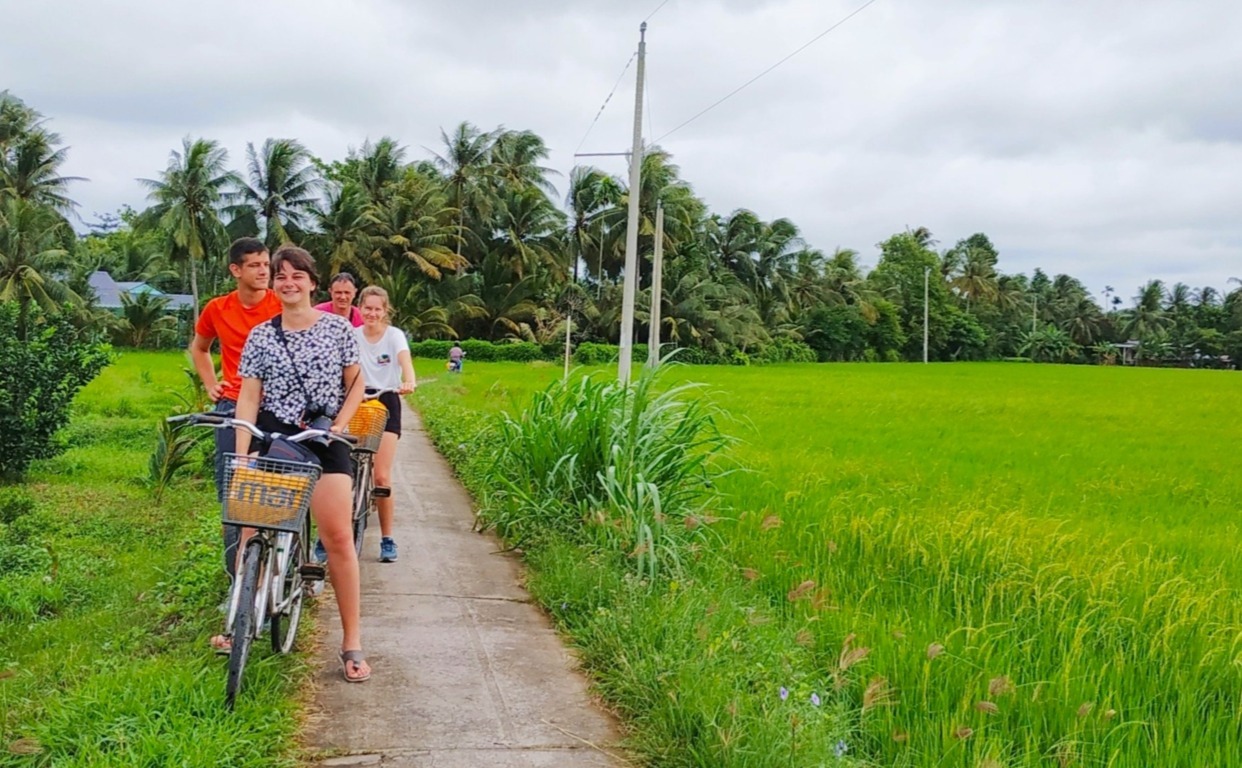 Cycling is always included in our Mekong tours. There is no need to say that is the best way to wander around to watch over the areas in the average speed (not too slow like walking or too fast like sitting on the car) and you can even interact with locals.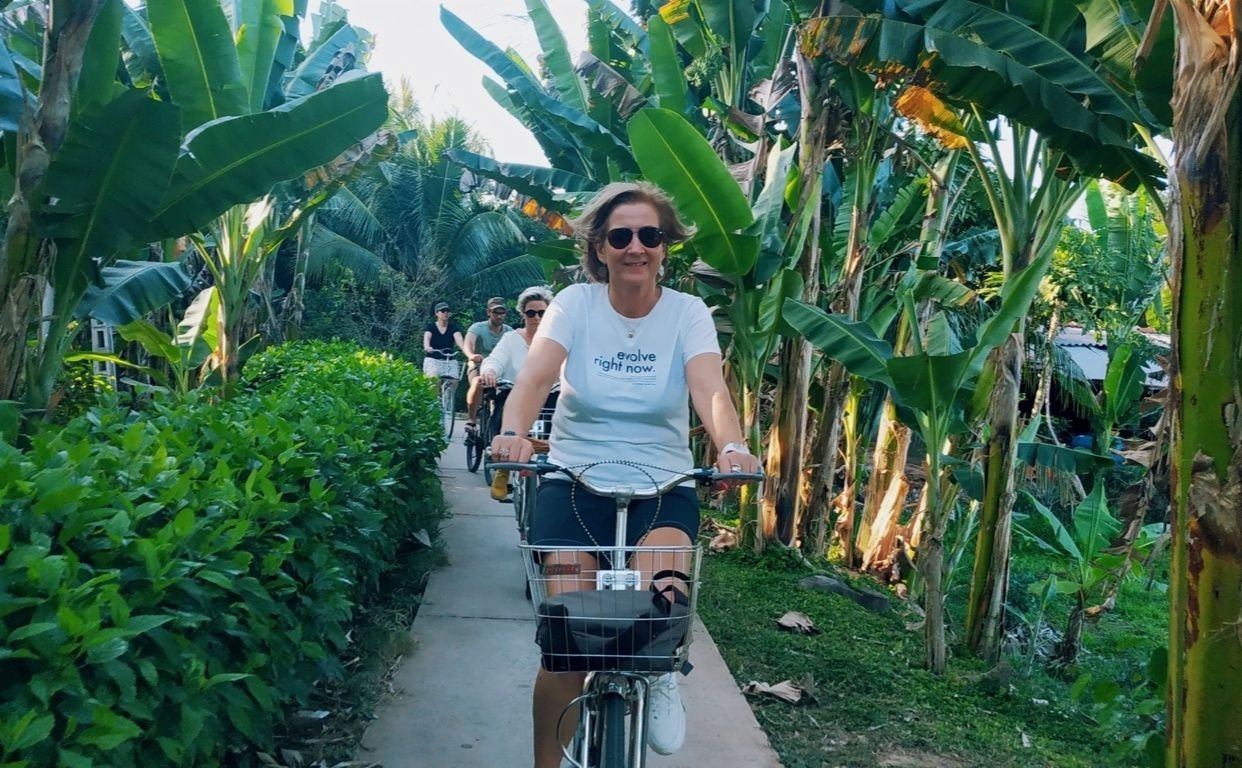 Vinh Long where we stay overnight is famous for tropical fruits and rice. Depending on the particular season of the years, we can encounter different activities on the fields when riding a bike. It can be a fruitful rambutan or longan garden or a greener orange garden or rice terraces, etc. not to mention the farmers who diligently work on these fields. All among these scenes, the one that our customers ( and me) love is riding through the yellow rice field.
When the rice turns yellow, it turns the terraces into a big shining gold under the sunlight, which adds more color for the lush scene surrounding. The rice terraces seem to sprinkle some vivid vibe into this calm countryside. At this moment, if you have a camera or a phone, don't hesitate to snap a photo. Do you notice that rice terraces in the harvest season is a popular subject on postcards and other souvenirs about Vietnam?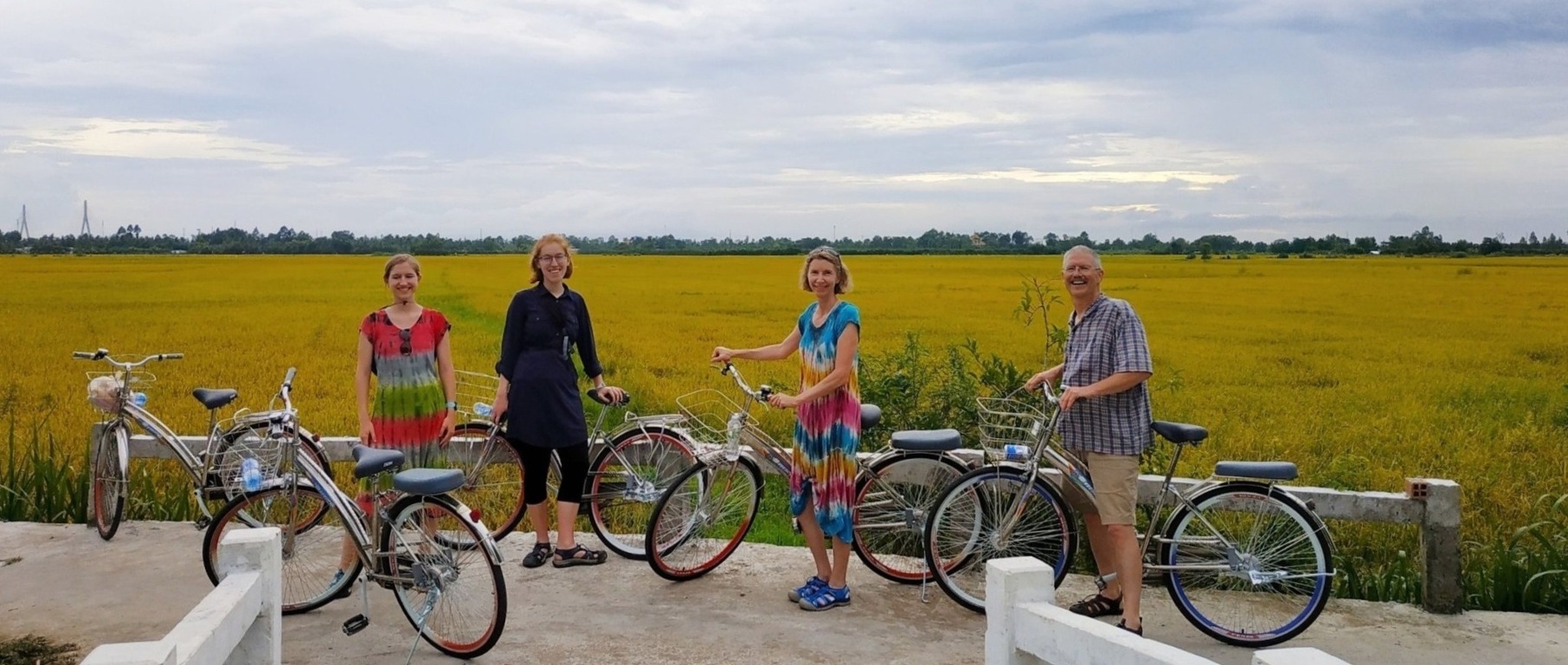 Cycling through rice fields does not only satisfy your eyes but also your nose. Have you ever smelled the rice aroma? It is a subtle sweet floral with a hint of green grass and dirt from the mud. The unique aroma reflects the balanced scent between sunlight and earth, which is hard to describe but it's easy to feel if you visit it once.
For sure, we will stop by and take a walk around the field, walk on the thin muddy roads to get into the yellow fields to see the rice grass waving in the wind and immerse into the rice scent.
Making sweet dumplings from scratch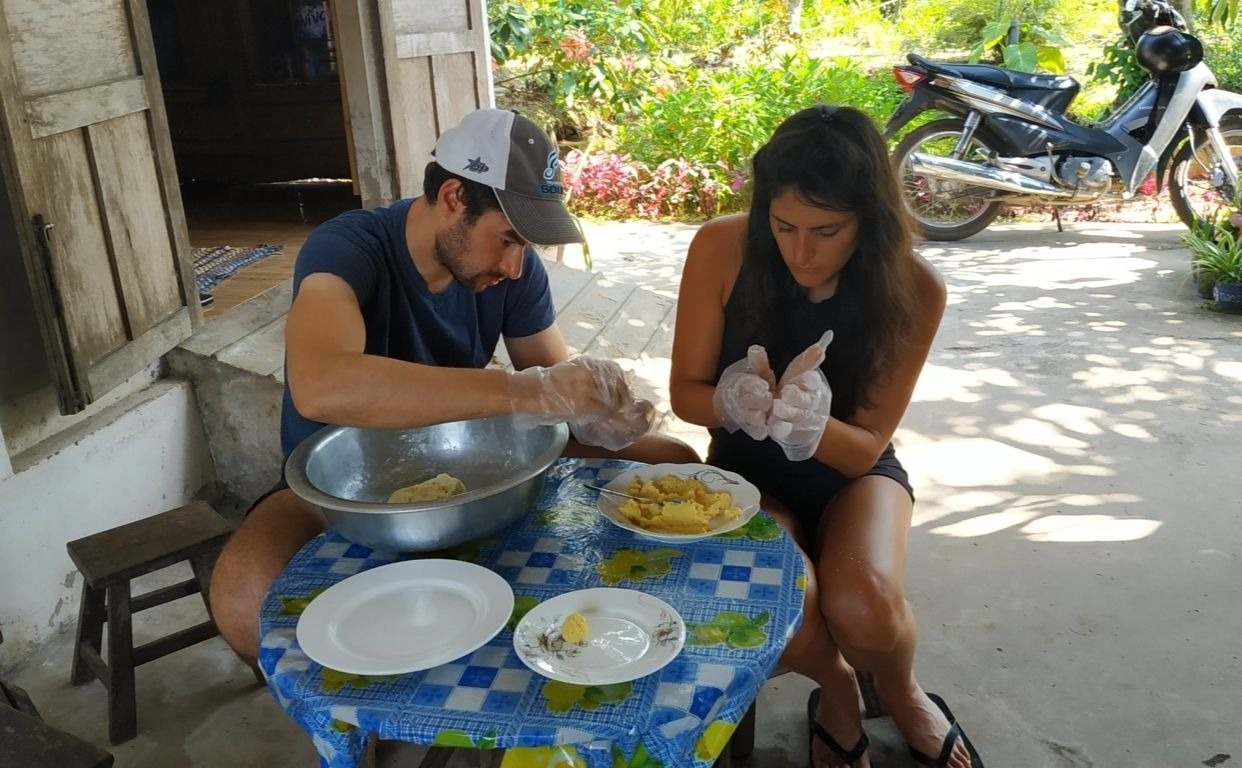 Sweet dumplings or Che Troi Nuoc is the traditional dessert that is made as offerings to ancestors in the 15 days of the first lunar month with hope for happiness and good year.
Learning to make these sweet dumplings with friends and family is real fun as all of the members can join and make their own dumplings and of course, will eat them afterward. It's simple to make like playing with colorful clays when you are a child. Mixing, rolling and shaping the dough and the fillings into a ball. You don't need the skill to make these rounded dumplings. You can even make a small competition called " the best dumpling maker" and the host can be our judge. 
The best part of the cooking process is eating. The moment of truth reveals within a second when you take the first bite. It should be chewy outside and soft inside along with hot sugar syrup and ginger smell. There is nothing better than relishing the dish that you made. Moreover, you also have a recipe to bring back from.
Most of us don't have much time with others as we are overloaded with work, social media, and millions of things on the Internet. We don't spend more time doing things together than we used to. I think making this dessert gives us a chance to glue us together with lots of laughing and small talk.
Eating noodles in the floating market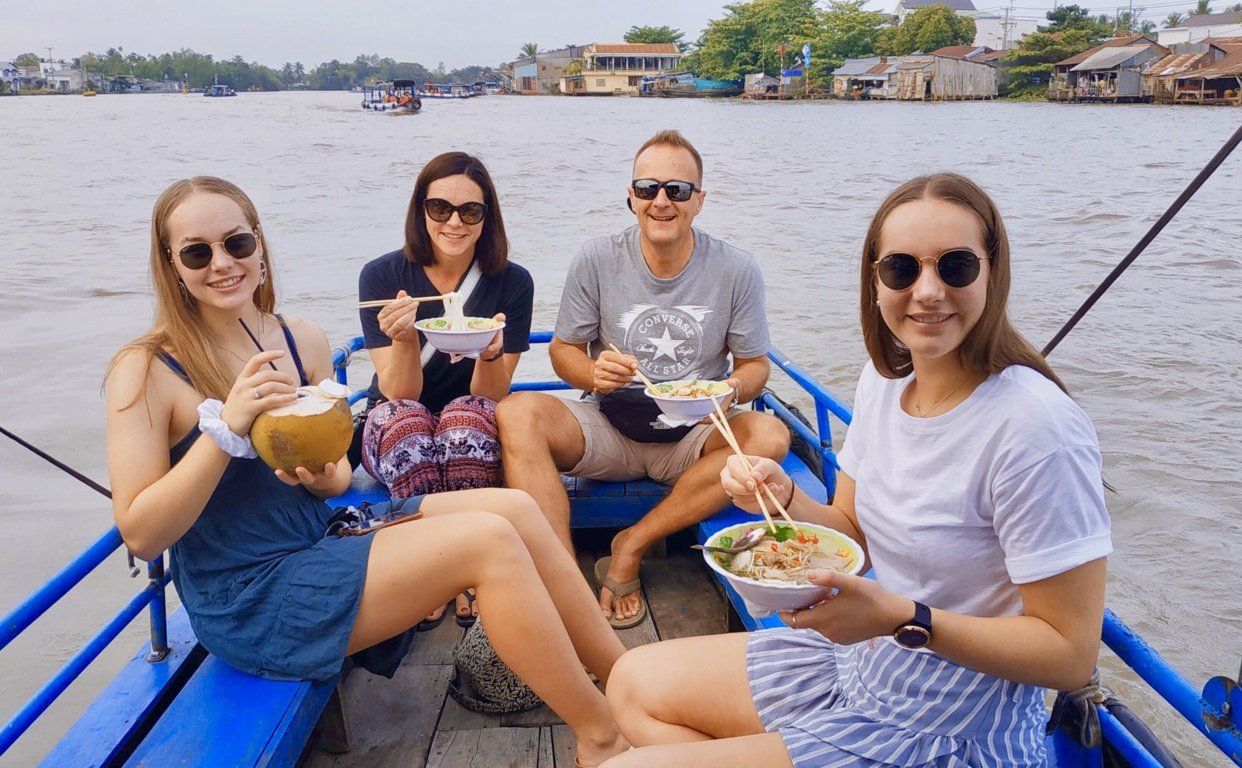 For food lovers and food explorers, there is no more fun and excitement if we don't mention the breakfast on the third morning in the Mekong 3-day tour. It's authentic and delicious!
Vietnamese have a big breakfast. We love to prepare ourselves with a great amount of food before going to work, especially the ones that need labor to do their jobs. Breakfast varies from region to region. When you go out of the street, you can see Pho, noodles, Banh Mi, sticky rices with pate and steamed pork buns or sweet sticky rices, etc. that are displayed to sell all over the streets. Literally, we can have many choices for breakfast. 
Hu Tieu- the glass noodles soup is the signature dish in the South of Vietnam and Mekong Delta in particular. The ingredients consist of glass noodles, pig organs, pork, bean sprouts, oil garlic and rich broth. This is the just typical Hu Tieu. Depending on the cook, we can have more or less ingredients.
Hu Tieu is the top-pick of locals for breakfast as it's full of energy, hot and easy to eat. You can see them in many places from the sidewalks to the 5-star restaurant. At Cai Rang floating market, they also sell Hu Tieu and trust me, if you don't come early, they are all sold out. 
The first reason why it should be the highlight as we are going to enjoy Hu Tieu is one of the famous floating stores in the market. You eat food that is made by locals.  It's a family business so the owner, Mr.Teo, has years of experience in cooking the broth - the soul of the Hu Tieu from his grandfather and his father. You are in expert hands and there is no need to worry about the quality of noodles. 
Next, we relish the hot soup on the boat in the middle of the Mekong river. It's not about sitting on comfortable chairs and eating but rather about balancing the noodles and trying to enjoy it at the same time. Because of the waves, we need to pay attention in order not to make a mess. And the big plus is that we can still see the business activities happening around us on the floating markets. 
Finally, the owner Mr.Teo and his wife are super-friendly. They will always welcome you with a happy smile and serve you an instant Hu Tieu! Just being around them, you will understand why Mekong people are renowned for hospitality.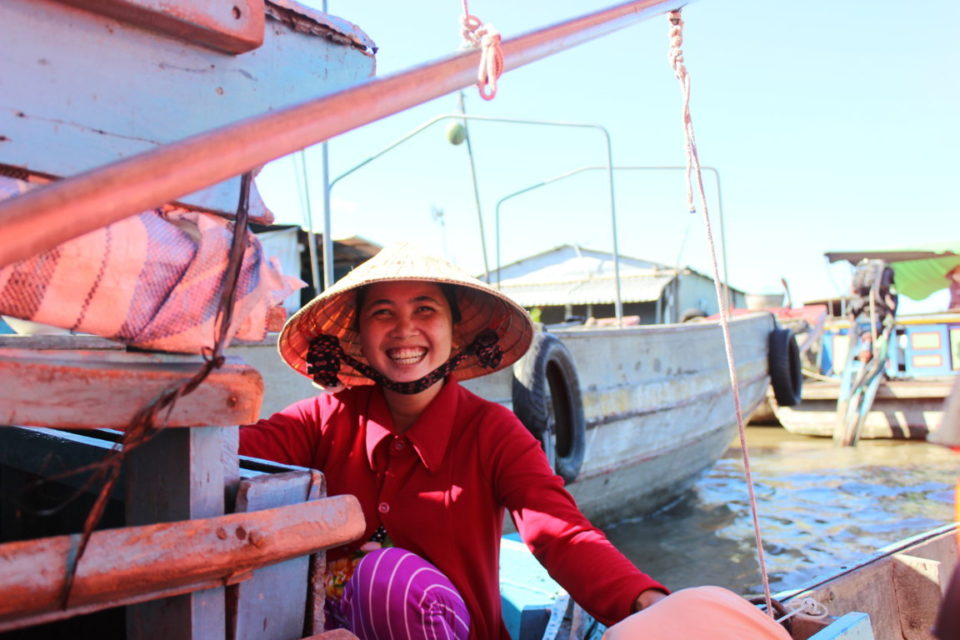 Thanks to the reviews from our beloved customers and our local team, I am able to finish it. There would be more activities that you can enjoy during your stay in Mekong Delta and you can even have more fun and memorable moments than my list. I hope that it can be a good preference or inspiration for you to join the Mekong Delta with us. If you would like to know more about our 1-day Mekong tour, 2-day Mekong tour or 3-day Mekong tour, don't hesitate to click on these links below. 
Mekong Delta 1 Day- Mekong Rural Life 
Mekong Delta 2 Days Tour- Mekong Trails and Tales
Mekong Delta 3 Days Tour- Mekong Cultural Immersion