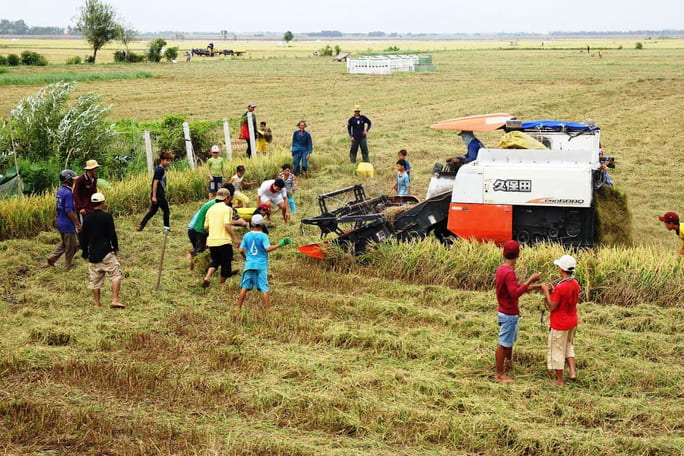 As planned, Toi, my relative, picked me up on his old Honda scooters and we together went through small country road in An Giang province to join his hunt. We stopped at a big rice paddy field while there are some people working on it.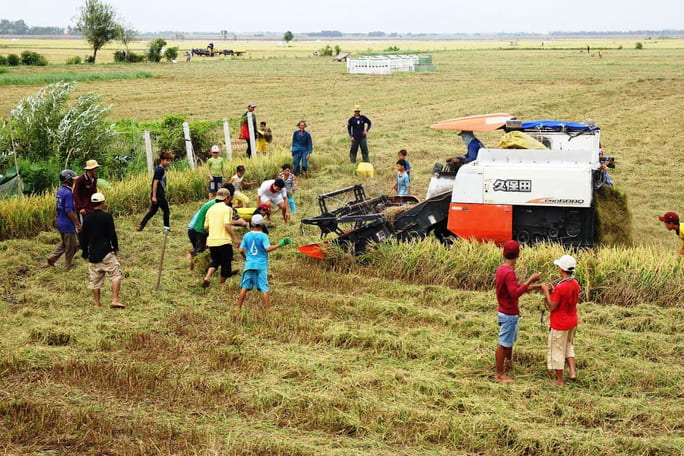 One man from the crowd asked us whether I was Toi's friend and wanted to join this activity. Toi told me the man is one of the best guys doing this kind of job. He could catch around 5 kilos a day, which is kind of  amazing weight compared the others who only had 3 kilos per day.
After the third rice season, many locals join to catch mouse on the fields to earn extra money.
According to Toi, rice mouse has recently gained huge popularity as a signature dish in Mekong Delta among locals, which leads to growing the frequency of mouse hunt in the area.
We started the journey to look for these tiny mice around 9:00 AM. Because of my clumsiness, I found the hard time to keep walking under the heat in these muddy roads but luckily I was able to follow them.
They only need a bamboo stick and wooden basket for this hunt. Hai was a real deal and got great skill of catching rice mouse just by looking around to find their traces. After walking around the field for a few times, he had already had 2 big mouse in his hand.
He said told me these rice mouse are very fast, they will run away quickly after a few seconds of hearing the human movement and try to hide under the straw.
He continued: " I can catch 60 kilos of mouse per day, that the maximum. The average weight that we normally get is from 25 to 79 kilos. You can sell it for around 65.000 VND. If you work hard, you can earn 500.000 VND  per day. It's a lot of money that you can make than a regular labor job.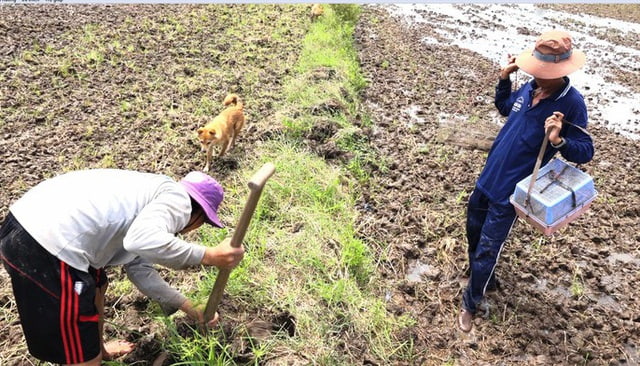 I also met Tung who has great experience in catching mouse for years. He told me: " Nowadays Many young men participate in a kind of job. The third rice season (April-August) is the time that we can have the most healthy mouse. This year, we catch more mouse than in the previous years. The hunt does need much labor, all you need is reaching to fresh harvested rice field where mouse come for food with a great number and digging a hole and waiting for the right time to get them."
Tung said: "Catching rice mouse requires a good sense of prediction to get their escape way and all of that you need to be fast. Speed decides everything."
After the hunt, they invited me to their home to try some dishes made with mouse. The mouse was cleaned and prepared than seasoned well with chili saute, coconut water, garlic, pepper, fish sauce, etc. Then grill them on top of charcoal for 30 minutes.
Normally, this specialty is served with a cup of local rice wine to evoke the taste. Sipping the rice and relish a bite of rice mouse under the shade of trees is the memorial experience that tourists can have to understand the country's life in Mekong Delta.
Source: To Van (2019). Săn chuột đồng miền Tây.