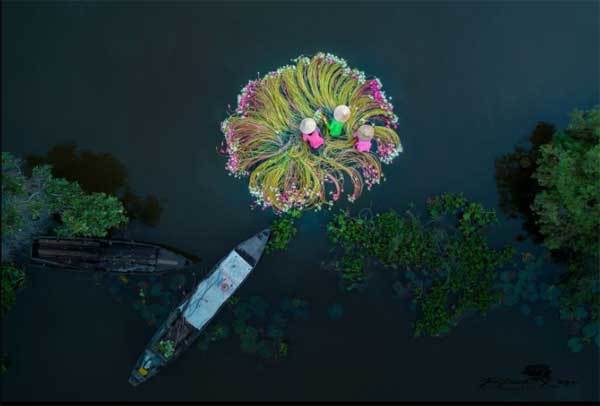 "Green tea islets" are located alternately in Cau Cau dam in Thanh Thinh and Thanh An communes. Visitors can get a sightseeing boat tour to have the best view of the attraction.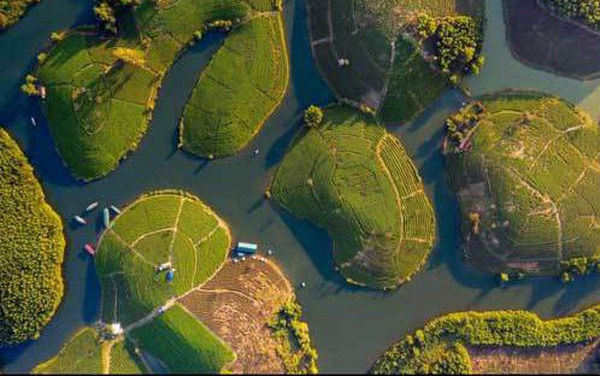 Every tea islet covering an area of more than one hectare gives people a pure fresh atmosphere. When the boat arrives on the island, tourists can contemplate green tea gardens and enjoy tea in leaf huts. Additionally, travelers can visit other beautiful landscapes, such as Coi Falls, Lua Falls, Dong Danh dam in neighboring areas.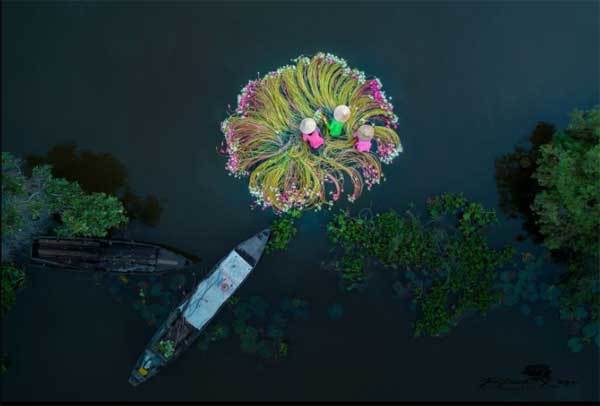 Water lily (Bông Súng) is grown popularly in ponds, and lakes in pagodas, temples, and gardens in Vietnam for its beautiful color and fine fragrance. It's also used as medicine and food. Its stem is airy four-celled tube floats, adapts itself to the depth, and stiffs in shallows. Dishes with water lily stems are specialties of Mekong Delta. Water lily stems should be peeled, cut in julienne and soaked in a mix of water, salt, and lemon juice/vinegar before cooking.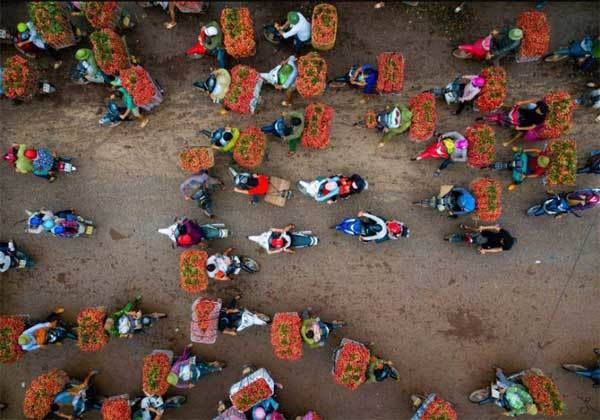 Lychees are described as small rounded fruit with white translucent flesh, pleasant smell, and rough thin skin. Since lychees were cultivated in Vietnam more than a thousand year ago, lychees are always one of the favorite fruits among locals. They fall for its sweetness with a hint of grape and pear favors. Lychee season has already started in early May but only ripe at the end of June. Nowadays, Vietnam has become the second-largest Lychee exporter.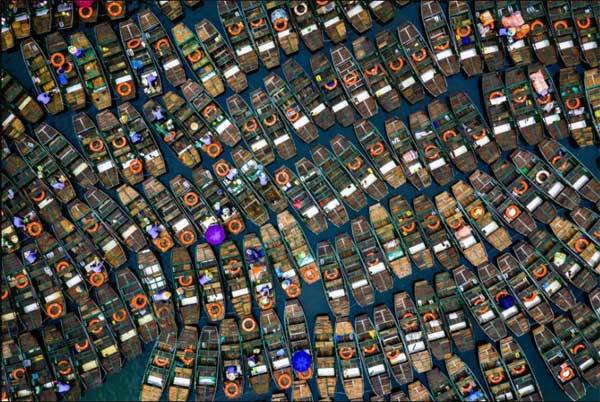 Located at Hoa Lư district (Ninh Bình province, around 100 km away from Hanoi), Tràng An, a gigantic ecological destination, belongs to Tràng An Scenic Landscape Complex with the total area of 12.000 hectares. It was ranked as the the national heritage of great importance by Vietnam government and recognized as the first cultural and natural heritage of Vietnam by UNESCO.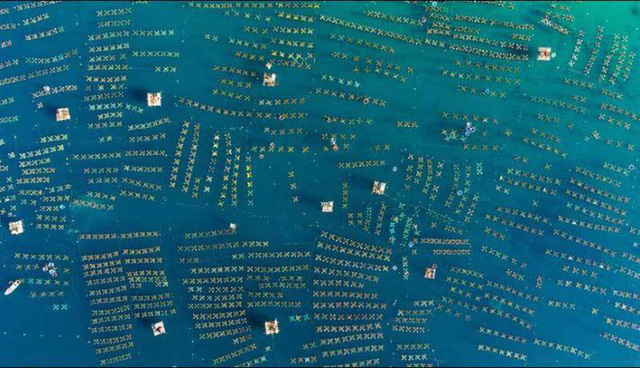 With a large coastal area of 3,260 km (2,030 miles) and a 1 million km² exclusive economic zone, Vietnam has the potential for large mariculture. One of the most valuable coastal aquaculture activities is raising spiny lobster, especially the ornate lobster, Panulirus ornatus, a highly valued species in the seafood industry, especially in Asia, Europe, and America. Spiny lobster farming in sea cages was first developed in Khánh Hòa Province in 1992 and has since expanded to 35,000 lobster cages in just over a decade and become a USD $100 million industry.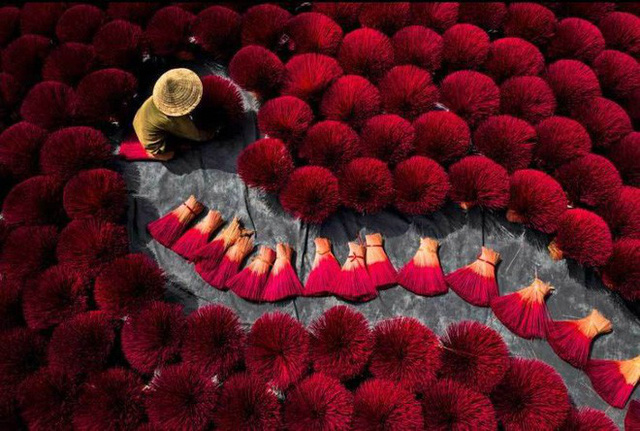 In Vietnamese, incense is known as "Hương" or "Nhang" ("Hương" in the North and "Nhang" in the South). For centuries, Vietnamese people have burned "Nhang", from modest temples to prestigious pagodas, from humble village huts to luscious houses. Incense is offered when a family member passes away, a baby was born, or as a way to pray for and commemorate ancestors. Until now, there are still a lot of incense villages along with Vietnam, especially in Ha Noi and Hue.
Vietnam has a great potential to develop solar power, especially in the Central and the South. The average number of sunshine hours in the North ranges from 1,500-1,700 hours of sunshine per year. Meanwhile, the Central and Southern regions have higher average annual sunshine hours, from 2,000-2,600 hours/year. By the end of June 30, 2019, 82 solar power plants, with a total capacity of about 4,464 MW.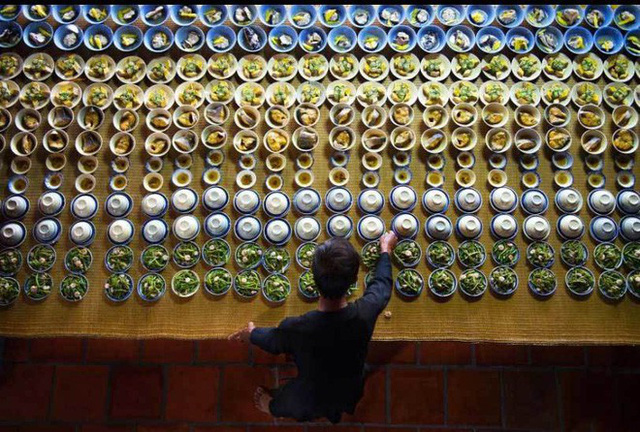 This anniversary is one of the most important events of every Vietnamese family. When a person in a family dies, the alive people will remember that day. Annually, when coming to that day, they will prepare a feast to memory the dead person. As Vietnamese people believe that when a person dies, only his physical body dies but his spirit or soul still exists and lives in another world. It's also a day to connect people in the family and neighborhood as well, sit together, put aside busy works to have the meal and share the story with each others.
Ho Chi Minh is a city that never sleeps. You may think the city is amazing and bustling during the day, but the night takes it to a whole new level.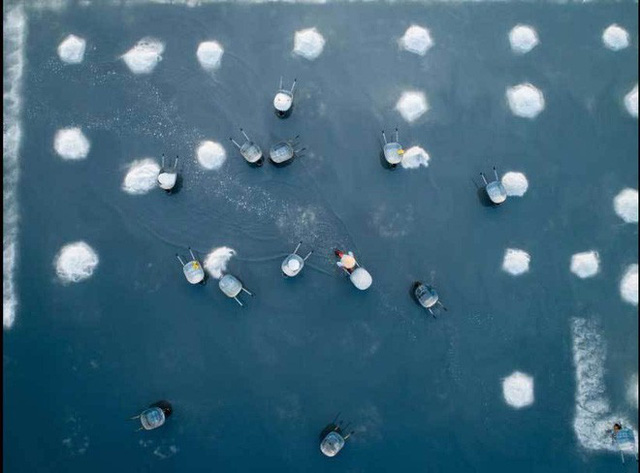 The Hòn Khói Salt Fields is one of the most unique tourist destinations in Nha Trang, where mounds of natural salt are manually harvested from shallow fields along Doc Let Beach. Salt production is a thriving industry in Nha Trang due to Vietnam's extensive coastline, generating about 737,000 tonnes every year. The best time to visit Hòn Khói Salt Fields are between the months of January and June when the summer climate (with temperatures that can go as high as 40°C) allows for the salt to be directed from the East Sea to the fields.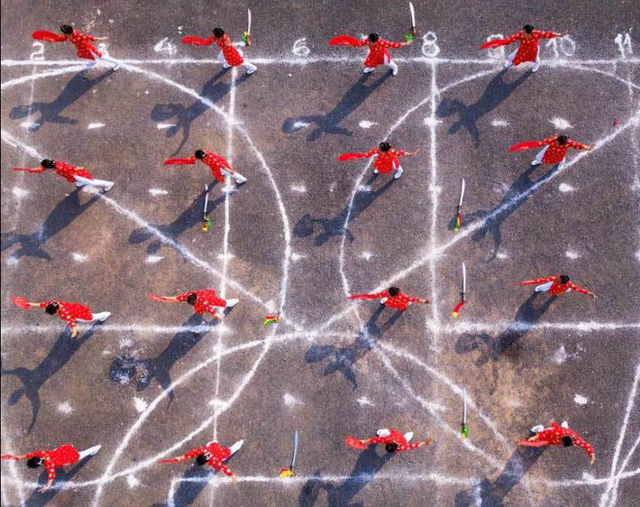 Festivals in Vietnam offer visitors the best opportunity for getting up close and personal with the myths, customs, and fun-loving spirit of this proud nation. Despite undergoing modern developments, Vietnam is still a predominantly traditional country, with thousands of pagodas and shrines dedicated to Buddha as well as various deities and iconic figures.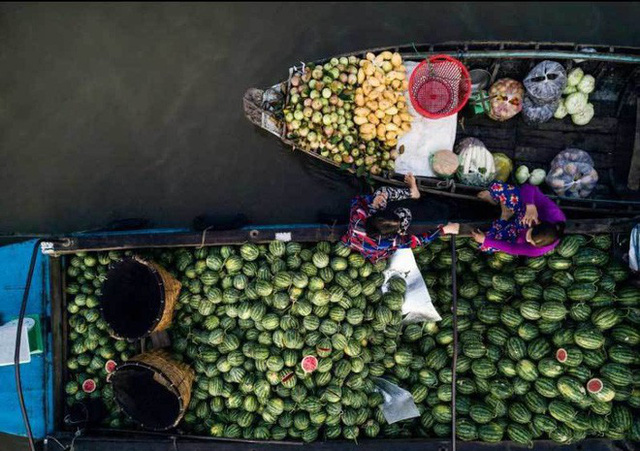 The floating market came into being by the habits and diverse and rich garden products of people living near rivers and canals. There are many ways to exchange goods, but in Mekong River Delta people often use boats as a major transport and all trading activities take place on boats. Since then, Cái Răng Floating Market in particular and floating markets in Mekong River Delta, in general, is formed. Interestingly, these floating markets are often organized at the junction of rivers. There, the water level of rivers is not too deep, and the river surface is not too wide, which is convenient for boats to moor.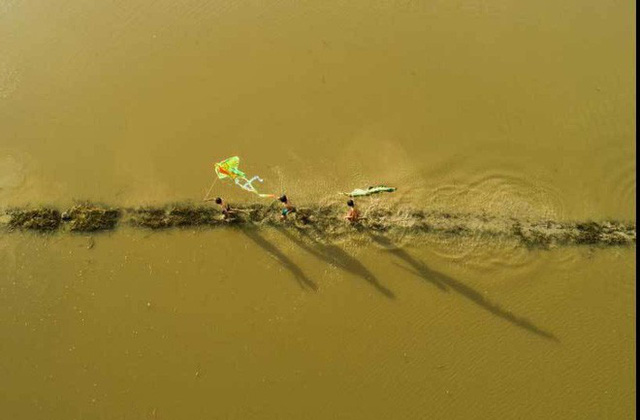 The flood season in the Cửu Long (Mekong) River Delta is a natural phenomenon that occurs each year on the downstream Mekong River. The season lasts for three months between the seventh and tenth lunar months. As the water rises locals look to switch trade. Instead of farming, they start to exploit aquatic animals and plants washed in by the floodwaters. The beauty of the peaceful countryside and famous Mekong Delta floating markets, along with abundant and diverse yield of the South during this season of immense water will charm and cling on the feet of anyone who loves nature and exploration.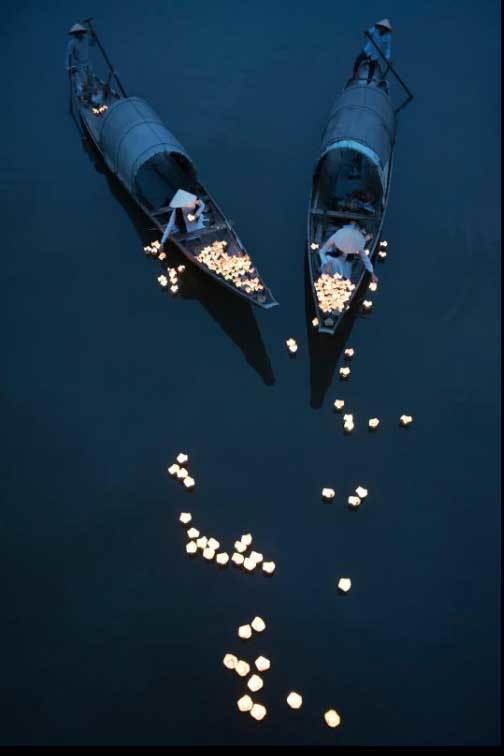 According to the original meaning, which means lights lantern flowers on the river. Lantern Festival is the festival drop lighting that is decorated with flower lights. Lantern is lit aims to honor the spiritual values, spiritual values and culture of Vietnam on major holidays. Especially the New Year festival, Upper Highlands ceremony or Mid Fall festival celebration lamp, praying prosperous country, needs a sound super positive attitude. The lantern was released on the river just a cozy, aesthetic, rich in tradition and brings spiritual values prelude to year.
Translate: Hao Tran
Editor: Vi Lam