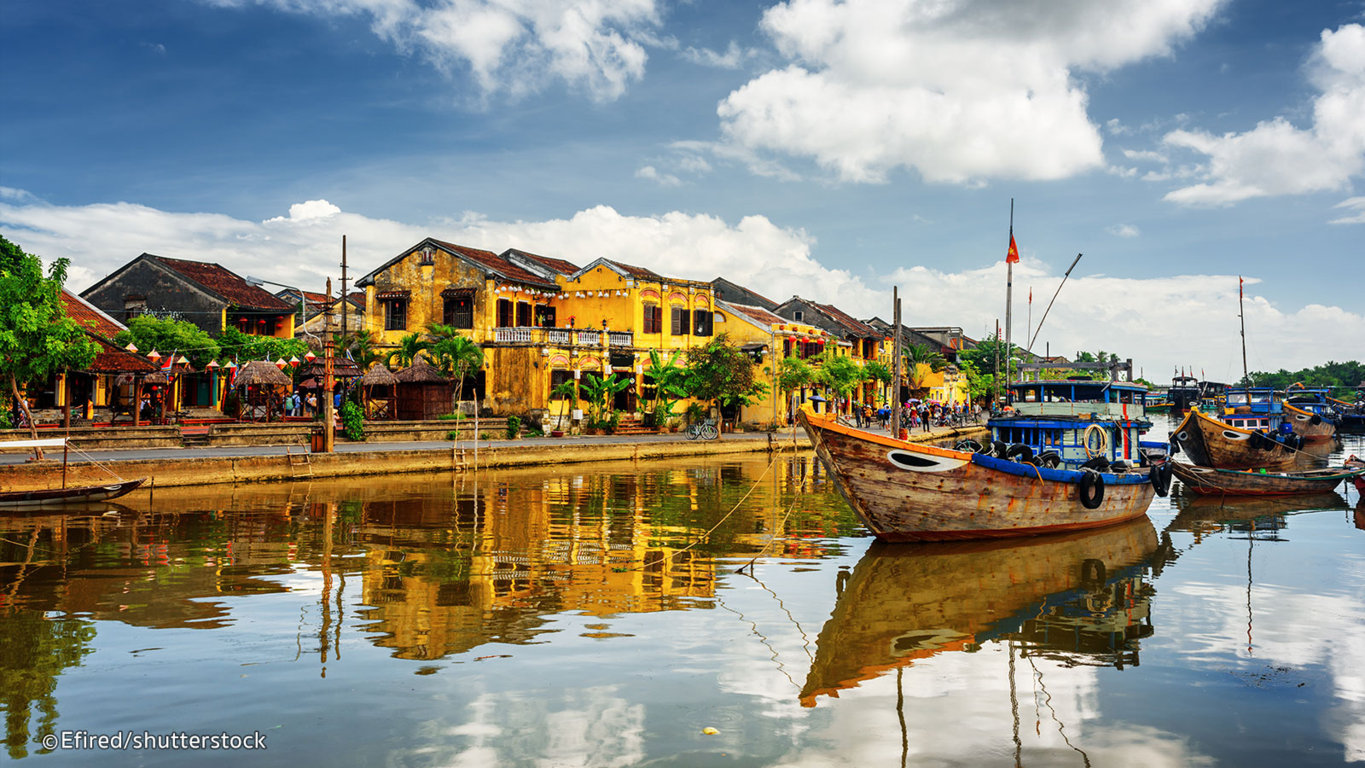 To be honest, to list out 10 places that are really worth exploring in Vietnam is not easy. So many things to see, many things to do. We have tried our best to give you our 10 options. Please check out this article to have more ideas for your holiday.
1. Hà Nội city
This must be the most famous city in Vietnam and also the capital of this S-shape country as well. Different from Hồ Chí Minh City and Đà Nẵng City, you can feel the oriental atmosphere mix with an urban style clearly. Became the capital of Vietnam for nearly 1000 years. Despite its orient, you can find many places for having fun like Backpacker area Tạ Hiện, Gươm Lake, etc. Don't forget to try egg coffee, a unique in Hà Nội.
Because it's the capital of Vietnam with Nội Bài international airport, you can fly from any country to this city and mark it as the first destination before you take your trip to this beautiful country.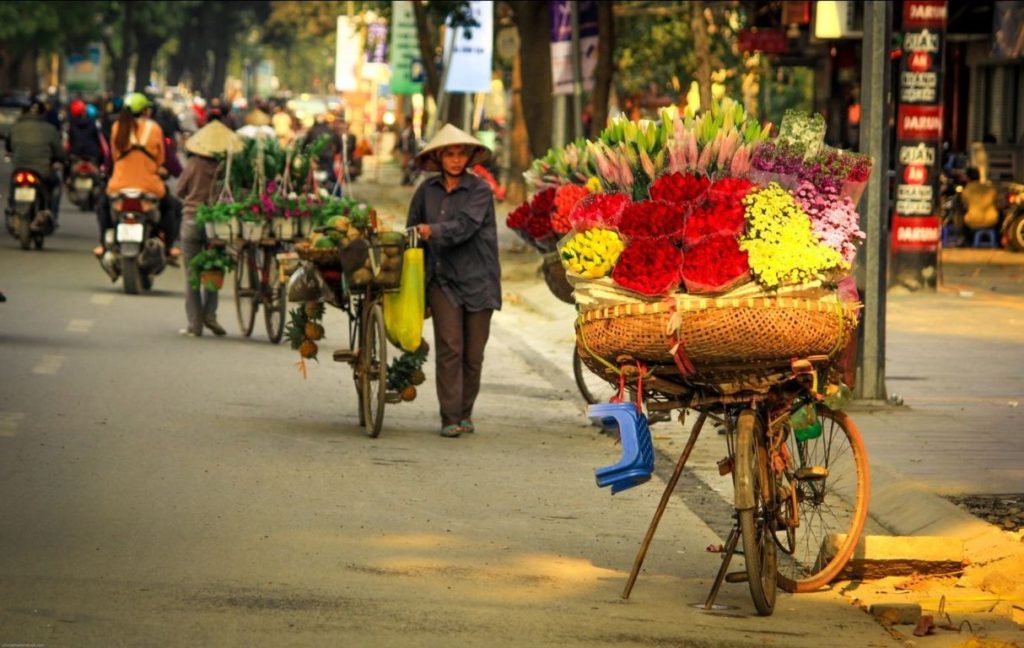 2. Tràng An - Ninh Bình
Ninh Bình is well known as the only landscape complex which is recognized by UNESCO. With the beauty of the landscape mix with ancient pagodas, temples, and palaces. Besides, after defeating the rebellion of 12 warlords in X centuries, Đinh Bộ Lĩnh, the first king of Đinh dynasty settled here and created a solid foundation for feudalism era of Vietnam. A famous Hollywood movie named "Kong: the Skull Island" which was directed by Jordan Vogt-Robert filmed in Tràng An and it brought lots of opportunities for improving tourism here.
From Hanoi city, you can get to Tràng An in two ways: by bus or by train, both of them will take you around 2 hours and you can buy the ticket from any travel agency in Hà Nội.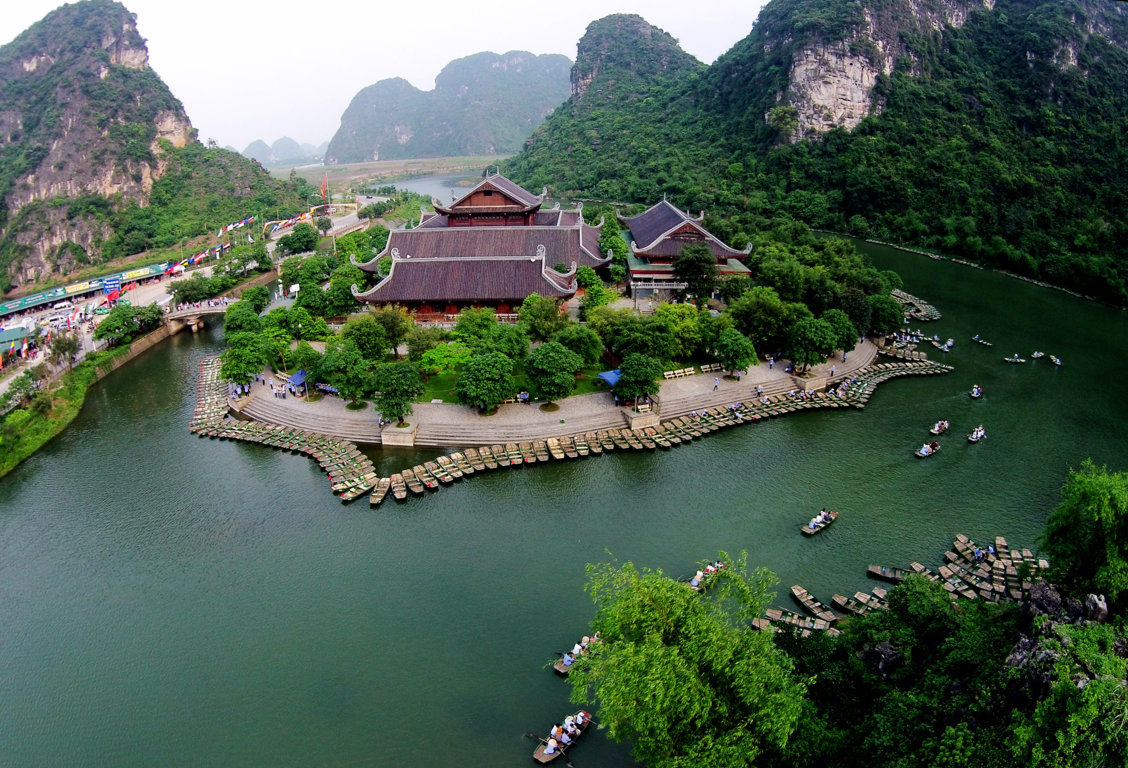 3. Hạ Long Bay
Another Natural Heritage of Vietnam is recognized by UNESCO. Anyone who traveled to North Vietnam without paying a visit to this magnificent area, we have to say to them "They missed one of the best parts of our country". Yes, it's the truth, this place is totally worth visiting. You can see the big rocks staying right in the middle of the sea, its shape like the dragons lying on the water surface. Besides, the geo-diversity of the environment in the area has created biodiversity, including a tropical evergreen biosystem, oceanic and sea shore biosystem. Ha Long is home to 14 endemic floral species and 60 endemic faunal species, that's the gift of nature has given to us.
Ha Long Bay is a famous destination so that you can book a bus ticket easily from travel agencies. The price is around $5 USD to $23 USD (depends on the type of bus) and it will take you around 3,5-4 hours to get there. In my experience, you should spend at least 2 days 1 night on the cruise to visit Cat Ba island (a less touristy area in Ha Long Bay) with a lot of activities as swimming, kayaking, snorkeling, taichi lesson on the sundeck and cooking, etc.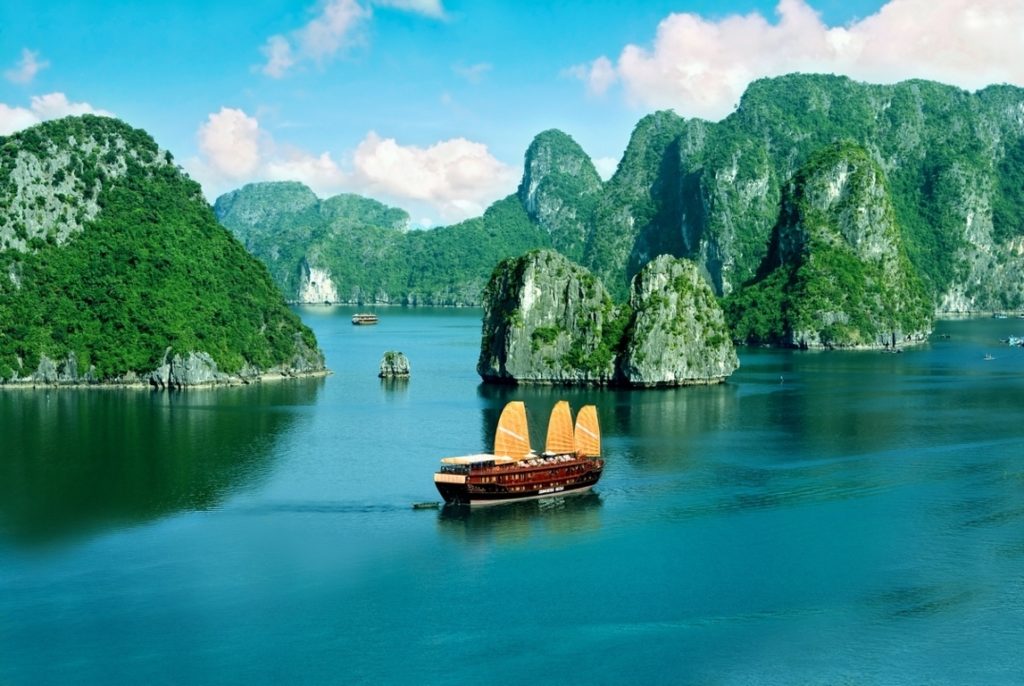 4. Huế- The imperial city
Hue was the capital of Đại Việt Kingdom in 143 years from 1803 to 1945 of the Nguyen Dynasty. When you visit Huế, you will be immersed in the oriental atmosphere of this city. Huế hides itself a royal style which you are able to realize from the royal dish as Chè Cung Đình which is known as a dish for the king (include 36 types of chè), after the feudalism it had become the popular dish for the local people and tourists to the simple dishes as Cơm Hến - baby basket clams rice, Bánh bèo - Vietnamese savory steamed rice cake, beef noodle soup, etc. In addition, the imperial city is the only feudal capital which has still existed most of the architectural works: palace, tomb, ancient pagoda. There are some tourist attractions that you should not miss as Minh Mạng tomb, Khải Định tomb, the Citadel, Huong pagoda once you visit Huế.
From Đà Nẵng, you can go to Huế by bus, car, train and even motorbike but I recommend you should use the train or motorbike (if you are an adventure lover) and because of Huế city and Đà Nẵng city is connected by Hải Vân pass winding around a mountainside above the East Sea, on the central coast. A scenic coast appears gradually in your eyes from a window seat on the train. You also book a guided tour with full services included from travel agencies in Đà Nẵng.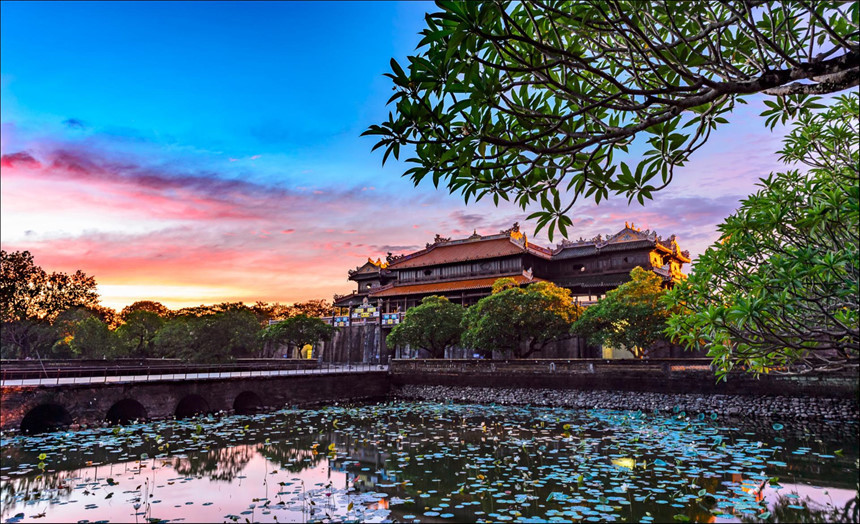 5. Son Doong Cave
Son Doong Cave is in the heart of the Phong Nha Kẻ Bàng National Park in the Quảng Bình province of Central Vietnam. This is an entire cave system which was first accidentally discovered by a local in 1991 when he tried to hide from heavy rain. According to scientists, the cave was created more than 2 million years ago. The total length of Son Doong Cave is 5 kilometers, which means it can store over 60 Boeing 777. The height is 250 meters, the same height as some buildings in New York City.
In 2012, Son Doong was open to the public for the first time, with the adventure tour company Oxalis running the exclusive five-day expedition. This company is the only operator is allowed to take the customers to explore Son Doong cave. Only 10 customers per adventure are permitted and tours run once per week between February to August every year. Limiting the tour to only one operator has protected the cave from the mass tourism.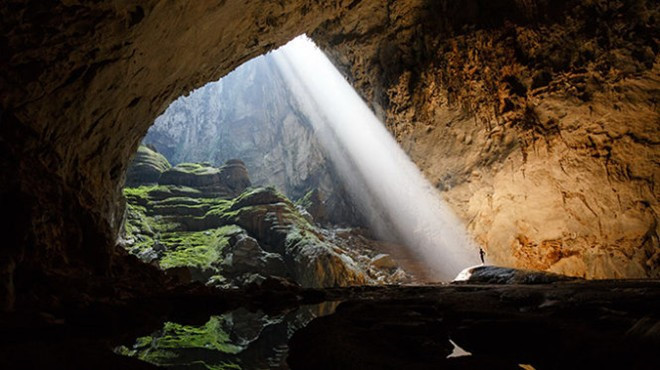 6. Đà Nẵng City
The title "The most worth-living city in Vietnam" was given for Đà Nẵng is absolutely worthy. Nice beaches, beautiful sight-seeings, great restaurants, friendly people, etc. Don't forget to go to Bà Nà Hill, a nice resort with lots of games, activities and a nice view for taking pictures OR relaxing on the Mỹ Sơn beach under the sunshine that is enough to make your trip memorial. There are a lot of destinations as the Lăng Cô Bay, Golden bridge, Marble mountain, Sơn Trà Peninsula, etc. you can't miss.
Right in the central of Vietnam, with Đà Nẵng international airport, you can fly directly from most of the country in the world and reach to Đà Nẵng easily.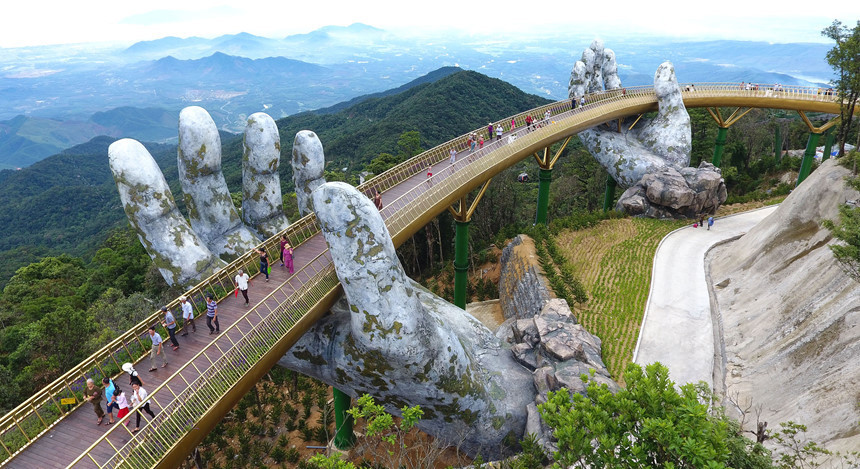 7. Hội An Ancient Town
Hội An Ancient Town used to one of the most bustle harbors in Southeast Asia from the 17th century to the 19th century. Lots of business ships from Europe, Japan, Korea, China, Malaysia came to Hội An for trading and opening their own business that created a small town with lots of businessmen around the world. Time by time, although the function of this town is not for business anymore, the architecture of small buildings are still remained extremely well and make this place become worth-visiting in Vietnam.
Located in Quảng Nam province - central of Vietnam and 28 kilometers from Đà Nẵng City. You can get to Đà Nẵng City and moved to Hội An Ancient town easily by bus, car or you can rent a motorbike and go by yourself.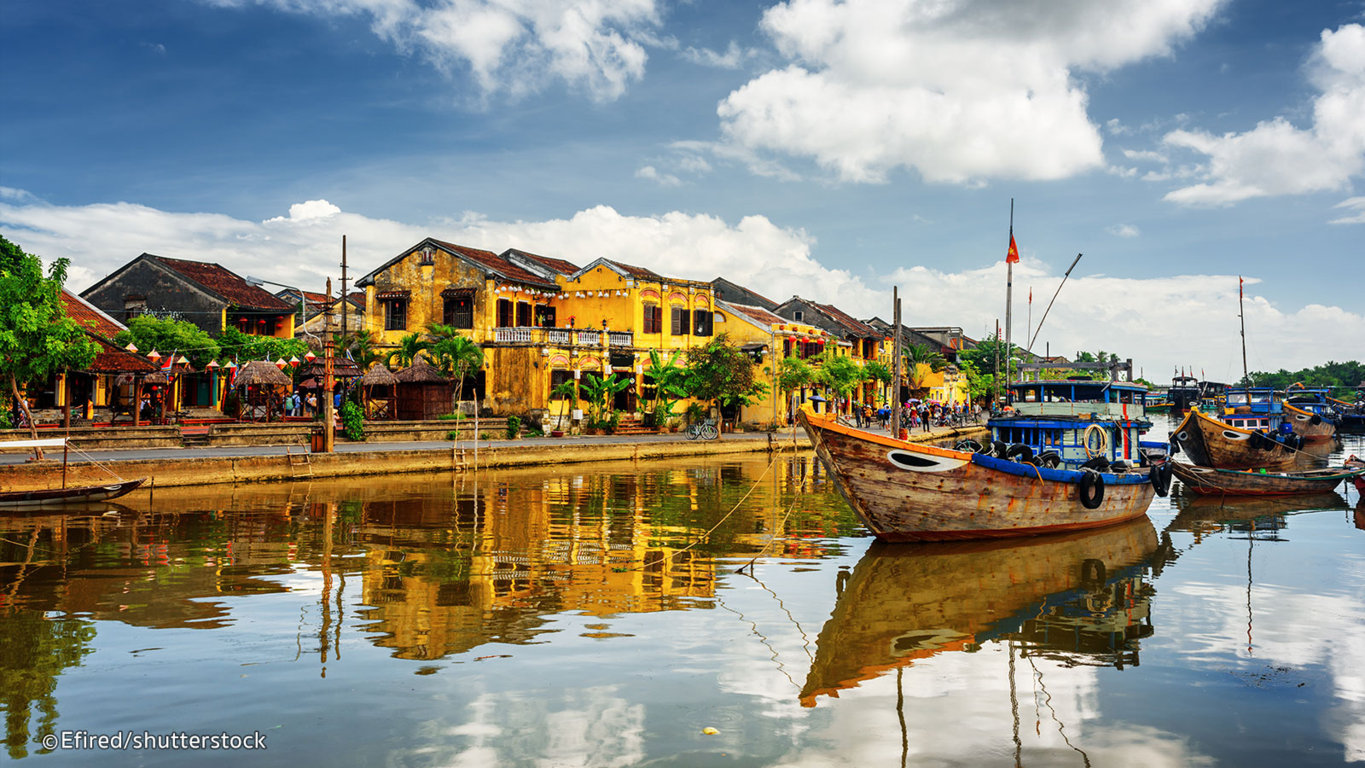 8. Hồ Chí Minh City (Saigon) - The Pearl of the Far East
Hồ Chí Minh City is still affectionately known by many as Saigon - Saigon is the second-largest city in Vietnam with the population is over 12 million people. If you are looking for a place that has lots of fun, good food, interesting coffee shop, bars, pubs, etc. Saigon is for you. 
One of the best ways to orient yourself is with a trip up the 68 story skyscraper, the Bitexco financial tower. Escape the heat and enjoy 360-degree views from the ultra-modern Saigon Skydeck. Sai Gon has made by the communities: Vietnamese, Khmer, Cham, Indian and European people all left their footprints and made a culture-diverse modern Saigon. 
The funny thing is that you can rent a motorbike, join with the crowded millions of motorbikes and explore the city by yourself. Or if you don't want to drive a motorbike, you will be offered by travel agencies in this city to sit on the back with 1:1 ratio motorbike tour guide and you.
If you're not brave enough to sit on the back of the bike, we are happy to offer you to join with us the walking tour to the Saigon Hidden Alleys, where you can see the real life of local people of the most bustle city in Southeast Asia.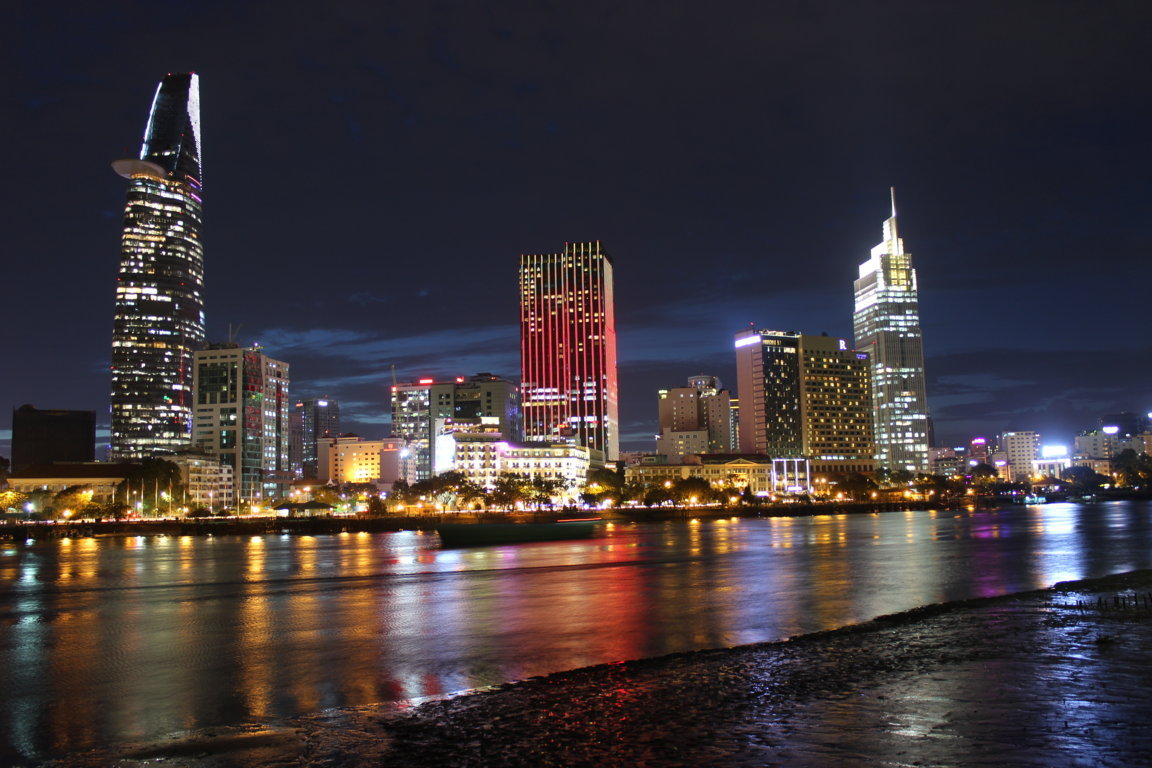 9. Củ Chi Tunnels
With anyone who loves history and wants to understand more about the Vietnam war. They can't miss Củ Chi Tunnels. Củ Chi Tunnels is a huge system of the bunkers with around 250 kilometers of square. This was the place where Viet Cong lived and fought back the American Army and Southern Vietnam Army. You will understand how could the Viet Cong dig the tunnels and living below the ground.
Just about 70 kilometers from Hồ Chí Minh City, lots of travel agencies offer half-day tour to Củ Chi Tunnels with good price. But if you don't want a place full of tourists and bustle, you can have a look about our offer that takes you to the original Bến Dược Củ Chi Tunnels, avoiding the crowded buses at the more touristy Bến Đình location. Bến Đình site displays tunnels that have been reconstructed for tourists and this where most tour operators take their tourists to.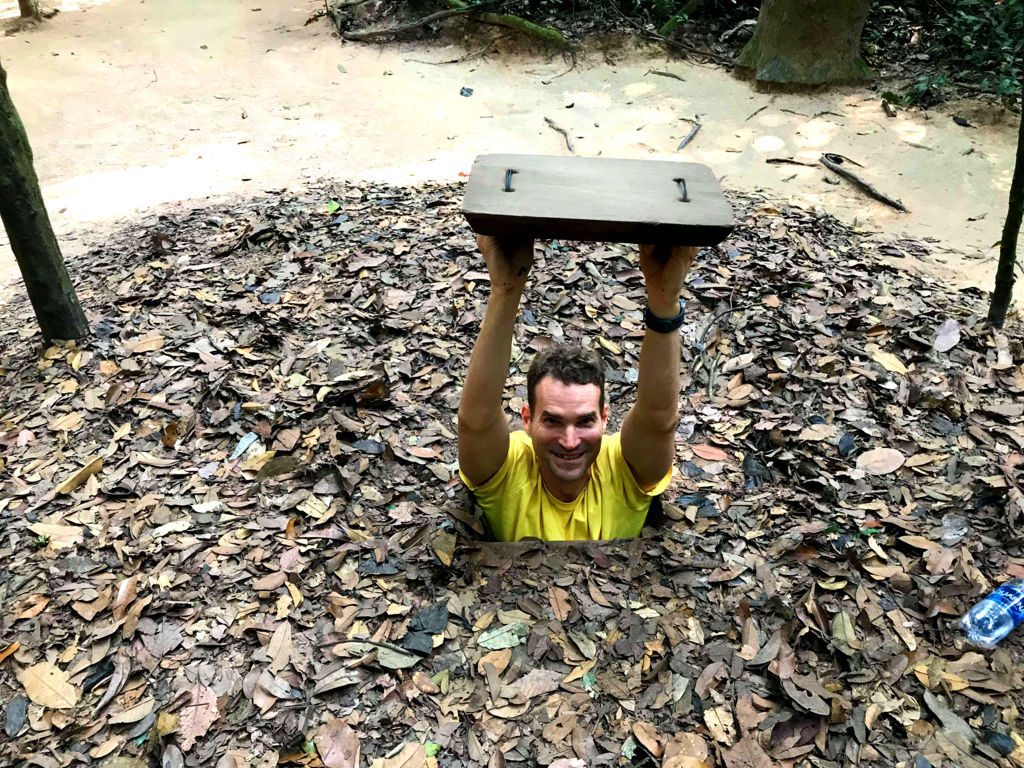 10. Mekong Delta
Last but not least, holding the 10th in our worth visiting places in Vietnam is Mekong Delta. Located in Southwestern Vietnam, Mekong Delta is well-known as the "Rice Bowl" of Vietnam. In fact, the percentage of growing rice in the Mekong Delta takes more than 50% quantity of the rice field in the whole country. Thanks to the system of Mekong River, this area easily becomes a place for growing fruit, especially is coconut in Ben Tre province. Not only fruit or rice, but the cuisine of Mekong Delta is also really amazing with fish, spring rolls, etc. Another thing you should not miss when visiting the Mekong Delta is enjoying a floating market and sitting on the sampan boat for exploring small canals.
Lots of travel agencies are ready to offer you a guided tour with full of service. If you are looking for an authentic Mekong Delta without tourist traps, don't hesitate to contact us.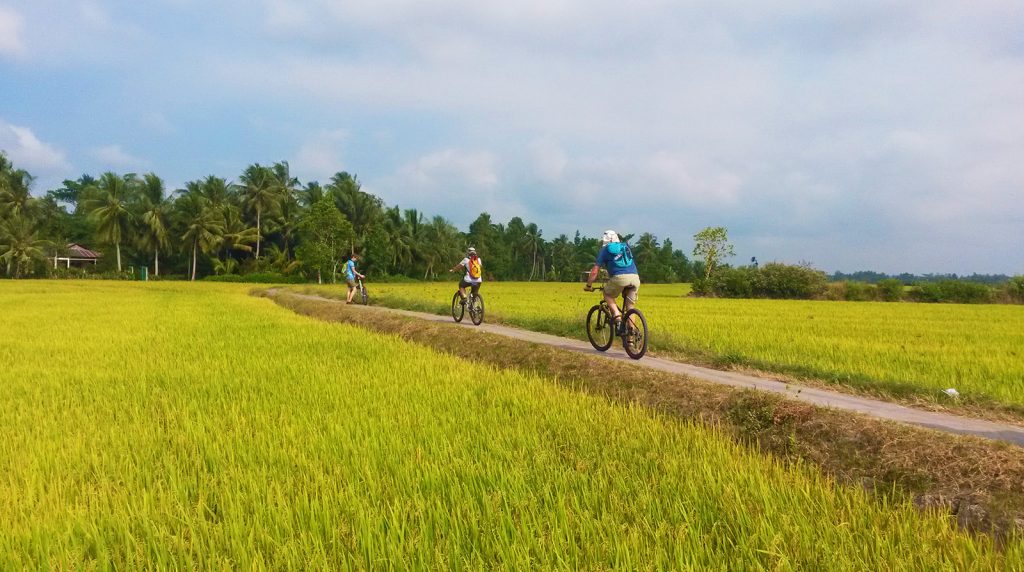 If you would like to have more information about travel tips in Vietnam, please check this out HERE