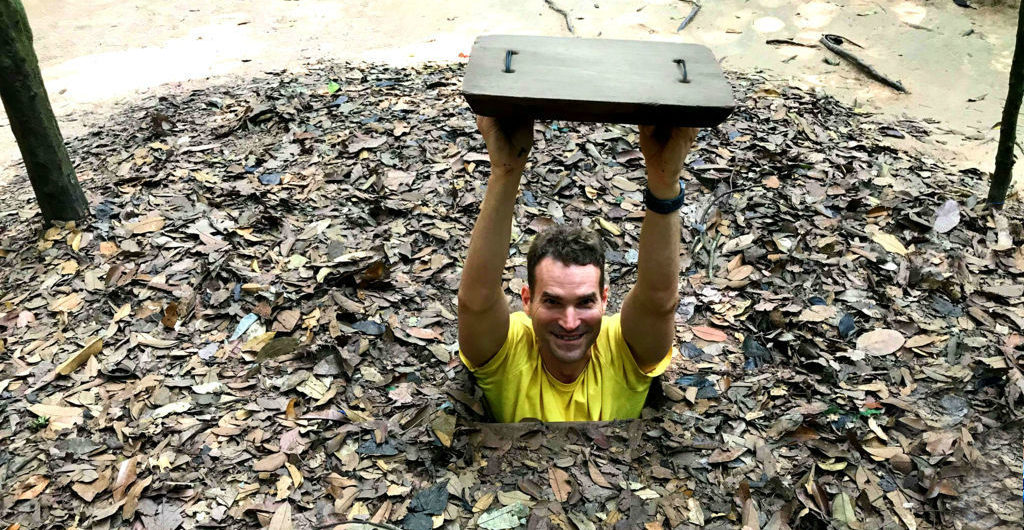 Authentic Cu Chi Tunnels – Why choose Ben Duoc?
The Cu Chi tunnels are underground tunnel systems, used mostly by the guerrilla fighters of North Vietnam in the American war. Not formed during the American war however, tunnels were used as early as the 1880s by anti-colonial fighters against the French, providing local fighters a key advantage. The tunnels are used nowadays as an attraction for tourists to visit;  learning more about Vietnamese history (whilst also having some fun). So, what is so important about Ben Duoc?
Ben Duoc and Ben Dinh – The difference between Cu Chi Tunnels.
Ben Dinh
The location that almost every tour operator in HCMC will offer tours to. Guides here will often be in a rush, as the location is almost always very crowded. Visitors are often forced to queue for each attraction in Ben Dinh, as a result of the heavy crowds that flock here. This means that if you want a video popping out of the ground, or posing in front of a battle-used tank, then you will almost definitely have to wait a little while for other tourists to finish. The Ben Dinh site can also be considered 'less authentic' as it does not contain the 'original' tunnels, unlike Ben Duoc.
Ben Duoc
Ben Duoc – the location of Innoviet Cu Chi tours – is a completely different atmosphere. 15km further from Saigon compared to Ben Dinh, Ben Duoc is definitely the 'less touristy' Cu Chi tunnel. The lack of busloads of tourists allows for a much more tranquil experience, allowing visitors a more authentic Vietnam experience. The Ben Duoc site is home to original Cu Chi tunnels, making it certainly authentic. Crawl through the tunnel system without being rushed along also, as a result of the lack of other tourists.
Why Book a Cu Chi Tunnel Half Day Tour with Innoviet?
It is a Must Do When In Vietnam
Efficient Itinerary
An Innoviet half day tour to Cu Chi tunnels is a great way to start off the day. 
Above all, you are able to undertake a truly authentic tunnel of one of the Vietnam War's pivotal areas. Furthermore, an early start also means that you still have the majority of the day and night left. Rather than arrive at Cu Chi tunnels and have to wait around for other groups, Innoviet prefer to visit what it is undeniably the better tunnel complex and be able to comfortably carry out a tour without rushing. Our customers can then be returned to the city with plenty of time left to explore the city, or carry out other plans!
Or – why not look at booking a combined Cu Chi tunnels and Mekong Delta 1 day tour!
Tour Guides
Our guides are personable and knowledgeable, and are able to answer any questions that our customers may have about the Cu Chi tunnels. All Innoviet tour guides speak excellent English, and have a high level of collective experience, allowing for customers to have the best tours possible. It is a point of pride for us that we consistently receive outstanding reviews for our guides.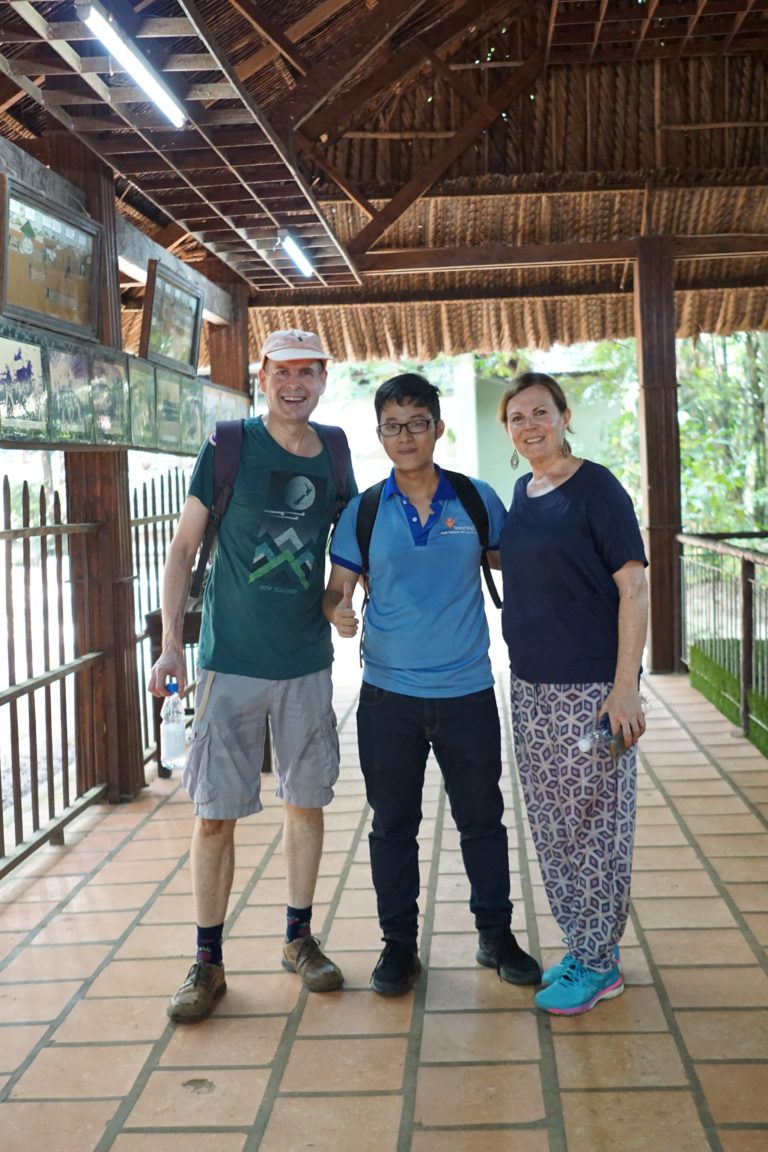 Small Groups
Innoviet Cu Chi tunnels tours have a maximum of 8 participants. This is ideal because most other tour companies have no limit on the number of tourists that can book onto the tour. And this is a problem simply because it makes it difficult for the guides to handle all the tourists. Also, it makes it much harder for guides to tend to the individual needs of those booked onto a tour. With Innoviet tours maxed out at 8 tourists, the tour is personal and interactive, and all needs of those booked on can be tended to. Therefore leading to an all-round good experience for all those involved.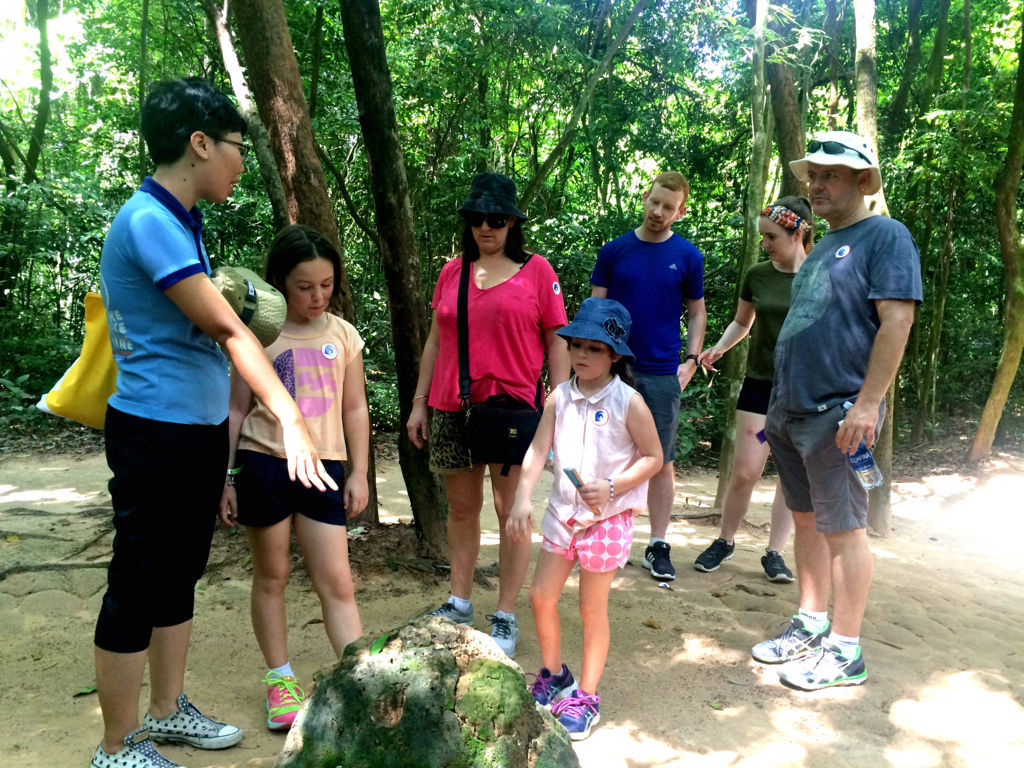 Sounds good, right?
Visiting Ben Duoc Cu Chi tunnel truly is an all-round superior experience to other alternatives. All attractions available at the busier Cu Chi locations are available, just without tedious queues. That means you can grab the classic Cu Chi photos without an annoying photobomb. Innoviet's small group tours also mean that you get the most from your time, with personable guides able to tend to your individual needs.
So, what are you waiting for? Get in touch! Contact us HERE
Check out a half-day Cu Chi tour HERE
Check out a combined Cu Chi and Mekong Delta tour HERE