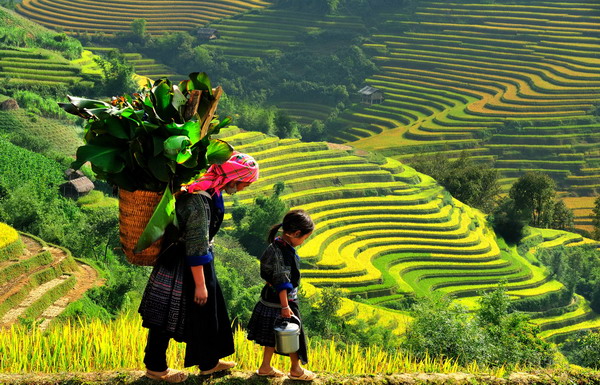 Vietnam is the second-largest country that exports rice around the world. So you can easily understand that it's not difficult to find a beautiful terrace rice field in Vietnam. Maybe during your trip to Mekong Delta, you will see a nice rice field from the highway. But it's still nothing if you compare with these terrace rice fields below. Especially this is the right time (from September to December). Thanks to ripe rice season, the landscape of those terrace rice fields is extremely fantastic. Top 4 places where you can see beautiful terrace rice fields which I mentioned in the article explain why you have to visit these places and do not forget to bring your camera with you :)
1. Mù Cang Chải
Mù Cang Chải is a small district which belongs to Yên Bái province, one of the mountainous provinces in the North West of Vietnam. Located at the foot of Hoàng Liên Sơn mountain range, 1000 meters high above sea level. At Mù Cang Chải, the terraced rice fields are the product of Mông people - a group of the ethnic minority in Vietnam. The rice fields are grown on the layers that created a fantastic view.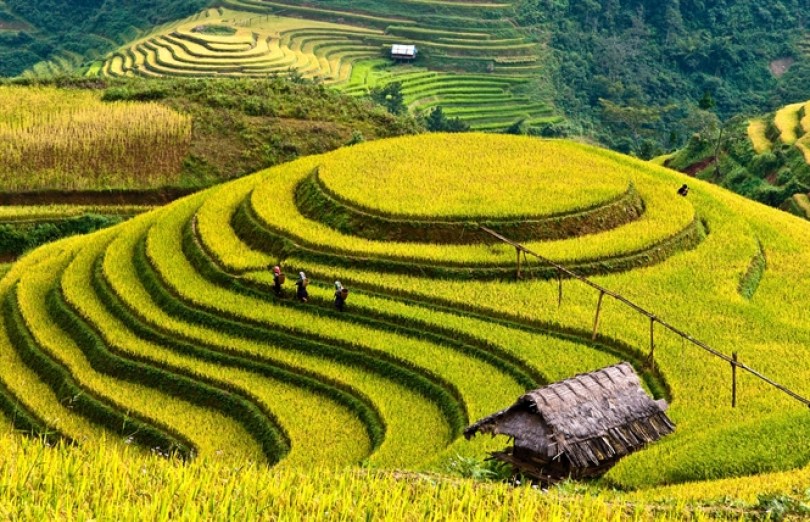 How to get there
We suggest that you should go to this location by bus from Hà Nội then rent a motorbike right at your hotel and exploring the surrounding area. From Mỹ Đình bus station in Hà Nội , you can book public bus there and go to Yên Bái Bus Station (160 kilometers from Mù Cang Chải).
Bus Company

Contact

Departure time

Arrival Destination

Tuấn Nhung Busline

0936160036 - 02163712828

6:15AM

8:45AM

5:00PM

6:00PM

Yên Bái Bus Station

Hùng Liên Busline

02163863656

From 4:00AM to 5:30PM (every 15 minute/turn)

Yên Bái Bus Station

Tuấn Thư Busline

02163712929

5:30AM

5:50AM

8:00AM

11:30AM

Yên Bái Bus Station

Nam Yến Busline

0912044465 - 0982044465

11:00AM

Yên Bái Bus Station

Tuấn Tài Busline

0912861070

11:15AM

5:20PM

Yên Bái Bus Station
Make sure that you walk to the main building to buy a ticket and avoid following any driver who convinces you to get on his vehicle. If you are afraid of the language barrier, you can ask the staff in a hotel where you stayed in Hà Nội to help you buy the bus ticket.
Then, from Yên Bái Bus Station, you continue to go to Mù Căng Chải district by Bus
| | |
| --- | --- |
| Number of Bus | Departure Time |
| 21B- 00017   | 12:00 PM |
| 21H – 4239    | 7:30 AM |
A much easier option is that you can book a tour to Mù Căng Chải from travel agencies in Hà Nội. Mù Cang Chải is a famous tourist destination so that lots of travel agencies offer quality services there. Here are our recommended travel agencies from Hà Nội:
Trek Mù Cang Chải
Address: No 116 Lane 76/32 An Duong St.,  Yen Phu, Tay Ho, Hanoi, Vietnam

Telephone: +84.4.37185750   

Hotline: +84913.501105

Email:

[email protected]

Website: http://www.mucangchai-tours.com/
Origin Vietnam
Address:

Origin Travel Co., Ltd Zone 1 – Hai Boi – Dong Anh District, Hanoi, Vietnam

Telephone: +848 290 98 686

Email:

[email protected]

Website: https://originvietnam.com/
Impress Travel
Address: 125 Hoang Ngan, 3rd Floor, Hoang Ngan Plaza Building, Trung Hoa, Hanoi

Telephone: (+84) 24 666 40 777 -

(+84) 912379189

Email:

[email protected]

Website: https://www.impresstravel.com/vietnam-tours/mu-cang-chai-tours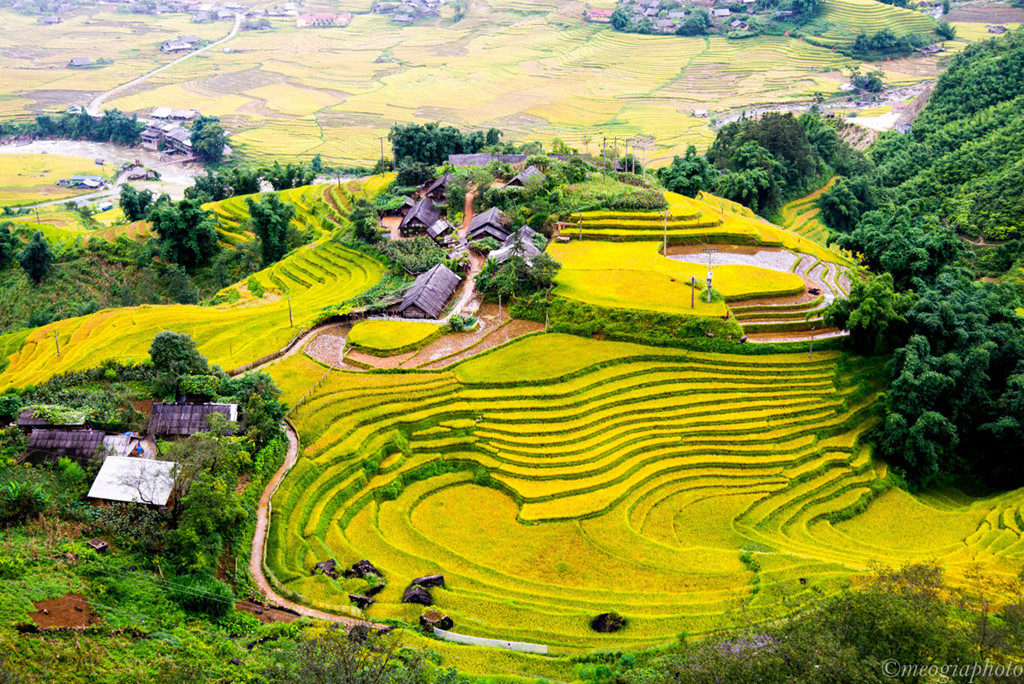 2. Sapa
Sapa is a small town in Lào Cai province, near the border between China and Vietnam. 317 kilometers away from Hà Nội and 1600 meters above the sea level. Although Vietnam has tropical monsoon weather, the temperature of Sapa is very low, the average temperature of Sapa is around 13oC. In this area, Vietnamese people live along with other ethnic minorities peacefully like Hmong, Dao, Tày, etc. In the past, during the French colonial period, Sapa was used as a big resort for French colonial government with over 300 mansion built. But nowadays, it becomes a town in which tourism is the main job of local people there and attracts not only Vietnamese tourists but also foreign tourists as well. There is a special thing once you visit Sapa in Winter,  you would have a chance to play with the snowmen, snowflakes, etc in a tropical country.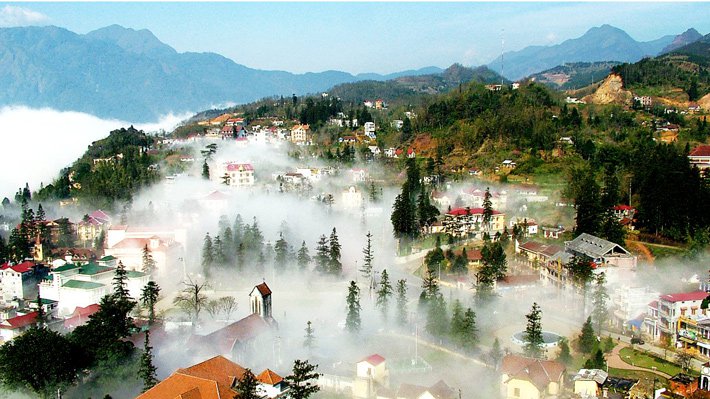 How to get there
There are two possible ways to Sapa: by train or by bus but in this blog, we just recommend you to go to Sapa by train because of its convenience and safety. We do not recommend you should go to Sapa by motorbike because that's the long way from Hà Nội to Sapa and the route is not so smooth and safe enough for you.
By train
If you travel to Sapa by train, you can save your time because you only need to spend 8 hours overnight on the train. So that make sure you book the cabin with beds for you and your friends. Somehow, a cabin has 4 beds which means you must share your cabin with other passengers or even local people. Minus point, sometime you will feel like you are enjoying free massage on the train because of the old of the railway and you can not observe the outside view because of the night, but let's wait until you reach Sapa. Fortunately, you can book a train ticket easily from these websites.
https://12go.asia/en/travel/hanoi/sapa
The train will drop you off at Lào Cai City, around 40 kilometers from Sapa. It is the time for the next transfer, some hotels that you had booked beforehand will offer you free pickup from Lào Cai but some hotels don't, you have to pay for pickup so remember to check it carefully before you book.
When you reach Sapa, now you can hire a motorbike and travel to Tả Phìn town to observe the terrace rice field, the route is quite safe and you should bring the bottle of water, snacks, etc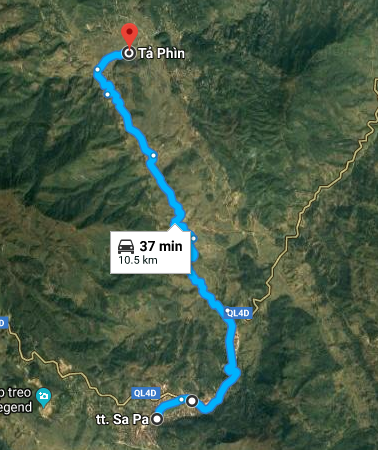 3. Y TÝ
Y Tý is a small village in Bát Xát district, Lào Cai province, 100 km away from Lào Cai. It is known as a cloudy village due to its altitude around 2000 meters and the village is covered by clouds.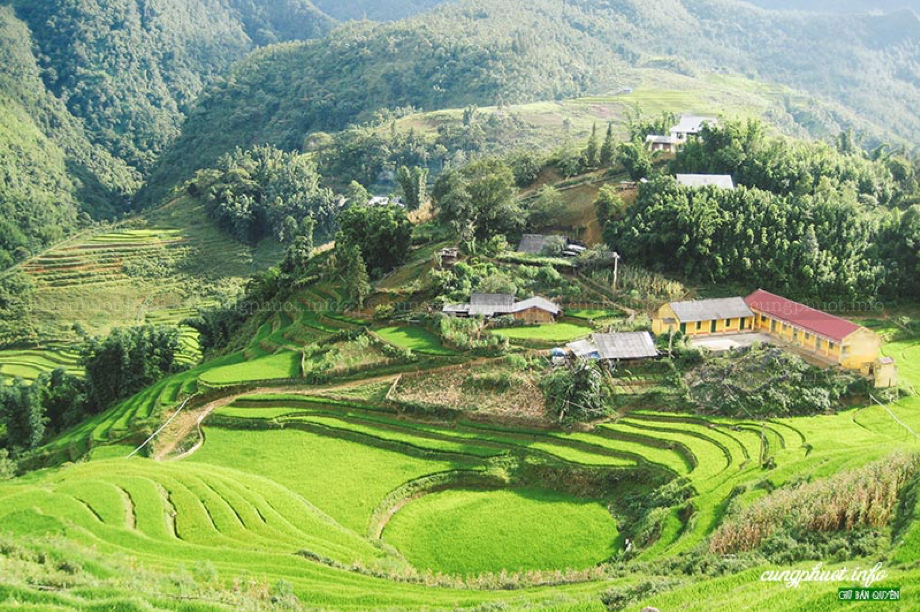 Bát Xát seems to the poorest area in Lào Cai, agriculture still remains the key income of Ha Nhi people who living in Y Tý village. In addition, the only way crop on the high mountain is that recreating the terraced rice fields is to retain the water and prevent soil erosion. Moreover, it is making more beautiful for the village and attractive photographies as well.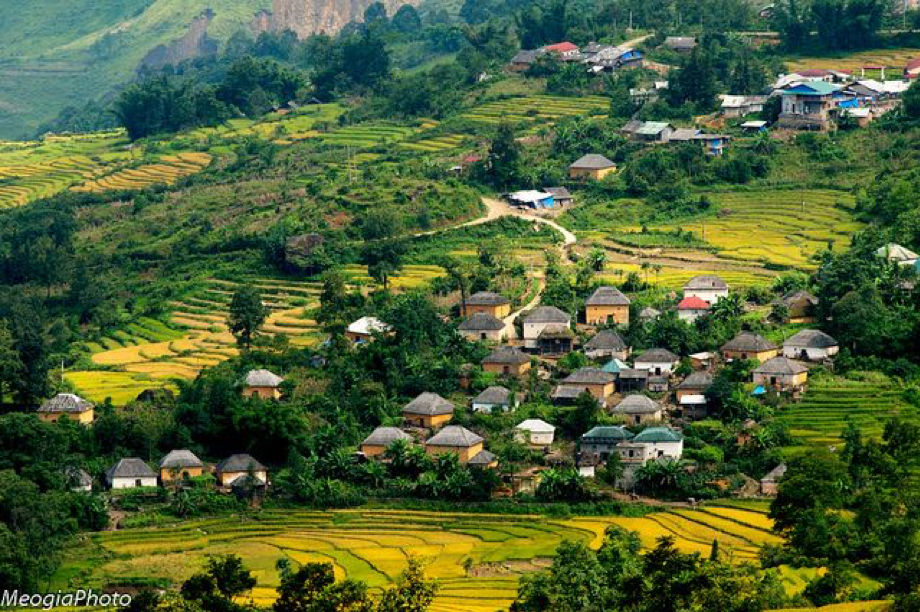 From the high view, the houses look like the colorful giant mushrooms on the hill. We perhaps will be lost in the fair world. It's amazing!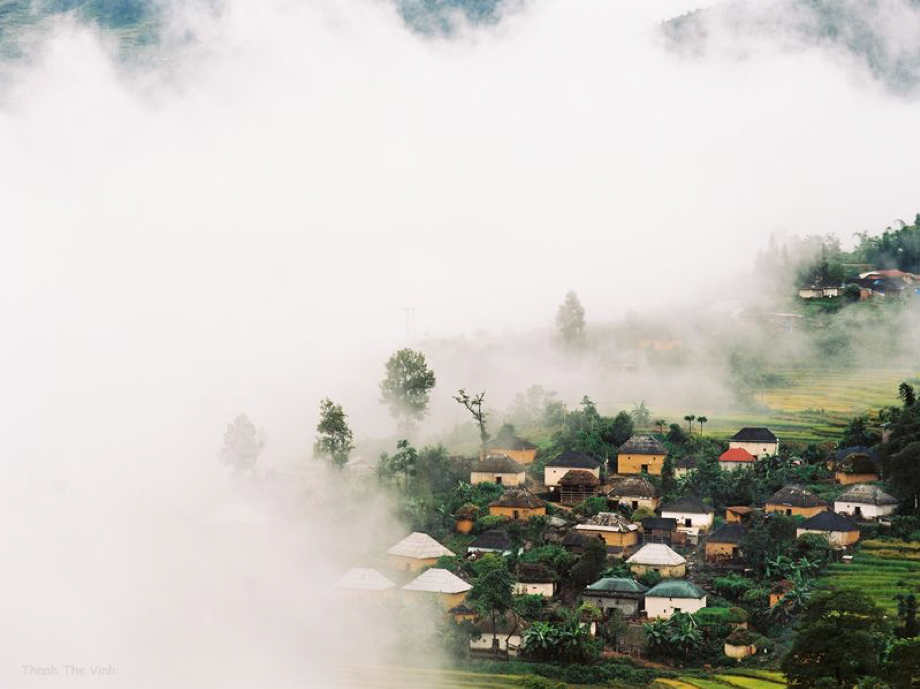 Each month will have different beautiful scenes. From September to April is the best time for you guys hunting clouds. The weather really cold at night, remember to bring warm clothes in order to keep the body warm and comfortable. Let's check the weather forecast in advance for your trip.
In addition, the specialty in this area is Ha Nhi beer. The process of making it is so complicated from preparation to cooking step. They have to carefully choose each sticky rice and then making it dry under the sun in a few hours. Don't forget to taste the Ha Nhi beer once you come here.
How to get there
There are two routes to get Y Tý.
You can choose to go by train or by bus. 8 hours by train and 5 hours by bus from Hanoi travel to Lào Cai. We suggest you should catch the night train (9:00 PM) go to Lào Cai station will be early morning (5:30 AM). Bringing slight snacks is important for a long time in your journey.
Booking bus :
https://vexere.com/en-US/my-dinh-bus-station
and train https://vietnamrailway.com.vn/product/train-hanoi-to-lao-cai-sapa/
Address: 20 Phạm Hùng - Mỹ Đình -  Từ Liêm - Hà Nội
Telephone: 04 37685549
Address: 120 Le Duan Street, Hoan Kiem District, Hanoi City, Vietnam.
Telephone: (+84-4) 39.423.697
Address: Khanh Yen Street, Pho Moi District, Lao Cai City, Vietnam.
Telephone: (+84-214) 3.830.093
More than 100 kilometers get to Y Tý, you can hire a motorbike in Lào Cai (the address below) to continue the way but the path is quite a challenge for bikers. On the other hand, the feeling so good when passing on the clouds and enjoy the nice weather. In addition, you have to bring gloves to legs, hands as well as the fuel slight snacks and instant noodles on the whole trip.
| | | |
| --- | --- | --- |
| Hire motorbike | Address | Tel |
| HẢI NAM | Sa Pa town, Sa Pa, Lào Cai | 0942 990 222 |
| NGA CẢNH | 63 Nguyễn Chí Thanh,Sa Pa town Lào Cai | 0972 666 335 - 0986 739 002 |
| TRUNG TÂM THÔNG TIN DU LỊCH LÀO CAI | 2 Fansipan,Sa Pa town, Lào Cai | 0214 3871 975 |
4. Hoàng Su Phì
Hoàng Su Phì is a rural area that belongs to Hà Giang province, in the Northeastern region of Vietnam. Like Northwestern, Eastwestern is also had fantastic views and landscapes due to plateau. The popularity is around 60.000 people and most of them are ethnic minorities like Nùng, Dao, Hmong. The main job of local people there is growing tea leaf and cardamom. But you still can see lots of rice terrace fields in this area.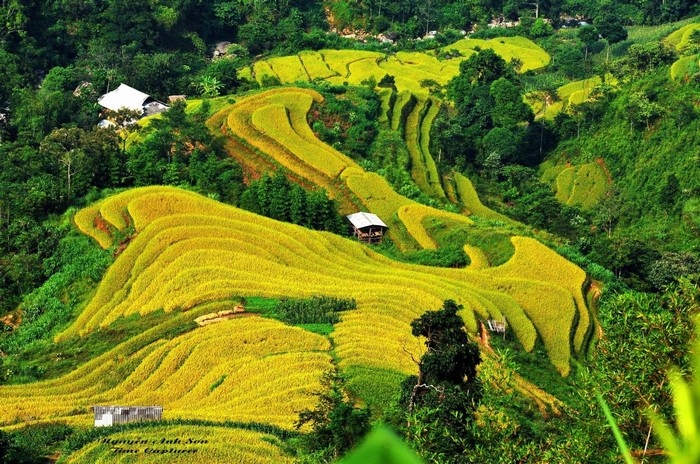 How to get there
First of all, you need to get to Mỹ Đình Bus station and buy a public bus ticket to Hà Giang City. As I have said above, just go ahead to the main building to buy a ticket or you can ask the staff at the hotel you have stayed in Hà Nội to buy a ticket for you. Here is those company that offer bus service from Hà Nội to Hà Giang. The average price is around 150.000VNĐ to 300.000VNĐ
Bus Company

Contact

Departure time

Arrival Destination

Thịnh Mỹ Busline

0914868737

5:00 AM

Hà Giang City Bus Station

Hưng Thành Busline

1900636512

02436337575

02436337614

8:30 AM

2:30 PM

8:30 PM

Hà Giang City Bus Station

Hải Vân Express

04 38717171

0982428868

8:30 PM

Hà Giang City Bus Station

Bằng Phấn Busline

02193887867

0915223171

8:00 PM

9:00 PM

Hà Giang City Bus Station
While you reach to Hà Giang City, you should book a hotel there (you can book hotel easily on Booking.com or Agoda, etc) and rent a motorbike for exploring, you should bring some food or snack in advance. We have someplace for the recommendation:
Giang Sơn Motorbike Rental
Telephone:09

4 171 9955 - 0988 470863
Hoàng An Let's Go
If you would like to have more information about travel tips in Vietnam, please check this out HERE