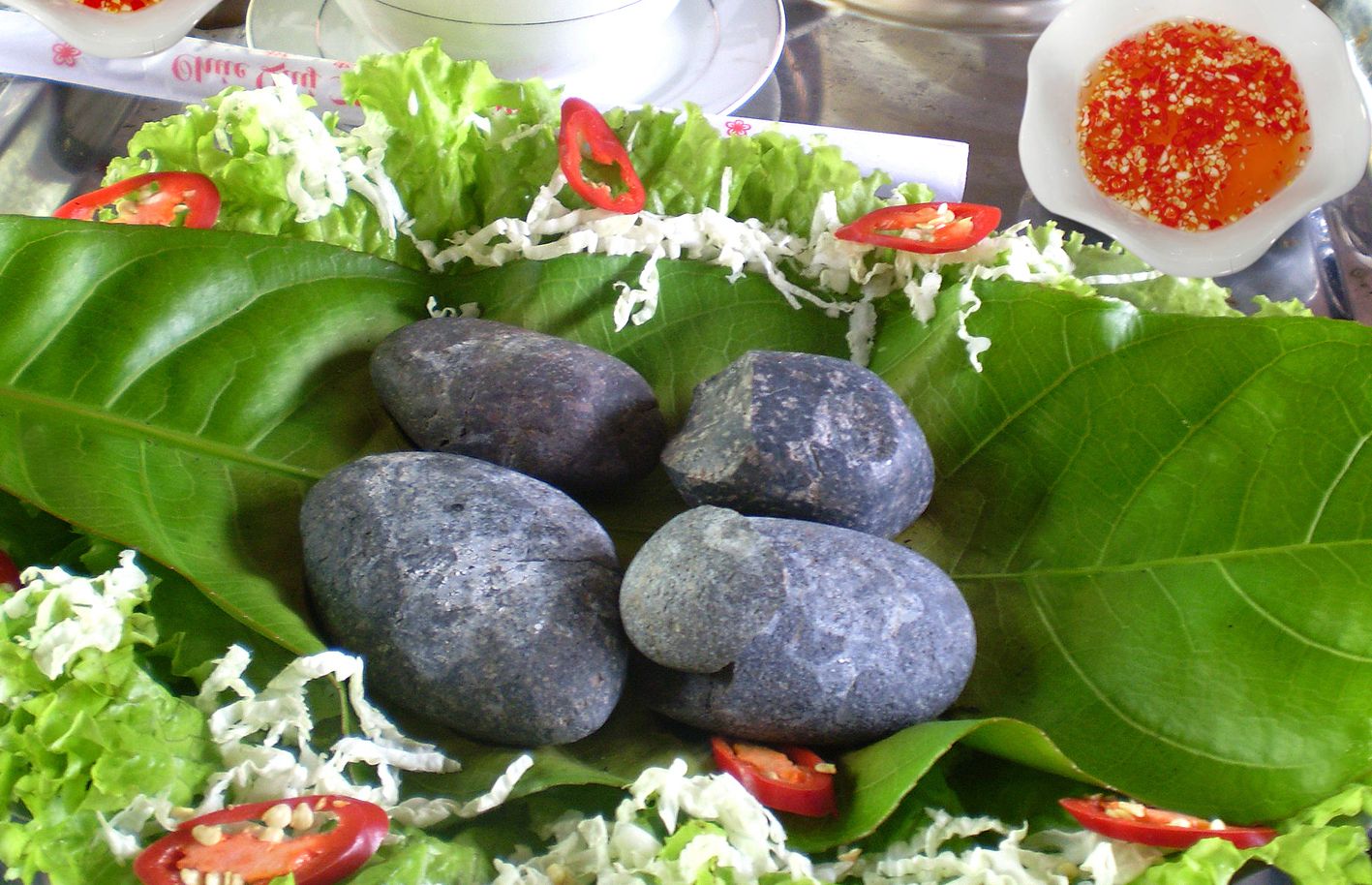 One has said Vietnam is "the kitchen of the world" with a non-shortage of delicious food and healthy ingredients. Whenever you are in Vietnam, you will find good food even on the sidewalk or in the fine-dining restaurants. In this blog, we will introduce the top pick for all food in the Mekong Delta, a beautiful region located in the South of Vietnam. It has a humble cuisine compared to those famous delicious dishes in the rest of Vietnam but will impress you with unique favors. 
Long An
Canh Chua Cá Chốt (Sweet and Sour Soup with gangetic mystus fish) is the popular soup that Long An people will have in their daily meals (lunch or dinner time). Mystus fish, tamarind leaves, tomatoes, okra, spring onions, and chilies are the main ingredients to make this soup. Also, you may come across lemongrass, sliced green banana and bamboo shoot in some variations. The best time to eat this soup is in the flooding season (mid-September) when they are fully grown up and have eggs, which adds a distinctly creamy texture to the soup.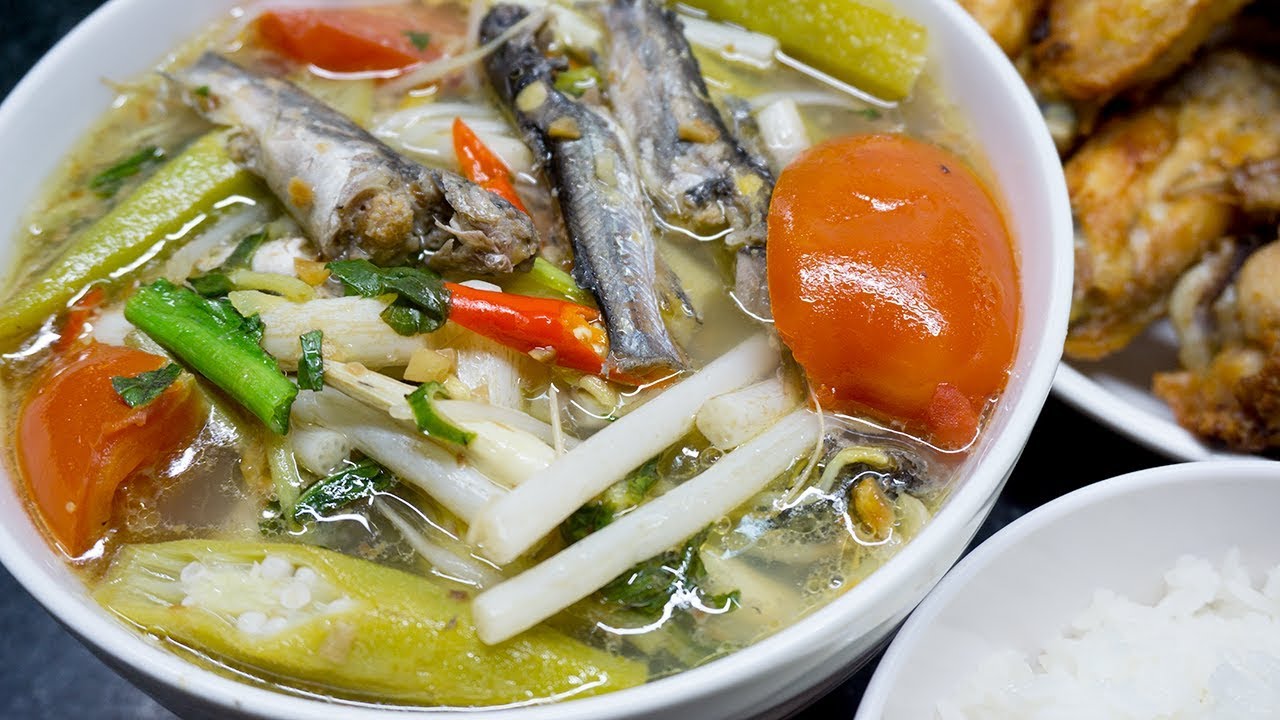 Tiền Giang
Tiền Giang is the rice cradle of Mekong Delta and obviously the delicious rice-based dish Hủ Tiếu Mỹ Tho (My tho noodles soup) should be listed in our bucket list while traveling here. The skinny size,  crunchy and chewy texture and the sour taste of the noodles make it different from the rest of the noodles family. It is served with pork belly, liver, heart, shrimps, quail eggs,  fresh garlic chives, lettuce and bean sprouts. Many locals fond of adding more chili sauce, lime, garlic pickles, black bean sauce in their noodles.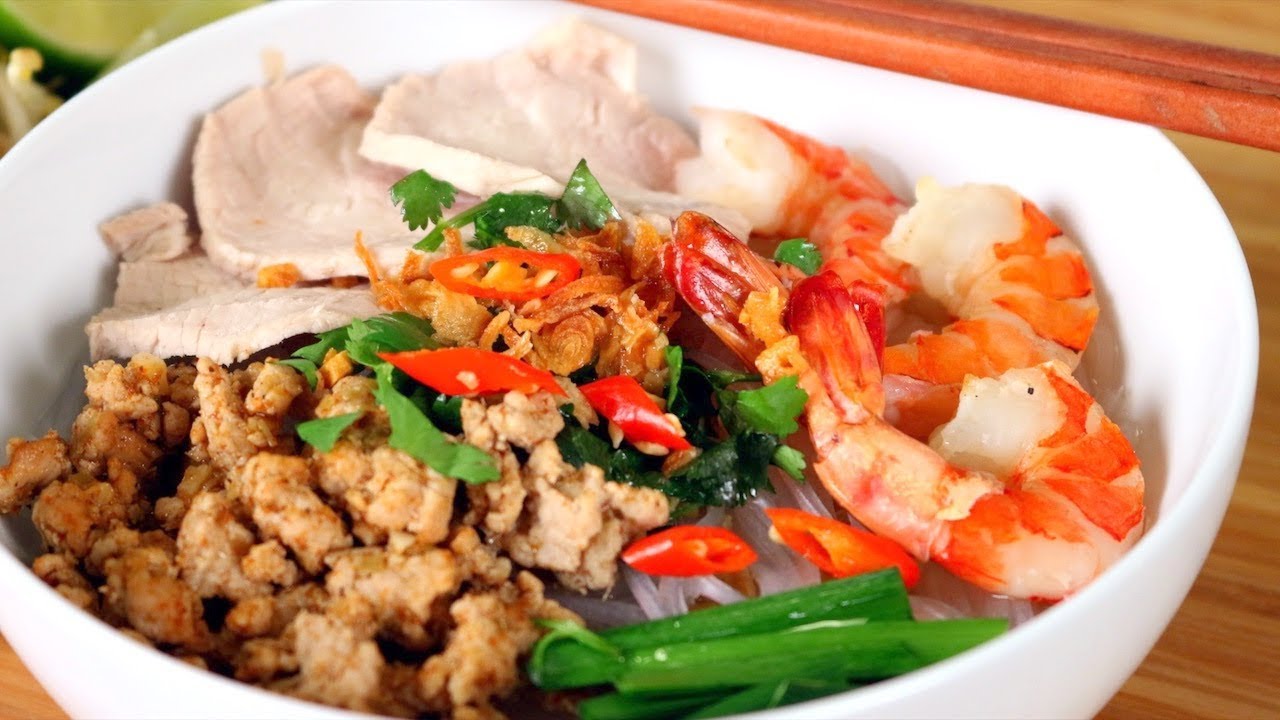 Đồng Tháp
Nem Lai Vung (Lai Vung Fermented Pork Roll) is loved among local Vietnamese. So, whenever they have a chance to visit Dong Thap, they will buy a bunch of green banana cube shape of Nem Lai Vung for friends. Nem is prepared by mixing ground pork, thinly sliced pork skin and seasoned with chilies, pepper and then wrapped with banana leaves. The magic of fermentation will turn it into the signature red color, crunchy texture, and sweet and light sour taste after leaving it with room temperature in a couple of days.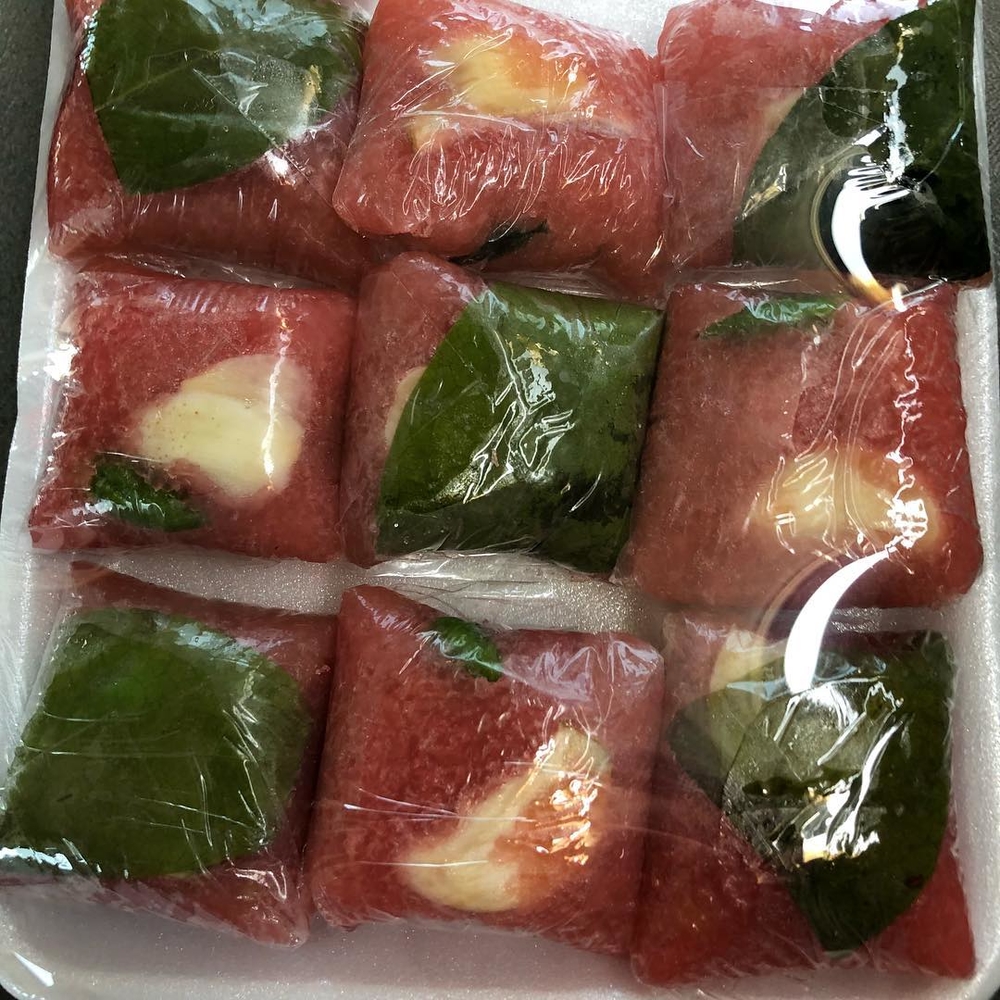 Vĩnh Long
Cá tai tượng chiên xù  (Deep-fried gourami) is a typical symbol of Vĩnh Long food because it has the best gourami in Mekong Delta. After cooking, the skin becomes crispy, which is a protector to keep the delightful tender and soft meat inside. It will be served with fresh vegetables and rice papers to make beautiful spring rolls. The hero to evoke the fish favor is the hand-made dipping sauce consisting of chopped chili, minced garlic, fish sauce, tamarind sauce, and sugar. The classic rolls can win even the picky eaters over the great balance between sweetness, sourness, and freshness. You can feel all flavors playing in your mouth when you take the very first bite.
Trà Vinh
If we have to name a dish that represents for Trà Vinh, a land of Khmer ethnics group, Bún Nước Lèo (Fermented Fish Noodles Soup) is our answer. It is a fusion food between Vietnamese, Khmer and Chinese culture. The standard soup contains a lot. Fermented fish-based soup, Chinese roasted pork belly, shrimps, shredded morning glory and banana flowers and herbs. Lemongrass is put into the fish stock during the cooking process. As a result, the tangy smell reduces, so you do not need to worry.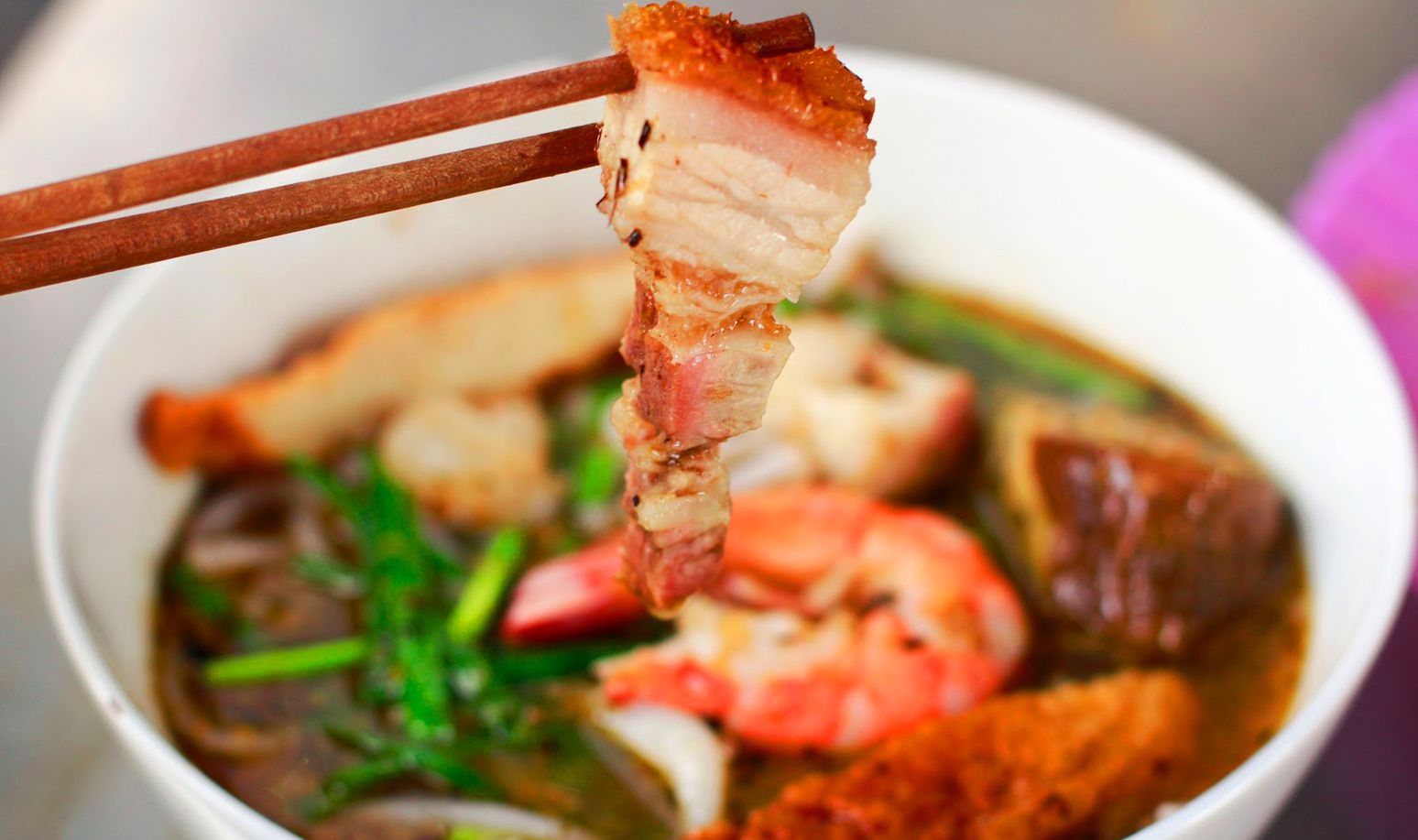 Hậu Giang
Because of the name Sỏi Mầm (Stone dish), we think the secret ingredient maybe some kind of edible stones but it is just our imagination. Sỏi Mầm is described as a cooking method applied to barbecue meat (they usually pork). You put hot stones in the middle of the plate surrounded by local vegetables. Furthermore, seasoned thin-cut pork is displayed on the top of these stones. As a result, the inviting barbecued smell is the key element to allure people falling for it.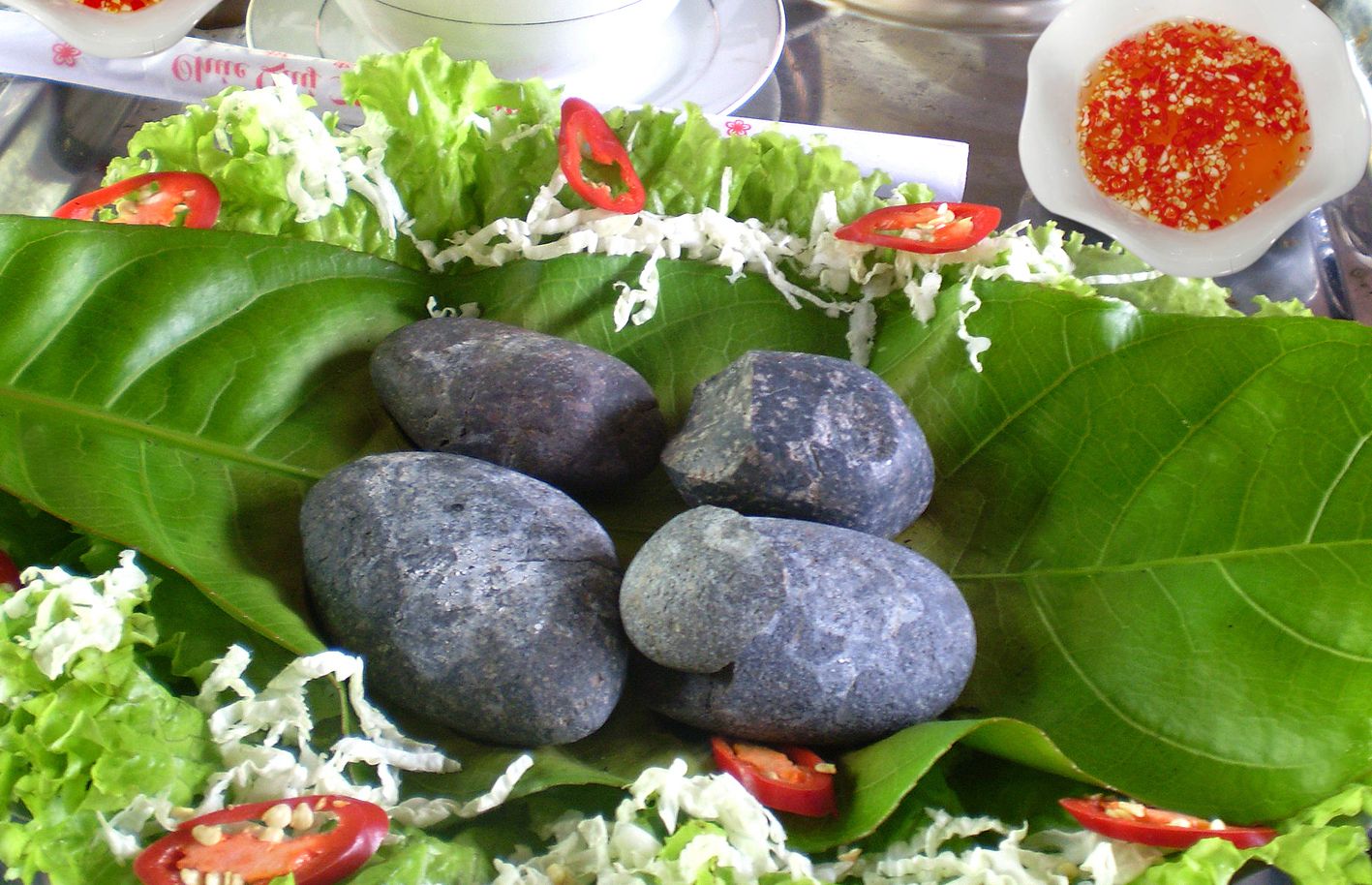 Sóc Trăng
A trip to Sóc Trăng will not be completed without eating Bánh Pía (Pia Cake), a brainchild of local Chinese people. Pia means Cake in Teochew (literally meaning of Pia Cake should be CAKE CAKE). These are made of plain flour, salted egg yolks, ground steamed green beans and durian. Then, they are molded in rounded shape, baked until they turn into yellow. Also, locals love to relish Banh Pia with a cup of tea in full moon festival.
Bến Tre
Ben Tre gains its fame a "Coconut Kingdom" where a vast land of this area is used for cultivating coconut. It is understandable that its signature gift is Kẹo Dừa (Coconut candy). Kẹo Dừa traditionally only has malt, sugar and coconut milk that are finely combined together. Now it has various tastes from chocolate to durian due to the increase-demand of a new taste. Highly recommended for sweet lovers!
An Giang
It cannot be denied that Bún Cá Châu Đốc ( Chau Doc Fish noodle soup) is the most famous dish in An Giang. The light-yellow broth is made of fermented fish, garlic ground turmeric and local roots- ngải bún. Also added is slices of snack-head fish help to make the unique favor for the soup. It is rich in taste and smell. If you are lucky enough, you can encounter some Dien Dien flowers. These are sesbania sesban flowers that pea plants produce in flooding season in Mekong Delta (between mid-September and November). 
Kiên Giang
Kiên Giang is home to various kinds of crustaceans, making it an ideal place for seafood lovers. One of our favorite is Cơm ghẹ Phú Quốc ( Phú Quốc fried rice with crab meat). Firstly, this dish only includes rice, crab meat, Phú Quốc fish sauce, and ground garlic. So, the simple but this delicious dish is just perfect for a dinner in the coastal province.
Bạc Liêu 
If you have a chance to travel to Bac Lieu, do not forget to get yourself a plate of Bánh Tằm Ngan Dừa (Ngan Dua Thick Noodles with coconut milk). It is the heart of Bac Lieu cuisine. So it is worth trying due to the interesting mix between the coconut milk and dipping sauce. The thick noodles are soft and chewy, which implements the crunchy of pork skin and the tender of pork meat. Locals consider it as energy appetizer for the morning.
Cà Mau 
This coastal town always welcomes people to visit any try its countless specialties. All among these irresistible food, you should not miss Tôm Tích (Mantis shrimp) because of high nutrient content and soft, juicy meat. The classic method to enjoy the freshness and ocean taste of the mantis is bringing it to a boil. Furthermore, peel the hard shell and dip the meat into the sauce made of salt, pepper and lime juice. It is enough for a seafood experience.
Cần Thơ
Being as a capital of Mekong Delta, Cần Thơ is a hub of economy, culture and cuisine. You can find a lot of flavorful food from other regions here but Cần Thơ also has it own well-known dish, which is Bánh Cóng, a savory dish made of shrimp, pork meat, batter and steamed green beans. It is wrapped in fragrant herbs and dip with sweet and sour sauce. It originally comes from Sóc Trăng and quickly gain popularity in Cần Thơ as favorite delicacy snack in the afternoon. 
If you have already decided destinations for your Mekong trip, we hope that this will help you to have some ideas for your gastronomy journey here. Please let us know which is your favorite Mekong dishes in the comment under below.
Finally, to find out more about Innoviet tours to Mekong Delta HERE