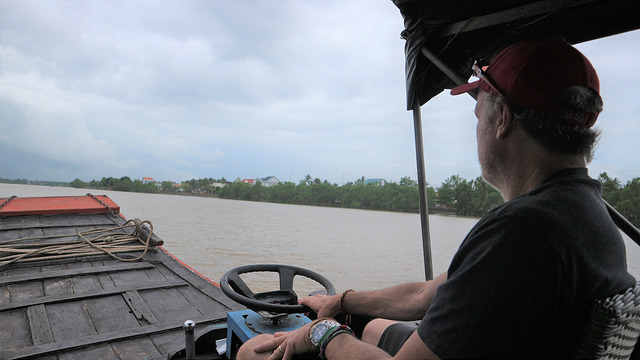 Mekong Delta Tour - Top things you must do
In every Mekong Delta tours, lots of travel agencies can offer you many different kinds of services. Maybe you don't know which is good, which is bad, which ones you must do, which ones you can skip, etc. So as an expert in Mekong Delta tour as well as a local myself, if you are looking for a good Mekong Delta tour, this things below are the one you must do when you have a chance to visit Mekong Delta.
1. Visit Cai Rang floating market in Mekong Delta
When every tourist discusses together Mekong Delta, I hear that "floating market" is the main keyword. In fact, with some tourists, the reason they choose to go to the Mekong Delta is the floating market. In the past, floating market played an important role in the daily life of local people. There are 6 biggest floating markets in Mekong Delta. They are Cai Rang floating market, Cai Be floating market, Nga Nam floating market, Nga Bay floating market and floating market in Long Xuyen province. But for the most convenient, we suggest you should visit Cai Rang floating market. Cai Rang floating market located at Can Tho City. Cai Rang floating market is a wholesale market. So that you will see many big boats carry lots of stuff. To observe all of the interesting moments of Cai Rang floating market, you should get up early because the market starts to work at around 5:30 AM - 6:00 AM.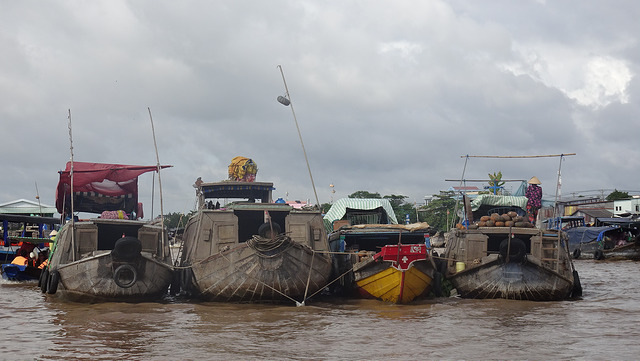 2. Enjoy a cruise driving on Mekong River
Mekong River flows from Southern China, through Myanmar, Thailand, Laos, Cambodia, and into the sea at Mekong Delta. You can see the river and small canal everywhere in the Mekong Delta.  Due to information of Mr Nguyen Van Loc - a shipbuilder 55 years old at Hau Giang province, before 1990, wooden shipbuilding used to be popular in Mekong Delta. In Hiep Thanh ward, Nga Bay Town, Hau Giang province, more than 40 households followed this job. Thus created popularity spread across the Mekong Delta. But nowadays, just only 4 households continue this job. The reason is that because of the development of land transportation and shipbuilding made from composite. Then Mr. Loc had to change the way he always did before. From the wooden boats, he started to build the sea boat with stronger material. Some wooden boats are still used for tourism So let's hop on a boat and observe the local lifestyle around the river bank. Sometimes you will see fishermen are working and waving his hand to say hello to you. In my opinion, you should drink coffee first because the wind from the river plus with peaceful atmosphere sometimes will make you sleepy.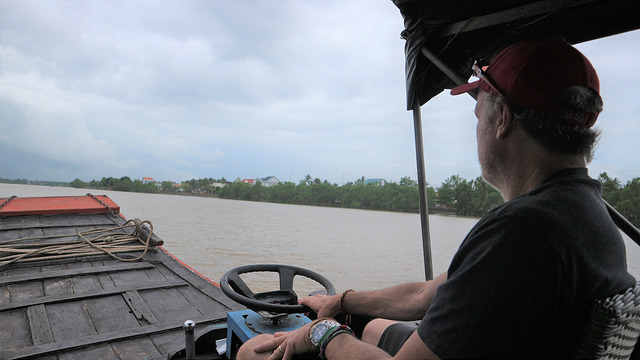 3. Taking a sampan ride to the small canal
In the Vietnamese language, sampan is called "xuong ba la" that means three leafs boat due to the structure of the sampan. It was made from three big wooden pieces. They called those sampan is the feet of local people in Mekong Delta. Because in the past, small sampans were the main vehicles at the place where fulls of canal and land transportation was not so developed. In the Vietnam War, small sampans also played an important role to the Viet Cong. They used those sampans to carry weapons and ammo silently to Cu Chi Tunnel area Sampan driver is not an easy job. It is hard instead. The difficult time for him (or her) to ride the sampan is when the level of the water decrease. There is not enough place for the paddle to use. If this case happens, the driver has to go down to the canal to push the sampan by his own bare hands. After leaving the main river, now it's the turn for the small canal. You will be taken by a small sampan with the smile of the local and take you to the mystery canal. The atmosphere in the canal is really quiet, quieter than the main river. But it's won't happen if you travel to the touristy area with full of sampan and so it is not a mystery anymore. But if you join us, you will feel the true atmosphere of those canals.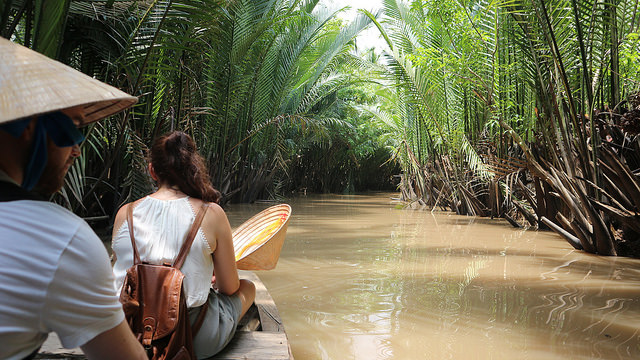 4. Riding a bicycle through the villages and rice paddy field
As you have known, Mekong Delta and surrounding areas were covered by many rivers and canals. So that the structure of villages in Mekong Delta is very unique. It's totally different from the North of Vietnam, where the villages are covered by the bamboo trees. The wells, banyan trees, and the temple are the symbol of every ancient village in the North. And  Rivers, canals, and sampans are always remembered as the symbols of the villages in Mekong Delta. Thanks to the unique characteristic of this area, the local people here are easy to connect to each other, helping each other in daily life via visiting and memorial days, wedding ceremonies, etc. In my opinion, this is the most interesting activity in every Mekong Delta Tour. Riding a bicycle and observe the fantastic view of the landscape here. Sometimes, when you see the local kids pass by and say hello to you, that is the charming of Mekong Delta. Don't forget to bring your camera before starting a ride. Trust me, you don't want to miss some best moments and awesome views of Mekong Delta. But this activity requires a little bit of energy so that make sure you have already practice exercise before your trip. Another thing to remind is that checking your bicycle carefully.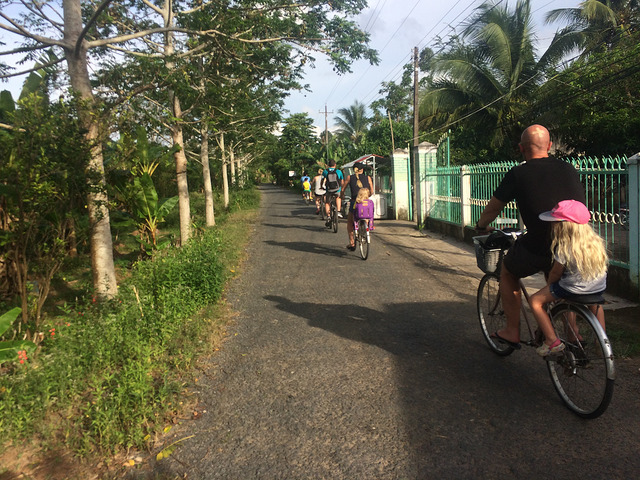 5. Tasting fresh fruit from a local garden
At Mekong Delta, this area is divided into two different areas: "Miet Vuon area" and "Miet Thu area". These two areas are different about the characteristic of the land and agriculture as well. "Miet Vuon area" is the area where has perfect condition and weather to grown fruit around the river bank. Thus created big gardens around Hau River and Tien River, which are the two biggest rivers in Mekong Delta. So that the areas belong to Miet Vuon area are Vinh Long, province, Ben Tre province, Tien Giang province, Dong Thap province, etc. In the past, Miet Vuon area is the place that a lot of people came to live and settled. Miet Thu is the place less famous and less resident than Miet Vuon area. Most of the people live in Miet Thu area are the people who don't have enough space in Miet Vuon area, they had to move to Miet Thu area. Kien Giang Province is the province belongs to Miet Thu area . In Miet Vuon area, especially Ben Tre province is known as the kingdom of coconut. Because you will be surrounded by thousands of coconut trees when you pay a visit to this destination. But Mekong Delta is not only famous for coconut, but there are also many kinds of fruit behind. All of the fruit here was grown in the local garden and say no to chemicals. So you don't have to worry about the quality and comfortable to enjoy fresh fruit in Mekong Delta.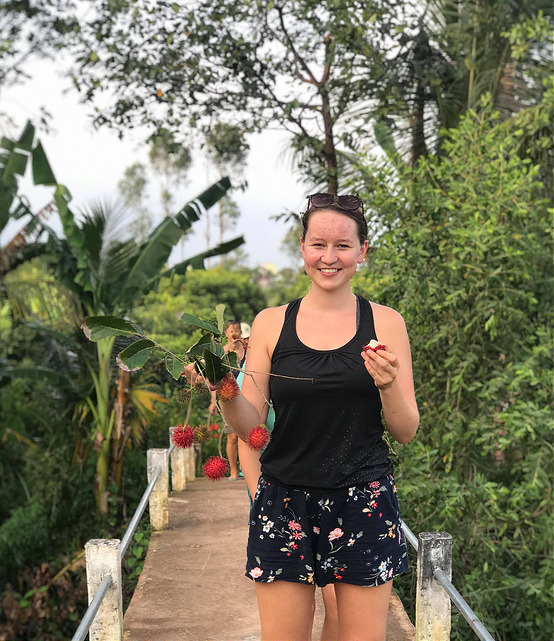 6. Staying overnight in a local homestay
Thanks to the development of the tourism industry and the Internet, more and more people come to the Mekong Delta to see the scenes, enjoy water boat, floating market, etc. That creates a new way to earn money and improve the quality of daily life for local people here. That is homestay. In my opinion, homestays in every Mekong Delta tour can bring you unforgettable moments. Depends on which travel agencies you book, you will be offered different homestays. You will be warmly welcomed by the owner of the homestay and eat dinner with them. Maybe you can have a chance to play with kids if there are kids living there with the adults. Most of the homestays in Mekong Delta have all of the facilities which meet your demand like bath, beer, internet connection, etc. So you don't have to worry about disconnecting with the world. But instead of sleeping with air conditioner like you always do, you just only have a fan, mosquito net, pillow, and blanket.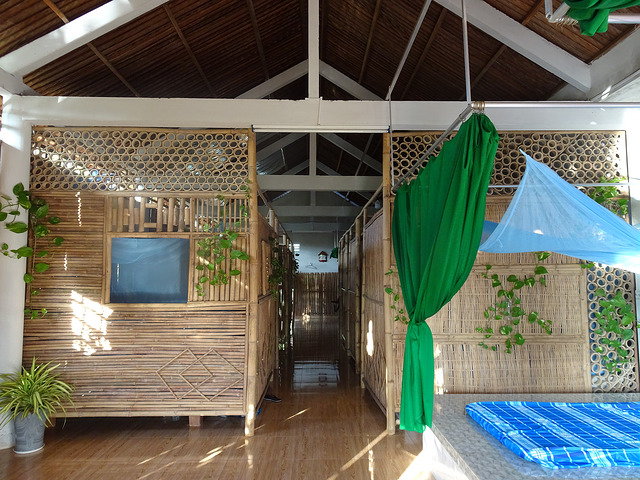 7. Joining a cooking class with the host 
With people who are seeking good cuisine, the highlight of their Mekong Delta tour is definitely food. The characteristic of Mekong Delta 's cuisine is diversity. Because of the combination of many different cultures such as Chinese, Khmer, Cham. This element brings the unique to Mekong Delta's cuisine. Besides that, during your trip to Mekong Delta tour, the owner of the homestay may invite you to use dinner with him. And if you are lucky enough, you will be invited with a cup of "happy water" (I mean wine rice). They will be very happy if you accept his invitation. Lots of people tell me that Vietnam is one of the countries where has the best cuisine ever. I have to admit that is the truth. Moreover, why don't you try to cook Vietnamese dishes by yourself? While staying in homestay at Mekong Delta, you will have a chance to cook a dish on your own for dinner. The one who instructs how to cook Vietnamese dishes will be the host of the homestay. You will eat what you cook so remember to try as best as you can.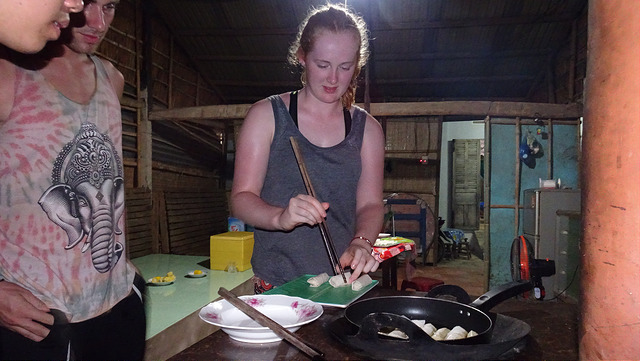 If you are finding more information, what to do, where to eat, etc. in Saigon or Mekong Delta, click HERE