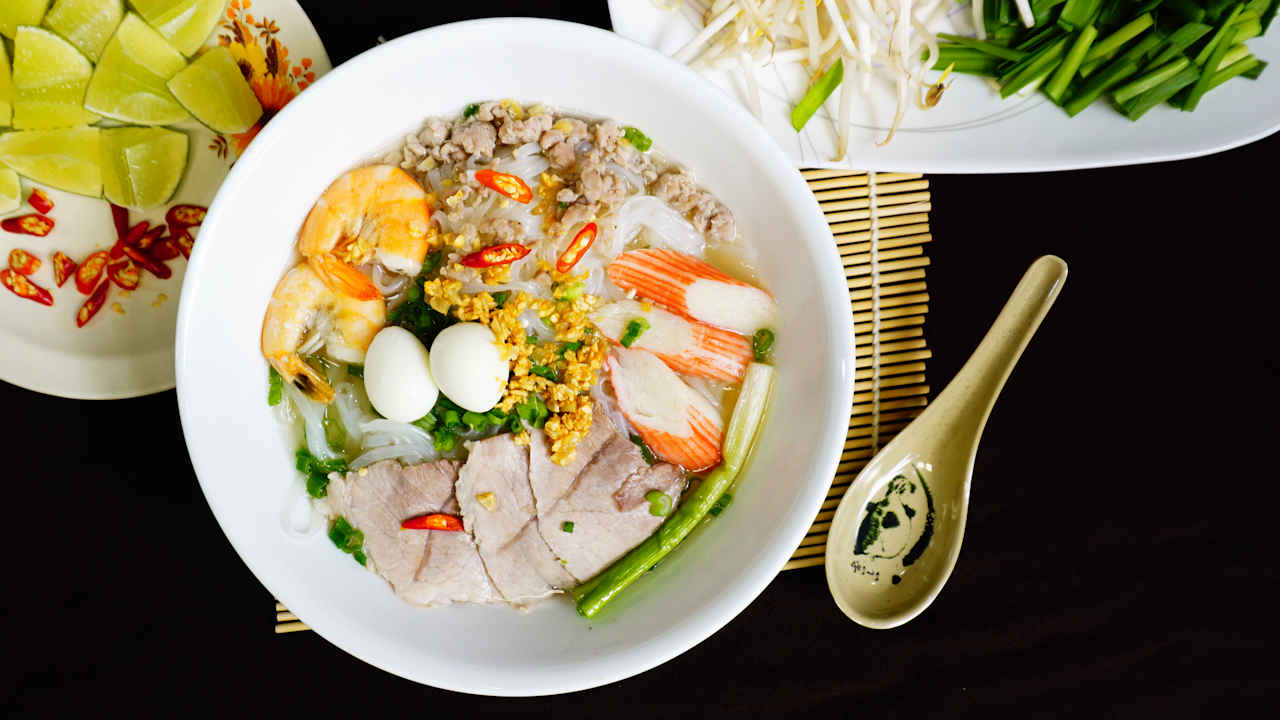 Top 8 foods in Mekong Delta that you should try when you come here
Mekong Delta is a famous tourist destination in Southern of Vietnam. It attracts foreign tourists and domestic tourists not only by landscape, activity, etc. but also by its cuisine as well. Some people will wonder that how is the food in Mekong Delta looks like, what kind of ingredient that the local people use for the food and what kinds of food they must try when visiting the Mekong Delta? This blog will give you my top 8 food you must try when you have a chance to visit Mekong Delta.
1. Hủ tiếu Nam Vang (Nam Vang noodle soup)
When we mentioned about Vietnamese noodle soup, people always think of Phở, the worldwide noodle soup. But actually, there are also many kinds of Vietnamese noodle soup that we love to eat. Especially in Mekong Delta, Hủ Tiếu Nam Vang is one of them. The original of Hủ Tiếu Nam Vang comes from Cambodia then spread to Southern Vietnam and Chinese community in South East Asia. The main ingredient of this food is crunchy noodles mix with small pieces of pork, organ, quail egg and seafood.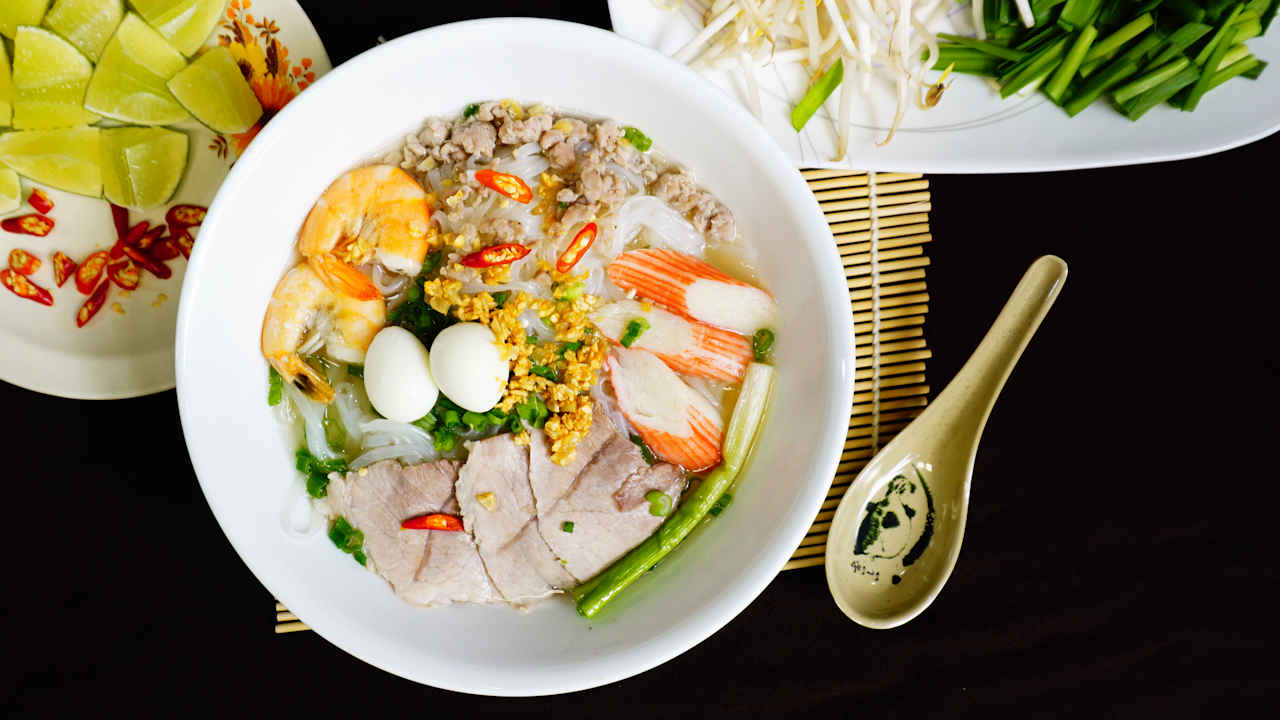 The broth of Hủ Tiếu Nam Vang was made from the pig bones as well. Depends on everyone's taste, you can try a regular noodle soup with shrimp, pork, quail eggs or you can challenge yourself to relish the classic dish with some additional organs, (livers, lungs, and heart).
Where to eat Hủ Tiếu Nam Vang in Mekong Delta
Hủ tiếu Chú 5 Hòa
Hủ tiếu Sáu Sen
Another special thing about this food is that you can try right at Cai Rang floating market when you join the tour with Innoviet Travel in Mekong Delta 2 days tour with homestay.
2. Cá tai tượng chiên xù (Fried Elephant Ear Fish)
Elephant Ear Fish, a weird name, right? It is called Elephant Ear Fish because it looks like the ears of an elephant. This is the food which is always introduced by every tour guide when they talk about food in Mekong Delta.
Though you can have it in Ho Chi Minh City if you don't have a chance to try it in Mekong Delta. The chief will fry the fish and to get the perfect taste of this food, you must wrap it with rice paper and dip it into the sweet and sour sauce that is made of garlic, chili, fish sauce, and tamarind sauce.
Where to eat Fried Elephant Ear Fish in Mekong Delta
Hoa Sứ Restaurant/Banquet Hal
Diamond Palace
3. Bánh xèo (Vietnamese Pan Cake)
The second food of Mekong Delta that I want to introduce to you is Vietnamese Pan Cake (or I always call it Bánh xèo). It is one of the most common street food in Vietnam. It is cooked differently in other regions of Vietnam. In Mekong Delta, the local people will cook Vietnamese Pan Cake with veggies and mung beans.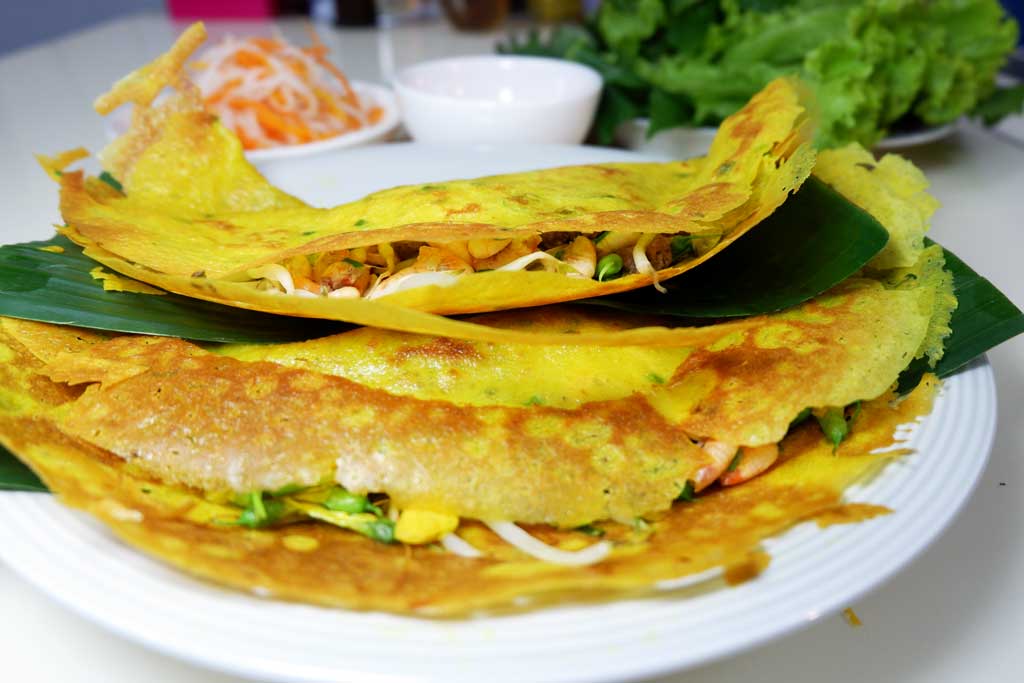 I forgot to mention, "Xèo" means the sizzling sound that is produced when pouring the batter into the hot pan when local people make it. Some people will think that "Bánh Xèo" is made from egg because of its color. But actually there is no egg here. It was made by rice flour, coconut water, flour, mung beans, green bean sprouts. Especially you can make it by yourself with local people when you join with us - Innoviet Travel in Mekong Delta tour 2 days.
Where to eat Bánh xèo in Mekong Delta?
Thu 46 Restaurant
Read more: Top things must do in Mekong Delta
4. Gỏi cuốn (Spring rolls)
Gỏi cuốn (Spring rolls) is a very common food in Vietnamese cuisine. Some people said that the original of this food comes from China and then Vietnamese people changed its ingredients to suit Vietnamese taste. Though information hasn't been confirmed yet. The main ingredient of Gỏi cuốn is rice paper. Then using this special rice paper to wrap with many different types of herbs and meat (beef, pork, shrimp, etc.), and noodles. Despite being common, this food has various versions depending on the region of Vietnam.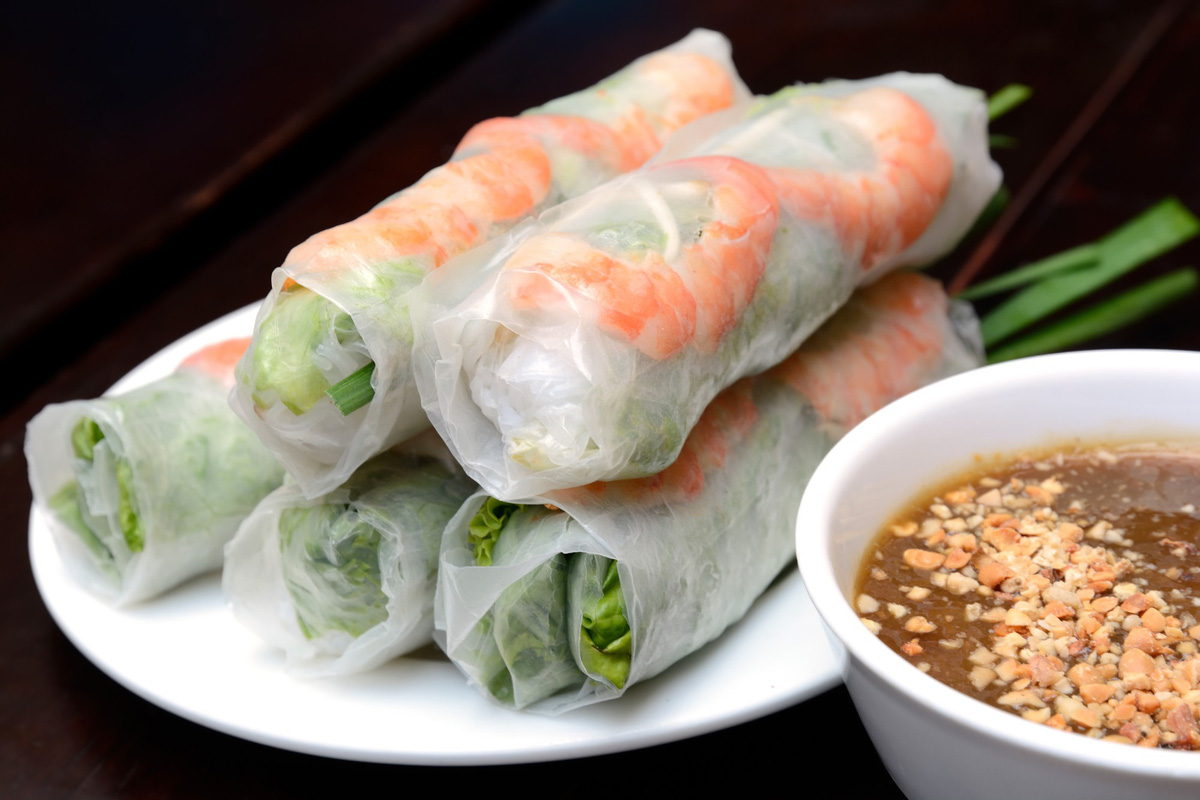 Another important thing that made Gỏi Cuốn become so popular is the dipping sauce. The sauce was made from vinegar, sugar, fried onion, and chili. To eat it, you put all of the food on the surface of rice paper and then wrap it steadily, and dip into the sauce. You can find Gỏi cuốn in everywhere in Mekong Delta from small street food stores to fine dining restaurants.
5. Cá lóc nướng trui 

(Grilled Snakehead fish)
Cá lóc nướng trui (grilled snakehead fish) is a unique food in Mekong Delta. It's special because of the simplicity of the process of cooking it but producing a really good flavor. This food stick with local people in Mekong Delta since the day they found this land.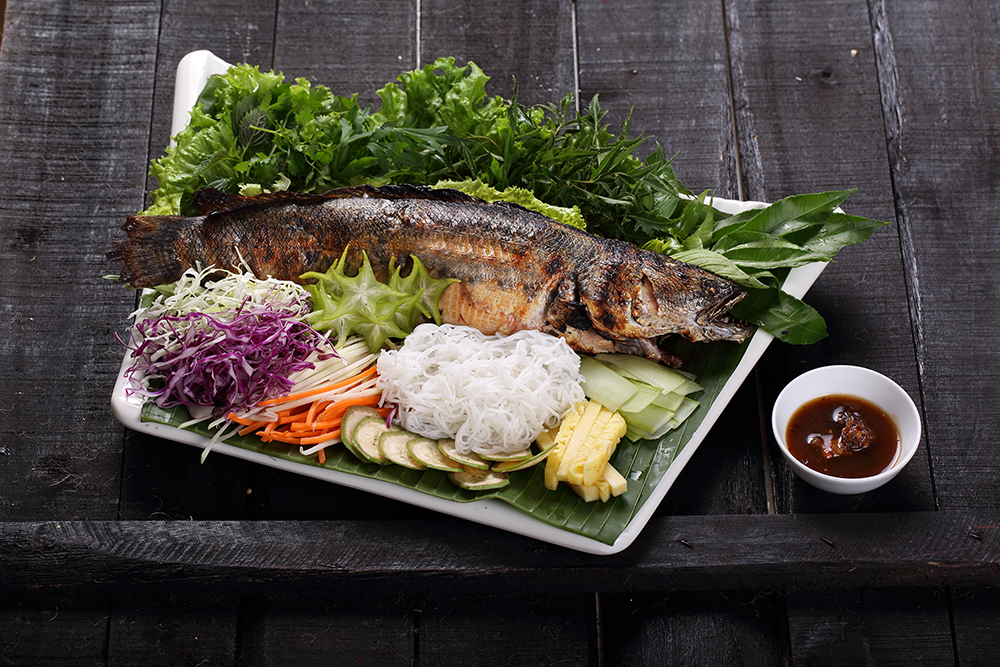 The characteristic of this food is that the fish doesn't need preliminary processing or abdomen, no need to be marinated. Locals caught the fish from the river then washed and pierced it with a long stick from the mouth to the tail, then buried the fish in the haystack and burned it under open fire. After all, you just need to take the meat and dip it into salt and pepper sauce or fish sauce with tamarin.
Where to eat Grilled Snakehead fish in Mekong Delta?
Mẫn Restaurant
An Restaurant
6. Bánh lá dừa (Coconut leaf cake)
Coconut leaf cake (Bánh lá dừa) is a popular snack in Mekong Delta. You can see it everywhere but the cake dominate Bến Tre province - the kingdom of coconut. The cake was wrapped by coconut leaf and it looks like springs. White rice, coconut, banana, and mung beans are the main ingredients to make this delicious snack. The local people choose white rice to make coconut leaf cake very carefully, the rice is washed carefully and soaked overnight.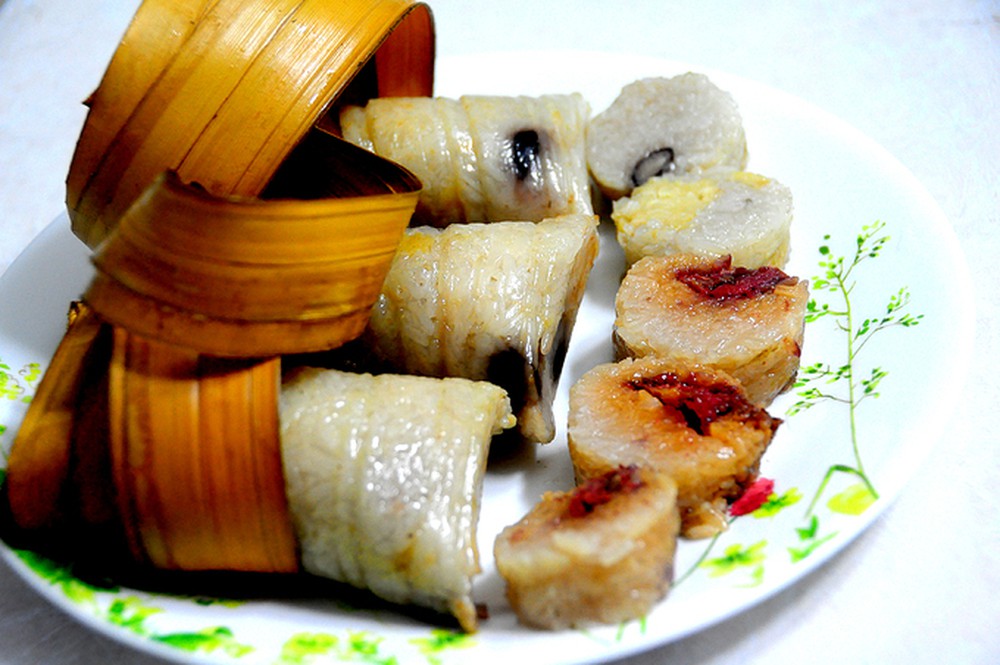 They also soak the mung beans in the water as well. The leaf used to wrap the cake must be the young ones with yellow color. When it comes to wrapping process, they put the coconut leaf by layer, then add the rice and coconut (or mung beans) in the middle and then wrap it up.
Read more:  10 typical types of fruit at the Mekong Delta
7. Bánh khọt (Khọt Cake)
Khọt Cake is another pancake of Vietnamese people. Different from Xèo Cake above, the size of Khọt Cake is much smaller. On the top of Khọt Cake, the locals in Mekong Delta add many kinds of topping from shrimp, squid to green onion or eggs. They use rice flour, coconut water, eggs, mung beans, shrimp, herbs, vegetables and many small ingredients like; pepper, salt, etc. to make this food in Mekong Delta. And like other Vietnamese food in general, you must eat it with fish sauce with Vietnamese pickles.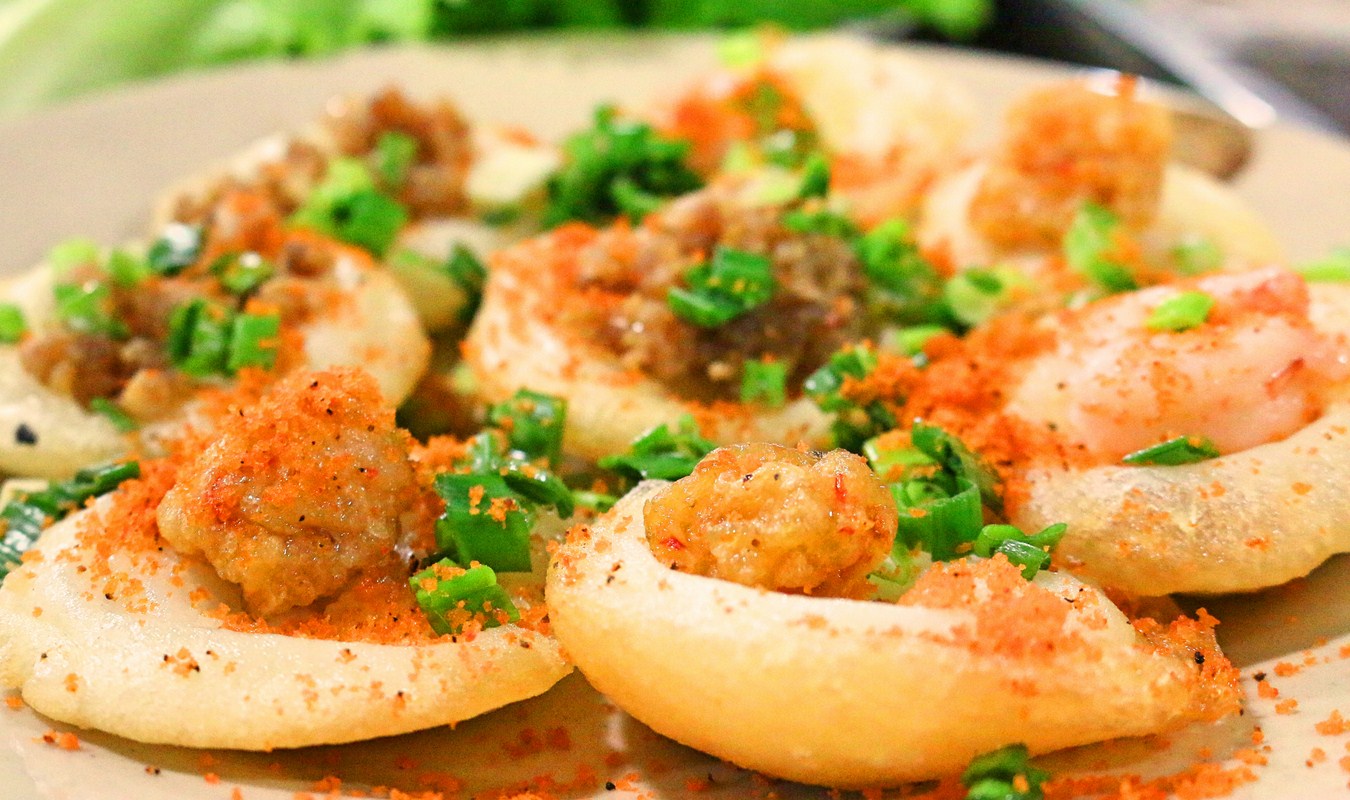 With a good chief, Khọt Cake can be more special with a layer of coconut milk right on the top of this cake. But this coconut milk is not that sweet like you are thinking, it will have a salty taste and make it more perfect. The local people must have a unique kitchen tool to make Khọt Cake, which is the stray with small even holes on the bottom. To grab a chance to cook Khọt Cake by yourself, you can join with Innoviet Travel in a day trip to Mekong Delta. Besides that, it's easy to find Khọt Cake every corner in Mekong Delta. Or if you want to eat real Mekong Delta Khọt Cake right in Ho Chi Minh City, you can try here: Bánh Khọt Đặng Dung
Read more: A perfect day trip to Mekong Delta
8. Gà kho

 sả ớt (Braised Chicken with lemongrass and hot chili)
Gà kho sả ớt (Braised chicken with lemongrass and hot chilly) is another famous food in Mekong Delta. It is very popular because it is easy to make so everybody can be a master chef of cooking it. The main ingredient of this food is, of course, the chicken. You also need to have lemongrass, chili, coconut water, ginger, onion, coriander, and spices: fish sauce, sugar, pepper, soup powder.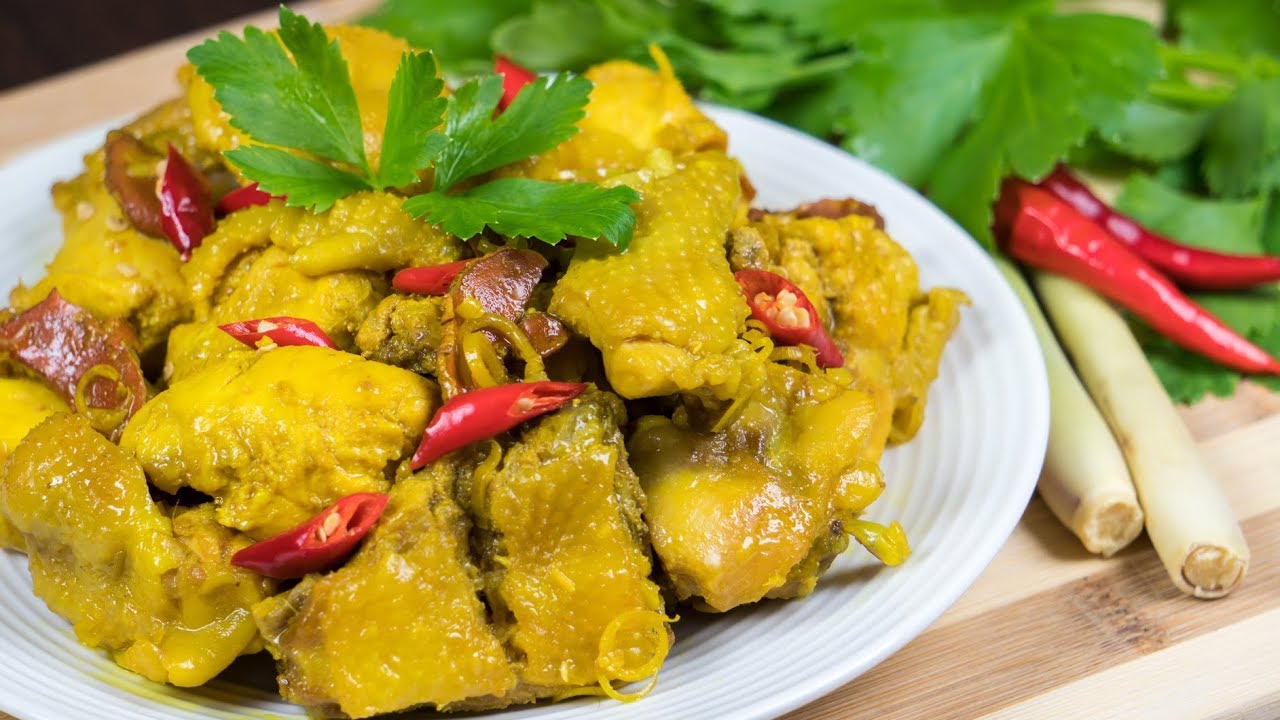 First of all, peel the onion and lemongrass then wash and drain them. The next step is cutting them into small pieces. After washing the chicken with a combination of water and salt, you mix it with other spices by a suitable ratio. The final step is braising the chicken with these spices. You can check here to make braised chicken with lemongrass chili by yourself. Especially, Mr.Dung and Mr.Tung (owners of two homestays in our tour) are the masters of this food.
Overall
So this is the end of my top 8 food in Mekong Delta that I recommend you should try when you have a chance to come here. There is some food that I didn't write the address because it is very common and you can find it easily. With braised chicken with lemongrass and hot chilly, you can also make it by yourself. There are also many special foods in Mekong Delta such as Lẩu Mắm and Lẩu cá linh, etc. but they have a very special taste that most international tourists do not like so I do not put them in the list. I hope that you guys enjoy my blog. If you once tried one of these food in Mekong Delta, you can share with me how was your experience with this food at the comment below. To read more information or travel guide, you visit our blog site here