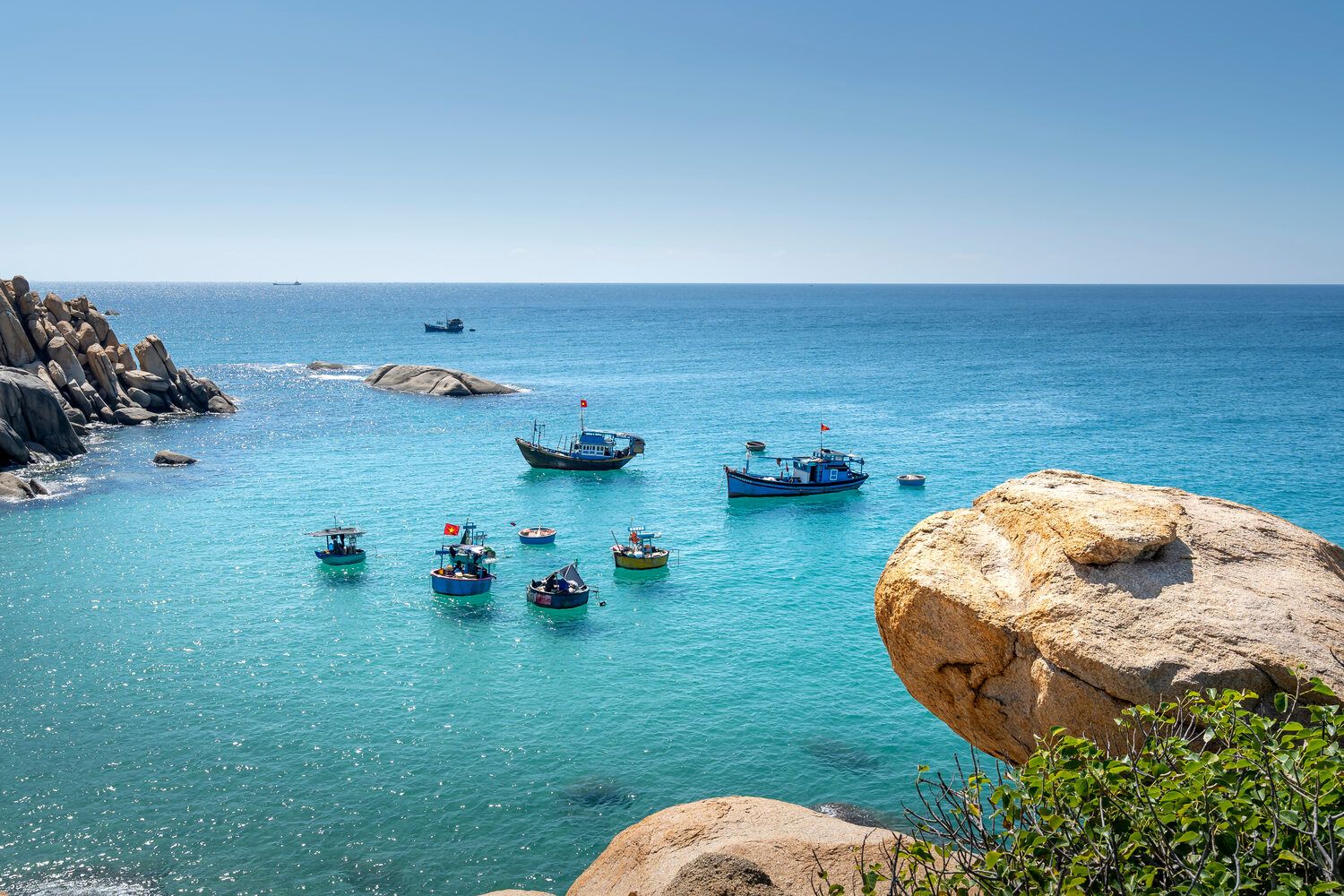 Cu Lao Cau is a small island in Tuy Phong District, Binh Thuan, 10km from Phan Thiet. It used to be the hidden spot for pirates during World War II. The island is where many rare sea creatures live, making it the perfect place for coral sightseeing.
There are two caves at Cu Lao Cau: Salangane Cave has hundreds of salanganes that were once exploited by locals but are now protected, so the procreation of salanganes is even better; and Ba Hon Cave is made from three large standing stones, creating an interesting figure.
Unfortunately, if you want to stay overnight at Cu Lao Cau, you need permission from the military since it is under military control, and there are also no motels, hotels, or resorts here. But the soldiers on the island are very friendly, and you can bring your own necessities to camp at Cu Lao Cau.
To get to Cu Lao Cau, tourists can currently only access by canoe, motorboat or fisherman's boat with many options for departure points such as from Ca Na port, Phuoc The port or Lien Huong ferry wharf. Travel time at sea is about 30 - 50 minutes, depending on the weather situation as well as the type of vehicle used (Photo: Nguyen Thi Ngoc Ha).
On this island, the weather is divided into two quite distinct seasons, including the South wind season and the North wind season. In particular, the North wind season lasts from July to December of the lunar calendar, it often rains and storms, and the sea is very rough. Tourists should check the weather forecast before planning an experience at Cu Lao Cau to have the safest and most enjoyable trip (Photo: Nguyen Viet Hung).
The southern monsoon season lasts from January to June of the lunar calendar every year, and is considered the most ideal time for tourists to visit Cu Lao Cau. At this time, the weather here is cool, the sun is not too harsh and the sea is calm, the waves are calm, suitable for tourists to explore and experience, participate in outdoor activities, and immerse themselves in nature (Photo: Duc Male).
The special thing about Cu Lao Cau is that the island still retains almost all of its original pristine beauty and has not yet exploited commercial services to serve visitors. That's why many tourists who have come here said that there are no hotels or motels on the island for guests to stay overnight. The most popular form of accommodation is setting up tents and camping right on the beach (Photo: Khanh Tuan).
"In Cu Lao Cau, there are 1,2 or XNUMX more small hotels, but the cost is quite high and there can be power outages in the middle of the night because people use solar power. However, I find the experience of camping, sleeping in tents, enjoying nature and cool coastal air still the most interesting," shared Phuong Thao, a tourist from Hanoi.
However, Cu Lao Cau is still a tourist destination that many tourists love and seek to experience because of its beautiful natural scenery, clear blue sea water, and many attractive activities such as scuba diving to see coral, boating. , swimming,... (Photo: Azid Giau).
Not to mention, even though it is only a small island, Cu Lao Cau still has many interesting check-in points that tourists should not miss such as Yen cave, Ba Hon cave, Gia Long well, sea turtle sanctuary or other tourist attractions. beautiful beaches, coral beaches,…
The Sea Turtle Conservation Area is also an attractive place for tourists when arriving on this island. Visiting here, visitors will hear presentations about the living habits of turtles and necessary sea turtle rescue skills, thereby raising awareness of environmental protection and preserving habitat for species. surrounding animals (Photo: Halo Nguyen).
Finally, after experiencing all the activities and visiting famous destinations on the island, visitors can look for some cliffs and rocky alleys with beautiful shapes to take check-in photos (Photo: Tran Le Ngoc Thang).
In addition to unique check-in locations, Cu Lao Cau also attracts tourists because it has many famous specialties at affordable prices. Currently on the island there are very few restaurants and eateries serving on-site dining, but visitors can contact the indigenous people and order them to prepare some local delicacies to enjoy such as shrimp, fish, and snails. crab, oyster shell or moon crab (Photo: Nguyen Thi Ngoc Ha, Azid Giau).
We hope that your experience will be nothing short of amazing
JOIN OUR FACEBOOK GROUP HERE to learn our tips as well as discuss them before going to these locations.
Be sure not to miss out on our special offer when you join us for this experience.