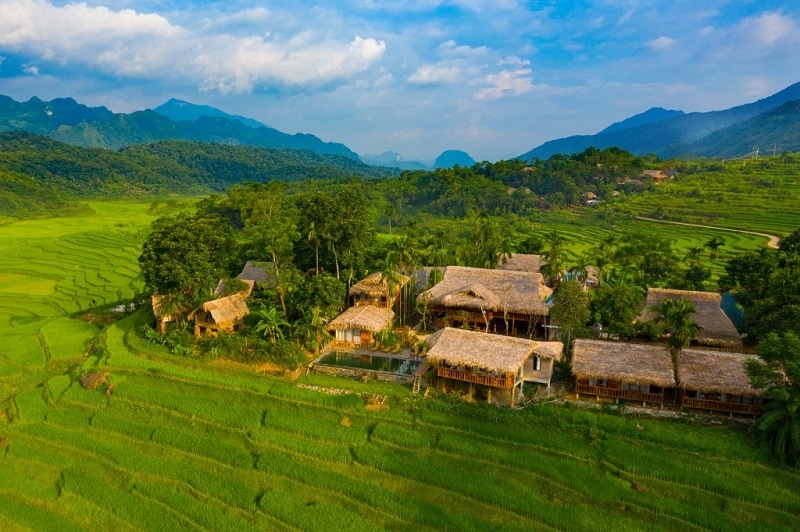 One glance at the Pu Luong Nature Reserve and you'll see why the ethnic Thai people made this enchanting valley their home long ago. The slow pace in Pu Luong is a striking contrast to life in the capital just a few hours away. Endless mountains, fertile valleys and pristine jungle are just a few good reasons to visit. Here are severals ways to make the most of your time in this beautiful destination.
1. Take a swim in Thác Hiêu Waterfall
From the top of Hieu village, it's only a short hike through the rice fields before you're presented with a series of dreamy waterfalls cascading down the hillside. Climb down and follow along to where the two streams meet and the pools become larger. This is the perfect spot to cool down with a quick dip, relax in nature, and explore different sections of the falls.
2. Pay a visit to an ethnic Thai Village
Pu Luong is dotted with quaint hamlets and villages throughout the park, each with its own unique history. Most of the communities in the reserve are Thai people, an ethnic group with two local branches, White Thai and Black Thai. The Thai people are highly skilled at wet rice cultivation and their homes are built in a raised stilt style. Staying at one of these homestays is a fantastic way to experience local customs and see what life is like for this Vietnamese minority.
3. Immerse yourself in nature
Pu Luong's mountains are covered with tropical rainforest, while the valley is a series of cultivated rice terraces. Take a walk along the valley floor or in the foothills to get up close with the area's flora and fauna. Listen to the waterwheels and forest sounds, wave at farmers and grazing water buffalo, and snap pictures of the greenery and wildlife. Simply being in Pu Luong Nature Reserve is a breath of fresh air.