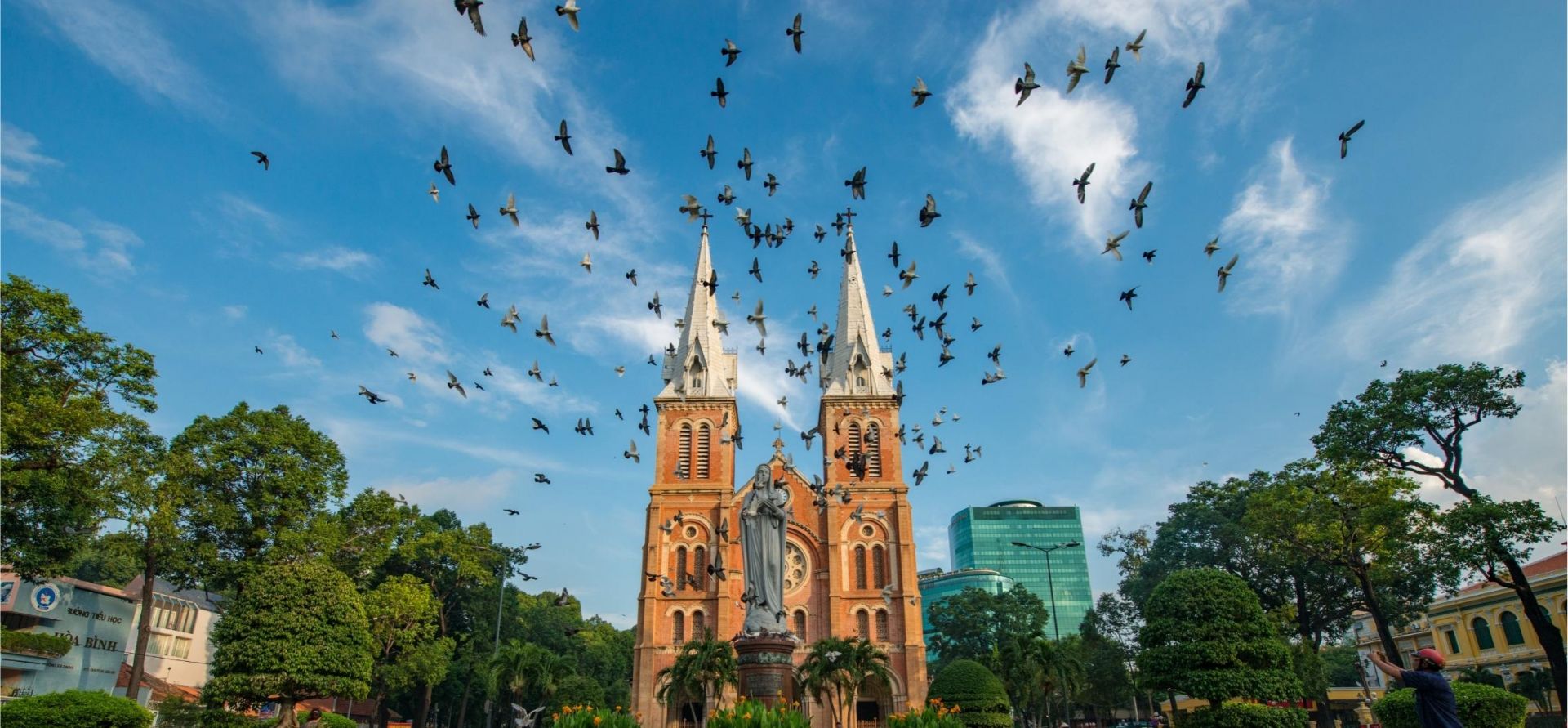 WHY SAIGON FREE WALKING TOUR ? 
Just have a couple of hours for a visit to Saigon?
Don't worry! A group of university students are willing to help you make the most of your visit by taking you to the main attractions and introducing the city's culture and food, all for free. Here is the sample program:
BEN THANH MARKET 
The tour started with a visit to Ben Thanh Market, where we saw all the items the locals may need in their daily lives, however Ben Thanh is known as a very expensive market due to tourism so most locals shop further out from district 1.
FRENCH COLONIAL BUILDING IN SAIGON 
We also went past the People's Committee Building, Saigon Notre-Dame Basilica and Saigon Central Post Office, which are beautiful examples of architecture from the French colonial period.
POST OFFICE 
We stopped off at the post office a while longer as Pete posted some post cards. The architecture of the building was fascinating and looked more like a train station that a post office. Inside there was beautiful painted maps and phone boxes that were now transformed into ATMs.
We finished up the tour at the War Remnants Museum and Fito Museum
For those who do not know, It primarily contains exhibits relating to the Vietnam War.
It is extremely informative on the ways each party fought and lived and the effects that still play out today.
Fito Museum 
Really interesting museum that speaks of the influence of Chinese natural medicine combined with Vietnamese natural medicine and how that it is preferred and still used widely today.
We were first shown a short film on how Vietnamese care for themselves using natural remedies. They introduced important figures in Vietnamese medicine that founded a lot of remedies people still use today.
 As you see the  Saigon Free Walking Tour is sound interesting and it's free!!! But actually no free meals in this world. If you take the Free Saigon Walking Tour, make sure you tip for your local student guide, normally from 5 -10  Usd. An as they are student so their knowledge and English is limited, so they may not answer all of your questions and don't have interesting fact and stories to help you understand the insight of Vietnam culture which won't happened in the Heritage Saigon Walking Tour. The free Saigon Walking Tours now just available every Saturday or you need to buy a Mekong Tours, then you can get a free Saigon Walking Tour of Innoviet.  If you have a short trips in Saigon, you should book the Heritage Saigon Walking Tour with Innoviet.
If you can arrange the time and  wanna join Free Saigon Walking Tour. Contact us to have information about it. If you want to join a small group heritage Saigon walking tour, check out our Saigon Hidden Alley Tours of Innoviet.