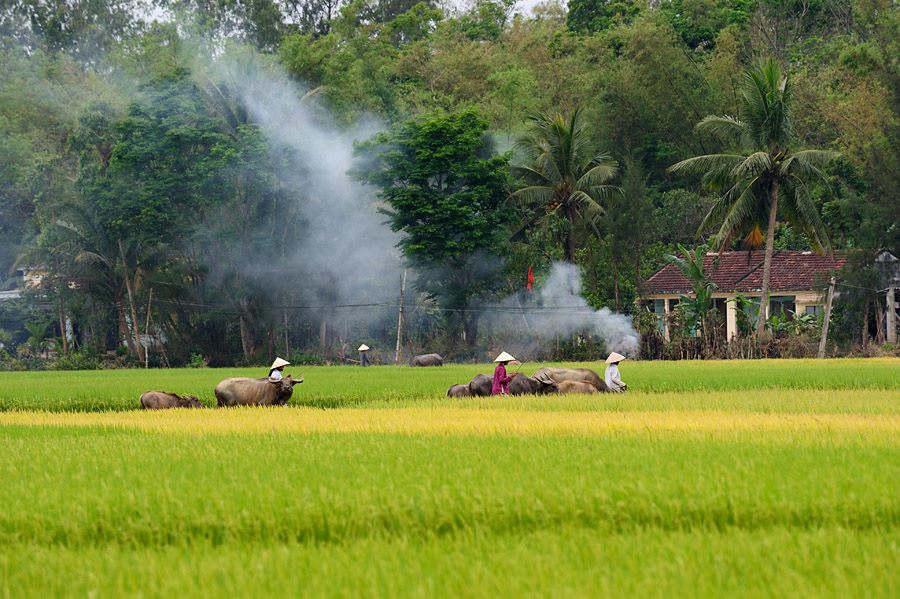 Mekong secrets revealed
In fact, we had left the fevered metropolis only 10 hours before. In that time, we had strolled, cycled and cruised around the shady lanes and waterways of Thoi Son Island, near My Tho. Locals stopped their motorbikes to encourage us to eat "the fruit with no name" and longans, warm from the sun. We were soon as relaxed as the dogs sleeping in the middle of the road.
We spent that night at a "secret" village. Hanh, the gracious hostess of our homestay met our barge and led us through the village to her orchard, where we sampled oranges and pomelos from a local orchard. The hostess and her daughter cooked a feast on their small wood-fired stove. When I mentioned to the guide I'd only just discovered che, the Vietnamese dessert, within minutes Hanh was cooking up a big batch for us. What we couldn't eat, she turned into kem (ice-cream). Before we were properly awake the next day, we were aboard a boat, deep in the heart of a floating market.
Here, in typical Mekong Delta style, vendors display their wares at the end of long poles on top of their boats. Pineapples and pumpkins swayed above us as we ate sticky rice for breakfast. The meal was completed in the local village, with strong Vietnamese coffee. We were then put to work, helping to shop for lunch. We poked at slimy eels as the stallholder cleaned and gutted a fish for us. We marveled at snakes, frogs and cow heads as we hunted for the items on our shopping list. Back "home," we chopped and mixed and rolled and, with the assistance of Hanh and her daughter, created another feast. We felt immensely proud of our efforts as we tucked in, fortifying ourselves for our return to HCMC.
Innoviet Tours, including the two-day "Touch the Untouched Land," can be booked through their website : https://innoviet.com. More information is available at Saigon tours Saigon activities BOOKING.
Reported by Barbara Adam