Strolling through the vibrant streets of Saigon, I recently stumbled upon a culinary treasure trove that remains hidden from the typical tourist's eye. As I explored the city's alleys and lanes, I discovered a remarkable array of vegan eateries tucked away in every nook and cranny. From savory "Pho" to mouthwatering "banh mi", these hidden gems offer a delicious journey into Saigon's vegan culinary scene.
In this blog, I'll unveil some of the most beloved vegan restaurants, carefully curated and highly rated on Google Maps. Join me as we navigate the bustling streets of Saigon to find these hidden vegan delights, inviting you to embark on a delectable adventure in this enchanting city.
Discover these hidden vegan delights:
1. Phuong Mai Vegetarian Restaurant
Located in District 1 near the center of Saigon, which is very convenient for transportation, Phương Mai Vegetarian Restaurant is designed to be quite simple and cozy. The space on the upper floor is rather peaceful, with a balcony that allows you to enjoy the cityscape when the lights are on. This place is also a familiar spot for gatherings, birthdays, and family reunions, as well as meeting loved ones and friends, to enjoy a serene and unique atmosphere in the narrow alley with a variety of Asian and European vegetarian dishes.
Address: Alley 82, House Number 86F Vo Thi Sau, Tan Dinh Ward, District 1, Ho Chi Minh City.

Opening Hours: 9:00 AM – 9:00 PM

Price: $2.60 - $6.50 per person.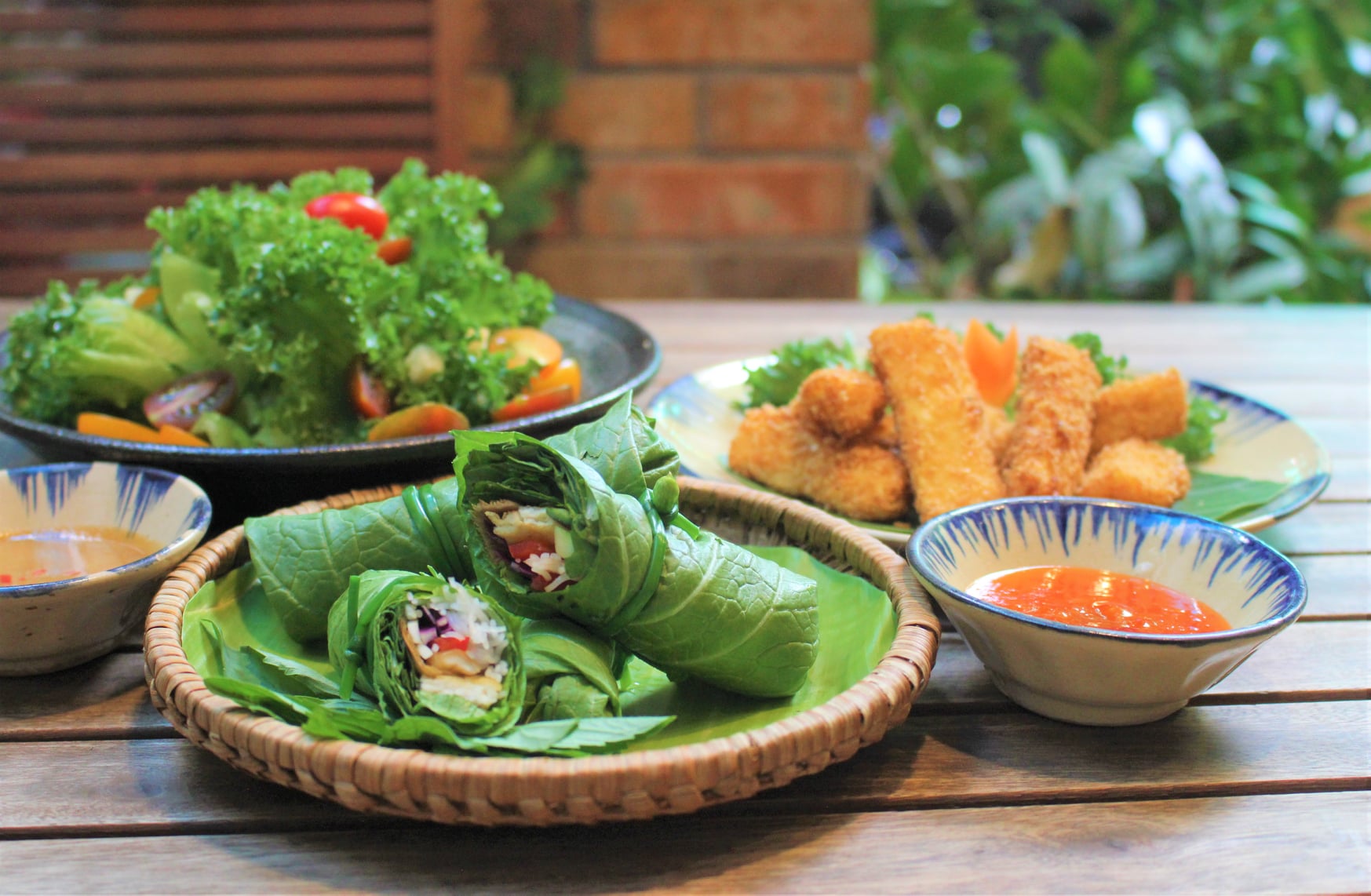 2. Ba Lá Restaurant
For those who have had the pleasure of trying the dishes here, they might be enchanted by the perfect and unique flavors. As you enter the restaurant, you will be impressed by the rustic and beautiful interior design. From bamboo tables and chairs to carefully selected ceramic bowls, everything is chosen to create a simple yet elegant atmosphere.
Just by reading the menu, you'll wonder how the restaurant can come up with so many delicious dishes. If you visit, don't forget to order the lotus stem salad; it's exceptionally delicious and enticing. Furthermore, the prices here are quite affordable compared to many other restaurants, making it a place you should keep in mind whenever you want to eat vegetarian.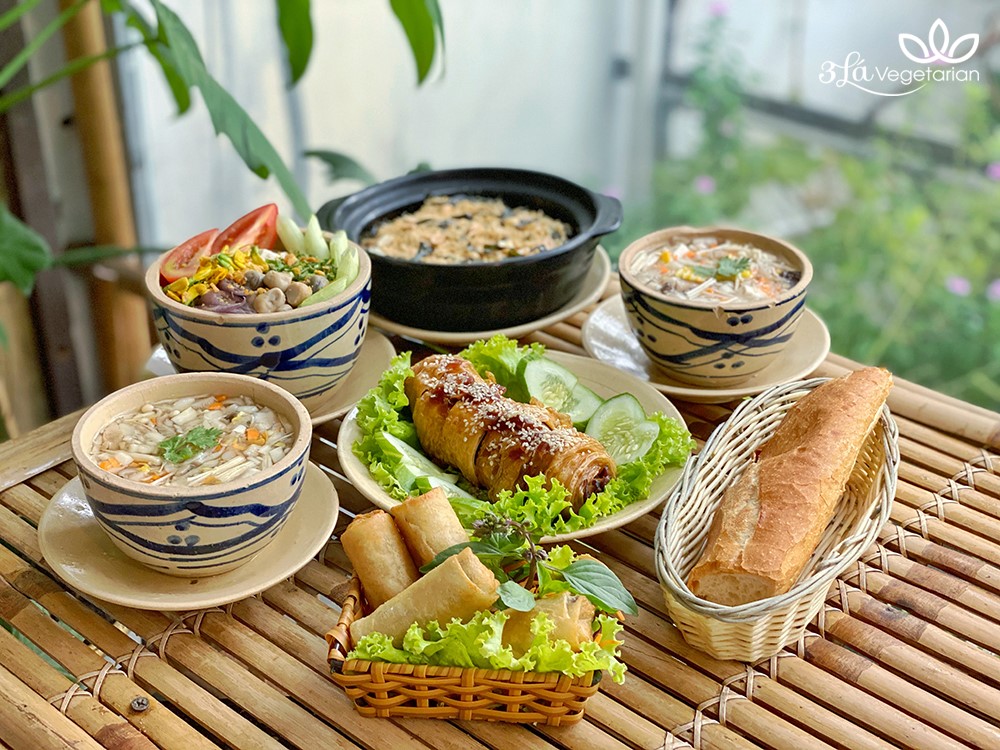 Address: 1st Floor, 32A Cao Bá Nhạ, Nguyễn Cư Trinh Ward, District 1, Ho Chi Minh City.

Opening Hours: 10:00 AM – 10:00 PM.

Price: $1.75 - $7.85 per dish
3. Loving Hut Hoa Đăng
One of the famous vegetarian restaurants in Saigon is Loving Hut Hoa Đăng. You can easily find this restaurant on Huỳnh Khương Ninh Street, opposite Tân Định Market. The first floor serves vegetarian food, while the second and third floors are communal dining areas. Loving Hut offers a variety of ready-to-eat dishes and dry goods that you can enjoy on-site or take home. The space at Loving Hut Hoa Đăng is peaceful and clean, creating a comfortable atmosphere for customers.
At Loving Hut, you can enjoy a wide range of diverse vegetarian dishes. Since this is a pure vegetarian restaurant, all dishes are 100% plant-based, with no eggs, milk, or butter. Some signature dishes include spring rolls, steamed rice cakes, fried dumplings, sautéed shiitake mushrooms, and more. The restaurant also prepares a daily lunch set for guests, with each day's set featuring different, nutritionally balanced dishes.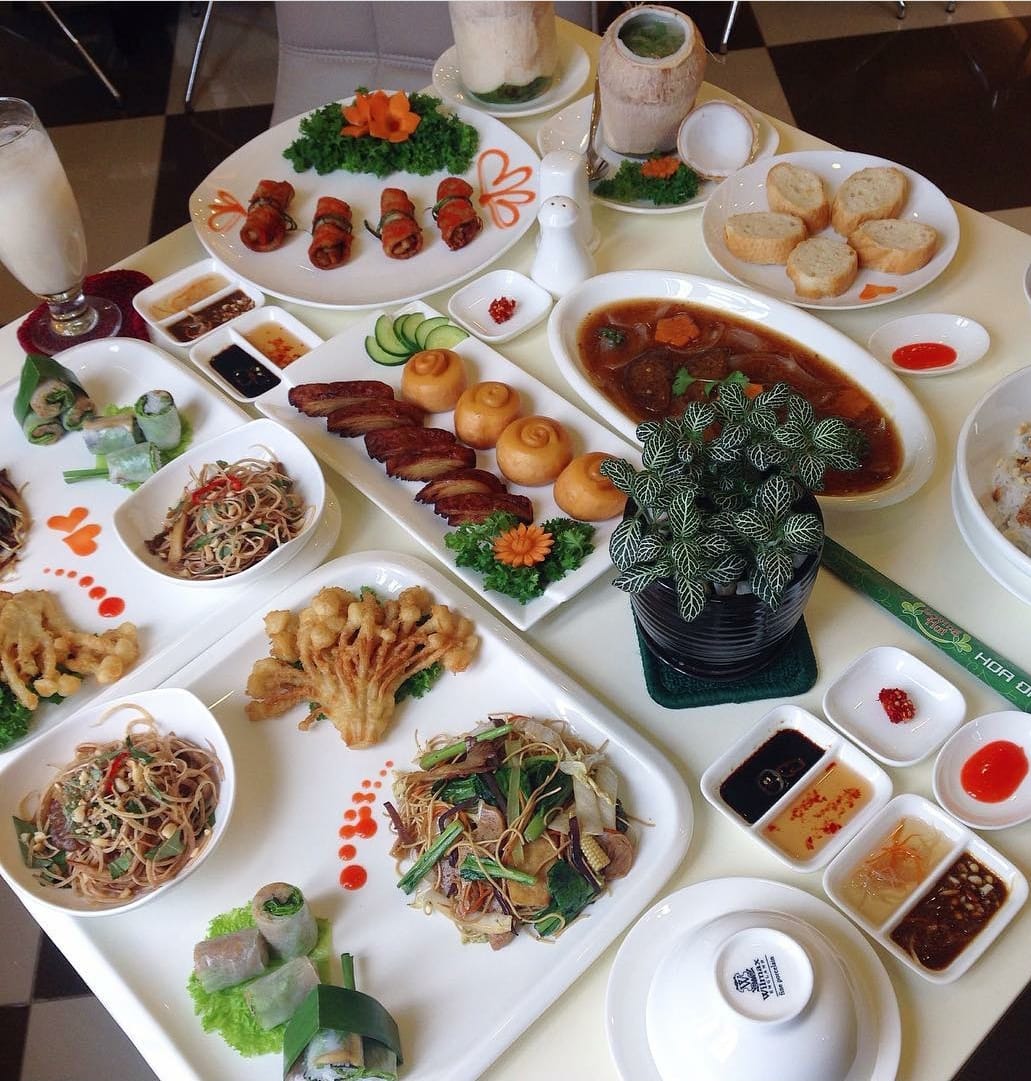 Address: 63 Mai Thị Lựu Street, Đa Kao Ward, District 1, Ho Chi Minh City, Vietnam

Opening Hours: 4:30 PM – 9:00 PM

Price: $6.50 - $8.70 per person.
"Excellent meal, the menu is huge and also includes a lot of meat substitutes, though all the standard veggie options are available e.g., tofu. We were the only tourists in the semi full restaurant, otherwise it was full of locals. One waiter spoke excellent English and was able to offer us recommendations too. 5 dishes and 3 bottles of water cost us 650,000 dong, so a little pricey, but well worth it."

4. Golden lotus restaurant
It would be remiss not to mention Đóa Sen Vàng, a renowned vegetarian restaurant in Ho Chi Minh City. As you step into the restaurant, your initial impression is likely to be one of elegance and tranquility. The simple, rustic wooden tables and chairs, along with the muted wall colors, create a cozy atmosphere. Additionally, you'll enjoy the gentle melodies of music that help alleviate stress and fatigue. Although the restaurant can get quite crowded, the service is always attentive and enthusiastic, guiding you on how to order and choose the right dishes for a satisfying meal. Let's take a look at some of the standout dishes: square spring rolls, Thai hotpot, stuffed potato with vegetables, sautéed oyster mushrooms, and more.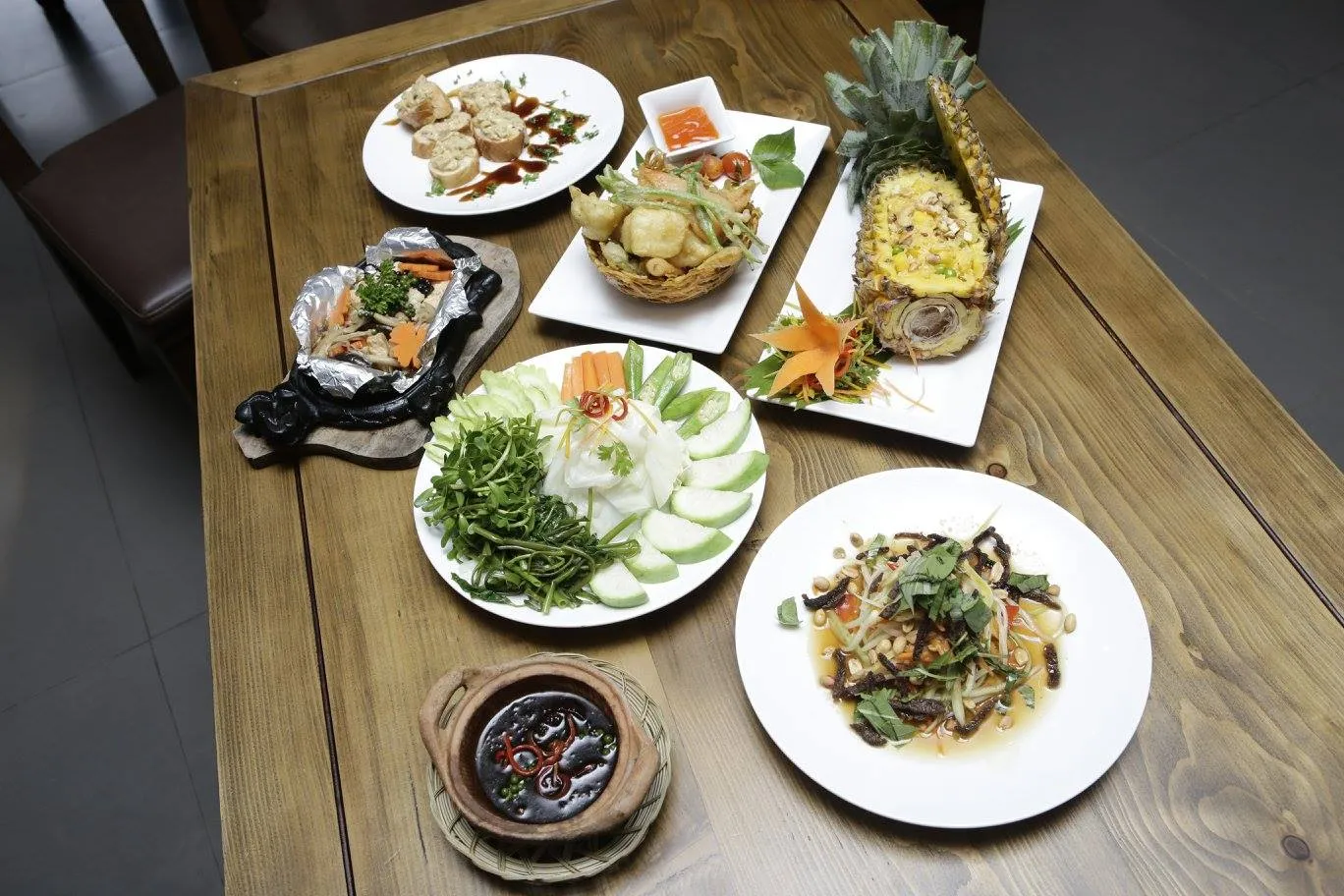 Addresses:

253/8 Nguyễn Văn Trỗi, Ward 10, Phú Nhuận District, Ho Chi Minh City
5 Trần Hưng Đạo, Tân Thành Ward, Tân Phú District, Ho Chi Minh City

Opening Hours: 8:00 AM – 10:00 PM

Price: $6.50 - $8.70 per person
5. Pi Vegetarian Bistro
If you want to experience a completely different world from the outside, Pi Vegetarian Bistro is the place to be. Anyone who has visited Pi will be impressed by the hand-painted green banana leaves on the walls, creating a rustic yet familiar Vietnamese ambiance.
The experience at Pi is refreshing, filled with a sense of freshness with delicate lighting that creates a gentle ambiance. Moreover, you'll receive attentive service from the restaurant's staff. The menu offers a wide variety of dishes, and while the prices are slightly higher, the quality is top-notch. Some dishes you must try when you visit include steamed tofu with fermented bean paste, cinnamon leaf fried rice, lotus soup, various hotpot dishes, and more to avoid any regrets.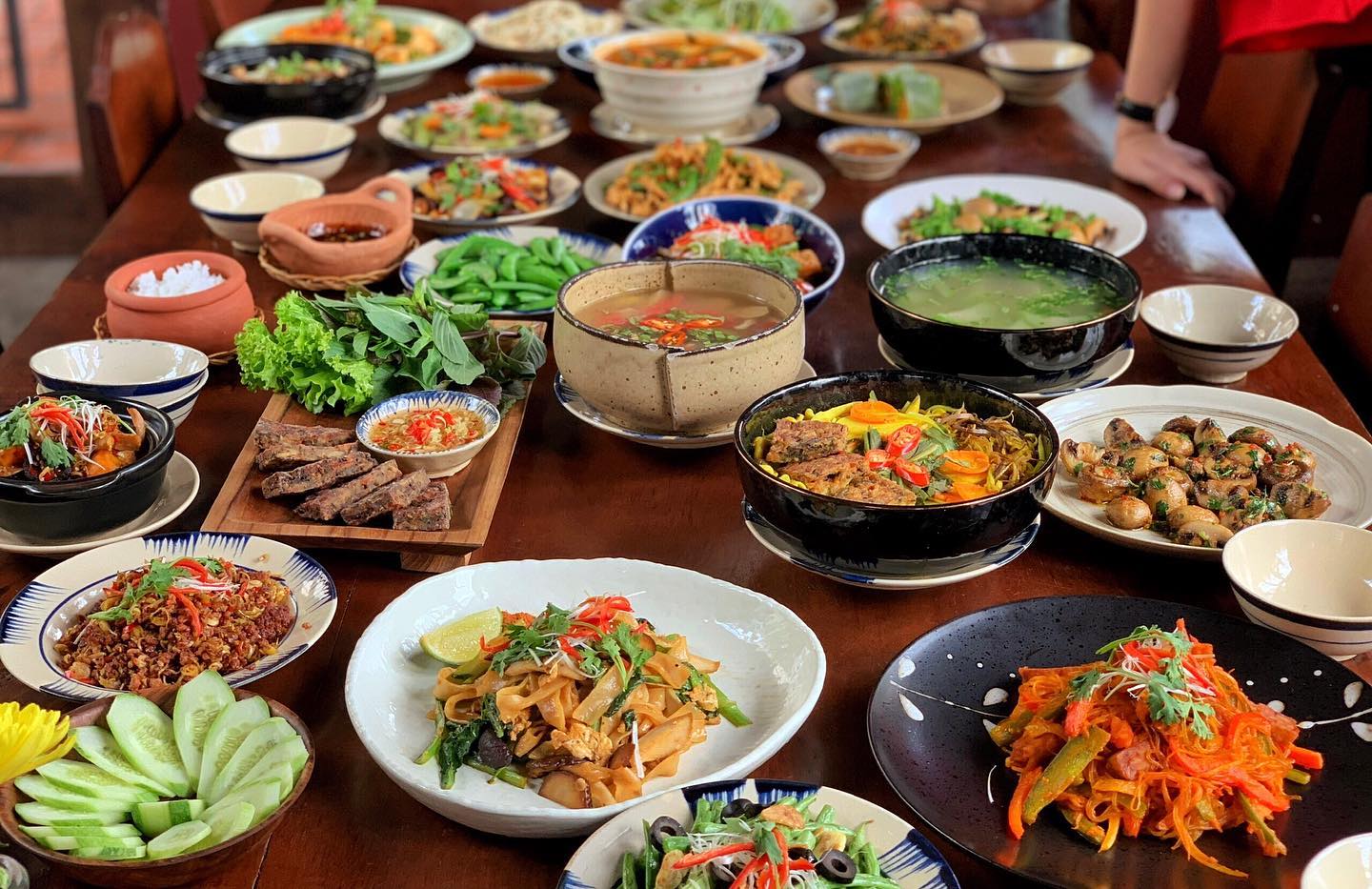 Address: 1st Floor, 19 Võ Văn Tần, Ward 6, District 3, Ho Chi Minh City

Opening Hours: 10:00 AM – 3:00 PM and 5:00 PM – 10:00 PM

Price: $8.70 - $12.10 per person
6. Lotus Vegetarian Restaurant
A reliable and familiar destination for vegetarian cuisine is Chay Sen. Despite its location in the heart of District 1, prices here are very reasonable, suiting the budget of most people. The two-story space is not overly spacious, but its simple and appealing design is what attracts diners. The food at Chay Sen is described as satisfying and flavorful in every dish. Dishes you shouldn't miss when you visit include vegetarian spring rolls, fresh spring roll salad, spicy lemongrass and chili vermicelli, tofu stew with mushrooms, and more.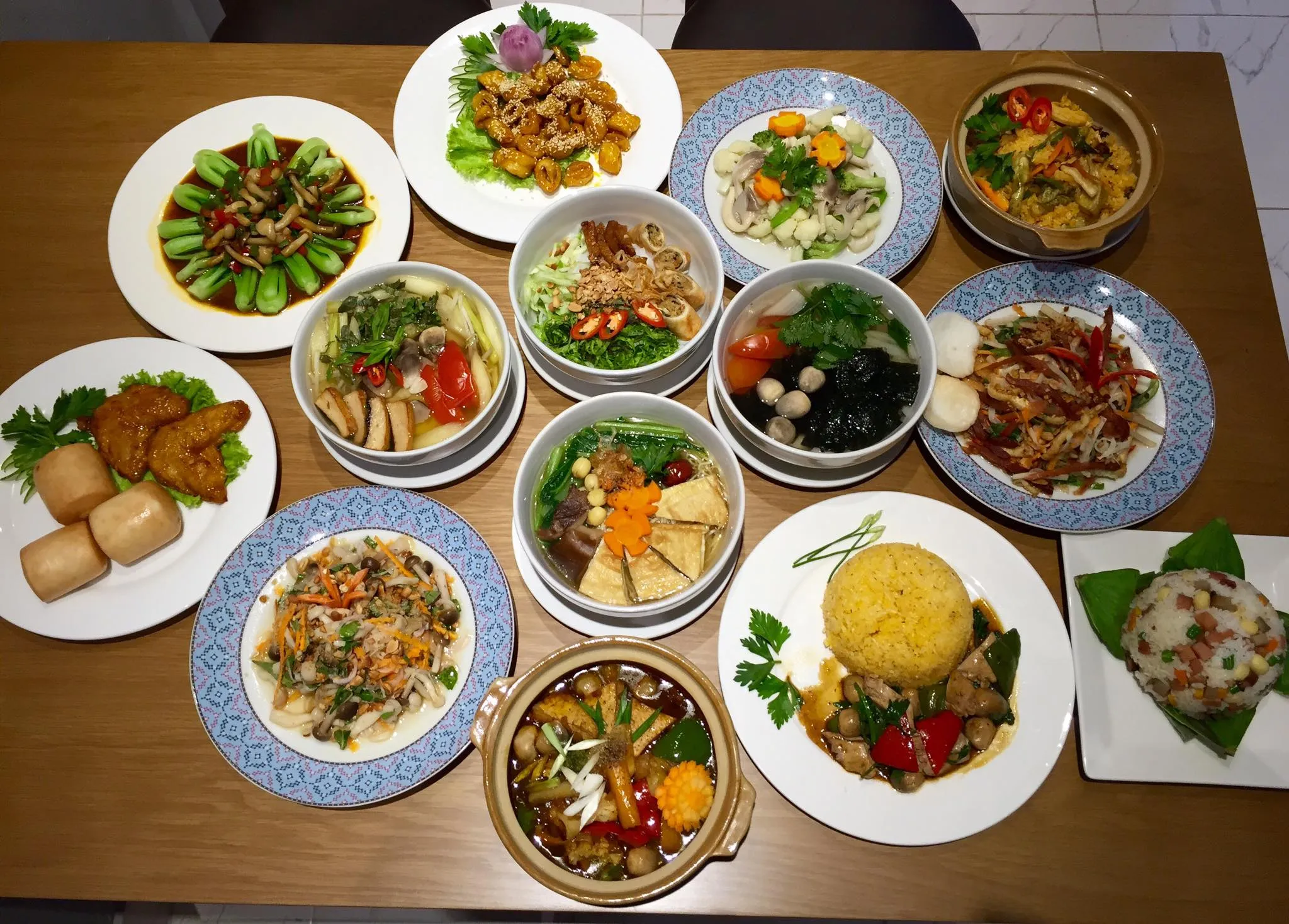 Address: 171 Nguyễn Thái Học, Phạm Ngũ Lão Ward, District 1, Ho Chi Minh City

Opening Hours: 8:00 AM – 2:00 PM and 5:00 PM – 10:00 PM

Price: $1.30 - $5.00 per dish
In conclusion, exploring the vibrant vegetarian dining scene in Ho Chi Minh City offers a delightful culinary adventure. From the elegance of Đóa Sen Vàng to the unique ambiance at Pi Vegetarian Bistro and the affordability of Chay Sen, there's something for every palate and budget.
But let's not forget the beauty of the Mekong Delta, which lies just a stone's throw away from this bustling city. While many tourists flock to the well-known Mekong destinations, there's an enchanting world awaiting those who seek a more authentic experience. Non-touristy Mekong tours promise a chance to immerse yourself in the natural beauty, unique culture, and untouched landscapes of this magnificent region. So, if you're ready for an unforgettable journey, we invite you to venture off the beaten path and explore the hidden gems of the Mekong Delta, away from the crowds, for a truly immersive and enriching adventure.
Book now to unlock exclusive offers and embark on a meaningful journey, delving into the hidden gems of this unique region.

1-day Mekong tour from Can Tho | The Myst Mekong

Cu Chi Tunnels & Mekong Rural Life 

Mekong Delta 1 Day Tour - Ben Tre boat and bike experience

Mekong delta homestay 2 days tour with cycling trip in non touristy villages

Mekong delta tour 3 days with homestay - cycling - Cai Rang floating market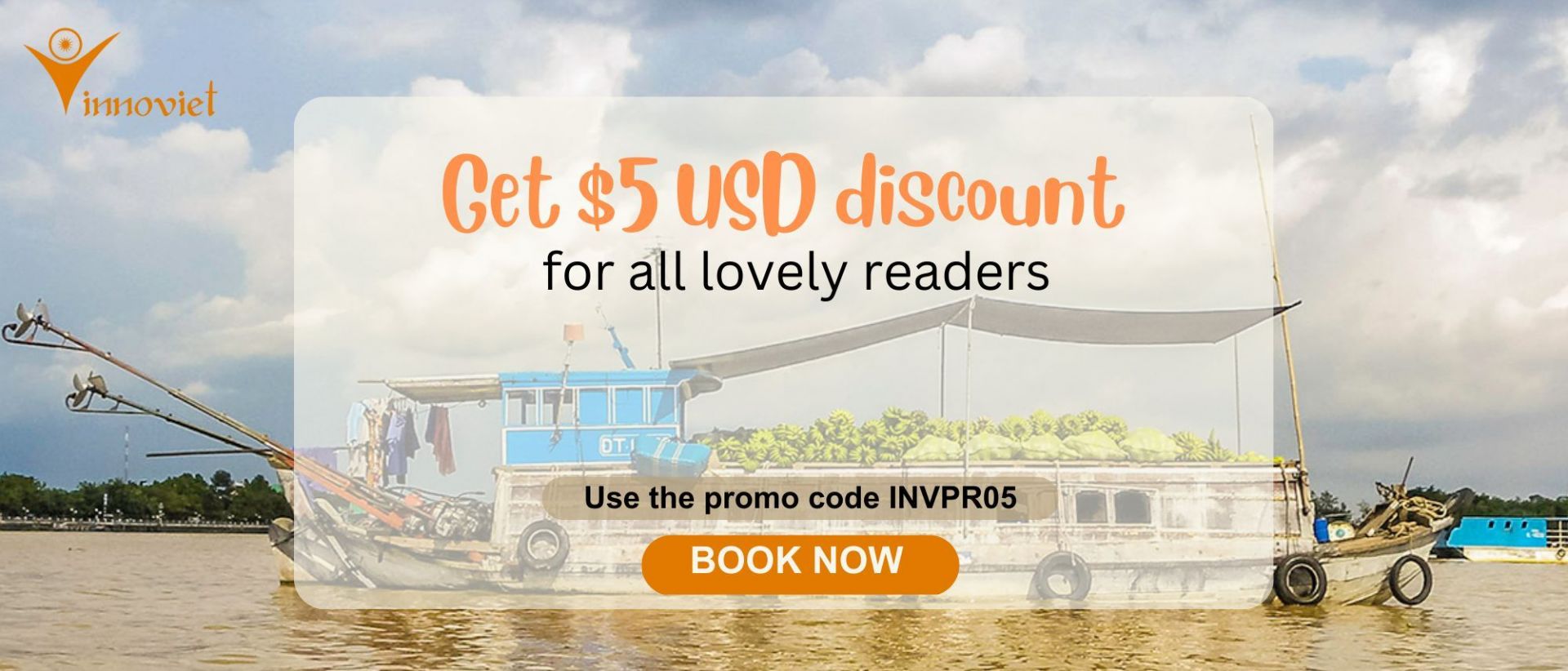 We hope that your experience will be nothing short of amazing
JOIN OUR FACEBOOK GROUP HERE to learn our tips as well as discuss them before going to these locations.