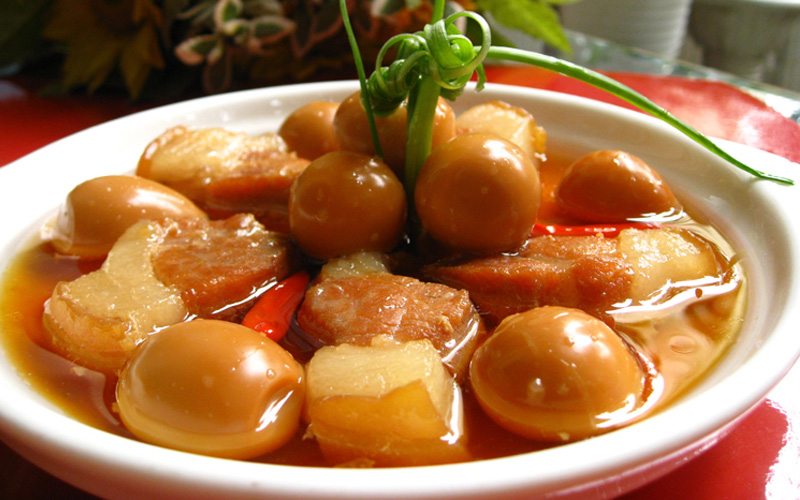 With Vietnamese people, Tet is nearly coming. Around 20 days later, we will celebrate the biggest festival in our country. But before having fun, local people like us have lots of things to prepare first. The reason is during Tet, local markets and supermarkets will not be opened. So Vietnamese people have to prepare the food first and preserve it. What Vietnamese traditional food that local people eat during the Tet holiday, let's together find out in this blog.
1. Bánh chưng xanh - The most favorite Vietnamese traditional food during Tet holiday (Chưng Cake)
The first and the most Vietnamese traditional food during Tet is Bánh Chưng (Chưng Cake). I have to give a note first, this cake is not like what you are thinking. I bet that you are thinking about a cake with lots of cheese, cream, etc. Chưng cake is made from 3 main ingredients: rice, mung bean and pork and warped with banana. Chưng Cake takes Vietnamese people around 14 hours to boil it. Cooking Chưng Cake is also an activity to gather all the members of the family together of Vietnamese people.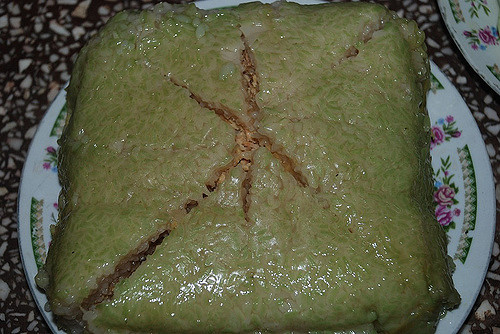 To buy Chưng Cake and give it a try, you can go to Như Lan Bakery (50 Hàm Nghi Street, Bến Nghé Ward, District 1)or Bánh Mì Hà Nội (83 - 85 Nguyễn Thiện Thuật Str, Ward 2, District 3) to buy it.
2. Dưa hành, củ kiệu (Pickled onion and Pickled small leeks)
The next Vietnamese traditional food is pickled Onion and pickled small leeks is a small dish in every Vietnamese meal. It is used to eat along to Chưng Cake to reduce the boring of the taste when you have already eaten a lot of food which has lots of protein. It also increases the flavor of food and also helps the body more easily digest food. While pickled onion is eaten by Vietnamese people in the North, the people in Southern Vietnam eat pickled small leeks instead.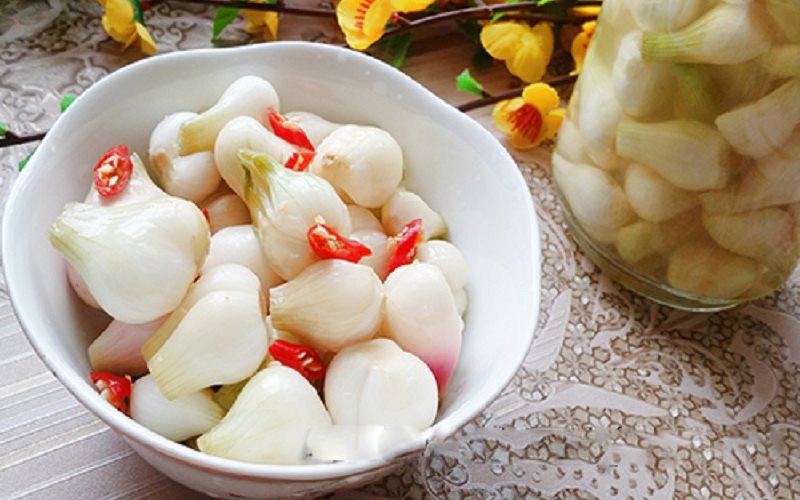 Pickled Onion and pickled small leeks are simple dishes from fermented processing. Therefore, this dish is considered a rustic dish, associated with Vietnamese cuisine. So that this food can't be miss in Vietnamese traditional meals
3. Giò Lụa (Lean pork paste)
In Vietnam, although the local people here in the different regions have different tastes, there is still some dish that all of the Vietnamese people can enjoy is lean pork paste. Lean pork paste is a simple dish, does not require sophisticated cooking and easy to eat.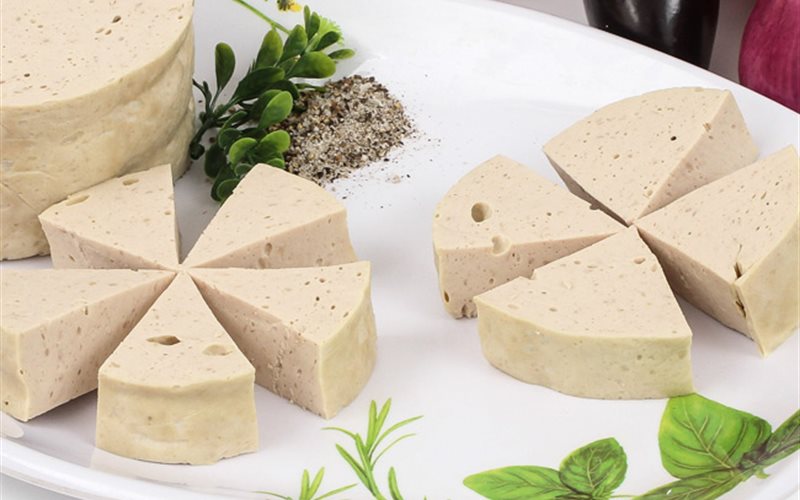 Lean pork paste is made with two basic ingredients: lean pork and a little bit of fish sauce. Then it will be warped by banana leaves and cooked. This food can be stored for many days so it is suitable for using during Tet holiday or used to treat guests. It is cut into five or six pieces, put on a disk and decorated like a flower. It can be eaten with Chưng cake and other food as well.
4. Thịt nấu đông (Jellied meat)
Another Vietnamese traditional food is jellied meat. It used to be an exclusive food of Vietnamese people in the North during Tet holiday. But nowadays, Vietnamese people in the South also can be able to make this food thanks to the refrigerator. It was called Jellied meat because the combination of meat is made to look like jelly.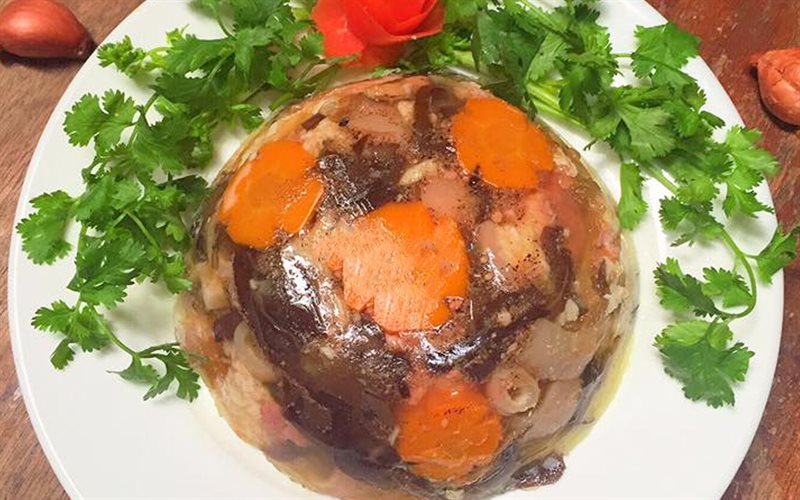 That combination includes meat, mushroom, fungus and pepper, sugar, etc. In the north of Vietnam, after mixing the combination with the boiling water, local people will pour that mix into a bowl or a box then put it outside and let the cold atmosphere make it become jelly. In the south of Vietnam, local people here put that combination into a fridge instead.
5. Thịt gà luộc (Boiled Chicken)
Vietnamese people always cook boiled chicken and give it to God on every special occasion like Lunar New Year, family reunion, etc. The reason that local people use chicken because it is very easy to find and easy to cook. In addition, chickens also have many good meanings according to the old concept.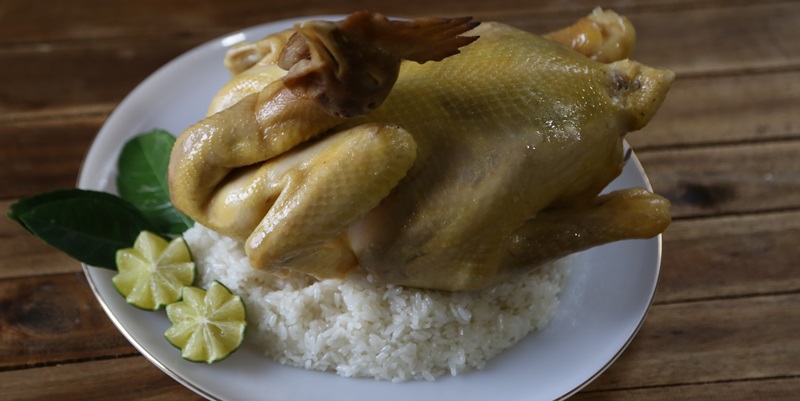 In the concept of 12 zodiacs of Eastern culture, chickens are symbolic of aggression and strength. In literature, chickens are said to possess five great virtues: Clever, Brave, Strong, Responsible and Humanity. In Vietnam, boiled chicken is also eaten with lemon leaves and sticky rice.
6. Thịt kho Tàu (Meat stewed in coconut juice)
With Vietnamese people in the South, local people do not eat Jelly meat like the people in the North because of the condition of the weather. They have to eat something that can replace the position of that food. So it leads to the next Vietnamese traditional food we want to talk about: Meat stewed in coconut juice. The characteristic of Southern Vietnam is suitable for small and medium-size cattle and poultry so they are easy to find. Especially in Mekong Delta, coconut is the easiest ingredient to find because you can see coconut everywhere in Mekong Delta.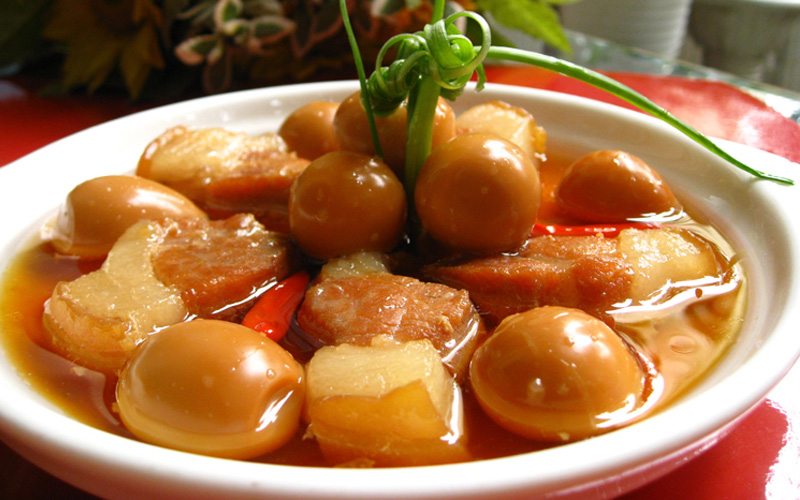 The combination and mixing of many cultures like Chinese culture and Khmer culture influence Southern Vietnamese's taste. The taste of meat stewed in coconut juice is little light and sweet (fusion between Chinese and Khmer culture). It is usually served with white rice. During Tet holiday, this Vietnamese traditional food can not be missed in every Vietnamese's kitchen in the South.
7. Mứt and Hạt Dưa (Candied & Roasted watermelon seeds)
During Tet holiday, to treat our beloved guests, Vietnamese people use candied and roasted watermelon seeds. With Eastern people, number 8 is a lucky number, it brings to us wealth and prosperity. So Vietnamese people and also Chinese people put the candied or other snacks, candy into jay with 8 different sections.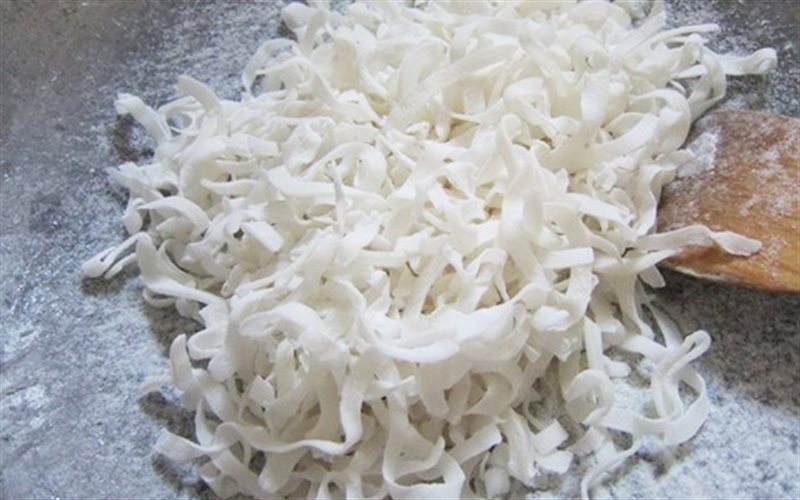 Every different kind of candied have their own meaning and even with roasted watermelon seeds too. Candied coconut is the most popular kind, not only sweet and having good taste, but it also stands for gathering together and happy. Candied coconut can be made on our own as well. And with roasted watermelon seeds, it represents happiness in our life.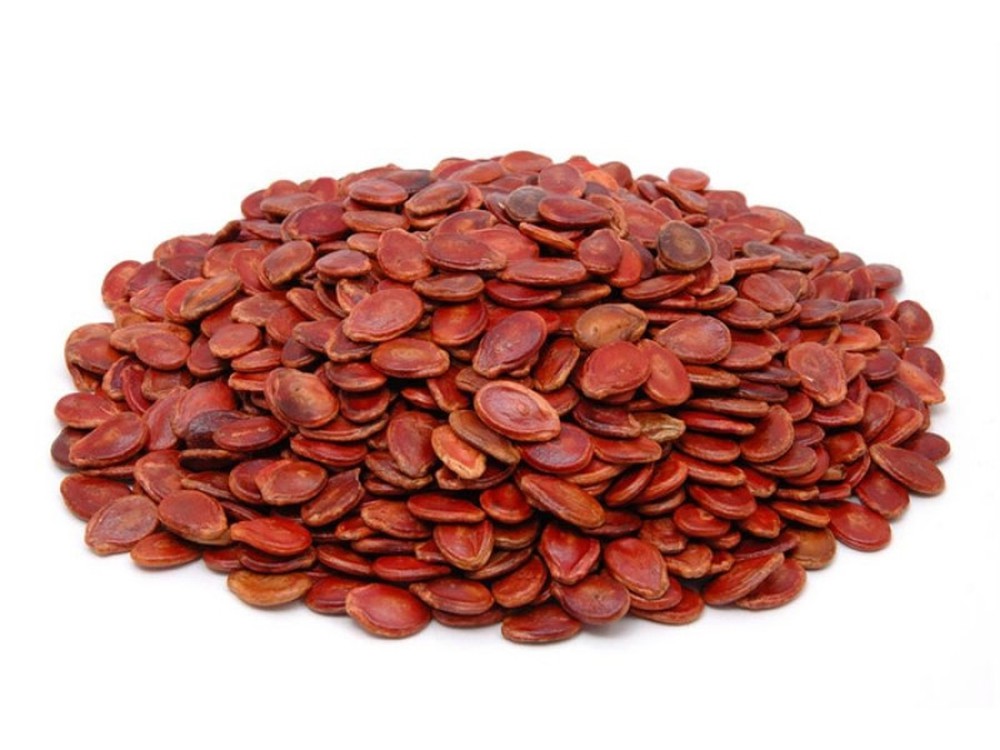 So that is our list for Vietnamese traditional food during Tet holiday. You can also find more information about Mekong Delta or Saigon in our BLOG section. Happy Lunar New Year 2019.