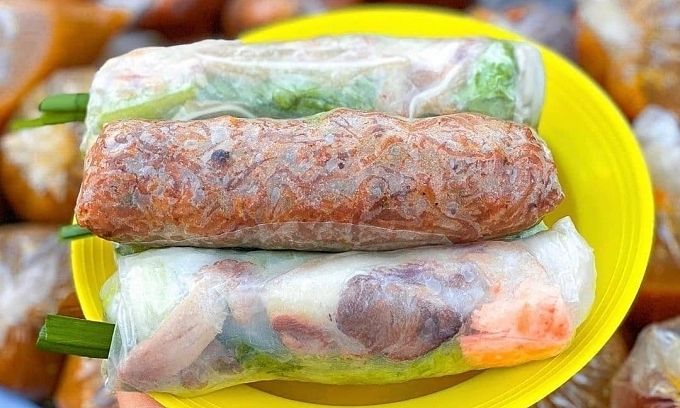 Rolls have become a staple food and are adored among Vietnamese despite not receiving as much attention as other foods. Here is a list of some of the most flavorful rolls that you should try while visiting Vietnam.
1. Goi cuon – Fresh spring rolls
Goi cuon, or fresh spring roll, is most likely the roll that most people are familiar with. A transparent rice paper wrapper, cooked shrimp or pork, vermicelli noodles, and greens like lettuce, mint, beansprouts, and cucumber slices are used to make fresh spring rolls. Customers are immediately impressed by the roll's appearance because of the shrimp, which has an eye-catching red color, and the green vegetables underneath the wrapper. Fresh spring rolls are a common snack sold by street vendors in Saigon as well as a traditional appetizer in many areas of the country.
If you're looking for a dish that is at once light, healthy, and delicious, this is it. The dipping sauce has two basic versions: sour and sweet garlic chili fish sauce and a mixture of hoisin and peanut sauce. The dipping sauce will hit you with exactly the right amount of sweetness and nutty flavor from the first bite. You'll want to keep eating more because of the delicious flavor of the grilled pork and prawns, and the freshness of the greens. A vegan variation with tofu and mushroom filling is also available in some places.
2. Cha gio - Fried spring rolls
Fried spring rolls and fresh spring rolls are known throughout the world as the iconic Vietnamese duo rolls. While fresh spring rolls can be consumed immediately after being made, cha gio has to first be deep fried. Spring rolls are made by wrapping filling clear rice paper wrappers. Depending on the region, the filling may have slightly different ingredients, but it normally includes ground pork, vegetables, wood ear mushrooms, and glass noodles. The rolls are fried until golden and crispy. And they're often served wrapped with lettuce and herbs, with a dipping sauce made of fish sauce and sugar.
Fried spring rolls are also known as nem ran in Hanoi. You'll be hooked by the smell and they are also crispy and savory. Not only will each region have its own version of this spring roll, but each family will have their own customized recipe, allowing you to have different experiences when eating spring rolls.
3. Banh trang cuon thit heo - Rice paper rolls with pork
Banh trang cuon thit heo - A specialty of Da Nang is the dish known as "ce paper rolls with pork," which derives its name from both its two primary components and its preparation method. This dish is typically served with big slices of boiled or roasted pork, accompanied by an array of vegetables, including lettuce, cucumber slices, Thai basil, banana blossoms, mint, and coriander.
To prepare the dish, the best cut of pork, with an ideal balance of meat to fat, is selected. The fresh banh pho, which are flat rice noodle sheets that can be cut into pho noodles, are combined with rice paper wrappers to create the rolls. The rolls are filled with the pork slices and vegetables, providing a refreshing and nutritious meal. Overall, this dish is a delicious representation of the culinary expertise found in Da Nang.
What makes this dish stand out is the dipping sauce called mam nem, or fermented fish sauce.
The sauce, which is made of fermented anchovies, sugar, Thai chili pepper, garlic, lemongrass, sugar, and crushed pineapples, is an irreplaceable companion to this dish.
Making the rice paper rolls with pork takes some time, patience, and effort, as diners have to make their own rolls. This sets this dish apart from its cousin, fresh spring rolls, which can be purchased from street vendors and eaten while on the road.
You need to put the rice paper wrapper on top of the rice noodle sheets, add a thin slice of pork and other greens, and then roll it up into a complete roll. The pork slices taste flavorful, sweet, tender, and fat-free. You can appreciate how delicious this dish is when you eat the roll with the dipping sauce. This fishy and sour flavor may come as a surprise if you're not very familiar with fermented fish sauce.