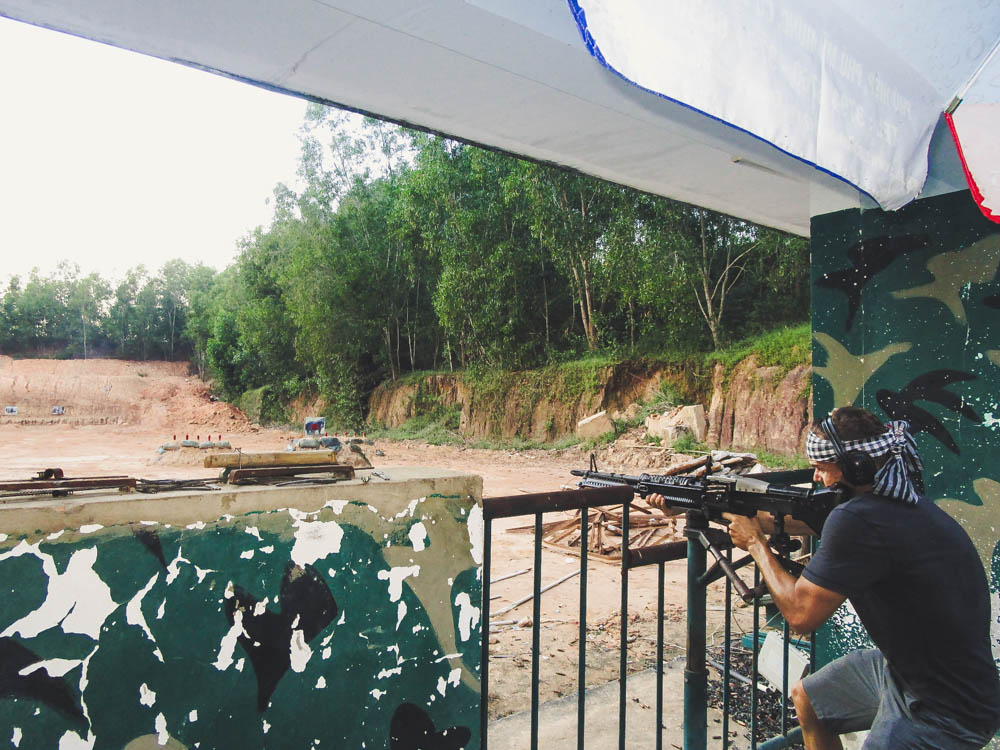 Cu Chi Tunnel Ben Duoc Area - Completely Travel Guide
With Vietnamese people like me, Cu Chi Tunnel is the image that symbolizes heroic fighting of Viet Cong guerilla. It makes me proud every time when I and my friends together discuss the Vietnam War. When I grow up, I have a chance to visit Cu Chi Tunnel - Ben Duoc area and saw it clearly and understand more about the difficulty fighting of Viet Cong against American army and Southern Vietnamese army in the past. Then, when I read more information about the Vietnam War, I understand more about the importance of this Tunnel with the war. Besides that, I also have sympathy for the pain of veteran of American and Southern Vietnamese. With me, Cu Chi Tunnel Ben Duoc area is a good place for you to memorize the war but not the fun way like Ben Dinh area does. As a local, I recommend you guy should visit Ben Duoc Tunnels if you are a person who is seeking for learning more history and authentic tunnel as well.
1. Cu Chi Tunnel Ben Duoc - Where is it?
Cu Chi Tunnel located at the north-west side of Ho Chi Minh City. The distance from the center of Ho Chi Minh City to Cu Chi Tunnel is around 70 kilometers. The first tunnels were made during the First Indochina War. But those tunnels were just single tunnels and they hadn't connected with others yet. Their function at this time was just storing weapons, ammo and hiding the enemy sweeps. The first tunnels were built in Tan Phu Trung and Phuoc Vinh An Communes. A few years later, the local people and Viet Cong found that it was necessary to connect the tunnels together, to serve for further purposes. The location of Ben Duoc is little further than Ben Dinh Area, around 15 kilometers. Ben Duoc tunnels located near Saigon River and the border between Ho Chi Minh City and Binh Duong province.
2. Why you should come?
Cu Chi tunnels Ben Duoc area is more authentic
The first reason I suggest you should come to Cu Chi Tunnels Ben Duoc Area is because it is more authentic and smaller than Ben Dinh Area. Nowadays, Ben Dinh becomes a famous tourist destination in Ho Chi Minh City. During the Vietnam War, Ben Dinh area was bombed and suffered many enemy sweeps.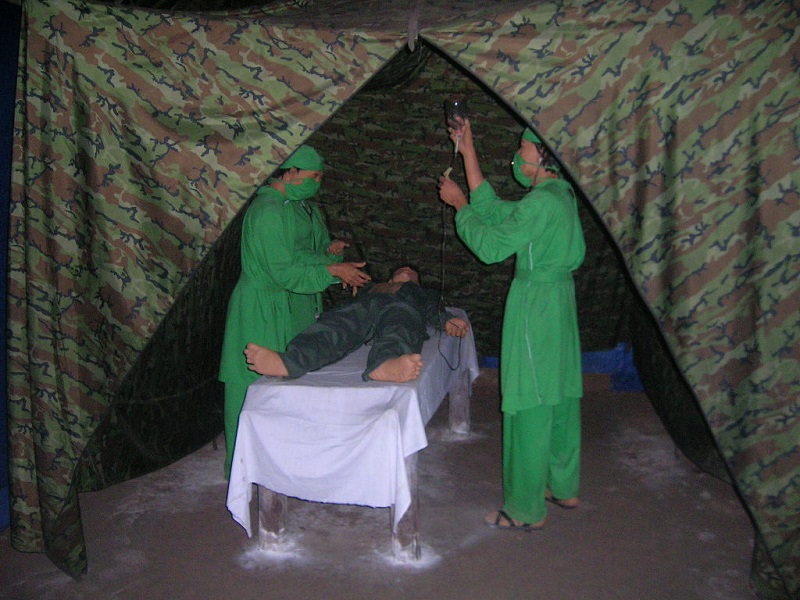 Nowadays, most of the tunnel systems in Ben Dinh area were recovered with the bigger size to suit the height of foreign tourists so that they will not find the hard time to get in. While the tunnel systems of Ben Duoc is much smaller. Because in the past, Ben Duoc area was the headquarter of the whole system of the Cu Chi Tunnels. So it was very hard to find and destroy the tunnels here. Thus it maintains unchanged. Ben Duoc tunnels can be a challenge for anyone who wants to have some adventure. By getting into the tunnels, you can get an idea of how Viet Cong live under the tunnels during the wartime. If you are looking for the first reason to convince you to go to Cu Chi Tunnels Ben Duoc area, I think it is a good reason.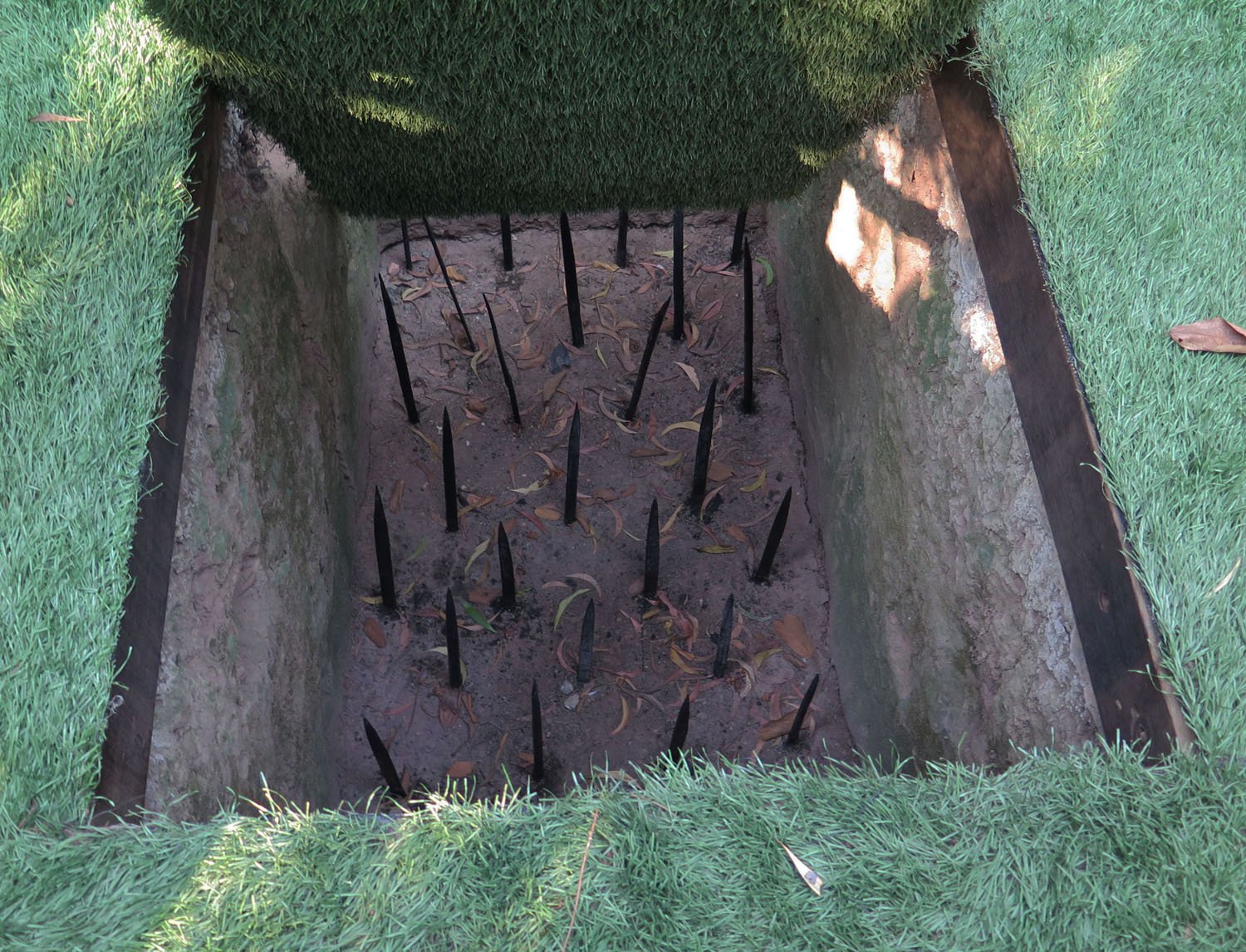 Cu Chi Tunnels Ben Duoc area is less touristy
Then, the second reason I think that you should pay a visit to Cu Chi Tunnel - Ben Duoc area is that Ben Duoc tunnel is the less touristy area. In fact, Ben Duoc Tunnels nowadays is a historical destination for local people. On weekends, many big student groups (like me in the past) come to Ben Duoc area to learn about history. Most of the travel agencies will only take you to Ben Dinh area. They will only take you to Ben Duoc Tunnels if only you book a private tour. In Ben Dinh Tunnels in the high season, there are over 50 people together going down to tunnels at the same time. It should be an uncomfortable feeling. In Ben Dinh area, there is a shooting range right in the middle of the visit place. Most of the time, you can't hear the information from the tour guide clearly because of the noisy sound from the guns. If you travel to Ben Dinh with your kids, maybe it can scare them. To avoid many big groups of tourists, Ben Duoc Tunnels is the ideal place to go.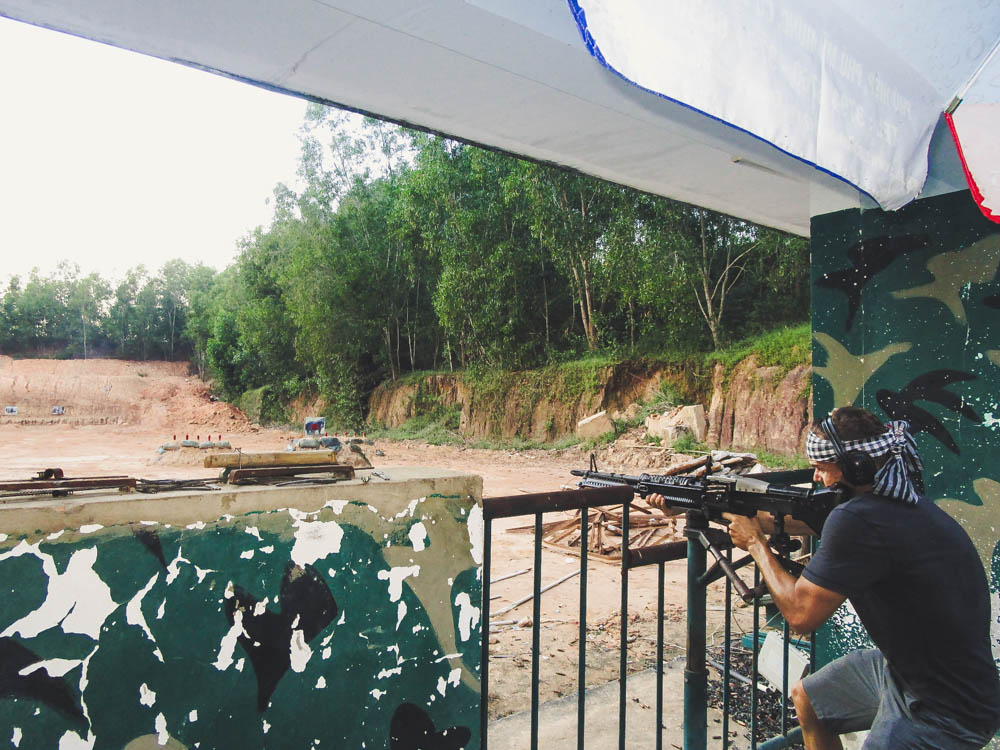 Cu Chi Tunnel Ben Duoc area is bigger than Ben Dinh area
Compared to Ben Dinh Tunnels, the total square area of Ben Duoc Tunnels is much bigger than Ben Dinh Tunnels. Ben Dinh Tunnels is limited within around 17 hectares, while Ben Duoc Tunnels is five-time bigger (100 hectares). Ben Duoc Tunnels not only offer you those tunnels with great experience but also other historical areas. For example, Ben Duoc memorial temple or the simulation area of Cu Chi liberated area. This simulation area is an example to describe how life at Cu Chi Tunnel looks like and how the Viet Cong prepares for the big war ahead. Another service for tourists is shooting range area (located around 1 kilometer far from the tunnel) and many things ahead.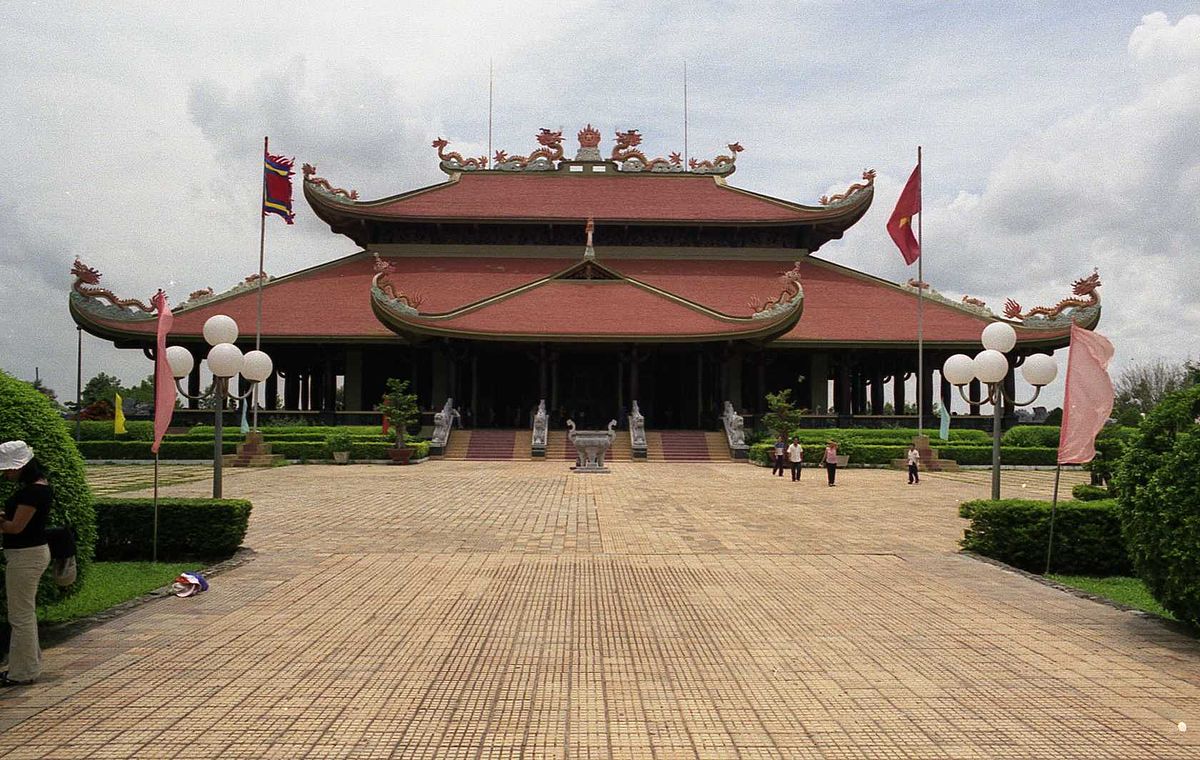 3. How to get there
Travel to Cu Chi Tunnel Ben Duoc Area by public bus
The first and the most common way to go to Ben Duoc Tunnels is using public Bus. The bus you need to take first is Bus No.13 at 23/9 Park (near to Pham Ngu Lao Street, as known as Backpacker area). When you hop on this bus, remember to prepare a book to read because it will take you around 1,5 hours to reach Cu Chi Bus Station. Your adventure is not over yet. From Cu Chi Bus station, you continue to hop on Bus No.79. It will take you to Ben Duoc Tunnels. The time on Bus No.79 is around 50 minutes. In total, the public bus will take you around 2,5 hours to get there. I think that you should start your journey from the early morning. Because you will have a lot of time to explore Ben Duoc Tunnels Area before the buses stop running. The bus No.79 stops at 5:30 PM and Bus No.13 stops at 9:00 PM. The total price for the bus ticket is 32.000 VND. Super cheap, right?
Travel to Cu Chi Tunnels Ben Duoc Area by Taxi
The second way to go to Ben Duoc Tunnel is Taxi (REMEMBER to choose Vinasun or Mai Linh only) or Grab Car. But I do not recommend you to travel this way, because it's extremely expensive. The price to take you from the downtown of Ho Chi Minh City to Ben Duoc Tunnel can reach to 1,5 million VND just only for one turn. So to come back to your hotel, you have to pay more 1,5 million VND. That's mean the total cost may go up to 3 million VND (nearly 150 USD). If you have money to spend, go ahead. But if you travel with a tight budget, I do not recommend this option.
Travel to Cu Chi Tunnels Ben Duoc Area by water boat
Another route you can choose is that using water boat. There are many travel agencies ready to offer that interesting service. With water speed boat, you can be able to avoid the heavy traffic jam in the city. You can check out these two famous companies Les Rives and Saigon River Tour. But they only take you to Ben Dinh area. So remember to consider it before you book.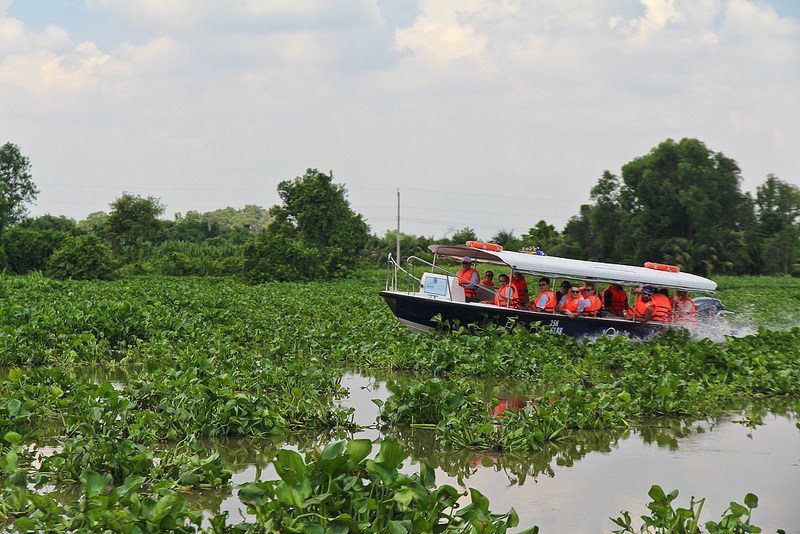 Travel to Cu Chi Tunnels Ben Duoc Area by motorbike
If you are an adventure seeker, I think that you can ride motorbike on your own to Ben Duoc tunnels. The route is quite long so remember to have a break at some side-street with the hammock. To reach Ben Duoc Tunnels, you just follow Route 22 then turn right at Nguyen Thi Ranh Street. Then continue to go straight until you reach the road junction at the end of the street. Then you turn left until you reach Ben Duoc Tunnels. You can check out the details maps to Ben Doc Tunnel here. While traveling by motorbike, you don't have to be rush. You can stop anywhere, anytime on the street to have a break, drinking sugarcane juice or eating Cu Chi beef ( the most famous food here).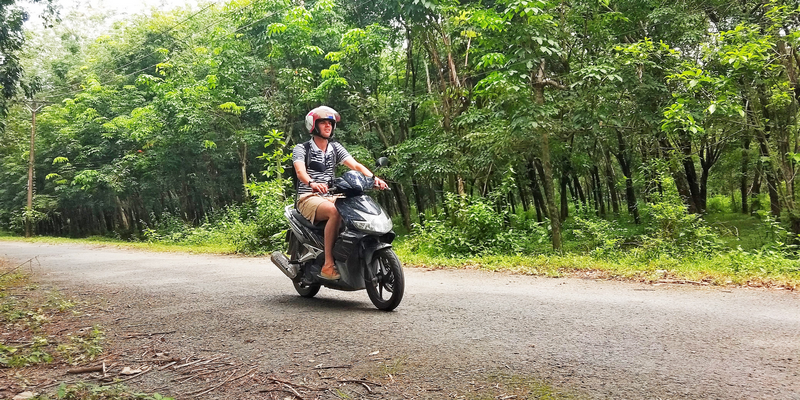 4. Tips for travelers to Cu Chi Tunnels in general
When travel to Cu Chi Tunnels, there is a big shame if you don't go to the tunnels underground. So remember to wear comfortable clothes. Don't dress like you are attending a prom.
The Cu Chi area nowadays is surrounded by jungle. Insect repellent and sunscreen are highly recommended.

You should travel to Cu Chi Tunnels during the dry season (from November to April). This is the best time for visiting. Although during the rainy season, the tunnel inside can't be flooded, the surrounded area is very wet and muddy. 

Cu Chi Tunnels will open during Tet or any Vietnamese holiday. So you don't have to worry about what will you do during the Tet holiday.
Tourists with claustrophobia or nyctophobia should not go inside the tunnels. This is very important information.

If necessary, you can bring with you the torch to see inside the tunnels more clearly. Although there is still some small light in the tunnel.

When you go inside the tunnels. Just follow the local guide and do not try to create a new route. You don't want to get lost in the tunnels. Trust me.
When you feel uncomfortable, just tell the local guide so he can help you to get out of the tunnel as soon as possible.
The price for ticket fee in Ben Duoc Tunnels is 90.000 VND, cheaper than Ben Dinh Tunnels 20.000 VND (110.000 VND). Besides that, in Ben

Duoc Tunnels area, if you want to explore surrounded area such as memorial temple or simulation of liberated village, you have to pay for the entrance ticket.
So this is the end of our guide to Cu Chi Tunnels - Ben Duoc Area. Don't forget to check our blog site to read more information about Mekong Delta or Ho Chi Minh City.