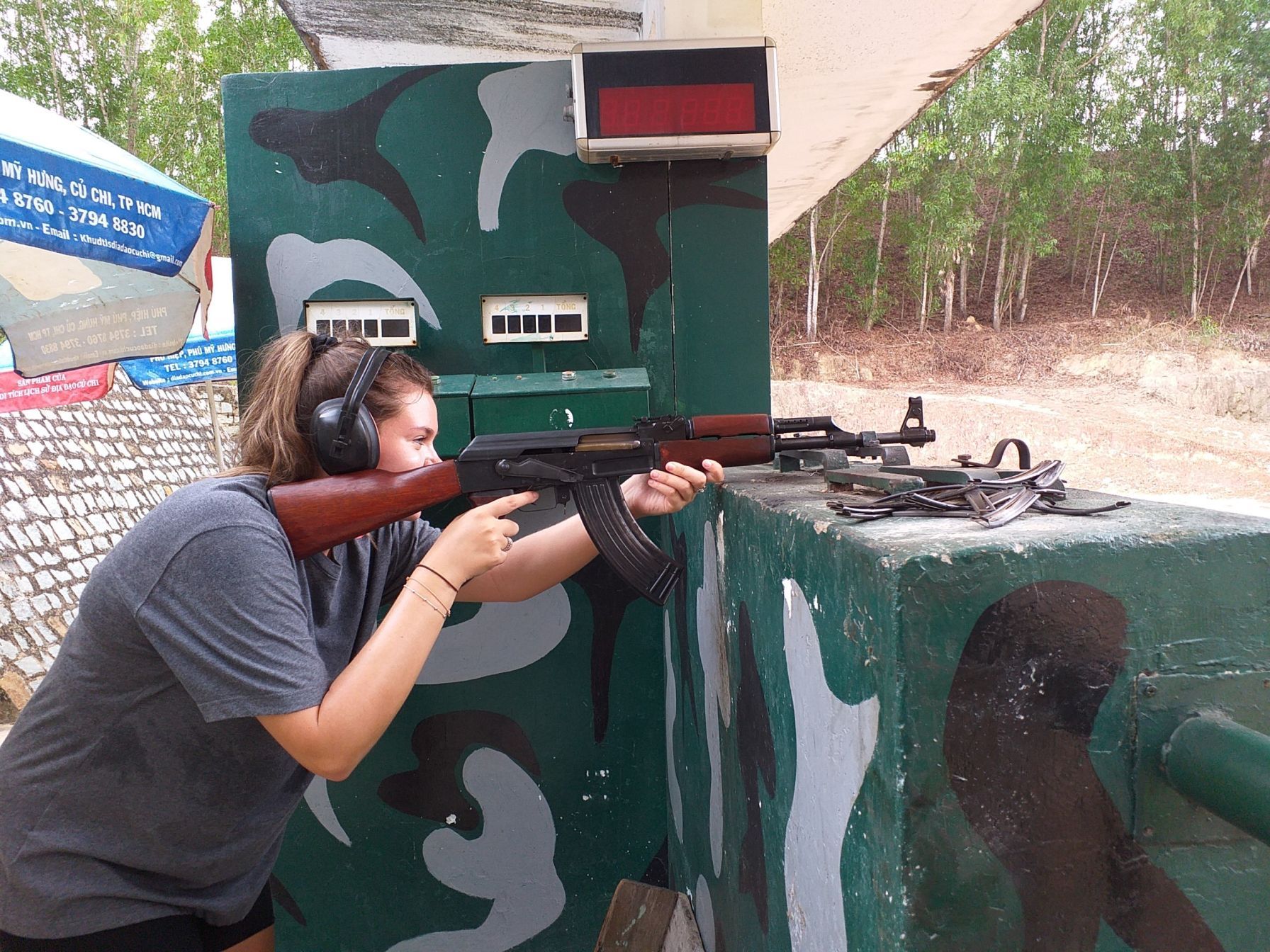 This isn't just another tourist attraction, but an opportunity to delve into a lesser-known side of Vietnam's history. Away from the bustling crowds and clichéd tourist spots, the Cu Chi Tunnels offer an authentic, unfiltered glimpse into the past. It's a place where the narratives are as compelling as they are hidden, where genuine stories thrive beyond the conventional historical accounts.
The journey we're about to embark on isn't for the faint of heart, but it's one that promises to be unforgettable. The secret entrance and alternative routes we'll explore provide a unique perspective that goes beyond the ordinary. As you venture into these underground passages, you'll gain a profound understanding of the Cu Chi Tunnels' significance and the remarkable stories etched within their walls. Get ready for an adventure that will not only broaden your horizons but also leave you with a newfound appreciation for the intricate tapestry of Vietnam's history.
History of the Cu Chi Tunnels
It was Ho Chi Minh, the leader of North Vietnam, who in 1965 ordered the expansion of the existing tunnel complex and turned it into a shelter for communist rebels from the south, the Vietcong and the North Vietnamese army. The most important point of this tunnel complex was in the Cu Chi region. The tunnels extended at least 300 kilometers! In addition, the tunnels had multiple levels that were interconnected and tunnels with traps. Some tunnels were up to 13 meters deep.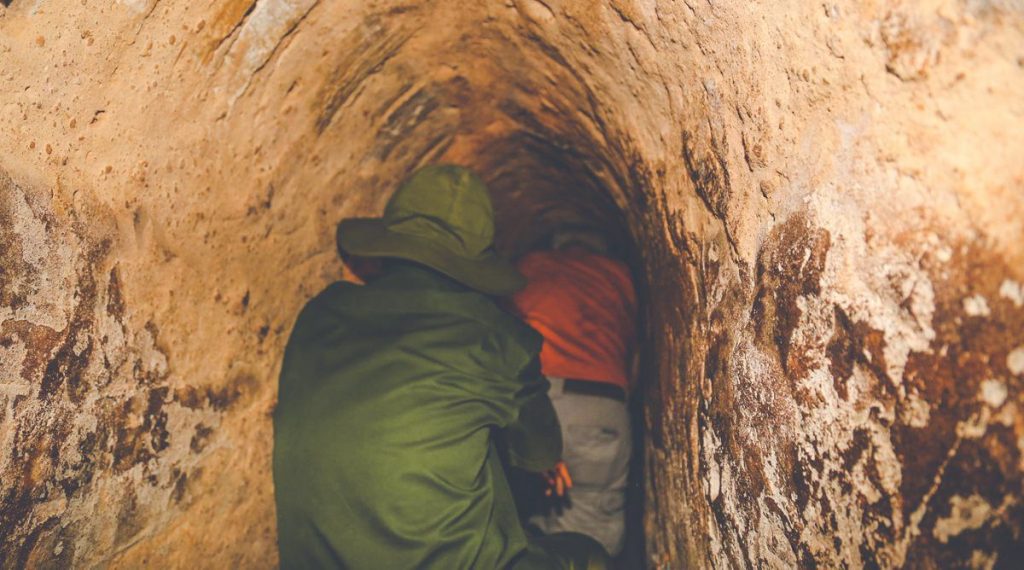 The tunnels were uniquely designed with multiple bends for protection against explosions, U-shaped passages filled with water to shield against toxic gases, and narrow dimensions to facilitate Vietnamese movement while hindering American forces. Wildlife from the jungle sometimes took refuge in the tunnels, adding to the peril. Inside, entire villages were reconstructed, complete with ammunition depots, hospitals, bedrooms, meeting rooms, food storage areas, and even theaters.
Many Vietnamese would spend their entire days inside the tunnels, emerging only at night to engage in combat. This tactic confounded the Americans, who found it difficult to track the elusive Vietnamese fighters. However, this prolonged tunnel living brought about health issues due to the subterranean living conditions and the absence of sunlight.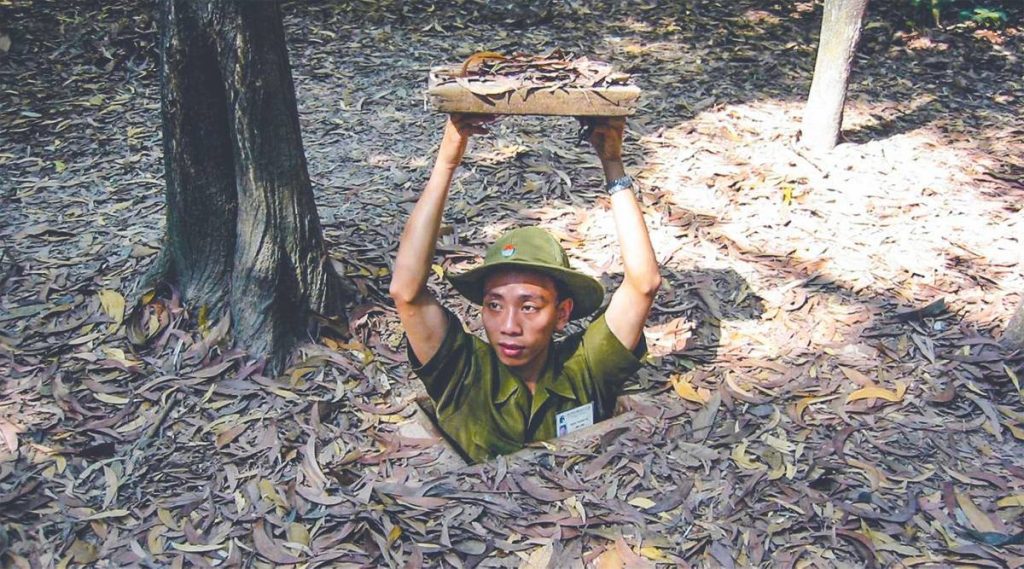 There are two areas where you can see the tunnels, Ben Dinh and Ben Duoc. Ben Duoc is the best example of the original tunnels. Ben Dinh also has tunnels, but they are all widened for tourist purposes. The entrance to the Ben Dinh is also closer (about 50 km from Ho Chi Minh City) and is a more convenient option, but does not offer the same experience. Due to the shorter distance to Ho Chi Minh City, this location is more touristy and also the main choice of most of the the Cu Chi Tunnel tours that depart from Ho Chi Minh City, so you have a less authentic experience. Ben Duoc (about 70 km from Ho Chi Minh City) is recommended if you have more time.
How to get to the Cu Chi tunnels
A private or group tour is the easiest way to visit the tunnels from Ho Chi Minh City. You have different choices, with a bus, limousine minibus, car and even with a boat.
Cu Chi Tunnels by motorcycle or car
Most tour companies arrange tours to the Cu Chi tunnels by motorcycle, car or bus. It takes approximately 1.5 hours to reach the tunnels at Ben Dinh. Try to avoid large bus trips. Try to avoid large bus tours. In these very cheap tours from $ 5, you travel with a very large group, so you have little time to see everything and only transportation is included, so no lunch and entrance to the tunnels.
Cu Chi tunnels by boat
If you are interested there are a number of boat trip services that will take you to the Cu Chi tunnels.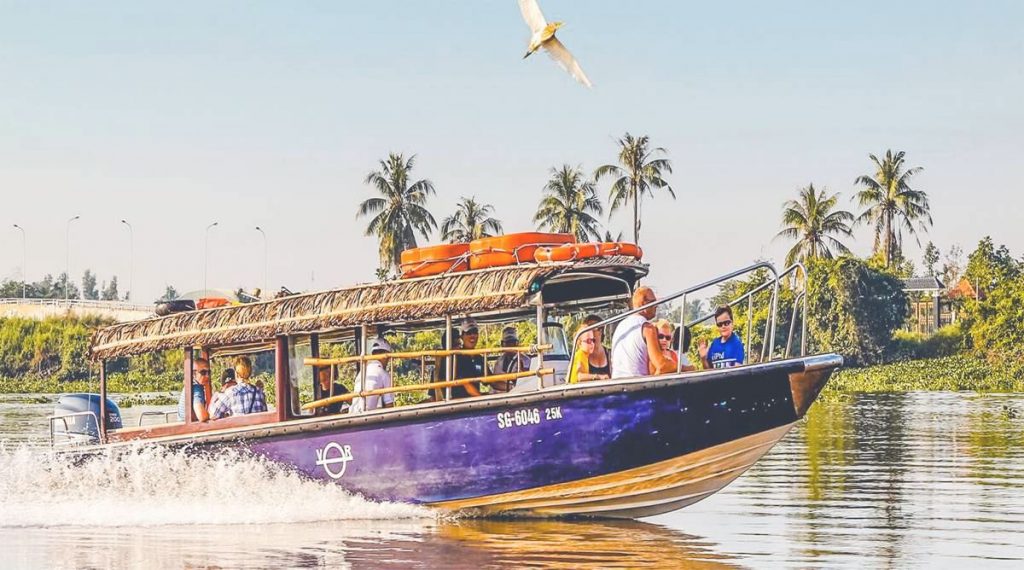 Cu Chi tunnels by taxi
You can also take a taxi to the Cu Chi Tunnels, but this is very expensive. And a real waste, because you can't get anything else out of it. You can expect to pay around $ 60 for both directions, as it is a 120-kilometer journey.
Cu Chi tunnels with the public bus
You can also take the public bus to the Cu Chi tunnels. You only have to take two buses to get to Ben Duoc. First, take bus # 13 from 23-9 Park (near Pham Ngu Lao – the backpacker area) to the Cu Chi bus station. Then take bus # 79 towards Ben Duoc. The total travel time in this way is around 2.5 hours and the price will be around 26,000 VND (just over $ 1).
Opening times and admission prices
Both the entrance to Ben Dinh and Ben Duoc have the same opening times, but have different admission prices.
Opening times: daily from 8:00 AM to 5:00 PM
Entrance fee:
Ben Dinh: VND 110,000 per person
Ben Duoc: VND 90,000 per person
The cheap backpacker tours to the Cu Chi Tunnels don't include the entrance ticket to the tunnels, but all the regular tours do include entrance fees.
A visit to the Cu Chi Tunnels
The Cu Chi tunnels now serve as a museum. Many tourists come to this place. Still it's worth it. Especially the horrible booby traps are really interesting to see. The tunnels have been widened to make it accessible to tourists. Although it is still tight. Weird to see the small, long tunnels, where so many Vietnamese have lived underground for years. A must-see for anyone who wants to know more about the (horrific) history of Vietnam!
An underground guided tour takes about 45 minutes to an hour and consists of a number of impressive demonstrations and stories.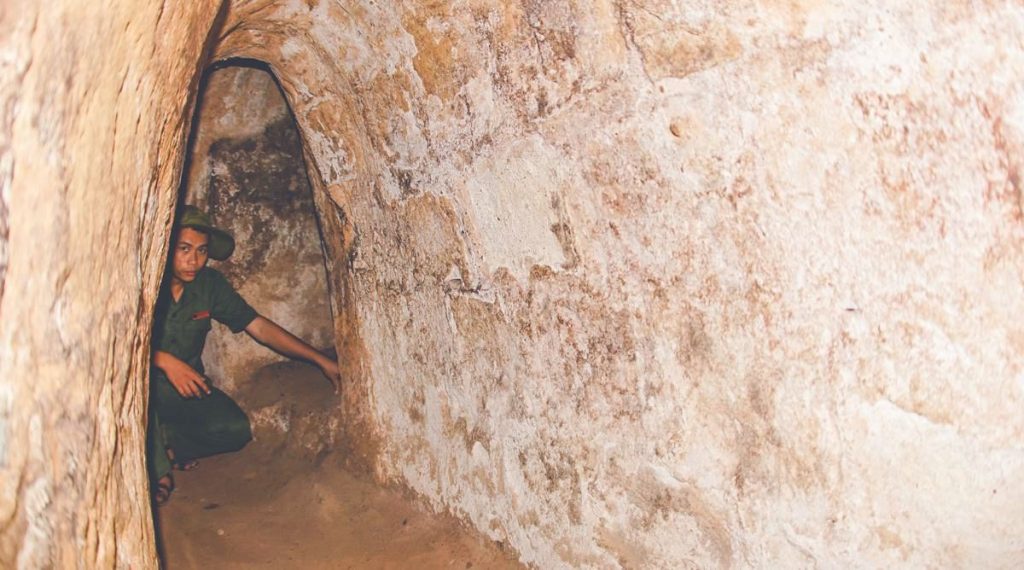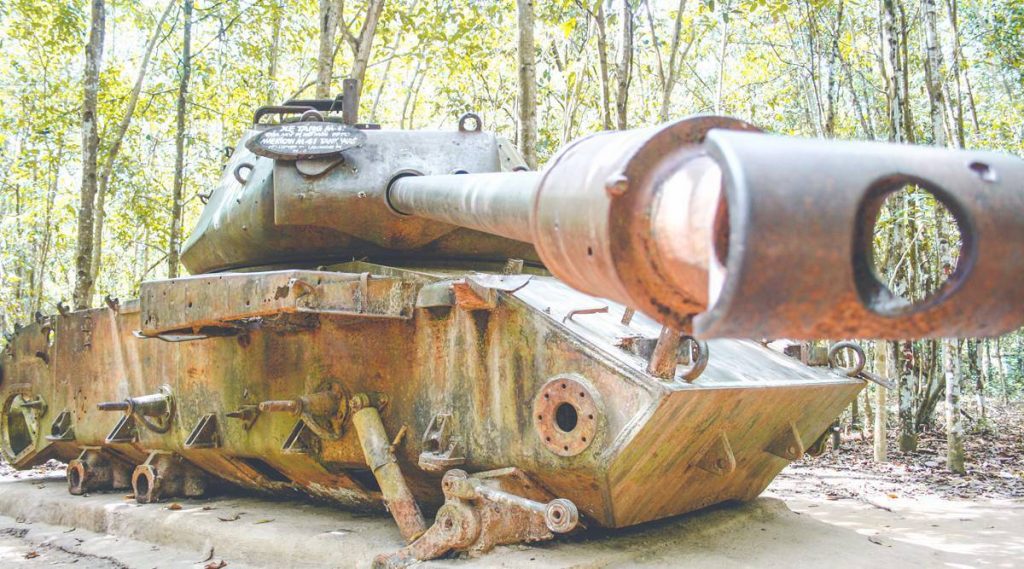 During your visit to the tunnels you can get a reasonable picture of the harsh living conditions and how people used to operate here. Especially the booby traps make an impression, because they are very inventive and at the same time very horrible to see. Concealed hatches lead to sharp pins, intended to injure and deceive the American enemy. A guide will be happy to tell you how these techniques were used and why.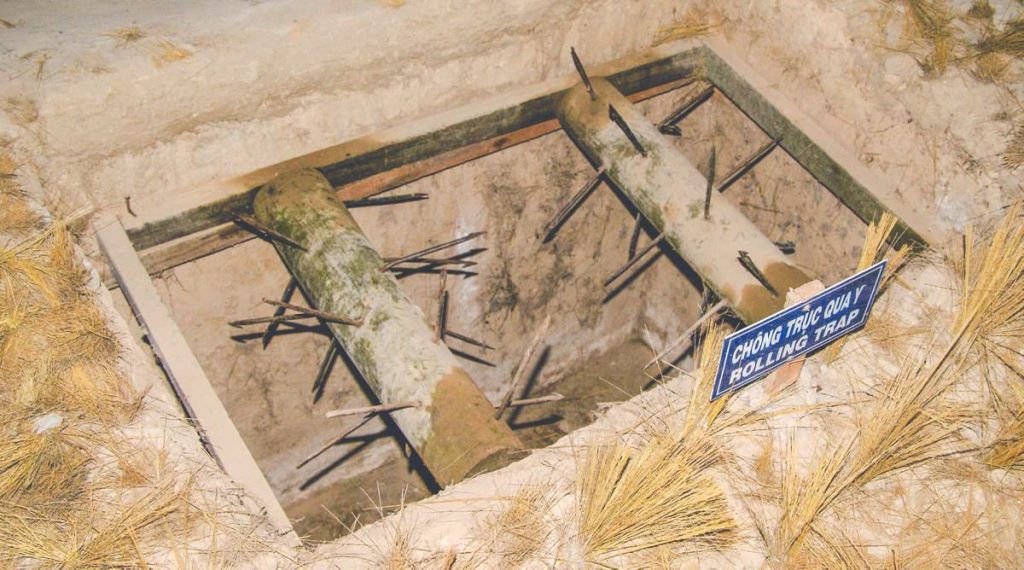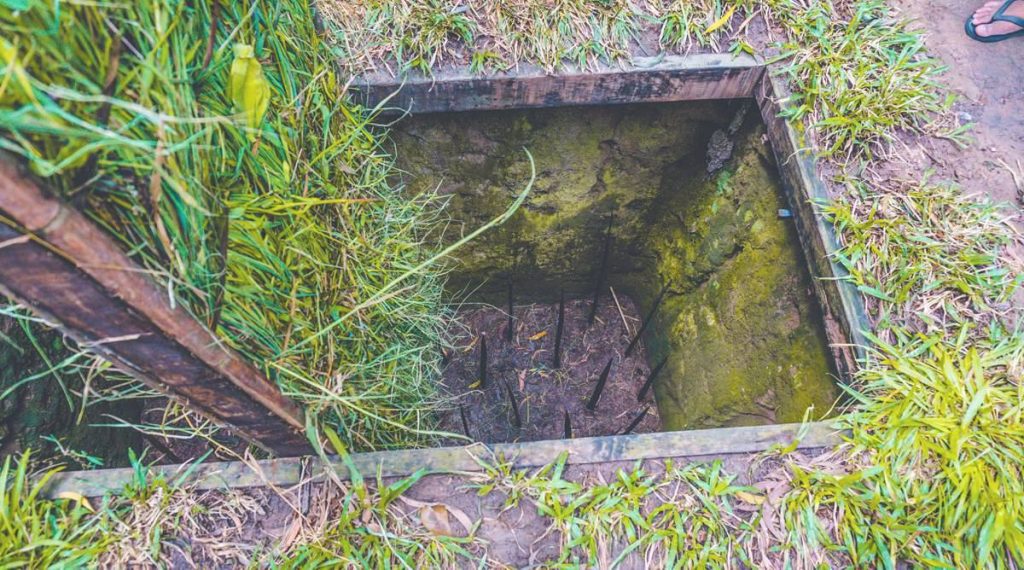 There are a number of things you can do at the Cu Chi Tunnels. Explore the area, crawl through the tunnels, watch documentaries, exhibitions, traps, take photos and of course shoot with a gun!
Shooting range
Both Ben Dinh and Ben Duoc have shooting ranges for tourists. The conditions are that you are in good health and at least 16 years old to participate in this activity.
The balls are sold in sets and each set has about 10 balls of the same type. Here is the price list for different types of bullets that are sold:
M16: 35,000 VND / 1 bullet (~ $ 1.6 USD)
AK 47: 40,000 VND / 1 bullet (~ $ 1.8 USD)
M60: 40,000 VND / 1 bullet (~ $ 1.8 USD)
Garand: 30,000 VND / 1 bullet (~ $ 1.4 USD)
M30: 30,000 VND / 1 bullet (~ $ 1.4 USD)
CARBIN: 25,000 VND / 1 bullet (~ $ 1.1 USD)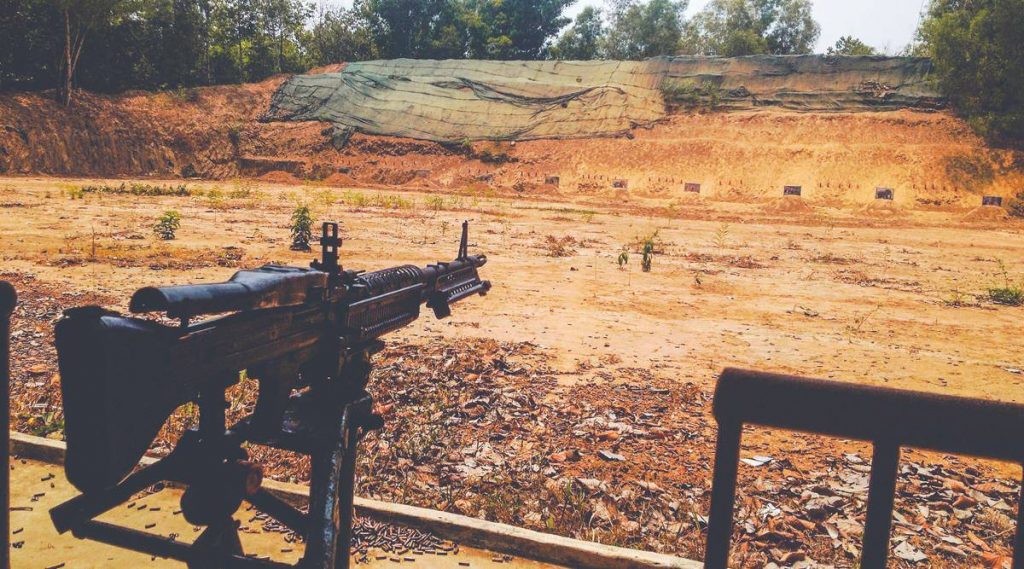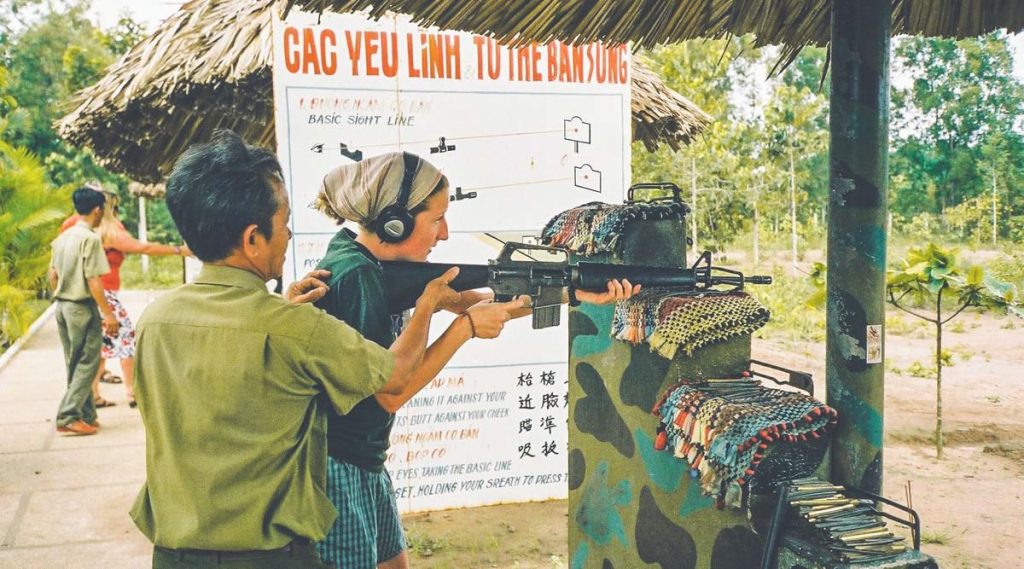 Practical Tips for you:
Dress Comfortably: While there's no strict dress code, it's wise to wear clothing that can get dirty, as you'll be going underground. Light and breathable fabrics are ideal, especially in the hot and humid climate.

Wear Comfortable Footwear: Opt for a comfortable pair of sneakers or closed-toe shoes with good grip. You'll be walking on uneven terrain, and comfortable footwear is essential.

Protection from the Elements: Sunscreen and insect repellent can be valuable companions. The tropical weather can be scorching, and insects can be present in the lush surroundings.

Rainy Season Visits: Cu Chi Tunnels are open year-round, even during the rainy season (May to November). While the tunnels themselves don't flood, the overall experience may be less comfortable due to the weather. Be prepared with a rain jacket or umbrella during this period.

Visiting During Tet: If your visit coincides with Tet (Vietnamese New Year, typically late January or early February), don't worry; the tunnels are still open. However, expect larger crowds as locals and tourists celebrate this festive time.

Consider Claustrophobia: Visitors with claustrophobia should exercise caution when entering the tunnels. It can be a tight squeeze, so if you have concerns, you can explore other parts of the site that don't involve tight underground spaces.
These tips should help make your visit to the Cu Chi Tunnels an enjoyable and comfortable experience.
Alternative
The Cu Chi tunnels are the best known remaining tunnels of the Vietnam War. The tunnels are often visited for this and it can be busy with many tourists. The Vinh Moc tunnels are a good alternative, located near Hué. The experience here also feels more authentic than the Cu Chi tunnels.