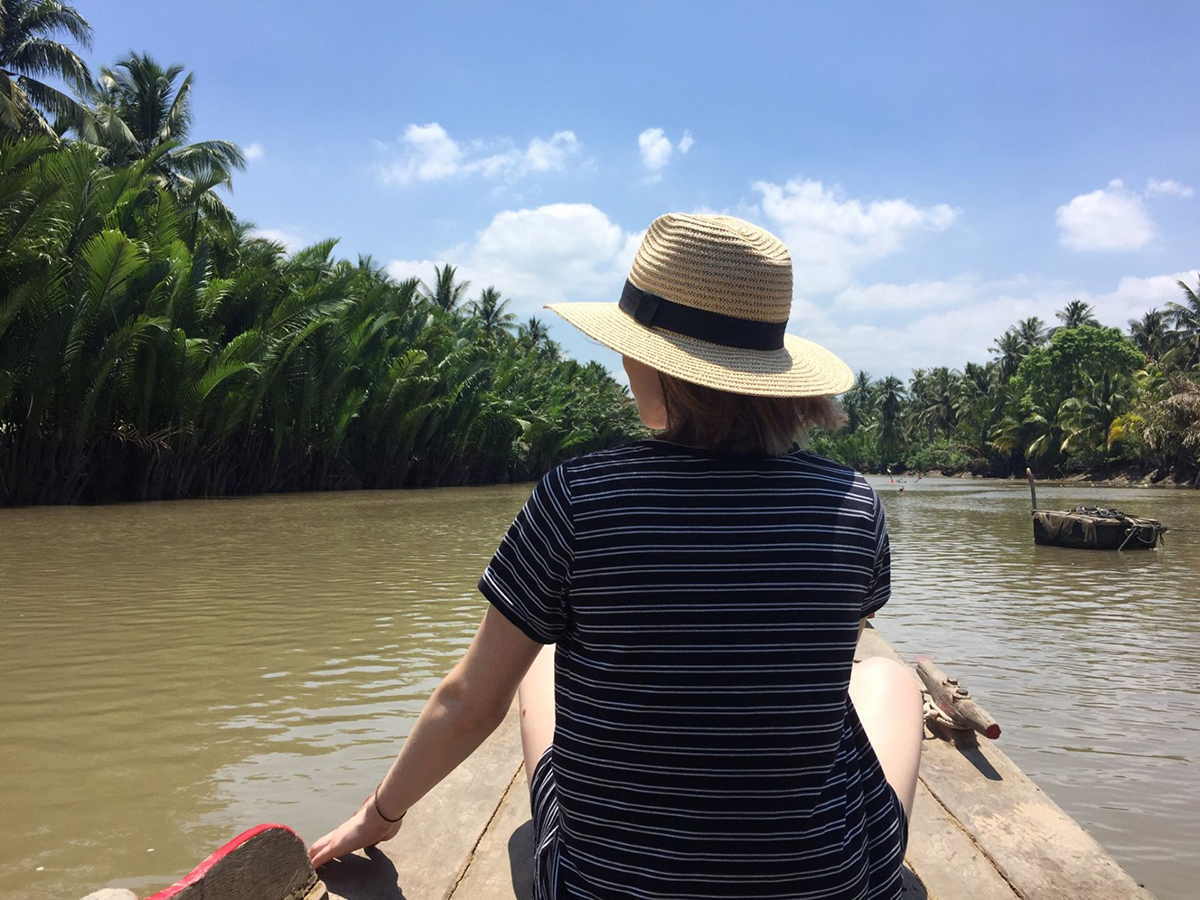 Exploring the Mekong Delta
"We travel because we need to, because distance and difference are the secret tonic to creativity. When we get home, home is still the same, but something in our minds has changed, and that changes everything." — Unknown
When visiting Vietnam, one must experience their "rice bowl," the Mekong Delta. Lush greens, adorable boats, people in traditional hats, and dirty water create a picturesque setting to explore.
With a burning desire, we kicked off our day with a tour of the Cu Chi Tunnels, followed by a Vietnamese lunch, and finally a boat ride in the Mekong Delta.
Mekong Delta food
After a fascinating, sobering morning at the Cu Chi Tunnels, our tour guides shuffled us off to lunch. They asked us if we had any food restrictions, as we would receive a preset menu.
Our lunch would consist of a whole fish and Vietnamese side dishes. Although Elaine enjoys fish, she decided on the vegetarian meal. Erin was skeptical, and she told our guides she could eat fish, as long as it did not have a face. They laughed at her "no face" fish request, but obliged. I love whole fish, and I was game to try whatever Vietnamese dishes were thrown at me.
We ordered our drinks separately. I saw a tantalizing, coconut drink floating by, which I requested.
The sticky rice ball was unique and delicious. When the faceless fish arrived, Elaine and Erin cringed with disgust. I had to assemble the fish roll-ups for each of us. As Elaine had her own vegetarian meal, the waitstaff's cheeks turned red when they saw her sampling our fish. They pointed to her vegetarian dishes as if to say, 'Hey, lady, you have your own food. Stop eating theirs.' My coconut drink was creamy, smooth, and went down like candy. Our taste buds were jumping from a delightful culinary experience.
The Mekong Delta
Next up? The Mekong Delta, "one of the most fertile areas in southern Asia, supplying the country with most of its rice, fruit, and seafood and affording foreign visitors a wonderful insight into the real Vietnam*."
Although the heat added a touch of pink to our bodies, goosebumps dimpled our skin. We hopped into our tour guide's vehicle to conquer our next adventure, the Mekong Delta.
As our guide purchased our tickets, I bartered for three Vietnamese Conical Hats. I wanted us to wear the Vietnamese, rice hats as we explored the Mekong Delta. When abroad, dressing in the traditional clothing of the country adds a touch of spice to the experience. And, wouldn't the three of us look cute boating down the water in these hats?
My eyes sparkled and my breath stopped as I emerged myself into the art of bartering. A chill ran up my spine, a smile played upon my lips, and my stomach flip-flopped.
A friend had advised me to cut everything in half as a starting point. I followed his profound advice. Given the crazy conversion rates, doing the math in my head, while trying to strike a deal, was like trying to solve a jigsaw puzzle.
When I told the guy the hats were too much, I felt an empty pit in my stomach when I realized how ridiculously inexpensive they were. I paid the guy his requested price, which amounted to a dollar or two. From that point on, I decided to proceed with caution when bartering. The merchandise was already extremely cheap, and I was negotiating downward for sport. They were trying to make a living.
Travel tip: For the touristy, more expensive places, tell the vendor, "Oh my God! That's so expensive!" Then, offer half the asking price. When the cost is only a few dollars, pay the locals.
To access the Mekong Delta, we had to take a boat. The air was breezy and warm, and my skin tingled with anticipation of what was to come.
Our tour guide dropped us off at a dock, where we hopped into a smaller boat with a new guide. The Mekong Delta, also known as "Vietnam's Rice Bowl, was lush, tropical, and gorgeous — a perfect, little spot in nature. This was one of my favorite spots in Vietnam.
Travel tip: Once we arrived at the Mekong Delta boats, the tour guides had Vietnamese Conical Hats for us. If you do not wish to purchase one, you can still experience wearing a rice hat on your excursion.
After our wonderful ride, our guide brought us back to land. We explored the shops, and he took us to taste some candy. At this point, I needed to excuse myself. I think the coconut drink was the culprit for my rumbling stomach and sweaty palms.
After not returning for some time, my friends ventured off to look for me. They saved me from a bathroom with no toilet paper. This was the first time food had made me sick during my travels. In my haste to taste the pretty, coconut liquid, all logic escaped me. I overlooked the ice in my drink.
Travel tip: When venturing out, pack some toilet paper and hand sanitizer. And don't drink the water, including ice.
We then took a boat to the mainland, jumped into our tour van, and headed to our hotel. On our way back, I was grateful for an amazing day with fantastic friends. I was so happy Erin researched the Mekong Delta before our trip. Despite my upset stomach, this was one of my Vietnam highlights.
Written by Gina Pacelli at https://farewellalarms.com/exploring-the-mekong-delta-9e24b1ea15e4