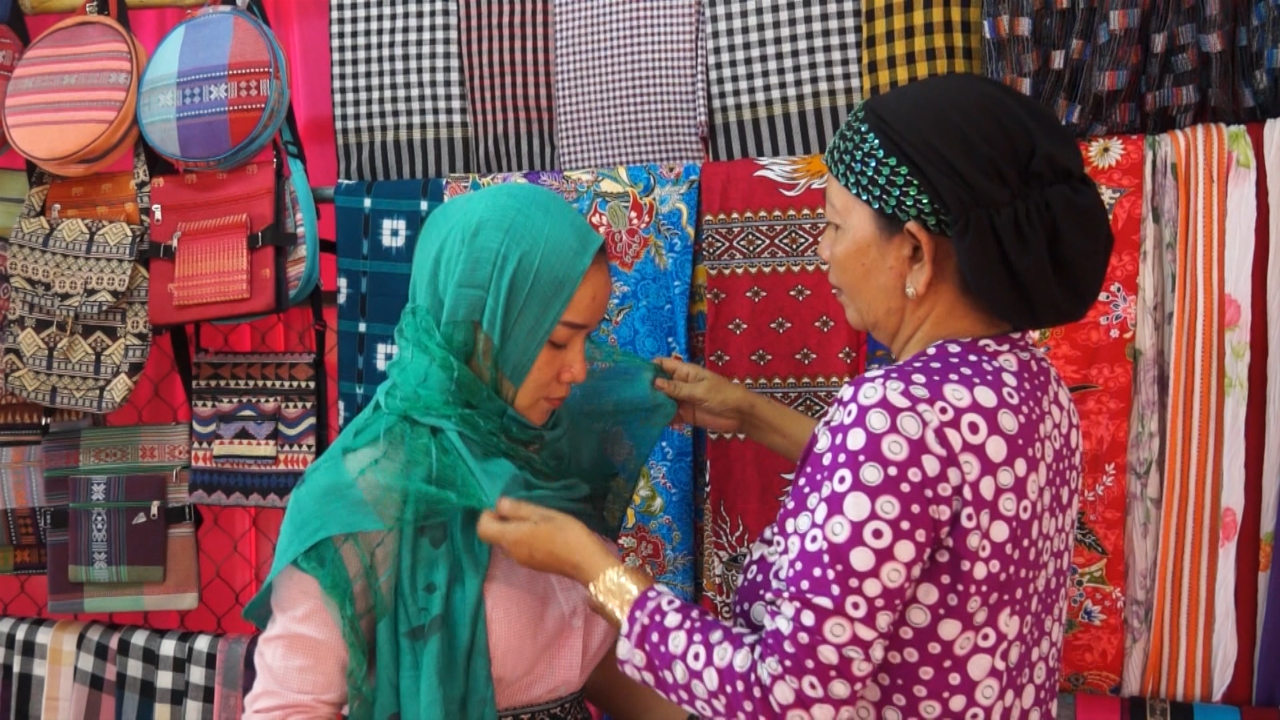 An Giang, a beautiful land of authentic Mekong Delta, homes a thousand Cham people who used to be a real indigenous people of the central of Vietnam. They have a deep and rich culture that will engross everyone who has known or contacted them. In this blog, we will give you take you to a brocade village in Chau Phong (An Giang province) to discover one of the well-known handicraft products in authentic Mekong Delta.
The history of brocade in An Giang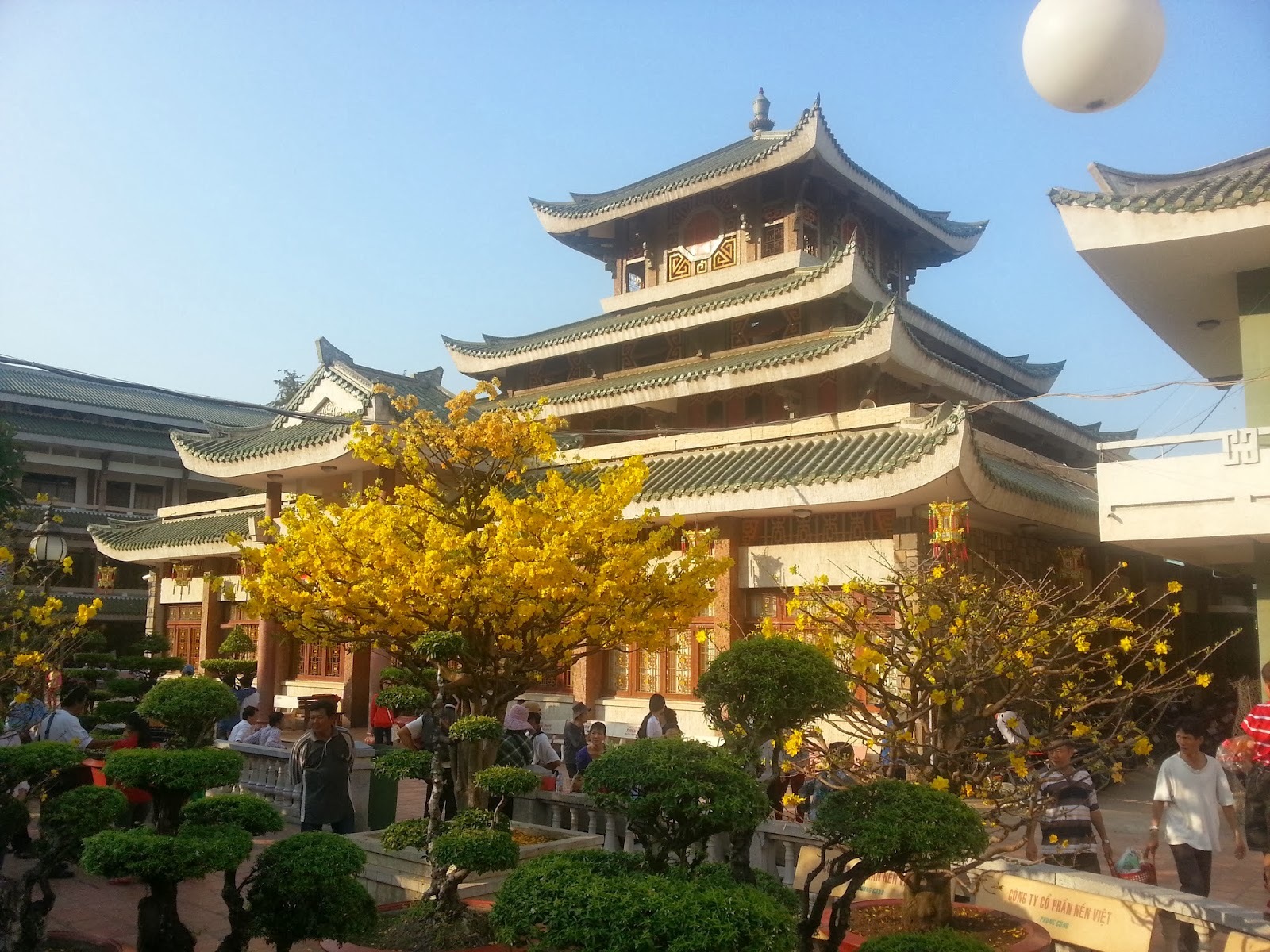 No one knows when brocade was founded but the development of this fabris should be dated back from the middle of 19th century to the 1960s. Brocade history is about more than 100 years. In the beginning, Cham people made it meet their daily needs for wearing then they could sell it to other ethnic minority groups for good exchange. There was a time when a hundred households in Chau Phong Village earned their living by making brocade fabrics. However, the commercial clothing industry with mass production has grown rapidly. It hurts Cham fabrics because it takes them a long time to weave a completed piece of cloth by traditional technique. Now there are only a few houses left that still use loom to make brocade. Mohamad, a brocade maker, said that he wanted to use the loom instead of the machine so the fine pattern will remain unchanged as it is for many years, which builds their image in Vietnam brocade industry.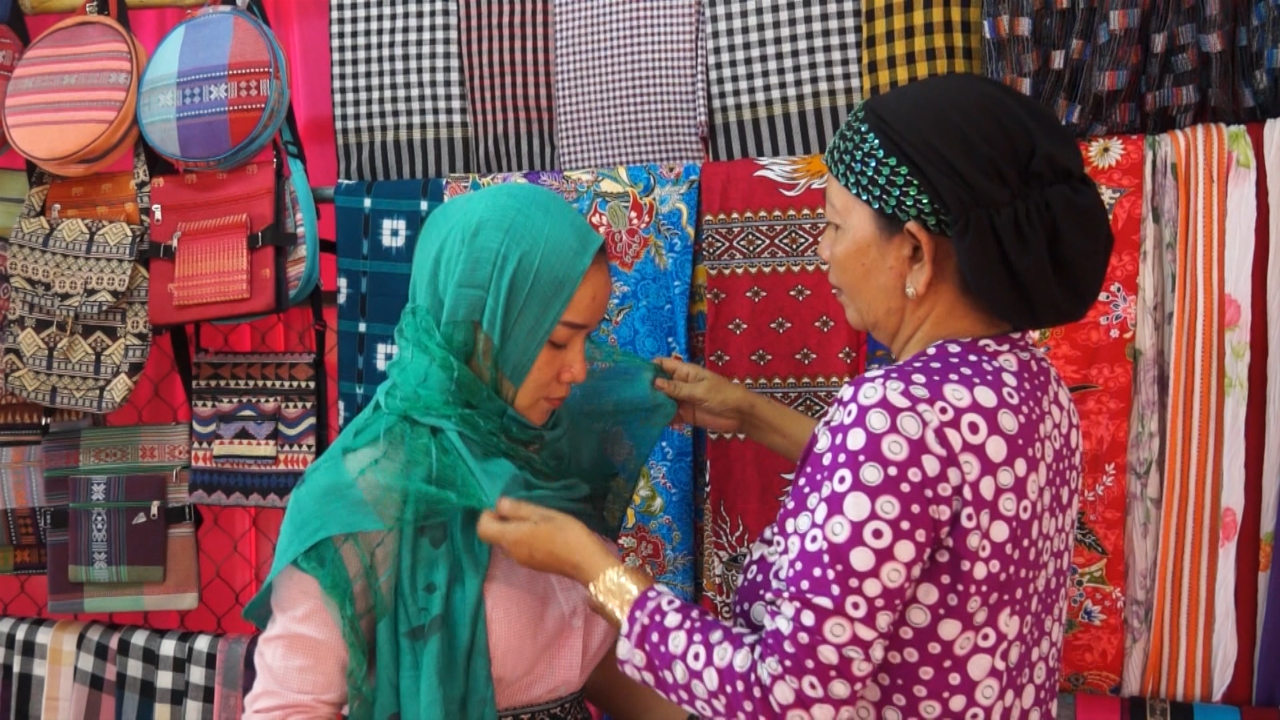 Materials to make the Cham signature brocade
In the past brocade was made of silk but now cotton is the most popular material due to a reasonable price. Natural colors from leaves, fruits, and tree bark are used to dye fabrics. All the dyeing process (still a family secret that we do not know exactly) is made by hand to make sure that the quality can be controlled and colors can remain unchanged and bright. After that, fabrics are woven by loom. Patterns are also made during this process. Patterns on brocade depict the class status in Cham society. The higher class they are, the more pattern they get on their clothes. In general, there are around 40 signature patterns which are divided into 4 categories: floral pattern, fauna pattern, object patterns, and the others. It will take days (3-5 days which depends on product types) to finish a product. It is said that young Cham girls exposed to the first weaving lesson when they were the age of 12. Since then, they were taught by their mother about authentic dyeing and weaving techniques that have been inherited from their ancestors. The Cham lady not only need a professional skill but also time and effort to make one beautiful piece of art. They also work hard to add new design ideas and product innovations (they learned from Chinese and Khmer  who also lived nearby to renovate the loom). Various products from skirts, scarves to handbag are made it their skillful hands every day. The brocade is the product of hard word, creative mind, and local culture influence. Cham women with brocade have contributed successfully to maintained the essence of their culture.
Brocade fabric in today's market
Nowadays, modern clothing companies give many choices of styles, designs, and colors to consumers. People seem to get lost in fashion choice because there are so many of them in the market. In contrast, brocade fabric with its color and beautiful patterns brings a fresh feeling and adds a flair of elegance to any outfit or even home accessory. Most of the products are also durable, which means you can use them for a long time without color degradation. In addition, buying a piece of brocade is an effective way to conserve the Cham cloth handicraft. All the reasons that are mentioned above, help Cham brocade gain more attention to the customer's eyes (in both the domestic and international markets). Thanks to it, Cham people have a bright future to develop their ancestor legacy and pass it to the next generation.