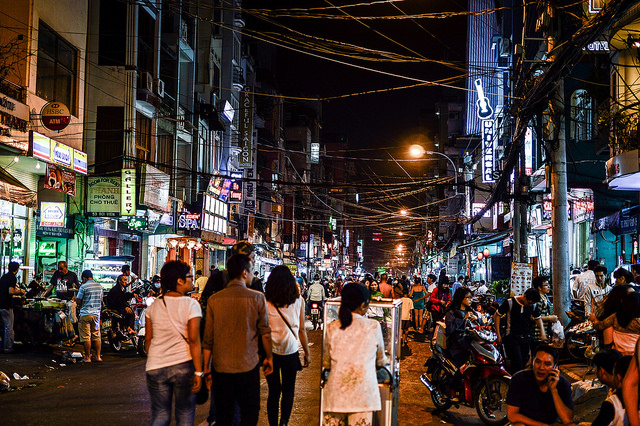 Saigon (or Ho Chi Minh City) is well known for its youthfulness and energy. It is fact for not only daytime but also nighttime. Some people call Saigon with a lovely name "Sleepless City" because of unlimited activities that you can join at night. In this blog, let's together with us find out what you can do in Saigon at night.
1. Having fun at Bùi Viện Street
Bùi Viện is the busiest street in Saigon at night. Two sides of the street are full of bars, pubs, etc. Drinking beers in bars is nothing special. You can drink beers on the sidewalk with a very low chair and order some snacks to have fun with your friends here. Beers at this area are extremely cheap with only around 1 USD (20.000VNĐ) for one bottle. Sometimes, street artists will pass by with his speakers. We all know it's the time for his performance. Low-cost beverage and free live music, that's what you can expect at Bùi Viện Street. It's better if you can go there with a group of friends.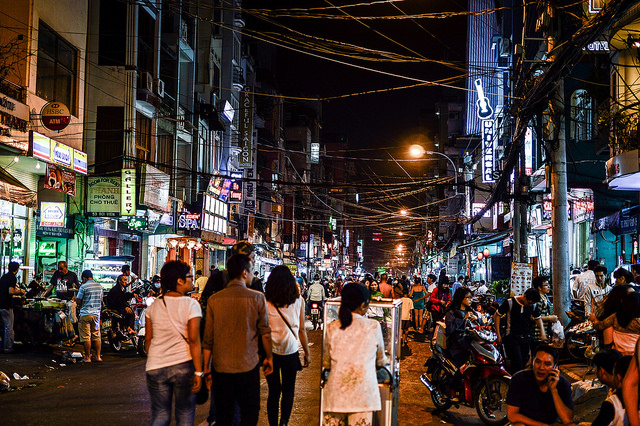 2. Chill yourself at a rooftop sky bar
A Rooftop sky bar is a good place for you to observe the panoramic view of the city at night. Every time you feel stressed about life, work, etc. Let's head to rooftop sky bars and chill yourself with a cup of cocktail or red wine while enjoying the music there. Some rooftop bars will require you to dress formally; therefore, you should check the information beforehand to avoid an awkward situation.
Here is the list of  some best rooftop bars in Saigon
Chill Sky Bar:

26th and 27th Floor, AB Tower, 76A Le Lai Str, Ben Thanh Ward, D1

Air 360 Sky Bar:

Rooftop 22nd – 23rd, Ben Thanh Tower, 136-138 Le Thi Hong Gam Str, D1

Liquid Sky Bar:

8-15 Ton Duc Thang Str, D1

Breeze Sky Bar:

5th Floor, Hotel Majestic, 1 Dong Khoi Str, Ben Nghe Ward, D1

Glow Sky Bar:

13th Floor, President Place, 93 Nguyen Du Str, D1

Eon Heli Bar:

Level 50/51/52 - Bitexco Financial Tower, 2 Hai Trieu Str, Ben Nghe Ward, D1
3. Shopping at Bến Thành night flea market
If you are busy during the daytime because there are still lots of destinations that you have to visit like the War Remnants Museum, Cu Chi Tunnel, Mekong Delta, etc. You can shop at night by visiting Bến Thành night flea market. There are many things that you can buy like coffee powders, coffee filters, clothes, etc. Bargaining is an essential skill in this market if you want to pay with the reasonable price.
Bến Thành night flea market located at two sides of the main market and starts to open from 7:30 PM to 12:00 AM.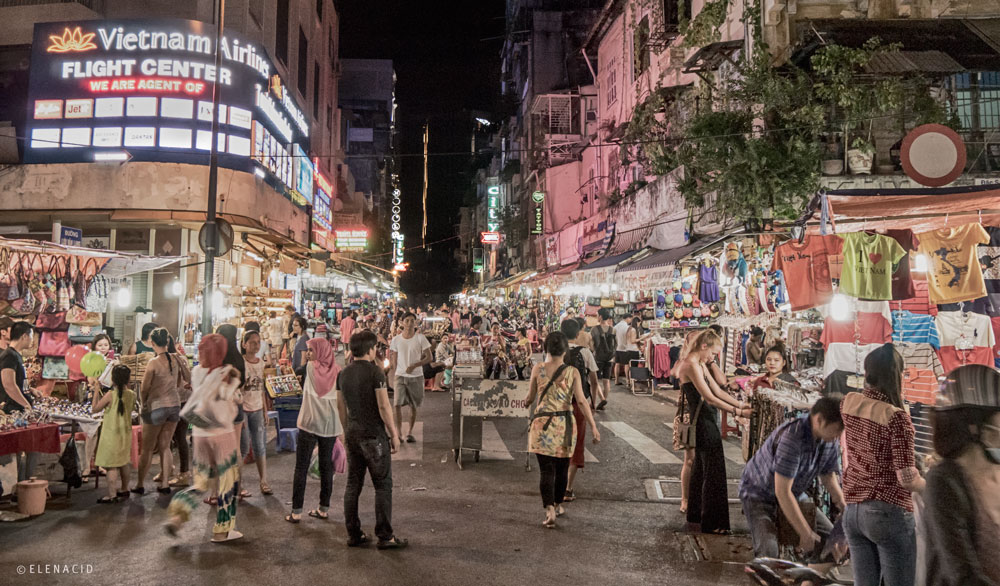 4. Enjoying street food at local area
This section is for anyone who is addicted to Vietnamese street food. We all know that Vietnam is heaven for street food. So I think if you have free time at night, you can invite your friend to try some Vietnamese street food with you. You can go by yourself or book a motorbike tour and lets the guide take you to most delicious street food in town. Cô Bắc Street and Cô Giang Street in District 1 or The 200 Alley in District 4  are places that you can have a look if you are going to explore authentic Vietnamese street food on your own.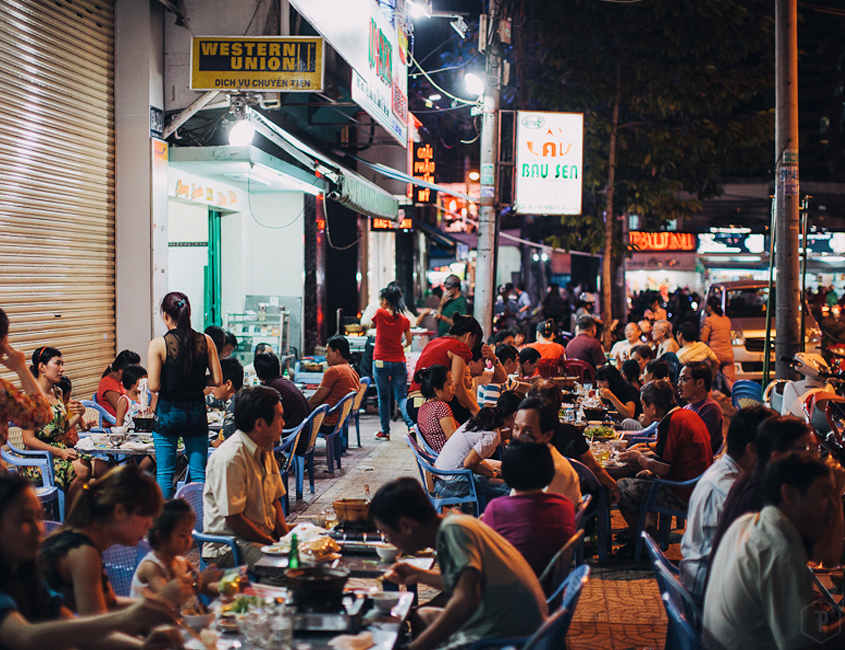 5. Having a romantic dinner cruise
With such a busy city like Saigon, I can not find any romantic place at night for me and my partner. Most of the people will think that way but the answer is no. By having a leisure dinner cruise, you will have time and space for a romantic moment with the love of your life. The cruise will take you around the Saigon river. Trying nice food and observe the shimmering beauty from the cruise can be the highlight of your trip to Saigon. You can check out Bonsai River Cruise or Indochina Cruise which are high- rated on Trip Advisor.
6. Listening to music at live acoustic bars
Another option for you is heading to some live acoustic coffee shops or jazz music bars to enjoy live music with real good singers. If you are brave enough, you can go to the state and perform your favorite songs.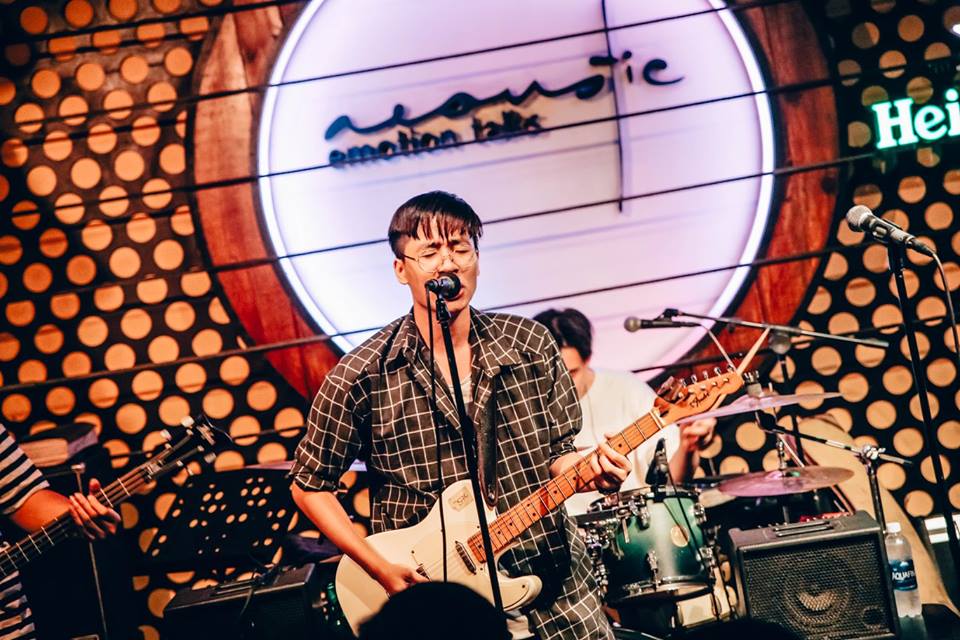 Here are some places you can check out
The Acoustic Bar: 6E1 Ngo Thoi Nhiem Str, District 3 (6:00 PM - 12: 00 AM), live music from 9:00 PM, Except Sunday

Sax'n Art Jazz: 28 Le Loi Str, District 1 (7:00 PM - 12:00 AM), live music from 9:00 PM

Hard Rock Cafe: 39 Le Duan Str, District 1 (Weekdays: 11:00 AM - 12:00 AM, Weekend: 11:00 AM - 2:00 AM), live music from 9:00 PM
7. Take your friends with you to Karaoke
Karaoke is the most popular activity for entertaining in Vietnam. You can book a private room and sing along together with your friends. Endless choice of song lists with snacks and beers are waiting for you in the room to satisfy all your needs for a fun Karaoke night.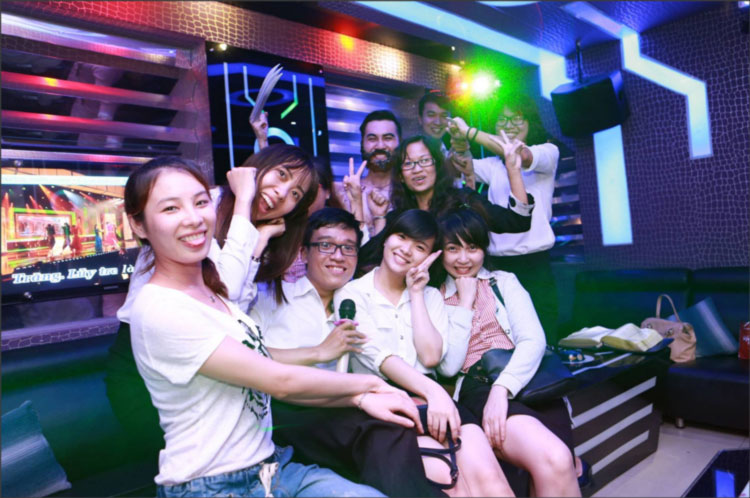 Here are our recommendations for Karaoke:
Karaoke ICOOL: 177 Tran Binh Trong Str, Ward 3, District 5 (Cash only)

Nnice Karaoke: 340 Nguyen Thi Minh Khai Str, Ward 7, District 3

Fyou3 Karaoke: 519 Su Van Hanh Str, Ward 12, District 10

Karaoke Viva: 364 Ung Van Khiem Str, Ward 25, Binh Thanh District