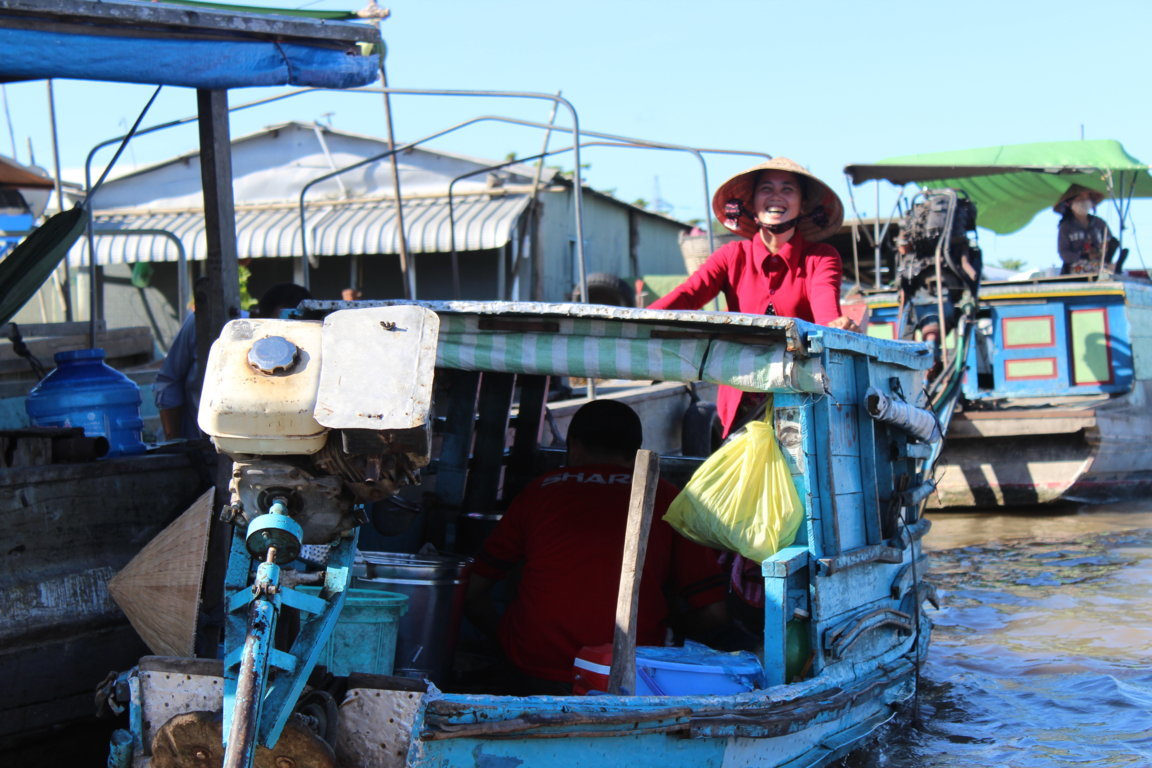 Amid mighty rivers and dense mangroves, the busy floating markets in Vietnam's Mekong Delta have long shaped the delta's well-known "water civilization. No one knows exactly how old the delta's floating markets are, but some historians believe they have flourished since the Nguyen Dynasty in the early 19th century. Since then, they have long been major markets, sustaining thousands of floating lives.
If you have found your way to Mekong Delta, you cannot afford to miss floating markets or "Chợ Nổi". Floating Market is located in inter-connection of big three rivers of Mekong system in the Western area. Since rivers are the main way of transportation, ferries and boats are very popular for traveling, transporting and trading. Chợ Nổi which is a vital part of daily living in Mekong Delta, is busiest market in this area. Gradually, people gathered together at one or some certain places on the river to sell fruits mostly picked from their own gardens. In high season of harvest, there are thousands of boats and ships full of fruit and vegetables, flowers, and handicraft products, gather to trade their various goods, making for crowded and frenetic scenery to make business by selling foods, goods which had been brought from other places.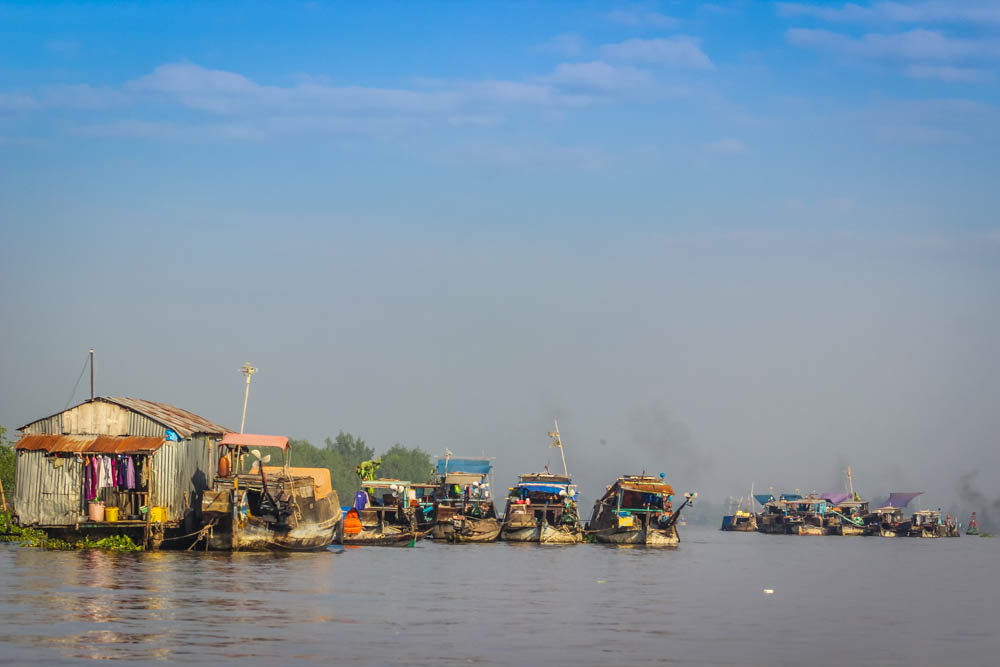 As one of the largest floating markets in Vietnam's Mekong Delta, Cái Răng, where around 350 boats sell a variety of fruits and vegetables among other things, attracts 500-700 tourists every day, most of them foreigners. The bustling commerce of these "floating towns" stands in contrast to the languid and quiet lifestyle in the countryside along the river banks. More importantly, however, the cultural and historical values that the markets reflect are considered a key to understanding the Mekong Delta inhabitants' identity and traditions.
Another noticeable feature of the floating market is cuisine in southern of Vietnam to call 'Hu Tieu". If you ever have a chance to visit, do not forget to spend your early morning absorbing the whole atmosphere, floating across the river, listening to a couple of folk songs and appreciating the colourful "Ao ba ba" – the traditional southern Vietnamese garments and having 'hu tieu' on boat.
The local people, as they stumble from boat to boat, they often interrupt their shopping to enjoy bowls of  Hu Tieu prepared, rather alarmingly, on open fires in special "fast food" sampans or beverages in smaller rafts serving as mobile service.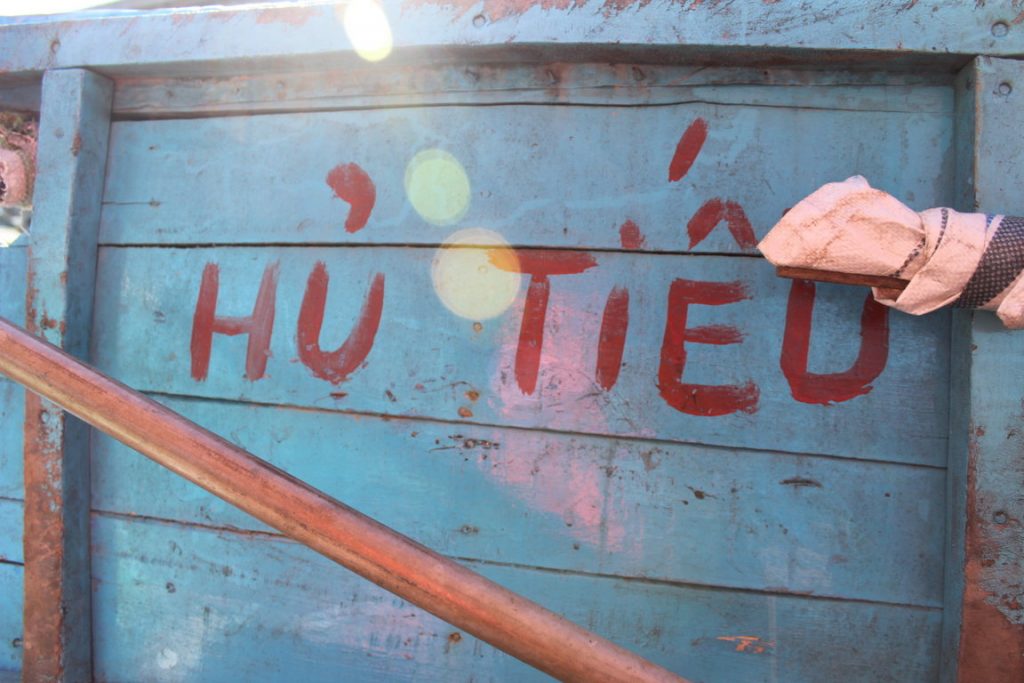 Additional, it is a feature of the floating market is "Cây Bẹo". This is a small pillar which is put in front of every boat. What can be bought from the boat will be hung on the small pillar as a notice sign. Of course they cannot hang on a bowl of noodle; therefore, if you want to eat, you should look for the smoke and the delicious smell . :D :D
Hủ Tiếu is one kind of noodle with soup which is typical of the South of Vietnam. If you have visited floating market, you would never forget about the smell of Hủ Tiếu in early morning in middle river. Especially, the way you enjoyed Hủ Tiếu that you were in a small boat among of nature, smell Hủ Tiếu intermingling with laugh aloud in the fullness of seller like - Mr Tèo.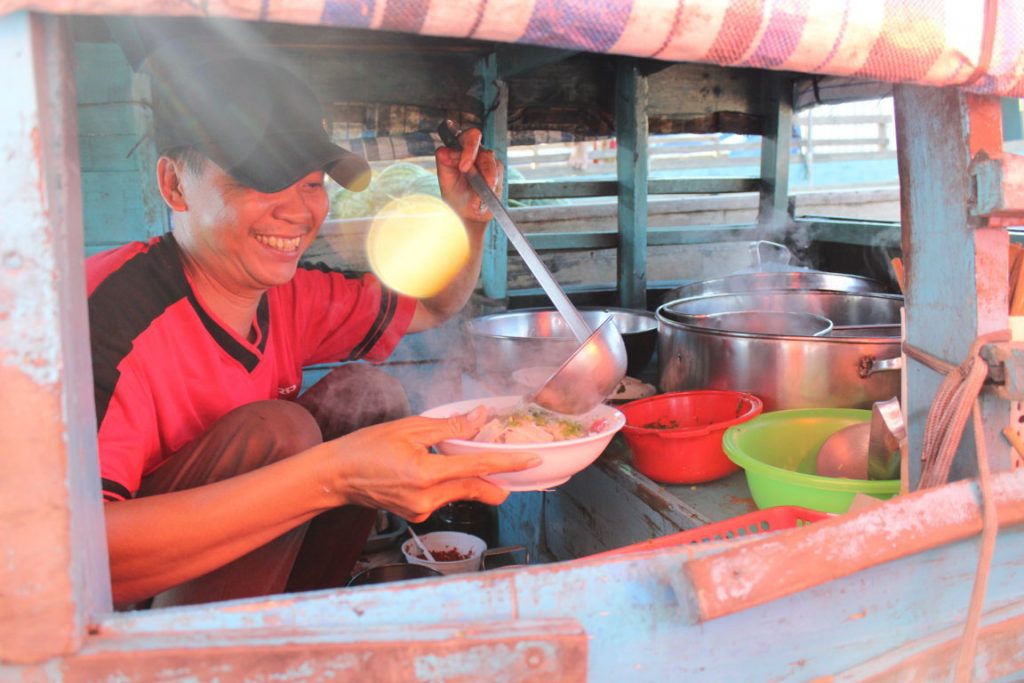 While he's making Hủ Tiếu for me, Mr Tèo shared: "I've helped my father since I was a boy. It is my family business since my grand-father. Then I had been taking part after my father until now it's nearly 20 years. It is my main business with my wife to earn money for alive of a family with four children". Mr Tèo is living in a town far way to Cái Răng about an hour by boat. He sells Hu Tieu here from 4am to 8am every day.
I asked Mr Tèo: how to cook Hủ Tiếu? He said: It's not too difficult to cook it but how to make it being special that is a tip. I wake up at 2am every day to prepare of cooking Hủ Tiếu. I start my business right from first moment of sunrise, boats start gathering and kicking off their daily trading activities. A floating market usually starts at 4 or 5 in the morning before dawn and ends when the sun rises high at 9 or 10am.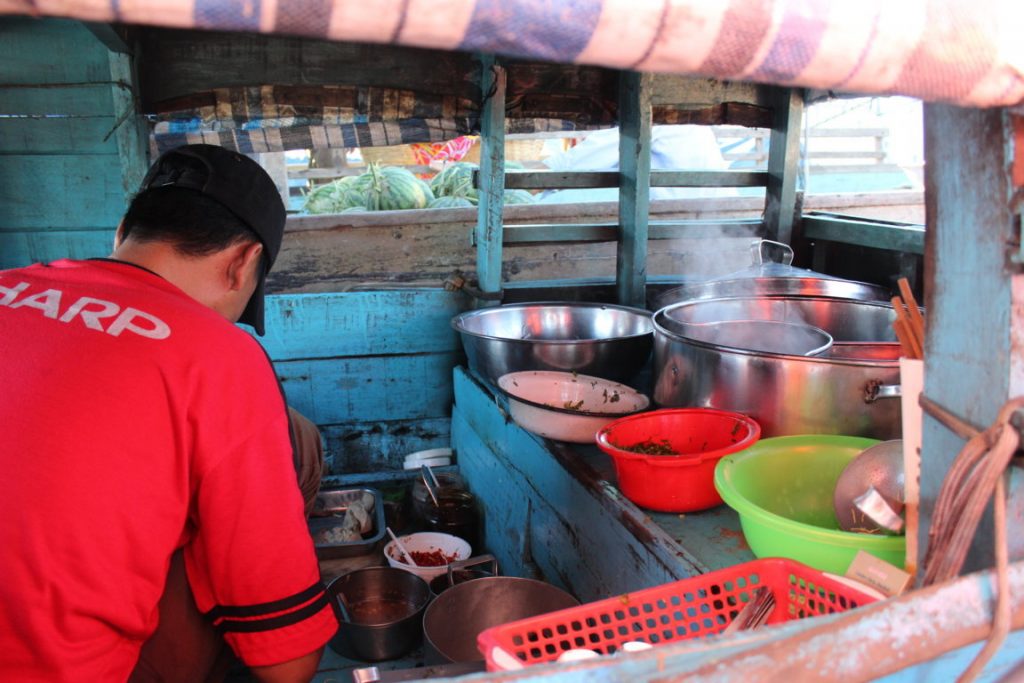 Hủ Tiếu has the ingredients: marrowbone of pig, squid, shrimp, lean meat, spring onion, coriander, chervil and dry onion. Let make step by step as:
Step 1: A marrowbone of pig is simmered the stew for an hour until you get the sweet soup.
Step 2: you pour soup in a bowl, put dry onion with marrowbone of pig to fry with spice. You should taste it suitably your flavor.
Step 3: You pour a soup into the mixed above, and continue simmering in stew for 30 minutes. Onion will make smell of soup becoming good.
Step 4: You boil lean meat and squid, shrimp, then cut it small and slim.
Step 5: Noodle is cooked half-done, put to bowl. Then, put lean meat, squid, shrimp, spring onion, chervil, coriander on top and then pour soup into.
Now, you have on your hand a bowl of Hủ Tiếu with fresh bean-sprout, herb, lettuce, lemons and chili sauce. It is very interesting to try to manage the chopstick and soup bowl while paddling along the river. Surely, it will be the best memory in your life.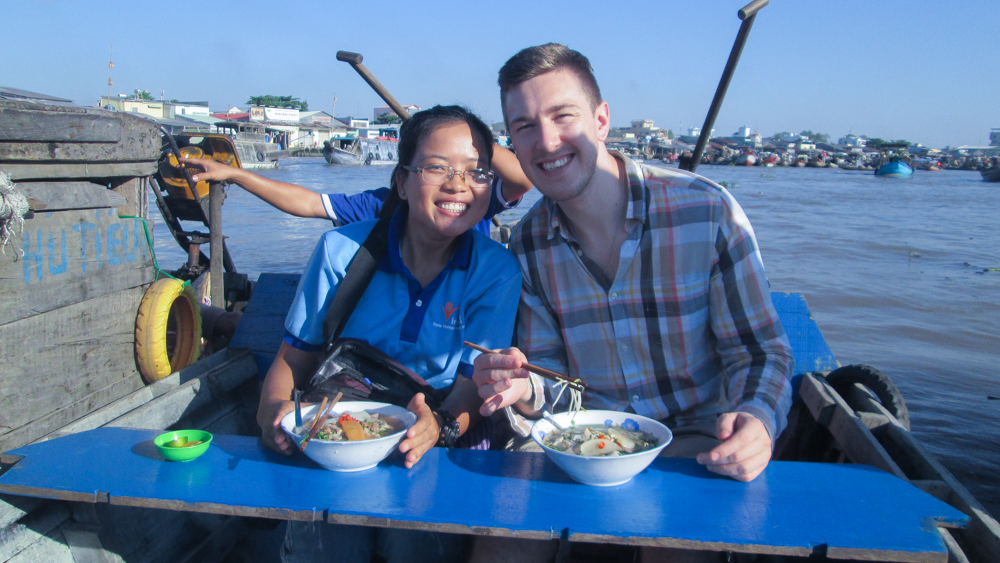 While visiting Cai Rang market, you will become immersed in the true spirit of commercial water culture. All that remains for you to do is to enjoy the floating feeling, watch the sunrise behind boat roofs and get a feel for the busy local life. You won't only have the goods you bought, you can also understand the real local living through of seller by their sharing as friend. That is most of highlight for everyone joining in the market, likely you are living here as their neighbor. You leave floating market with a lot of sense and will miss Hu Tieu, miss A Tèo and smiling of people here in the rest of your time. You will feel yourself blending into mixed crowds of locals who keep smiling yet never give up on bargaining.