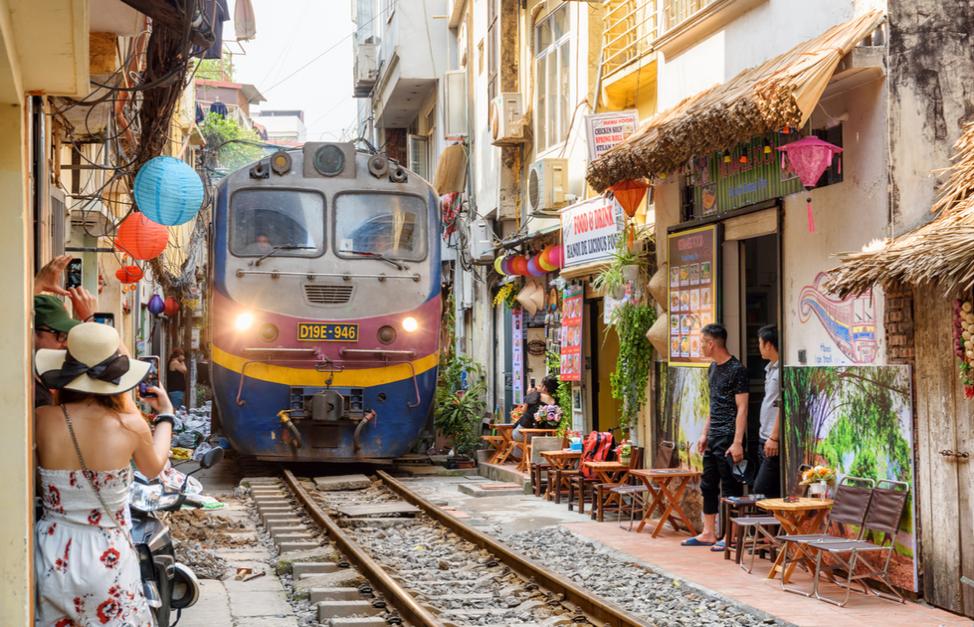 Coffee is the prominent drink among Vietnamese people. We enjoy it whenever and wherever we are. It never goes out of style. The coffee shop is the booming industry in Vietnam. You can have countless ways to relish a cup of coffee ranging from sitting on the plastic tool on the sidewalk to relaxing on the comfortable couch in the boutique coffee shop. Each style has its own color that can optimize your coffee experience.  But drinking coffee near the railways will bring you a unique experience (thrilling and exciting!) that you won't forget. 
Standing 50 centimeters away from the railways, you can even feel the breeze made by train when it passes by. It is a strange location that doesn't look like anywhere else but this is how it keeps people coming to catch that captivating moment.
The Hanoi train street is located between Le Duan And Kham Thien street in the old quarter. It is over hundred years old and now has become a main attraction for tourists. They come not only to catch the moment when the trains are running through the dense neighborhood but also to discover the local lifestyles that rarely reveal to outsiders in front of the public. 
However, sitting close to the running train is not a good idea so be aware of the potential risks and make sure that you follow the local reminders about safety notes.
More local travel information, read our Vietnam off-the-beaten-track destination guide in here 
Uncover new and exciting adventures in Vietnam by taking part in our small group tours. Go sightseeing at your own pace surrounded by travellers like you.Visit our booking page