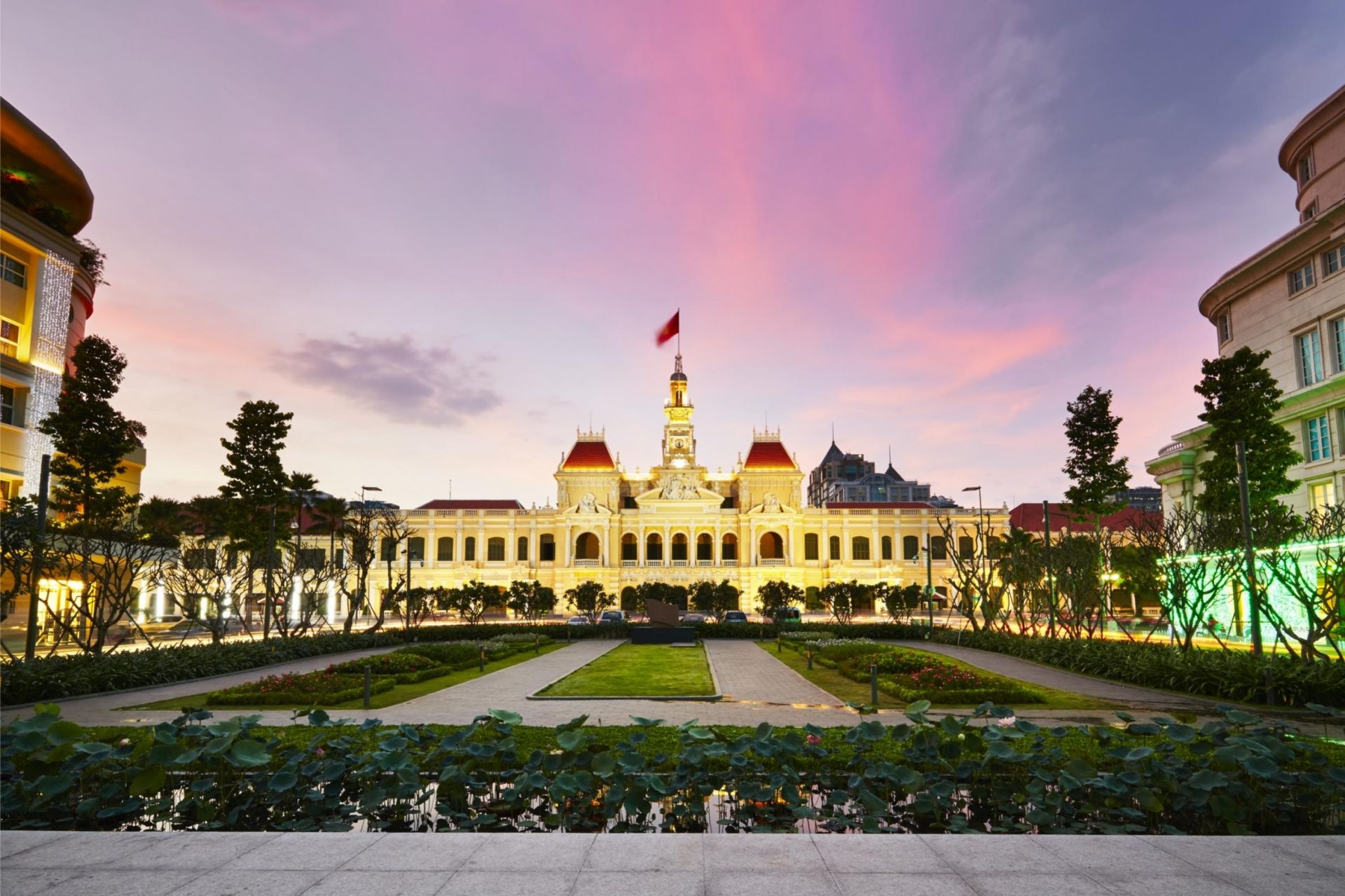 What to Do in One Day in Ho Chi Minh City
One day in Ho Chi Minh City
gives you just enough time to get a taste of the bustling metropolis formerly known as Saigon. Plan carefully and you can check off the city's signature attractions, feast on Vietnamese food, and travel back in time to the Vietnam War at the notorious Cu Chi Tunnels. Here's how to make the most of your time:
Let's go shopping at Ben Thanh Market. Time needed: 30 minutes-1 hour. If you want a tip how to shop as a local in Saigon. Read this blog


Address: Chợ, Đ. Lê Lợi, Phường Bến Thành, Quận 1, Hồ Chí Minh 700000

Opening Hours: 7:00am-7:00pm

Visit the Central Post Office, Notre Dame Cathedral, and Book Street. Time needed: 1 hour.


Address of Notre Dame Cathedral: 1 Công xã Paris, Bến Nghé, Quận 1, Hồ Chí Minh

Opening Hours: 7:00am-7:00pm

Take a lunch break. Time needed: 1 hour. You can take any local food in Saigon, but this is our local favourite: 


Bánh Khọt Cô Ba Vũng Tàu – Interested in trying sizzling Vietnamese pancake (bánh xèo) and sizzling mini pancakes (bánh khọt)? This restaurant is a great introduction to these Vietnamese foods. You get the opportunity to wrap your pancake with fresh herbs and lettuce and dip it into fish sauce. Yum! This place is a 10-minute walk (600 meters/.38 miles) from the Central Post Office.

Address: 40B Trần Cao Vân, Phường 6, Quận 3, Thành phố Hồ Chí Minh, Vietnam

Walk along Nguyen Hue Street.

Time needed: 30 minutes-1+ hour
From the walking street, you can explore other areas based on your interest. Visit the statue of Ho Chi Minh with the People's Committee of Ho Chi Minh City building in the backdrop. Pass by the Saigon Opera House. Head to the Saigon River and walk along the riverfront. Stop by Saigon Centre for department store shopping or head to the basement level for Japanese cuisines and sweets. Walk up or take the elevator to the Cafe Apartments for drinks or shopping at boutique stores. Visit Bitexco Financial Center's Saigon Skydeck to check out an observatory deck.

Take a coffee/tea break. Time needed: 30 minutes
Enjoy the evening either on a food tour or at a restaurant.
If you want to take the tour, here is the suggestion for you: 
Experience Saigon's nightlife like a local.
Have a surprise 3-hour walking around Saigon's alleyways to reach hidden places frequented by local patrons.
Enjoy sightseeing Saigon and sampling delicious street foods (snack, dinner & dessert).
See nighttime Saigon at its best from one of the riverside viewing spots.
Capture the most incredible photos of the surrounding scenery.
Enjoy panoramic views of Ho Chi Minh City at Saigon Skydeck.
Travel in Vietnam 2022 and want to join Vietnam small group tours. Check it our this blog