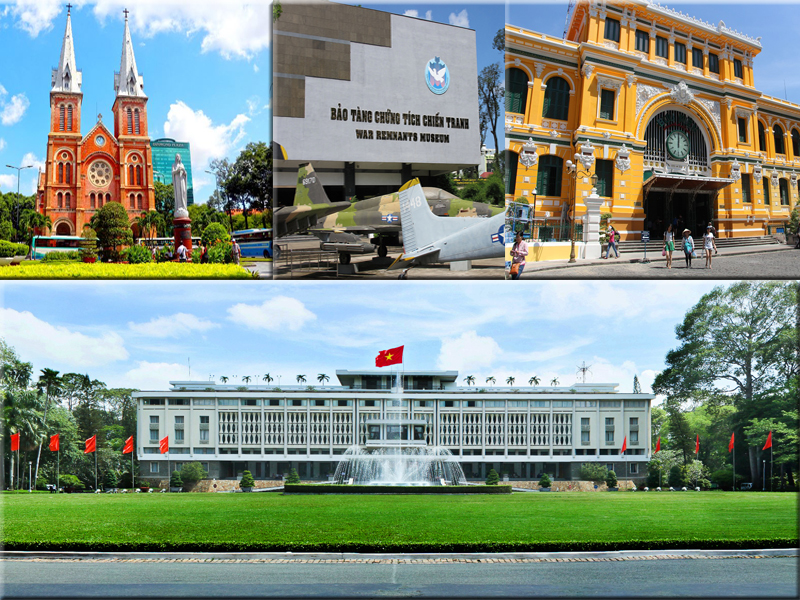 2 Days in one of the best cities to visit in Vietnam: Ho Chi Minh City
Welcome to sunny and tropical Ho Chi Minh City, known before 1975 [the reunification of Vietnam] as Saigon! Forty-seven years later, the megalopolis, listed as one of the most dynamic cities in South-East Asia, has evolved into a busy human-sized beehive in which millions of motorbikes buzz right, left, and center from dawn to dusk. A sight to behold!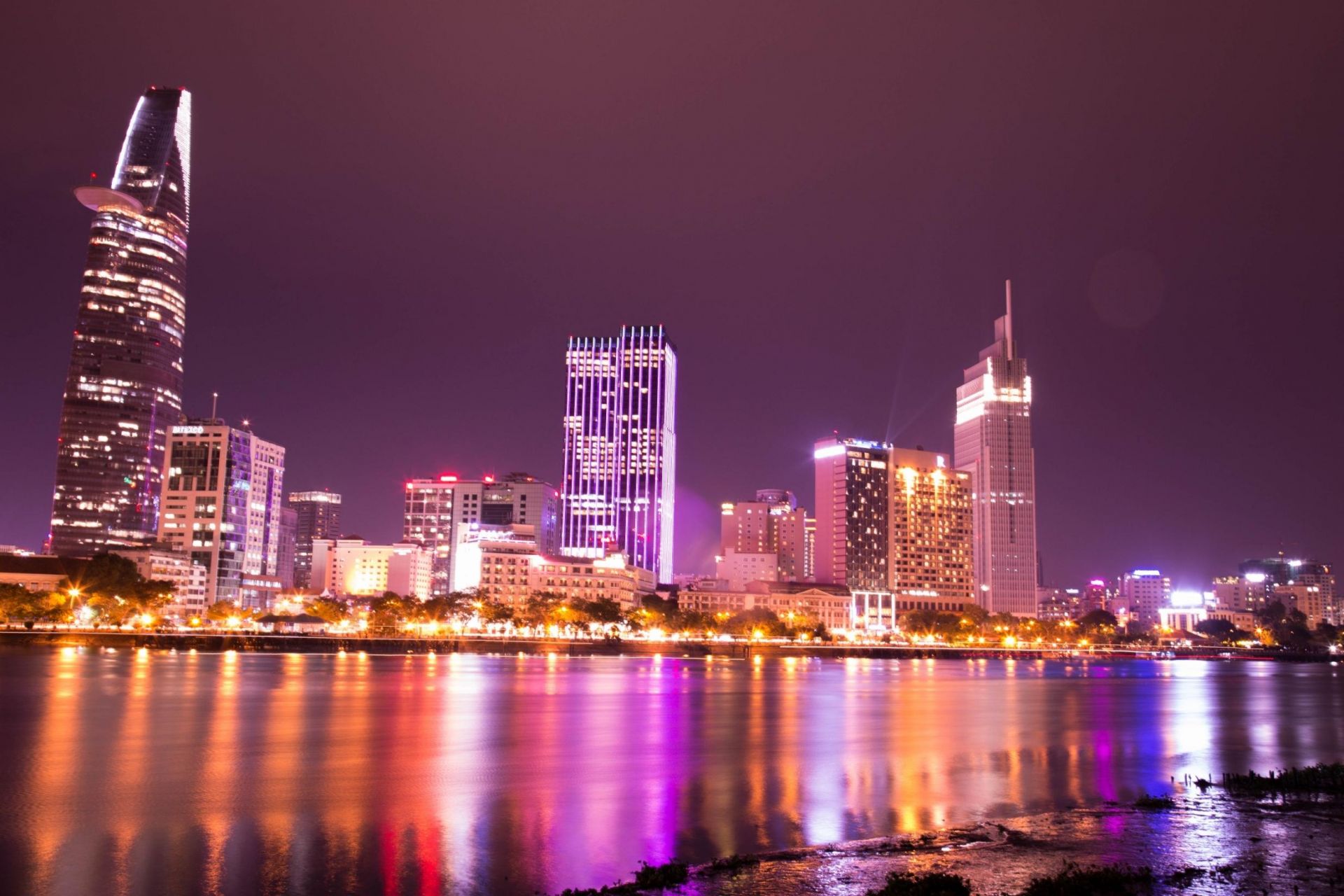 There is a lot to discover in this never-stopping city, and, although two days should suffice to catch a good-enough glimpse of the essentials, know that there is way more to Saigon than meets the eye! Let us, for now, embark on a two-day itinerary through Ho Chi Minh city, shall we? 
1st day: Discovering Ho Chi Minh City Street Food
There is nothing better to start the day off right than an energizing cup of ca phe sua da (Vietnamese cold coffee with condensed milk) and some popular local street food breakfast. You had better eat until full, though, as it will be a long first day!
Fortunately for you, you are spoiled with choice in that regard: you will always find a street vendor selling takeaway coffee along the streets. And if you are not a coffee enthusiast, tra da (iced tea) will do the trick! As far as traditional breakfast food goes, Vietnam has got you covered too: banh mi, for example, the French baguette revisited, or a pho soup are both among  the top must-eat dishes in Saigon. 
One of the staples of tourist attractions you must not overlook! This remnant of Vietnamese military strategy is roughly thirty-five kilometers away from the city center. Half a day generally does it!
During the war, the revolutionary forces of the Vietcongs, hounded by the Americans, used these networks of tunnels to hide and seek shelter. Open today to the public, one can not only witness the ingenuity of the soldiers of the time but also get to feel what sneaking into these tunnels or firing an Ak-47 at the nearby shooting range must have been like.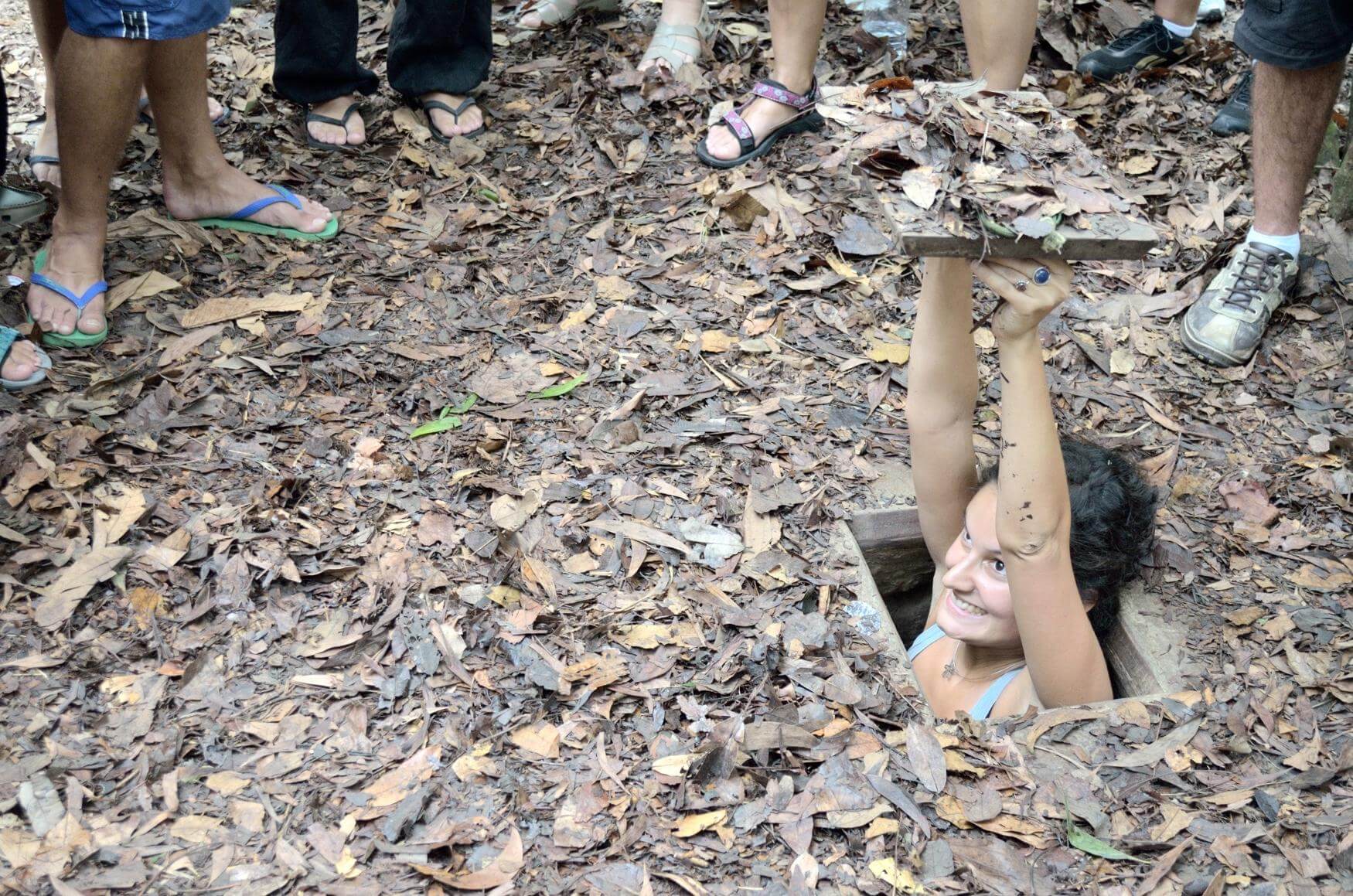 More adventurous visitors might prefer off-the-beaten-path immersion through a private tour to Ben Duoc tunnels, an almost exclusively local-only place, however!

Visit The War Remnants Museum
If you are not faint of heart, wish to complement your visit to the tunnels, and are somewhat of a History aficionado, this museum is for you! While American combat plane models adorn the courtyard, the inside of the building exhibits a series of disturbing photographs retracing the tumultuous war history of the country.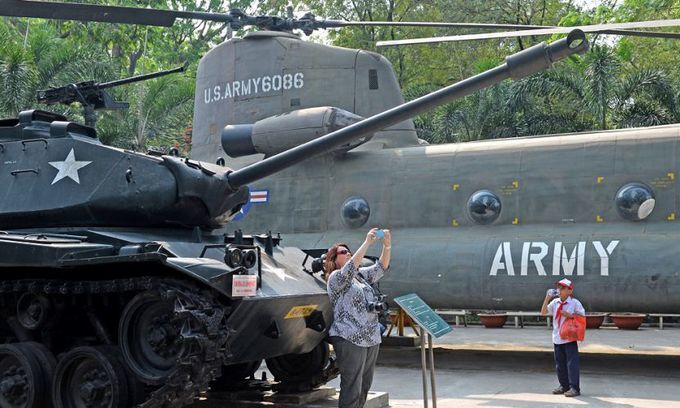 Walk around Saigon: Old French colonial landmarks - Saigon Heritage Walk
While within perfectly-manageable walking distance from one another, if the scorching sun is too much to handle, hop on a Ho Chi Minh City taxi or book a driver through Grab or Gojek - a Vietnamese Uber-like mobility-as-a-service provider. There are many well and lesser-known architectural remnants of French colonial legacy in Saigon, but these are by far some of the most Instagram-worthy buildings in town: 
. The Ho Chi Minh City Hall
Completed in 1909 to embody the seat of the administrative council of Indochina (present-day Vietnam, Cambodia, and Laos),  this beautiful piece of French colonial architecture sits at the very top of the once-famous boulevard Charner, now known as Nguyen Hue.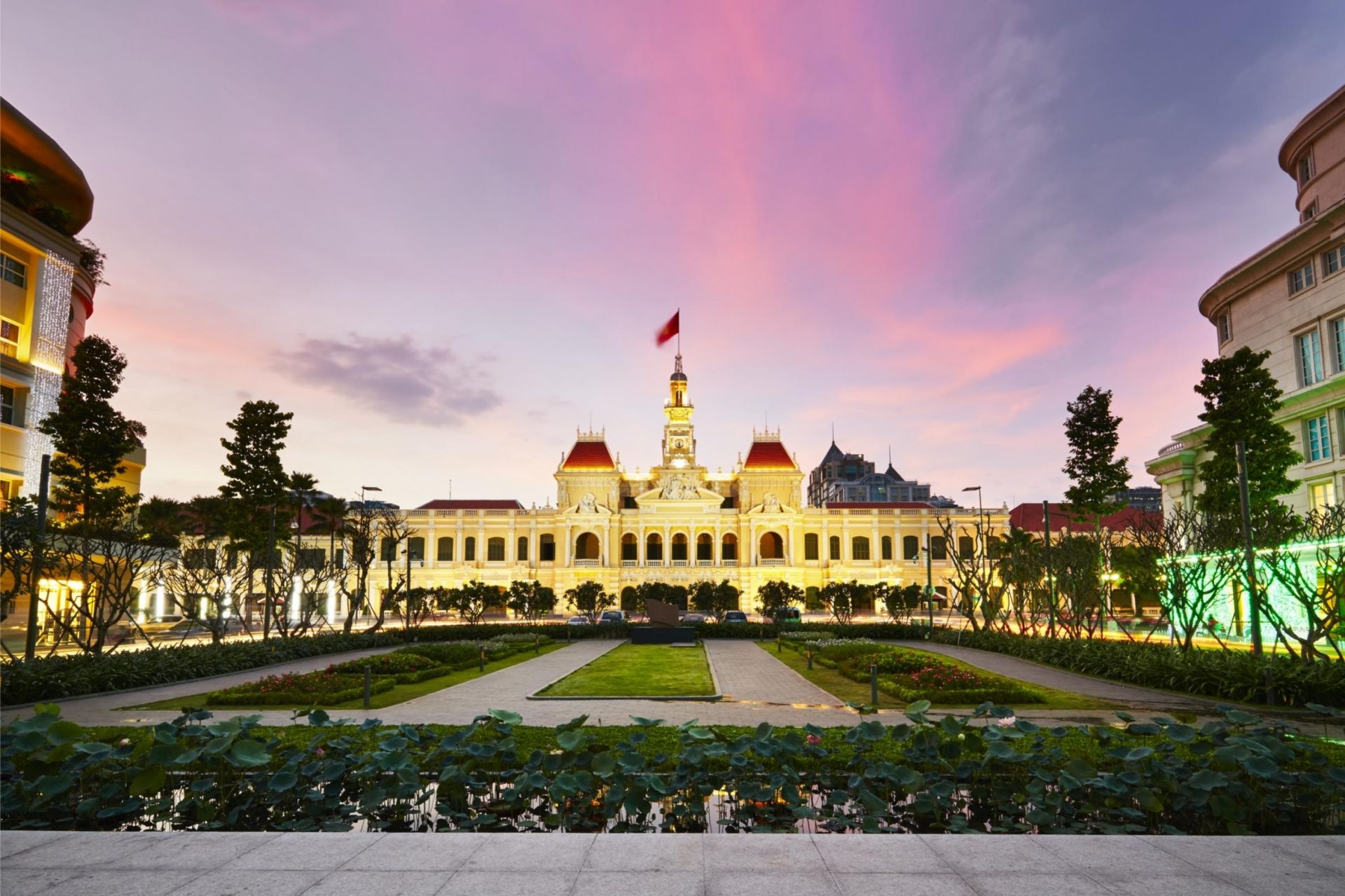 . Notre-Dame Cathedral Basilica of Saigon
Religiously speaking, under the French Notre-Dame was the heart and soul of Saigon. Inaugurated in 1880, Notre-Dame, to this day, remains one of the most beautiful religious buildings in Vietnam. Standing on its pedestal on the forecourt, the Virgin Mary statue, carved in Rome, is dearly revered by the Vietnamese catholic community.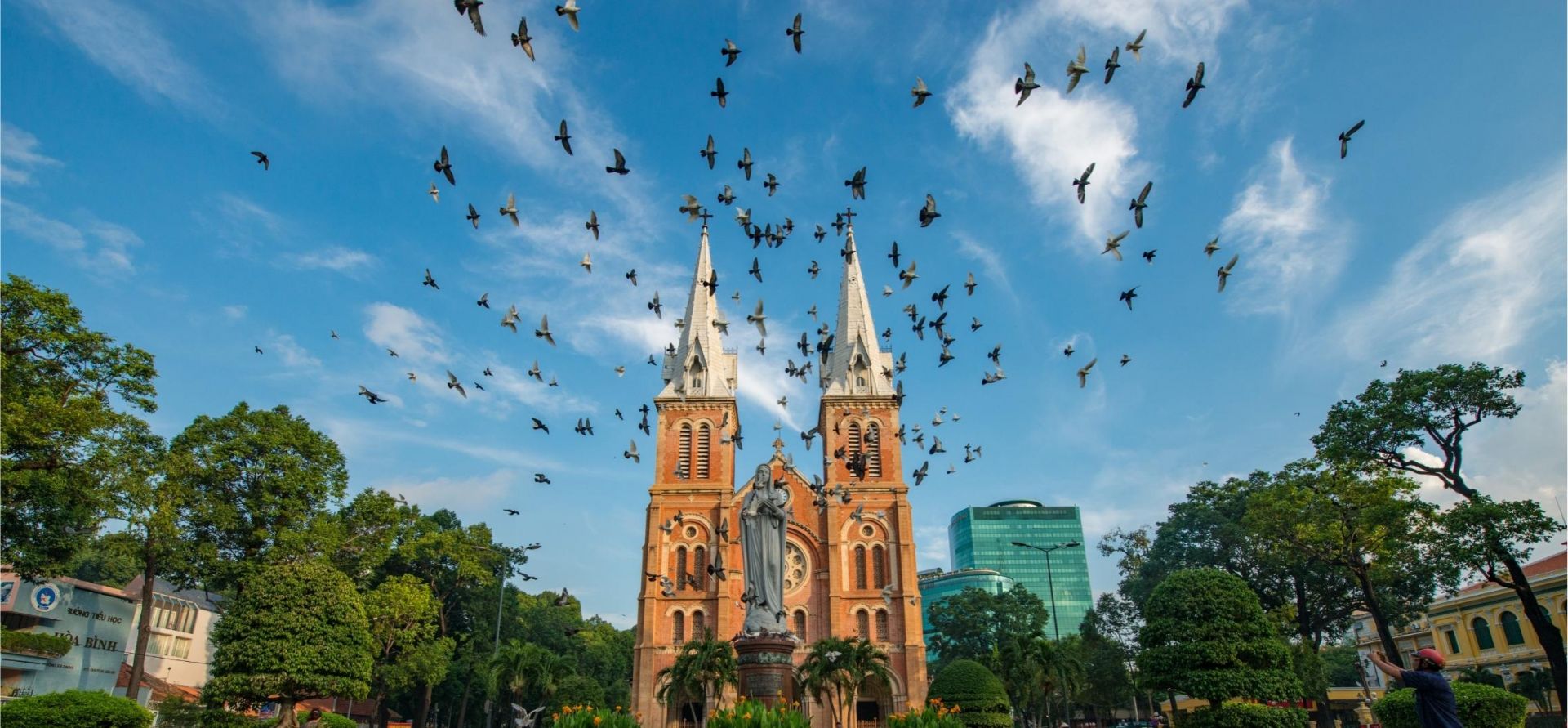 Undoubtedly one of the most well-known architectural remnants of the French era, the Post Office - completed in 1891 - is a prime example of French neoclassical eclecticism, which underlines the desire to erect imposing buildings to the glory of industrial progress. You will be impressed by the massive concrete arches, a building material that, along with steel, cast iron, or glass, is typical of the architecture of this period.
Innoviet arrange unique small group heritage walking tour in the morning and alley foodie walking tour in the evening that you shouldn't miss when you travel in Saigon. 
Weave through the most famously busy Ho Chi Minh market: Ben Thanh
Inaugurated by the French in 1914, Ben Thanh market is by far a central tourist attraction of the city and encapsulates what most large-scale markets - like the Russian market - offer: a wide variety of items, which can range from knick-knacks to antiques, foods to flower bouquets, street food vendors to haberdashers, jewelry to thongs. 
2nd day: The old and the new of modern Ho Chi Minh City
A small city within the city, Cho Lon, called China Town due to its population of predominantly Chinese descent, is located in district five, West of the city center. Both visitors and the Vietnamese roam its streets for tasty Chinese dishes and its old temples. You will most likely spend no less than a few hours there, so do not forget to give dim sums a try before proceeding with your visit to the many temples in the area.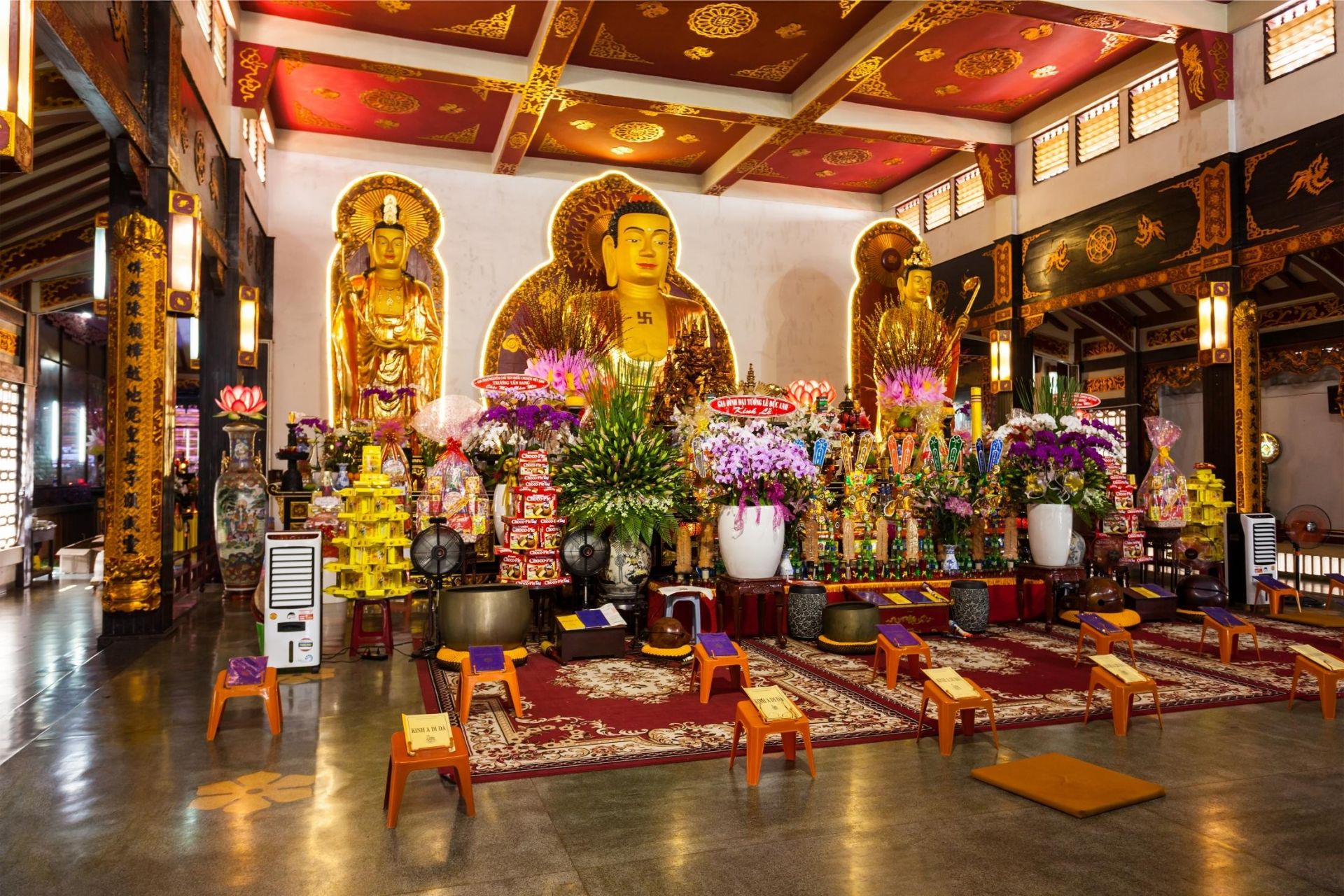 While all unique, the Taoist and Buddhist temples that dot the area vary in age and architectural style. Be sure not to miss two of the most famous Chinese temples on our list of the top 6 most beautiful temples in Saigon.
Go to the Reunification Palace
Remodeled by Vietnamese modernist architect Ngo Viet Thu, today's Reunification Palace had a very different look: it was first designed (1868-1873) by French architect Achille-Antoine Hermitte to house the general government of Cochinchina (southern Vietnam).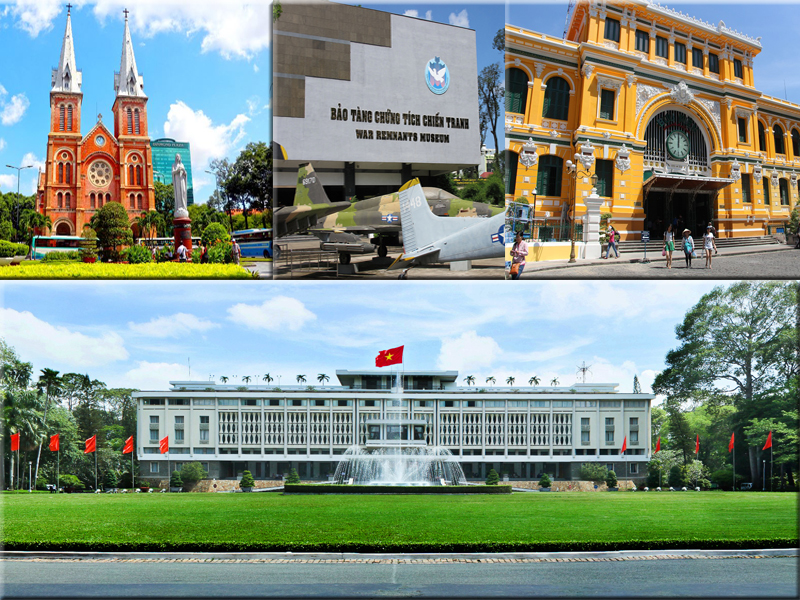 Old meeting rooms, such as the minister's office, can be visited once inside. The basement is also open to visitors, which housed an ancient bunker meant to protect influential Vietnamese political figures from bombings. 
Stroll along Nguyen Hue walking street
At this point, your little Saigon journey will have already made you cover a rather substantial part of the city. Why not cool off and take it slow on Nguyen Hue walking street? This old boulevard is as rich in history as it abounds with cafes, shops, and restaurants.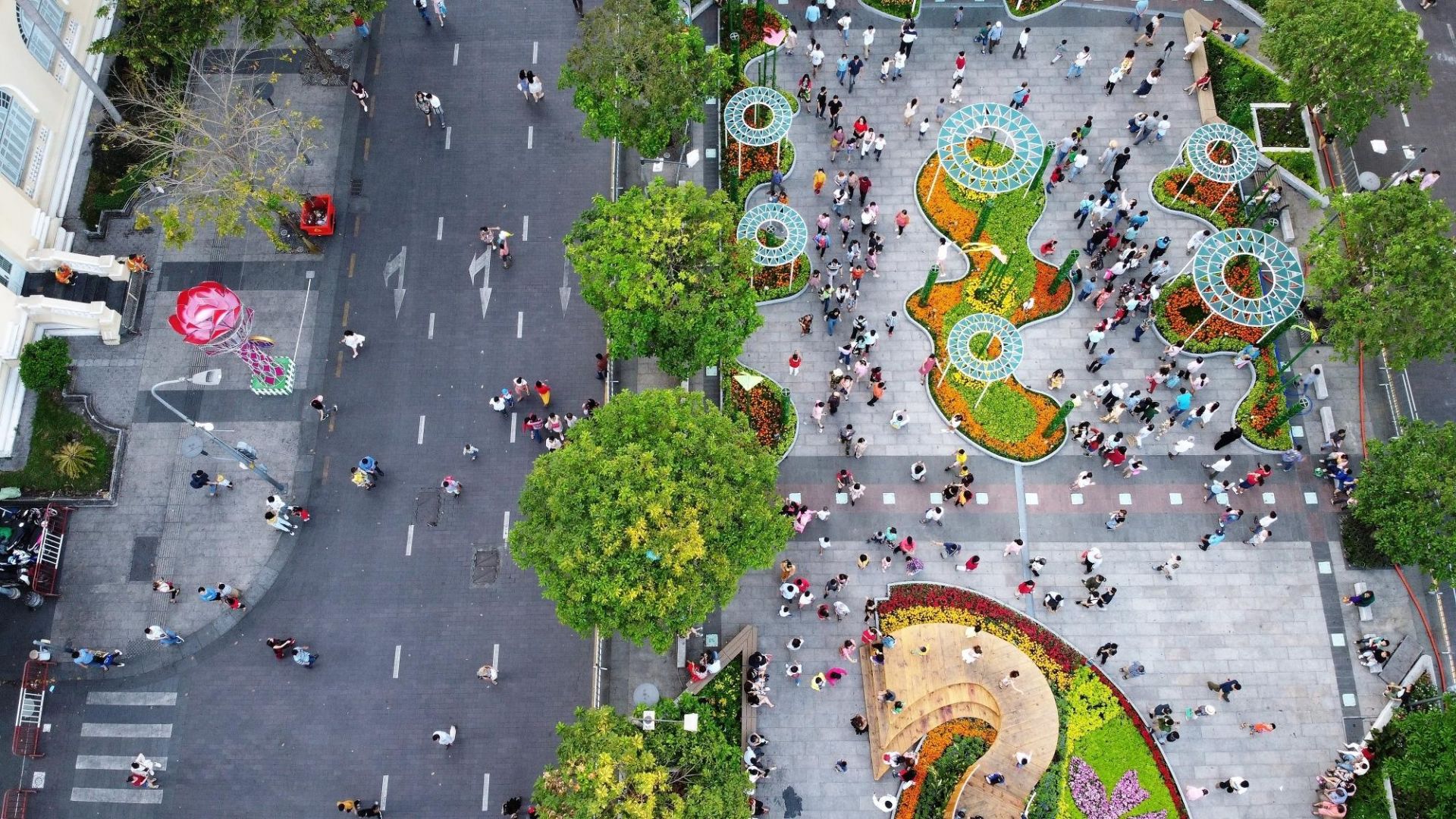 Besides slightly fancier rooftop bars, all big national celebrations have their dedicated event on that street if you are fortunate enough to be around then. Heading toward the newly renovated wharf makes for a pleasant walk as well! On your way down, you will most likely stumble across:
. The Municipal Theatre of Ho Chi Minh City
Yet another beautiful piece of surviving French architecture, the theatre was constructed by Eugène Ferret in 1900. Facing the once-famous Catinat street, the hotspot of the colonial bourgeoisie, the theatre today offers tickets to all sorts of performances.
. Bitexco Financial Tower
If there is any better example, Saigon is a one-of-a-kind city of contrasts,  Bitexco being its modern side, as it has entered the 21st century. You can get atop it provided that you buy yourself a drink. If the view is well worth the trip, nothing quite beats the treat you are in for with your very last stop on your Saigon journey. 
Wanna more fun while discovery Saigon on foot, take the fun race city tour - Amazing Saigon to discover hidden gems and learn about local culture through interesting games.
Enjoy Saigon at night, 400 meters in altitude: Landmark 81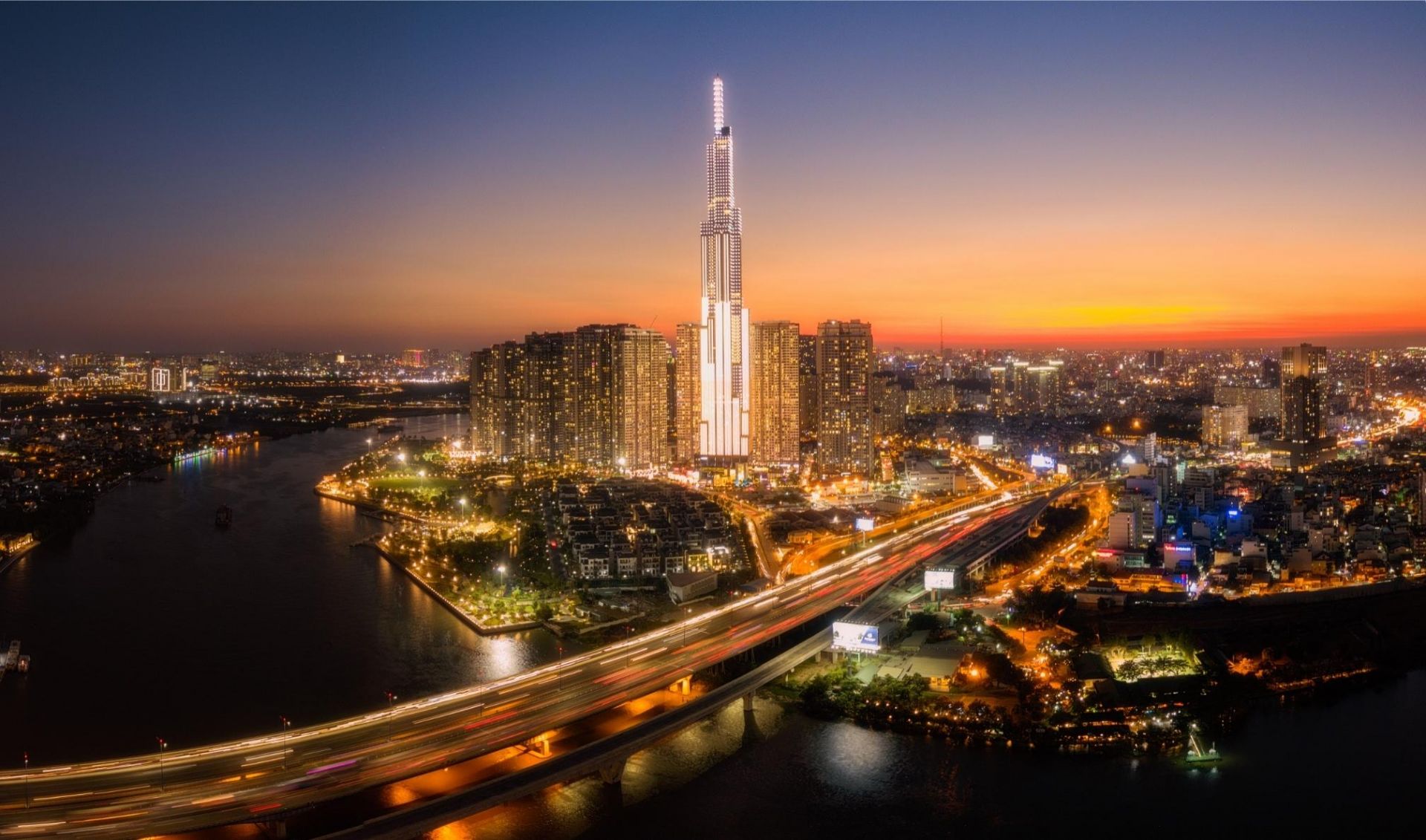 Concluding this article without mentioning the tallest skyscraper in town would have been a letdown. Designed to resemble a bamboo pole, Landmark 81 is a symbol of modern Saigon. Why not take in the view at sunset? Get yourself a drink from the bar a few floors down, have something to eat, and enjoy! And to finish on a high note, save some time for a final walk through the park. 
If you want take the private or small group Saigon City Tour, contact Innoviet right away.