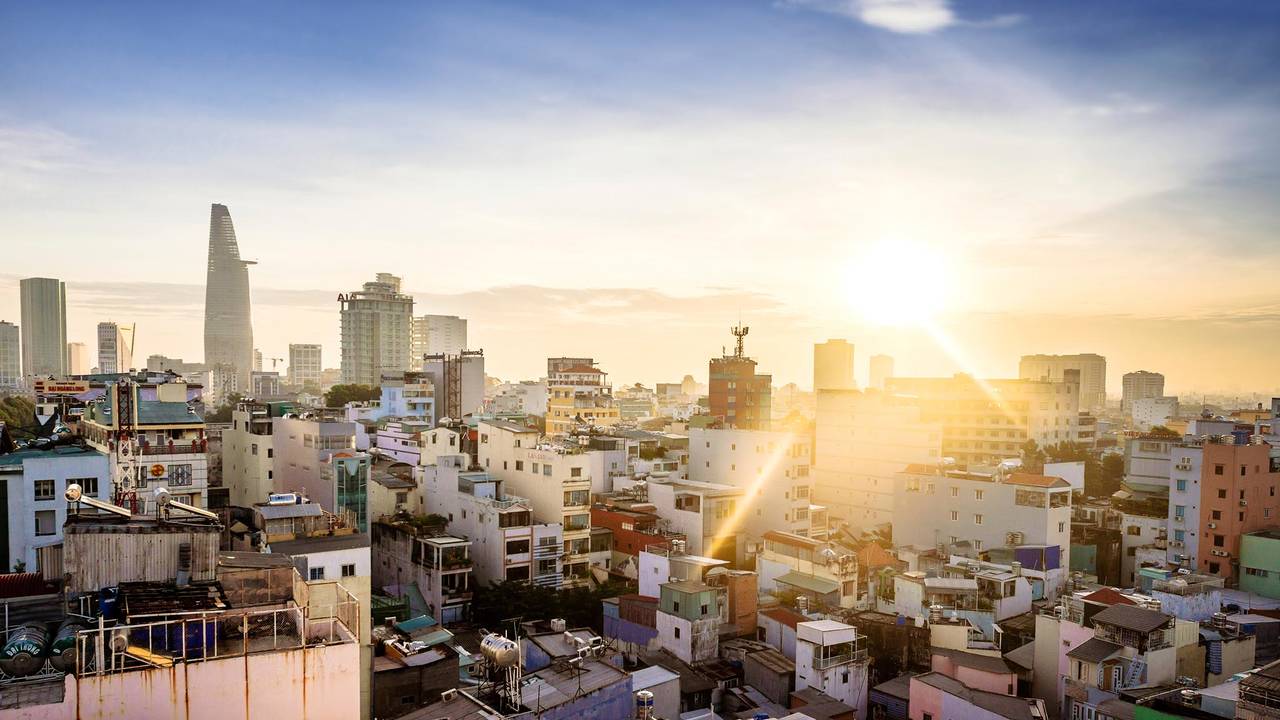 3 Days in one of the best cities to visit in Vietnam: Saigon
Vietnam is a beautiful country with lots of landscape, culture, and cuisine. It takes you nearly 1 month or even more to finish your adventure in Vietnam and that's the reason why you only have around 3-4 days for each destination. Saigon is one of the best cities that you should not miss on your trip and if you are wondering things to do in Saigon in 3 days, do not worry about it, we are giving you an itinerary within 3 days in Saigon. We will provide you with many options so you can be flexible and choose what you want.
Day 1: Explore Saigon Street Food
For example, you arrive at Tân Sơn Nhất Airport at  10:45 AM, the first thing you should do is exchange money and buy a SIM card if you want to use the 4G Internet. Then, catch a traditional taxi/ Grab to go to the hotel that you have booked beforehand. The distance from Tan Son Nhat airport to downtown is nearly 7 kilometers and if the traffic jam is not so bad, it will take you around 30 minutes from the airport to your hotel. Or you can read this blog "Things to do in Saigon in 3 days" during the way back to your hotel to kill time.
After check-in at the hotel, to start things to do in Saigon in 3 days, you must find something to eat. Although Phở is well-known worldwide, it's better that you can taste this authentic dish at its home. How about if you are not interested in Phở, there is plenty of restaurants that you can try under below:
Address: 158 Pasteur St, District 1, HCMC
Telephone: (+84) 909 904 621
Address: 160 Pasteur St, District 1, HCMC
Telephone: (+84) 2838 277 131
After lunch, the program for your trip in the afternoon is visiting some famous destinations in the downtown such as: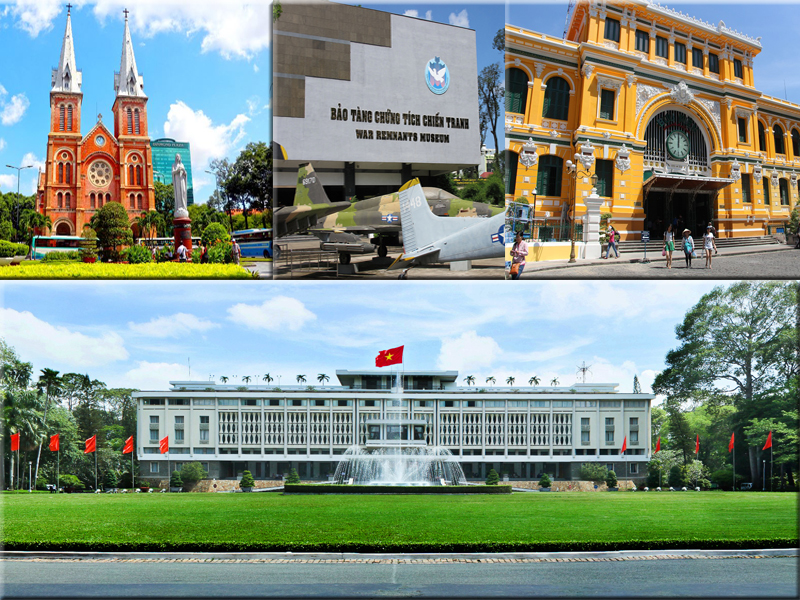 We mention these 4 destinations because they can tell you the story about the history of Saigon during the French colonization time and the Vietnam War. Depend on your schedule, you can choose to skip one of them but we suggest you should visit all those places to know more about Saigon.
In the evening, this is the perfect time for enjoying Vietnamese street food. The best way to enjoy street food is sitting behind the back of local people on a motorbike and let them take you to discover exotic street food store in Saigon. Here are some reliable travel agencies in Saigon can offer that service for you:
After finishing your dinner, if you want to have more fun, why don't you go to small pubs in the Backpacker area (Bùi Viện Street) to immerse into the energetic atmosphere? You can have a beer from the vendor with 75 cent. But don't get drunk because you have to get up quite early for the next trip on the second day. That is the end of the first day in "Things to do in Saigon in 3 days"
Day 2: Visit Cu Chi Tunnels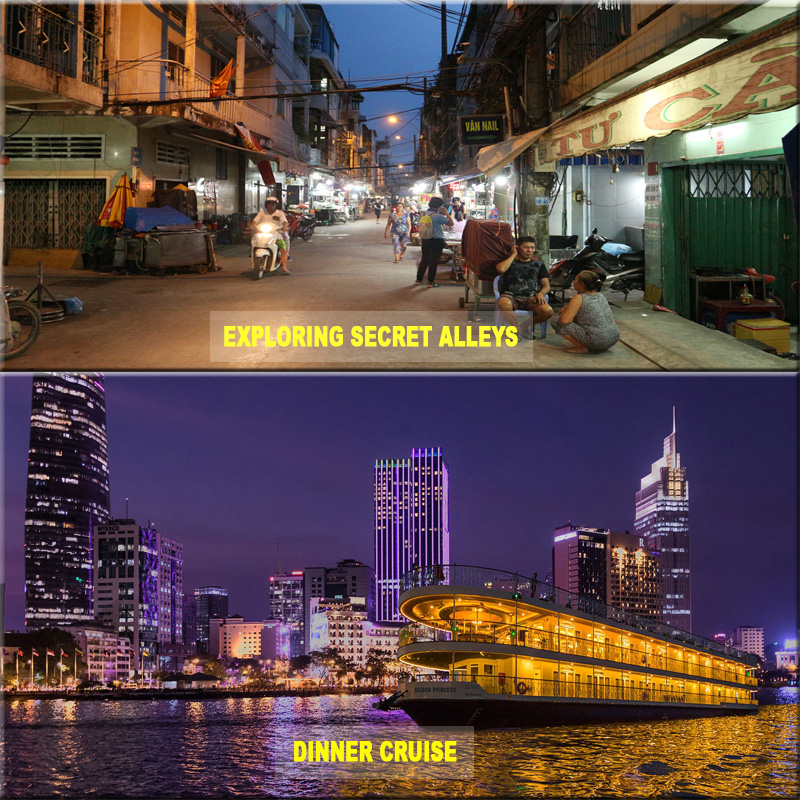 In the second day of "Things to do in Saigon in 3 days", we recommend you should go to Cu Chi Tunnels. You can't leave Saigon without paying a visit to Củ Chi tunnels. This is a whole system of bunker located beneath the ground where VC used to live and fight against the American army and Southern Vietnamese Army. This is one of the most favorite tourist spots in Saigon, around 70 kilometers away from the downtown. Sometimes in high season, this place is full of tourists from all around the world. If you want a different experience with fewer tourists, don't hesitate to contact us. We are ready to offer you a group tour or private Củ Chi Tunnels tour to Ben Duoc Tunnels which is fewer visitors than Ben Dinh tunnels.
Most of the Củ Chi Tunnels tour will start from around 7:00 AM - 8:00 AM and you will get back to your hotel around 2:00 PM - 3:00 PM. After visiting Củ Chi, you still have many options for evening activities. Exploring hidden local alleys or having dinner on the cruise. It's your choice, let's make sure that our product "Saigon Hidden Alleys" is always available if you book beforehand. The tour will start at 4:30 PM and finish at around 8:00 PM. When you complete the tour, you still have time for visiting night flea market located next to Bến Thành Market.
And if you want to eat your dinner on a cruise, you can book it from other travel agencies in Saigon easily like Asiana Link Travel, A Travel Mate, etc.
It is the end of the second day of "Things to do in Saigon in 3 days". One more day in Sai Gon journey is still waiting ahead.
Day 3: Immerse your self in the Can Gio Mangrove Forest
Depending on your interest, you can choose one option suit to your schedule to finish your journey. There are 3 options as follows:
Option 1: Exploring Can Gio Mangrove Forest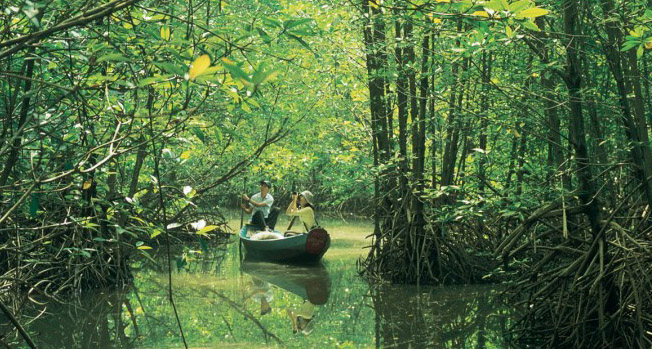 Transport recommendation: Motorbike or public bus
Can Gio is an outskirt district of Saigon, 70 km away from the city center where regarded as the green lungs of Ho Chi Minh city. You can probably hire a motorbike then ride it to Can Gio. Do not worry about getting lost, it is a one-way route to get there along to Mangrove Forest on the street. Otherwise, taking the bus No. 75 from 23/9 Park station to get to Can Gio but do not forget let the driver know to drop you off at Can Thanh station. Learn more the bus route here.
7:00 AM: Depart to Can Gio and it costs nearly 2 hours to get there from the city center.
Can Gio is known as the home of monkeys. Therefore, do not surprise when monkeys are following you when you are on the island.
**Please note that the baby monkeys here are extremely naughty, so let's keep your properties inside your bag. They usually tease you by taking your personal things even your glasses and then requesting to eat a sweet ice cream**
9:00 AM - 11:30 AM: Enjoy the activities in the Monkey Island
The entrance ticket: 35 000 VND / person
On the island, you not only can encounter monkeys but you can also observe the Rung Sac Guerilla Base by motorboat as well as the saltwater crocodiles. The capacity of a motorboat is 8 persons (600 000 VND / boat), you can share the cost with others.
Next stops are the Rung Sac military bases where reflects the revolutionary bases during the Vietnam War. It exposed to visitors the way of living and fighting within facing the death of  VC on these difficult days.  
12:00 AM - 1:00 AM, it's time for lunch, you can buy fresh seafood at the Hang Duong local market and ask them to help you cook it and then enjoy it at the beach. It just takes 30 minutes from  Monkey island to Can Gio local market.
1:00 PM - 3:00 PM: Take a rest and relax at the 30/4 beach.
3:00 PM - 5:00 PM: Back to the downtown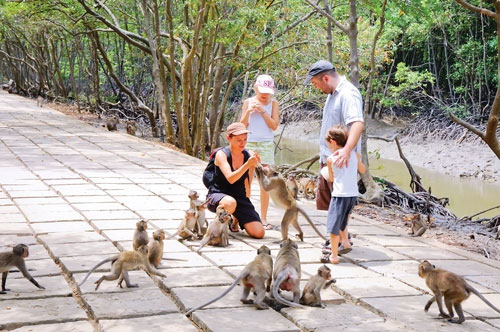 Option 2: Chinatown and  Saigon Walks
In this option, I will take you to a peaceful destination to explore the basic routines and spiritual life of the locals.
Although Saigon is a gem of Vienam with modern buildings and vibrant life, a simple life still hidden in it. Let's go to live this life with us!
Transport recommendation: on foot + motorbike
Starting your day at 7:00 AM by walking around Tao Dan Park to see the bird lovers who take their birds to exhibit here. In addition, you can enjoy the fresh air, take a seat with a cup of hot coffee and see the unique birds species. It will be more crowded during the weekend. To get more energy for a long day, you should fill your stomach first with The Pho Minh - the beef noodles from one of the oldest stores in Saigon.
The next stop will be the spiritual place- the Mariamman temple. The temple was built in the early 20 century for serving practices of Indian in Viet Nam, it still remains today. They come here to pray for happiness, luck, good things and health.
Following that, make your way to Le Cong Kieu Antique street to contemplate ancient items. To continue the journey, walk down Dan Sinh market to see army items such as hats, uniforms, and Zippo lighters, etc. in the 90s. They are strong evidence of the existence of the American Army in Vietnam. 
Out of the city center, you should take a motorbike (Grab or Go Viet) to Chinatown (district 5). The 100-year-old Hao Si Phuong alley will be your first place. It will take you back to Saigon in the 90s and re-live in that times. Next, go on to the colorful Soai Kinh Lam market where the fabrics and clothing materials are displayed and sold. Then, the Chinese Tien Phat restaurant is one of the good places to have lunch at 11:00 AM.
The final destination is Thien Hau Temple, you may learn more about the Chinese lifestyle in the assembly hall. After all, you can take a motorbike to go back to the city center at around 2:00 PM. That's the end for option 2 of "Things to do in Saigon in 3 days"
Please see more the address as follow: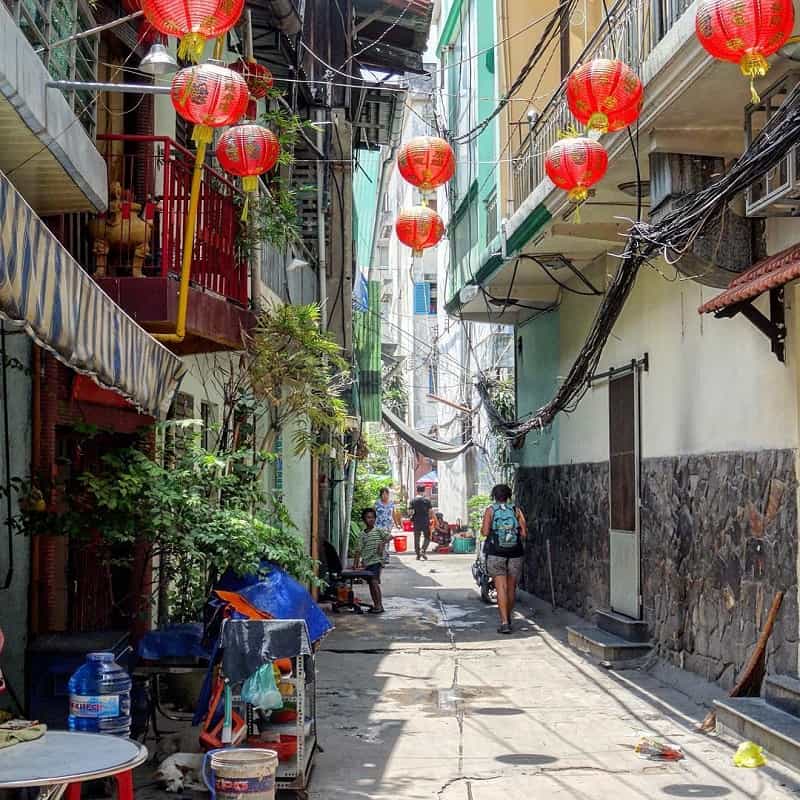 Option 3: Cooking Class
The final activity for "Things to do in Saigon in 3 days" is the cooking class. If you already fall in love with Vietnam cuisine, don't hesitate to join a Vietnamese Cooking Class and make some authentic Vietnamese dishes with local ingredients on your own. After the cooking class, you will be given the recipe book by the chef to bring it back home and remake it again at home. Time for cooking class is around 4 hours in the morning so it will suitable for people who don't have so much time on the last day. And that is the end of the things to do in Saigon in 3 days.  Some recommended cooking classes that you can have a look:
Address:

1st floor, 114A Tran Quang Khai, Tan Dinh Ward, District 1, HCMC

Hotline: 090 66 323 11
Address:

6/28 Cach Mang thang tam Street, Ben Thanh Ward, District 1, HCMC

Telephone:

+84 97 551 30 11
Address: 71-75 Hai Ba Trung Street | District 1, 3rd Floor Over XU Restaurant, HCMC

Telephone: +84 28 3827 492
Mai Home - The Saigon Culinary Art Centre
Address:

269 Bis Nguyen Trai Street, Nguyen Cu Trinh Ward, District 1, Ho Chi Minh City

Telephone:

+

84 28 3838 6037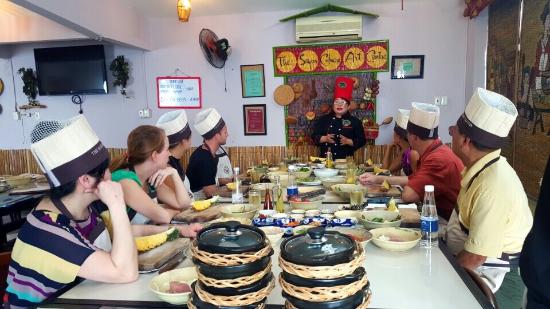 Besides "Things to do in Saigon in 3 days", why don't you have a look to "Top things must do in Mekong Delta"? If you will travel Vietnam soon, visit our tours to get the promotion for our blog readers here.