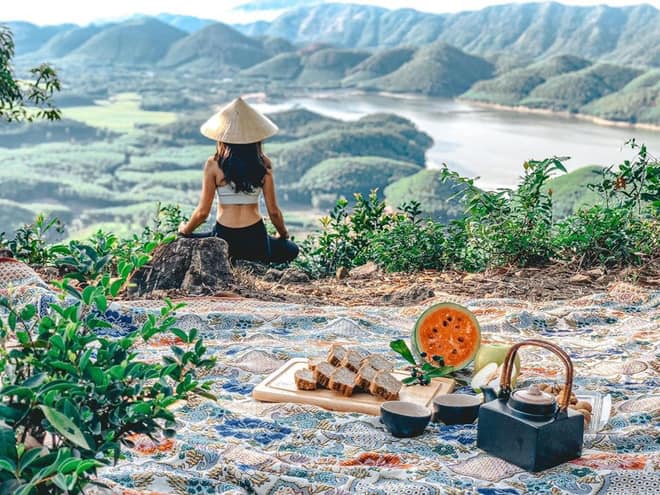 Located in Huong Ho commune, Huong Tra district, Hue, Hon Vuong mountain has gained popularity among Hue youngsters who do trekking. Though it is 15km away from the city center, the Hon Vuon is still a rare sight that is not influenced by tourists.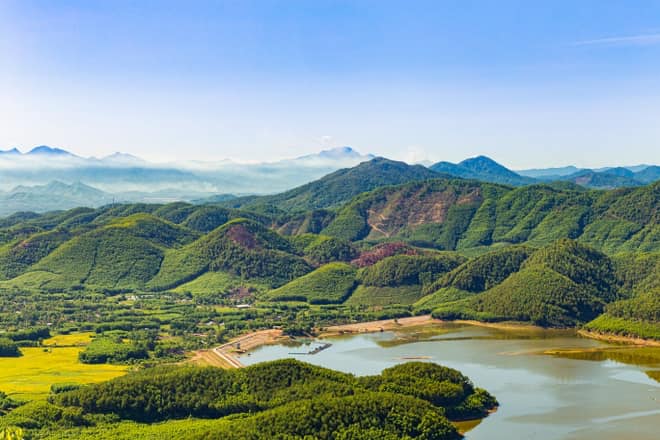 Getting to the top of the mountain, you can reach the astonishing view of nature where the blue sky with fluffy white clouds meets the lush mountain. This exquisite nature image is promised to be the highlight of the trek. The paramount Hue view will instantly pop up in your eyes.
Imagine sipping a cup of tea and enjoy this view. It is worth everything.
So to get there?
From the center, go straight to Thien Mu pagoda. When you meet Xuoc Du bridge, keep riding about 1 km to reach Dong Cham Village. From this, you should ride 3km to get to Huyen Khong Son Thuong pagoda. Then, you can start the trek.
If this is the first time you come to visit Hue, the best idea is to look for a local to go with you. The trek costs around 1.5 to 2 hours. You just follow the small trails under the shade of tropical trees to lead you to the top. You can even encounter famous landscapes of Hue such as Ngu Mountain, Huong rive, Khe Ngang Late. 
Here are some useful tips from Tung, a local: make sure you have a light breakfast and drink enough water. Trekking shoes and comfortable clothes (sportswear is preferable) is a must. Don't forget medical aids, bug spray. If possible, bring the conical hat, it is a great match for the background.
Sunrise is the best time to see this priceless view while sunset exposes the romantic and mysterious vibe into it.
Source: Hai Nhi/zing