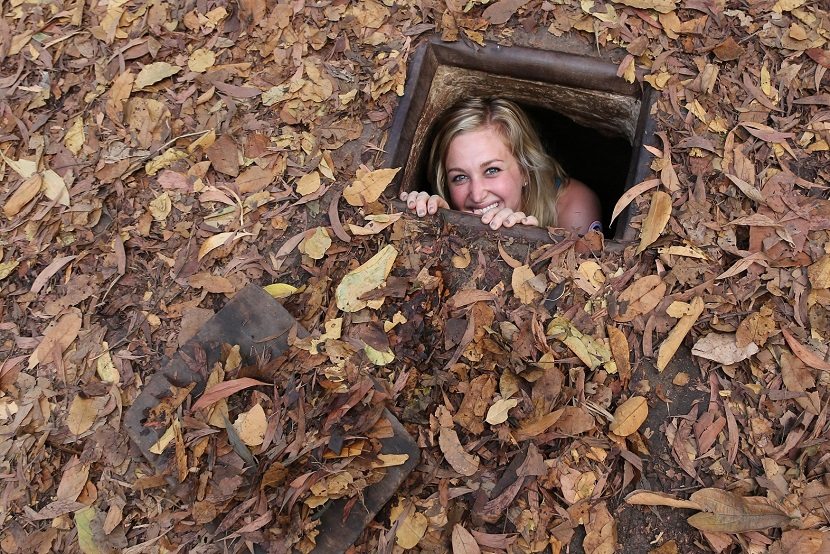 WHY YOU SHOULD CHOOSE A HALF DAY SMALL GROUP TOUR CU CHI TUNNEL?
Cu Chi Tunnel is complex of bunkers and tunnels underground at the northwest of Ho Chi Minh City. It soon becomes a famous destination spot for tourists all around the world. Cu Chi Tunnel can be fit with some people who love history in general and curious about the Vietnam War and Vietnamese people perspective. In my opinion, the best way to enjoy this destination is by choosing a half day small group tour Cu Chi Tunnel. Why? Let's follow our blog here.
1. Where is Cu Chi Tunnel?
The system of Cu Chi Tunnels was set up and created in the northwest of Ho Chi Minh City. To reach Cu Chi Tunnel, you have to travel with a distance around 70 kilometers. So that's mean you might be taken around 1,5 hours to go to this place. About the history of Cu Chi Tunnel, the very first tunnels were dug while the first Indochina War had already begun in Vietnam. At that time, the local people in Tan Phu Trung Commune and Phuoc Vinh An Commune just built the individual tunnels. The function of tunnels at that time was just hiding the ammo, weapon or hide if a sweep attack happened. Cu Chi Tunnel has two different areas where tourists can pay a visit: Ben Dinh Tunnel and Ben Duoc Tunnel. I will talk about the difference between these two destinations below
2. What is the difference between Ben Dinh and Ben Duoc Tunnel?
Ben Dinh is the destination where most of the travel agencies in Ho Chi Minh City will offer you. Ben Dinh tunnel used to be destroyed by bombs and many times of being attacked by the American army. Nowadays, the tunnels were rebuilt and innovated to make it bigger as it used to be. So that it's easy for foreign tourists to go inside the tunnel. The advantage of this destination is that it is suitable for young travelers who want to have some fun with real AK47. I mean that you are going to shoot with a real AK47 gun. Because this tunnel is famous with tourists so that you can't avoid the crowded in this area. Especially in high season of tourism in Vietnam (from October to March), lots of tourists will come here. With the pressure of the crowded of many different groups from different companies, the guide might be a little bit rush. And many people go inside the tunnel at once, just imagine by yourself. Different from Ben Dinh Tunnel is Ben Duoc Tunnel. Ben Duoc Tunnel is further than Ben Dinh 15 kilometers. This destination used to be a headquarter of the Viet Cong during the Vietnam War. So that's mean it's hard for the enemy to find and destroy Ben Duoc Tunnel. That's the reason that makes Ben Duoc tunnel become possible to keep the tunnels not being collapsed. Besides that, this is the place where Vietnamese students come to learn about history. You just only see a few tourists here. This is a great chance for you to learn the history of the Vietnam War. Besides the tunnel, you can also visit the memorial temple and other destinations in Ben Duoc area. Not so many travel agencies in Ho Chi Minh City offer a half-day small group tour Cu Chi Tunnel - Ben Duoc area except Innoviet Travel. Other companies will charge you extremely expensive if you want to travel to this place.
3. When is the best time to visit Cu Chi Tunnel?
You should travel to Cu Chi Tunnel during the dry season (from November to April). This is the best time to travel to Cu Chi Tunnel. Although during the rainy season, the tunnel inside can't flood, the surrounded area is very wet and muddy. It can affect your comfort.
4. Why should you choose a half-day

small group tour to Cu Chi Tunnel?
Fewer tourists - more care
I really want to recommend to you that if your budget is allowed, let's stay away from the big group to Cu Chi Tunnel. From my experience, most of the travel agencies around the backpacker area (Bui Vien street, De Tham street, Pham Ngu Lao street) offer you to Cu Chi Tunnel with a big group, there might be around 40 people in one bus. When you travel like that, it's very difficult for the tour guide to manage all of the tourists. I don't mean that is a bad tour guide but travel with a big group can bring you less joyful. In this case, choosing a half-day small group tour Cu Chi Tunnel is a smart choice. When you go into the tunnel, the tour guide will have enough time for taking care of all of the members in this small group. Besides that, you don't have to be rush to fit the time, you can be flexible and enjoy Cu Chi Tunnel as slowly as you want.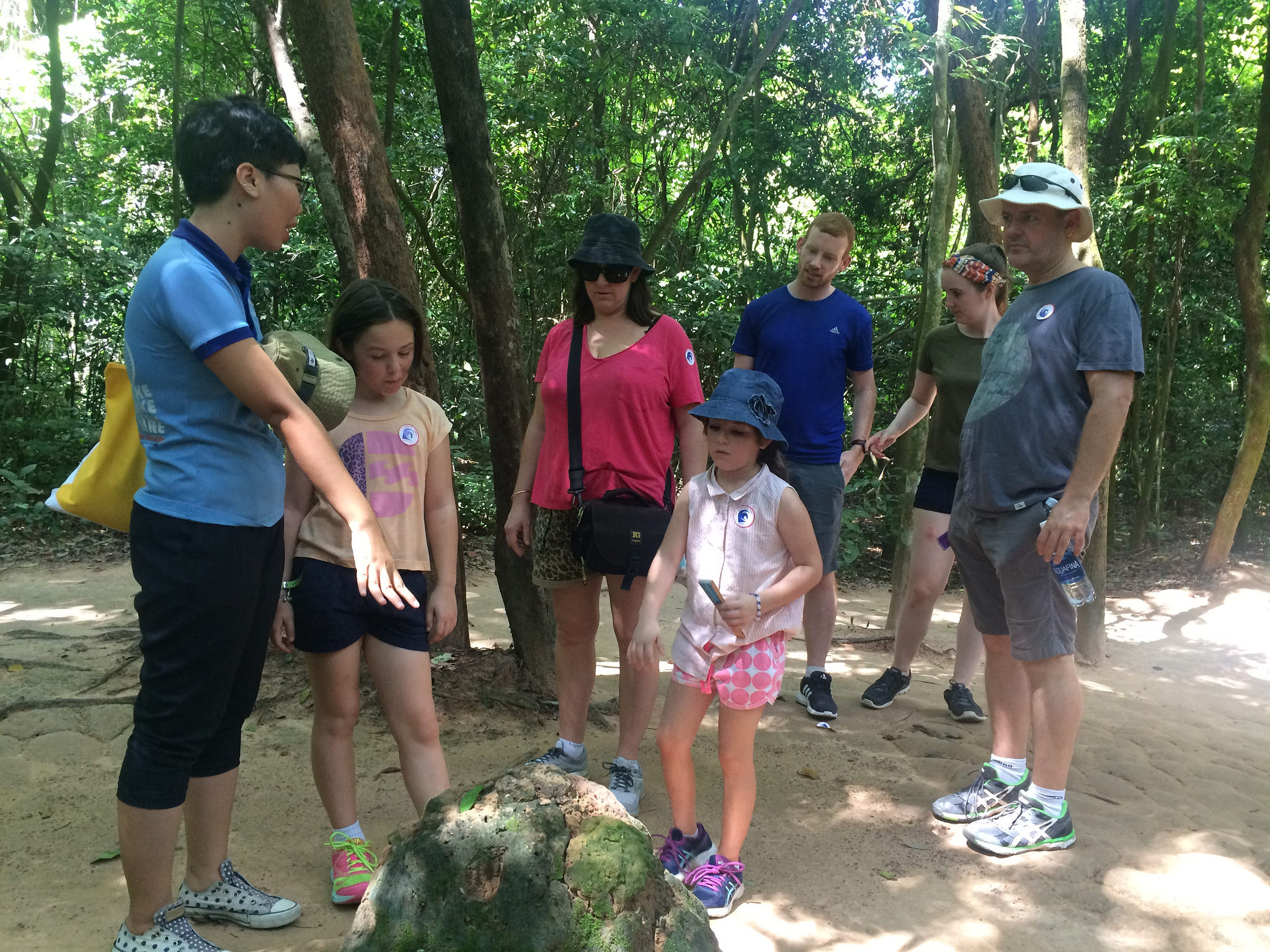 A tour guide who can share his stories
What is your purpose when you decided to go to Cu Chi Tunnel? If you are seeking for the stories, the information and how Vietnamese people think about that war, you should go with a tour guide who is ready to give all of the information you need. Though you can go to Cu Chi tunnel by yourself, you won't have anyone to give you the information that you are curious about.
Read more: Ben Duoc Tunnel - Completely Travel Guide
Making friends and sharing your stories with other travelers
The biggest advantage when you choose a half-day small group tour Cu Chi tunnel is that you can make friend with other tourists. Maybe they come from the country where you just visited last year. Or they can be your countryman. Then you can share them your stories about traveling and they will show you some travel tips back. In Vietnamese, there is a proverb about friendship is "Tứ Hải Giai Huynh Đệ", that's mean people from different places can befriend together.
5. Overall
So in conclusion, I recommend you should book a half-day small-group tour Cu Chi Tunnel for your best experience. Besides that, Cu Chi tunnel is a place in which you must understand the stories, the structures, and the information behind. Only then you can truly understand the importance of Cu Chi Tunnel during the Vietnam War. If you choose to travel Innoviet Travel, they will take you to Ben Duoc Tunnel to get the real atmosphere of the tunnel. So what do you think? Travel with a small group or big group, or even travel alone, which one do you choose? Let's share your stories with me. If you want to read more information about Mekong Delta or traveling in Ho Chi Minh City, let's visit our blog's site More topics you may like:  Perfect day trip to Mekong Delta Top things you must do in Mekong Delta Things to do in Saigon in 3 days