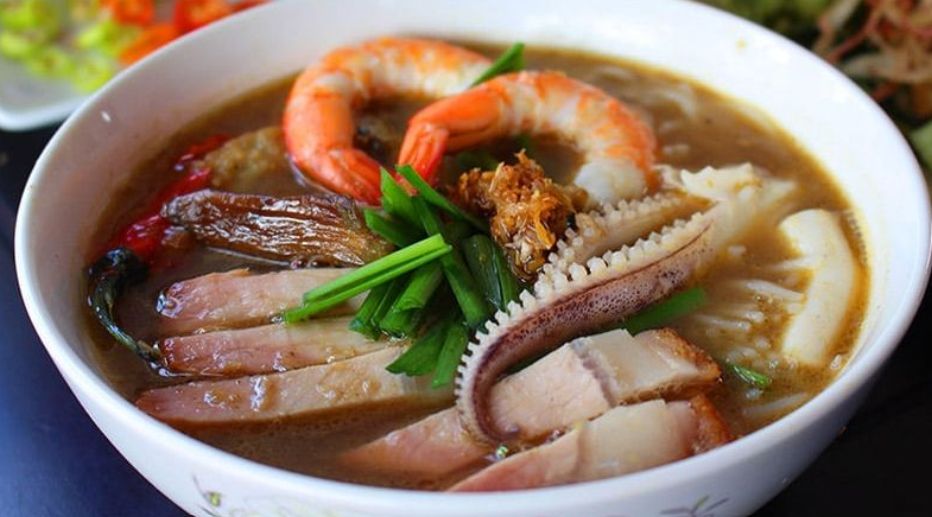 Welcome to the culinary paradise of the Mekong Delta, a region known not only for its stunning landscapes but also for its rich and diverse food culture. One dish that stands out as a true emblem of this region's culinary heritage is none other than the beloved noodle soup. Join us on a gastronomic journey as we explore the world of noodle soups in the Mekong Delta and discover why this dish is an absolute must-try.
1. The Diverse Varieties of Mekong Delta Noodle Soup
Noodle soup in the Mekong Delta is not a one-size-fits-all affair. There's a delightful diversity of noodle soup varieties to explore, each with its own distinctive character.
1.1. Kien Giang Fish and Shrimp Noodle Soup
Kien Giang fish and shrimp noodle soup, hailing from Kiên Giang in southern Vietnam, is a traditional Vietnamese delight. Traditionally, the broth is crafted from a whole snakehead fish, but contemporary cooks often opt for a flavorful stock made from pork bones. This dish offers a medley of flavors, typically featuring shrimps, fish sauce, onions, garlic, and an array of ingredients like hot chili peppers, eggs, paprika, rice noodles, mung bean sprouts, and more. The final creation is a harmonious blend of textures and tastes, showcasing the culinary prowess of the Mekong Delta.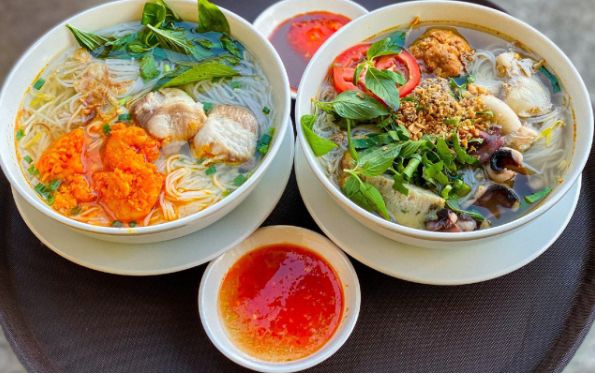 1.2. Vietnamese Noodle Soup with Pork and Shrimp
Vietnamese noodle soup with pork and shrimp is a classic Vietnamese dish originating from Mỹ Tho in the Mekong Delta. With its roots tracing back to ancient Chinese noodle soups from the 17th century, this rice noodle soup has been a favorite in Mỹ Tho since the 1960s. Central to this dish are the locally made rice noodles known as Go Cat, which lend a unique crunch and toughness. Toppings typically include sautéed minced garlic, ground pork, quail eggs, shrimp, pork liver, and a zesty touch of lime juice. Hủ tiếu Mỹ Tho is a delightful fusion of flavors and textures that's sure to tantalize your taste buds.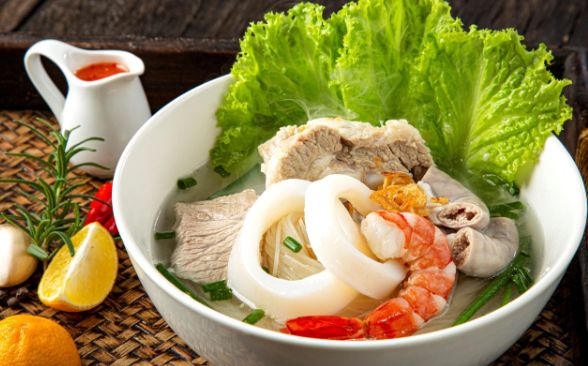 1.3. Fermented Fish Noodle Soup
Fermented Fish Noodle Soup, a traditional Vietnamese delicacy originating from Soc Trang province, offers a distinctive culinary experience. This dish boasts bún rice vermicelli noodles served in a salty and fermented fish-flavored mắm broth, accompanied by squid, shrimp, catfish, eggplant, fish cakes, and roasted pork belly. To complement these rich flavors, fresh herbs like rau dang, gia, he, bap chuoi, keo neo, rau nhut, and rau muong are commonly added, infusing the dish with aromatic and often pungent aromas. Fermented Fish Noodle Soup is a unique and flavorful journey for the adventurous food enthusiast.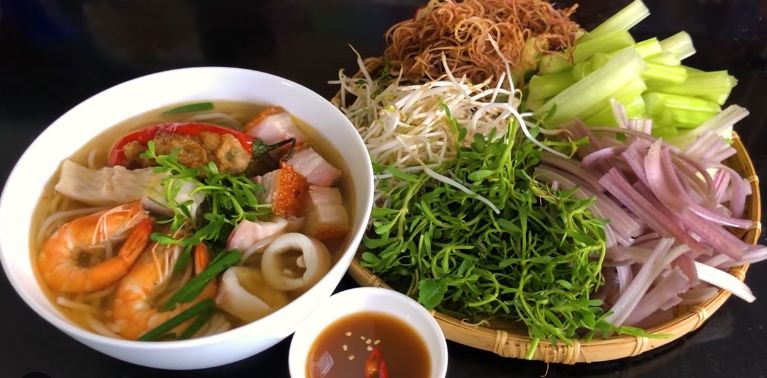 1.4. Island Broth 
Island Broth, originally a specialty of Phu Quoc island, located off the southwest coast of Vietnam in Kien Giang province, offers a taste of the sea and tropical paradise. This dish combines seafood and tropical fruits in a rich, crunchy, and sweet-and-sour concoction. The fish-based broth is infused with lemongrass and coconut milk, lending it a thick consistency, a distinctive tang, and a warm amber color. Additional elements such as herbs, cucumber, banana flower, shredded papaya, and bean sprouts are layered on top, and diners can customize the flavor with more fish sauce, lime juice, or chili. It's not just a meal; it's a culinary adventure best enjoyed as a hearty breakfast.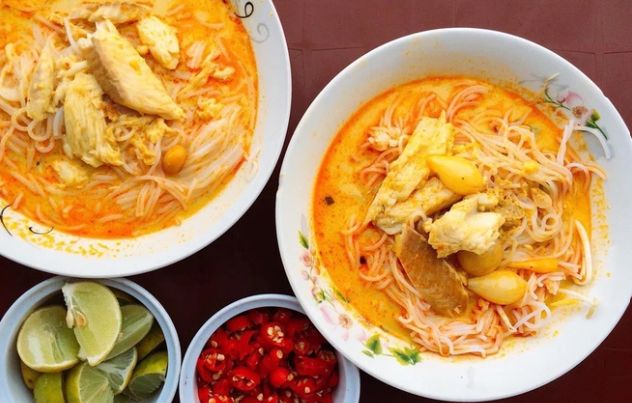 1.5. Rice Noodle Cooked with Fish Broth (Bun Nuoc Leo)
Originating from Cambodia, Bun Nuoc Leo is a specialty of the Khmer ethnic group in Tra Vinh, embraced by the Vietnamese as well. This dish is characterized by fish, prahok (mudfish paste), prawn, and the addition of peeled tiny shrimp and roasted pork. The key to its unique flavor lies in the "mam pro-hok" (fermented fish sauce) used to cook the broth, known as "nuoc leo." The noodles, made from fragrant rice harvested in the autumn season in the Mekong Delta, are soaked overnight before being ground to create slender noodles. The broth is spiced with finger root plants to neutralize the fishy aroma of the fish sauce while adding fragrance. Coconut water is the final touch, enhancing the broth's sweetness. Bun Nuoc Leo is a flavorful blend of influences and a testament to the rich culinary tapestry of the Mekong Delta.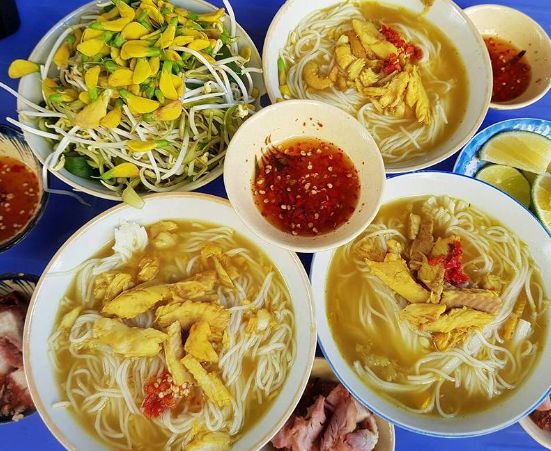 2. The Cultural Significance of Noodle Soup
Beyond being a sumptuous meal, noodle soup in the Mekong Delta carries cultural and communal significance. It's often enjoyed in the company of friends and family, and sharing a bowl of noodle soup is a cherished tradition. The act of preparing and savoring noodle soup is a celebration of the Mekong Delta's culture and heritage.
In the heart of the Mekong Delta, noodle soup is not just a meal; it's a cultural experience. It's a culinary voyage that invites you to savor the flavors of the delta, appreciate its ingredients, and embrace its traditions. Whether you're a food enthusiast or a traveler seeking an authentic taste of the region, Mekong Delta noodle soup promises a journey of flavor and culture you won't soon forget. So, don't miss the opportunity to indulge in this regional delight and discover the soul of the Mekong Delta, one bowl of noodle soup at a time.
Are you ready to take your taste buds on an unforgettable adventure in the Mekong Delta? Join us at Innoviet, where we not only introduce you to the most delectable noodle soups but also offer unique and immersive tours that let you explore the heart and soul of this beautiful region. Whether you're a food enthusiast eager to savor authentic flavors or a traveler in search of an extraordinary experience, our tours are tailored to your desires. Don't miss the chance to relish these must-try noodle soups and unlock the hidden gems of the Mekong Delta with Innoviet. Book your tour today and embark on a journey that combines culinary delights and unforgettable travel experiences
Your extraordinary experience begins here!
Book now to unlock exclusive offers and embark on a meaningful journey, delving into the hidden gems of this unique region.
Be sure not to miss out on our special offer when you join us for this experience.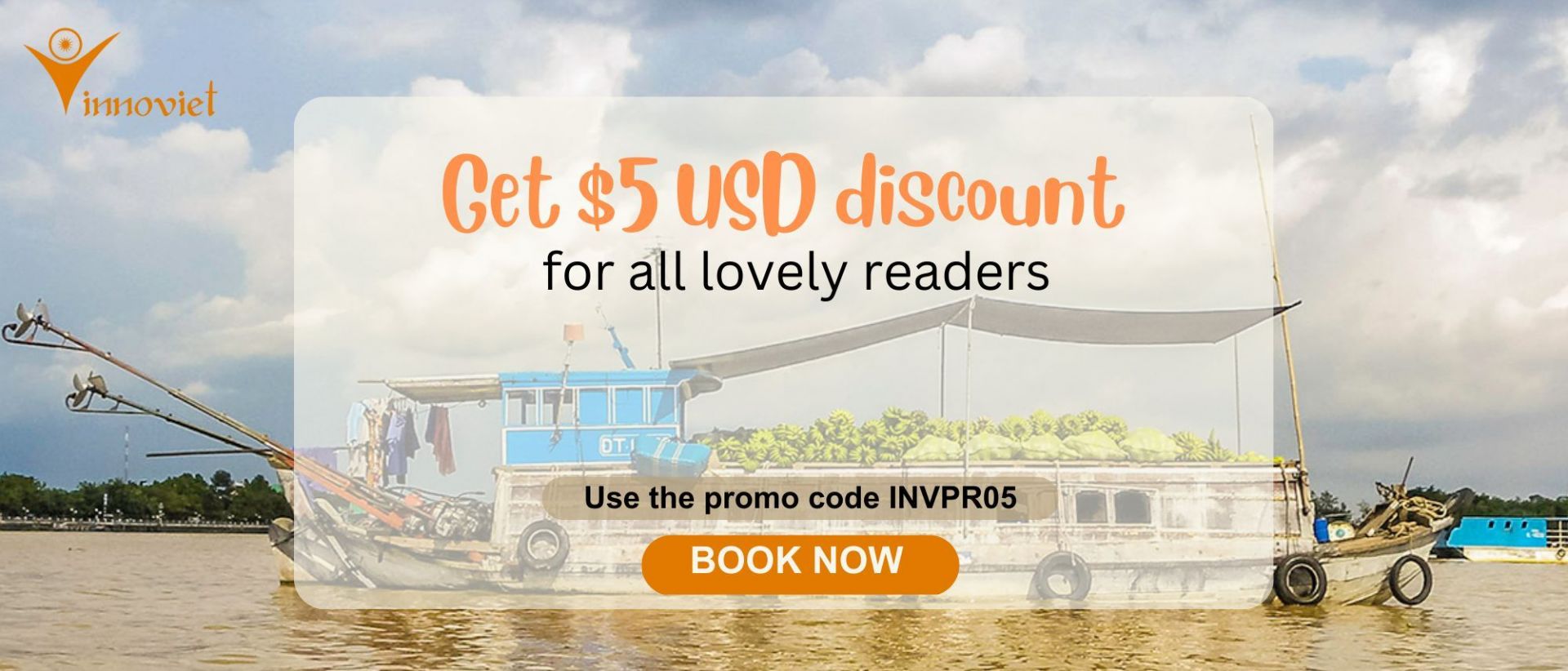 We hope that your experience will be nothing short of amazing
JOIN OUR FACEBOOK GROUP HERE to learn our tips as well as discuss them before going to these locations.