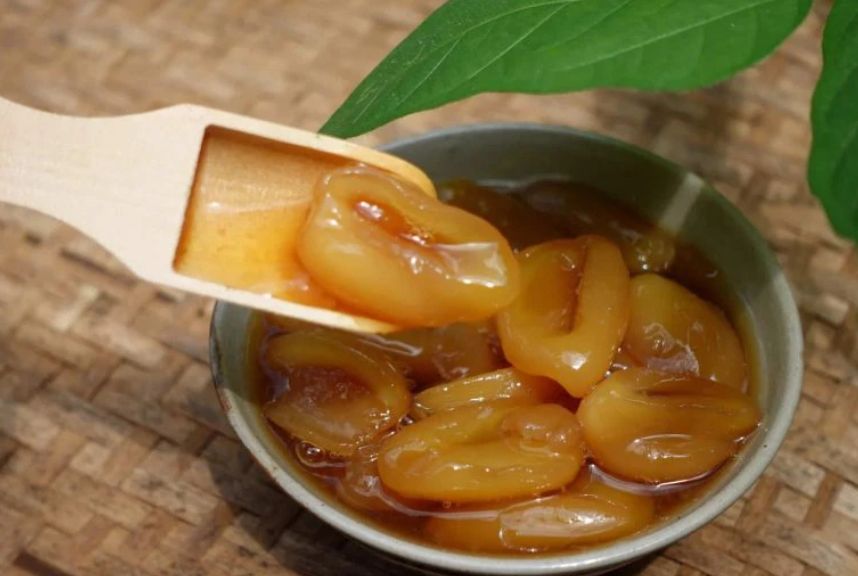 Nestled in the heart of the Mekong Delta, the breathtaking landscapes reveal a hidden gem: the captivating world of palmyra. In the Mekong Delta, Vietnam, the sweet and delicate flavors of palmyra water, complemented by the soft, chewy jaggery rice, create a delightful experience that lingers in your memory.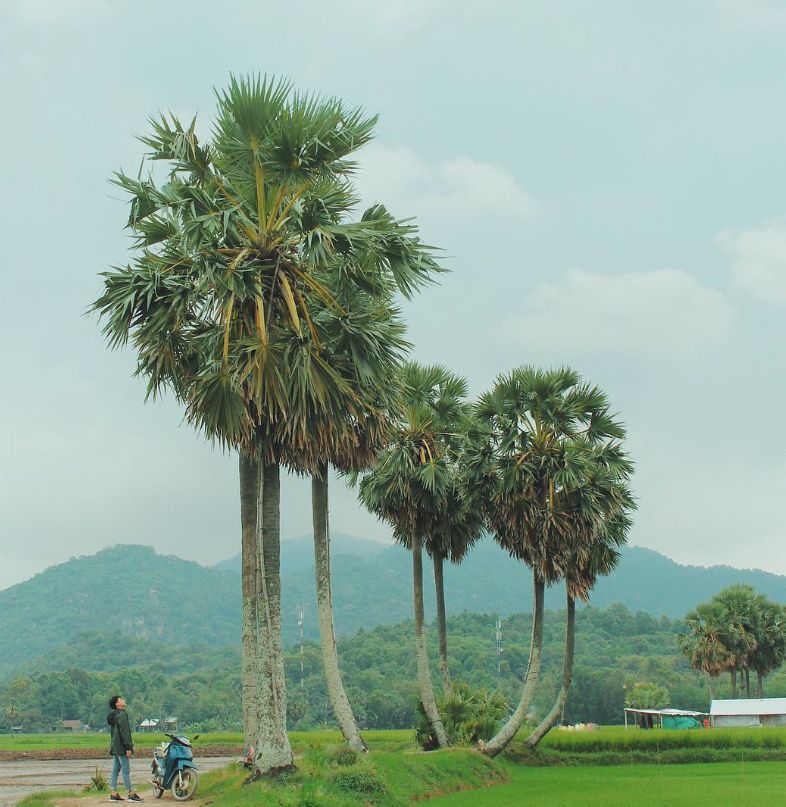 Palmyra's Delicate Charm
The allure of palmyra begins with its sweet and delicate flavor, coupled with the soft and chewy texture of jaggery rice. As you take a sip or a bite, this delightful combination slowly melts in your mouth, leaving a lasting impression. It's a flavor sensation that's particularly cherished by those who are not locals but are fortunate enough to savor it.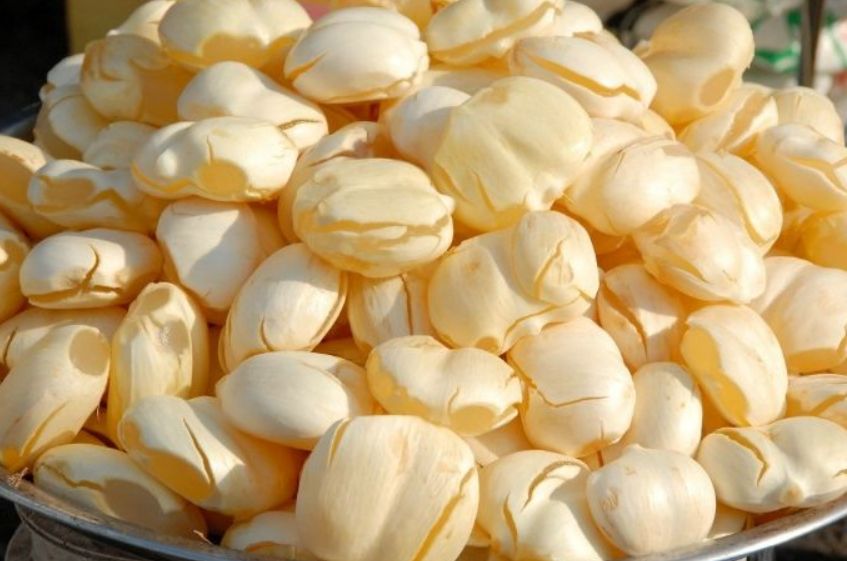 Cultural Crossroads in An Giang
Venturing into the An Giang border area, nestled adjacent to Cambodia, one can observe the fascinating interplay of cultures. The way of life and traditions of the local people are subtly influenced by Khmer culture. This intersection of cultures has bestowed a remarkable richness to the natural heritage, making it an exceptional and enticing destination, especially in terms of culinary culture.
Palm Trees of the Mekong Delta
As you traverse the provincial roads in Chau Doc city, Tinh Bien, and Tri Ton districts, you'll encounter vast expanses of rice fields, bordered by rows of palm trees on either side. These palm trees, at first glance, bear a resemblance to conventional palm trees, with their fan-like foliage and coconut-like trunks, albeit with a less rugged appearance. The fruit of these palms is a unique sight, growing in circular clusters, with a dark purple hue and sporting a distinctive blue cap. However, unlike coconuts, the palm fruit doesn't contain any juice inside. To savor it, you must slice it open to reveal the soft and smooth flesh within.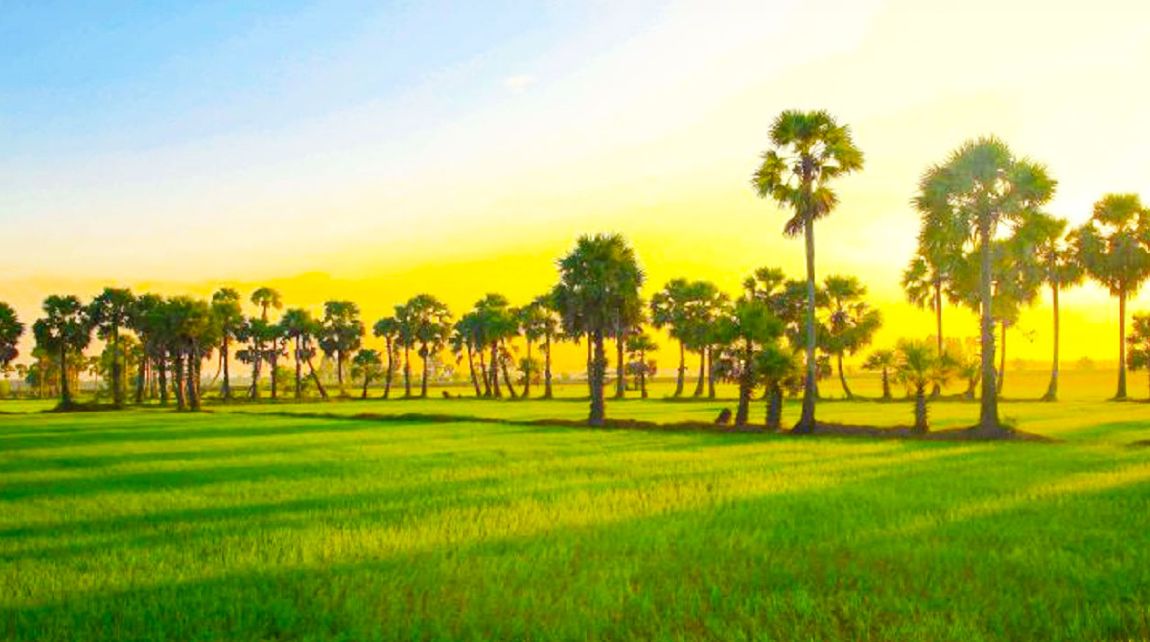 Palmyra's Sweet Secret
For those seeking palmyra water, a distinct and delightful experience awaits. You'll need slender, elongated, hollow bamboo tubes attached to the flower stalks for sipping. Typically carried out at dusk, these bamboo tubes are carefully positioned near the tree trunk after being smoked to eliminate bacteria. The next morning, skilled workers ascend the tree to collect the bamboo pipes filled with palmyra water.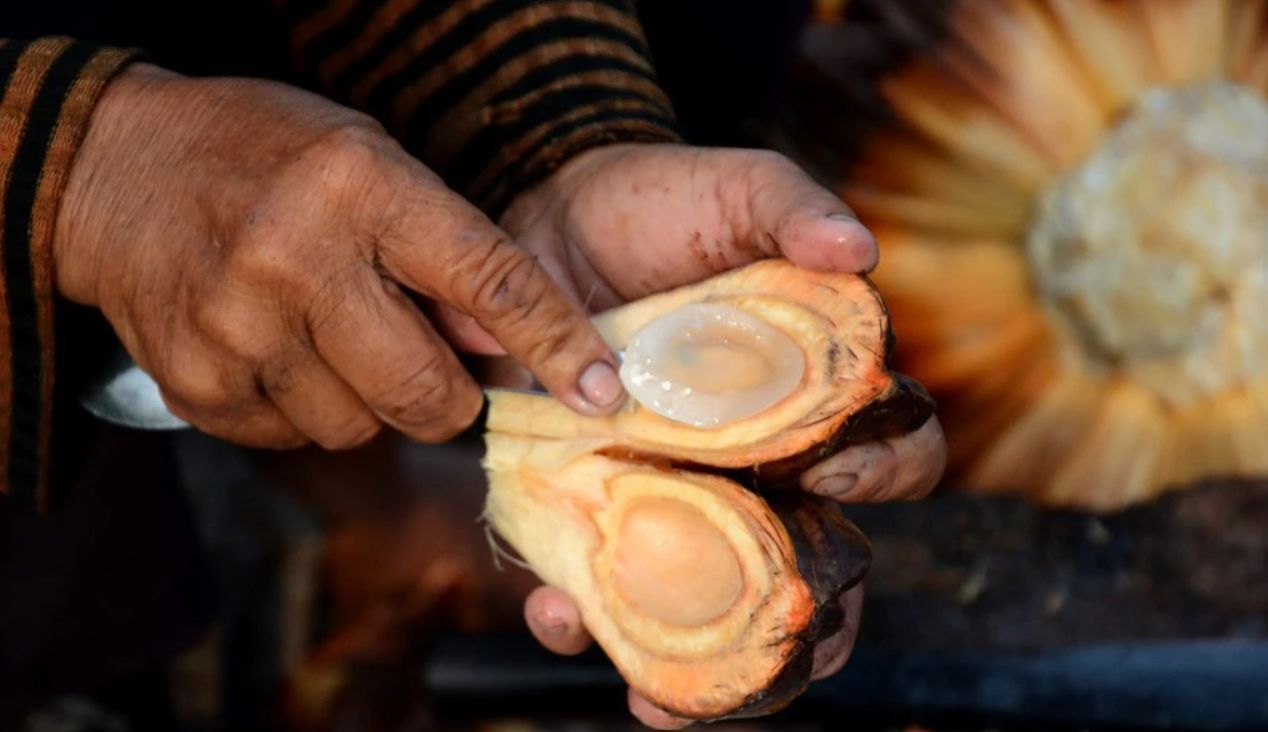 Harmonious Fusion of Flavors
Palmyra water, with its sweet and fragrant notes, perfectly complements the milder taste of jaggery rice. When combined, these two flavors harmonize to create a uniquely rich taste without overwhelming sweetness. While you'll often find palmyra water served in glasses at local markets, roadside vendors offer a hands-on experience. They provide a bottle of palmyra water, a plate of jaggery rice, and a glass of ice, allowing you to create and savor your own personalized concoction.
Savoring the Moment
On leisurely days, when you have the time to truly appreciate the experience, you can pour palmyra water over ice, add a few jaggery rice cubes, and stir thoroughly to infuse the flavors. The sweet, delicate taste of the water, coupled with the soft and chewy texture of the jaggery rice, gradually melts in your mouth, leaving an indelible memory. This is a truly delightful drink that resonates with most non-local visitors.
Beyond Palmyra Water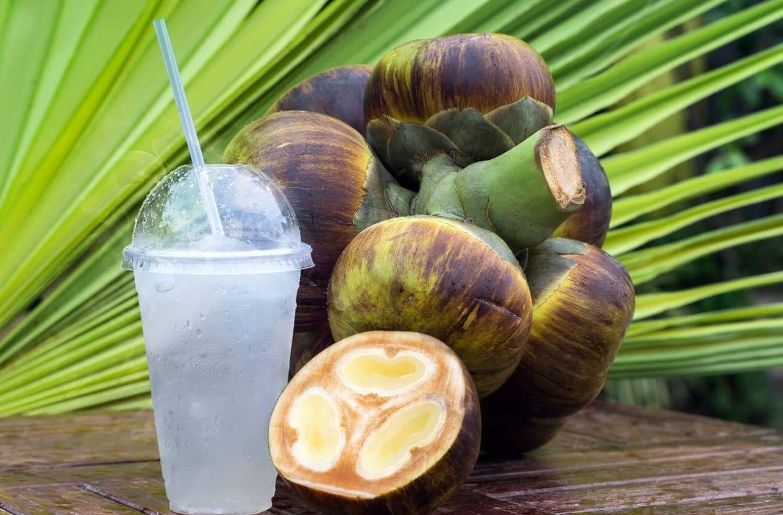 Beyond the refreshing palmyra water, the versatile palm fruit is utilized in various other culinary delights. From sweet soups to savory honeycomb cakes, this humble fruit finds its way into a range of delectable dishes. However, due to busy schedules, it's not always easy to visit Chau Doc market and indulge in the renowned An Giang specialty Palm sugar honeycomb cake. Yet, the anticipation builds as the vendor lifts the lid of the beef cake basket, releasing an enticing aroma intertwined with rising smoke. The aromatic blend of coconut milk, palm sugar, and other fragrances tantalizes the senses, creating an unforgettable and mouthwatering experience.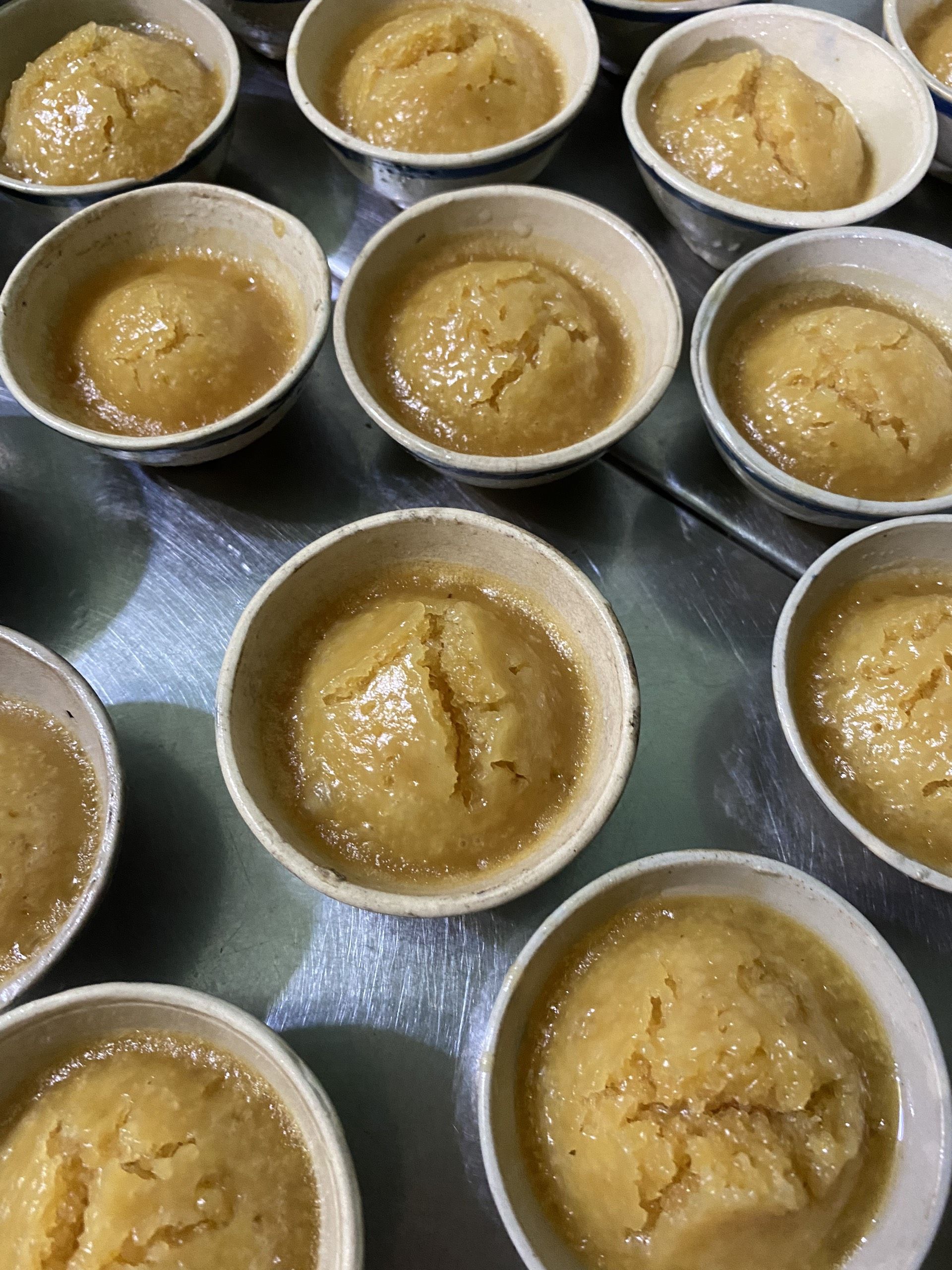 Discover Palmyra in the Mekong Delta
As you journey through the Mekong Delta, don't miss the opportunity to explore the world of palmyra and the fascinating crossroads of cultures. Whether you're a first-time visitor or a seasoned traveler, the delicate tastes and cultural wonders of this region will leave an indelible mark on your memories.
When you embark on a journey through the captivating Mekong Delta, don't miss the chance to enrich your adventure with a cuisine experience. It's a unique opportunity to immerse yourself in the warmth and relish the flavors of traditional cuisine, and attain a profound understanding of this remarkable region. The Mekong Delta eagerly awaits to embrace you, offering an extraordinary adventure like no other.
To explore more about cuisine options and to reserve your Mekong Delta tour, please visit our website or reach out to us at Innoviet. Commence your Mekong Delta adventure with Vietnam Mekong Delta Tours today and begin unraveling the enigmatic allure of this captivating region.
Book now to unlock exclusive offers and embark on a meaningful journey, delving into the hidden gems of this unique region.

1-day Mekong tour from Can Tho | The Myst Mekong

Cu Chi Tunnels & Mekong Rural Life 

Mekong Delta 1 Day Tour - Ben Tre boat and bike experience

Mekong delta homestay 2 days tour with cycling trip in non touristy villages

Mekong delta tour 3 days with homestay - cycling - Cai Rang floating market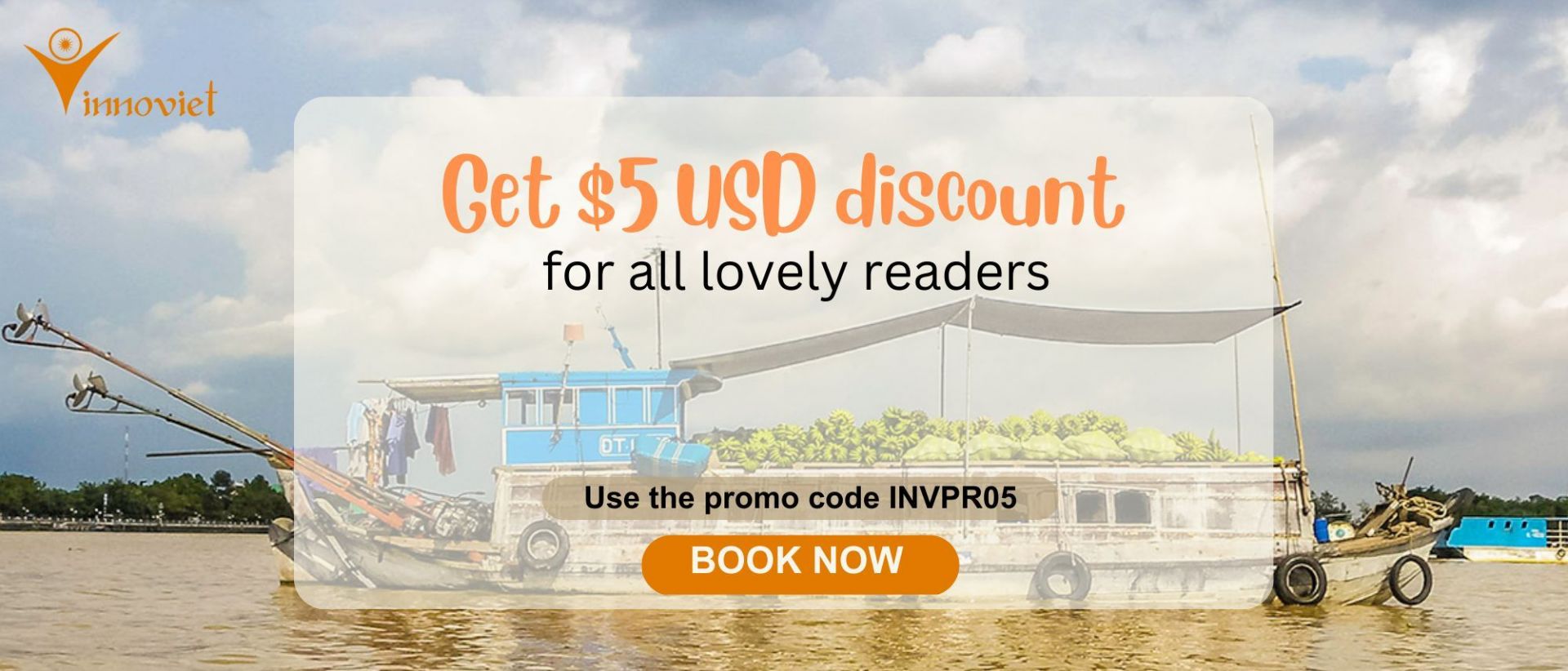 We hope that your experience will be nothing short of amazing
JOIN OUR FACEBOOK GROUP HERE  to learn our tips as well as discuss them before going to these locations.