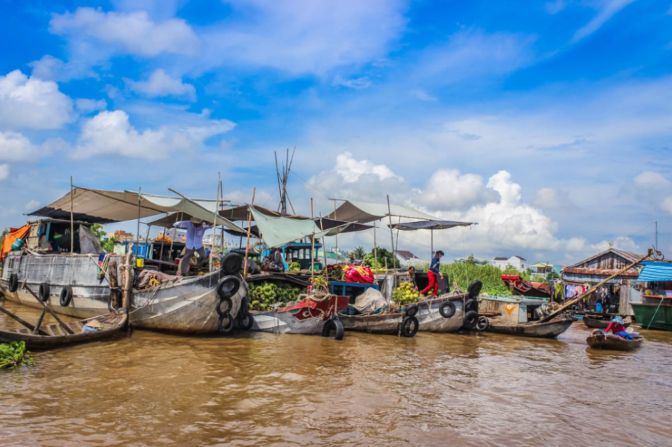 Mekong Delta tourism is no longer a strange thing for tourists every time they come to Vietnam. This is a location you should visit at least once when you come to Vietnam because of the characteristics and cultural imprints of this place. You can travel via tour, or you can also create a trip to your taste with friends and relatives. 
Let our suggestions and reviews help you plan a trip to the Mekong Delta in 1 day. 
Let's start with Can Tho.
Travel Mekong Delta according to the seasons 
Mekong Delta is located in Western Vietnam with a warm and sunny climate all year round, the weather is mild, so it is fine for tourists to visit in any season. Each season has its own interesting and unique four seasons of fruit trees all year round, so it is very suitable for tourism and entertainment activities.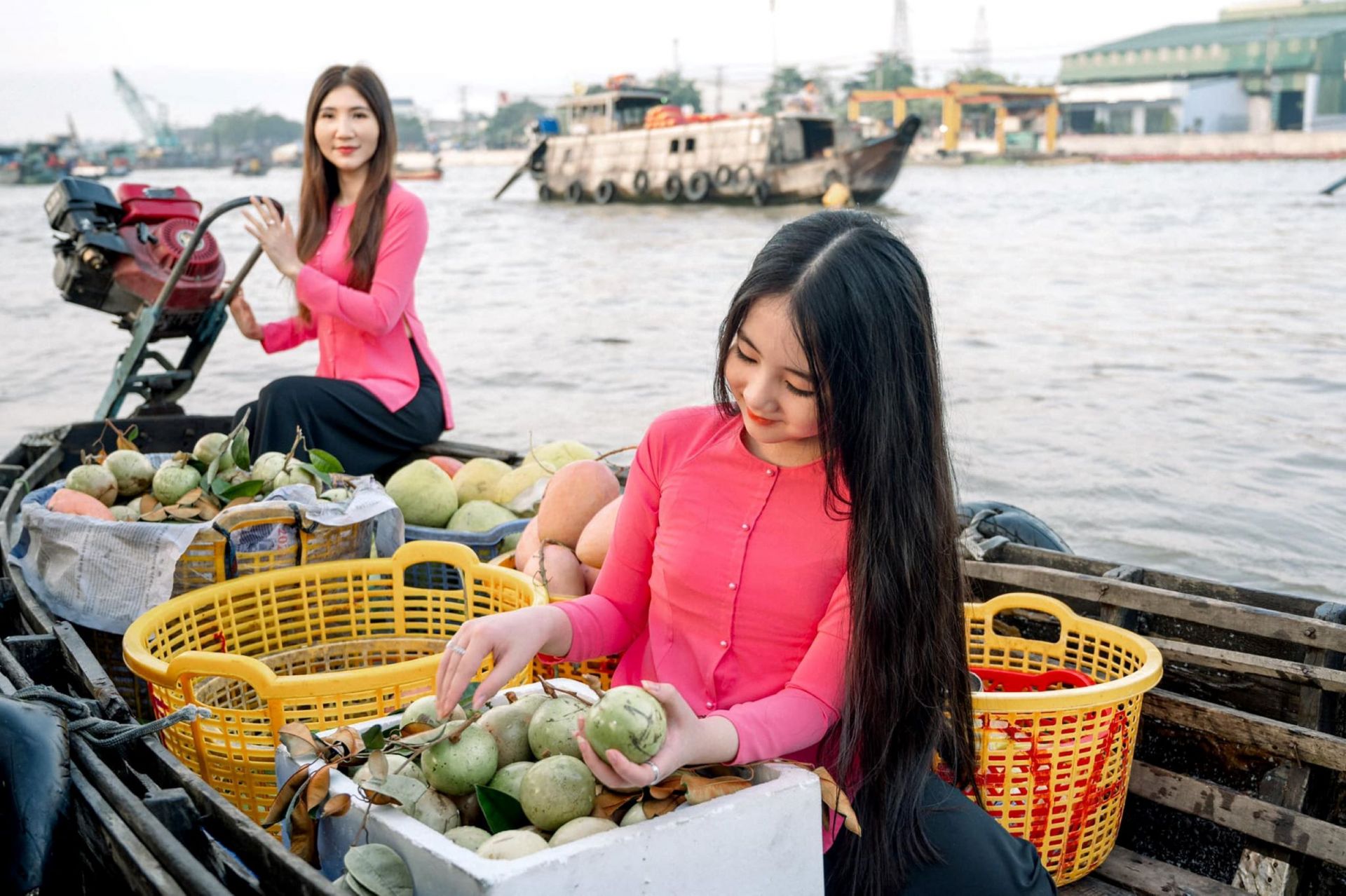 What should you know to travel?
In May, June, and August, that is in summer, tourists often choose to travel to the West in the summer because this time is the harvest season, and the fruit trees bear the most fruit of the year.
From September to November is when the big water from the upstream of the Mekong River pours in, flooding the whole field with water, everywhere you can see water, traveling in this season, although you can't visit many places, the floating season in This is equally interesting.
At the time of spring, January, and February, the Western New Year is filled with the scent of flowers and fruits to welcome spring. Traveling in this season, you can go to floating markets or flower villages to enjoy and admire a colorful festival here. In the season close to the Tet holiday, besides fruits, you also know more about the special customs of the Western Vietnamese to welcome the traditional New Year or the festivals of the Khmer. You will enjoy all the interesting features that this land has to offer.
If Can Tho is your landing point - Where can you go?
Local market - Can Tho market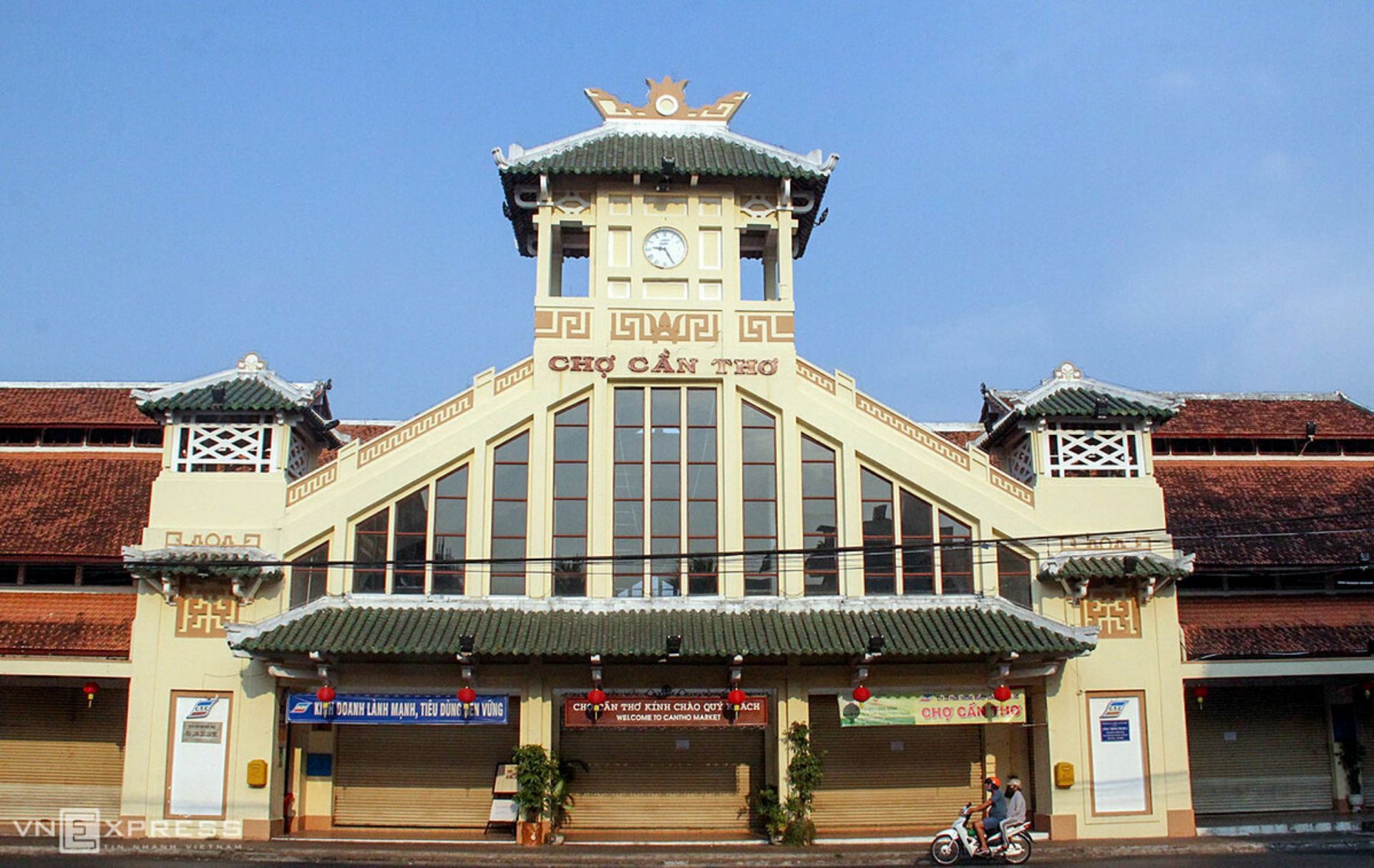 The local markets in Can Tho have been there for a long time, considered the spot to gather all the "strange delicacies" of the Can Tho river region. Can Tho Market is currently more than 100 years old, is an ancient market famous for its traditional beauty, and possesses its own unique features of the river region.
Options for you:
Can Tho Market, Hai Ba Trung Street, Ninh Kieu, Can Tho, Vietnam.

Phong Dien Market, Phong Dien, Can Tho, Vietnam.

Tan An Market, 71 Hai Ba Trung, Tan An Ward, Ninh Kieu District, City. Can Tho.

Can Tho Be Market, National Highway 91, Thuan Hung, Thot Not, Can Tho, Vietnam.
Review of local guides:
"Ninh Kieu night market is vibrant and bustling with locals and tourists alike.
The market has many dishes, from main dishes such as hot pot, vermicelli, pho, chicken sticky rice, and dumplings, to snacks such as dumplings, chips, ice cream, tea, and fried food.
Student price 10-40k 1 dish spoiled for choice to sit and enjoy the cool breeze.
After eating at the night market, go to visit Ninh Kieu park in the evening and the walking street is very cool.
Should experience here to relax and eat well. Must try.
"The market has been around for a long time!!! Through many changes over time, the market house has now been restored and still retains its original beauty!"
"If anyone has been to Tay Do once, surely they will be impressed with the ancient market of Can Tho. The market has witnessed each period of change in Can Tho. The market was formed from the French occupation until the time of complete freedom and liberation. Can Tho ancient market is a place to visit attracting many tourists; especially foreign guests because of many antique items. Besides selling souvenirs such as conical hats, Ba Ba dresses, etc., the market also sells a lot of processed agricultural and aquatic products."
"Busy shopping areas, right in the city center, are concentrated with many tourists. This Can Tho tourist spot is the gathering place, trading goods of the Southern region of the six provinces. Associated with the typical activities of local people."
Fruit gardens in Can Tho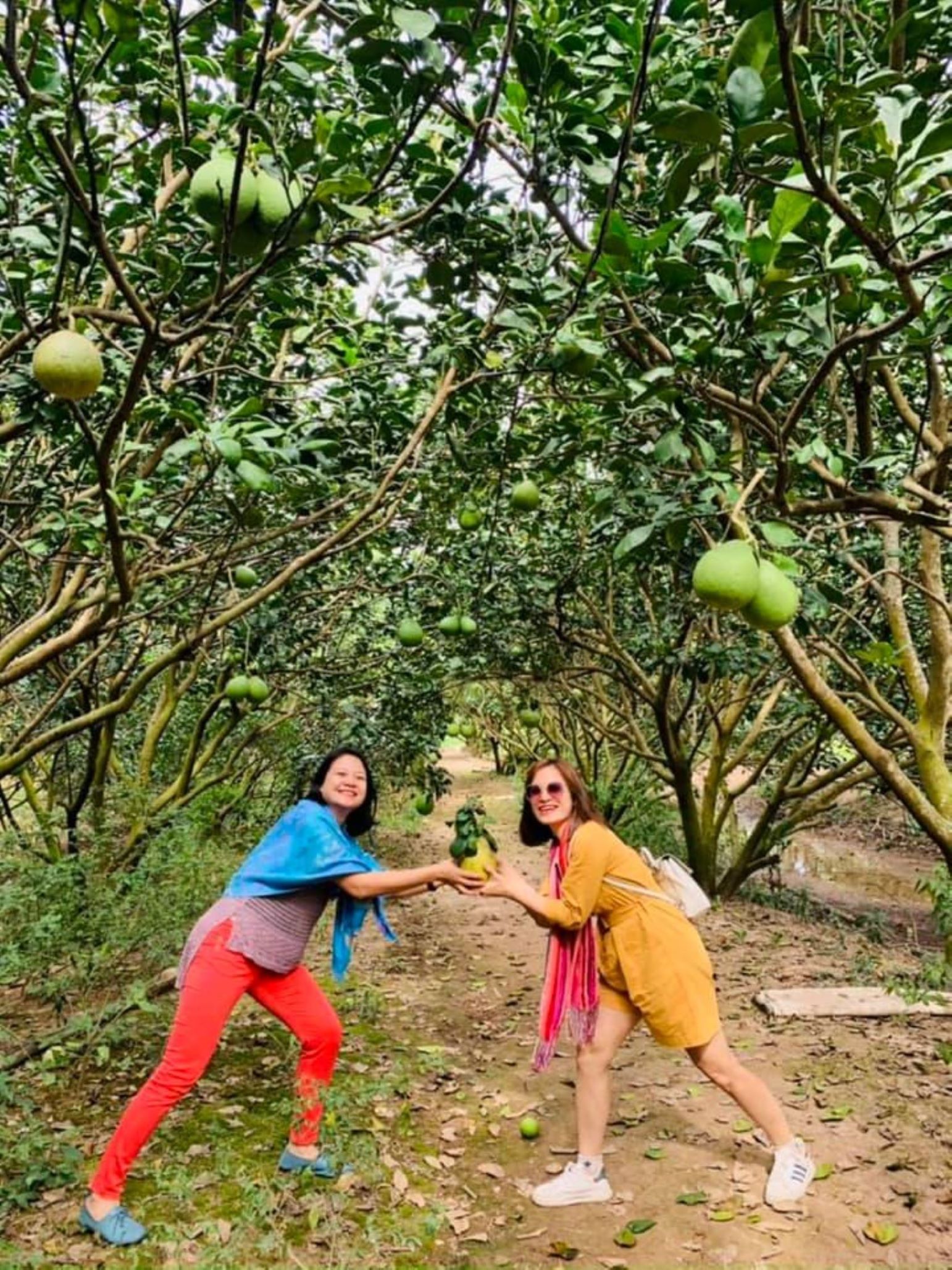 Garden tourism is actually an ecotourism activity in large and rich fruit gardens. You will experience being a "farmer" in hundreds of hectares of fruit gardens and discover the unique indigenous culture.
The weather in the Southeast and the Mekong Delta is warm and sunny all year round, so you can visit the gardens at any time. However, to be able to fully enjoy the ripest and most luxuriant fruit season, you should go in the summer from May to September.
Options for you:
9 Hong Fruit Garden - 398/31 My Nhon hamlet, My Khanh, Phong Dien, Can Tho.

XPR2+X9G, extension Nguyen Van Cu, My Khanh, Phong Dien, Can Tho, Vietnam.

Vam Xang fruit garden - Lo Vong Cung, My Khanh, Phong Dien, Can Tho.

Rach Ke Ecological Fruit Garden - 396A My Nhon, My Khanh, Phong Dien, Can Tho.
Reviews of local guides:
"The garden is very pleasant, the fruit is super rich and cool, and the food is very delicious. Been to the garden many times and will come again. Not impeccably. Give the garden 10 stars."
"Variety of fruits, the garden space is very cozy, suitable for family gatherings that want to change the atmosphere. Delicious rustic and country dishes. Please visit once to experience it."
"Cool space & spacious garden & serving rustic dishes. Strawberry season is around March".
Cai Rang floating market: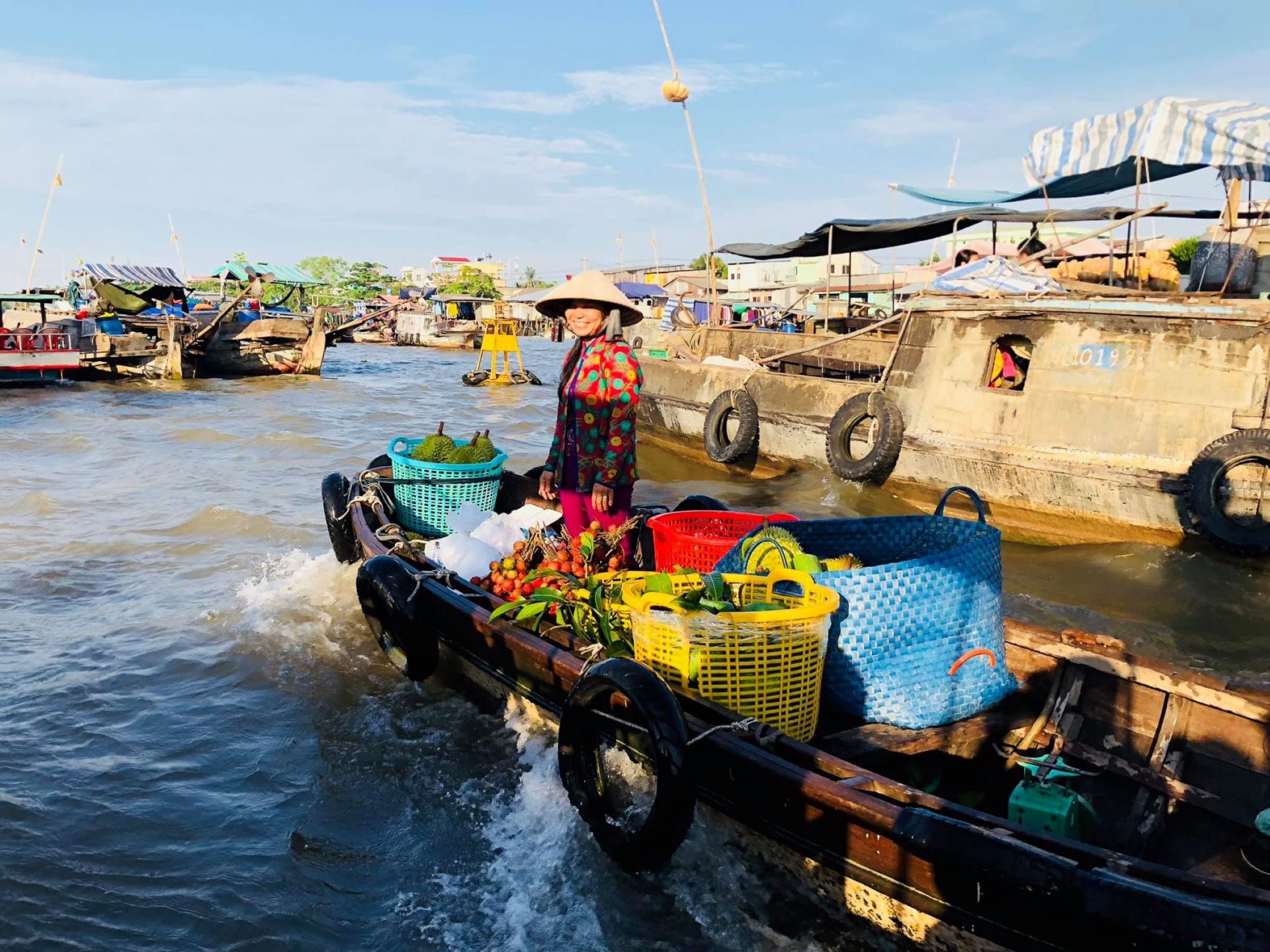 Cai Rang Floating Market is located on the Cai Rang River, near Cai Rang Bridge, about 6 km from Can Tho city center by road and takes 30 minutes by boat from Ninh Kieu Wharf (Can Tho city - the capital of the old Tay Do).
People gather on the river and by means such as canoe, boat, gong... Today, although the road network has developed widely, the floating market still exists and is becoming more and more crowded. bring economic potential and tourism to the west of this river.
Cai Rang Market usually meets quite early, usually from dawn until about 8, or 9 o'clock.
The market is most crowded around 7-8 am. The market is not active and operates very little on the days of the Lunar New Year (the 1st and 2nd of the Lunar New Year, and the Lunar New Year (the 5th day of the 5th lunar month). Due to the needs of marketgoers, there are not only fruit boats, agricultural products but also many other services: pho, noodle soup, coffee, floating pubs... Service boats (usually small boats) crept to serve market customers and visitors.

Options for you:
2P3W+42X, Vo Tanh, Le Binh, Cai Rang, Can Tho, Vietnam.

46 Hai Ba Trung Street, Tan An, Ninh Kieu, Can Tho, Vietnam.

103 Tel 923, An Binh, Ninh Kieu, Can Tho, Vietnam.

Cai Rang floating market pier: 234 B, An Binh, Ninh Kieu, Can Tho, Vietnam.
Reviews of local travelers:
"The most famous floating market in the West. Taking the train to the market from 4-5 am is the most crowded."
"The Floating Market Cafe is typical of the western rivers. In the morning, floating on the boat to enjoy the river air still lingering in the night, I immediately stopped at the floating market early in the morning to buy some goods. There are also no special goods, which can be bought on the mainland, but the interesting thing is the shopping space on the river, and the strange atmosphere in the early morning that non-westerners will remember. will never be forgotten."
Enjoy morning coffee on the boat for ~10k/cup
"The feeling of riding a boat on the Can Tho River is very interesting! The wind is cool, and the waves are gentle.
When approaching the floating market, there are boats selling mussels and trees, and the fruit sellers will invite you to try the fruit. If you think it's delicious, remember to support your aunts and uncles!
Fruits in the floating market are very diverse, usually, the boats are sold at wholesale prices. In front of each boat, the boat owner usually puts a large, large column and hangs it on the items that the boat owner sells. There are no grabbing or rowing activities. Those who want to buy something, look at the columns of the boat hanging the right things they sell and then stop by the boat, taste it, and if it's good, just buy it. This makes me very interested and curious when visiting this floating market."
"Breakfast at Cai Rang market: This place has heard reviews from you, so get up early in the morning to try it out.
Always beyond imagination. The most important thing is grilled pork vermicelli served with fish sauce, then this place is the best. Topping served with congee cake, fried meat, grilled meat, sour food, bean sprouts, and sprinkled with peanuts plus a little special sauce.
The shop is small but looks very clean, and the owner and the waiter are cute and enthusiastic. At first, I couldn't find a place, so I called the owner to ask, but he only enthusiastically went out to pick it up.
This is what motivates me to wake up early for breakfast.
The noodle dish is also located in Cai Rang market (it's sold out at around 9:30 am)."
Our suggestion for you if choosing to start your trip from Saigon (Ho Chi Minh City)
Outside of Can Tho, you can go to the Mekong Delta from Saigon (Ho Chi Minh City), which is also an ideal starting point to explore the Mekong Delta in 1 Day. At that time, you can visit Ben Tre - Coconut Kingdom to discover the gift of nature to Ben Tre. 
Mekong Delta 1 Day Tour from Saigon (Ho Chi Minh City)
If you don't want a self-guided tour, here we have an available and fantastic Mekong Delta 1 Day Tour for you to discover the Mekong Delta with diversity and interesting activities. You absolutely can experience less-touristy day trips from Ho Chi Minh City as well as enjoy cycling at one of the best cycling paths departing from Saigon.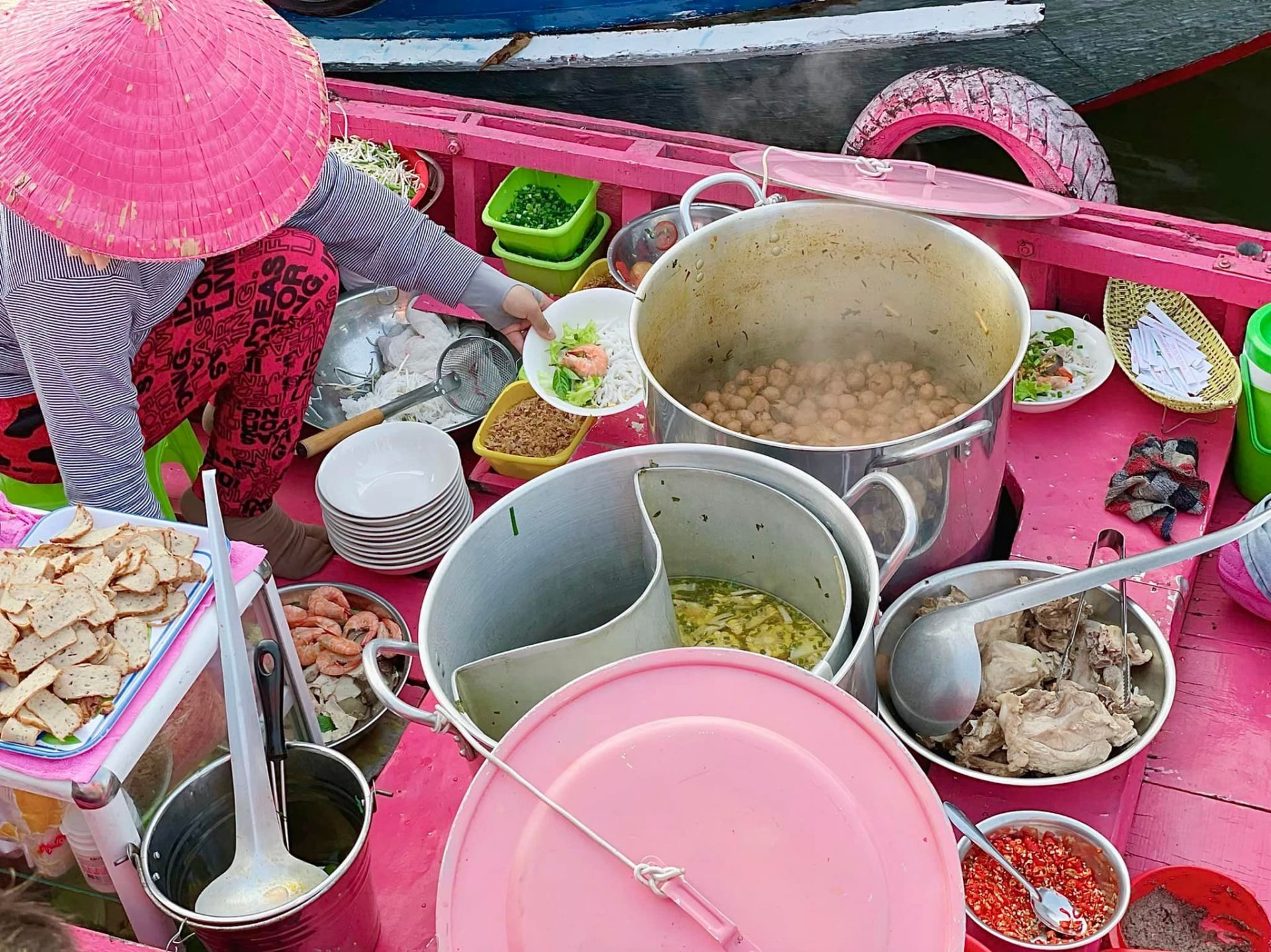 In addition, coming to Mekong Delta, you should try the list of famous specialties here. Here are the typical food blogs of the Mekong delta for your reference:
Do not forget to get our special offer once join our tour 

Hope you have the best trip after landing in Saigon (Ho Chi Minh City) JOIN GROUP HERE to learn our tips as well as discuss them before going to these locations.