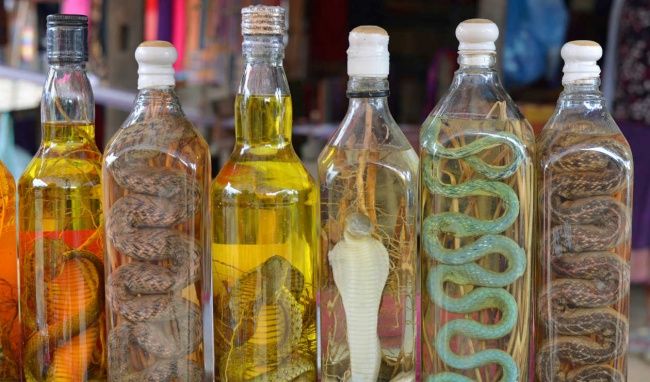 You don't have to confuse what to buy in Mekong Delta for your friends and relatives. Mekong Delta is abundant land with diverse natural resources including a ton of tropical fruits, aquaculture, and forest products. Apart from food, the handicraft souvenirs from coconut, bamboo, etc.  are also the things that you can not miss on your shopping list. Read on for our guide on what kind of gift you should buy in Mekong Delta.
1. Coconut candy
Coconut candy is a typical snack in Mekong Delta that you can't miss it. Especially in Ben Tre province, this is called "The Kingdom of Coconut". The price is cheap as well, around 35,000 - 50,000VND. However, if you don't have a chance to go to any candy shop in Mekong Delta, just head to any supermarket in Ho Chi Minh City and you can find it easily.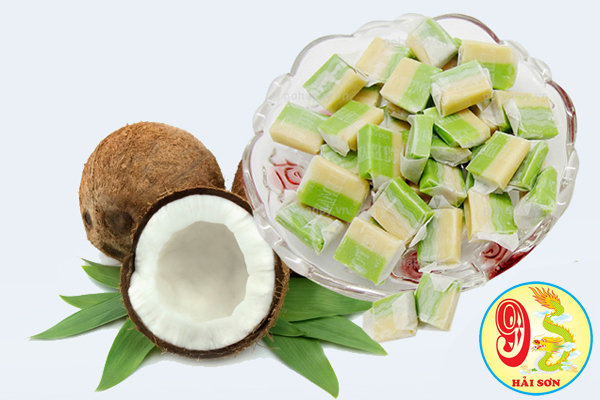 2. Serpent alcohol
Some people will scare or even yell when they look at the kinds of alcohol made from animals like snakes, geckos, etc. But actually, it's very useful for retreating the pain from spavin - the pain that old people always feel when climate changes. Despite its convenience, it's still not a direct cure for the retreat completely so that we recommend you don't use it too much. The best case is that you should ask the staff to let you try a little bit to see it suit you or not.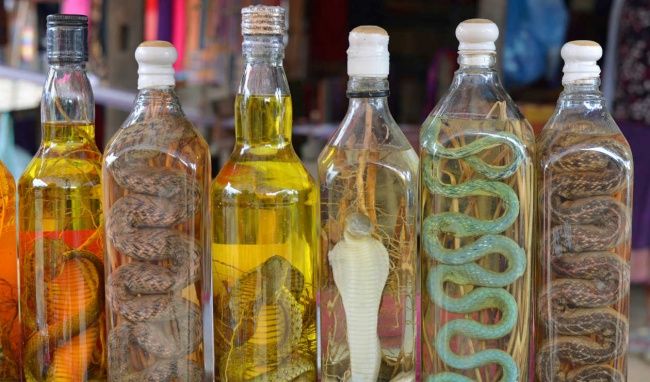 3. Royal Jelly
In Mekong Delta, besides agriculture and fruit, the beekeeping farm also plays an important role to increase the local people's income. They can use beekeeping to create honey and royal jelly. Royal jelly can be used as skincare mask to smoothen the face and remove freckles or can be eaten, as it has a lot of healthy and nutritional properties. Although it is called jelly, it's difficult to eat, so that you should mix the jelly with the honey tea to make the tea sweeter. The price is up to a different brand, around 150,000VND to 250,000VND for a bottle of 100 grams.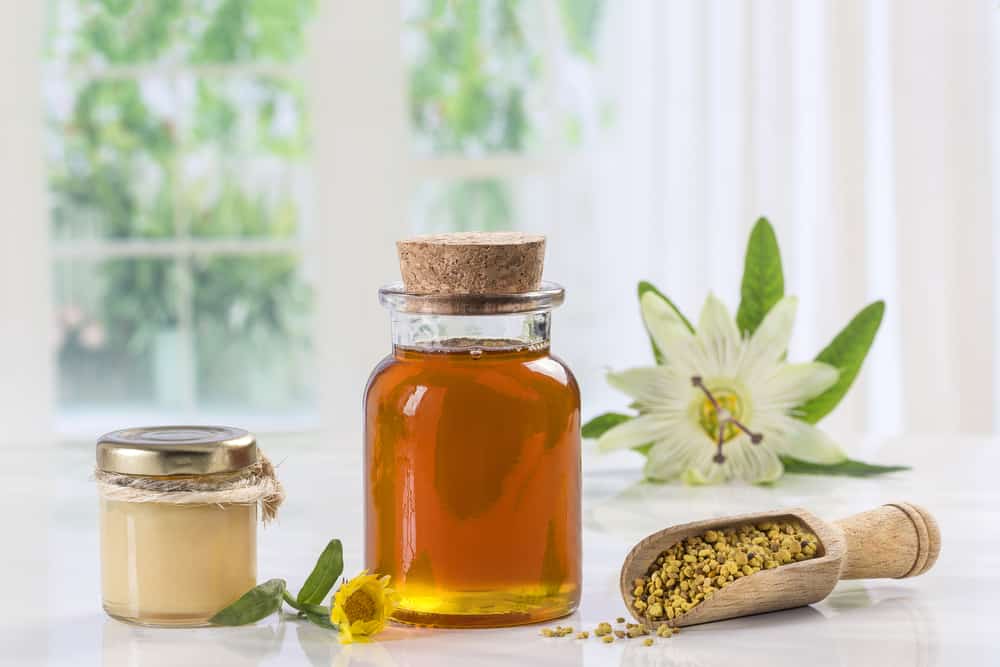 4. Pia cake
Before reading this, let's try to ask yourself that can you be able to eat durian. If yes, go ahead. If you don't, just continued to read. Pia cake first was immigrated by Chinese people to Mekong Delta in XVII century. Time by time, the taste is changed to suit Vietnamese people. The main ingredients of Pia cake are durian, the greasy and buttery flavor of salted duck eggs and steamed green beans and Indian taros. The price is about 40.000 VNĐ to 80.000 VNĐ. You can find easily them in some rest stop or even in a supermarket.
5. Handicraft souvenir from coconut
Like I said above, Ben Tre province is the kingdom of coconut. So, it is not only famous for the coconut candy but also lots of stuff are made from any part of coconut as the chopsticks, spoons, massage tools, teapots, toys, etc and a lot of other things for decorations. The price is very cheap around 30,000-40,000 VND for the small stuff. You can buy it as a present for your children or your nephew.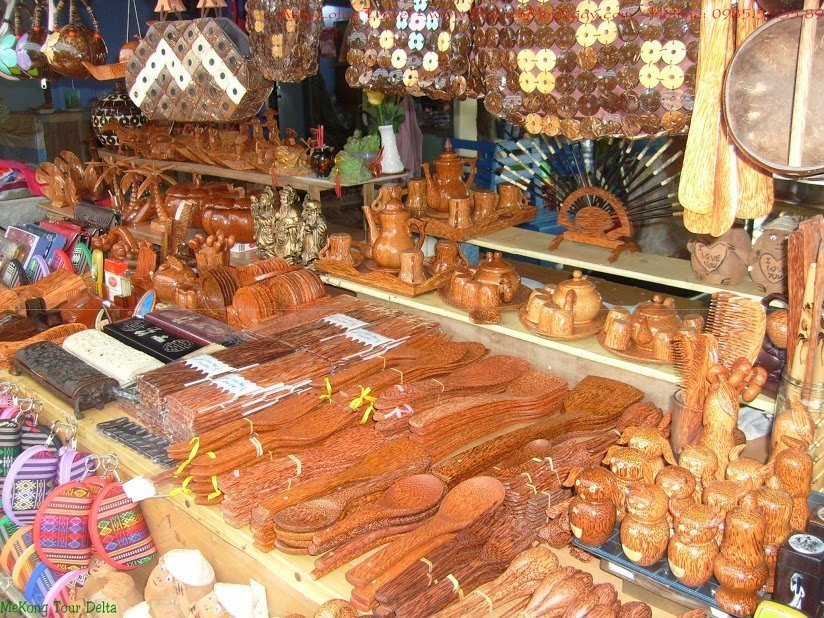 6. Vietnamese checked scarf
With the local people in Mekong Delta and Cambodia as well, checked scarf is a familiar symbol of this region's culture. The scarf mostly is decorated with two colors: black and white or sometimes brown and black. They are mixed together for creating small shapes. It is worn during farming or working for wiping the sweat and relaxing under a tree shadow as a hammock. The price is around 30,000 VND to 50,000 VND depending on the quality.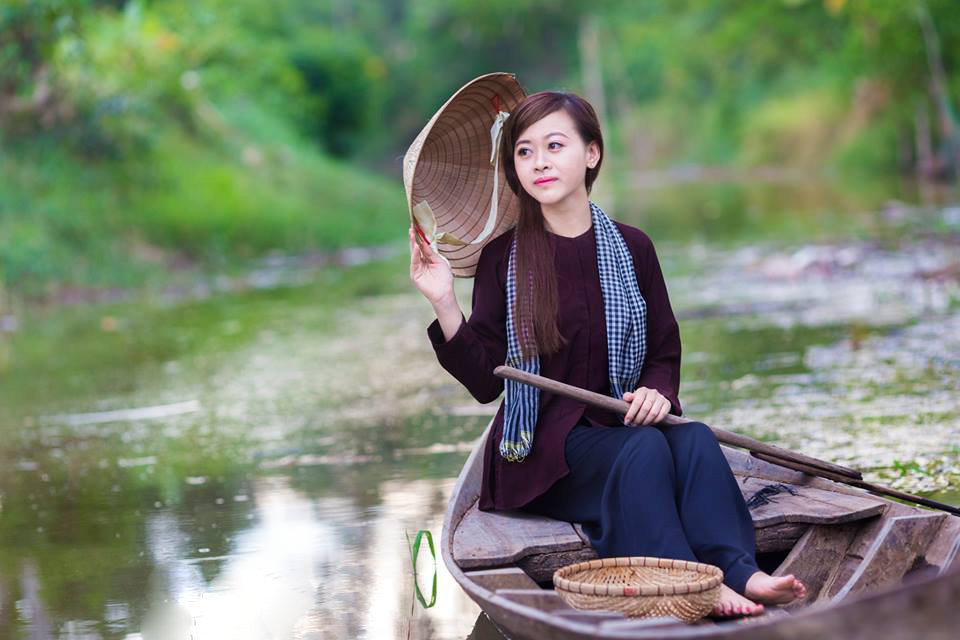 7. Paintings
For anyone who loves painting and art, you shouldn't forget the oil paints or other kinds of paints which were created by local people. Most of the content is about the daily life of local people in Mekong Delta and you can't find those arts in other places of Vietnam. You can buy them as a reminder of your Mekong Delta trip.