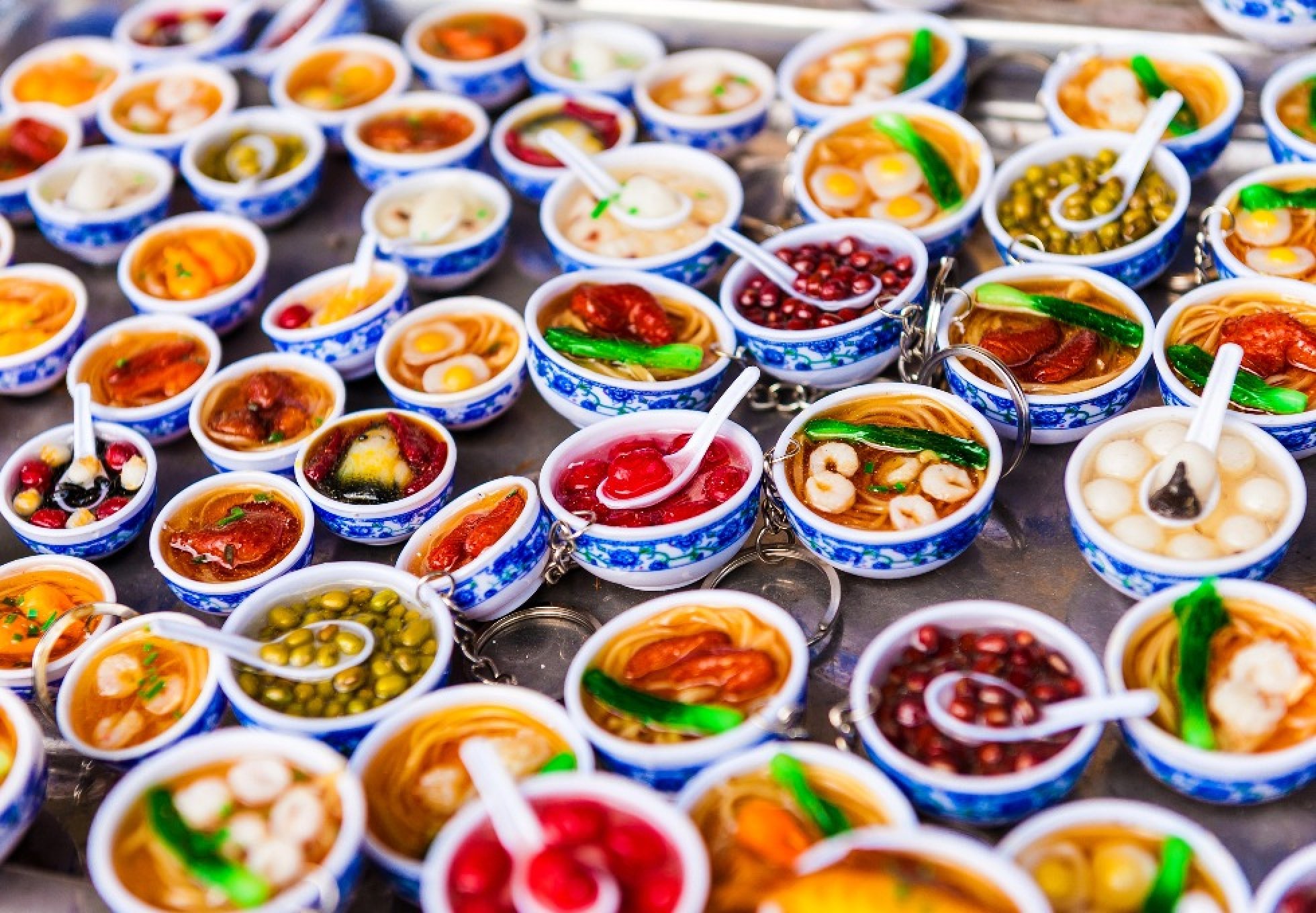 Located on Vietnam's central coast, used to be the busiest harbor along the country and is best known for its ancient town. Hoi An attracted millions of visitors every year. Not only because of its charm but Hoi An has tons of food on its own to discover. Here are Top must-eat dishes in Hoi An that you should not miss when visiting Hoi An.
1. Bánh mì
Known as the best bánh mì not only in Vietnam but around the globe at least according to American celebrity chef and TV personality Anthony Bourdain. "Bánh mì" in Hoi An filled with pickled vegetables, paté, mayonnaise, salad, sausage, egg, tons of herbs and more. Just like a great combination of Western and Eastern cuisine taste in your mouth.
Best place in town :
* Banh mi Phuong: 2B Phan Chu Trinh [MAP]
Open hours: 06:00 am - 09:00 pm Price: 25,000 - 40,000 vnd
* Madam Khanh - The Banh Mi Queen: 115 Trần Cao Vân [MAP]
Open hours: 07:00 am - 07:00 pm Price: 15,000 - 30,000 VND
If you prefer different fillings rather than the traditional Bánh mì, you can check out bánh mì stuffed with grilled pork at Minh Thu bakery at 248 Ly Thuong Kiet Street.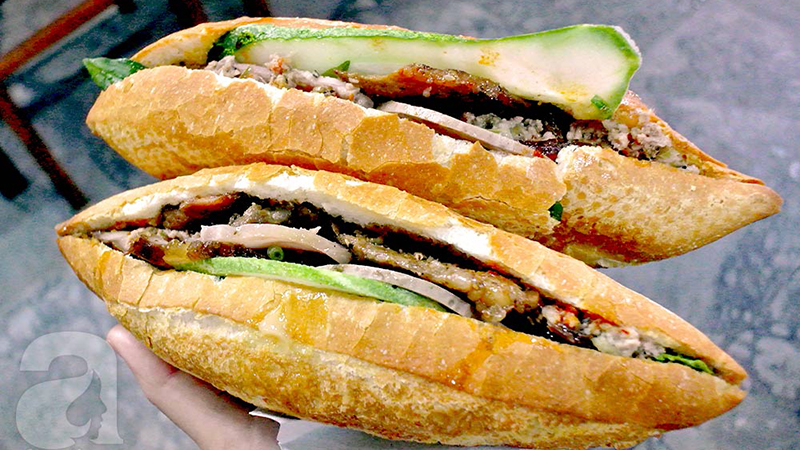 2. Mì Quảng
Mi Quảng (Quang noodles) literally means Quảng region style noodles, mì Quảng is popular along the country, even among foreigners. Traditionally, its main ingredients are shrimp, quail eggs and pork, which are also used to cook the broth along with chicken bones and as toppings together with peanuts, rice crackers and served with a basket of herbs and vegetables. But the dish has gradually become diverse with more toppings like fish, squid, snails, and even frogs.
Best place in town: Many locals prefer Hai, a small eatery at 6A Truong Minh Luong Street and street stalls on Nguyen Hue street.
Reasonable price : 20,000 – 40,000 vnd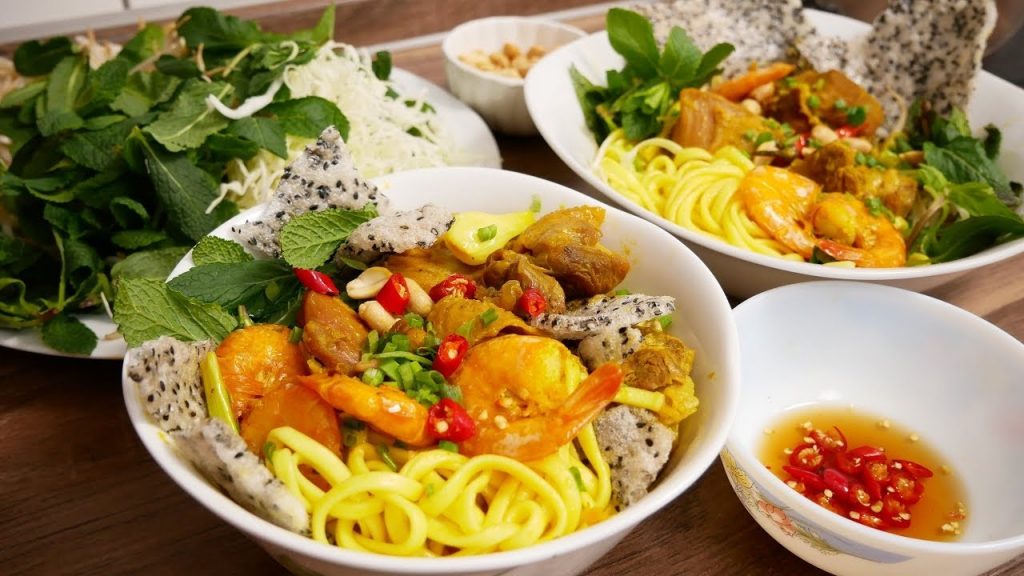 3. Cao Lầu
Cao lầu is a rice noodle dish believed to have been invented in Hoi An. In a way, it has some things in common with Chinese and Japanese noodles. Visually it looks raw and thick like Japanese udon but toppings include slices of pork that look like Chinese barbecued pork. Cao lầu is eaten with lots of herbs and vegetables which greatly enhance its flavors
Best place in town :
* Cao lầu Trung Bắc: 87 Trần Phú [MAP]
* Cao lầu Bà Bé - in local market on Tran Phu Street
* Thanh Cao lầu: 26 Thái Phiên [MAP]
Reasonable price : 25,000 – 55,000 VND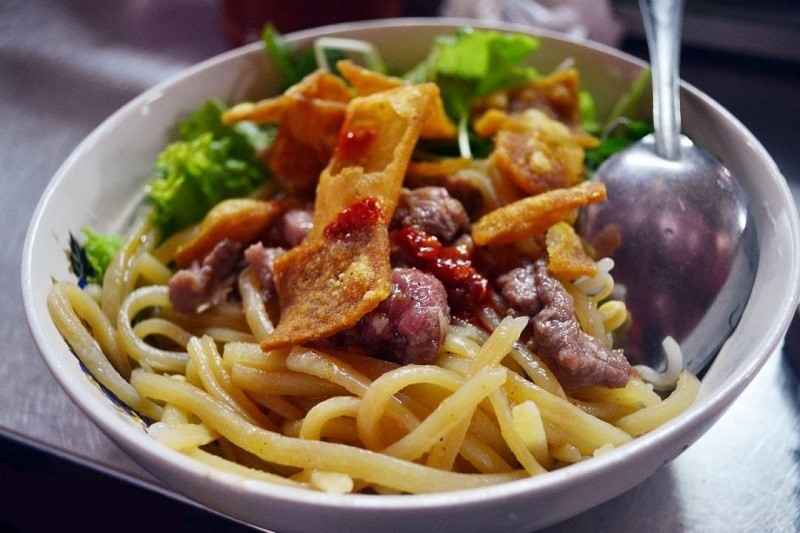 4. Cơm Gà
Chicken Rice in Hoi An is a very typical dish of this ancient city, and yet very different from others chicken rice in Vietnam. Boiled chicken is cut or torn into smaller slices, seasoned with spices like salt, black pepper, chilli, and coriander - the main factor that makes the dish savory. Accompany perfectly with chicken slices, the golden rice in this set is cooked with chicken broth, with fresh turmeric to give it a glossy yellow colour. Also, pickled vegetables and sauce are compulsory. The spicy dish might burn your tongue a little bit, but it is an essential part of the cultural experience in central Vietnam. The culinary style in this region is different than the sweeter tastes in the south and saltier dishes in the north.
Best place in town :
* Cơm gà Trung Bắc – 87 Trần Phú [MAP]
* Cơm gà Bà Buội – 22 Phan Chu Trinh [MAP]
* Cơm Gà Bà Nga – 8 Phan Chu Trinh [MAP]
Reasonable price : 35,000 – 65,000 vnd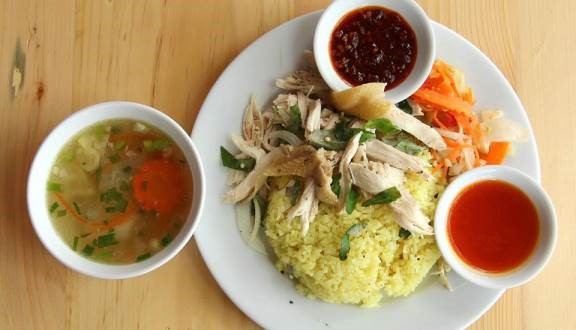 5. Bánh Xèo
"Bánh xèo" means sizzling pancake. The fact that you could find "Bánh xèo" along the country due to geographical differences in cooking styles and spices in Vietnam but "Bánh xèo" in Hoi An is unique and different. While Bánh Xèo in Saigon is enormous, the Hoi An version is tiny. You might say it actually matches the typical tiny details that make Hoi An special: tiny lanterns, tiny houses, and tiny alleys. It is super crunchy, even if you leave it for a while in the air and filled with mung bean sprouts, shrimp, pork, and egg. The pancake severed with Vietnamese spicy pickles (young papaya, carrot, and cabbage) and of cause fresh herbs cultivated in Tra Que vegetable village ( where people call it the best herbs village in province). The sizzling pancake will blow in your mouth with sweet and creamy peanut sauce with all pleasant smell.
Best place in town: Ba Le Well -  45/51 Trần Hưng Đạo
Reasonable price : 30,000 – 60,000 VND / portion ( 4 – 5 pancakes)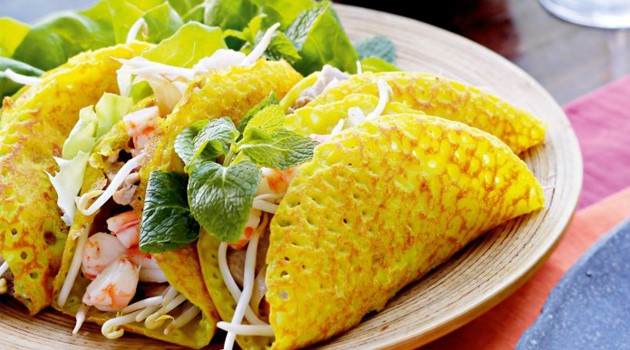 6. Don't miss the Chè for dessert
The sweet soup (chè) in Hoi An can be found in numerous versions Hoi An is most famous for three types of Che which are sweet corn soup, lotus seed sweet soup and black sesame sweet soup. A severed bowl of sweet, soft and warm corn soup, with coconut milk on top, will definitely make your day. Fresh corn is grown right in Hoi An vegetable village, the best corn will become ingredients for Hoi An sweet corn soup. That is the reason why sweet corn soup in Hoi An is always tastier than other areas.
Best place in town: you can find sweet corn soup in Hoi An market or around every corner in this charming town.
Reasonable price : 5,000 – 15,000 VND / bowl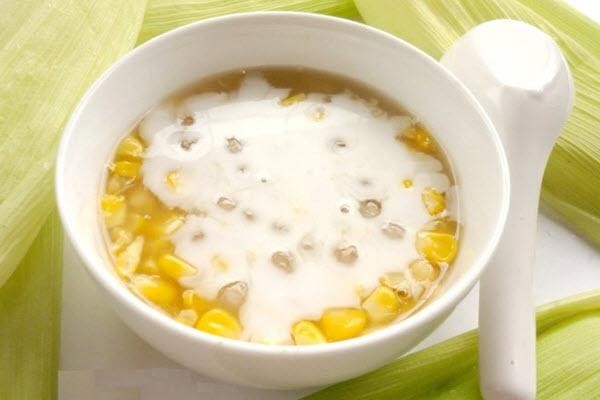 Known as a royal dessert, lotus seeds sweet soup is another stunning dessert which is made from local fresh lotus seeds, cassava flour, coconut milk, and sugar.  The beverage is usually served in a little bowl and easily makes eaters addicted right from the first time by its refreshing lotus. This sweet treat is not only tasty but also very good for health thanks to the benefits of lotus seeds to the digestive and nervous system.
Best place in town : 3 Nguyễn Huệ,
Reasonable price : 10,000 – 25,000 VND / bowl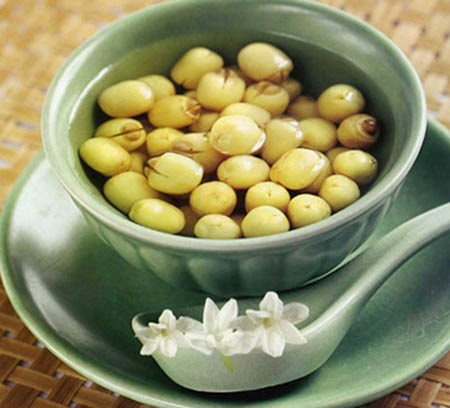 Another Hoi An sweet pudding both delicious and nutritious is black sesame sweet soup which locals often call "Chè mè đen" or "Xí mà phủ". As the seed is rich in rich in A, B and E vitamins and copper, magnesium, iron, zinc and calcium, the black sesame seed soup is a good medicine for heart, skin, digestion. This sweet soup is the tastiest when it is served hot.
Best place in town: 118  Nguyen Truong To  and on streets: Tran Phu and Bach Dang
Reasonable price : 5,000 – 15,000 VND / bowl