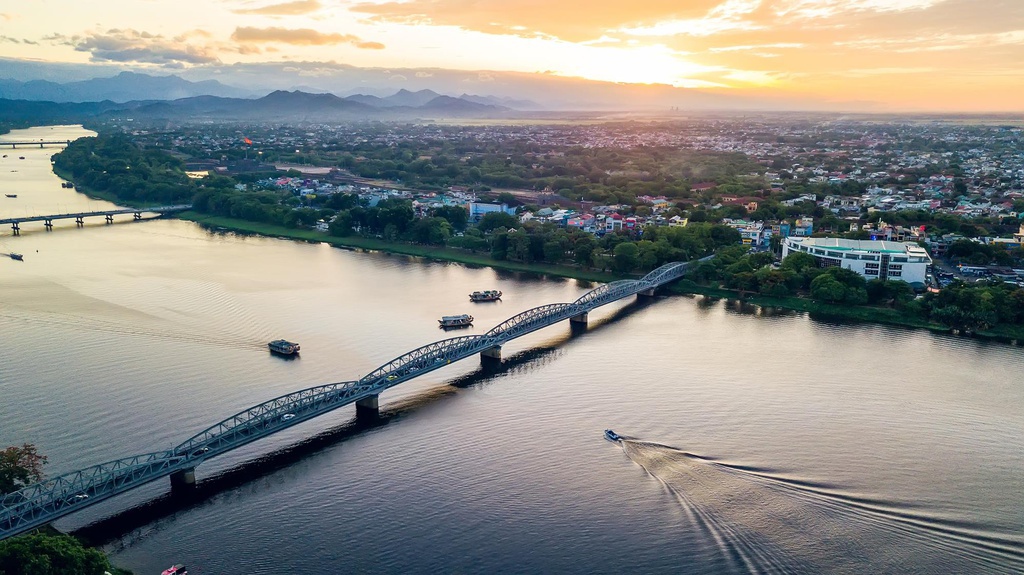 Though being in one of the big cities of Vietnam, Hue is calm and peaceful. The royal city welcomes tourists with solemn palaces, romantic scenes and slow living. Huong river is an outstanding symbol that represents Hue's beauty and peaceful lifestyle. 
The Huong River crosses Hue. In the autumn, flowers from upriver fall into the water, giving the river a perfume-like aroma. That's why it's called Huong (Aroma/ Perfume). Under the sunlight, it looks like a huge silver line, traversing the green fields and jungles before visiting the city.
Here are 4 favorite spots to enjoy the alluring view of Huong River
Vong Canh Hill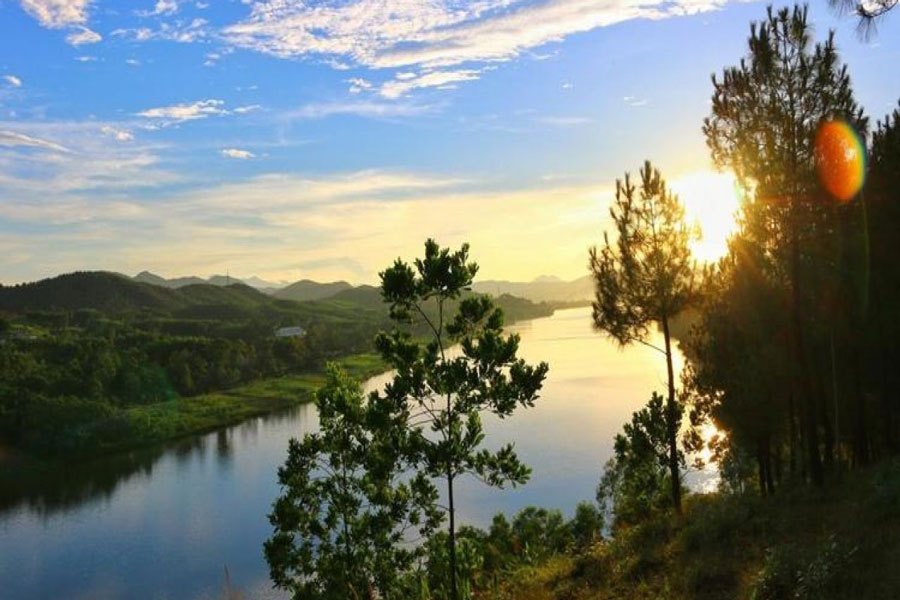 Located 7km away from Hue, Vong Canh hill is one of the best locations to see the panorama view of Hue. The silvering hue color reflecting on the river surface in the sunset or sunrise is what people fall for when they reach the top of the hill. It only takes 10 minutes to walk there under lush pine forests. 
Trang Tien Bridge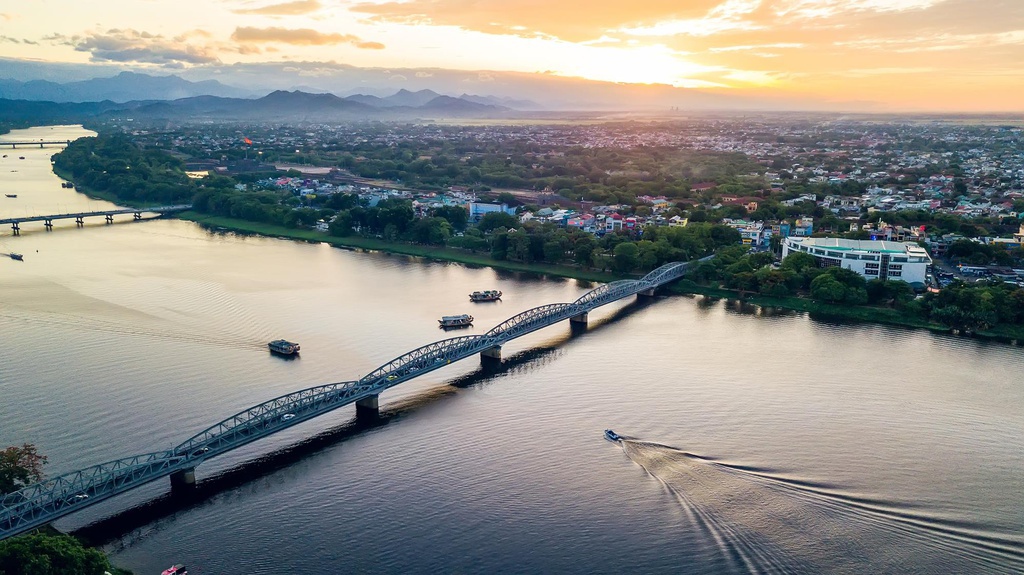 To get a closer look at Huong River, there is no better way than Trang Tien Bridge. Trang Tien connects the North and South sides of the city. The steel-made bridge is designed in the Gothic style and is considered as the best checked-in place when traveling to Hue.
Nguyen Dinh Chieu Street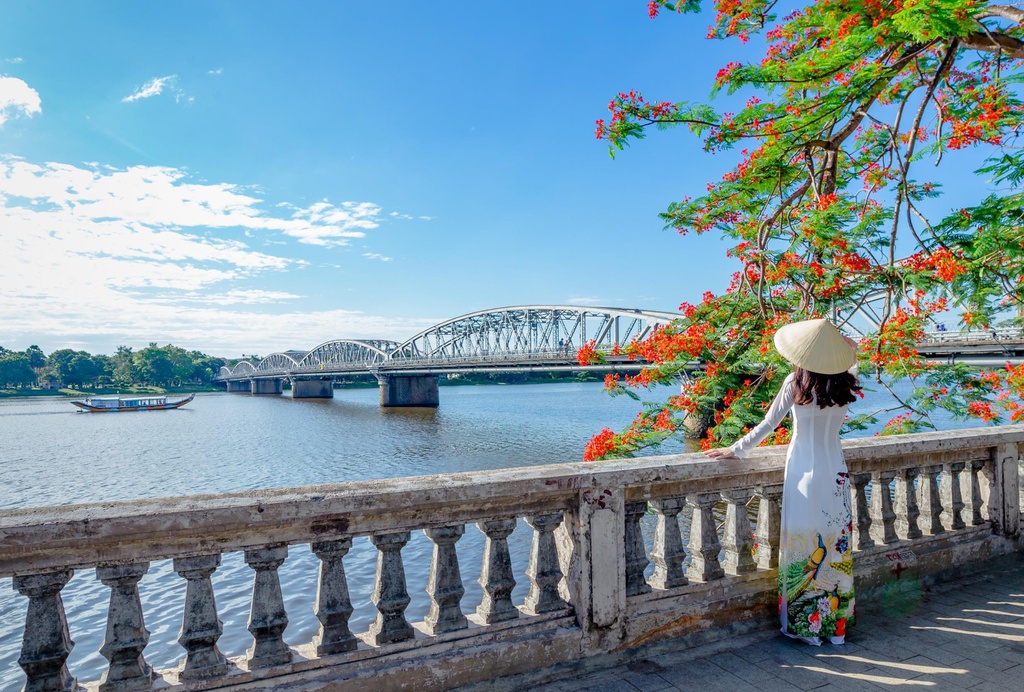 Not far from Trang Tien Bridge, Nguyen Dinh Chieu runs along the Huong River and thus gives pedestrians an open space to enjoy the view of two iconic symbols of Hue. In the summertime, flamboyant trees on the side of the streets display its stunning beauty with hundreds of large, orange-red flowers. An early morning walk along the riverside is the best start for a day in this royal city.
Cau Go Lim - Wooden Bridge on the southern side of Huong River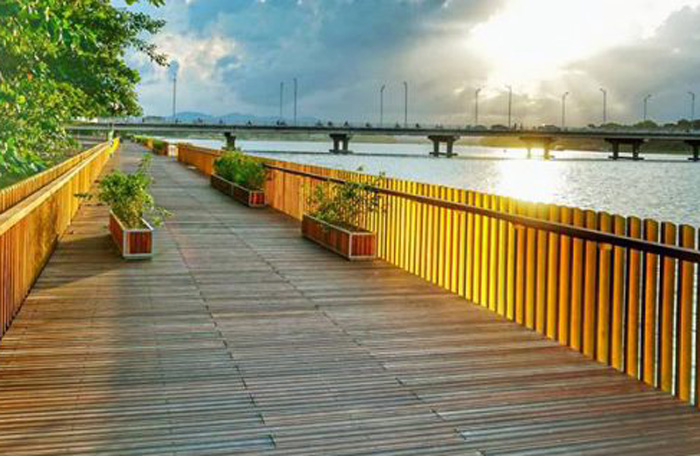 It has become a popular spot among young people due to its modern design and decoration. As running along the river, it offers a wonderful place to stroll with the water and watch local life.
Source: HaiNhi/zing