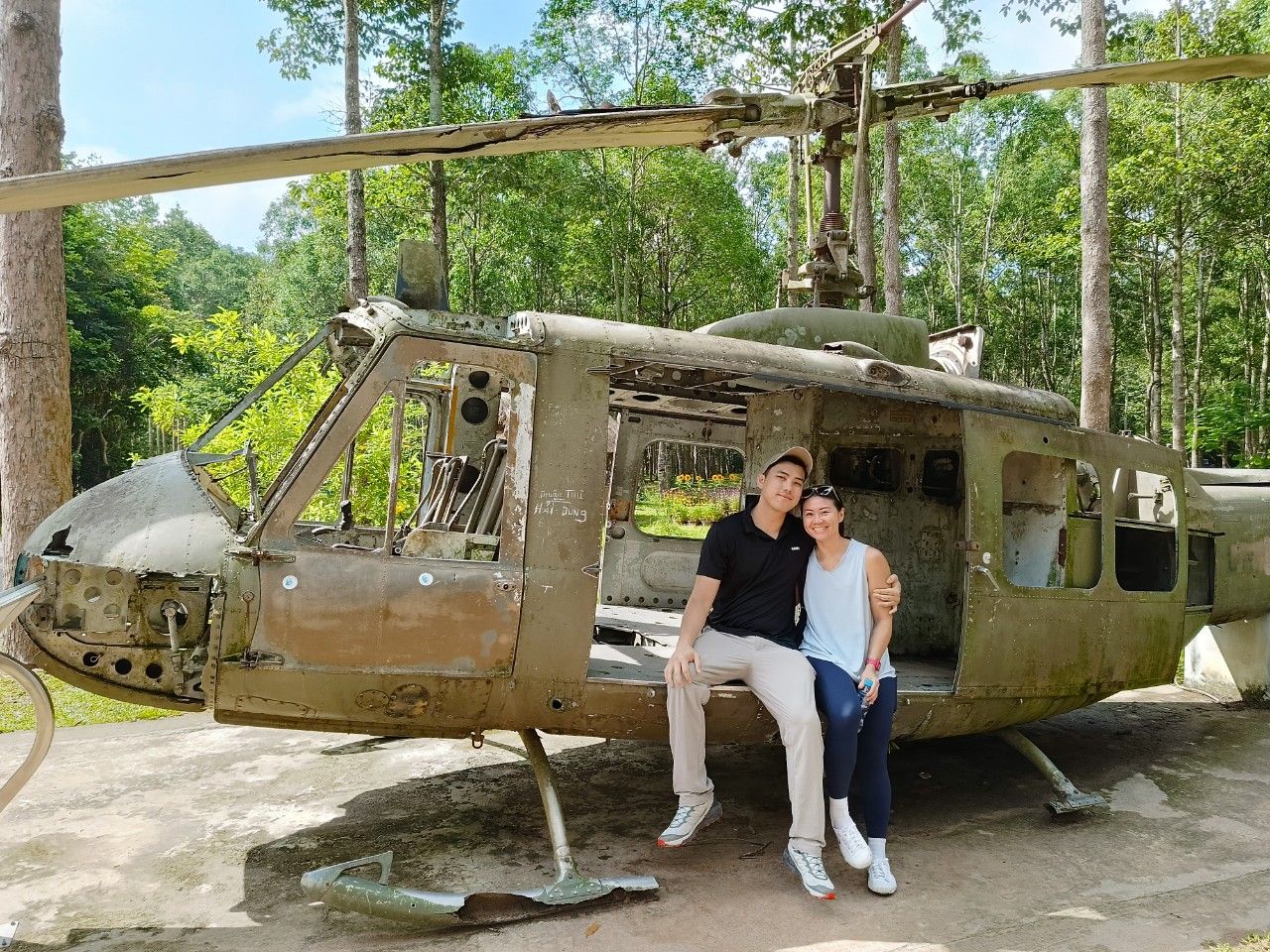 Are you ready to step back in time and immerse yourself in the intriguing history of Vietnam? Embark on an unforgettable journey through the historic Cu Chi Tunnels, where secrets from the past come alive. In this guide, we'll provide you with exclusive insider tips and detailed directions to navigate your way through this remarkable underground network. Discover the hidden stories, experience the resilience of the Vietnamese people, and gain a deeper understanding of the country's rich heritage. Get ready for an enriching adventure as we unveil the secrets of Cu Chi Tunnels and unlock a chapter of Vietnam's fascinating past.
Cu Chi Tunnels are located approximately 70 km northwest of Ho Chi Minh City, with a travel time of about 1.5 - 2 hours depending on traffic conditions. Here are specific transportation options and information on how to get there:
Private Car or Taxi:
You can rent a private car or take a taxi from Ho Chi Minh City to Cu Chi Tunnels. The rental prices may vary depending on the service provider and type of vehicle, typically ranging from 1,200,000 VND to 1,800,000 VND for a round trip. It is recommended to start your journey in the early morning to avoid peak traffic.
Public Bus:
Another option is to use public buses to travel from Ho Chi Minh City to Cu Chi. Bus number 13 operates from Ben Thanh Bus Station to the final stop at Cu Chi Bus Station. The bus fare is around 10,000 VND. The travel time can range from 2 to 3 hours depending on traffic volume and road conditions.
Tour Packages:
A popular choice is to join organized tours from Ho Chi Minh City. These tours usually include transportation, a guide, and a visit to the Cu Chi Tunnels. The price and departure times of the tours depend on the tour operator and the package you choose. Typically, tours depart in the morning around 7:30 - 8:30 am and return to the city in the afternoon around 4:00 - 5:00 pm. The price of tour packages can range from 250,000 VND to 500,000 VND per person.
Note that fares and departure times may vary over time and among different service providers. For the most accurate information on fares, departure times, and booking cars or tours, it is recommended to directly contact reliable transport companies or travel agencies.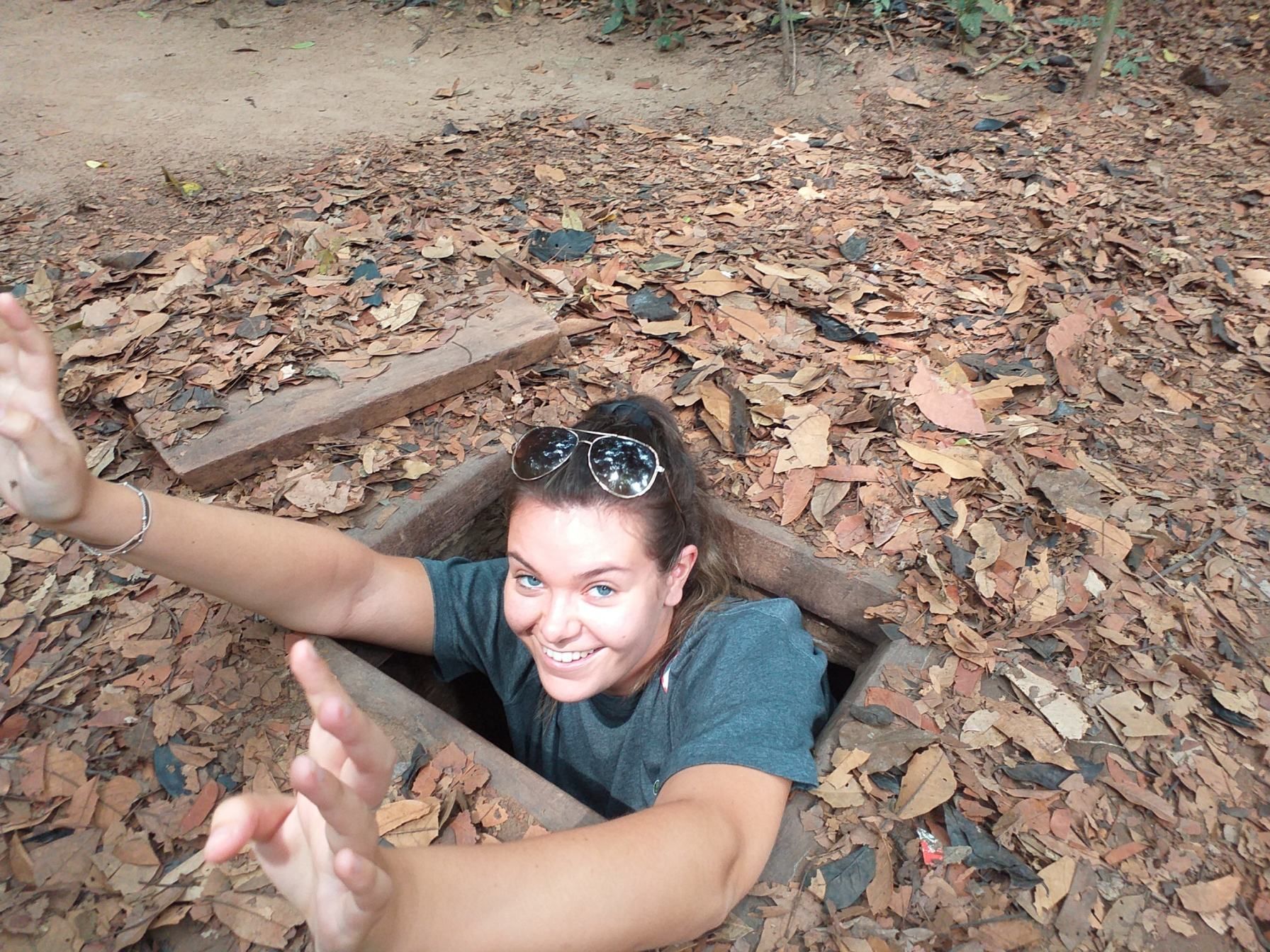 Our Cu Chi tunnels experience small group tour - Ben Duoc tunnels tour will bring you to the original Cu Chi Tunnels Ben Duoc, avoiding the crowded buses at the more touristy Ben Dinh location.
Discover the hidden gem of Cu Chi Tunnels, a place that remains almost exclusively known to the locals. Embarking on a journey to this historical site promises a range of captivating activities and immersive experiences. Here's a closer look at what you can expect when exploring this historical site:
1. Explore the underground network
Delve into the intricate web of tunnels known as the "Hầm Địa Ngục" (Hell's Kitchen). Crawl through narrow passages and witness the impressive engineering marvel that allowed Vietnamese soldiers to navigate and survive during the war.
2. Experience shooting range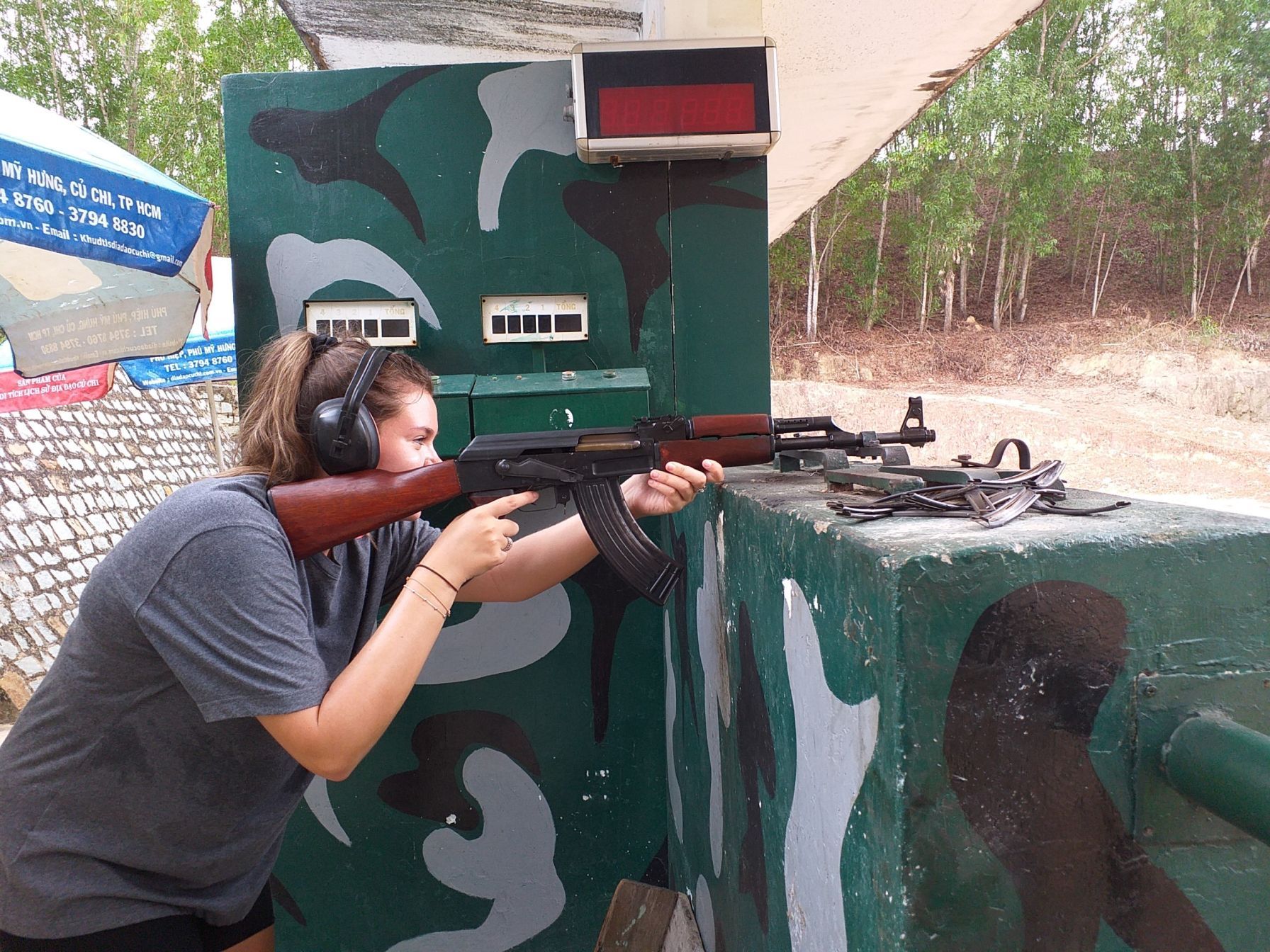 For an adrenaline rush, participate in the shooting range experience. Under professional guidance, you can fire a variety of historic weapons used during the war, including AK-47 rifles. This hands-on activity offers a glimpse into the challenging conditions soldiers faced during the conflict.
3. Guided tours
Engage in a guided tour led by knowledgeable guides who share stories and historical insights. They provide detailed explanations about the tunnel system, the wartime strategies employed, and the resilience of the Vietnamese people.
4. Discover traps and bunkers
Encounter the innovative traps and hidden bunkers designed to protect the tunnel dwellers. Learn about the resourcefulness and creativity of the soldiers who constructed these defensive mechanisms.
5. Capture iconic shots with historic Vietnam War Era weapons and vehicles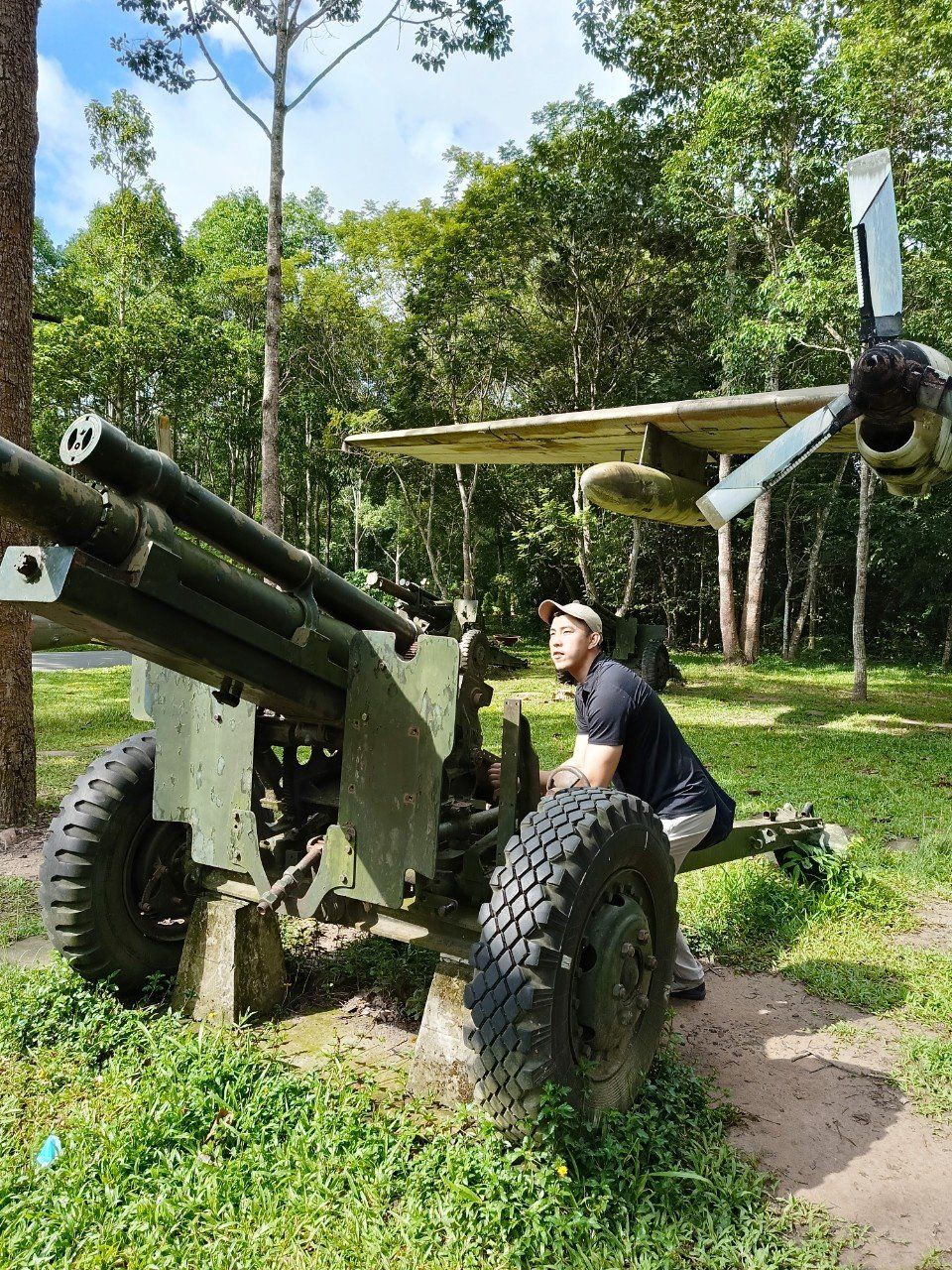 At Cu Chi Tunnels, you'll have the unique opportunity to explore and witness the weaponry used during the Vietnam War. Immerse yourself in history as you discover the preserved and authentic combat equipment on display.
Don't forget to capture memorable photos with these iconic Vietnam War era combat vehicles, adding a personal touch to your visit. From posing next to these combat vehicles and weapons, these artifacts provide a tangible glimpse into the realities of war. 
6. Immerse in local culture: 
Take the opportunity to interact with local residents and gain insights into their daily lives. You can witness traditional activities, such as rice papermaking or enjoying local food specialties.
Visiting the Cu Chi Tunnels provides an educational and thought-provoking experience, allowing you to appreciate the resilience and ingenuity of the Vietnamese people during challenging times. Prepare to immerse yourself in history and gain a deeper understanding of the Vietnam War.
For a truly fulfilling journey, the ultimate tip is to embark on your adventure with a trusted tour guide by your side. Their expertise and guidance can enhance your entire experience, ensuring you make the most of your visit.
Join us and meet our dedicated and friendly tour guides who will go above and beyond to provide you with a warm and engaging experience. Don't miss out on the opportunity to create lasting memories with our passionate team of tour guides.
Be sure not to miss out on our special offer when you join us for this experience.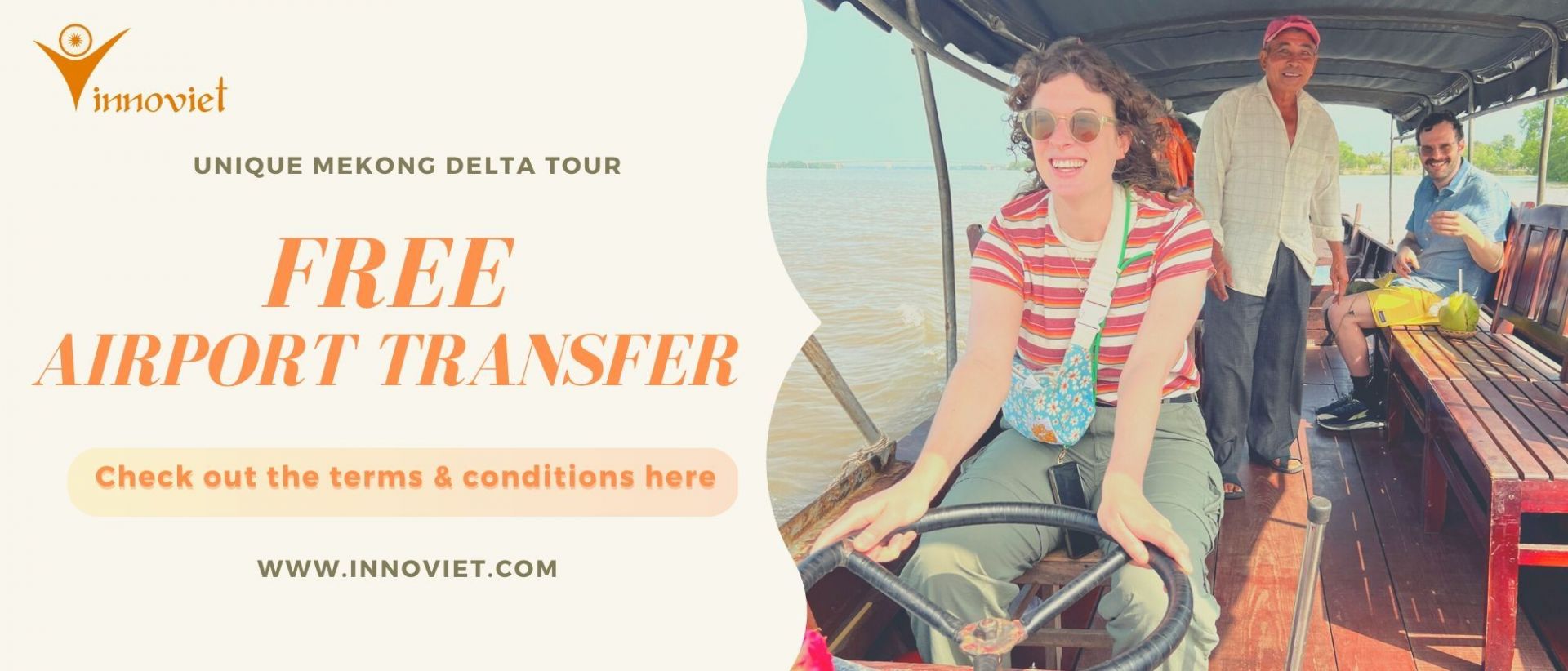 JOIN GROUP HERE to learn our tips as well as discuss them before going to these locations.