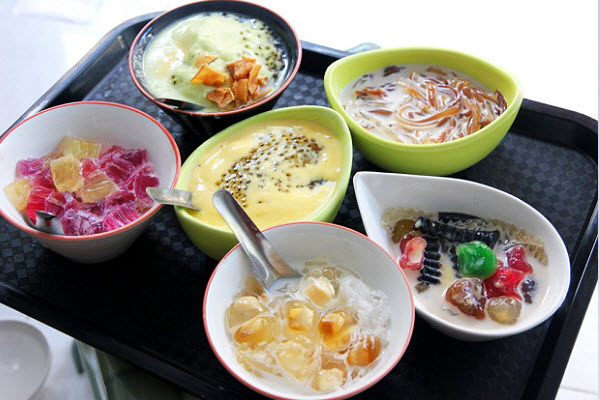 Chè (Sweet Soup Dessert) is a traditional dessert of Vietnamese people. Chè's origin is from China, then its flavor and ingredients were adjusted to suit  Vietnamese taste. The ingredients of Chè are diverse from mung beans, black eyed beans to tapioca, fruits, etc. Besides that, Saigon is the city of mixed culture. So that you can find many kinds of Chè here. To make it easier for you, we will recommend you  Top 5 Vietnamese Chè in Saigon for sweet lovers that you can not miss when you are in town.
1. Chè Thái Ý Phương
Located at one of the most famous food streets, Chè Thái Ý Phương is the biggest Chè restaurant in this street. At the beginning, the restaurant was just a small house but nowadays, it expands to 3 big houses to have enough space for customers. In front of the store is a basket full of Chè packs for taking away. The most special Chè in this restaurant is Chè Thái - Thailand's sweet soup. The funny thing is that they use this name because the main ingredient of this Chè is durian, while Thai people do not have this kind of sweet soup like. Beside Chè, you can also order some snacks like potato chips or meat balls, etc.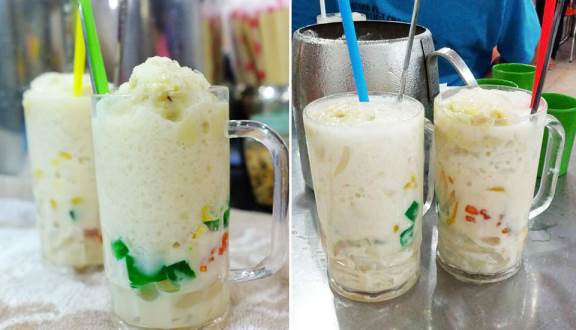 Address: 380 Nguyễn Tri Phương Street, Ward 4, District 10, HCMC.

Price: From 20.000VNĐ to 40.000VNĐ

Open Time: From 3:00PM to 11:30PM
2. Chè Hà Ký
Chè Hà Ký is a very famous Chinese Chè in Chinatown of Saigon. With the history of more than 30 years, Chè Hà Ký day by day becomes a symbol of Chinese culture right in the heart of Saigon. Although there are still lots of Chinese Chè out there, Chè Hà Ký still plays an important role in Saigonese mind. With both hot Chè and cold Chè, you can choose your own type.  According to the staffs, you should try Chè Mè Đen (Black Sesame), Cao Quy Linh, etc. Did you know that Sesame can help you from laxative, constipation, indigestion?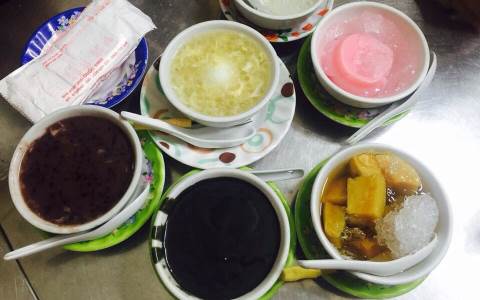 Address: 138 Châu Văn Liêm, Ward 11, District 5, HCMC

Price: From 12.000VNĐ to 55.000VNĐ

Open Time: 10:00AM to 11:30PM
3. Chè Mâm Khánh Vy
One bowl of Chè is not enough for you? So Don't worry, at Chè Mâm Khánh Vy, you will be served with 16 bowls of Chè with 15 different flavors. If you are afraid that you can't finish that big portion, you can order separately. The price of Chè Mâm Khánh Vy is reasonable as well, only 88.000VNĐ for a tray with 16 bowls of Chè and around 5.000VNĐ for a single bowl. We suggest that you should go with your friends to enjoy all of the flavors here. The minus point is that this store is located on the vendor, so the view around the store is not so nice.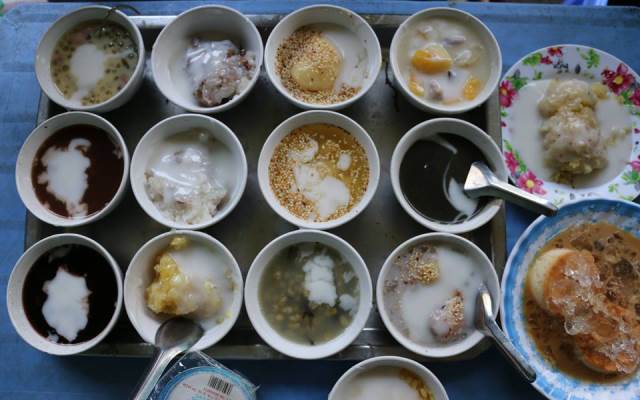 Address: 242B Sư Vạn Hạnh Street (Next to Ngô Gia Tự Apartment), District 10, HCMC

Price: 5.000 - 88.000VNĐ

Open time: From 5:00 PM to 10:30 PM
4. Chè Campuchia of Mrs. Có ở at  Hồ Thị Kỷ Street
Want something new? It's time for  Cambodia's Chè. Hồ Thị Kỷ market and nearby area is the place where Khmer ethnic minority live in Saigon. The meaning of the title is Ms. Có's Chè, she is the owner of this small store. Ms.Có said that it was a shop of her family and now she inherits her family business to continue selling Che. The Pumpkin flavor is the signature dish of Ms. Có that you cannot resist to give it a try. Her store only opens from morning to the afternoon. Therefore, you should manage your time carefully in order to get some delicious Che.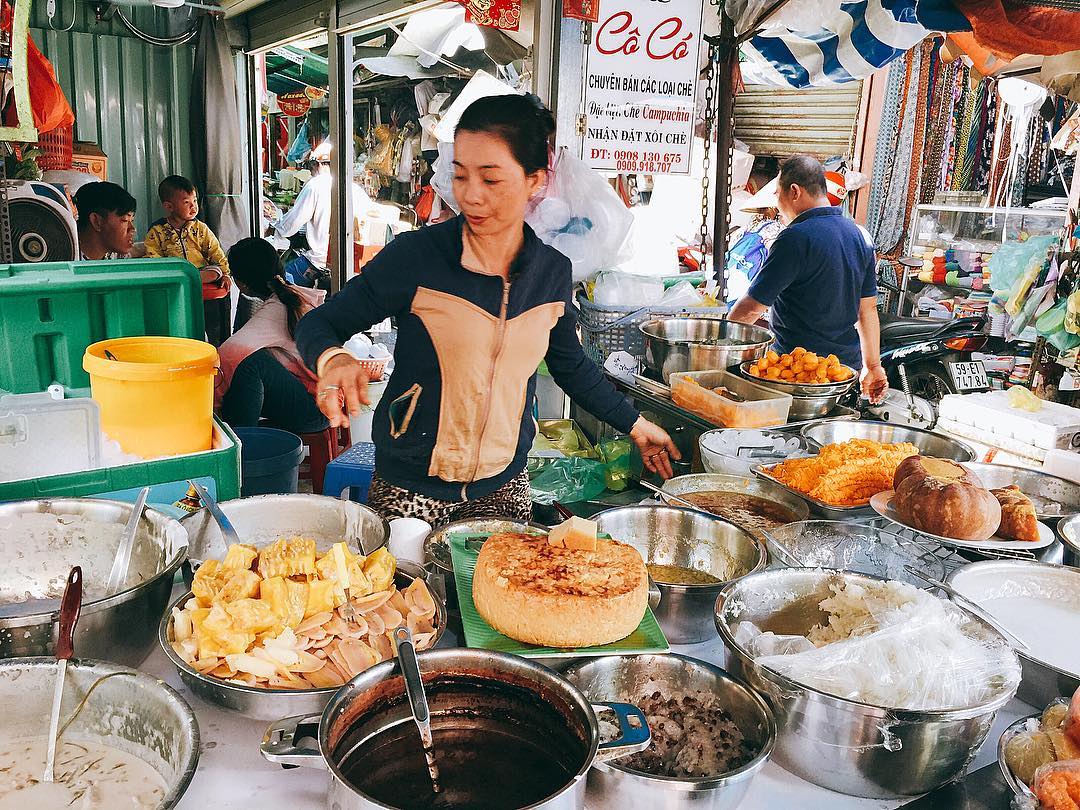 Address: 51/21 Hồ Thị Kỷ Str, (Next to Hồ Thị Kỷ Market), District 10, Saigon

Open time: 8:00AM to 3:00PM

Price: From 10.000VNĐ to 25.000VNĐ
5. Chè Hiển Khánh
Chè Hiển Khánh will bring you back to  Saigon 40 years ago. All of the stuff here like bowls, spoons, tables, chairs, etc. are decorated with the inspiration of Retro Style. It serves all kinds of Chè. At Chè Hiển Khánh, the sugar of the sweet soup is cooked with jasmine flower. When you eat Che, you can really smell and taste the delicate sense of this beautiful flower. Beside Chè, you can try some Vietnamese traditional green tea which can make you cool down your body in a hot and humid city like Saigon.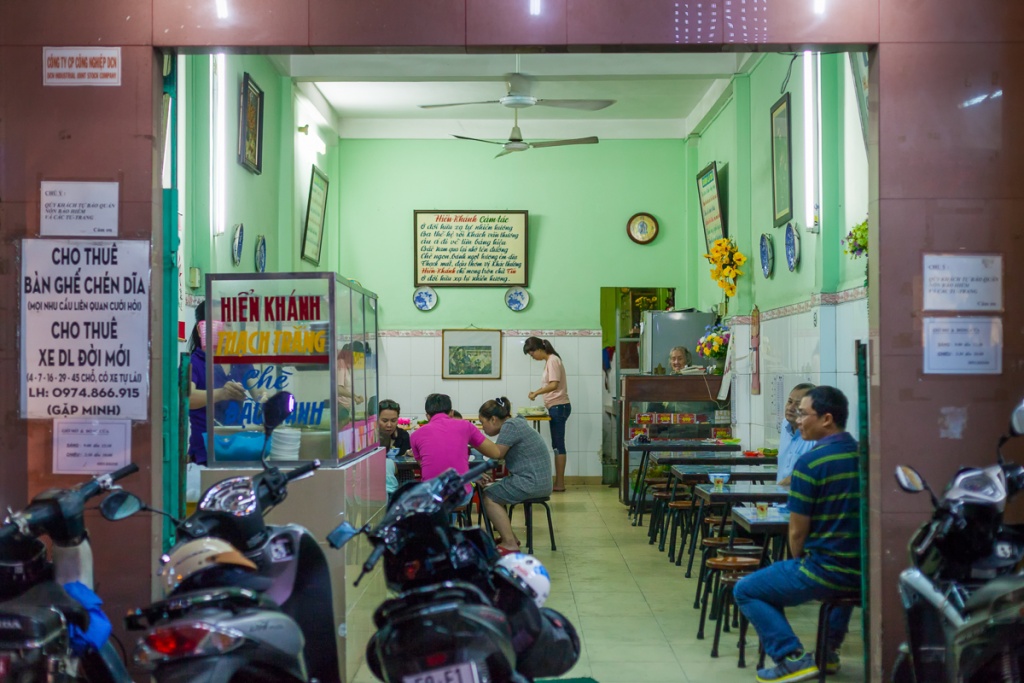 Address: 718 Nguyễn Đình Chiểu Street, District 3

Open time: 9:00AM to 12:30PM, 2:30PM - 10:00PM

Price: 7.000 - 23.000VNĐ
If you would like to have more information about travel tips in Vietnam, please check this out HERE