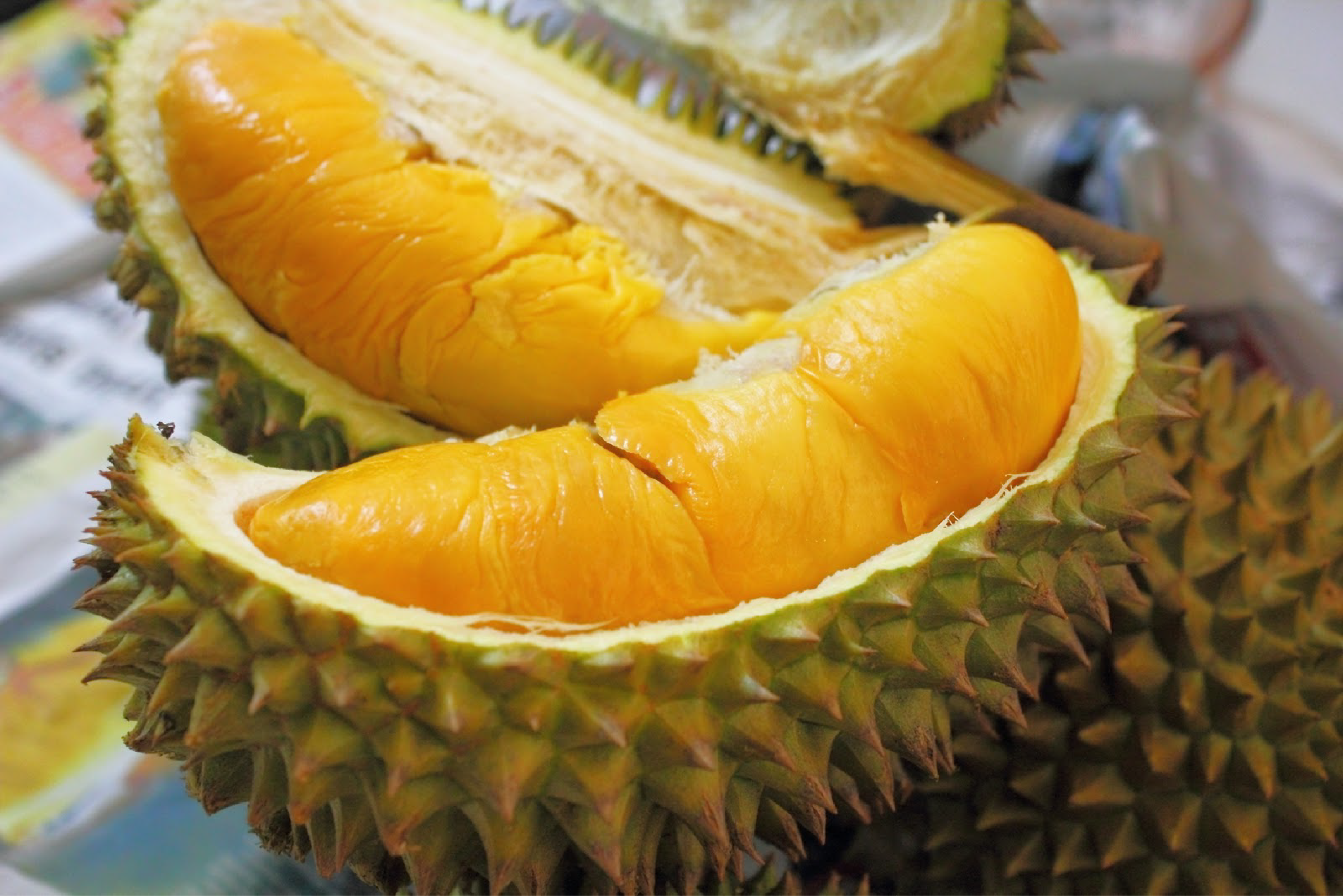 When visiting Vietnam, make a point to try a new and weird food every day. Tropical countries such as Vietnam are home to countless numbers of exotic fruits, so there is plenty to try. Examples include mango's, banana's, pomelo, lychee and also one of the most famous exotic fruits - DURIAN! Also known as the king of fruits, durian is a must try fruit when visiting Vietnam.
'The Blue Cheese of Fruit'
Durian is often described as 'the blue cheese of fruit' and as a fruit with a distinctively unique flavor and smell. The strong odor and thick hard skin with sharp thorns make it differ from the rest of the fruit world. "It was just like the best cheese dessert you could have", describes one brave taster. So if you are a big fan of cheese, Durian is something that you simply cannot miss when visiting Vietnam and the Mekong Delta.  [caption id="attachment_4986" align="alignnone" width="3505"]
Look out for the Durian when visiting Vietnam[/caption]
The History of Durian
Borneo and Sumatra are believed to be the places where durian originally originated from. Vast durian plantations covered from India to New Guinea.  Brought across present-day Myanmar, durian was actively planted in Thailand and the South of Vietnam, due to an increase in sea trading. Durian has been cultivated commercially in Southeast Asia due to the high demand of the local people since the mid-20 century. Arriving in Vietnam around 100 years ago, durian was planted around the Mekong Delta area and highland regions of the country. Called "Sầu Riêng" in Vietnam, which means my own sadness or private sadness, the name of the durian can be traced back to a particular folktale which tells a story of love.
Taste, Cost and Popularity
Durian enthusiasts say it tastes like mango custard, whilst those who hate it will berate its garlic onion flavor. One thing we know for certain is that it tastes better than it smells.  A Vietnamese durian can cost anywhere between 70.000 VND (3.1 USD) and 160.000 VND (7 USD) per kilo, and are mainly sold to satisfy domestic demand. In the summer, durian stalls are set along the streets in Tien Giang and Ben Tre province in Mekong Delta to attract the attention of Vietnamese tourists'.  People buy this fruit as an exotic and delicious gift for friends back home. Thailand, Malaysia and Indonesia are the top global producers, and exporters, of durian. And you can even find tours dedicated to durian in these countries. A single Kanyao durian was recently sold at a Thai auction for a staggering 1.5 million baht (around 48.000 USD). [caption id="attachment_4990" align="alignnone" width="3024"]
Durian available when visiting Vietnam[/caption]
What are you waiting for? Give Durian a try when you visit Vietnam
Some people may be deterred from durian because of the pungent smell , but it cannot be denied that it is packed with a high vitamin and mineral content. It aids in digestion, helps in the delaying of aging, and maintains blood sugar levels. These make for a good reason as to why people love this fruit so much. To durian lovers, they do not limit themselves with fresh durian but durian specialties. With variants of durian ranging  from ice cream, smoothies, pizza's or even a hot pot. So why not give it a try? Who knows, you might really enjoy it. What other unique foods or fruits do you want to try when visiting Vietnam? Please comment below and we will keep you updated with more blogs very soon.  Writer: Nhung Vu Editor: Vi Lam