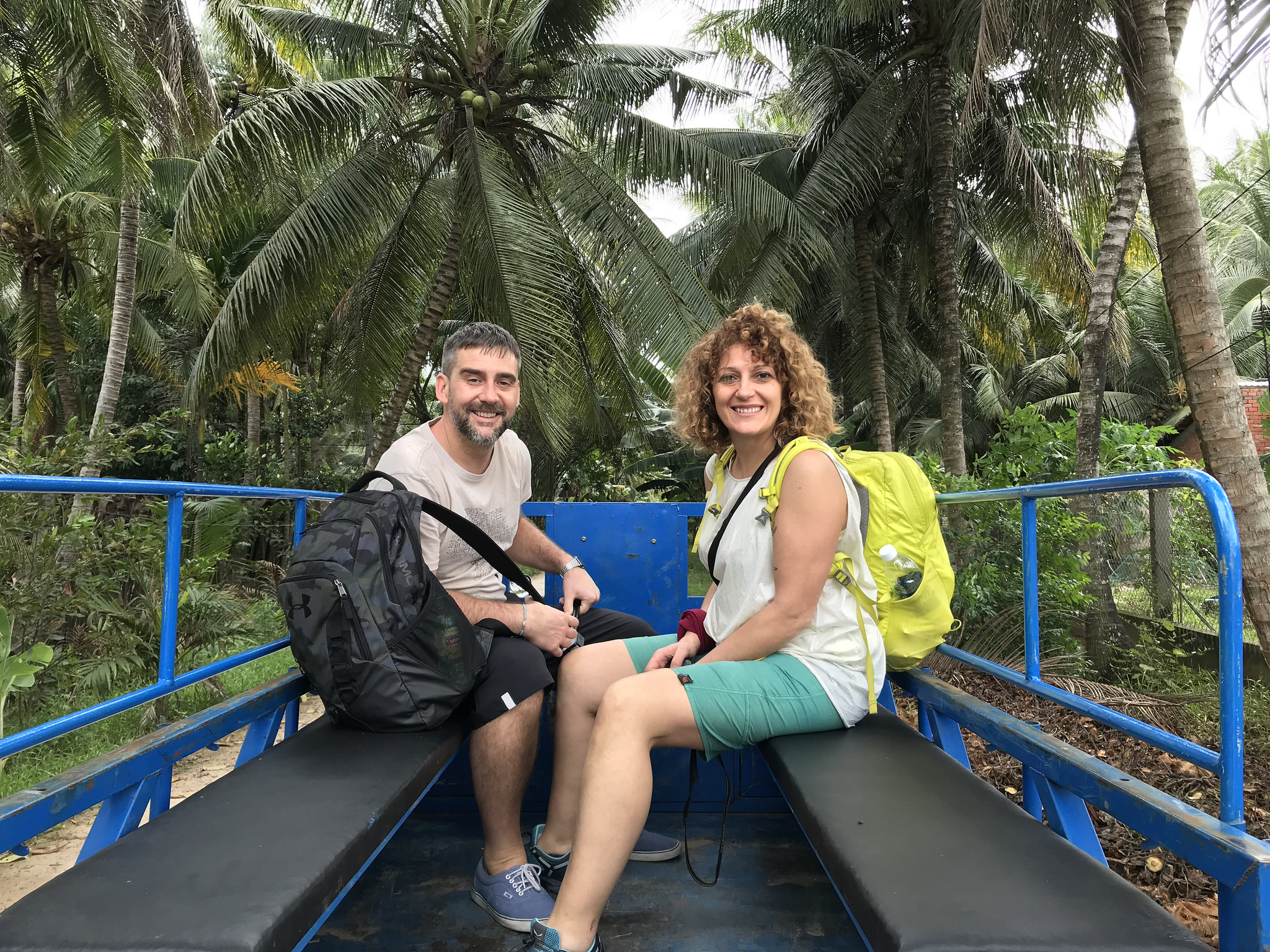 Ben Tre province travel guide
Mekong Delta is a big region located in the south of Vietnam. With the population is around 18 million people, you can imagine how big Mekong Delta is. So to decide where you should travel to Mekong Delta is not an easy task. In my opinion, travel to Ben Tre province of Mekong Delta is a region that can be possible to suit a day trip. So to know how to get to Ben Tre province, let's follow us on the trail of this blog.
1. How to get there?
It is not so difficult to travel to Ben Tre province. You can hop on a public bus to get to Ben Tre province. You should buy tickets at only popular bus franchises such as Phuong Trang Bus Lines (FUTA Bus Lines). You can reach their office on De Tham Street. After purchasing the ticket, you will be transit to the Mien Tay Bus Station to catch the bus and head to Ben Tre province. Or you can go directly to Mien Tay Bus Station to buy the ticket there. Just go straight to the counter and do not talk to strangers outside the bus station who are trying to give you a scam. The public bus ticket to Ben Tre province is around 70.000VND. After finish all of these things, let's hop on the bus and make your trip to Ben Tre. To buy the ticket of FUTA Bus Line online, you can visit this website 
2. Where to go in Ben Tre province?
Dinh Thuy Ward
Ben Tre province nowadays is well known for worldwide tourists. To find a non - touristy track is not an easy job. If you want to travel to Ben Tre province without any tourists around, you can head to Mo Cay Nam Town, Dinh Thuy District. Innoviet Travel is the first and the only travel agencies in Ho Chi Minh City offer you a day trip to this destination. You will have a chance to enjoy the boat trip around the area with fresh fruits right in the garden of the homestay. Besides that, you can ride a bicycle around the village with a local tour guide. So you don't have to worry about getting lost down there. I remember that I haven't mentioned about lunch yet. Mr. Dung, the owner of the homestay is a good chief. You can have many good dishes when you pay Dinh Thuy Ward of Ben Tre province a visit.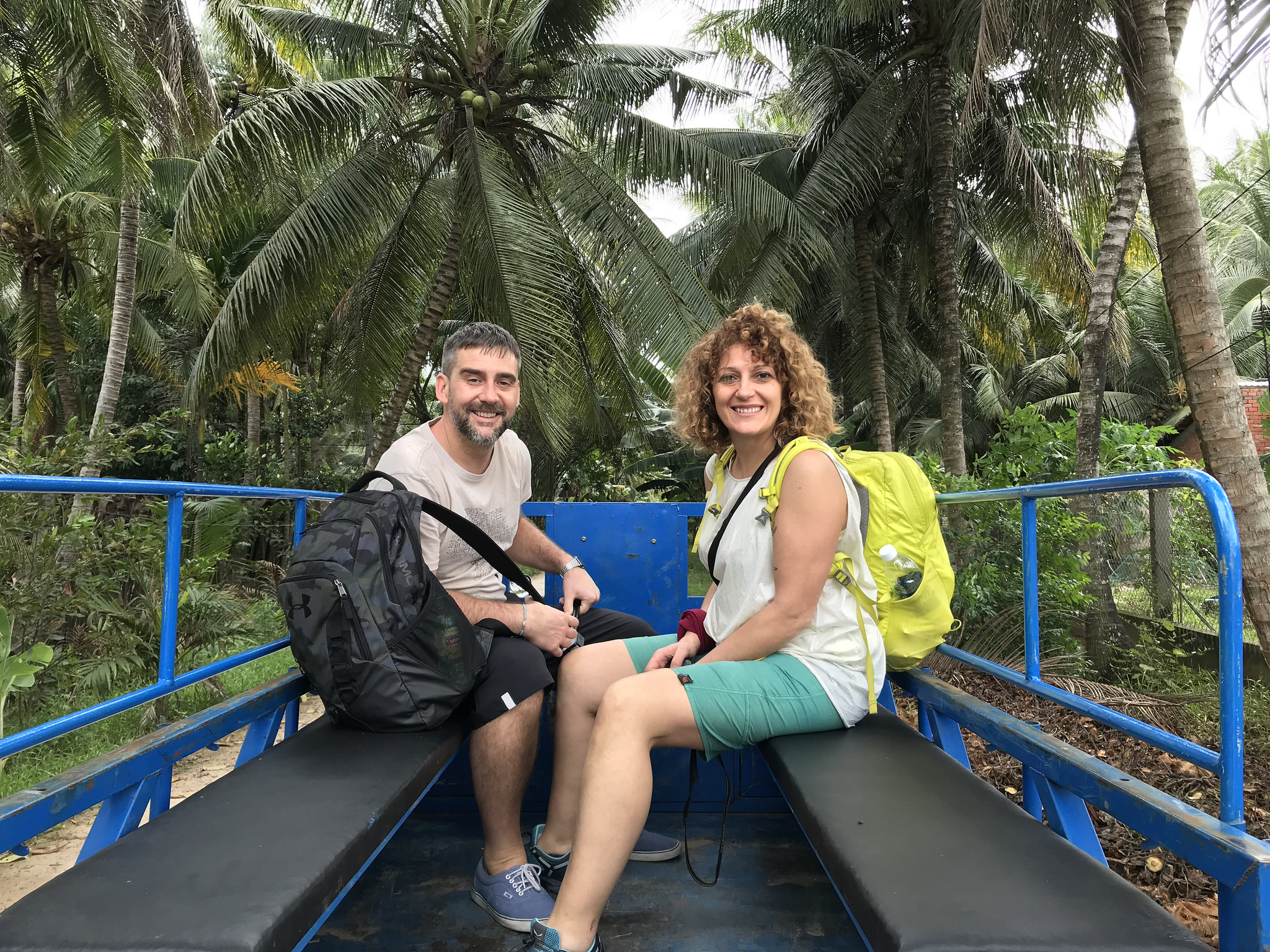 Read more: A perfect day trip to Mekong Delta
Phung Islet
Different from Dinh Thuy Ward, Phung Islet is a popular destination with not only foreign tourists but also with Vietnamese tourists. To be honest, Phung Islet is one of the most touristy places in Ben Tre province. You won't have to worry to get lost here because of clear the directions. There are lots of activities for you to do at Phung Islet. For example oat trip, Vietnamese traditional games, restaurants, etc. To get to Con Phung Islet, you must tell the bus driver to drop you off at Rach Mieu Bridge (Ben Tre region) - which connects Ben Tre province and Tien Giang province. Then from Rach Mieu Bridge, you follow the path of the river bank to reach the ticket counter. You can ask the locals there, they will show you the way.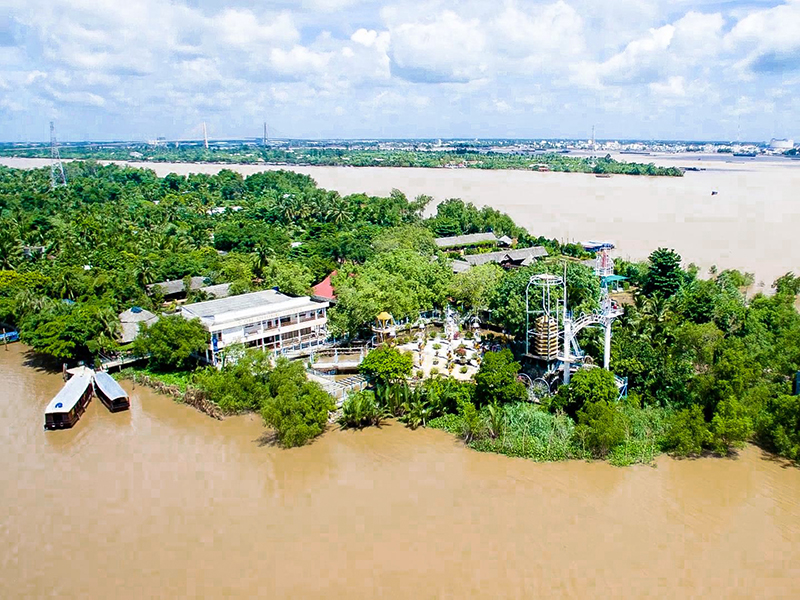 Lan Vuong Resort
If you had traveled to Ben Tre once and wanted to avoid the crowded of Phung Islet, this time is the time for trying something new. In this case, I suggest you can head to Lan Vuong Resort at Ben Tre Province. To reach this destination, after dropping off at Ben Tre Bus Station, you can book a Taxi to this location. Lan Vuong Resort is a new tourism destination with full of service that you can try like Vietnamese traditional games, listening to the traditional music of Mekong Delta, fishing, enjoying the peace of fruit garden, etc. In my opinion, this place is suitable for planning a trip with your family and your kids.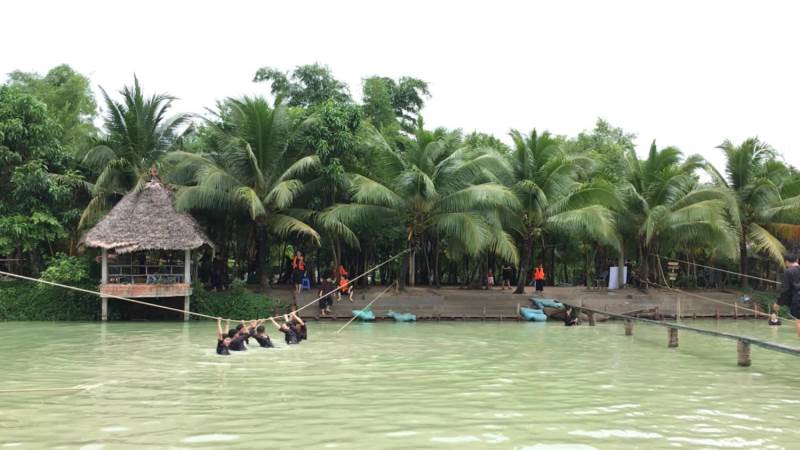 The map of Lan Vuong resort is here
Read more: Top thing must do in Mekong Delta
3. What is the best time to visit Ben Tre?
Like other regions of the South of Vietnam, Mekong Delta has two main seasons: the rainy season and dry season. The rainy season will start from around April-May to November, dry season will begin from December to March. Besides that, there is a special season only Mekong Delta has, which is flooding season. Flooding season mostly starts from around September to October. It is a natural phenomenon to the local people in Mekong Delta. With them, this is a chance for the river to rehabilitate after harvest season. In my opinion, you can plan your trip to travel to Ben Tre province in October - November or December.
Read more: Tips for traveling to Mekong Delta during flooding season
4. What kind of unique food you should try in Ben Tre province?
Nam Vang Noodles
Nam Vang noodle (Hủ tiếu Nam Vang) is a common food of Mekong Delta region. If Phở is a signature food of the North of Vietnam, then Nam Vang noodle represents the uniqueness of Southern Vietnam. Nam Vang is Phnom Penh (Capital of Cambodia) in Vietnamese. The broth is made from the pig's bones and many types of topping such as shrimp, organ, tiny piece of meat, etc. You can find it easily in Ben Tre province.
Coconut delight salad (Gỏi củ hủ dừa)
This is a typical appetizer food in Mekong Delta. As I have mentioned above, Ben Tre province is a kingdom of coconut so food made of coconut is everywhere here. Coconut delight salad is the combination of the upper part of the coconut that located inside the body of the tree, with salad, shrimp, carrot and fish sauce. Together they create a perfect taste in your mouth.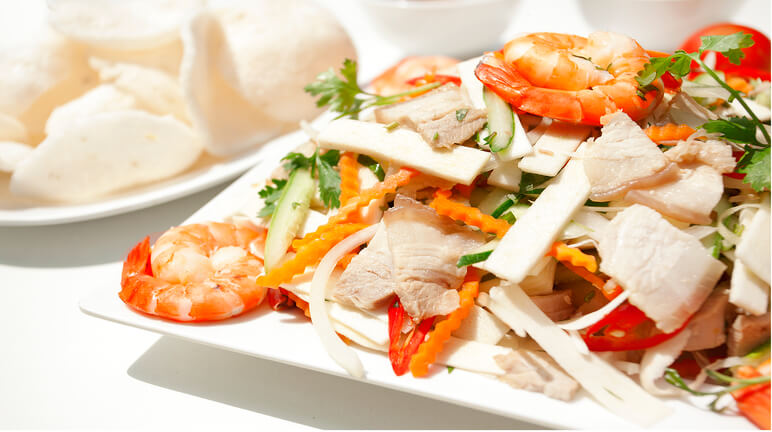 Coconut grub (Đuông dừa)
Coconut grub is a kind of insect that live inside the coconut tree. To find them, the locals have to cut the tree in half to locate them. There are many ways to eat these bizarre worms, the typical one is dipping them into fish sauce and putting it into your mouth. If it does not scare you, you should give this food a try when traveling to Ben Tre province. They taste literally like coconut!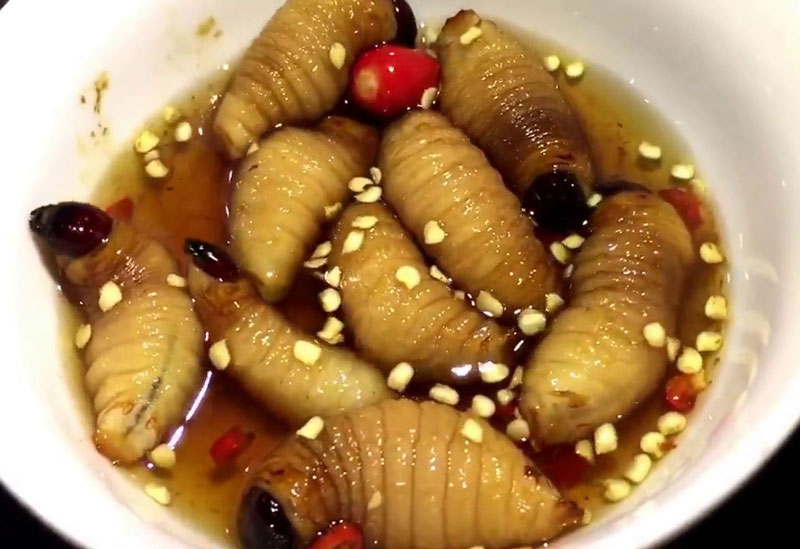 Roasted Rice Mouse
Another food that foreign tourists afraid of is Roasted Rat Meat. Despite the weird look, it tastes extremely amazing. After catching the rice mouse, the locals will remove the hair, then marinate the meat with lemongrass, salt, and sugar. After that, the rat will be roasted and ready to serve. When you travel to Ben Tre province, if you are lucky enough, the local there will invite you to enjoy with them.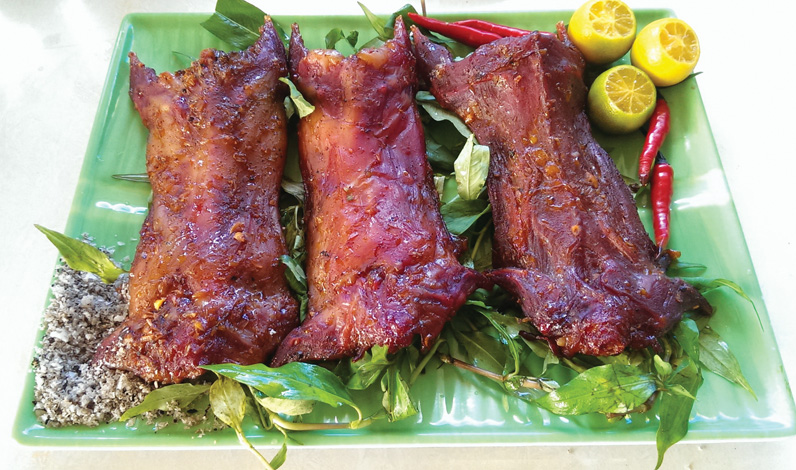 Coconut Candy
Coconut candy is a typical snack in Mekong Delta that you can't miss it. Especially in Ben Tre province, this is called "The Kingdom of Coconut". The price is reasonable as well, around 35.000 – 50.000 VND ($1,5- $3 USD/ pack). However, if you don't have a chance to go to any candy shop in Mekong Delta, just head to any supermarket in Ho Chi Minh City and you can find it.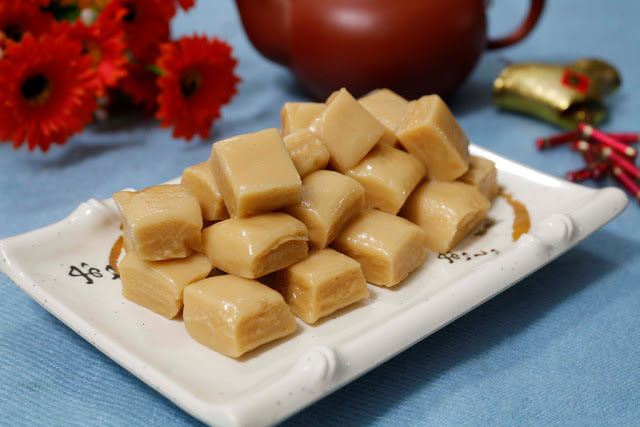 Read more: Top 8 food you should try in Mekong Delta when you come here