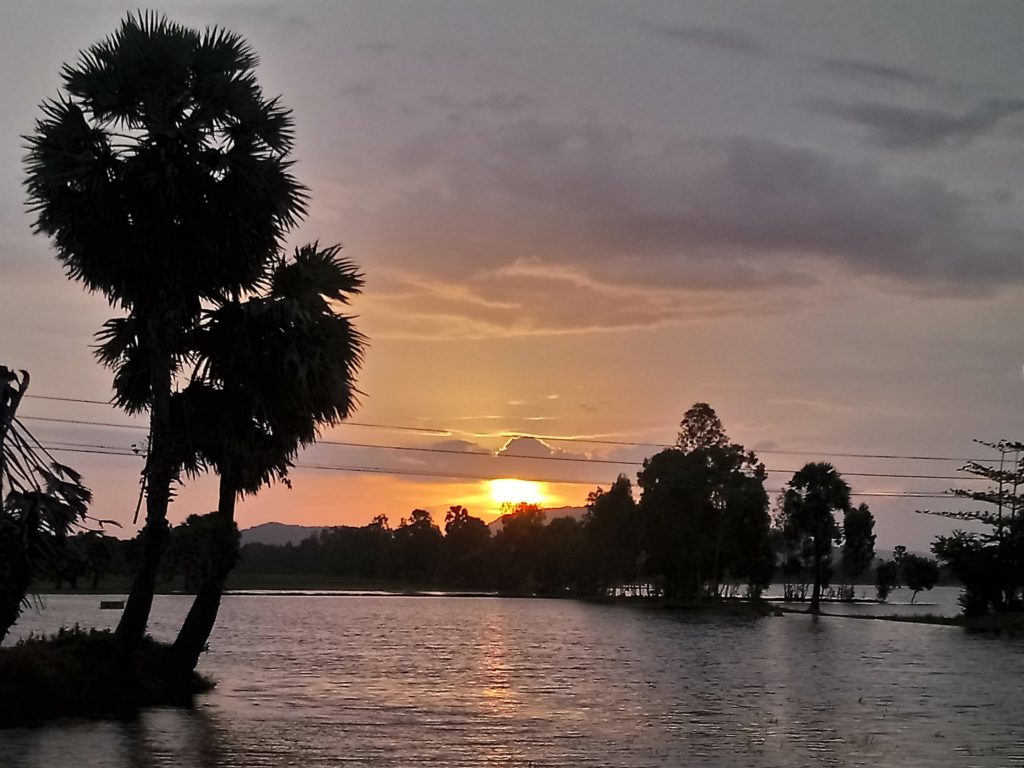 Flooding season is a special present from nature awarding to Mekong Delta in every single year. It not only brings many benefits for people living along the Mekong river but also makes its own gorgeous that attracts many tourists. The flooding season begins in July and ends in October according to the lunar calendar. If you are going to plan a trip to Mekong Delta at that time, what are you looking for? Enjoy some special dishes, a scenery of a lone palm tree and reflection in a rice field filled with water at sunset with a purple and orange clear soft sky. As a person who was born and grow up at Mekong Delta, I would like to share my experience about Tips for traveling the Mekong Delta in the flooding season in this article.
Things to do in Mekong Delta Vietnam flooding season
1. Tra Su cajuput forest
Around 300 kilometers from Ho Chi Minh City, Tra Su cajuput forest is located at Van Giao Commune, Tinh  Bien District, An Giang Province, about over 20 kilometers from Chau Doc City and 10km from the Cambodia border, a wonderful place for anyone who seeks for nature and some scientific field trip. The total square of this area 845 hectares and it is home of many kinds of water birds, bats, and other rare, endangered animal and reptile species.
 The best time to go there is during the flooding season. At this time, the river is full of clusters of water ferns a particularly vivid sight when the setting sun imparts a golden glow on the emerald-green duckweed that blankets the water's surface. If you want to go there, luckily that's lots of travel agencies offer a guided tour in this location.
Or if you want to go by yourself, you can hire motorbikes or private car, and follow the route to Chau Doc City, then head to Nha Bang town in Tinh Bien District. From there, it is only 4 kilometers to Cam Mountain, which is right next to Tra Su Cajuput Forest.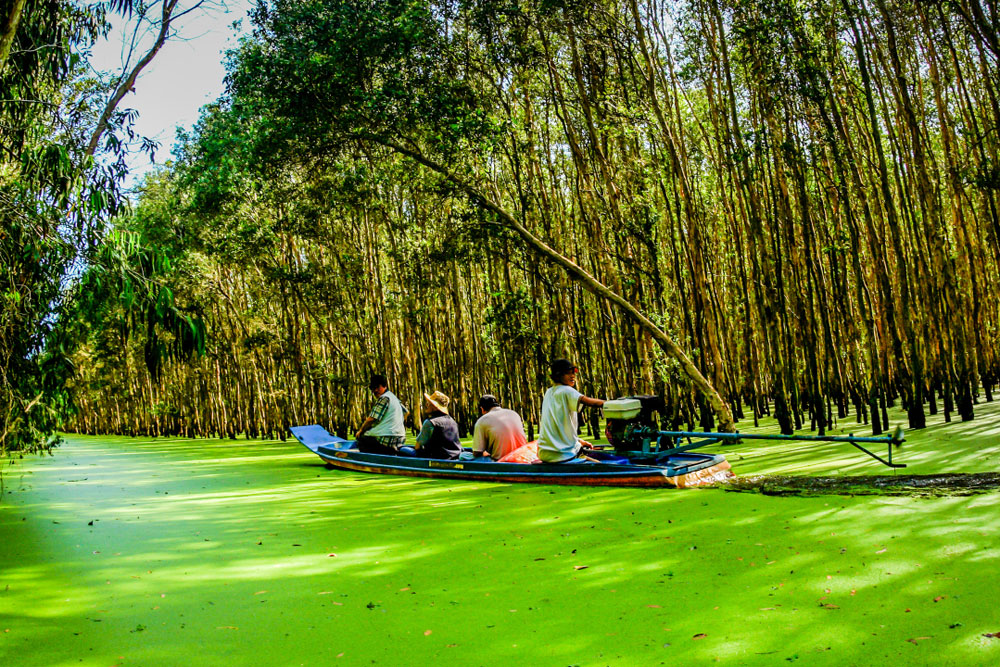 2. Bung Binh Thien
Bung Binh Thien, another name of this destination is God Lake, is the biggest freshwater lake in Mekong Delta. Located in An Phu District of An Giang Province. The best time to go there is during the flooding season in September. If you start your trip from Ho Chi Minh City, it maybe takes you around 6 hours to get there by renting car or renting motorbike. During your trip, you should stop by Chau Doc City to fill your petrol, buy some stuff and going to the toilet.
This destination is not famous with lots of tourists so it can be hard for you to find a professional service here but you can feel the friendliness and warm welcome from local people here. You should hire a small sampan boat (4-10 people per boat) with price around 300,000 VND per boat and you will have a chance to go around this lake. You can also stay at some small motel nearby. The main ethnic minority of this area is Cham people living with Vietnamese and Khmer as well. They follow Islam so that they don't eat pork. You can try "Lau Ca Linh" (Siamese mud carp hotpot) - one of the best food in Mekong Delta and we will talk about this food more detail below.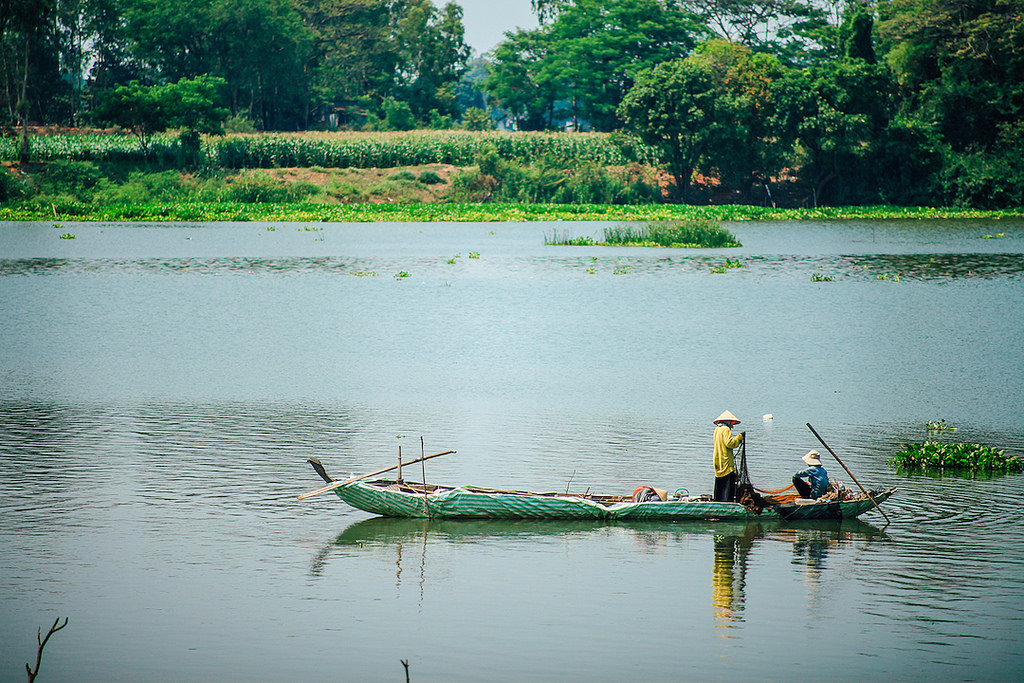 3. Cam Mountain (Forbidden Mountain)
Cam Mountain is well known as one of the seven mountains in Mekong Delta. A long time ago, this place was full of fairy tales and mystery. But nowadays, thanks to the development of economic and transportation, more people come here for traveling, camping and it has become one of the most famous destinations in An Giang Province.
On the way go to the top of the mountain, you can find a parking lot and walk to the top or you can use cable car. The cable car ticket for adults is 155,000VND/person and with children is 80,000VND/person. You should spend a whole day if you want to explore the entire area. After visiting this location, you can stay at a small hotel to stay overnight before heading back to Saigon or exploring nearby destinations.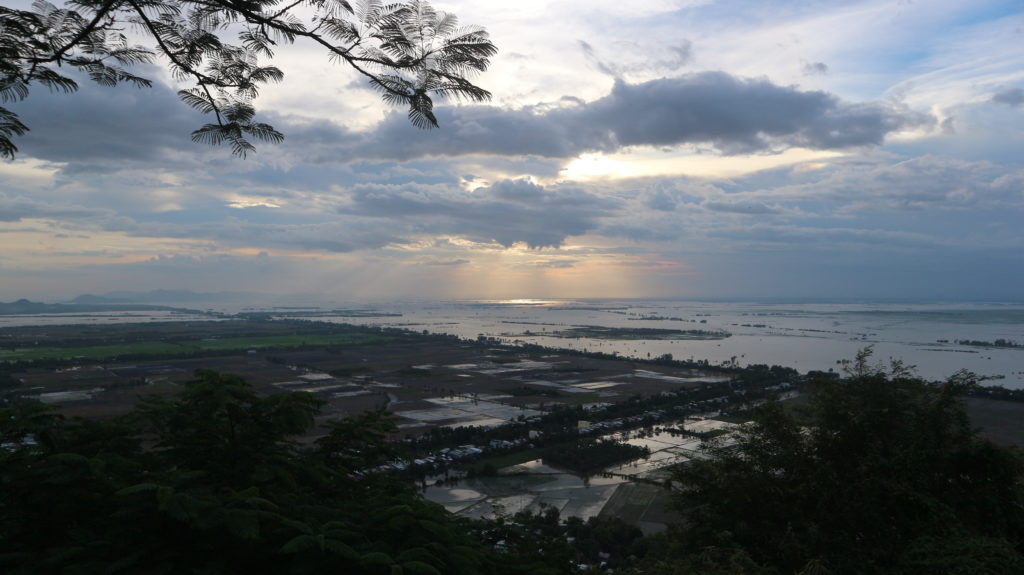 4. Ta Pa hill
Ta Pa, a 120-meter hill on Tri Ton District in the Mekong Delta province of An Giang. This is a perfect place for anyone who want to observe sunset in Mekong Delta. Standing on the peak of the hill, you guys will catch the majestic scenery from there to see the river, rice fields and a lot palm tree covered its.
On the hill, you will see Ta Pa (Chun Num) Pagoda, this is a pagoda of Theravada Buddhism, Around 17 kilometer from Cam Mountain, you can visit all of the beautiful landscape of An Giang Province within 1 or 2 day. However, the way travel to the hilltop is very difficult and narrow, so you should walk or take the bike. The distance is about 2 kilometers. And do not forget to see the sunset in the evening.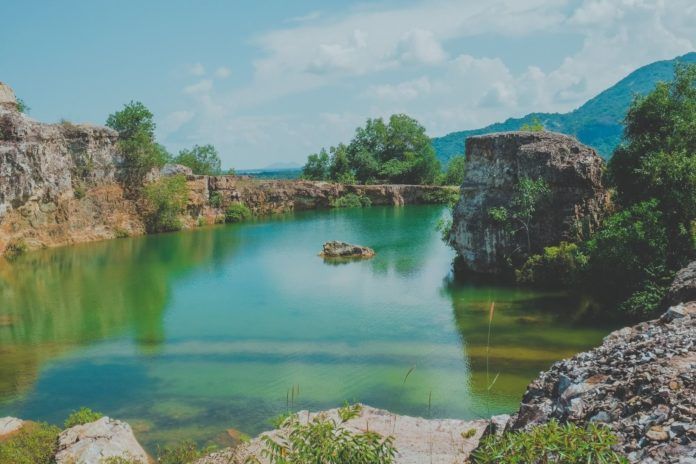 5. Tinh Bien market
The next destination in this list is Tinh Bien Market (around 36 kilometers from Cam Mountain). I guess that you have gone to Ben Thanh Market already. I'm sure to you that it is totally different from Tinh Bien Market which we will introduce to you. Close to the border of Vietnam and Cambodia, this market can be the only place that you can find the insects used as street food around Mekong Delta, if you don't have time to go to Cambodia, you can try it at the Tinh Bien market after visiting Cam Mountain.
The best time to go there is in the morning, where you can enjoy the atmosphere of the local completely. If you are brave enough, you can buy insect street food and have a taste. We are sure that this will be an unforgettable moment for you. About fee entrance? It's free. How about the parking lot? Yes, you have to pay a small fee.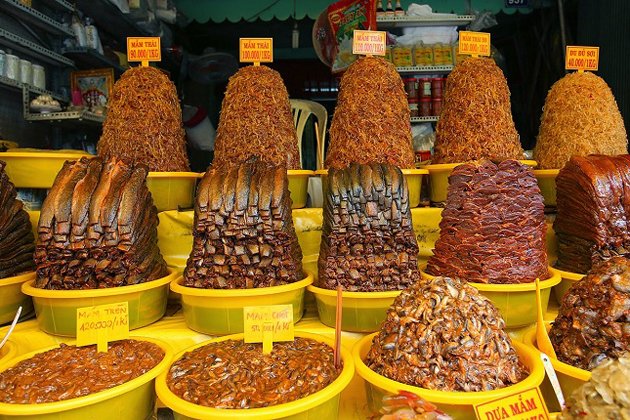 6. Tram Chim national park
The Tram Chim national park was recognized as the fourth Ramsar site for birds sanctuary in May 2012. If you are a bird lover or photographer, this destination is for you.
Tram Chim is located in Tam Nong district, Cao Lanh which consists of 190 plant species, 100 freshwater species, and 250 water bird species. It takes 2 hours to visit around the Melaleuca forest Cham by boat.
Hiring a boat is a good choice for the immersion in the Melaleuca forest for 2 hours if you are a big group. On the other hand, you should match to other travelers in order to save the budget if you are a solo traveler.
Price: around 800,000 - 900,000 VND/boat
Have you ever hear about the ghost paddy in the Mekong Delta?
On the way of exploring the Melaleuca forest, the ghost paddy may come in front of your eyes, so what things made this extraordinary name? Actually, paddies have a special ability is to adopt flood. These will go up depends on the level of flooding, may up to 5 meters. In addition, harvesting is in December but it must be harvested at night. Because of these magical characteristics, locals call it with ghost paddy.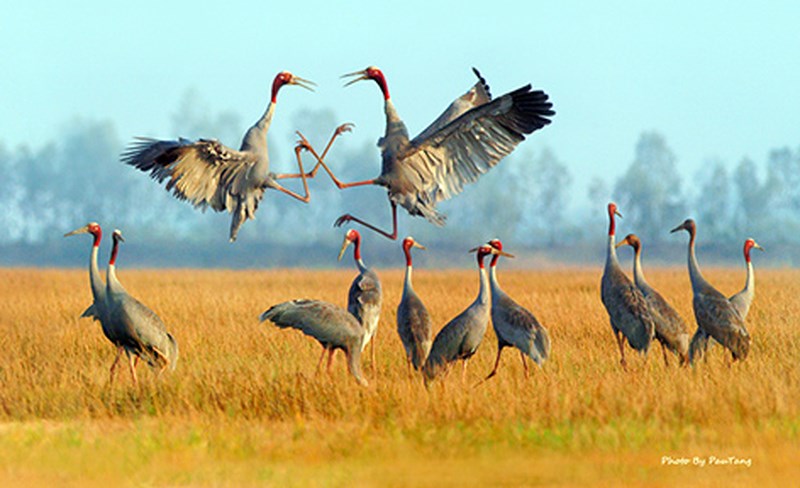 What to eat in flooding season
Ca Linh (Siamese mud carp)
During the flooding season, lots of fish from the upstream of Mekong River will follow the river and come to Mekong Delta. So that the price for Siamese Mud Carp in the flooding season can't be cheaper. You can find the food with Siamese Mud Carp in almost every restaurant in An Giang Province and the price is maybe under 100,000VNĐ. But before you enter a restaurant, you should ask the price beforehand. Here our recommend food with Siamese Mud Carp:
Lau Ca Linh (Siamese Mud Carp Hot Pot)

Canh Chua Ca Linh (Siamese Soup)

Ca Linh cuon la lot (Siamese Mud Carp with Wild Betal Leaf)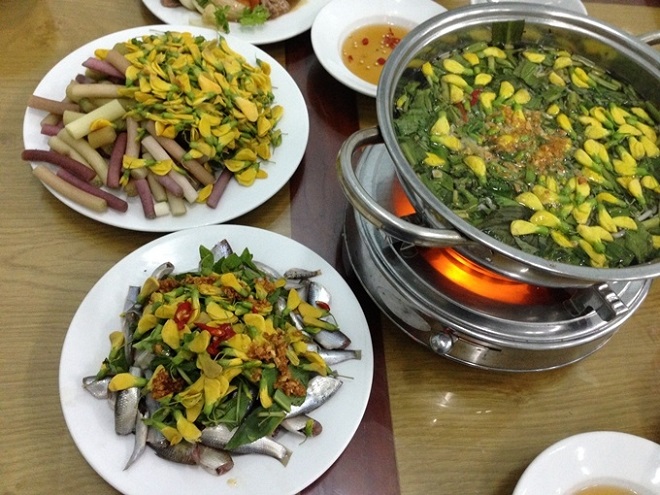 Lau mam (Fish fermented Hotpot)
Along with the famous Fish sauce, the food in Mekong Delta always used with fish fermented sauce, this hotpot is not an exception. The chef always uses the lemongrass to reduce the smell of the fish sauce. But with some people, the taste of fish sauce is hard to try and we can't help you with that. You can try other food instead :)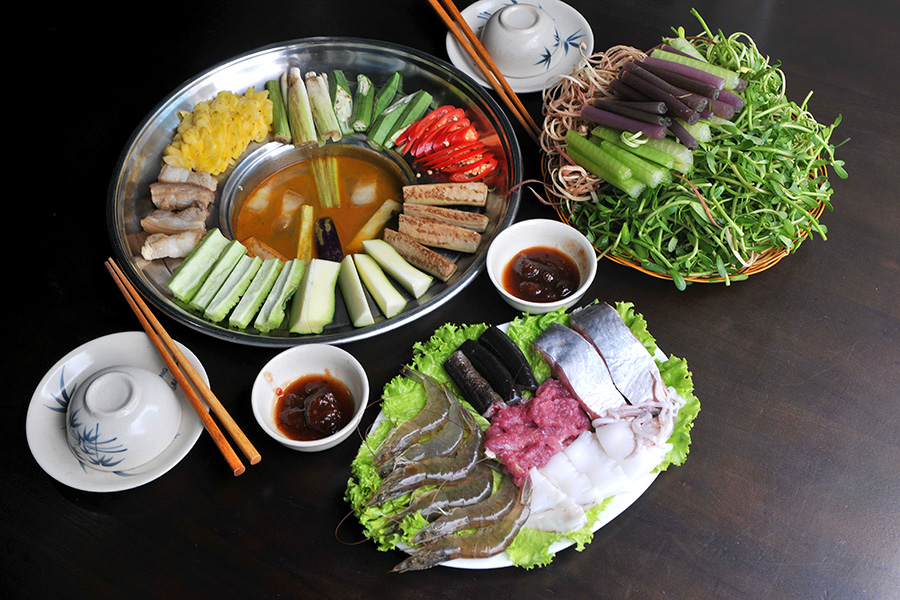 Price is around 80.000-150.000VND and you can find some good restaurants in Chau Doc City and this is our recommendation:
Dong Que restaurant, No 108 Trung Nu Vuong Street, Ward 8, Chau Doc City
Bay Bong 2 Restaurant, No 46 Trung Nu Vuong Street, Ward Chau Phu B, Chau Doc City.