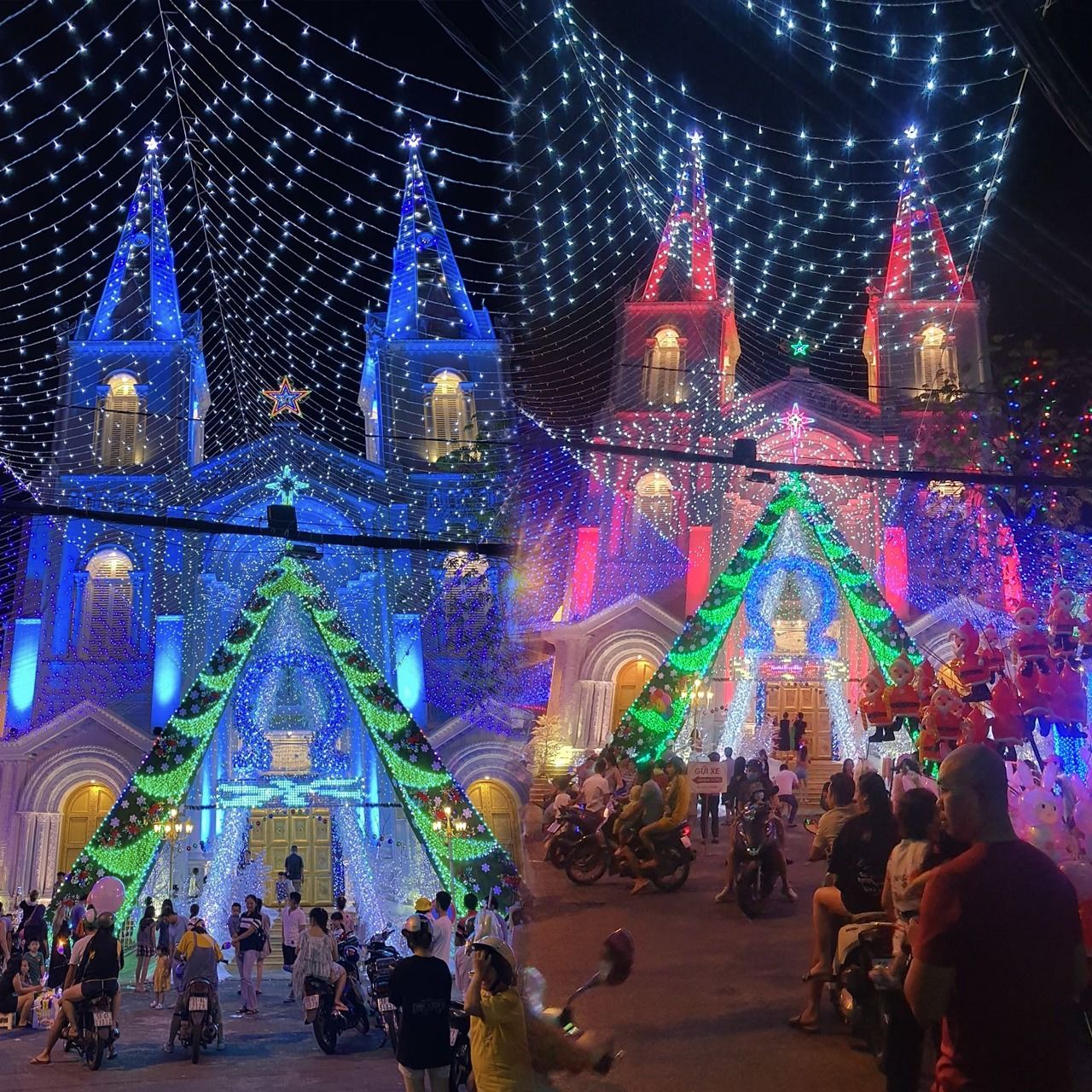 Ring! Ring! Quite to enjoy the big holiday this December!
Christmas Day is coming to Saigon City, and all the streets here are full of colorful lights, and decorations, which makes the Christmas atmosphere permeate Saigon. For foreign travelers, this is an interesting time to immerse into Vietnam's holiday atmosphere. Especially, the period at the end of the year is also the festival time in Saigon walking street, which is the perfect chance for you to join a variety of fantastic activities and admire Vietnamese culture through these festivals as well as the Christmas holiday. 
It will be a great regret for you if missing these hot destinations for this fantastic Christmas. 
Therefore, there are some top locations to enjoy Christmas Day on Saigon Walking Tour for you. 
Just spend your Christmas time with your friends, relations, and lovers in interesting and memorable places. 
Immerse into the Christmas atmosphere on Saigon's famous streets  
You can see the most authentic Christmas atmosphere the moment you step foot on Saigon streets. Immersed in the streetlights, among the beautifully decorated shops and shopping centers with the main colors of red and white along with the flow of people to celebrate the ceremony. 
The Christmas atmosphere in these famous streets will make you impressed by the festival in Vietnam.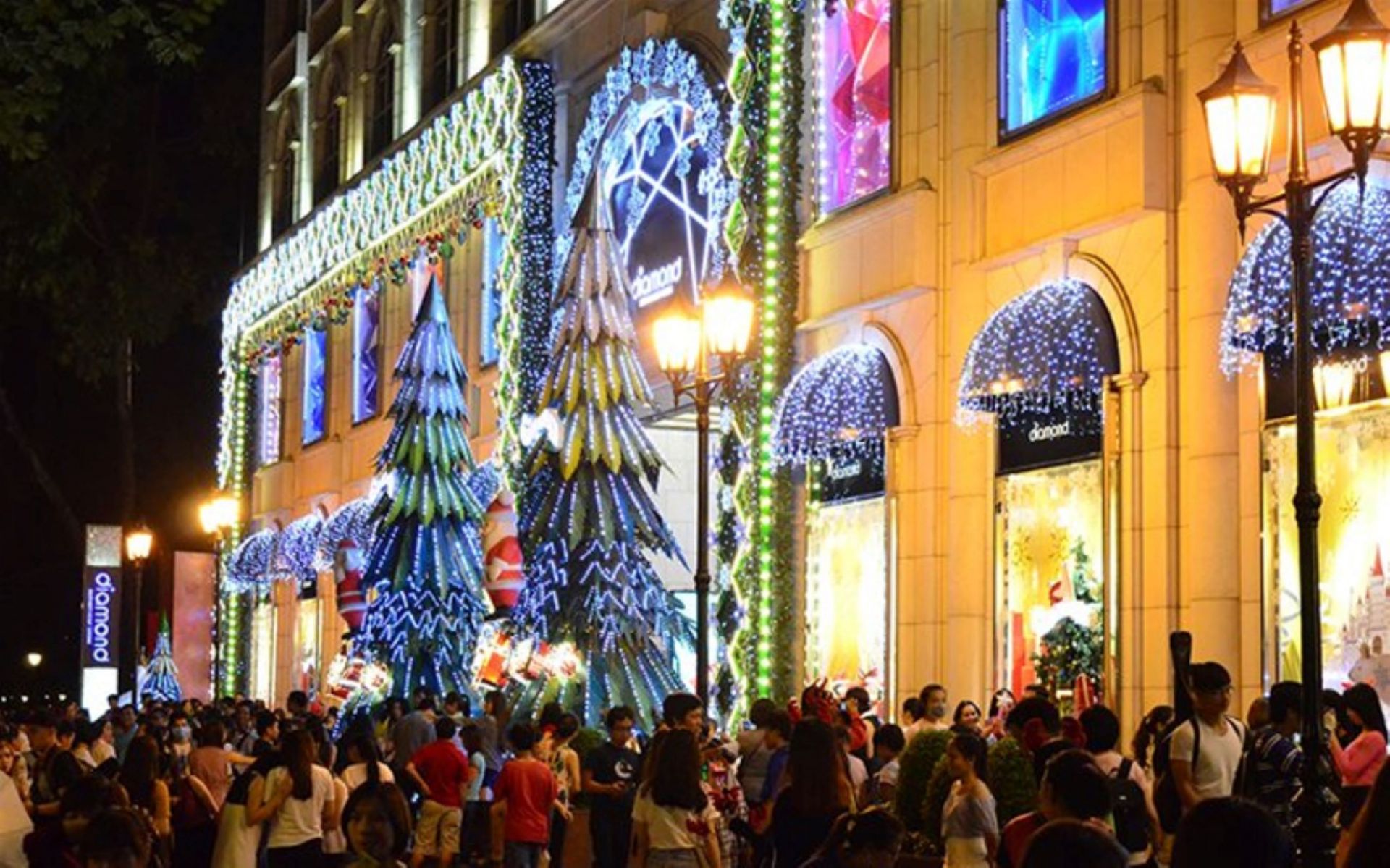 Bui Vien pedestrian street
Address: Bui Vien, Pham Ngu Lao Ward, District 1, Ho Chi Minh City, Vietnam.
This place is about 2 km from Notre Dame Cathedral, you can ask for directions, follow the directions of Google Maps or use transportation services such as Gojek, Grab Car, and Taxi... in Vietnam.
This street has long been extremely multicultural, also attracting a lot of Asian, European, and American tourists. As Saigon's busiest, most populated, and most illuminated pedestrian thoroughfare at night, Bui Vien is also known as the "street that never sleeps." There are also a lot of interesting and appealing entertainment options available here. A dynamic environment is created by the numerous art acts that take place everywhere from the roadbed to the sidewalks. Therefore, for those looking to experience a lively and enjoyable atmosphere, celebrating Christmas here is undoubtedly a fantastic decision.
Every Friday, Saturday, and Sunday from 7 p.m. to 2 a.m. To avoid missing out on intriguing opportunities, at least once visit this vibrant and culturally varied area.
Nguyen Hue pedestrian street
Address: Nguyen Hue Street, Ben Nghe, District 1, Ho Chi Minh City, Vietnam.
This pedestrian street is also a place where vibrant festivals organized by the city often take place and attract a large number of tourists to visit and explore the beauty of Vietnamese culture. Every festive occasion this road is very invested in decorating facilities, and beautifying the landscape, along with a series of shops, shopping centers, eateries, and restaurants. You will surely admire the extremely eye-catching and quality Christmas check-in view here.

Hai Thuong Lan Ong Street - Christmas market
Address: Hai Thuong Lan Ong Street, District 5, Ho Chi Minh City, Vietnam.
You can see the Christmas decorations shops close together in this place creating a unique atmosphere for each festive season. You can think of this location as a huge Christmas market where you can shop at will. You will also find beautiful Christmas accessories for yourself at this place or souvenirs for your loved ones. 
In addition to this bustling market, there is also a famous market with interesting stories in Chinatown, where Vietnamese Chinese cultures cross
for you to enjoy this Christmas.
For the best experiences on Christmas Day, come to visit Cho Lon - Chinatown and join The tales of Cho Lon in Saigon Walking Tour with us.
Admire some interesting shopping mall decorated Christmas vibe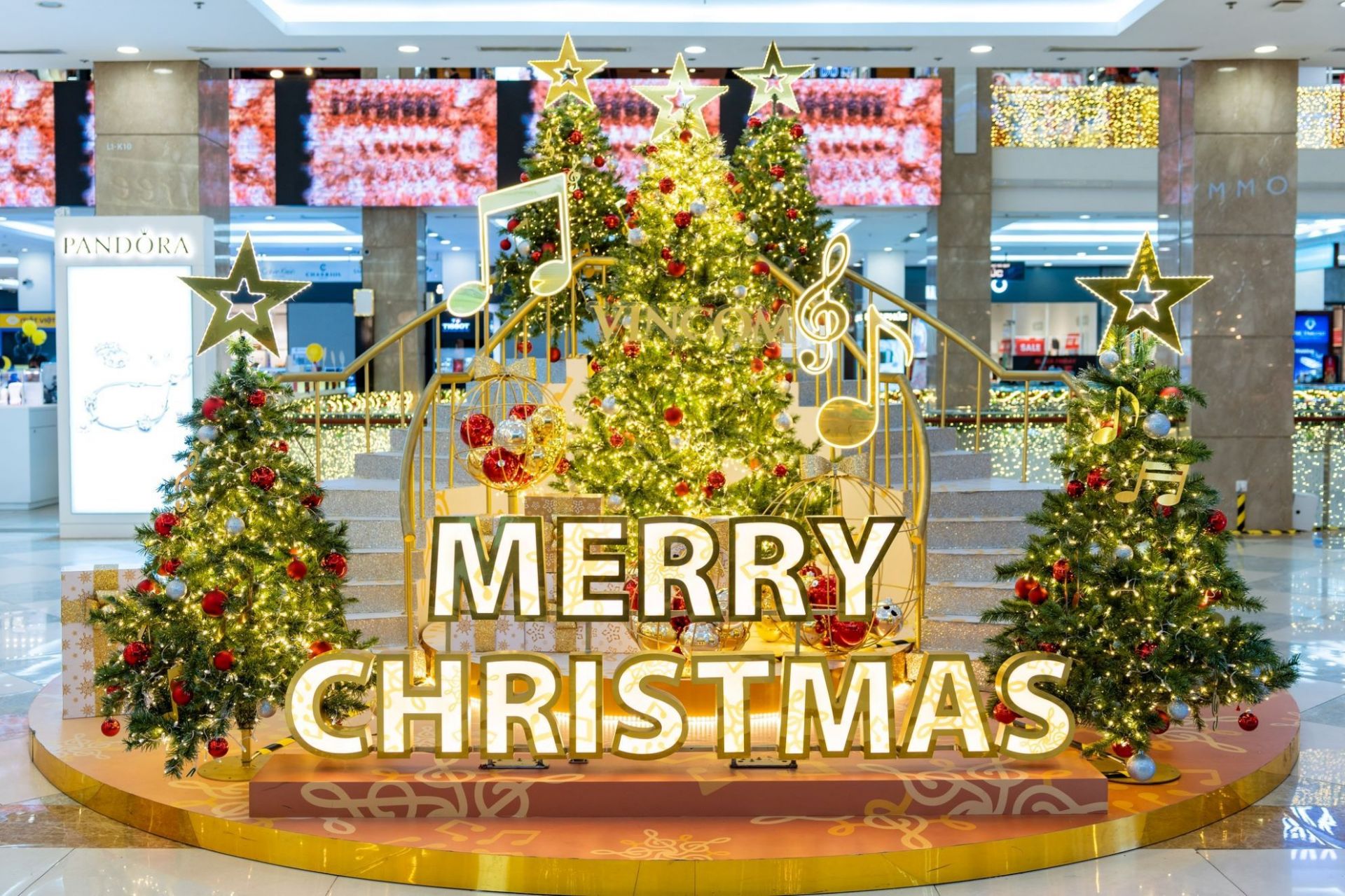 Diamond Plaza - 34 Le Duan, Ben Nghe, District 1, Ho Chi Minh City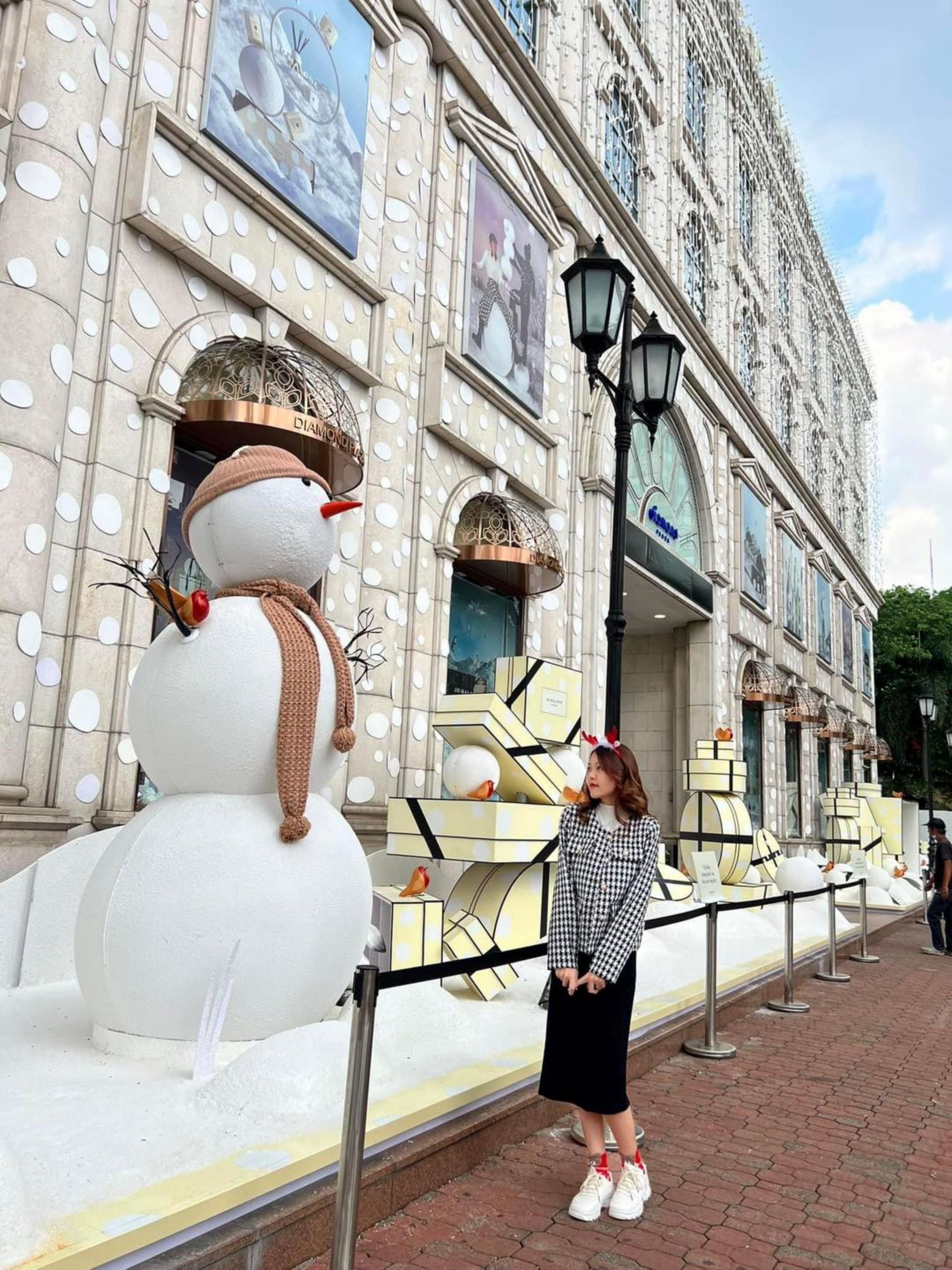 One of the indispensable features of Saigon is the commercial center, which is associated with shopping, entertainment, relaxation, and check-in activities of locals as well as tourists. schedule every time you come to this city. This is also one of the places to invest heavily for Christmas in Saigon and this year is no exception.
Crescent Mall - 101 Ton Dat Tien, Ho Chi Minh City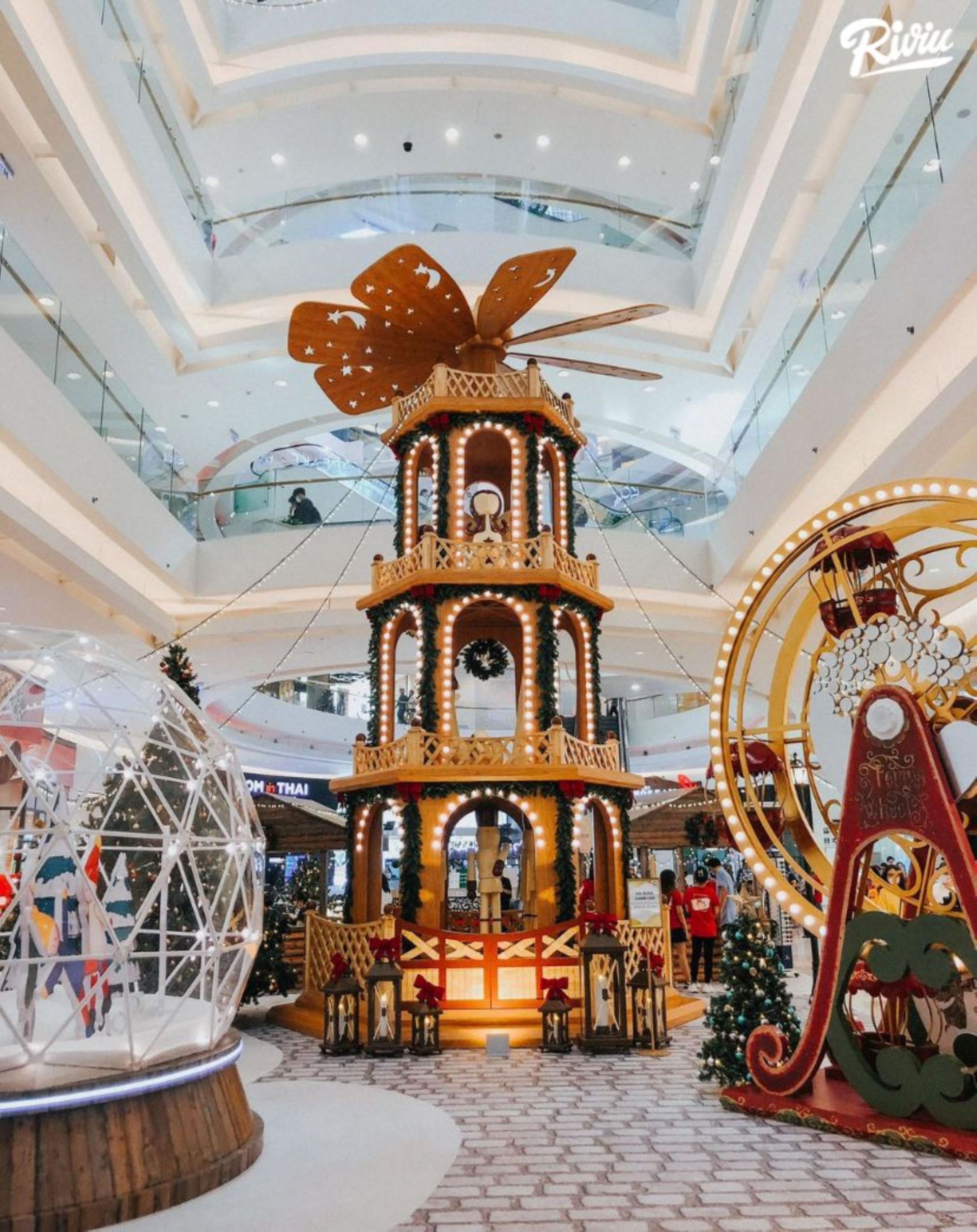 Crescent Mall has an international standard shopping layout design and is the most ideal shopping, dining, and entertainment place in Vietnam. This place attracts a large number of visitors, especially during Tet, Festivals of the year, etc. and the same goes for Christmas every year.
Crescent Mall has an international standard shopping mall layout. In addition, Crescent Mall also offers rich culinary options with many restaurants and coffee shops. So, you can have fun and enjoy the bustling and luxurious Christmas atmosphere here.
Vincom Center in Saigon City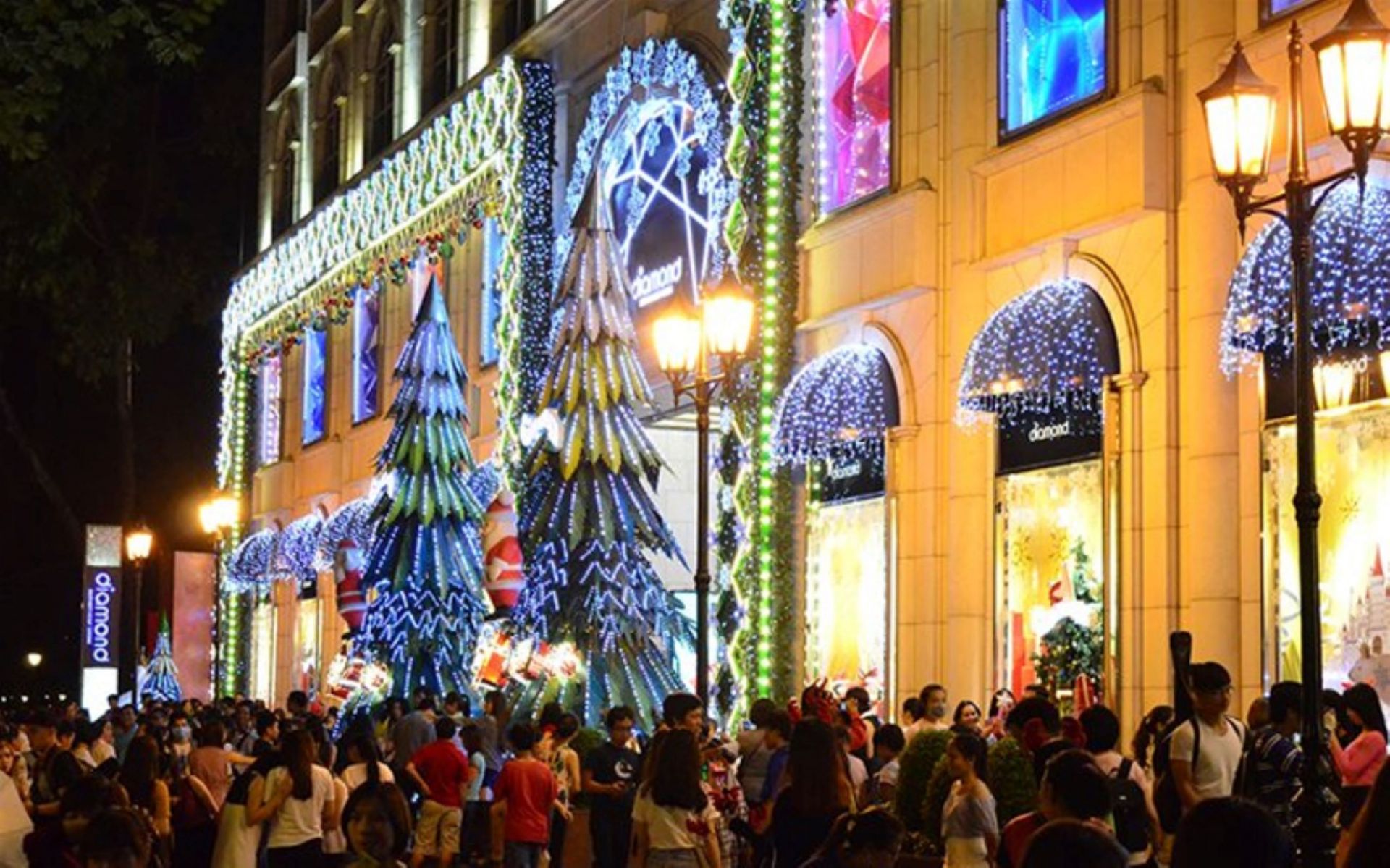 At Christmas, a series of branches of the Vincom Center trade center is busy with Christmas trees, gift boxes, and abundant Christmas symbols everywhere.
See pictures of beautiful pine trees at:
Vincom Mega Mall Thao Dien

Vincom Center Pham Ngoc Thach

Vincom Center Metropolis

Vincom Center Dong Khoi
Visit to famous sacred places with your loved ones 
Notre Dame Cathedral
Address: 01 Paris Commune, Ben Nghe, District 1, Ho Chi Minh City 70000, Vietnam.
For Saigon people, the Notre Dame Cathedral area is one of the favorite destinations on Christmas Eve.
With the involvement of numerous Saigon Catholics and visitors from across the world, key rites and festivities are held at the magnificently adorned Notre Dame Cathedral throughout the Christmas season. You won't be let down by all the activity if you visit this location.
Tan Dinh Catholic Church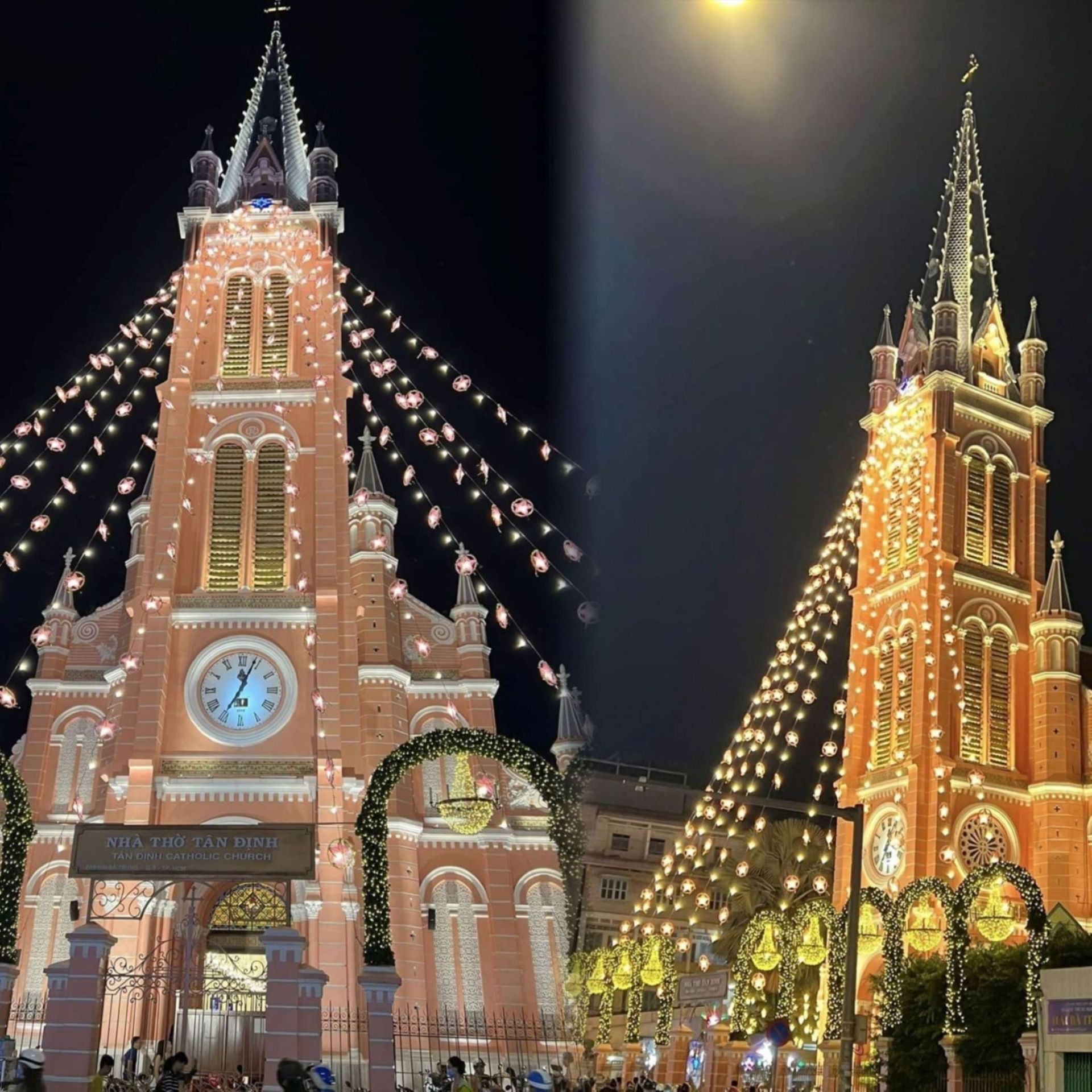 Address: 289 Hai Ba Trung, Ward 8, District 3, Ho Chi Minh City, Vietnam.
The church's architecture is Gothic, while its interior decorations are Baroque and Roman since 1957. The church has been painted a soft pink on the inside and outside, earning it the nickname "pink church." Tan Dinh Church has undergone many repairs and expansions but still retains the original architecture.
At Christmas, the church is even more prominent thanks to the "suit" of colorful LED lights and the meticulous decoration of the locals, which also makes this place a hot destination for tourists. and locals visit every Christmas.
Binh Thai Church, Pham The Hien Daoist village
Address: Pham The Hien street, District 8, Ho Chi Minh City.
Pham The Hien, a district in Saigon that is home to many Catholics, transforms into a popular destination for entertainment and photography during the Christmas season. There are several sizable churches on either side of Pham The Hien street, which is a unique characteristic.
See a night panoramic view of Saigon at Saigon Skydeck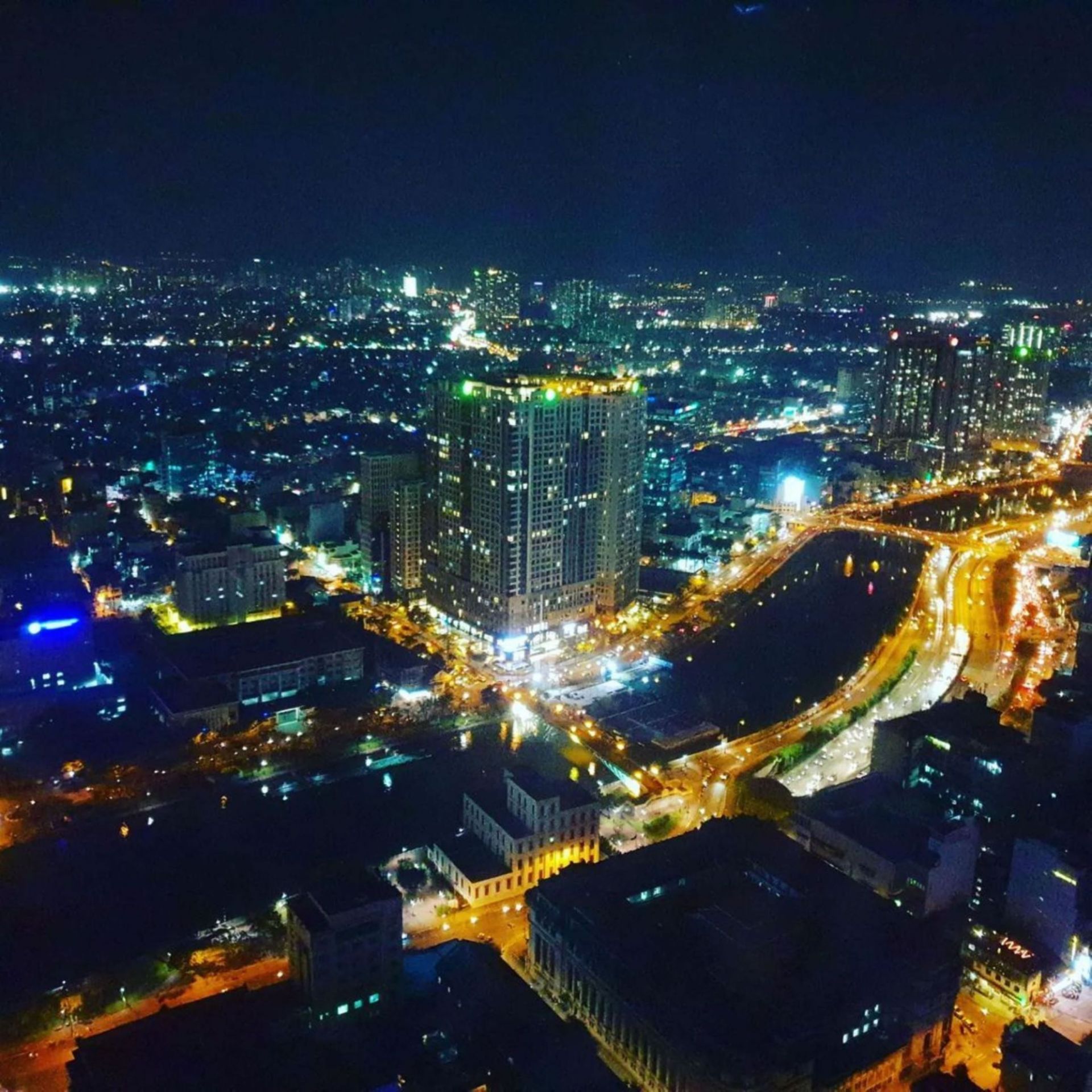 Address: No. 36 Ho Tung Mau Street, Ben Nghe, District 1, Ho Chi Minh City, Vietnam.
Saigon Skydeck is a glass-paneled observatory, located on the 49th floor of Bitexco Financial Tower and overlooking the beautiful landscape.
And Bitexco Building is an extremely popular Saigon Christmas entertainment coordinate, this is an attractive destination that a lot of young Saigonese people flock to on Christmas Day every year. The building has a convenient location, next to Nguyen Hue pedestrian street, so you can see the extremely shimmering and colorful scenery when looking from the 49th floor through binoculars. 
So, it will definitely be an interesting and new experience for you at Christmas. And that experience will be even more interesting if you accompany us on Saigon Walking Tour to Explore Saigon Christmas nighttime at its best via panoramic views.
Do not forget to get our special offer once join our tour 

Hope you have the best trip after landing in Saigon (Ho Chi Minh City) JOIN GROUP HERE to learn our tips as well as discuss them before going to these locations.