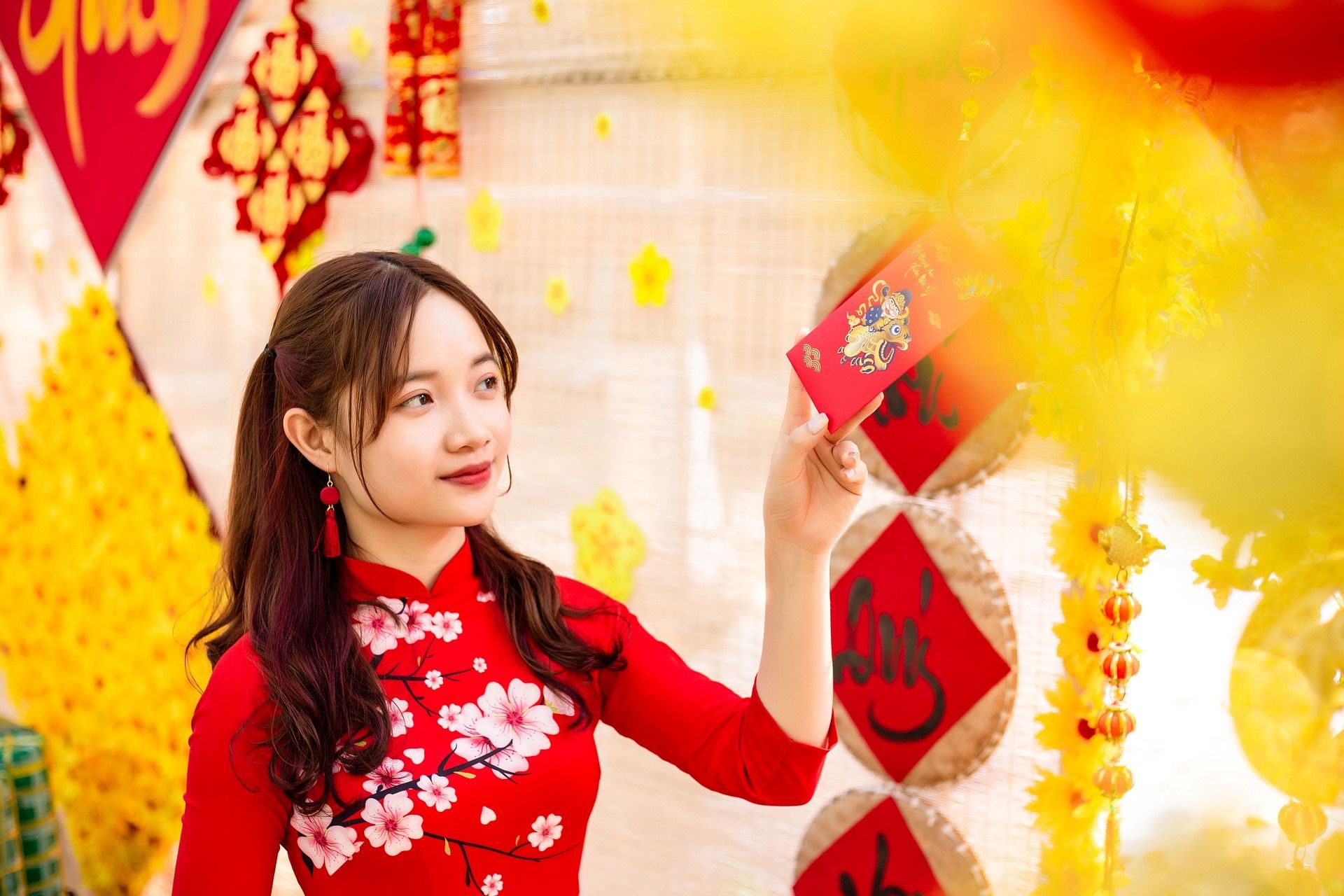 My mother is a fairly typical Vietnamese woman who also works as a middle school teacher. Consequently, I had a very early exposure to the picture of my mother wearing a polite Ao Dai, getting ready to start going to teach her students. Since then, the bright and graceful long Ao Dai has caught my attention. On occasion, despite the size difference, I even try to put on my mother's Ao Dai as my favorite hobby. Anyway, it was an interesting experience for me until I went to high school when I started to wear Ao Dai every school week and until now, as a Vietnamese, I still love the charm, and diversity but no less luxurious and elegant of Ao Dai.
So, that's also the reason why I always want to be able to describe the greatness of Ao Dai to you so that I can share and bring this pride of our Vietnamese people to you. Especially when the traditional Tet holiday in Vietnam is approaching, the color of Ao Dai is indispensable in the New Year's atmosphere.
If you want to immerse yourself in the bustling atmosphere and be imbued with national identity this Tet holiday, let's explore the specials of Ao Dai with us. You may want to own an Ao Dai just for you.
Unique Vietnamese costumes - Ao Dai
In particular, when it is used as a highlight to appreciate the beauty of Vietnamese women, Ao Dai has long since become a cultural icon and a distinctive beauty in Vietnamese costumes. Ao Dai has existed for a long time and is still growing since it is frequently chosen as one of the most exquisite and distinctive national costumes in international competitions.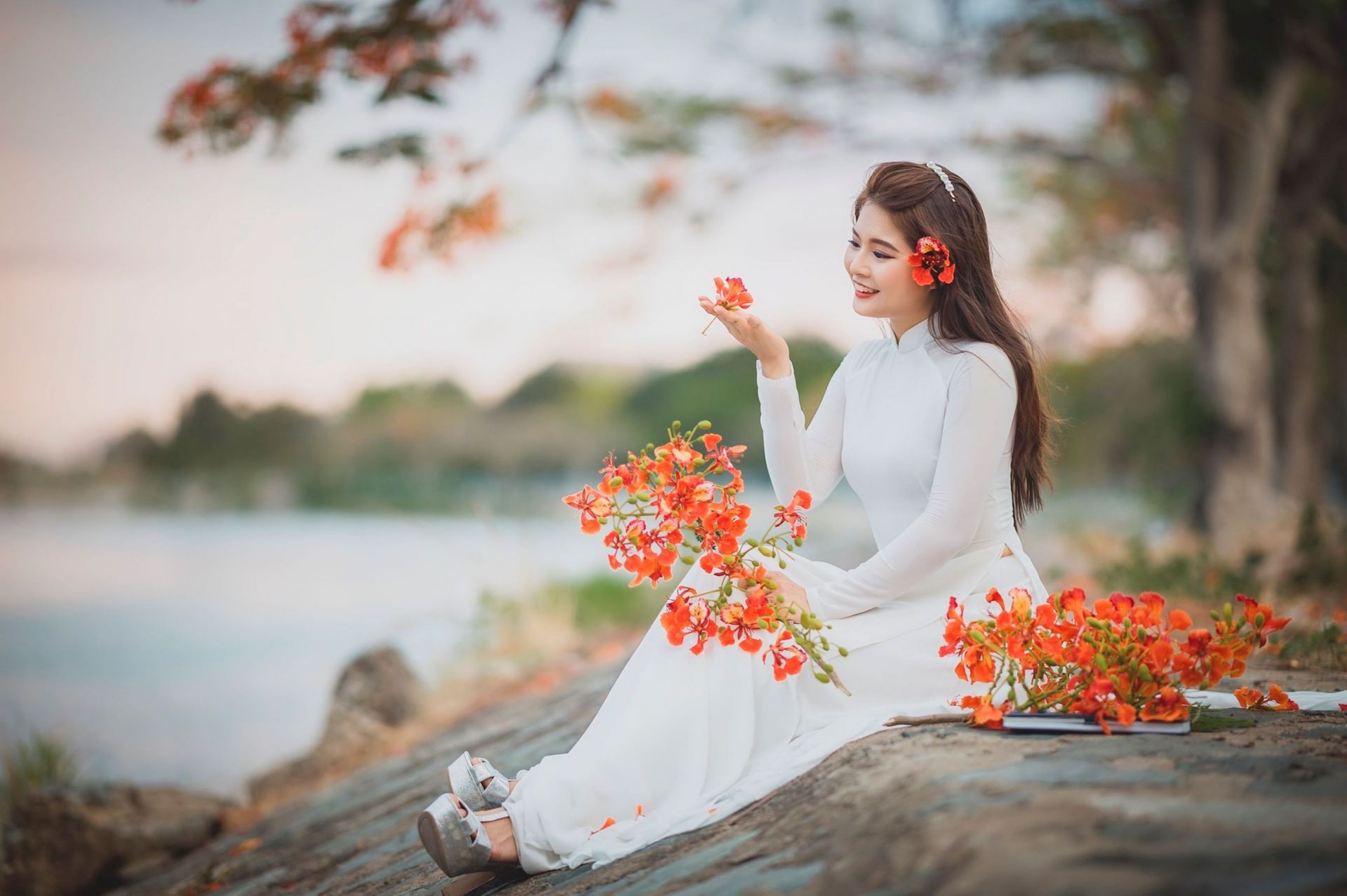 About the Ao Dai 
Ao Dai is the symbol of Vietnamese women and the pride of Vietnamese people around the world. Its beauty has left a strong impression on any foreigners who have a chance to visit Vietnam. This costume also provides unlimited inspiration for artists, authors, poets, etc. in their works. So, what is the reason why it has become the Traditional Costume of Vietnamese Women? 
Let's find out in this article: Ao Dai - Traditional costume of Vietnamese women.
And know more about Ao Dai here.
2 types of Ao Dai: 
Classic Ao Dai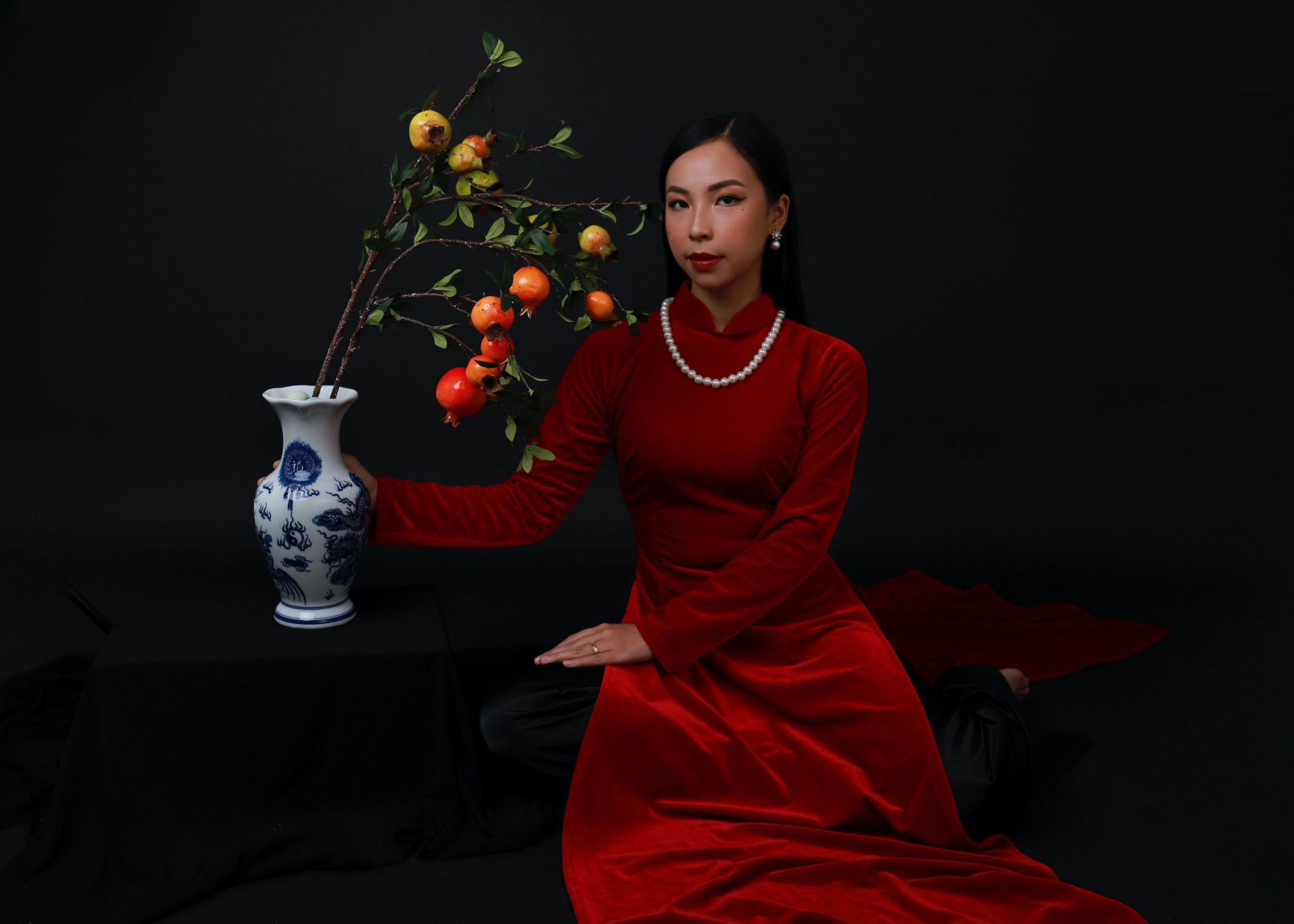 The traditional Vietnamese Ao Dai is body-hugging, features a high collar, and is around knee length. Ao Dai has a feminine appearance while being subtle, pleasant, and stylish. The classic ao dai frequently features long sleeves that extend over the wrists, giving the entire body a chic appearance. The fact that the pants are exclusively sewed with silk of the same or different color from the shirt distinguishes the traditional Ao Dai from the current, reformed Ao Dai.
Traditional Vietnamese costume known as Ao Dai is worn with long pants that cover the body from the neck to the knee or above the knee. It can be worn by men and women but is today more often associated with women.
Innovative Ao Dai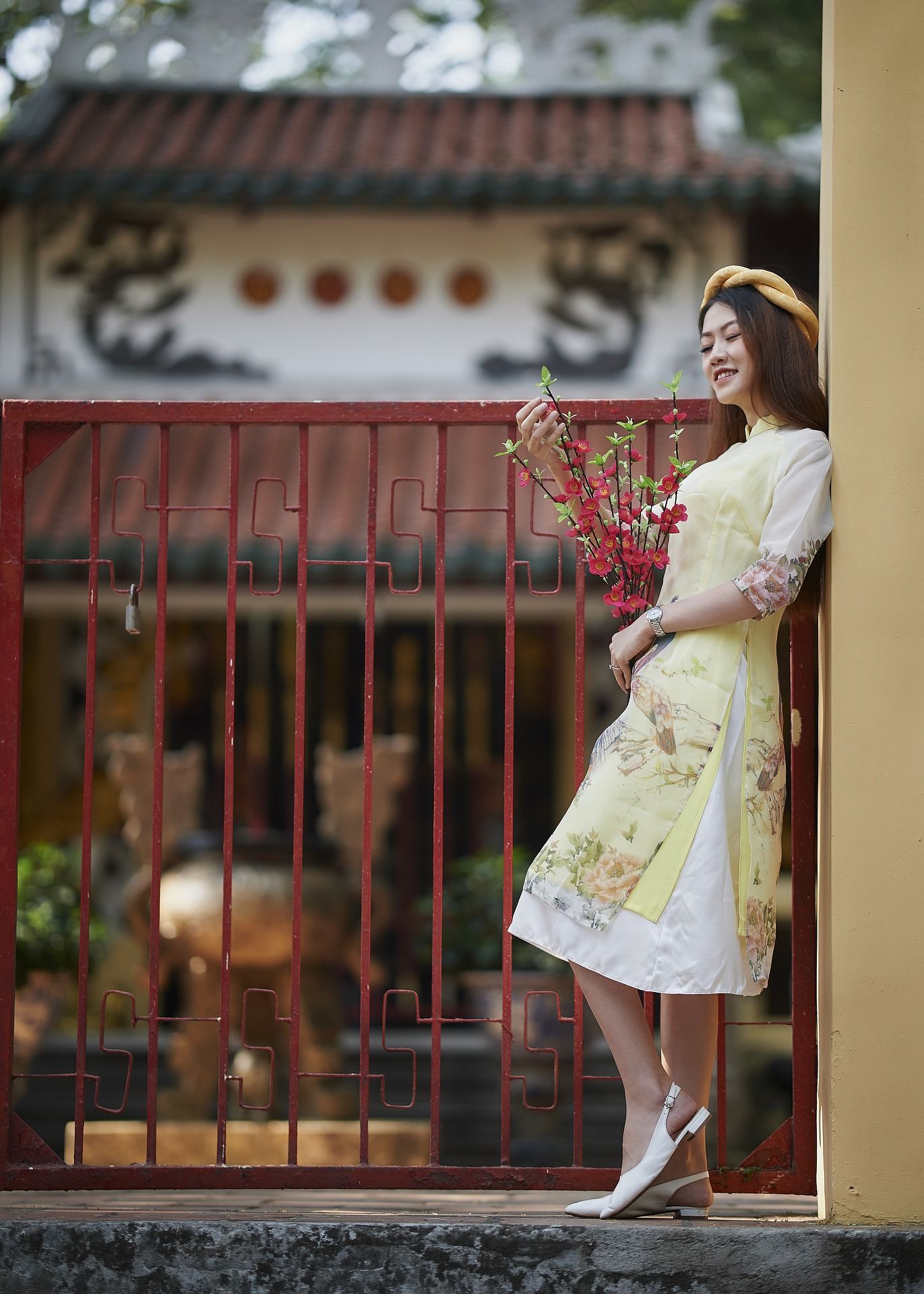 The design of Ao Dai is more modern, they are stylized with many different collar designs such as boat neck, and round neck, square neck... Innovative Ao Dai can add a convenient sleeveless or short sleeve design for the wearer. Children have fun and move freely. In addition, For the innovative Ao Dai, the pants can be more comfortable and can be replaced with many different types of pants or skirts.
If we compare the past and present Ao Dai, we will see that they are gradually changing in style from the collar, and the sleeves to the buttons, sleeves, and the colors are also gradually becoming more diverse. However, these are all changes that make the Ao Dai more complete and aesthetic, also somewhat modern and more suitable for women. Improvements in the design of Ao Dai are well received by everyone because it still retains the traditional beauty of Vietnam. It is still a long dress honoring the beauty of the body, suitable for all national holidays.
When do Vietnamese people wear Ao Dai?
Ao Dai is frequently used at festivities and performances, as well as in situations where formality and courtesy are expected. Vietnamese ladies frequently choose their own costumes for important occasions like weddings because Ao Dai embodies Vietnamese women's inherent beauty and characteristics. Even the conventional or cutting-edge Ao Dai is beautiful.
We can also find that Ao Dai is used in Vietnam to create schoolgirl uniforms for universities and high schools. Regarding international relations, Ao Dai also stands in for the national costume. As a result, it is clear that the majority of Vietnamese beauty queens participate in international beauty pageants wearing Ao Dai.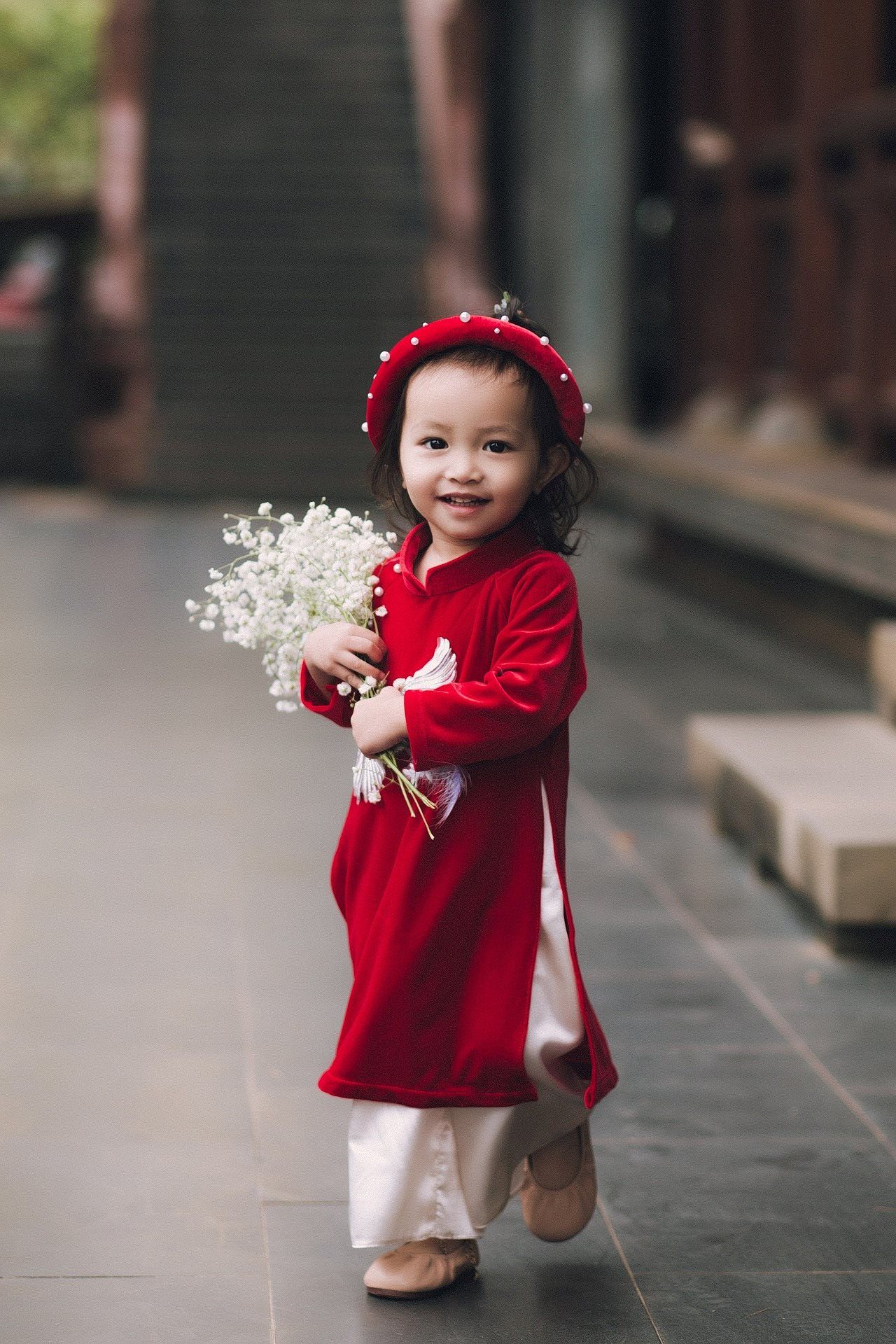 Especially when the Tet holiday is coming, Vietnamese people are busy celebrating the New Year, they are more and more interested in Ao Dai models. At this time, men or women, old or young, and even children can wear Ao Dai costumes to the streets to welcome Tet, and take pictures to save memorable moments of the New Year with their relatives, friends, and family.
Kind of Ao Dai to wear for the Tet Holiday in Vietnam
If you also want to join the bustling and colorful atmosphere of Tet holiday with us but still not clear about which Ao Dai model to wear. Just follow these suggestions below. 
Ao Dai for women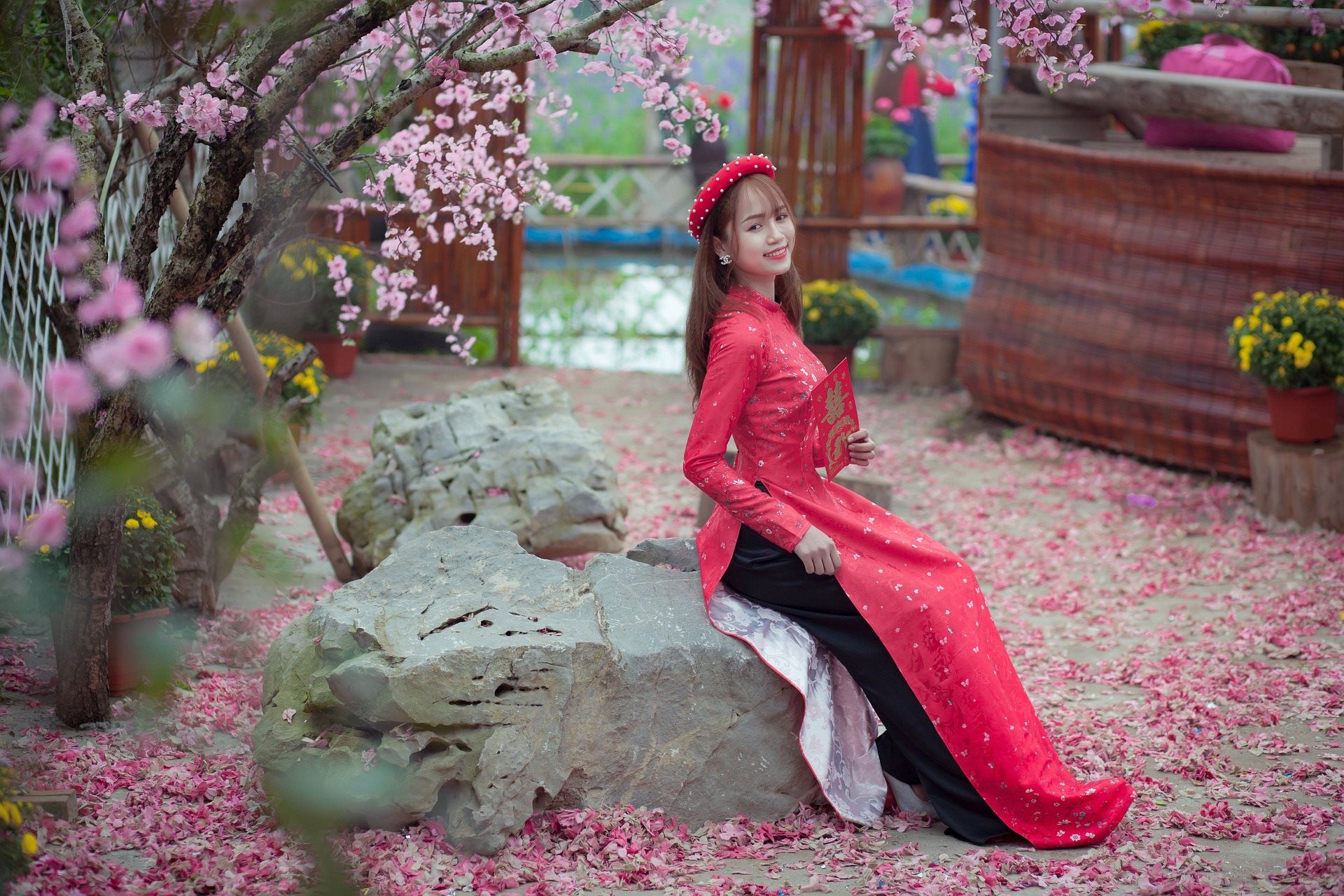 You can choose a set of Ao Dai with the color of the year 2023, Viva Magenta, described as "derived from red, representing new strength". Or even other colors according to your preferences, Ao Dai has many styles from traditional to modern such as long-sleeved velvet Ao Dai, chiffon innovation Ao Dai, classic little flower Ao Dai, Ao Dai. printed with apricot blossom, peach blossom, the flower of Tet in Vietnam or Ao Dai embroidered with lotus, the national flower of Vietnam, ...
Ao Dai for men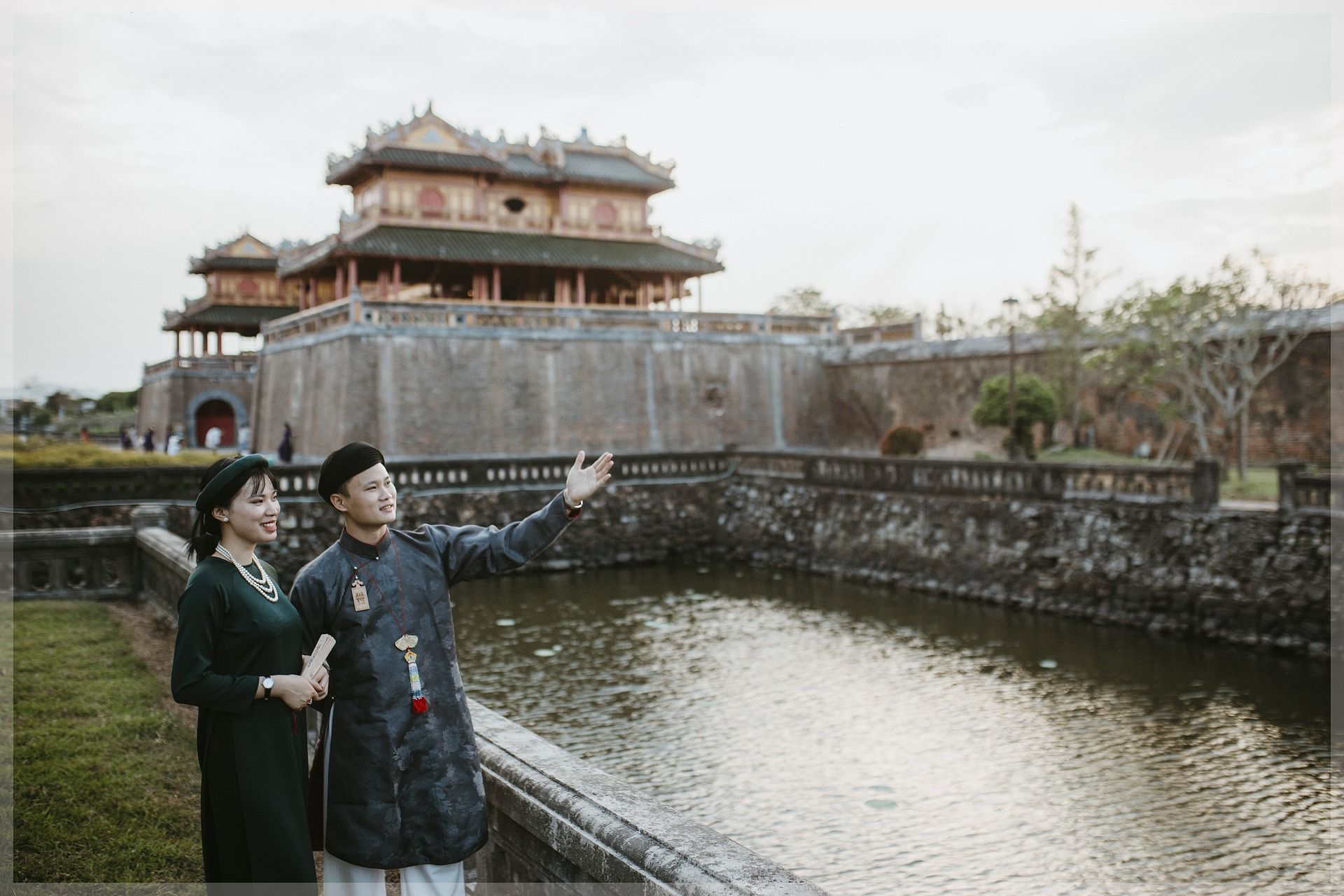 Nowadays, men's modern Ao Dai is gradually becoming closer to young people than ever before. The designs with modern and trendy designs always make a certain impression and are equally fashionable. Men's Ao Dai designs in a straightforward solid color style, patterns with more motifs, embroidery in various colors, or Ao Dai with lovely, embossed textures and appropriate are some of the more particular options we can consider.
Especially on the days closes to Tet or during the Vietnamese traditional New Year, you can see a variety of Ao Dai models worn by locals or even tourists to celebrate Tet on Nguyen Hue pedestrian street or Cho Lon, one of the well-known locations to celebrate Tet in Saigon. 
You also wish to come and participate in the Tet atmosphere via walking in Saigon, right?
Sewing your own Ao Dai costume
What if you could have your own Ao Dai as well? If you've been to Vietnam, dressing up in this unique costume and shooting photos here is a wonderful experience that will help you fully appreciate the beauty of Vietnamese culture. What you get is not only a souvenir but also a mark of Vietnam that will always be with you.
Places to order Ao Dai in Saigon (Ho Chi Minh City)
You can order or buy Ao Dai models available from reputable Ao Dai stores, which sew, sell and rent Ao Dai in Ho Chi Minh City with many designs such as classic Ao Dai, innovative Ao Dai, wedding Ao Dai, men's Ao Dai, children's Ao Dai, …
Minh Thu Ao Dai. Address: 129 De Tham, Co Giang Ward, District 1, Ho Chi Minh City 700000, Vietnam.

Hanh Ao Dai. Address: 6/3 E. Cach Mang Thang 8, Ben Thanh Ward, District 1, Ho Chi Minh City 70000, Vietnam.

Cam Tu Ao Dai. Address: 16 Dien Bien Phu, Ward 11, District 10, Ho Chi Minh City 700000, Vietnam.

Tien Ao Dai. Address: 457/2 Cach Mang Thang 8, Ward 13, District 10, HCMC.

My Hanh Ao Dai. Address: 659 Xo Viet Nghe Tinh, Ward 26, Binh Thanh Ward, City.

Thuy Linh Ao Dai. Address: 45 Tran Minh Quyen, Ward 10, District 10, HCM.
Price
The price list at a shop in Saigon that sews Ao Dai within 24 hours for tourists will range from $29.62 to $63.47. In addition, there is an additional cost for the design of lace patterns, crystal, and beading ... prices range from $8.46 to $126.93.
Do not forget to get our special offer once join our tour

Hope you have the best trip after landing in Saigon (Ho Chi Minh City) 
JOIN GROUP HERE to learn our tips as well as discuss them before going to these locations.