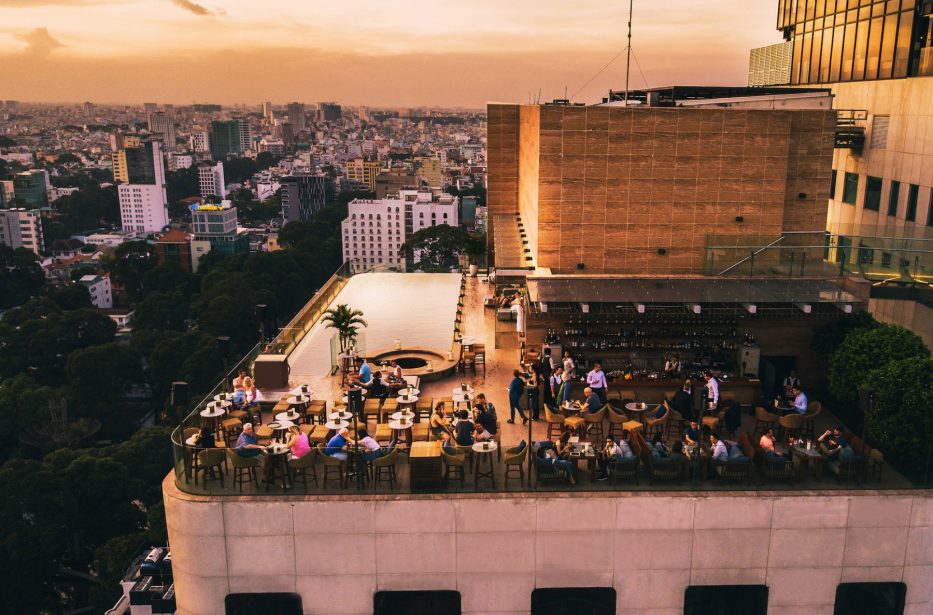 In the previous blog "Things to do in Saigon at night", we have given to you many options to do at night. One of the options is chilling at rooftop bars. To make it more detail, we are going to give you the top 5 rooftop bars in Saigon. Most of these rooftop bars are always run out of the seat. For more convenience, you should contact them directly and book in advance. So here we go.
 

1. Broma, not a bar
Don't let the name fools you, Broma, not a bar is a rooftop bar with a nice view where look down to Nguyen Hue Pedestrian. Finding this bar needs a bit of walking up to narrow stairs. This bar has 3 levels (one indoor and two terraces) and many themes of music for different days of the week. "Jazzy Thursday on the rooftop", "Acoustic & Open Mic night on the rooftop", etc. You will be surprised by the diversity of music theme. If you are a fan of craft beer, you shouldn't miss this bar. You will have plenty of choice with over 30 kinds of beer. If you are not a fan of beer, it's okay. You can order some cocktail (remember to check Rum Bo Hue and Broma Martin).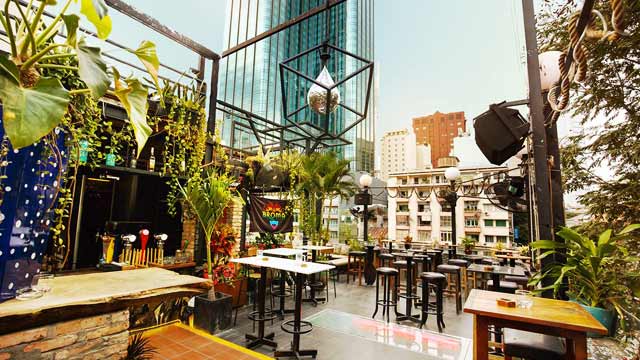 Address: 41 Nguyen Hue Street, District 1

Telephone: +84 263 872 603

E-mail:

bromasaigonbar@gmail.com

Open time: 5:00 PM - 2:00 AM (Sun - Thu), 5:00 PM - 4:00 AM (Fri - Sat)
 2. SOHY - Sky Lounge & Dining
SOHY - Sky Lounge & Dining is located on the 25th floor of Centec Tower on Nguyen Thi Minh Khai Street. This bar is designed by a Japanese team named "Super Potato". You will feel the luxury air and nobility atmosphere. So remember to dress well. Depend on your demand, you will be lead to different areas. If you want to have an elegant dinner, you will be lead to Star Dining Lounge, where you can enjoy special food from the 5-star chefs. If you want to smoke some cigar, let's head to zero-gravity cigar room. And if you want to drink something with open air, go to sky lounge with cover seating and an outdoor terrace. On the very top of the bar is a champagne garden, reserved for special events and ideal for private parties.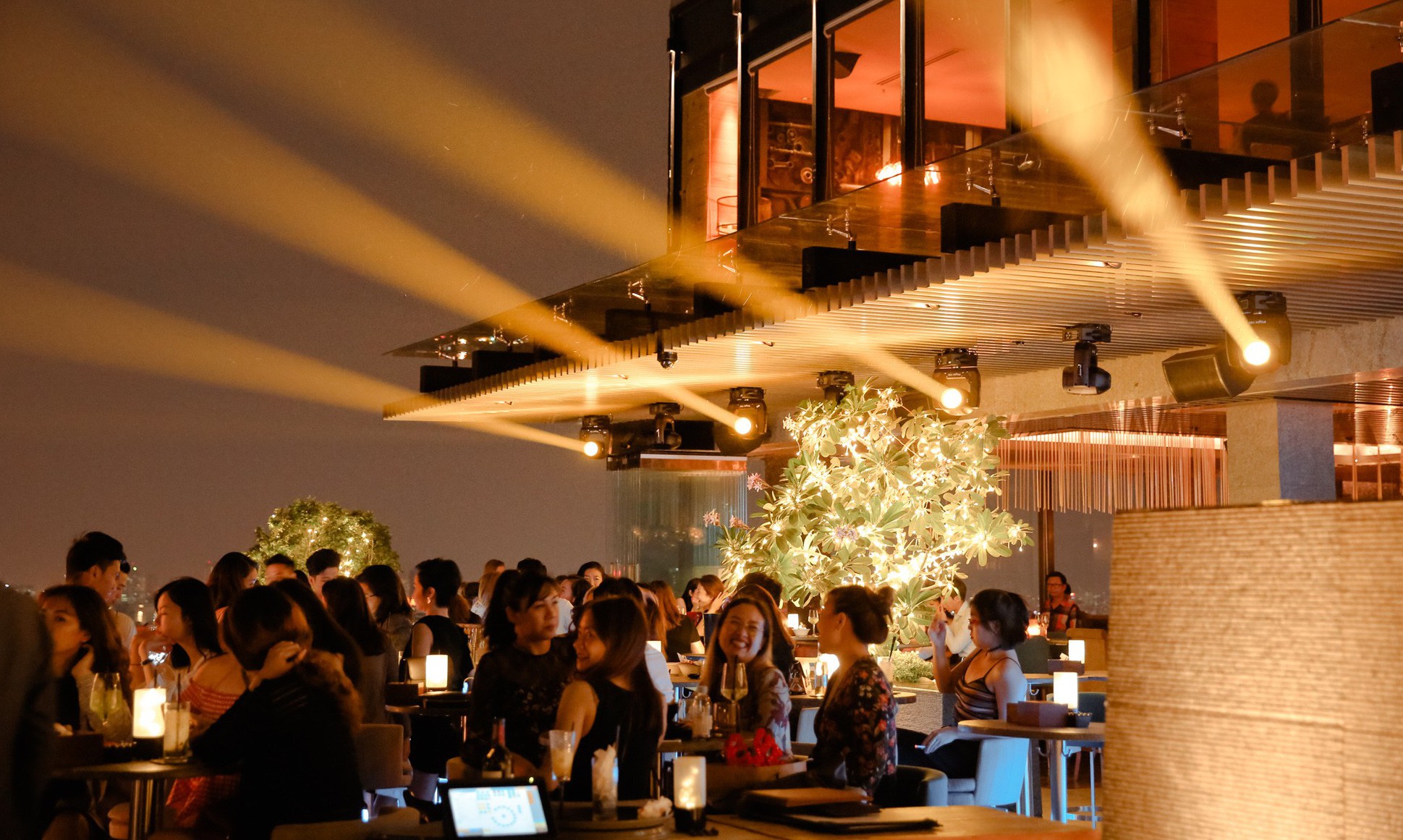 Address: 25th-27th floor Centec Tower rooftop (72-74 Nguyen Thi Minh Khai Street, District 1)

Telephone: +84 902 999 888

Email:

join.us@sohy.vn

Open time: 5:30 PM till late (Mon-Sun)
 

3. Chill Skybar
Chill Skybar is one of most favorite rooftop bars in Saigon. It attracts many celebrities, businessmen, party-lovers, and tourists as well. The most interesting point of this rooftop bar is the skyline of Saigon and neon light theme. You can see the busy of the city far below. Another thing special about this rooftop bar is that you can dance at a dance floor right inside Chill Skybar. The price is a little bit expensive but with a very nice view and good service, it is worth every penny. You can hunt the deal from this rooftop bar on this website (http://chillsaigon.com/special-offers/). Don't forget to dress well and make a reservation.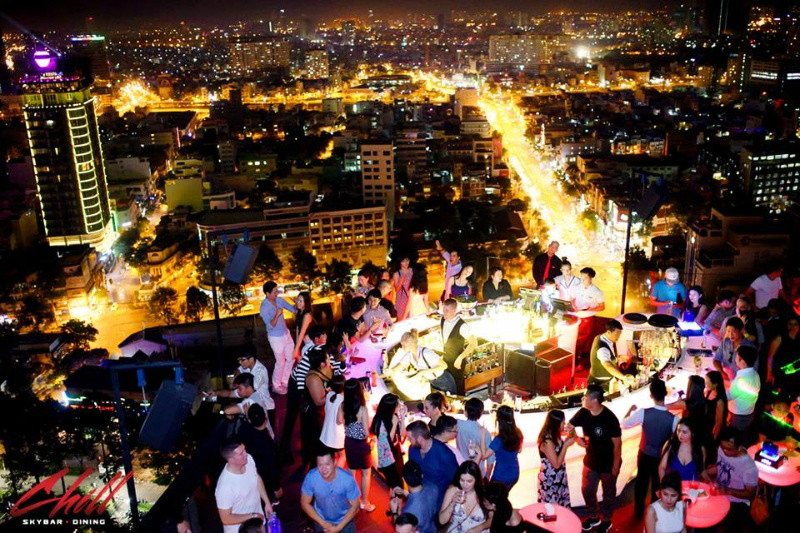 Address: 26th rooftop, AB Tower, 76A Le Lai Street, District 1

Telephone: +84 9 3882 2838

Email:

info@chillsaigon.com

Open time: 5:30 PM - 2:30 AM (Sun-Thurs); 5:30 PM - 4:30 AM (Fri-Sat)
 4. Shri Restaurant & Lounge
Shri Restaurant & Lounge was first established in 2010 as the first international standard rooftop restaurant and lounge in Saigon. This destination is not actually a lively bar with noisy music. Although it stayed in the same building with SOHY Sky lounge & Dining. Shri Restaurant & Lounge is suitable with light dinner and elegant atmosphere. Shri's lights are bright enough to create a sparkling and romantic atmosphere for the restaurant, as well as for guests to feel comfortable and see the panoramic view of Saigon at night. The food here focuses on Western food with Red or White wine. Shri Restaurant & Lounge even has a wine gallery.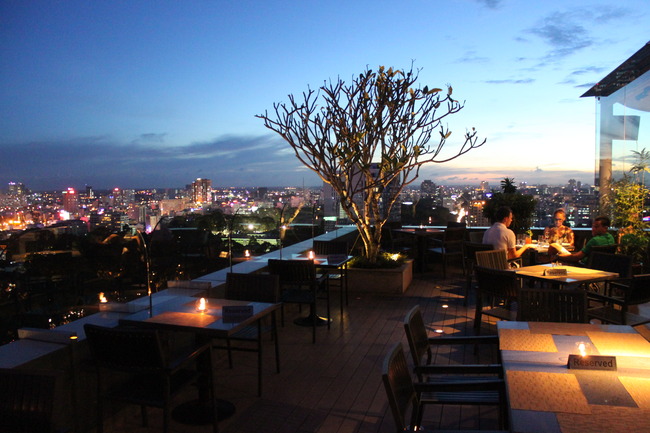 Address: 23rd Centec Tower, 72-74 Centec Tower, Nguyen Thi Minh Khai Street, District 1

Telephone: +842 83 827 9631

Email: info@shri.vn

Open time: 9:00 AM - 12:00 AM
 5. Social Club Rooftop Bars
The last destination of this list is Social Club Rooftop Bars. This rooftop bar is located at Hôtel des Arts Saigon Mgallery collection. Just ask the staffs of the hotel, you will be taken to the beautiful rooftop bars. From the indoor 23rd level restaurant, serving gourmet European cuisine, a couple of stairs leads up to the 24th-floor rooftop bar and terrace, offering breathtaking views of the Saigon skyline. The rooftop bar was set up with lounge sofas and wooden detail to create more luxury. You will feel like stepping on an oasis right in this busy city. There is also a swimming pool at the rooftop bar but just only for the customers of the hotel. But don't worry, the rooftop bars welcome all of the tourists and customers. Here you can enjoy well crafted and fine looking cocktails and light snacks to enjoy with nice vibes of background lounge music. Especially at sunset hours, which also includes 2 for 1 happy hour (3-7pm).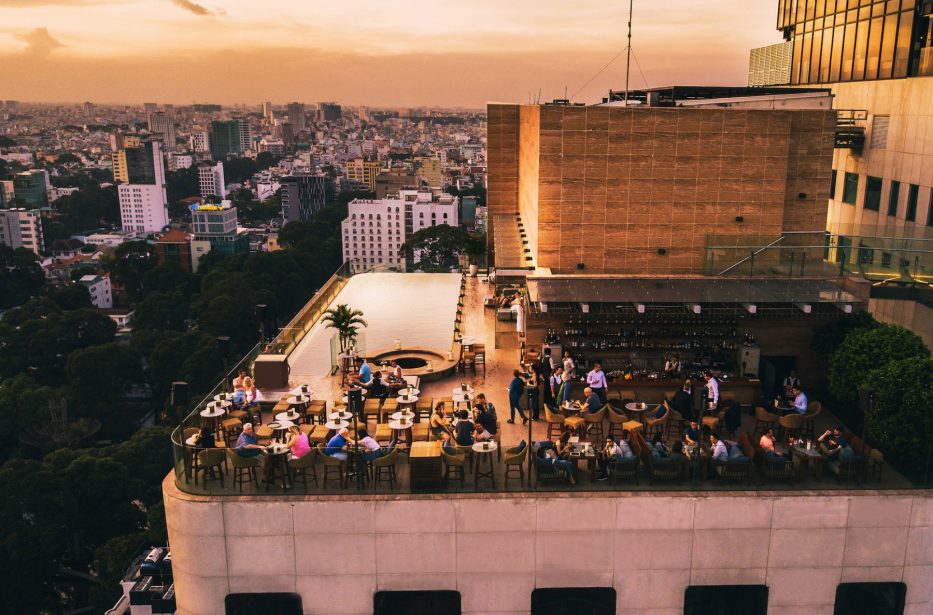 Address: 76 - 78 Nguyen Thi Minh Khai Str, Ward 6, District 3

Telephone: +84 8 3989 8888

Open time: 5:30 PM - 11:30 PM
To read more information about Vietnam, Saigon or Mekong Delta, let's check our blogs here