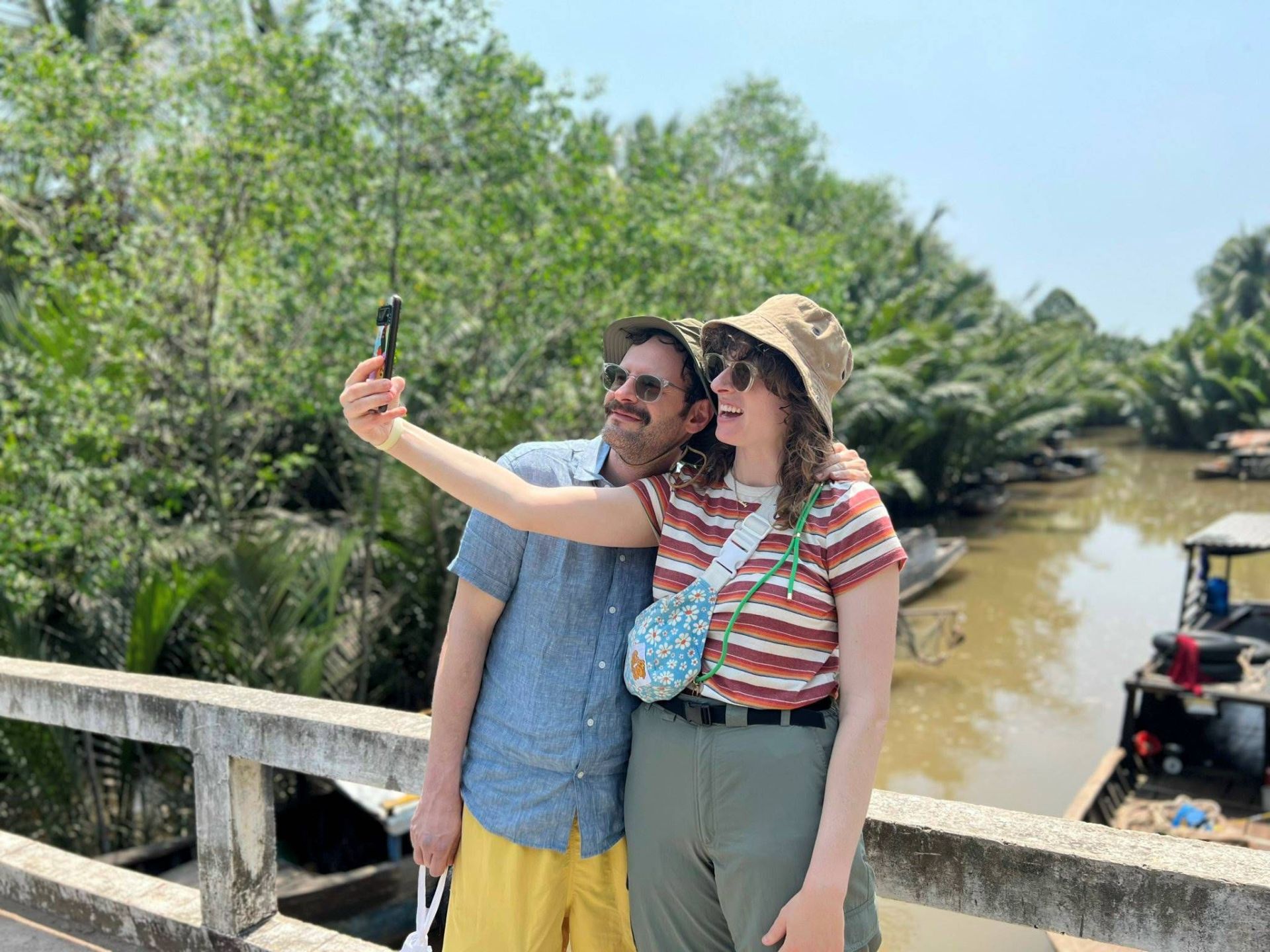 You wish to explore the "rice bowl" of Vietnam - the Mekong Delta but only have a few day to enjoy it and don't know what to do so as not to miss interesting experiences.
2 day is not a long time, but if you know how to use it for the right things, it is enough for you to have a great trip with useful experiences. Sometimes taking a day trip allows you to save time while also learning and discovering new intriguing things. 
From there, we are here as a friend to help you utilize your time in 2 day to have the most memorable and fantastic journey in Mekong Delta. 
So, included below are some intriguing and distinctive things to do in the Mekong Delta that you should not miss. 
Top amazing things to do:
Chill on the non-touristy Mekong River and canals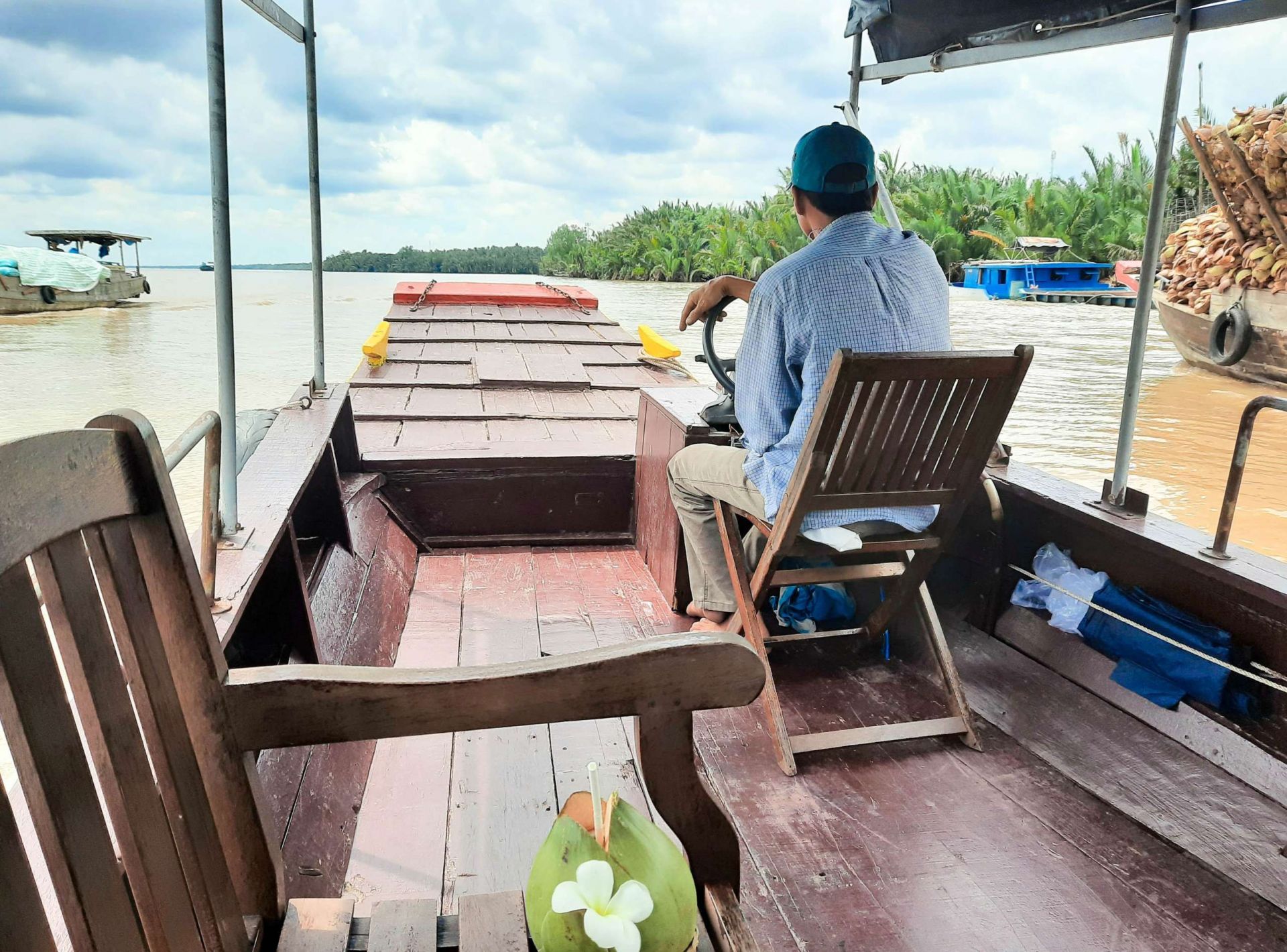 The Mekong Delta is famous for being a fertile land surrounded by rivers. Therefore, it would be a pity to visit this location without at least once taking a boat excursion along the river and enjoying the airy, refreshing ambiance. This activity is exactly a highlight of Western Vietnam - Mekong Delta 2 Day Trip. 
Once you step on the boat, your space will become very private. There will be no other tourists besides your group, and there won't be any buy-and-sell advertisements or other sounds than the sound of boat engines operating on the lake and the Central region's winds blowing. 
Embarking on a Mekong River Boat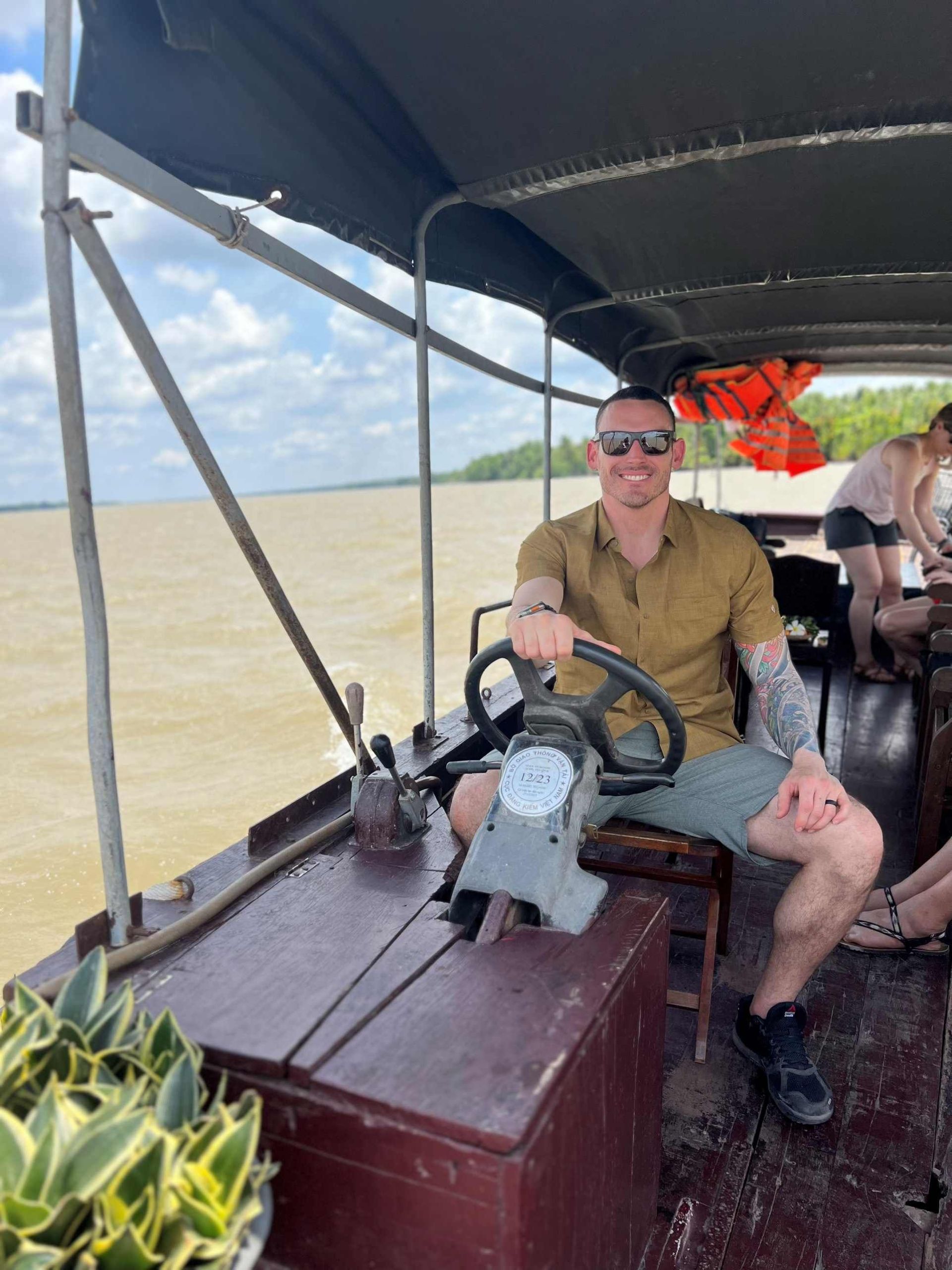 As soon as you walk into the boat, turn on your phone or camera! Because we are sure that you will not want to miss the picturesque scenery of the Mekong River. In addition to the peaceful natural scenery, you also have the opportunity to witness how the houses along the riverside of the people of Western Vietnam are built. Moreover, riverside coconut factories, dense green coconut groves, and the occasional appearance of cargo ships, carrying coconuts, are also part of creating a unique scene in the Mekong Delta.
Cruising a hand-rowed sampan across a picturesque palm coconut water grove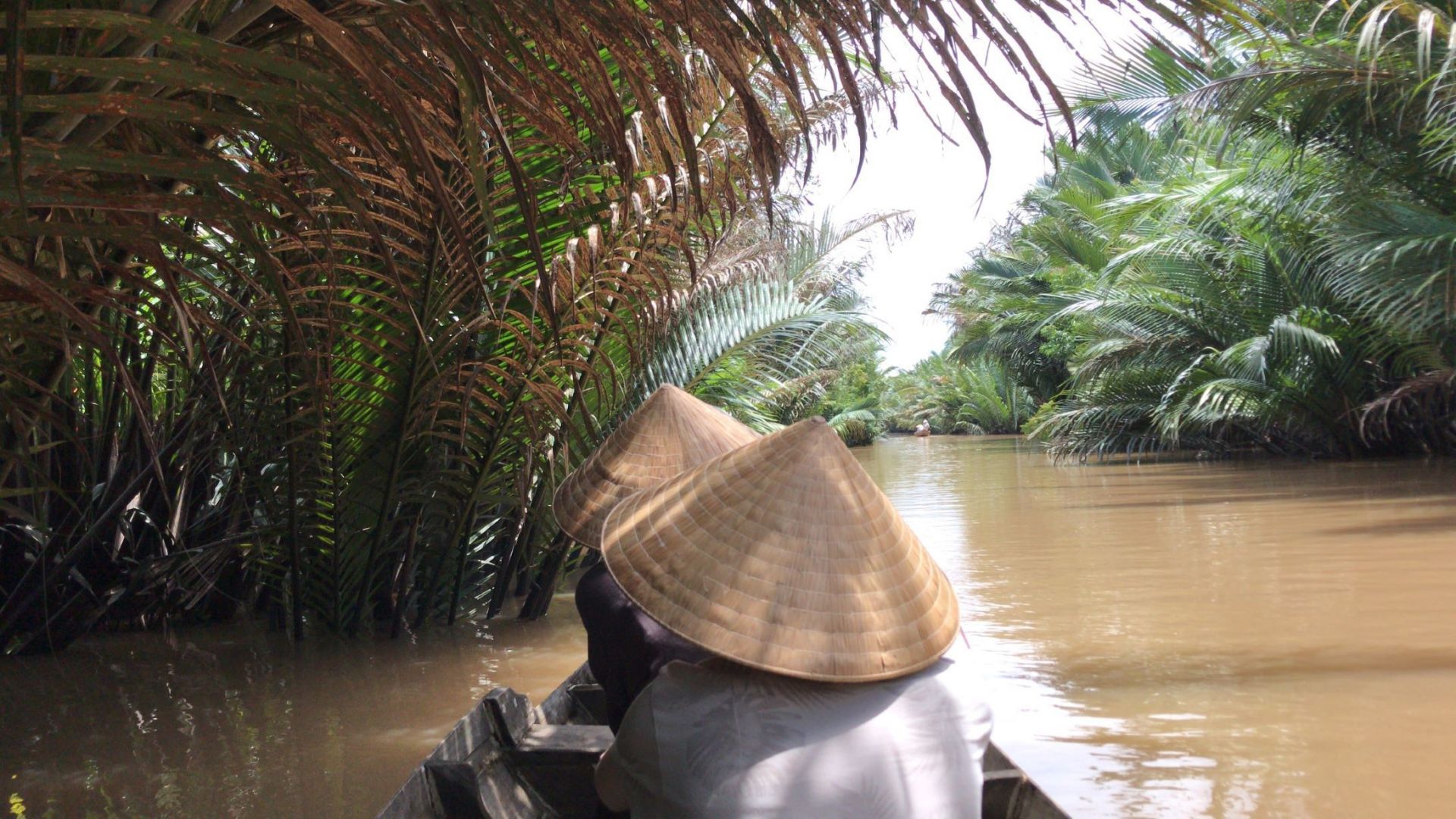 Immediately, you will fully understand what a non-touristy day trip is like. 
After experiencing it, you will feel that this activity has to be more than interesting and the highlight of the whole trip. Then you can share with your friend about the conical hat or in other words "Nón Lá" of Vietnam and the karaoke sound of the locals here. 
Touch of Western Vietnam Quintessence - Coconut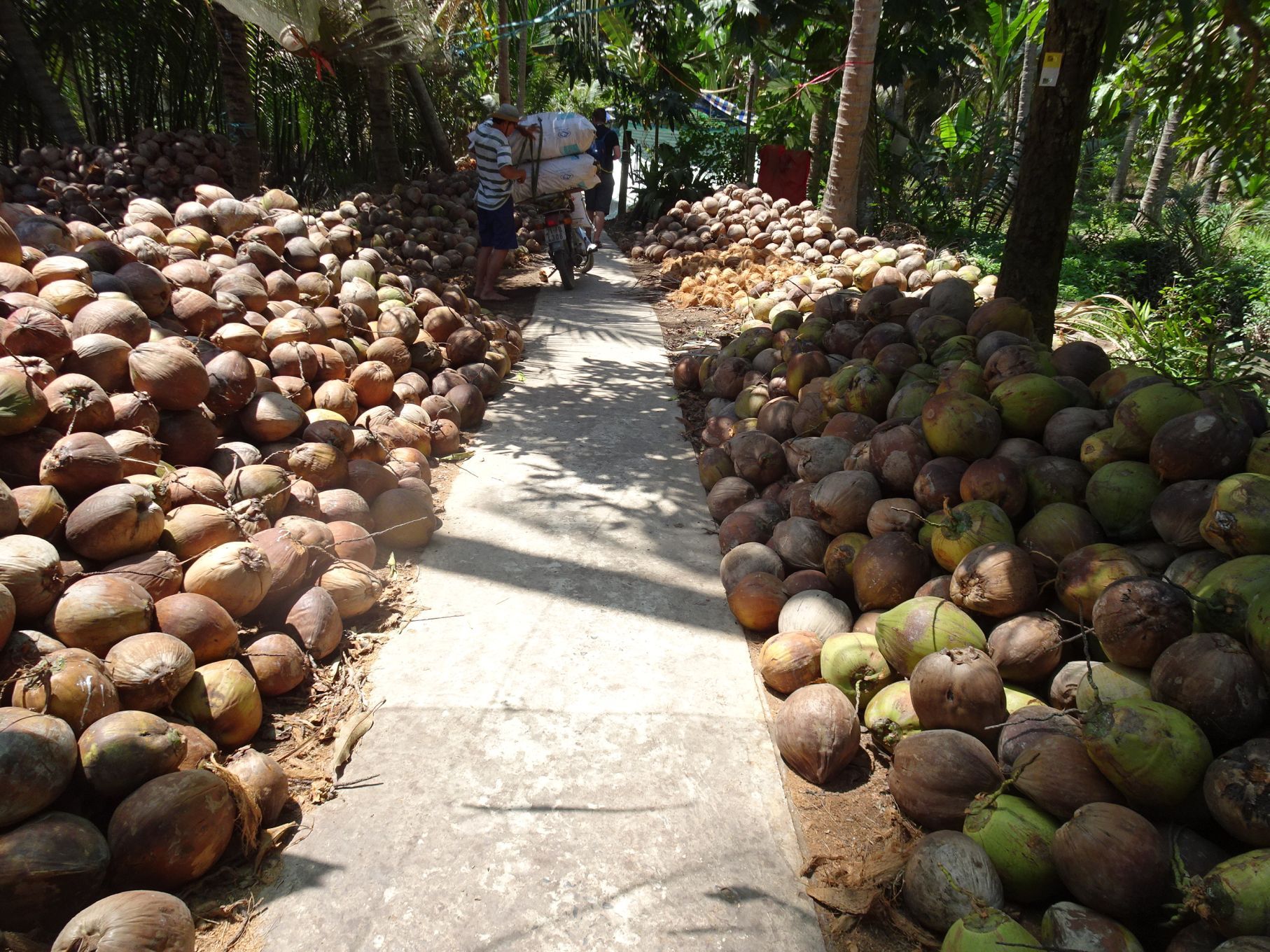 Referring to the Mekong Delta, it is impossible not to mention coconut, a feature that is also the pride of the locals here. Of course, they are always willing to share with you everything they know about coconuts.
When you visit coconut factories, you can observe how the locals expertly and skillfully split as well as peel the thick and hard skin of coconut. Even a small child knows how to make coconut candy, from processing to wrapping.
Experience Lambro 550 (Tuk Tuk) to explore Western Vietnamese village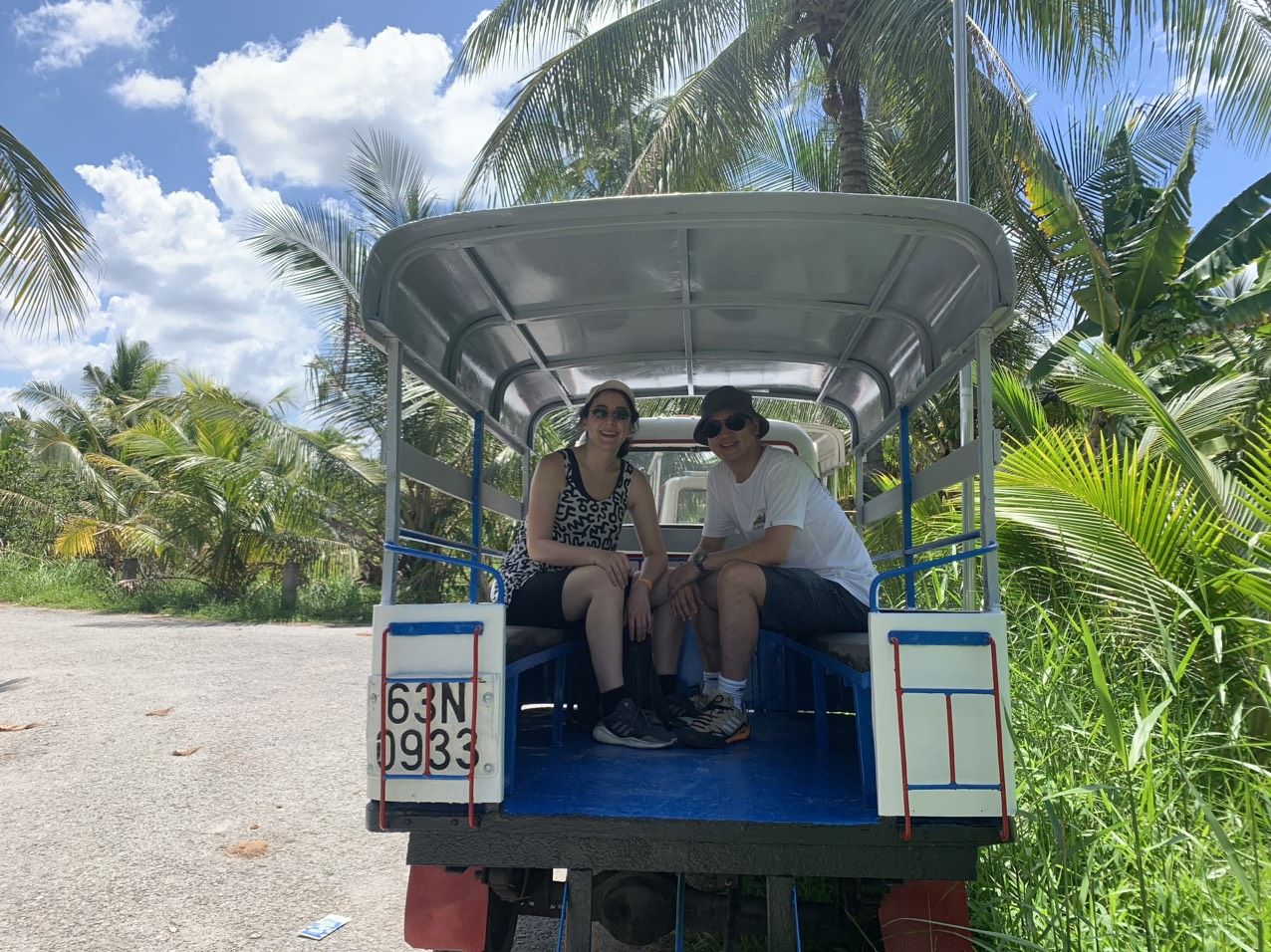 Lambro 550 (Tuk Tuk) for Vietnamese people is also a fairly old method and is no longer widely used. However, it is precisely because of that rarity that it becomes an interesting experience in rural tourist destinations like the Mekong Delta. It is truly a unique means for tourists to travel when visiting the village roads here.
Cycle through the peaceful and less touristy Vietnamese local vibe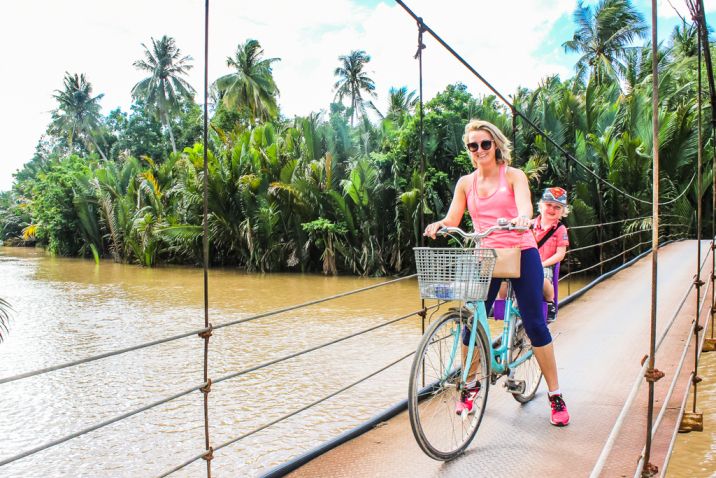 Mekong Delta is one of the most famous destinations including top of the best cycling paths that depart from Saigon. So, there is no reason for you to miss the opportunity to experience both cycling and traveling, right? 
The whole process of exploring the Mekong Delta, consisting of cycling time, is less touristy, creating an opportunity for you to comfortably enjoy the trip and discover the lives of the locals.
After all, the main purpose when traveling is to sample the specialties of that location, right?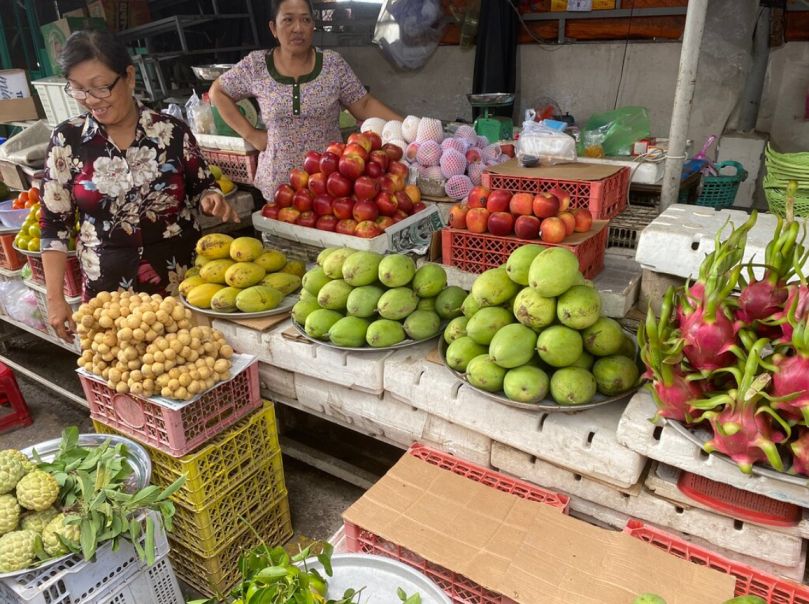 All seasonal tropical fruits are available at the local market. Especially if you come here in the summer, then you will be able to find Lychee - Vietnam royal tropical fruit here. 
How many tropical fruits will you be able to recognize? Guess!
Taste specialties made from coconut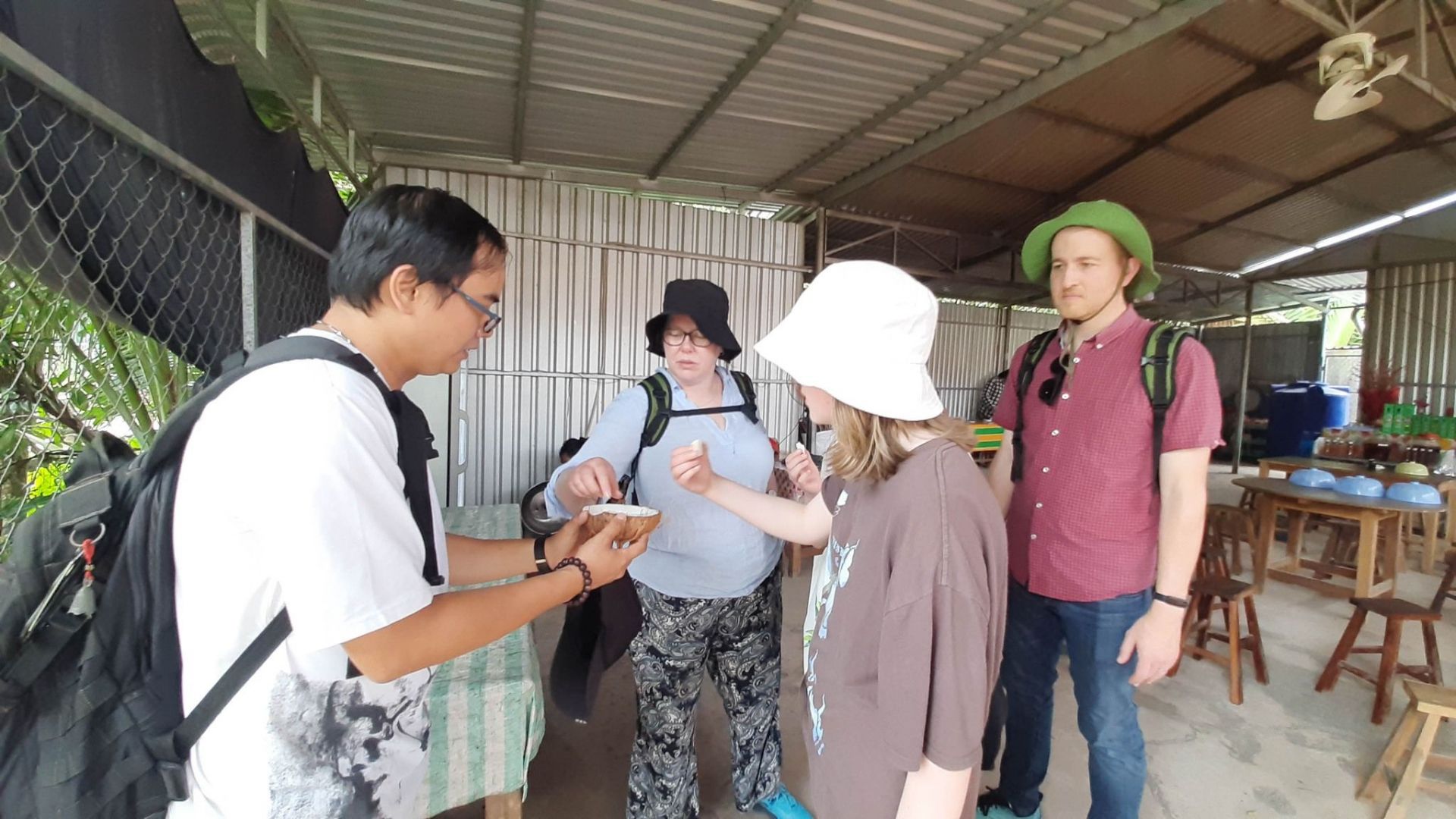 While visiting the coconut factory, remember to try foods made from coconuts such as coconut cream, coconut candy, dried coconut, and coconut rice too!
Savor mouthwatering typical Western Vietnamese lunch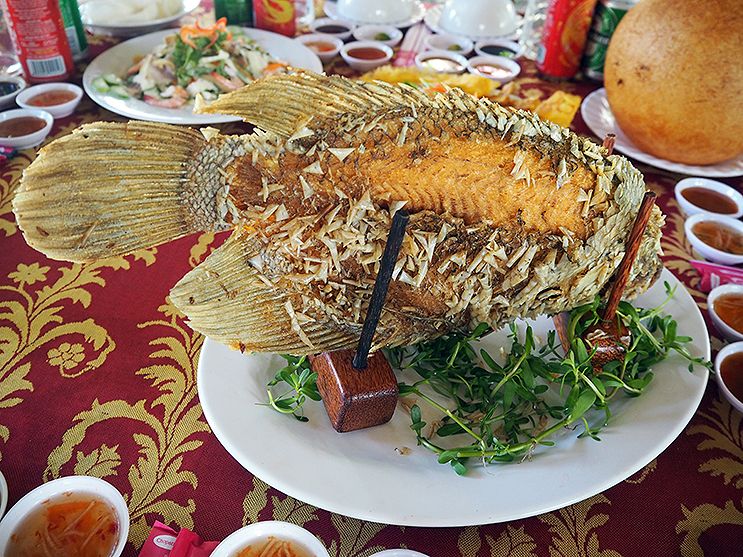 For those curious about what a Vietnamese lunch is like, here's your chance to eat Vietnamese style. One more thing is, if you have participated in Western Vietnam traveling day trip, then try eating crispy fried "Osphronemus Goramy" ("Cá Tai Tượng" in Vietnamese) once!
The floating markets in the Mekong Delta of Vietnam are among the most iconic and enchanting attractions in the country. These bustling markets are a unique testament to the vibrant riverine culture of the delta, where commerce and daily life seamlessly blend on the water.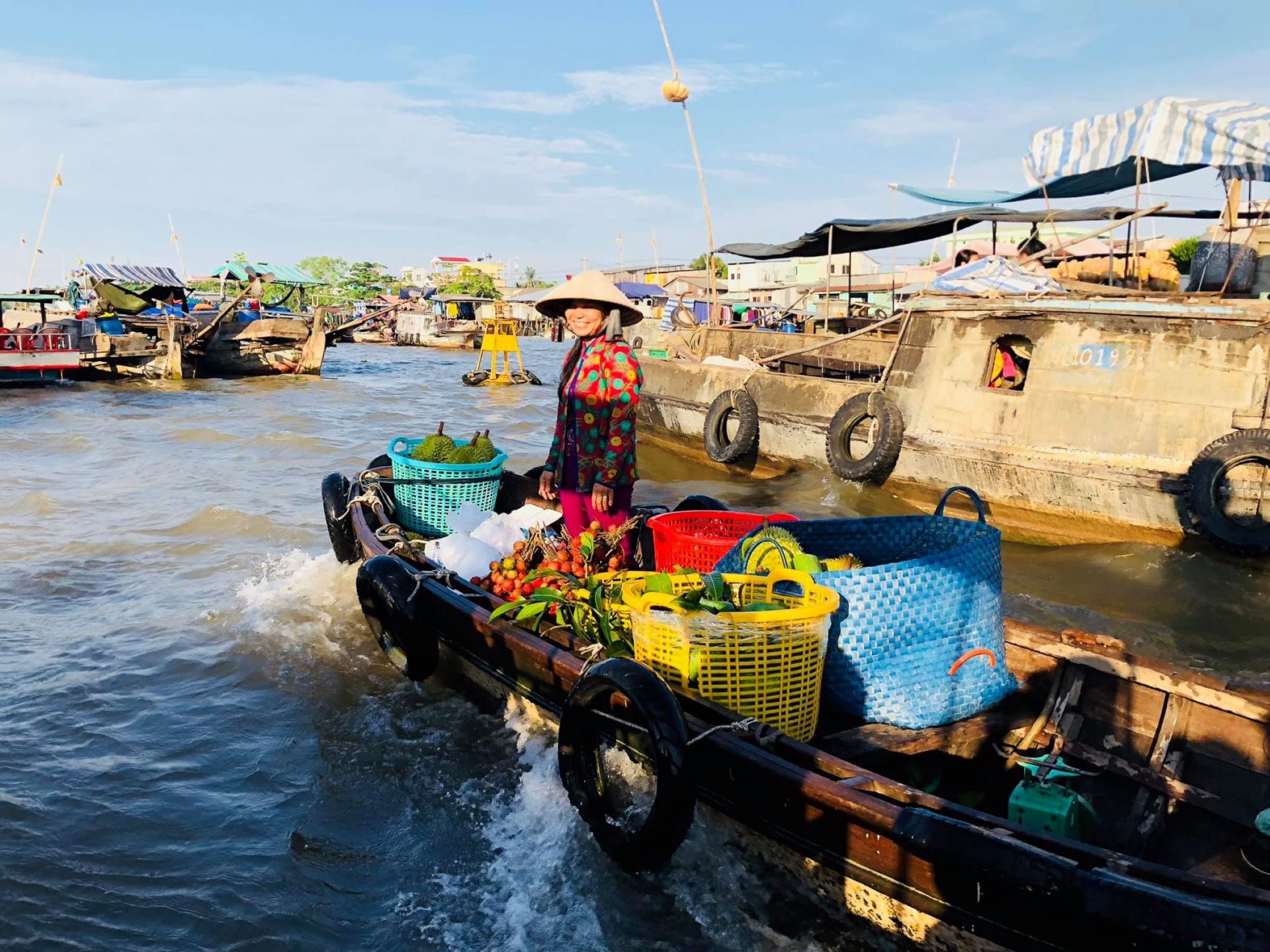 Here is an overview of the floating markets in the Mekong Delta:
Located in Can Tho City, Cai Rang is the largest and most famous floating market in the Mekong Delta. It typically begins at the crack of dawn and is a lively spectacle of boats loaded with fresh fruits, vegetables, and other goods. Tourists can hire a boat to navigate through the market, engage in trade, and sample delicious local cuisine.
Situated in Tien Giang Province, the Cai Be Floating Market is another popular market in the delta. It's known for its diverse range of goods, including tropical fruits, handicrafts, and regional delicacies. Visitors can explore the market by boat and witness the vibrant exchange of goods between traders.
Phong Dien Floating Market:
Located near Can Tho, Phong Dien is a smaller and more authentic floating market than Cai Rang. It's known for its genuine local atmosphere and the absence of large tourist crowds. Phong Dien is a great place to interact with friendly vendors and get a taste of rural Mekong Delta life.
Nga Bay Floating Market: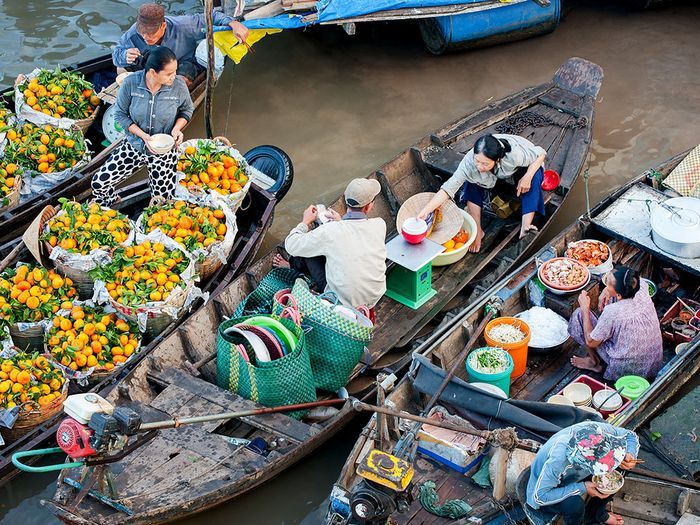 Found in Hau Giang Province, Nga Bay is a lesser-known floating market that offers a more tranquil experience. It's surrounded by picturesque landscapes of mangrove forests and is known for its seafood and local products. Tourists can enjoy a serene boat ride through the market and its stunning surroundings.
Tra On Floating Market:
Situated in Vinh Long Province, Tra On Floating Market is a charming and lesser-visited market that caters primarily to locals. It's known for its fresh produce, including vegetables and fish. Visitors can explore the market and experience the laid-back rhythm of life in the Mekong Delta.
While visiting these floating markets, you not only have the opportunity to witness the vibrant commerce but also to connect with the warm and welcoming locals who call the Mekong Delta home. The markets provide a unique insight into the culture, traditions, and daily life of this remarkable region, making them a must-visit destination for anyone exploring Vietnam.
Be sure not to miss out on our special offer when you join us for this experience.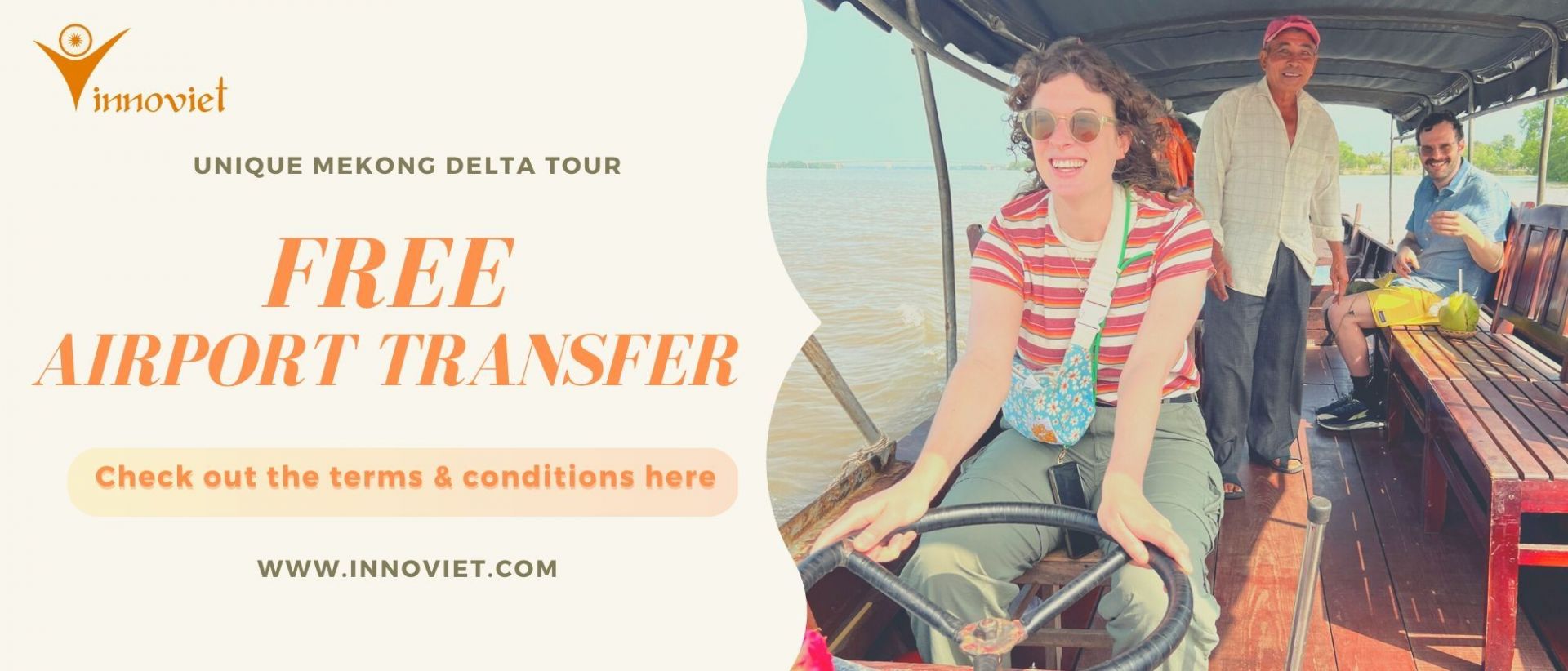 We hope that your experience will be nothing short of amazing
JOIN OUR FACEBOOK GROUP HERE to learn our tips as well as discuss them before going to these locations.